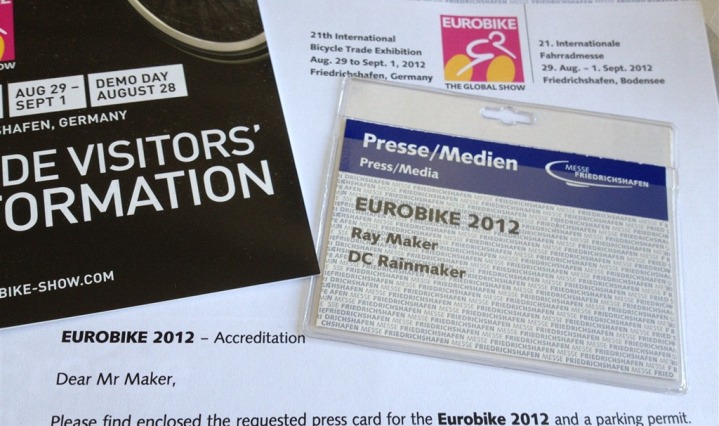 With my Eurobike 2012 registration complete – I've started looking at all the goodness that is the massive bike show just a month away over in Germany.  In the course of doing so, I realized that I know so little about it and the logistics of it.  It feels like the first year I went to Interbike all over again.  Except, without the crazy people of the strip (note, I said of the strip, not the strippers).
So – I'm reaching out to anyone who's gone to Eurobike for your tips or tricks (for those not familiar, Eurobike is a massive cycling expo, far larger than Interbike) .  My current plan is to be there Thursday/Friday, and potentially some of the weekend.  Though, The Girl and I may wander from there and see something nearby that weekend (any camping/hiking options?).  Got to begin our exploration of Europe sometime, and now sounds good!
Also, if anyone has travel suggestions from Paris, I'm game for those.  Plane, trains or automobiles?  We don't have a car, so we'd have to rent one if so.  I see they have shuttles from major points (airports/stations).  Hotel in the city, or outside?  It looks like a 7ish hour drive from Paris, which is a wee bit longer than we'd want (rental car).  But if coming back we were to find a cool place to spend a few nights camping – that'd be worth it.  Plus, looking at some of the other options, they don't seem all that much shorter due to connections/layovers.
Of course, if you're exhibiting there, definitely reach out to me to try and arrange a timeslot.  A few companies have done so already – and it helps to ensure I know you exist and that you've got some goods to check out (or just free cookies to eat, I'm not picky).
And for all those only at Interbike, I'm still planning on being there again this year – assuming nothing else gets in the way.
Thanks in advance!