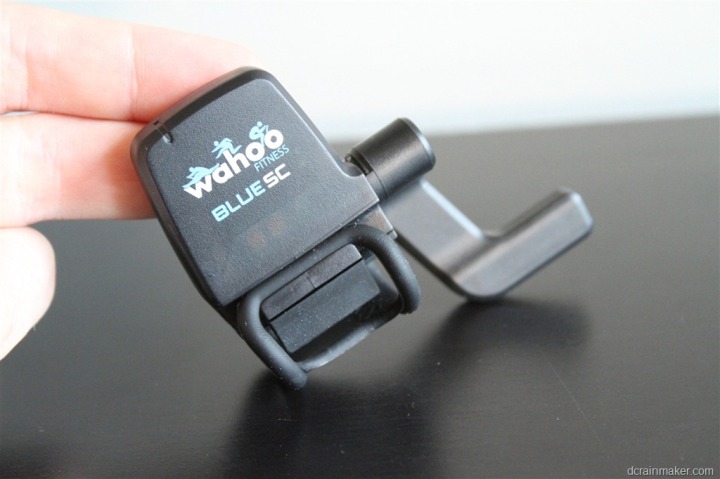 There's a new sensor in town, and for a change, this one isn't ANT+.  Instead, it's a new Bluetooth Smart (aka Bluetooth Low Energy) sensor, one designed to track your speed and cadence information while on a bike.  Following the Wahoo Blue HR naming scheme for their Bluetooth Heart Rate strap, they've named this the Wahoo Blue SC.
Bluetooth Smart is a subset of the Bluetooth 4.0 specification, which allows super-low energy sensors/devices that can operate on a single coin CR2032 cell battery for a year or more (Wahoo specifies 2 years for the Blue SC).  This directly competes with another low-energy standard, ANT+.  ANT+ is the child of Dynastream, which is owned by Garmin – though it does have more than 300 companies that use the technology (including every Garmin competitor except Polar).  Meanwhile, Bluetooth Smart comes from the Bluetooth SIG, which is a standards and steering entity.  This is the same Bluetooth organization that brings you all the other Bluetooth devices you know and love daily.
The key difference though is that these new Bluetooth Smart sensors are NOT backwards compatible with pre-Bluetooth 4.0 devices.  For example, within Apple phones only the latest iPhone 4s supports Bluetooth 4.0.  On the Android front, there exists a greater number of BT 4.0 compatible phones.  But without a phone released sometime after roughly December 2011 – you likely don't have BT4.0.
So with that primer, let's good cooking!
Unboxing:
The unit that was sent to me was a pre-production model that didn't quite have all the fancy packaging with it.  Instead, it had more of a lingerie look.
But despite the beta packaging, the contents will be the same for the final retail production units (which cost $59).  Here's the goods at a high level, and then I'll dive into the components: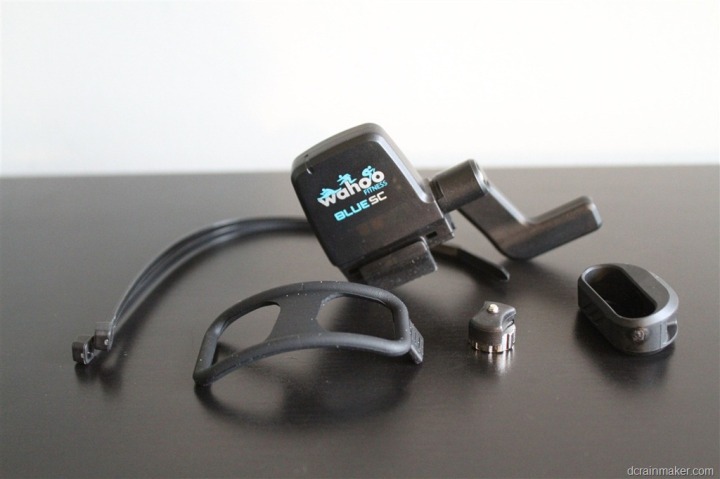 First up, we have the Bluetooth Smart sensor itself: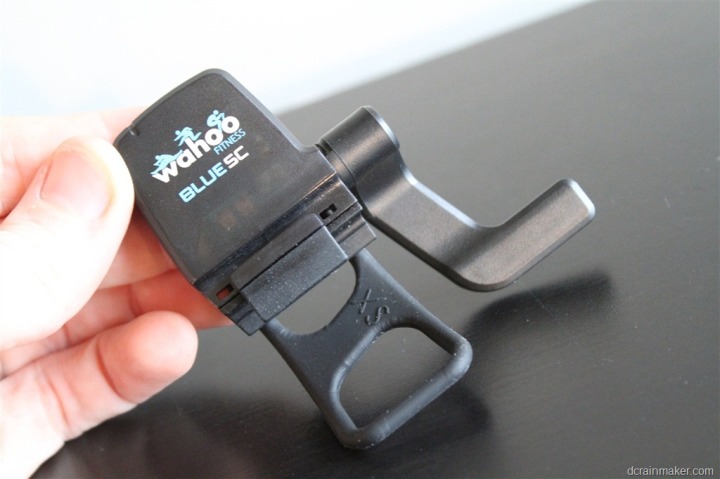 Then we've got the two magnets: Speed and Cadence.  To the left we've got the spoke (speed), and to the right crank (cadence).  The spoke magnet separates into two pieces, which tighten back on the spoke.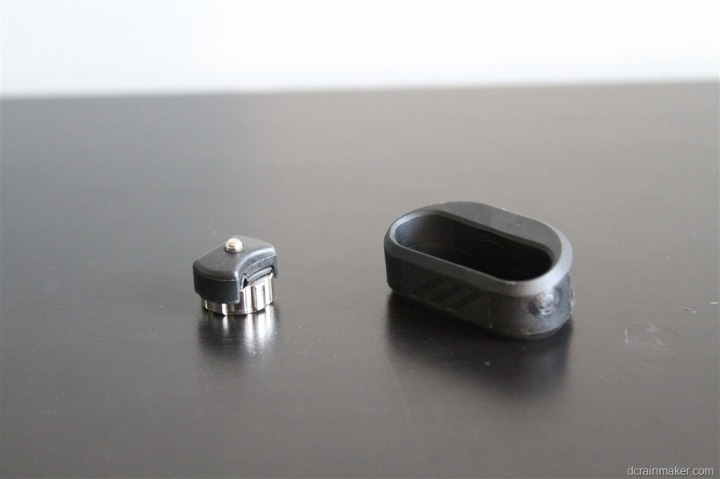 You'll notice that gone are the days of clunky zipties holding the cadence magnet on.  Instead you just slide it over your crank – which we'll get to in a second.  And the speed magnet you just simply tighten using your fingers onto your spoke.  Super-easy and no tools required.
Installation:
If you've been around the speed/cadence sensor market lately, you may have seen the recently released Bontrager Speed/Cadence sensor which uses a no-tool mounting system.  The Wahoo sensor uses the exactly same casing, which Bontrager has licensed to them.
With this new case design comes the easiest installation you'll ever have – simply pull the single rubber band strap around your bike frame: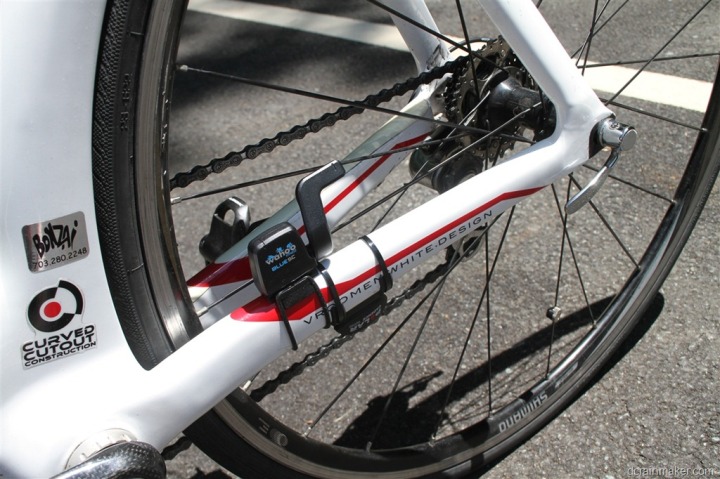 And with that, it's installed (ignore that Polar sensor hanging out there below it, part of testing…):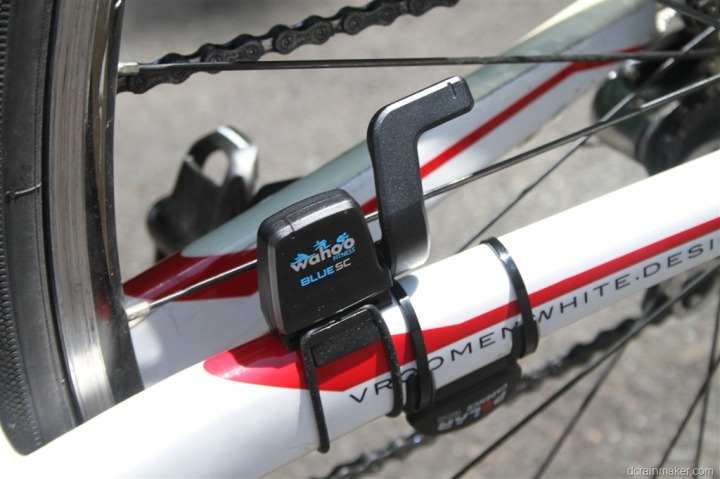 Now, you'll want to ensure that you've got the flexible arm facing towards the spoke magnet (inside).  You can mount it upside-down if you wanted to.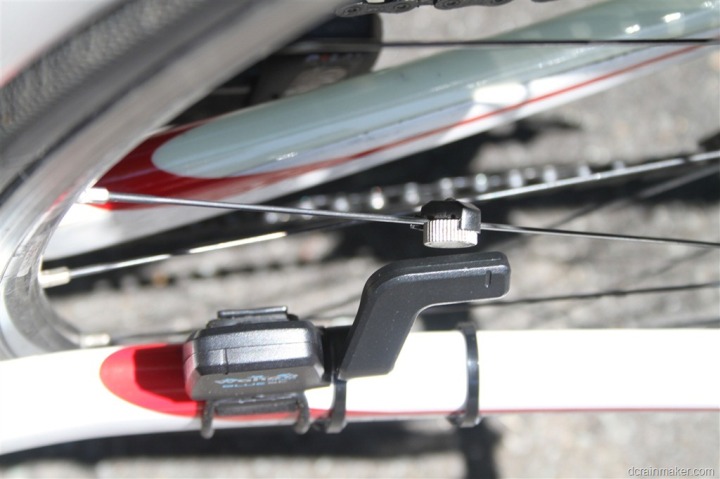 In fact, at one point a few weeks ago I had some other sensors I needed for a test blocking my usual location – so I just went ahead and mounted it up higher.  Now of course in this location the cadence portion wouldn't work any longer, but speed was captured: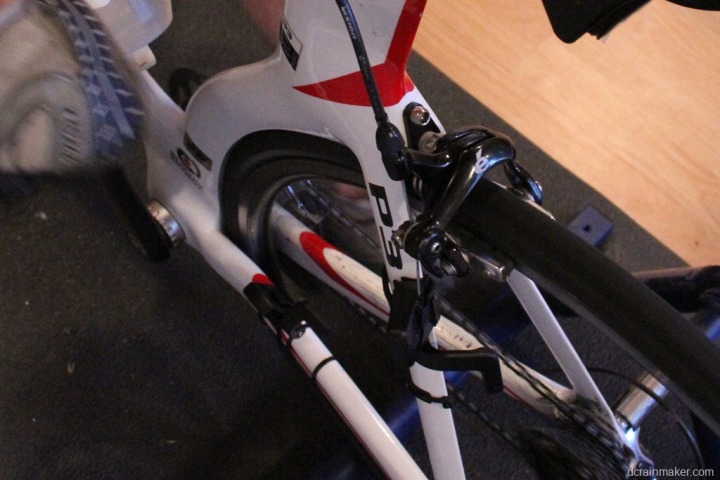 It should be noted that while I had some minor arm adjustment issues, I've been told that this is unique to the pre-production unit I received.  The final retail versions have had this issue fixed (where the arm only worked at certain angles).
Normal use:
As of today (June 6th, 2012), there are currently three apps (plus the Odometer) that can utilize the new Blue SC sensor.  The list today includes: Strava, Cyclemeter and the Wahoo Fitness App (plus the Wahoo Odometer).
Each of these applications can utilize the new Blue SC in the same manner as each of them previously handled (and still does) ANT+ sensor data using Wahoo's ANT+ iPhone adapter.  Meaning that the underlying ability for the application to gather speed/cadence data hasn't changed – instead, you've just removed the requirement for an adapter hanging off the bottom off the phone.  Now, the phone can go 'naked'.
Of course, with the inclusion of GPS is 99% of cell phones out on the market today, you may be wondering why you'd want a speed sensor.  There are really two reasons – first is the ability to still track mileage when your bike is in motion but your phone may not be with you.  And the second is the ability to track speed indoors while on a trainer.
Now as anyone will tell you, speed as displayed while on a trainer is a very fluid measurement.  Meaning that you can go from 10MPH to 30MPH without actually increasing your effort – merely by changing gears.  By shifting you can maintain the same effort on most trainers while dramatically increasing speed.  But, again, it's still useful to many.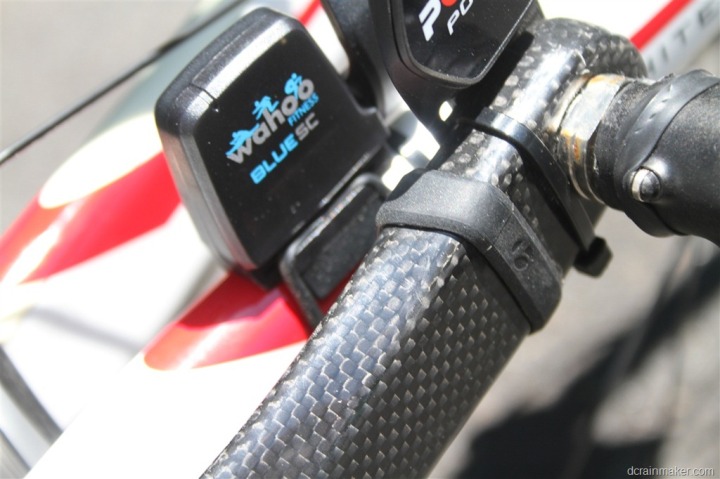 For many though, the cadence measurement is the more useful metric.  Cadence is simply a measurement of how many revolutions per minute (as in RPM) your pedal makes.  Cadence is normally measured on the left crank, right where the magnet is attached at the point the pedal connects to the crank.  Most folks tend to have a natural cadence between about 80 and 90RPM.  There exists a number of scenarios why you'd want to train at a higher or lower cadence dependent on your training goals and race scenarios.  But that's an entirely different topic and lively discussion for another day.
Let's look at configuring the sensor within apps.  Taking Strava for example, to setup the sensor you'll go into the 'Biometric Sensors' and then enable Bluetooth sensors.  You'll notice how you don't have to have the ANT+ key (though the option remains available), but now the Heart Rate and Speed & Cadence sensors are available to pair.  Both of these are available via Bluetooth Low Energy (there are plenty regular non-low energy Bluetooth HR straps as well).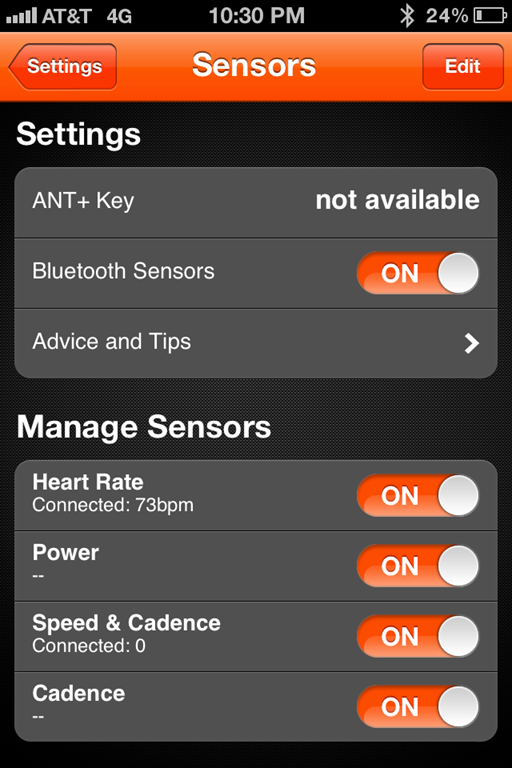 Once you pair them, you'll see them connected within the main menu.  Note that I've also paired the Wahoo BlueHR strap in this example (as you can see with my BPM shown).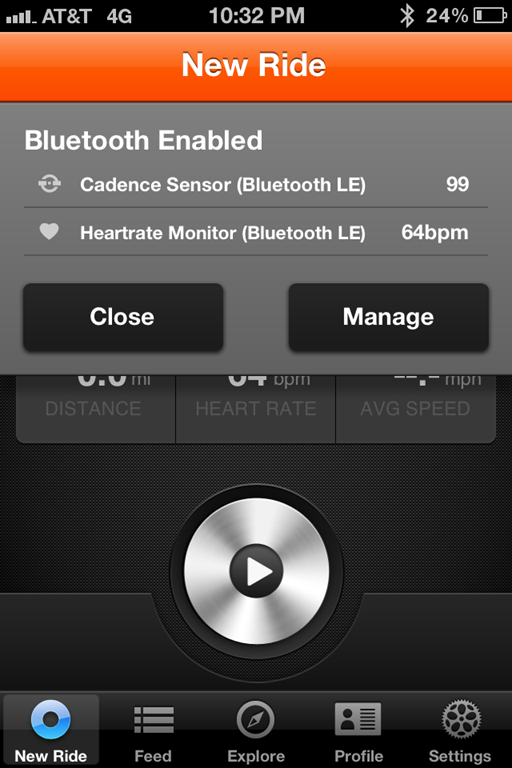 Now I'm not a big Strava user (yet anyway), mostly because I tend to ride with dedicated devices.  So my experience is somewhat limited here.  But it should be noted that within Strava, cadence will not be shown on the ride menu.  Instead, you'd need to review the data afternoon  Here's the basic free version: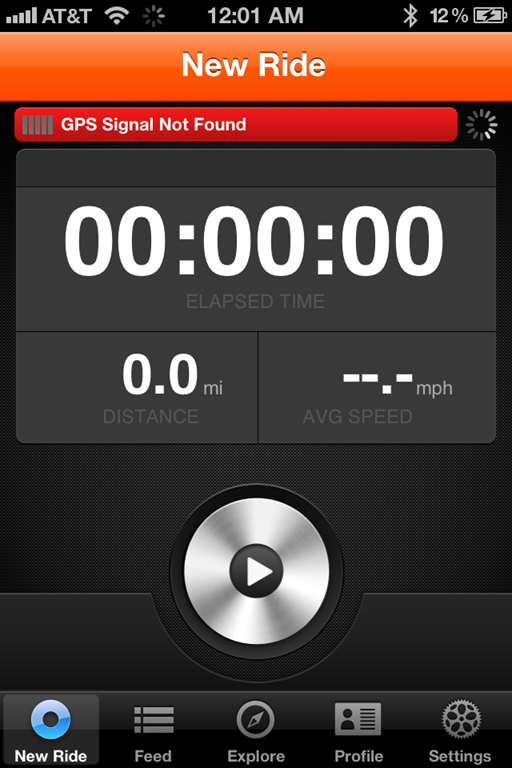 Further, speed data is not recorded from the sensor – but rather only GPS.  Even indoors.  Quite frankly, the excuses given for not recording this data are lame (I understand the logic implied, but ultimately if you want to become the premier cycling app – you need to give people the data they want).  Perhaps they could use some of the $12 million in VC funding to add what every other app developer has otherwise managed to do (in their garages after their normal work).
Moving onto CycleMeter, the sensor settings are handled through the Sensor menu under the Settings page.  However, the sensor pairing isn't quite as straightforward as Strava (or the default Wahoo program).  It goes into a pairing mode, but doesn't give you an indication it's actually doing anything until it finds something.
Further, even when it does find a sensor, it doesn't show you the value being transmitted in the setup page (useful for troubleshooting sensor placement).  And despite trying, I was unable to get it to pair with the new sensor – instead only the Blue HR heart rate strap: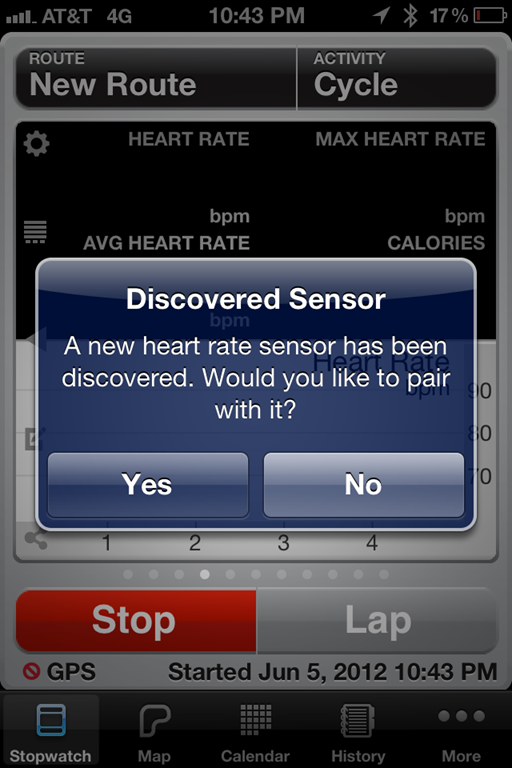 Finally, within Wahoo's own app you can easily pair with any of the Wahoo Bluetooth Low Energy sensors as well as ANT+ sensors.  And you can mix and match as you see fit.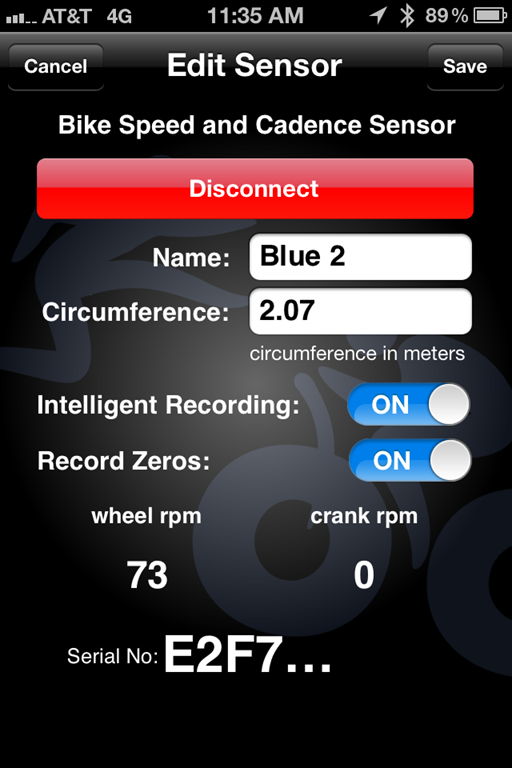 Quite frankly, as I've always said – the Wahoo app is one of the more robust and technically deep apps out there (despite being free).  It may not be the prettiest, but it offers the ability to export the data to other platforms such as Garmin Connect and TrainingPeaks.  Further, there's no limitations like there is on the other programs when it comes to display, export or testing of data.  It just works.
Odometer Feature:
The Wahoo Blue SC is the first dedicated speed/cadence sensor that I'm aware of that includes a built-in digital odometer (without any head unit).  This means that anytime you have the sensor attached to your bike, it'll keep track of your mileage – even when no phone or head unit is around.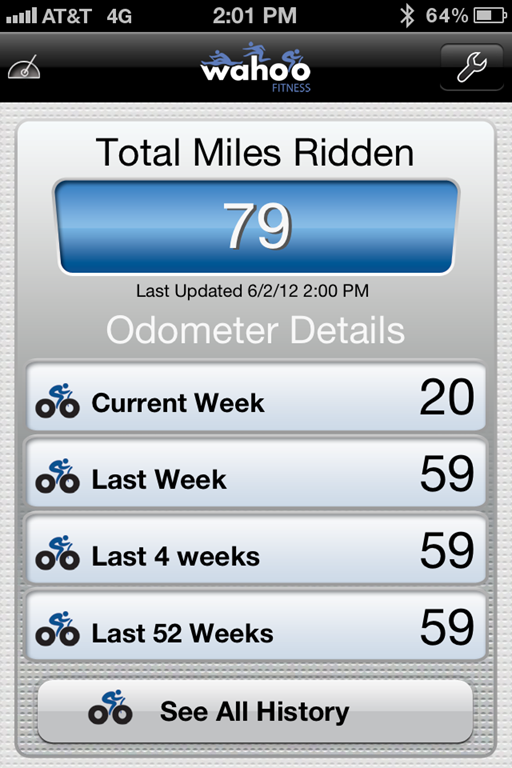 Currently, Wahoo Fitness has released a free App (simply called Wahoo Odometer) which gets the data from the Blue SC via Bluetooth Smart (the same wireless protocol used for the rest of the communication).  You do have to use the phone app to get the data from the sensor, since there's no display on the sensor itself.
The unit keeps track of history by week, and will show you not only total history, but weekly summaries.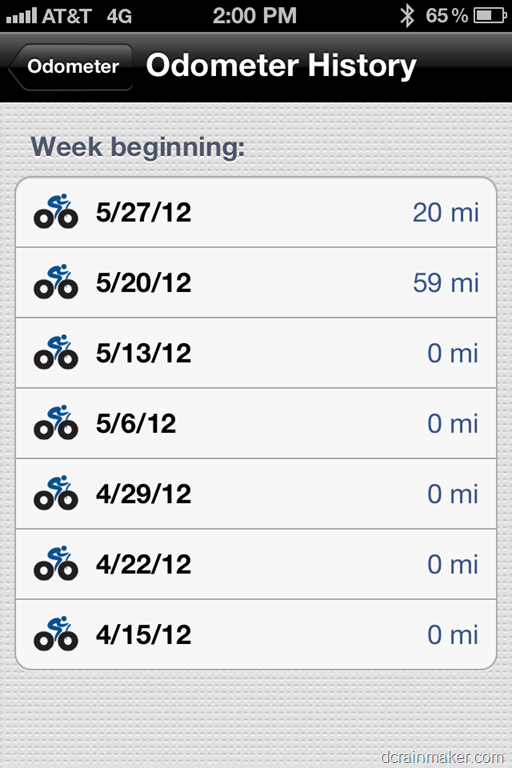 The Odometer app allows you to set the distance in either miles or kilometers: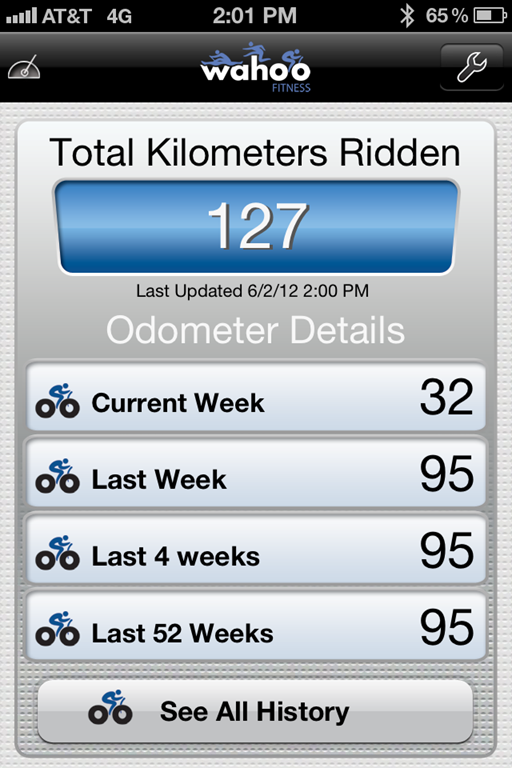 And it also allows you to specify the wheel circumference in meters.  For some users, this might be kind of confusing since many are used to using centimeters instead of meters (i.e. 2070cm wheel size instead of 2.07m).  But, for those of us not as familiar with the non-Americana system, just add a zero to the end and call the period a comma.  Same-same, but different.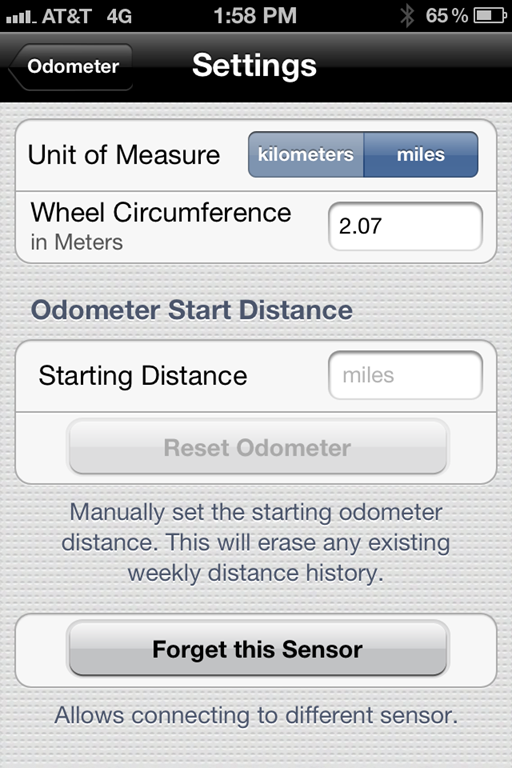 And finally, you can reset the odometer as well as go ahead and specify a given starting distance.
When I first heard of this functionality back a few months ago I was a bit skeptical that it would be of anything more than a gimmick.  But what I found is that it's actually turned out to be a kinda neat future.  Specifically, I may not bother to run the app on my phone (or any cycling computer) for a quick jaunt around town on my bike.  But since the sensor still tracks it, it just keeps on recording what you're doing anyway – with no additional effort (or battery life) required on your part.  In the end, a nice little feature.
Thoughts on the state of Bluetooth Smart:
Many of you have asked about where I see the state of Bluetooth Smart, and how it relates to ANT+.  The last time I touched on this subject was some months ago when the Wahoo Blue HR came out in January.
At the time, the market was really just in its infancy.  The Blue HR was the first legit HR strap on the market (not just a demo unit in a booth).  However, at the time it barely worked with the Motoactv, and outside of that only with the iPhone 4S and a handful of apps.  Since then, app support has expanded greatly, and the issues with the Motoactv have been resolved.  Further, there exists new phones on the marketplace that support BTLE (a subset of Bluetooth 4.0).
However, as a whole, the sensor marketplace for Bluetooth Smart devices remains extremely fragmented and highly dependent on a handful of apps.  Take for example Blue SC.  Today there are four apps that support it (two of which Wahoo created).  There's no doubt in the medium term, many of the apps that support devices via the Wahoo Fitness API (meaning, they already support the Wahoo ANT+ dongle) – will broaden support for the BTLE sensor.
But that takes time.  Development time.  It also takes standards, ones that are just barely being supported for the heart rate device profile (protocol), and are still not fully finalized for the speed/cadence sensor.  No other device profiles exist (i.e. nothing for power meters, running footpod in beta, etc….), and the timeline to get the device profiles out of the SIG is very very very long and slow.
But, there are some forces that will help increase device support of Bluetooth Smart in sport – the first of which will likely be Polar (despite the fact that Motorola has had limited support since October 2011).  They've (Polar) been very vocal in their view that the long term sensor market will be Bluetooth Smart, and not ANT+.  To date, in order to support that they've released their own Bluetooth Smart HR strap – the H7.  This strap is compatible with everything the competing Wahoo Fitness Blue HR strap is compatible with, since they leverage the same API.  I do have a Polar H7 I bought, I just haven't had the time to spend with it.  They've also noted plans to update their new pedal based power meter to support Bluetooth Smart, possibly in the fall.
Now, in order for Polar to make good on their Bluetooth Smart claims, they'll actually have to release something aside from simple heart rate straps.  To date, no Bluetooth Smart compatible watches or head units have been announced or released by Polar.  In other words, it's a lot of talk.  Now, once they do start to walk, I think they'll be able to help the broader BTLE segment by offering a 'major name' in the fitness category – someone on par in brand recognition with Garmin (and depending on audience, greater brand recognition).
Speaking of which, I don't expect to see Bluetooth Smart supported by Garmin anytime soon – since that would effectively be proclaiming the death of ANT+.  And even then, I'm not sure it's really necessary.  There are now chips that allow sport head units to connect to both ANT+ and Bluetooth Smart devices, such as in the Motorola Motoactv.  Though, the Motoactv does not yet support the Blue SC.
Summary:
If you've got a Bluetooth 4.0 compatible phone (such as the iPhone 4s), and you want to capture speed/cadence data while cycling, the Blue SC is a great option and cheaper ($59) than buying an ANT+ speed/cadence sensor ($35) plus an ANT+ adapter ($79) for your phone.  It enables you to get the data you want, without the bulk of an ANT+ adapter hanging off the back.
On the other hand, if you already have ANT+ sensors, and/or you need power meter data or indoor running data, you're probably best focusing on ANT+ since the support is far broader amongst both apps and devices (basically everything out there supports ANT+ speed/cadence sensors except Polar devices).
Over time I fully expect to see more support for the Wahoo Blue SC, and look forward to many of the apps that utilize the underlying Wahoo Fitness API for ANT+ to also support the Blue SC.
As always, thanks for reading – and if you've got any questions, feel free to drop them below.  Thanks!
Found this review useful?  Support the site!
Hopefully you found this review useful. At the end of the day, I'm an athlete just like you looking for the most detail possible on a new purchase – so my review is written from the standpoint of how I used the device. The reviews generally take a lot of hours to put together, so it's a fair bit of work (and labor of love). As you probably noticed by looking below, I also take time to answer all the questions posted in the comments – and there's quite a bit of detail in there as well.
I have partnered with the retailers on the left, and any shopping you do through those links or the ones below, helps support this website. Thanks!
Wahoo Fitness Blue SC Speed/Cadence Sensor – Amazon
For European/Australian/New Zealand readers, you can also pick up the unit via Wiggle at the links below, which helps support the site too! With Wiggle new customers get 10GBP (or equivalent in other currencies) off their first order for anything over 50GBP by using code [Currently Disabled] at check-out after clicking the links below.
Wahoo Fitness Blue SC Speed/ Cadence Sensor (EU/UK/AU/NZ – Wiggle)
Additionally, you can also use Amazon to purchase the unit.  Or, anything else you pickup on Amazon helps support the site as well (socks, laundry detergent, cowbells).  If you're outside the US, I've got links to all of the major individual country Amazon stores on the sidebar towards the top.
Thanks for reading!  And as always, feel free to post comments or questions in the comments section below, I'll be happy to try and answer them as quickly as possible.  And lastly, if you felt this review was useful – I always appreciate feedback in the comments below.  Thanks!
Finally, I've written up a ton of helpful guides around using most of the major fitness devices, which you may find useful in getting started with the devices.  These guides are all listed on this page here.