This past week has been a work whirlwind for me, hence why the posting has been a bit light lately.  Thankfully, the worst of it is over, and now I'm almost back to full speed around these parts.  But that doesn't mean my workouts went by the wayside.  Well, not all of them anyway.  A few did slip off the radar.
When you're running on 2-3 hours of sleep per night, there's just not much energy left to pound the pool or pavement.  In most cases, I tend to prioritize the run workouts as the most important, followed by bike, and then the swim.  I do this mostly based on how much fitness I lose in each sport if I skip it.  Conversely, some would argue (likely correctly) that the recovery time for those activities is completely inverse of my order of priority.  But that's alright, if I'm hurting on time and energy, I'd rather enjoy a run than a lonely trip to the pool.  Everyone's different of course.
This past weekend (I realize that's a world away, but like NBC used to say – if you haven't seen it, it's new to you!), I had a nice bike-run brick.  This would be my last long-brick ahead of the Escape from Alcatraz triathlon this Sunday in San Francisco.
The bike was about an hour long, not terribly long by long-brick standards, but being only a week away, you don't want to go overboard.  This time on the bike I had the Magellan Switch, Timex Cycle Trainer and as is lately the case, the CS600x (for Polar pedal power meter connectivity).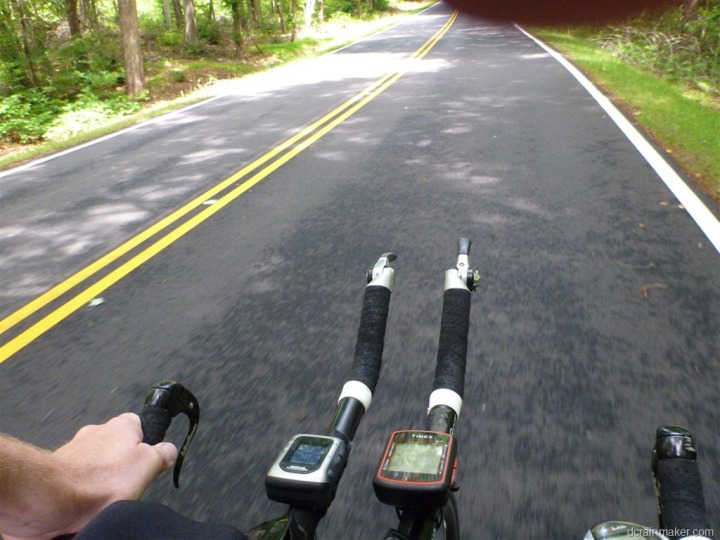 I've found that while I enjoy many of the small-touch unique features of the Timex Cycle Trainer (the red unit), there are other things that just drive me nuts.  For example, everything to do with power.  Why on earth is there no a simple power smoothing move (i.e. 3s smoothing option), or perhaps even lap power.  Also continuing the Timex Global Trainer power meter options, there are no power meter configuration options nor the ability to see the TrainingPeaks metrics of TSS/NP/IF – which is somewhat odd given the fact that TrainingPeaks runs the entire Timex site backend.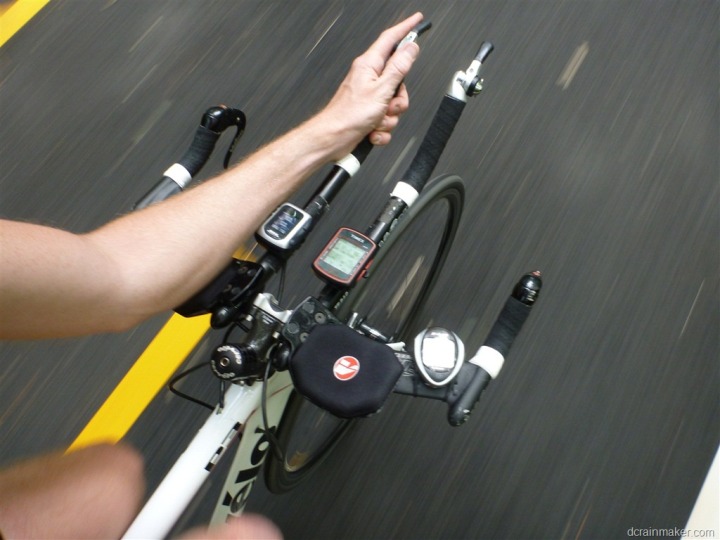 But, otherwise, the unit works fine.  I'm targeting a review of that next-week, pending my camera coming back (see later this post).
The weather was actually fairly cool on Saturday, not hot at all.  As if often the case, I was down at Prince William Forest National Park circling around the flats of the loop for the bike portion.  The workout had me doing the first half as a build, and then the last half of the bike increased in intensity in two additional 15-minute chunks.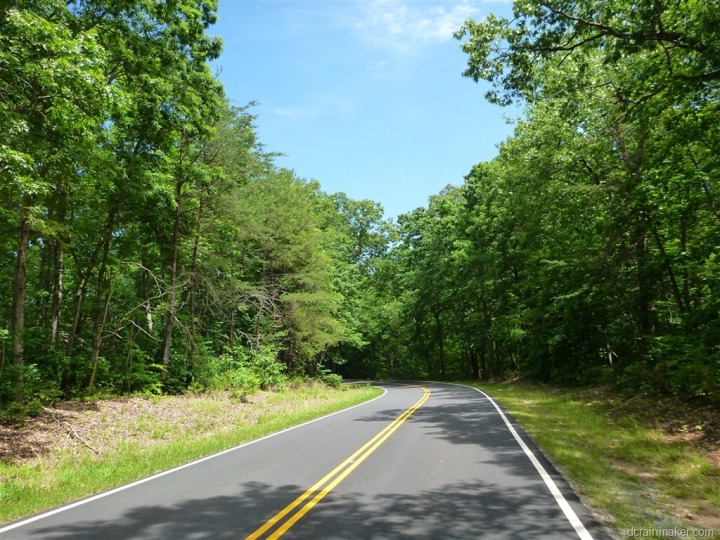 After my bike, I headed out into the trees for a 10K trail run.  Well, partly road, partly trail.  About 1.5 miles road, and the remainder trail.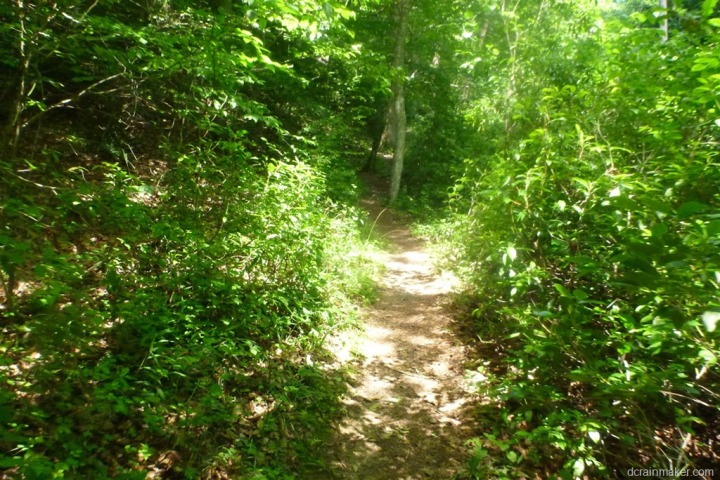 Most East Coast folks probably remember the fairly violent thunderstorms that rolled through late last week – which resulted in the rivers and streams running high and muddy during my Saturday run.  Thankfully though the waterline was below the trail.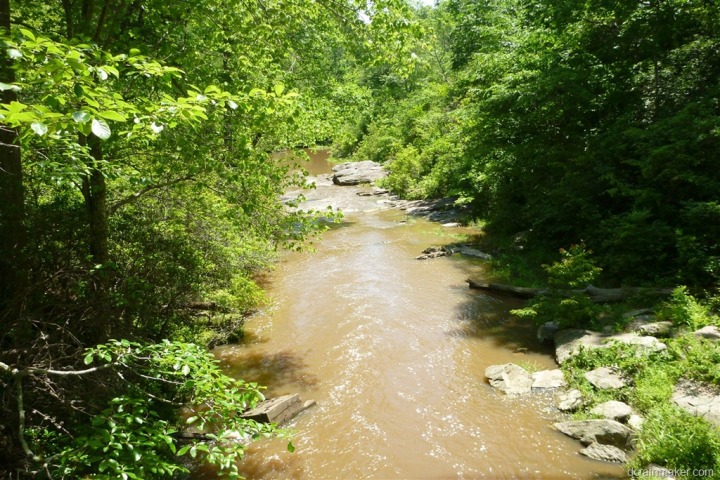 Unfortunately, I'm still getting used to this trail running thing.  And as I crested a small little bump, I managed to roll and sprain my right ankle.  The loud pop echoed through the trees, followed shortly by some loud profanity, which was then followed by the equally painful and loud sound of me crashing to the forest floor.
Graceful, I am not.
At this point I was about 1.5-2 miles from the nearest exit, so there wasn't really a good quick way out.  After a minute or two of pondering life, I got up and walked a bit.  The thing hurt, but not enough that I couldn't at least walk.
Then I trotted.
Then I eventually got to a jog.
And finally, a run.
For the most part, the pain went away for the rest of the run.  I soon found myself back out on the open road and in the final little stretch back to the car.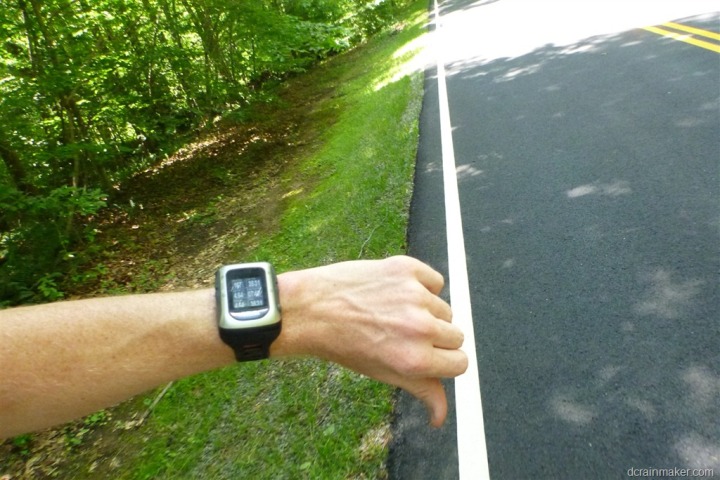 The rest of Saturday I got to watch as my ankle slowly swelled, soon making any ankle definition disappear.  No worries though, I masked the pain by just enjoying a basket of crabs with my neighbors out back behind the townhouse: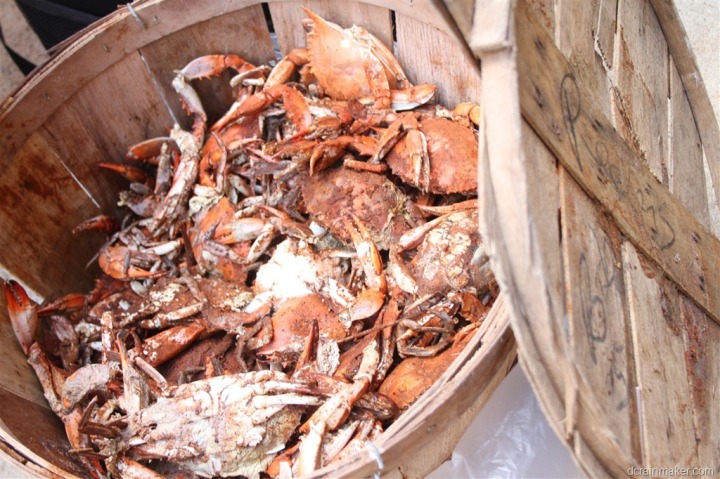 But the real fun (pain) would come later on after I had finished up a nice dinner downtown and tried to walk.  The mistake of sitting in a single place for 2hrs did not help matters.
That hurt.
A lot.
Based on my advanced internet research skills, I'd say I've got a level 1 sprain.  So the typical, ice, Advil, rest and elevation has been in order.
It's gotten better over the course of the week, though I haven't tried running on it again.  Walking is generally fine, but any twisting hurts.
So, within those constraints, I tried swimming tonight.  Generally, as long as I didn't kick – it didn't hurt.  Thankfully, my kick is so pitiful that it really doesn't impact me any.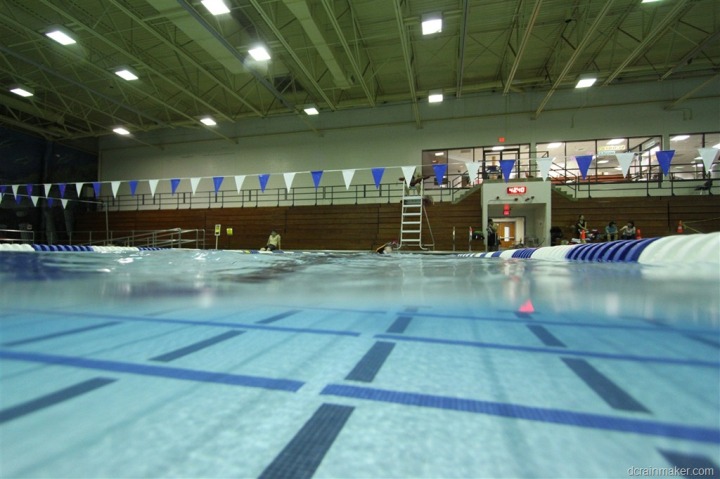 On a more positive note, this would be my first chance to try out my new wetsuit!  I had gotten the new wetsuit (a Blueseventy Helix) earlier this year after finally killing off my original wetsuit (nearly 5 years later).  It tore a giant hole in the armpit that basically severed the arm off.  Not ideal.
Thankfully, this new suit fits perfectly and works well.  The reason I was in the wetsuit is that with the race on Saturday I wanted a bit of time to ensure all the kinks were worked out and I remembered the slight difference in wetsuit swims.  I normally do this in the week leading up to any race.
Note that in general this doesn't harm your suit much as long as you rinse it off afterwards.  If you were to swim every single day in the chlorine, that might be different, but I got 5 years out of my previous suit (which took a pounding between races, training and travel) – so that's fine with me.  My return of investment is sufficient there.
Tonight The Girl was with me as we got some shots done for a few upcoming product reviews, so she also got a few shots with me in the suit as well before we planned to start the product review shot portion of the evening.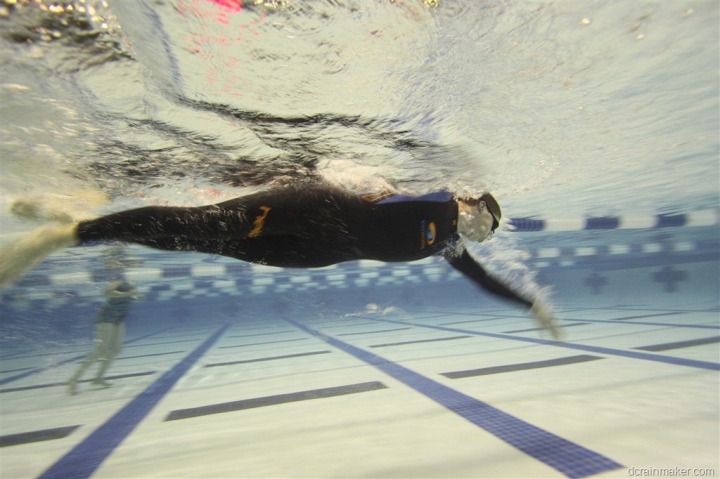 Overall, my time for the 600y TT was alright (7:50), though a bit off where I'd normally like to be (that would put me around a 6:30 500y).  My swimming frequency has suffered in recent months due to work – but I'm fine with that.  As a co-worker often says – 'It is what it is'.  I suspect in the case of Alcatraz this weekend, correct sighting and line awareness will be a much more significant player than sheer swimming speed.
And last but not least, shortly after the above shots were taken…bad things happened.  The below photo may not look too bad, but in reality, the camera was starting to fog up and the images becoming fuzzy.  Why was it fogging up?
Because more than half of the underwater case was filled with water.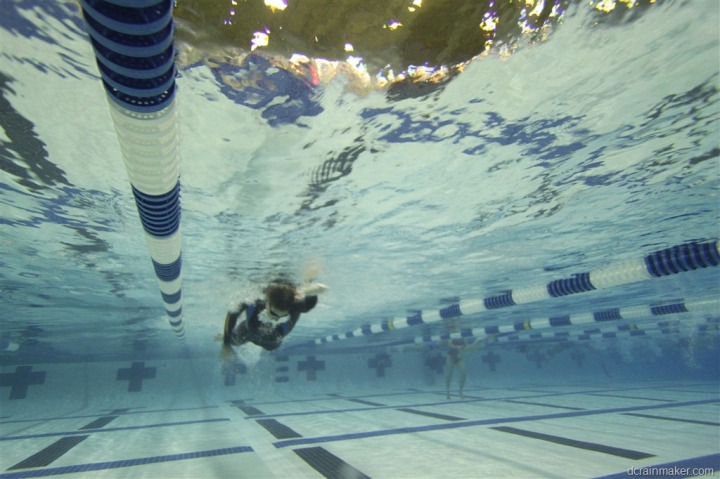 Yup, my DSLR underwater case had probably a water bottles worth of pool water inside, hanging out with the Canon 7D camera inside it.  Just sloshing around like a giant hot tub on wheels.  In fact, four frames after the above photo, the camera died.  This is not how it's supposed to normally work.
Though, Monty Python style, the unit decided to proclaim "I'm not dead yet!".  In fact, as we were driving home, all of a sudden the camera bag sounded like a typewriter.  Or rather, a machine gun.  It was literally going nuts!  We pulled over and shot the following video on my phone.  At first the lens was on, but we took it off to get a better look at things.  The camera is in high speed mode just going crazy:
My poor camera, above.
Thankfully, I pay about $150 a year through the scuba group DAN (Divers Alert Network) to have all of my underwater gear covered.  Otherwise, it would have been quite pricy!  The case is $1,500 alone, the camera is $1,700 and the lens nearly $800.  Yikes!
I'm not quite clear on why it flooded, as it was recently all cleaned up and re-tested. Having used underwater cases for nearly a decade, the saying is simply "It's not a matter of if you'll flood your case, but rather when.".   That when was tonight.
With that, I'm off to finish filling out the insurance claim forms.  Hope everyone's week is going well!