I'm just about ready to head out to San Francisco, I've got my bike all packed up in its case and have the rest of my gear (mostly) packed.
As you may remember, here's my long-form packing list for triathlons, specifically out of town ones.  Since this is a modified Olympic distance triathlon, a few items on the list are overkill (i.e. I don't need a gazillion bits of nutrition).  And, over time my transition bag has basically been whittled down to just about nothing.  Below, being my bike case with my wetsuit folder over the top of the bike – adding both protection…and a bit of obfuscation.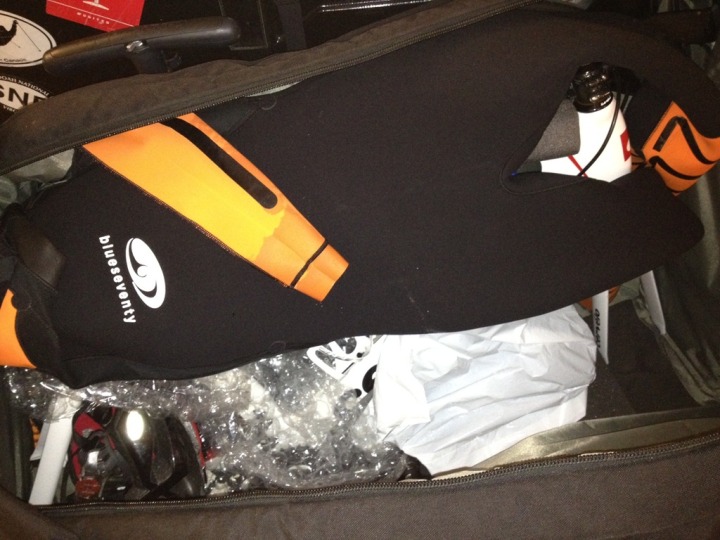 With a growing number of the races having multiple transition areas (though Alcatraz isn't one), with 'clean transitions', you basically have nothing in transition except what you take with you.  Sorta a 'leave no trace' policy.  It makes race day packing easier, though pre-race day logistics and packing have to be locked tight.  As a result of that trend, I've been taking less and less to races.
At any rate, this evening (Thursday) I got in a nice bike-run brick.  Due to my sprained ankle, I was a bit hesitant on how this would go, since I hadn't run or ride since the incident last Saturday.  The bike I figured I'd be fine on, so I took off and started my build.
Like yesterday with the wetsuit in the pool, today I took the race wheels out for my ride.  This was mostly to validate there were no issues with the wheels and tires.  They haven't been used since last season – so it's always good to do a quick check ride.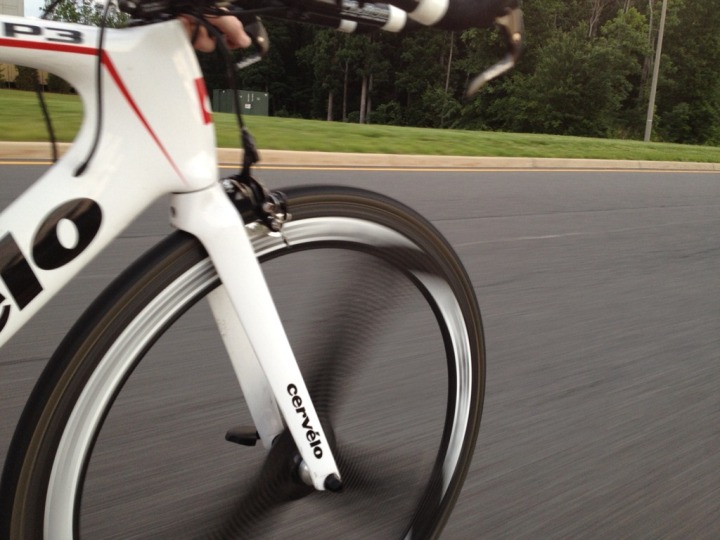 Thankfully, no problems at all.  I actually have a pair of CycleOps wheels, with a new G3 PowerTap hub that the guys sent out to me last weekend – ahead of the various new CycleOps Joule and Joule GPS units that will hopefully arrive later this month as they near release.  So had my race wheels displayed some pain-in-the-butt-I-don't-want-to-deal-with-it-at-the-last-minute flaw, I would have just swapped wheels out.  With such an up and down and technical course like Alcatraz, aerodynamics are pretty much irrelevant.  Many folks recommend just using a road bike, though I'm just as versatile on my tri bike, and my road bike weighs more anyway.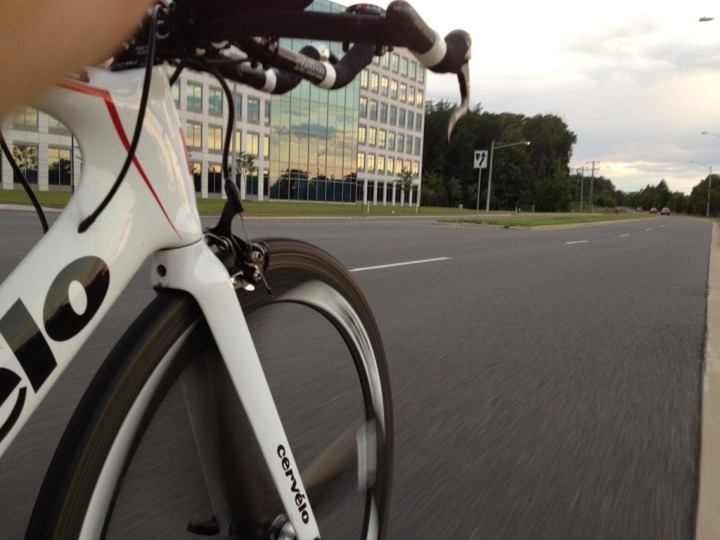 After the ride, I had a 20 minute run scheduled.  It would have started off with a 5 minute build, and then increased intensity in 5 minute chunks.  My ankle felt good coming off the bike (about 30 minutes long), so I decided to give the run a shot.  But instead of going the full distance, I shorted it to about 8 minutes.  A 5-minute easy build, ensuring things were fine, followed by three minutes at about race intensity, before a walking cool-down.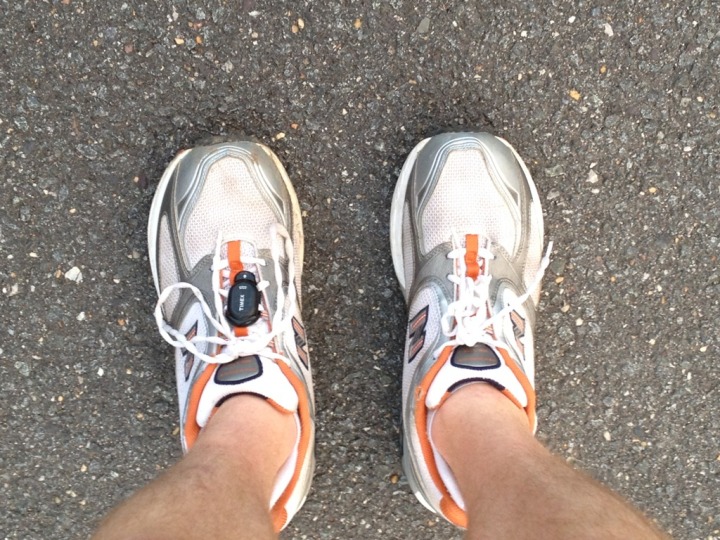 I found that as long as I didn't twist my ankle left/right, I felt no pain at all – perfectly good.  Obviously, doing this in a controlled pavement environment is easier than a race, especially one that involves a beach and a sand ladder.  So I'll just take it as it comes on race day.  I'm not out to win it or my AG (and never planned to be), so I'm just going to enjoy giving it all I've got – but in a way that doesn't put me in a broke state come the end of the day.  Historically, I've got a good track record with balancing those two.
So with that – I'm looking forward to the weekend, and if you're out there – I look forward to saying hi!
Good luck to all those racing this weekend, either in Alcatraz or elsewhere.  Have a great weekend!