Here's a look at the last few days here in rather warm France…
1) A Sweltering Friday Night Brick
Friday night was brick night.  Not a hard one, just a short and intense one.  Unfortunately, the temperature on Friday reached 97°F here, which meant that after the exchange rate it was approximately 120°F in the top floor of our apartment, and it split the difference on the first floor.  The reason being that we're on floors 5/6 (or 6/7 in American floor counting) and only the roof is above us.  So the sun beats down all day and the heat from everyone else rises to us.  Free heating in the winter, not so awesome for the summer.
We have a little portable A/C unit that we initially got for the cupcake shop – but it didn't cut the mustard there so we moved it over to our place to use to try and cool down small spaces.  In this case that space would be my bike trainer mat.  Which, it cooled fairly well.  I have a photo somewhere, but for some strange reason I can't find it.
Thankfully it was a short session on the bike – only about 30 minutes simply as a building warm-up with a 10-minute sustained almost-FTP set to finish it off.
Then it was outside to knock out a 35ish minute tempo run.  Despite the heat I found the run pretty fun.  No particular secondary device with me this time, just a single watch (FR620) and a single heart rate strap (Scosche RHYTHM+).  Sublime simplicity.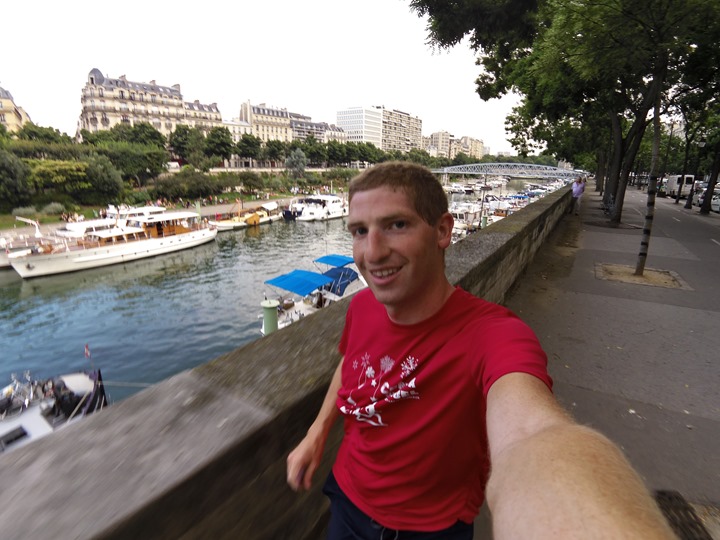 Afterwards we headed out to meet up with friends across town.  As usual, we took bikes.  I was wearing bike-appropriate attire from a reader that dropped off a t-shirt at the shop earlier in the day.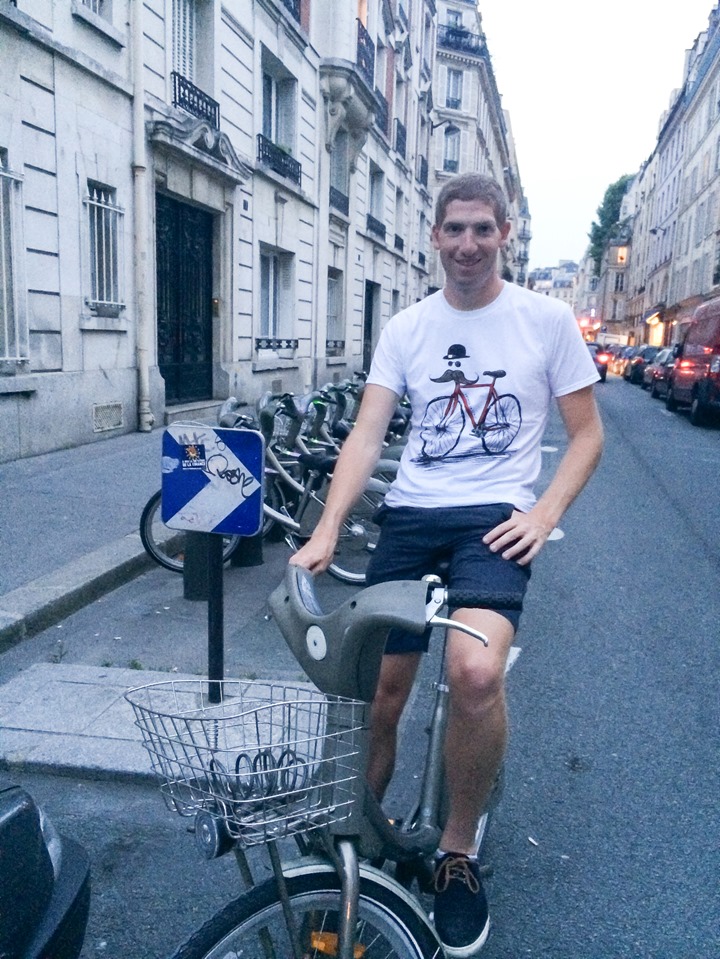 Thanks Larry!
2) Yes, there's a Grilled Cheese café
Back a few months ago while doing some errands I stumbled on a small restaurant that serves nothing but grilled cheese sandwiches.  At the time though I couldn't remember exactly where it was though other than roughly near Bastille.  So it wasn't again till Saturday night that when coming home via Velib from a friend's house that we once again stumbled upon it.
Finding ourselves mid-afternoon on Sunday thinking about food, we grabbed our Velib's and pedaled the 5-7 minutes over there to check it out.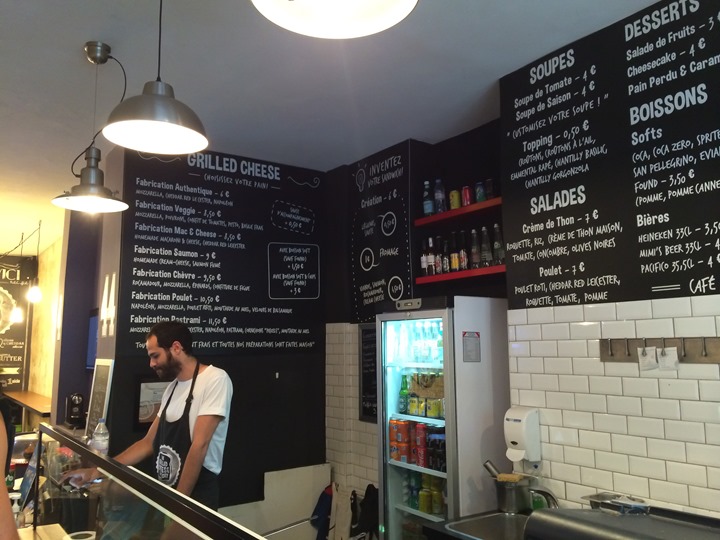 As noted, the entire menu is grilled cheese offerings.  But in reality, they had me at 'pastrami'.  I can't find pastrami here in France/Paris (which makes me very sad), so this was epic.  Combining grilled cheese (a favorite), with one of my favorite meats.  Perfect.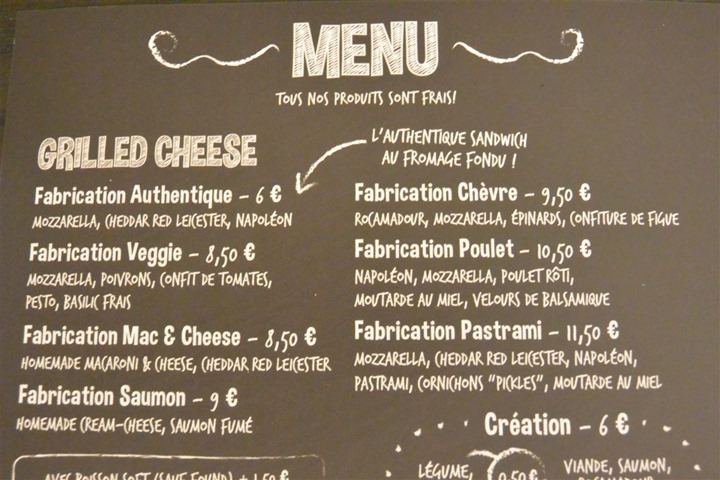 We took a seat outside and waited for the food to arrive. Which, aside from the prices being a wee bit high – would be our only other complaint.  Even by French standards it took a long time for a sandwich.  On the flip side, my sandwich was definitely worth the wait.  Yes, pure brilliance:
Three different cheeses, some meat, and I had substituted out the mustard/pickles for caramelized sweet onions.   I'm hungry again just thinking about it.
3) Saturday Afternoon Swims
I thought it would be nice on a hot Saturday afternoon to go down to the open-air pool instead of the indoor pool.  It would be just like swimming outside when I lived back in DC.  The pool that fits that description closest to us actually sits on a barge on the river, about 2 miles away.  So we grabbed a pair of Velib's and headed on down.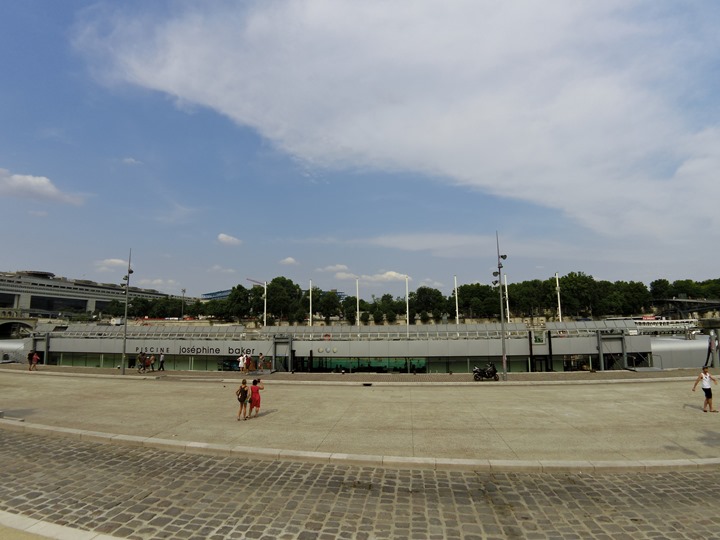 Except, once we got there we realized the error of our ways.  Specifically – everyone else thought the same thing.  And unfortunately, in Paris, 'everyone' means that the entire pool just becomes a giant pool party without any lap lanes.  You can sorta see that in the glass through the windows: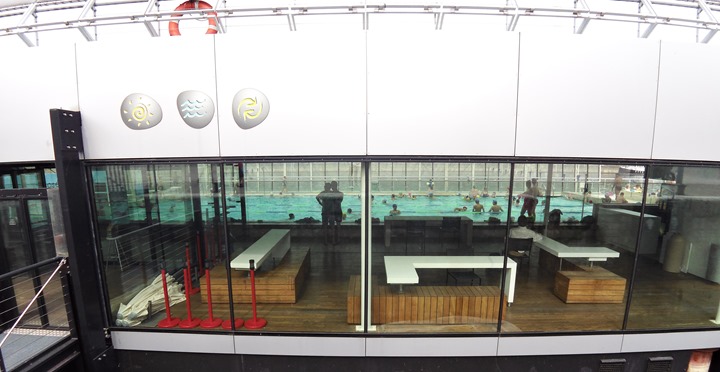 So, we backtracked back to all of a few hundred meters from our home to our normal pool (thus completing a four-mile round-trip bike).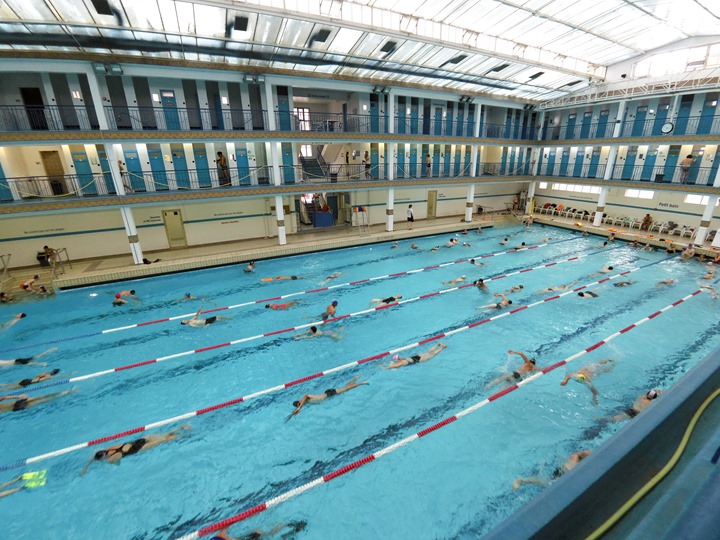 It was roughly 'normal' in the busy department – about 10-14 per lane or so most of the time we were there.  I usually swim in the second to right lane, since that's the 'rapid' lane.  The far right lane is for classes.  The remainder of the lanes are for Parisians to practice aquatic interpretive dancing.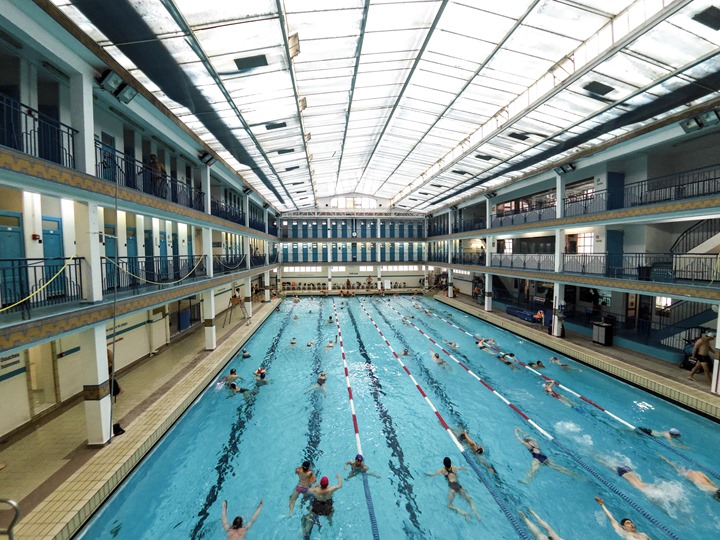 4) Watching Bike Polo…yes…Bike Polo
As we were making our way back from the grilled cheese sandwich place we stumbled past a hockey-rink like setup with cyclists riding around inside.  After a few moments we realized it was neither hockey nor a cycling event, but rather 'Bike Polo', which involves lawn polo sticks along with a round ball.  Add to that single-speed bikes and some hockey nets.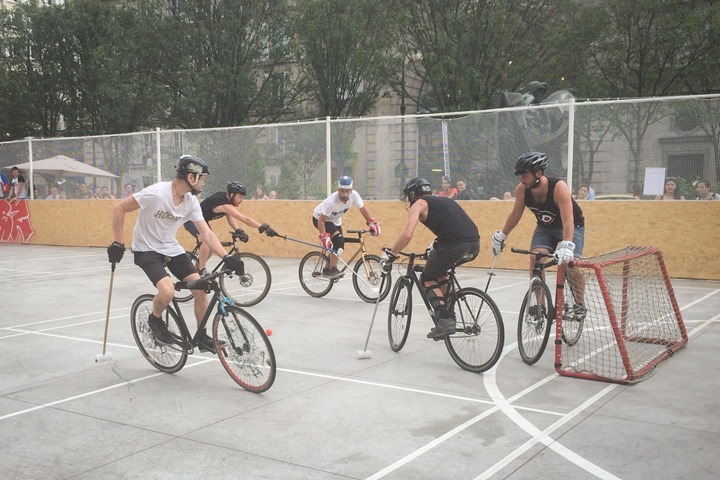 The game was surprisingly fast-paced, and, at times rather aggressive as well.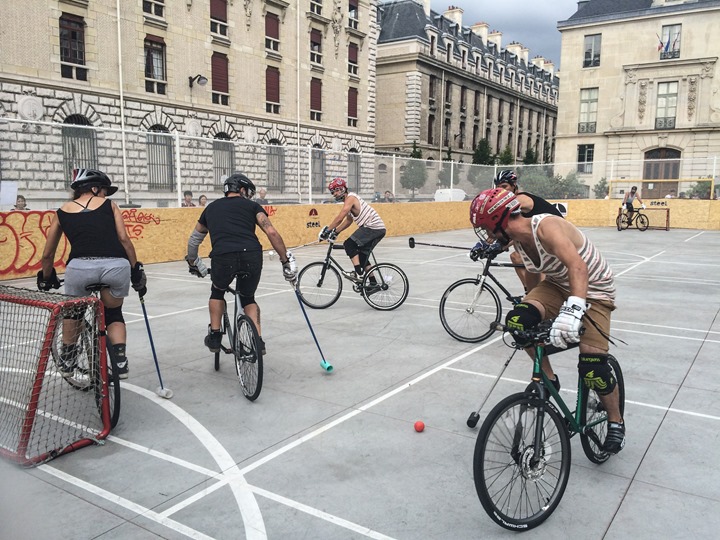 Here's a short compilation video of a few moments of the action:
The event was drawing a small crowd of passer-byers, mostly like us though – curious as to exactly what was going on.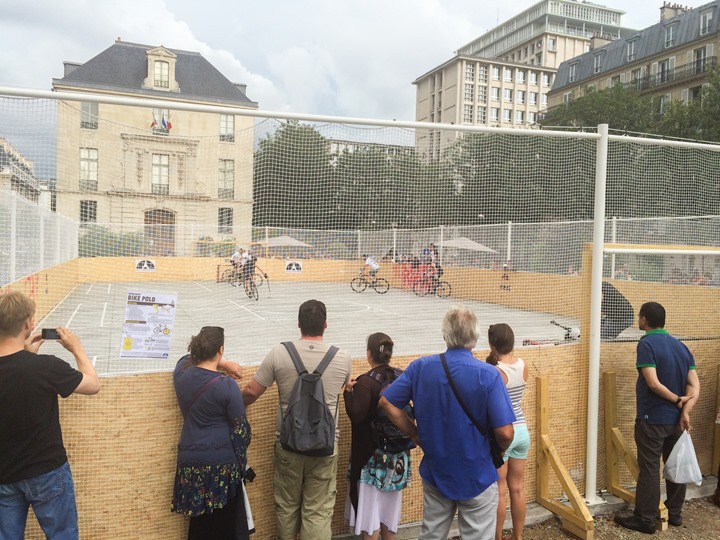 The space that they're in is being used for a number of different sporting events over the course of the summer.  And this just happened to be this weekend's event of interest.  Cool stuff!
5) Longchamp Loops
Last up on the weekend hit list was a medium length ride on Sunday.  I waited till early evening to head out since thunderstorms had threatened to dump a few times.  My ride called for about 90 minutes of Z2 pace (so just riding), and then a short build before doing 2x17min at a higher intensity.
I ended up heading over to Longcamp again, simply because it's somewhat mindless and this time of the day would be reasonably free of obstructions (people/cars/etc..).  As I arrived though the clouds were looking pretty sketchy.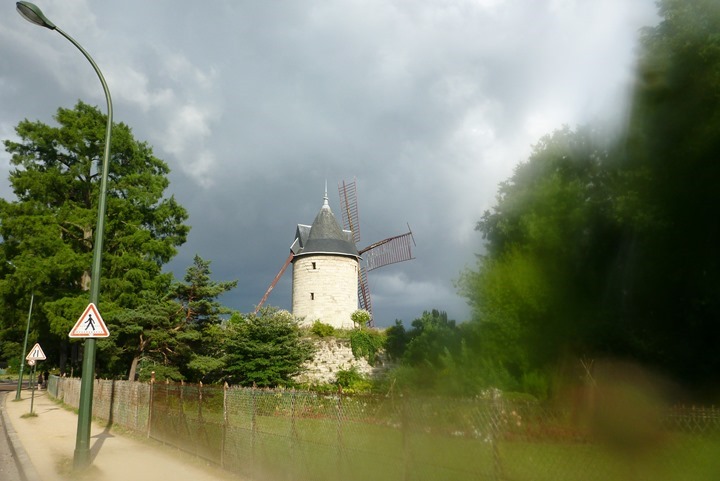 I decided to do bigger loops around the Bois (forest) to kill time for the first 90 minutes.  So rather than 6 minute loops they'd be 25 minute loops.  Eventually I'd head back to 6-minute land for my harder intensity stuff.
It was out in the larger Bois that I remembered an e-mail a reader had sent me on Friday asking whether or not it was safe to run in the Bois due to concern about 'working ladies' there.  See, both of the major parks close/in Paris have many ladies that work along the edges of the roadway in the relatively quiet park.
There are essentially two types you'll roll into.  The first have their own van nearby/with them for dining in.  Usually the vans look pretty rough, so this is actually a rare nice van.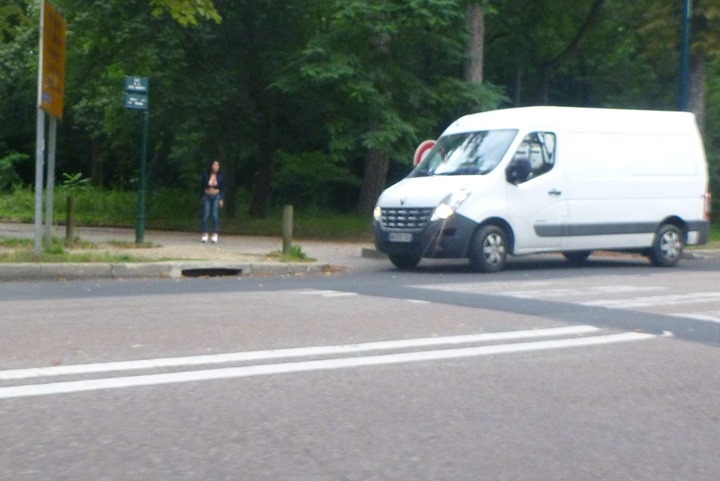 The second type is more of a 'take-away' service, where you head elsewhere.  Entertainingly on the next loop this women was being picked up by some teenagers.  It was obvious since they had the 'A' on the back of their car indicating a learning permit/driver.  Further, they just looked like two 18-year old teens when I rode past their windows.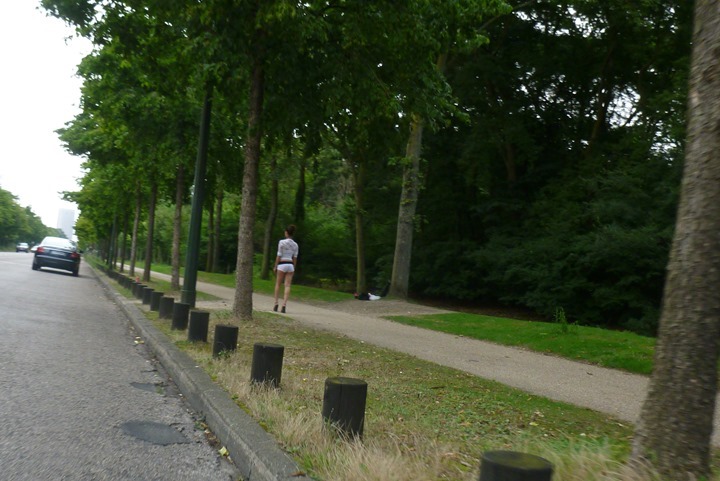 As for the reader's question: No, the ladies are completely harmless.  Both myself and The Girl have run and ridden at all hours of night there and never been bugged by one.  Unless you look like a business man (or a plumber), they'll completely ignore you.  That's because neither of those two should be in the park  – thus making it easy to figure out who's looking for services and who's out exercising/park-partaking.  As for how many there are, on my route last night I saw no fewer than 20-30 women on that specific loop in the park.
In general, you're far more likely to get hurt by a little old lady holding her course walking her miniature dog than you are by any of the women.
As for my ride, I just went around and around.  Eventually I hit up the smaller loops and continued going around and around.  Every once in a while someone would try and hang on my wheel (usually possible), and then they'd jump in front.  That never really works out though because they end up slowing things down.  This guy however was able to actually hold is own.  Nonetheless, I'm not a terribly big fan of drafting since that means I'm out of aero-position.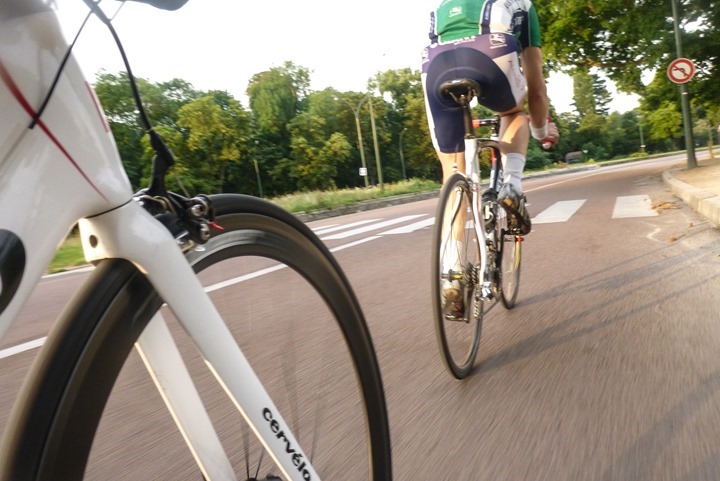 I was however using wattage for these, so whether or not I was in a draft was somewhat irrelevant as long as I was hitting my zones.  Hence why it mattered if a person got in front that was too slow (as I'd have to immediately re-pass them).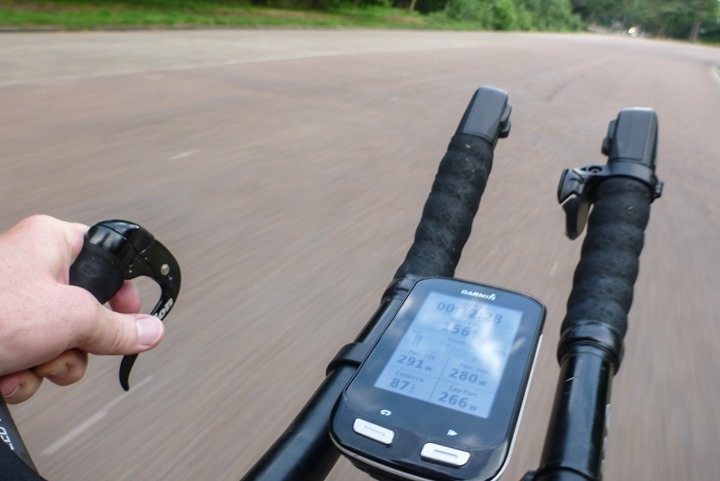 After about 2hrs and 15 minutes of loops I started working my way home – eventually getting back into the city and passing by the National Assembly building, which has been lit up since Bastille Day last Monday.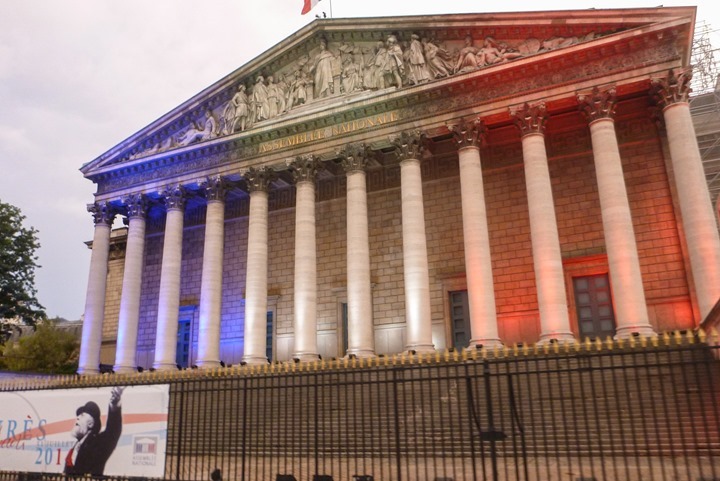 From there I found home a few minutes later – coming in just under 2hrs and 45 minutes.  Gotta love warm night rides where the sun doesn't go away until 10:30PM or so.
With that – thanks for reading, and have a great week ahead!