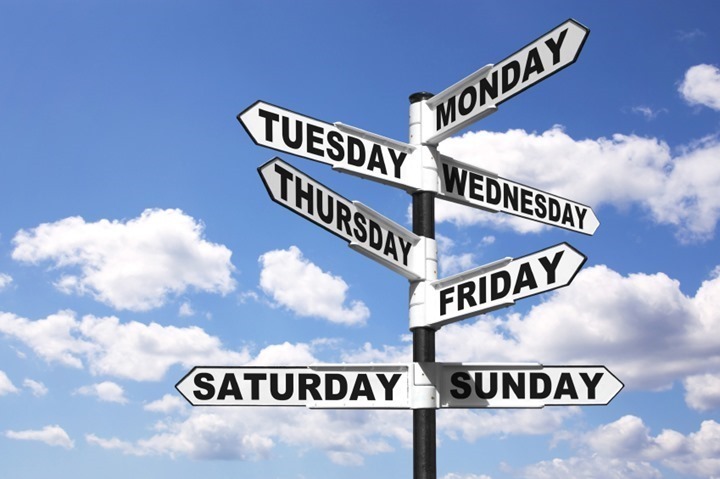 The Week in Review is a collection of both all the goodness I've written during the past week around the internet, as well as a small pile of links I found interesting – generally endurance sports related. I've often wondered what to do with all of the coolness that people write, and while I share a lot of it on Twitter, Facebook, and Google Plus, this is a better forum for sending it on to y'all. Most times these different streams don't overlap, so be on the lookout at all these places for good stuff!
So with that, let's get into the action!
DCRainmaker.com posts this past week:
Here's all the goodness that ended up on the main page of DCRainmaker.com this past week.
Sunday: Week in Review–July 14th, 2014
Monday: 5 Random Things I Did This Weekend…in Amsterdam
Tuesday: 5 Awesome Things I Did and Saw on Bastille Day 2014
Thursday: Redshift Sports Aero System In-Depth Review
Notable Tidbit Of the Week:
When the Garmin FR620 first came out, many folks lamented about the lack of a wholly black band.  This complaint primarily came from those wanting to use the watch as a day to day watch in office environments.
Well, now you have that option. Sorta.  See, The Garmin FR220 and FR620 bands share the same mounting system – they're totally interchangeable.  Adding to that Garmin also introduced the S6 watch (it's a golfing watch), which happens to have the same band system.  It's very common for Garmin to "re-use" hardware across totally different product lines.
In any case, the reason that matters is that you've now got three additional band colors you can pickup for your FR220 or FR620, including: White, Black, and Black with Orange (for Halloween or something).  Those are shown below at left.  I also snipped in the purple one from the FR220, in case any of you want to make your FR620's look purple.
Listing of all of them below:
Product

Amazon

Garmin 220 Replacement Band (Purple/White, Black/Red) - Compatible with FR220/FR620
$25
N/A
Garmin 620 Replacement Bands (White/Orange, Black/Blue) - Compatible with FR220/FR620
$25
N/A
Garmin Approach S6 Watch Band (Orange, Black, White) - Compatible with FR220/FR620
$25
N/A
Stuff that I found interesting around the interwebs:
Here's a not-so-small smattering of all the random things that I stumbled on while doing my civic duty to find the end of the Internet:
1) Why power meters are so expensive: A great piece by James Huang with details from all the major players on exactly why power meters aren't super-cheap yet.  Some very good/interesting data from Stages in there as well. (Thanks to Lieven for sending in).
2) Tour de France riders lead Strava rampage: Pretty cool look at how this year's pro riders are smashing records left and right on Strava.  Having ridden a few rides on past TdF routes and seen Strava KOM's hit on TdF stage days for segments I rode, I can relate a bit.
3) How to spot a Stravasshole! In related news, funny stuff, and on the rare group ride that I go on, occasionally somewhat true. (Via Eli)
4) Team Sky Mechanics Truck Tour: One can only wish you had a truck like this at your disposal.
5) Powell & Simpson's bans cut to 6 months: Two track stars have had their bans cut fairly considerably – a good analysis from the Sport Scientist guys about it.
6) A look behind the scenes at a sports Kickstarter: Here's a look at Redshift's journey from initial Kickstarter kickoff to actual delivery of the product.  The good, bad, and ugly.  Part 2 here.
7) 7 Years of Velib: This past weekend the Paris bike sharing system celebrated it's 7-year birthday. Some of the stats are interesting, like one Velib is rented every second.
8) SRM PC8 arrives at Le Tour: It looks like the long-awaited SRM PC8 head unit has come out to play in the last few days at the Tour de France.  Timeline-wise it sounds like later this summer it might be available.  Full details on how it works in my past PC8 posts.
9) Recon Jet Update: For those folks following along on the Recon's journey to get their heads up display unit for sports out, here's a July update with final hardware design and some website snippets.
10) Nike vending machine for Fuel points: Nike has placed a vending machine in NYC where you can get various Nike items by using your Nike Fuel points.  Interesting marketing ploy.
Crowd Funded Projects of Athletic Note:
Most of this content used to be found within the main section, but I figured I'd just call it out up here and make it easy to find. I regularly sift through Kickstarter and Indiegogo (plus a few others on occasion) looking for sports projects.  If you're unfamiliar with projects, read my detailed post on how I decide which projects I personally back.  Note that as always with crowd funded projects, assume the project will be late and will under-deliver on features. Thus far, on the numerous products I've helped 'fund' (except a leather bike handle), that's been the case.
Backtracker by iKubu: This is a notification system to let you know a car is coming up on you.  I've started chatting with these guys about getting a unit to toy with – so hang tight! (via Dave)
The Journey Begins from Backtracker on Vimeo.
Cycling safer: turn signals made easy
COOLEST COOLER: 21st Century Cooler that's Actually Cooler Yes, this is sports related, because it's so darn cool.  Thanks to Stephan for sending in.
Sports Technology Software/Firmware Updates This Week:
Each week I quickly highlight some of the new firmware, app, software and website service updates that I see go out. If you're a sports technology company and release an update – shoot me a quick note (just one liners is perfect, or Tweet it at me is even better) and I'll make mention of it here. If I don't know about it, I won't be able to post about it. Sound good?
Site/Firmware Updates:
Sport Tracks Mobi Updates: Here's the roundup of their July 2014 updates.

mAdidas miCoach app major overhaul for Windows Phone 8.1: Lots of updates, including expanded Bluetooth Smart sensor support.

Adidas miCoach Multisport Added to Android: Here's all the details about that new functionality.

Garmin Fenix/D2/Tactix firmware update: Added support for Android Smart Notifications.

Garmin Fenix2 firmware update: Added support for Android Smart Notifications, power alerts, and improved battery life. (Note: The release date on the page incorrectly shows June instead of July, but it's July)

Quarq Firmware Update Incoming: Of note is soon the ability to get cadence from the accelerometer, in the rare event your magnet falls off – the unit will continue to function.
iPhone Updates:
iPad Updates: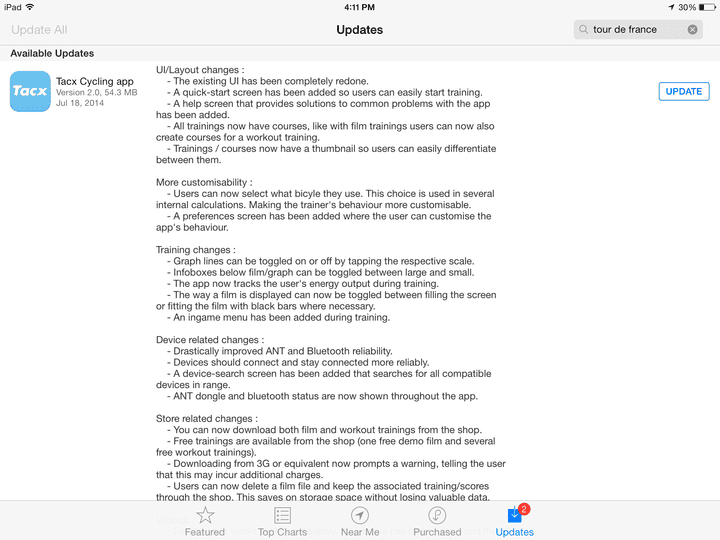 Android Updates: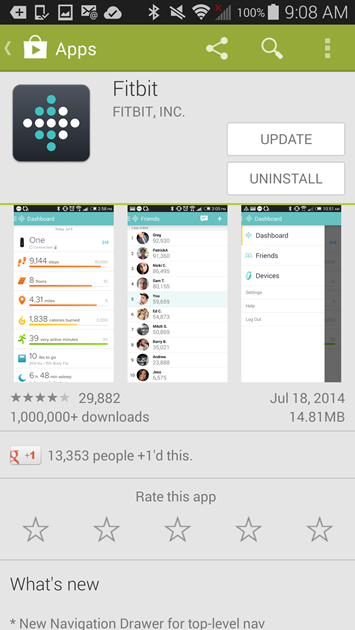 Windows Phone Updates: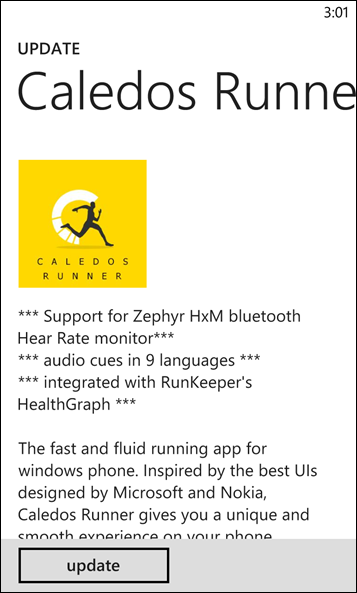 —
Thanks for reading!