A Warm Friday Evening Parisian Run:
The weekend started off with a nice 12-mile run.  Just long-run pace, so nothing too crazy.  This would be the first run with the Bryton Cardio 60 multisport watch that arrived into the Queue.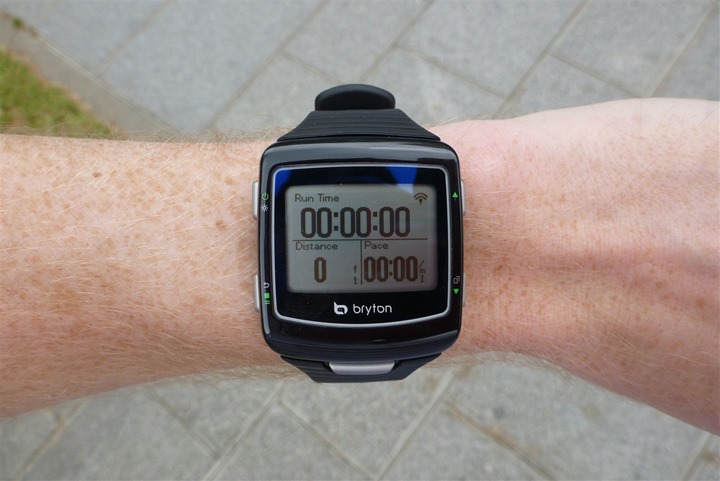 I started off as I usually do along the river headed eastbound.  I had noticed earlier in the day that many of the larger riverboats were being restricted due to the water, but didn't think too much of it.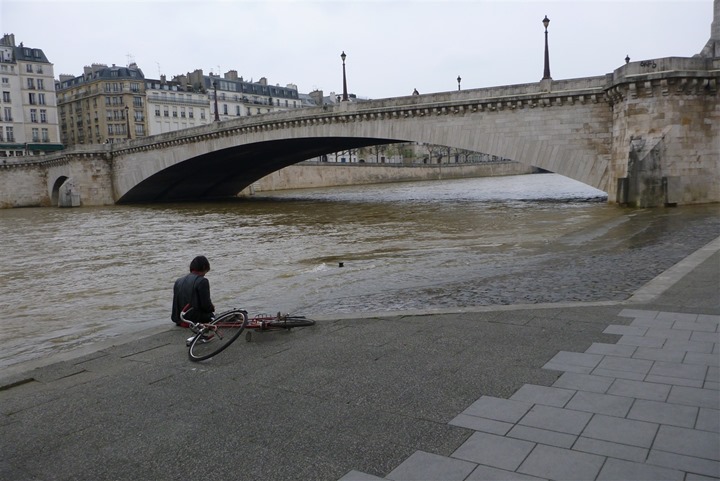 That was until I got here, and had to retreat as the path was fully flooded over (that's a house-boat to the left):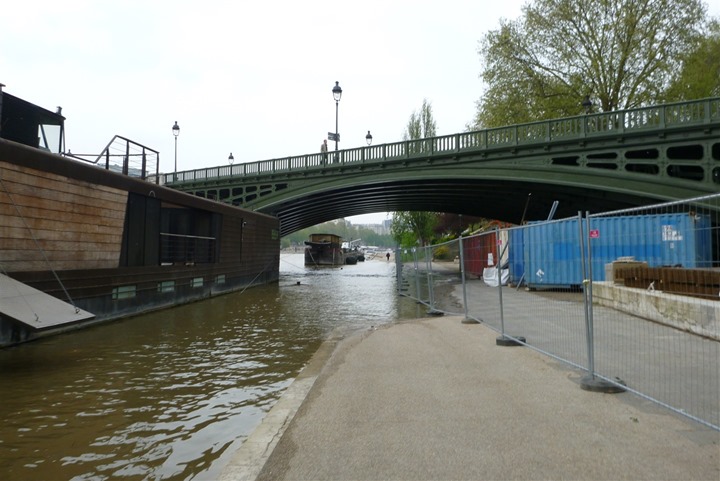 The river has done this many times over the past few months. Seems quite normal from what we gather.
You'll notice the construction fencing above.  We're not quite sure what they are doing yet, as it doesn't appear to be part of the larger Seine riverfront effort happening a few kilometers away (that I'll talk about later).  But, whatever it is it's required them moving in massive amounts of construction worker temporary buildings.
Funny enough though, they actually wrapped the fence in faux-stone styling.  And even the shipping container buildings were also wrapped in the stone 'wallpaper'.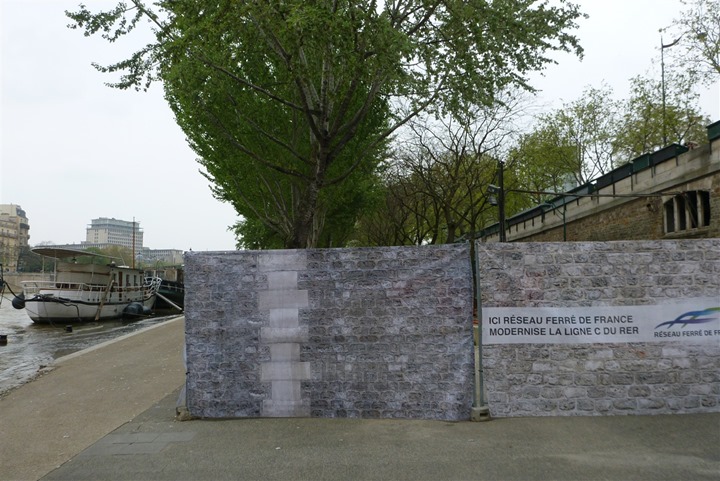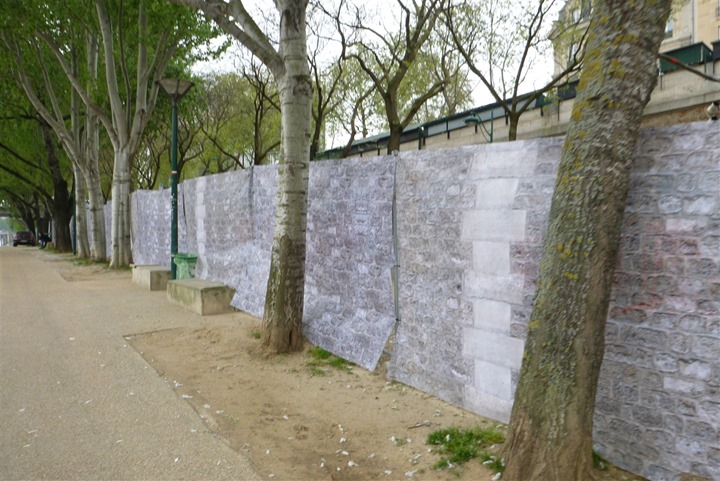 And to be fair, it actually looks kinda nice. 🙂
After failing in that direction I simply headed back along the river and eventually to and through the Louvre: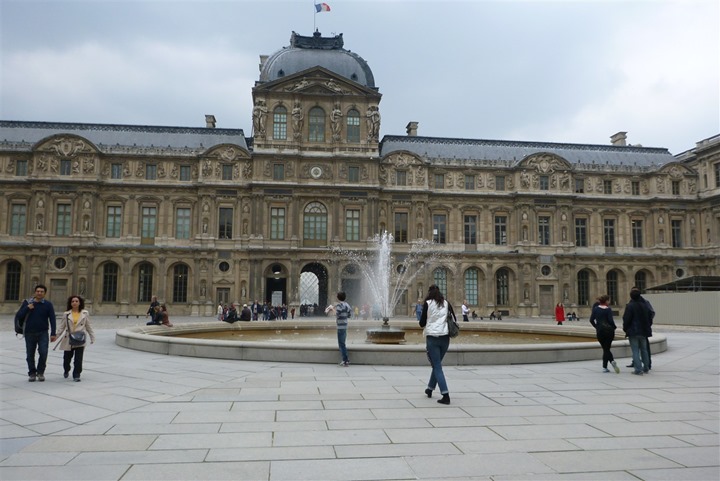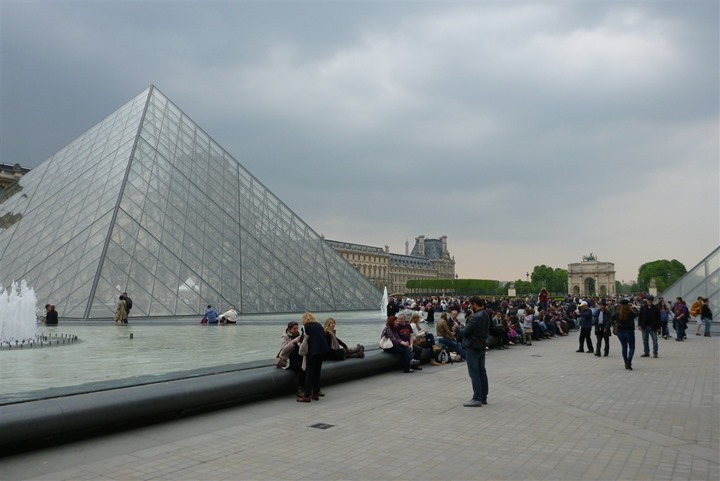 Given the warm Friday weather, it was absolutely packed.
I continued into the gardens, which were equally as busy – both with people, and also various plants blooming.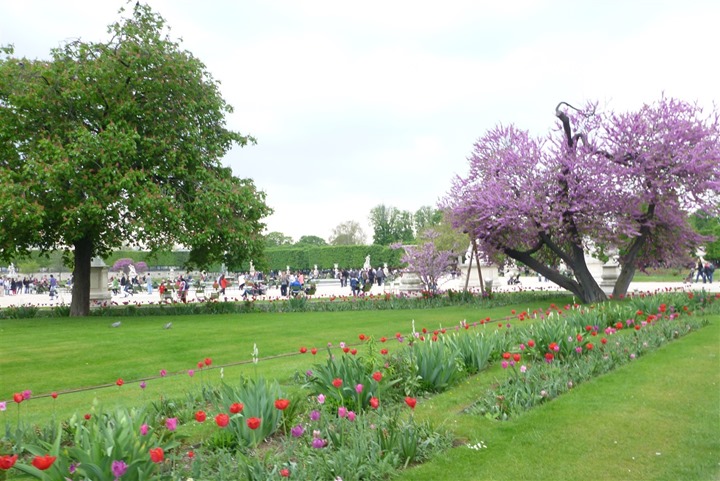 I don't remember seeing the Segway folks much over the winter, so they must have gone into hibernation.  Probably smart – the going into hibernation thing.  The winter was miserable.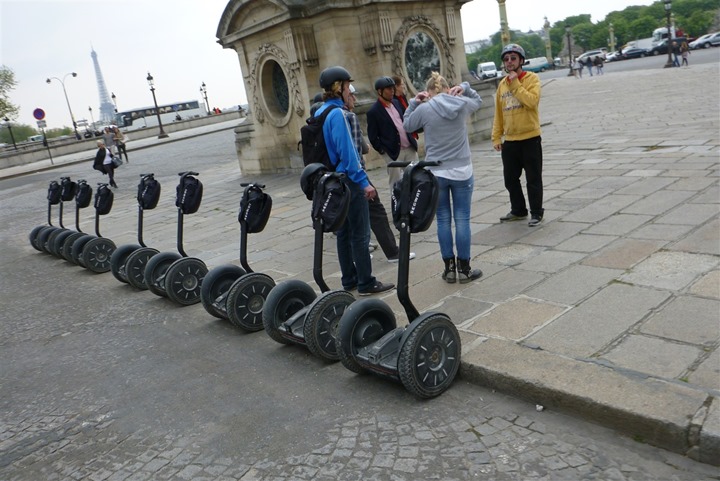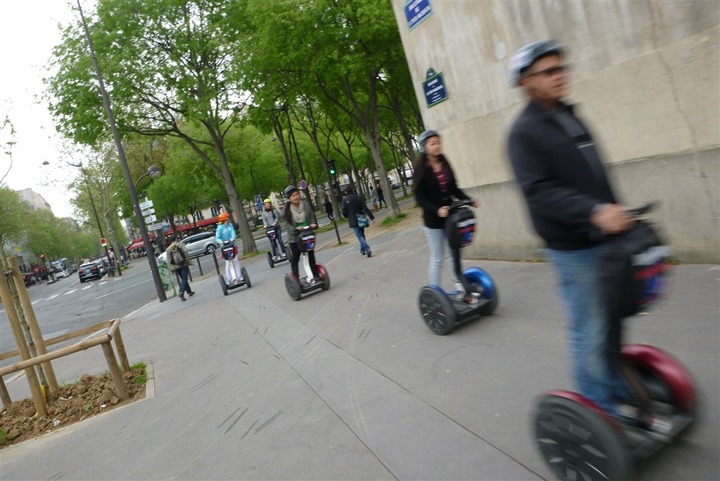 I turned and went towards Invalides, and eventually down the long skinny park that looks up towards it.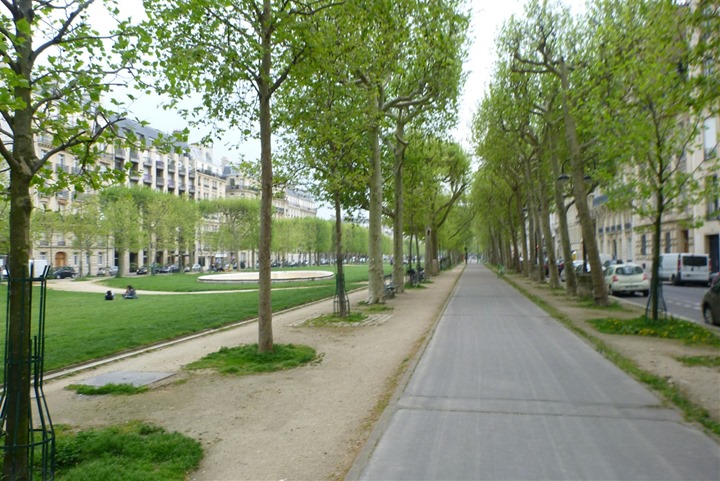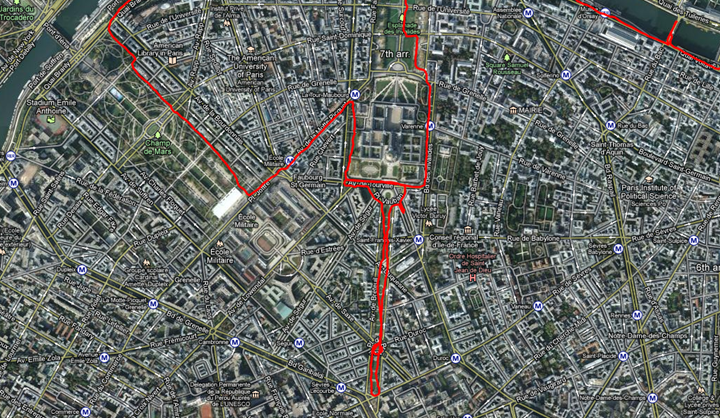 I hadn't run down this nearly 1-mile long length before, despite seeing it on one of our first house-hunting trips almost exactly a year ago.
Interestingly, we'd look at a house there about a month later, just about where the photo below is.  Though, it was one of many homes that never made our post.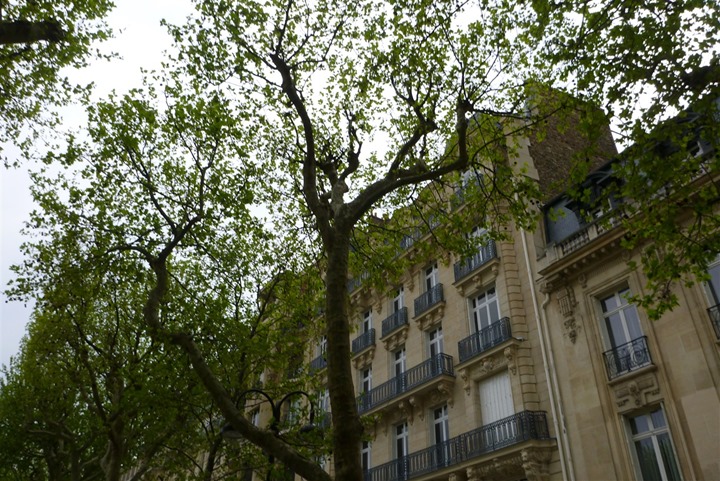 While it had a beautiful view over the park (photo from last year below), it had the sound proofing of a paper bag. And the furniture of a confused grandma (we counted 16 differently styled chairs).  Oh, and every aspect of the furnishings had to stay.  When we went and visited we could actually hear the neighbor filling up a pot of water for tea, and the tea pot then boiling.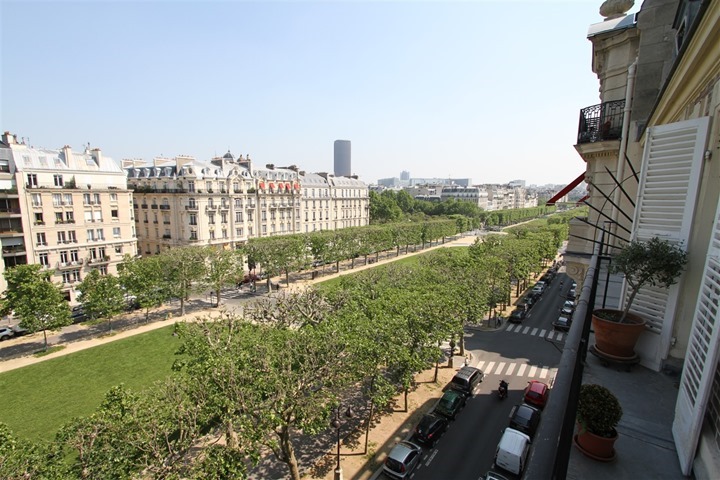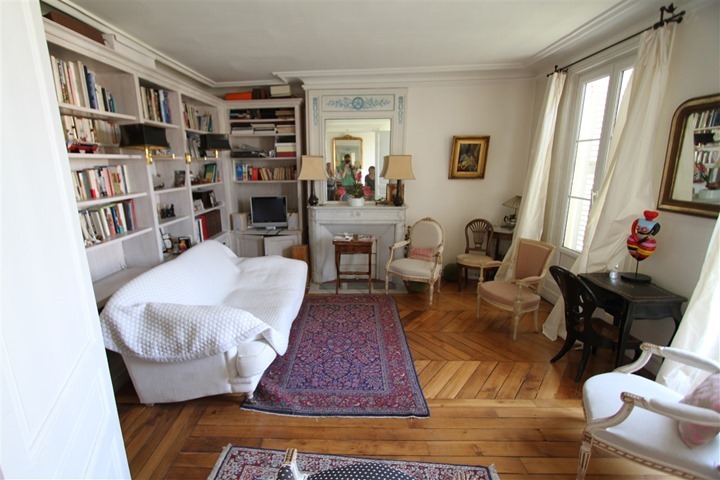 At any rate…back to the run.
Since it was after 5PM, I was able to dip along the river where the major construction is going on for the whole riverbank revitalization effort.  It's closed during the day, but on evenings and weekends it's a runners paradise with no cars allowed and virtually no foot traffic either.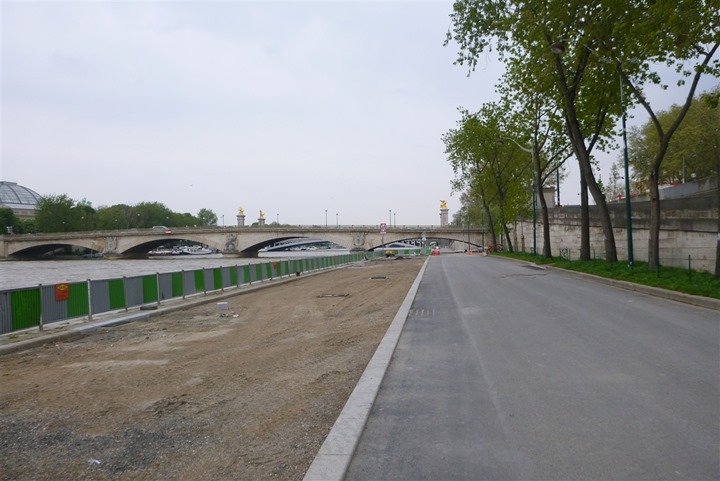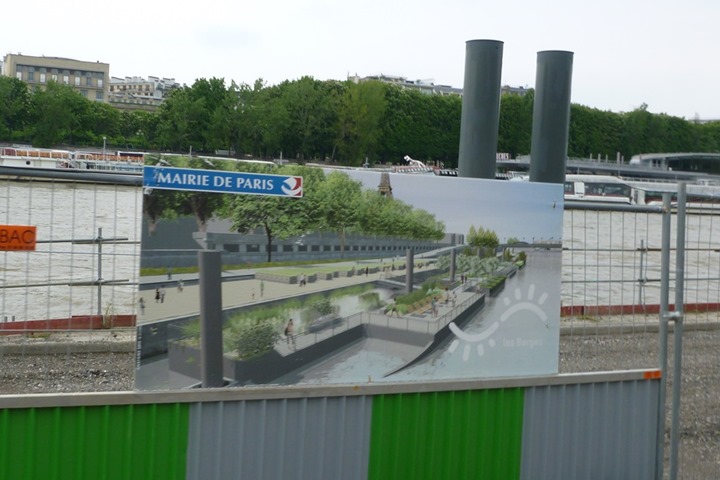 Soon, I was back at the house with some preliminary results to chew on.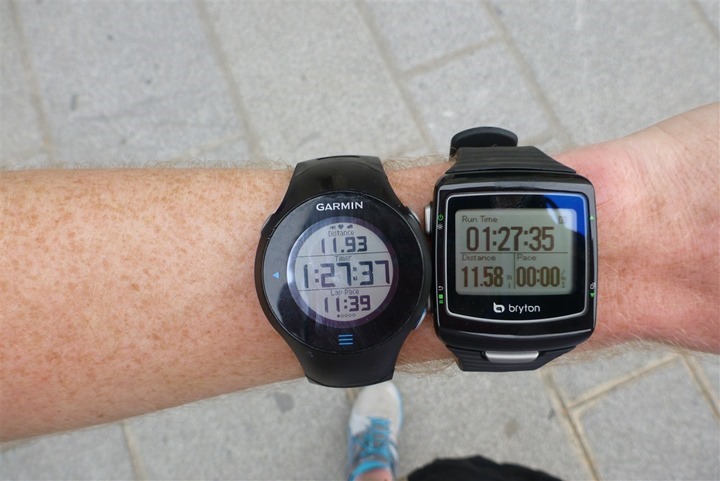 After the run we went for a few hours walk around town.  No particular direction, just wandering.  Here was sunset: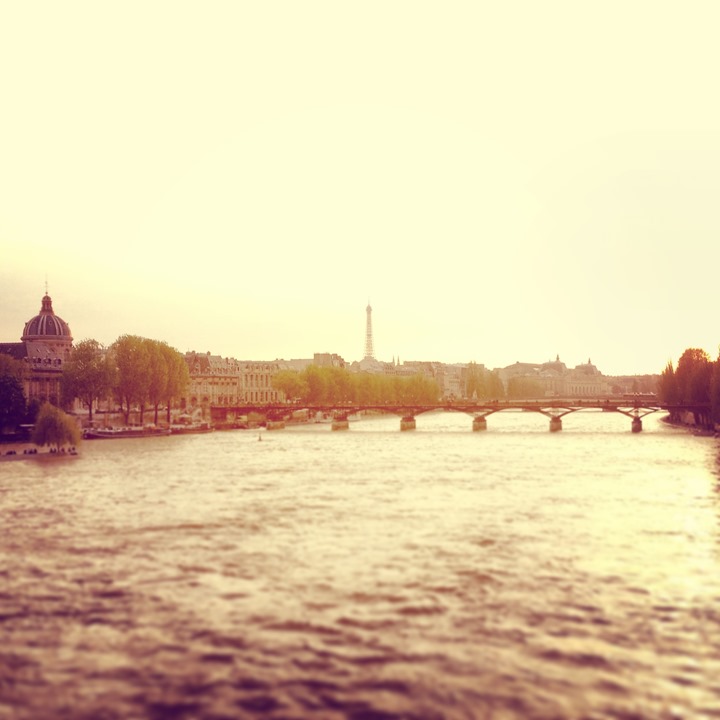 We found a bunch of new restaurants that had opened over the last few months, so we sampled a few things along the way.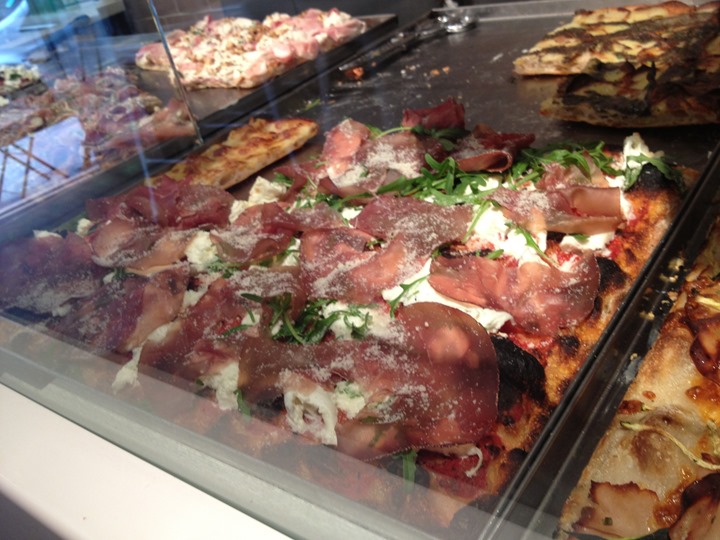 It's so nice to have the weather conducive to just wandering about town at 9PM.
Holy cow, there were actually fast people in the fast swim lanes:
As I've ramped up my swim training in anticipation of doing an event with a swim leg (the running marathon doesn't typically require it), I've had to visit the pool more.  As many of you know, I can't say that swimming is my most favorite sport in the world.  At least lap swimming anyway.  I really do enjoy openwater swimming.
But with the pool situation here being so ugly, my desire to swim continues to wane.  However, Friday evening I did finally get a break.  While the first 20ish minutes of the workout involved the usual 10-15 people battling it out in a single lane, the second half turned out to be quite nice.
For reasons unclear to me they opened the normally 'closed for swim lessons' lane and then moved the 'Rapid' sign over to it.  That in and of itself doesn't tend to mean much, as your average backstroking-fin-wearing-with-paddles Parisian swimmer will still go in that lane.  But Saturday night…they enforced it!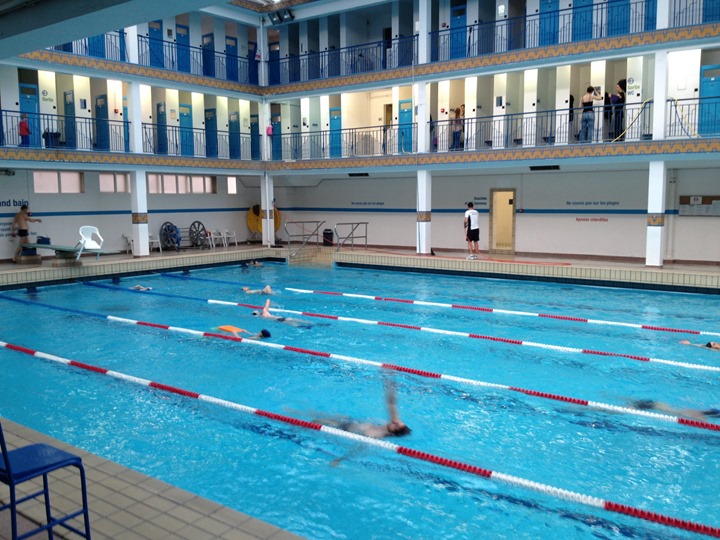 An old slightly portly man (not above) with a long pool scooper would bonk people who weren't going fast enough.  Sweetness!
This slimmed it down to about 5-6 people, all of which were solid swimmers.  Nobody was terribly faster than any other, though we all had slight differences in paces.  But more importantly, all 5-6 of us had an 'understanding' that when the usual pool-rule of tapping ones toes occurs, you hold at the next wall a second.  Bazinga! Common courtesy was in full force!
I got in 3x500m sets this way, the first uninterrupted sets I've had here yet.  Greatness.
Now, only if my times exuded greatness…
Oh, I also tested took the Poolmate HR out for a swim during my cool-down.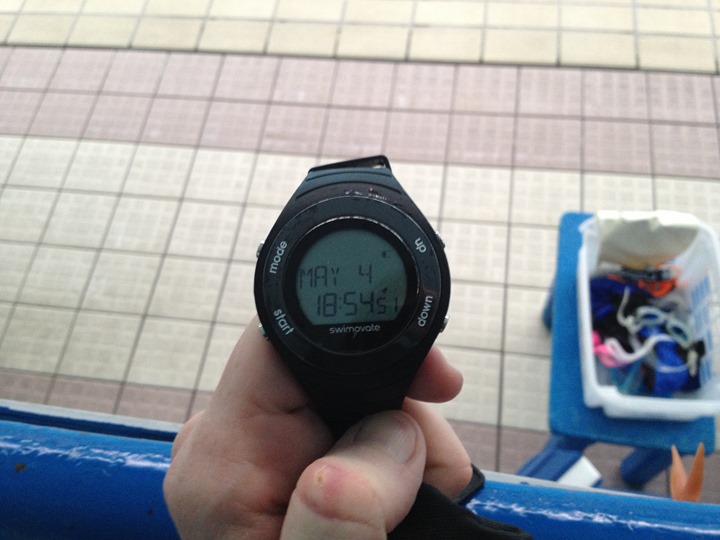 I've got some more poking around there to do.  Still had issues with the HR strap staying put on my chest upon flip or open turn push-offs – and this was at 75% of full speed.  The strap would simply slip down towards my waist within about two turns.  Maybe HR straps underwater and me just weren't meant to be compatible.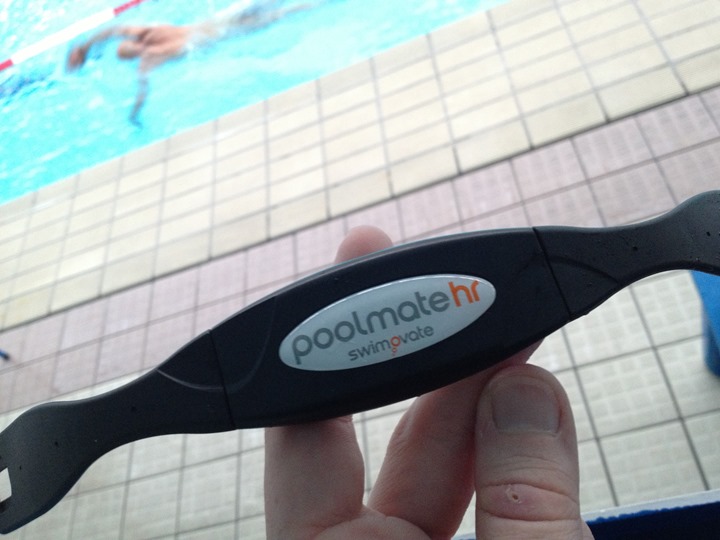 Post swim it was time to cook up some of the famous French white asparagus.  This is the popular thing to do here (well, not so much cook, but eat, most Parisians don't actually really cook much at home).  It's only available for a short period of time – about two months worth.  There was actually a long article in the New York Times about it this past week.
We had gone over to our local outdoor market mid-day Saturday and picked up a bit of it: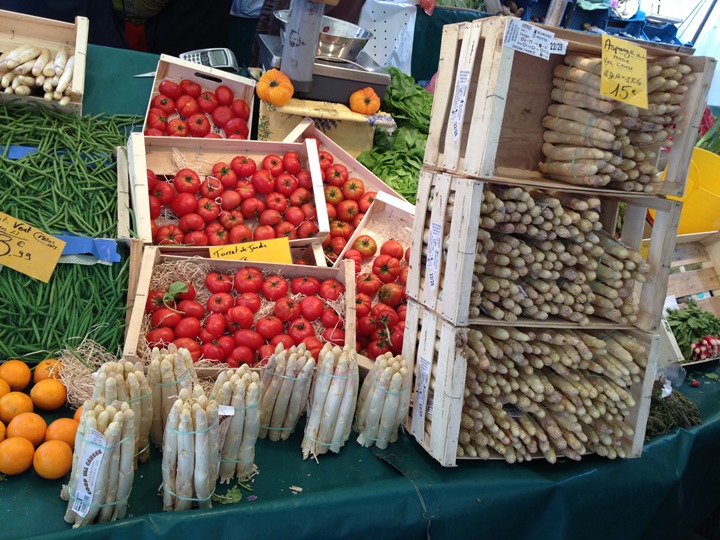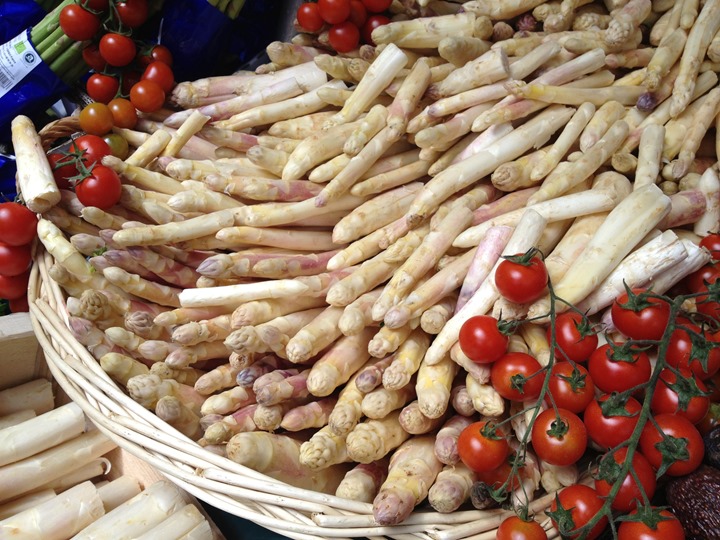 There were two sizes: Big-ass, and normal.  Obviously, we got both.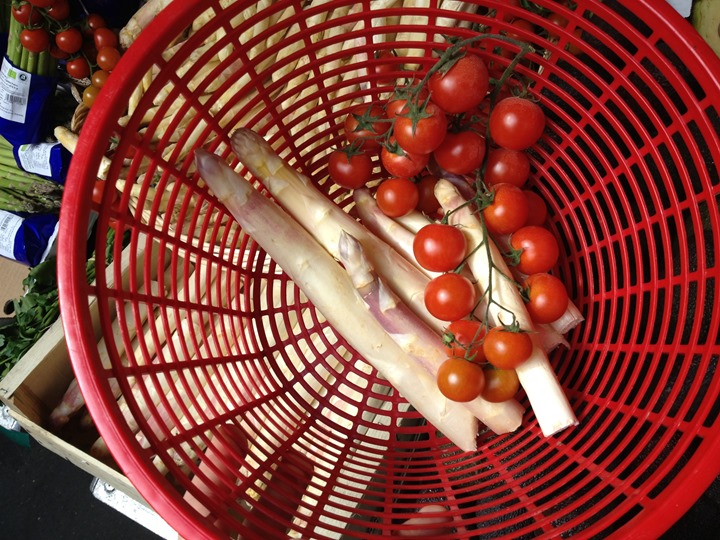 The big-ass size was about the size of…uhh…nevermind.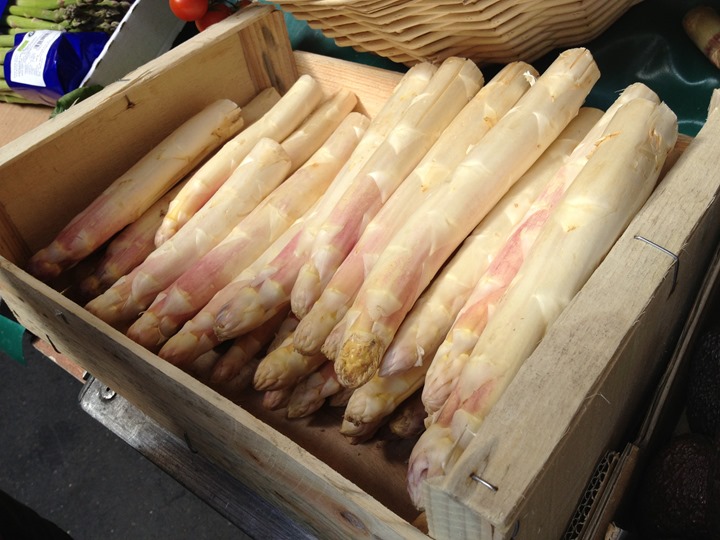 For dinner, The Girl made chicken and potatoes (all from the market) with herbs she picked up down in Provence (Herbs de Provence) two weeks ago.  She's got a big bundle of them.  They're SO good, and so fresh.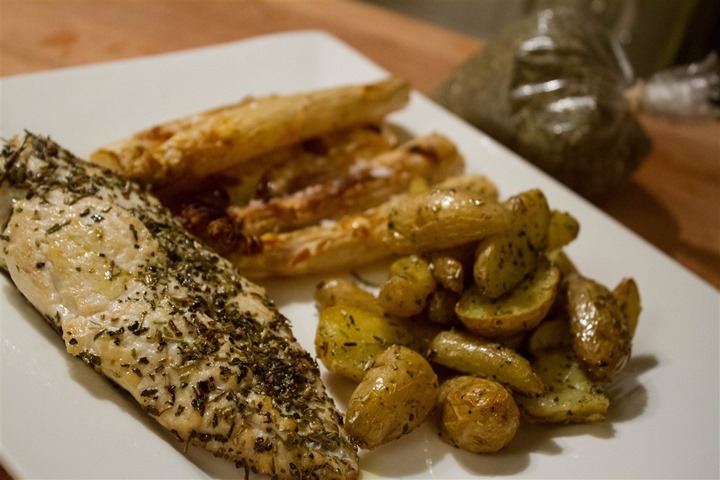 And then I just seared and baked the asparagus.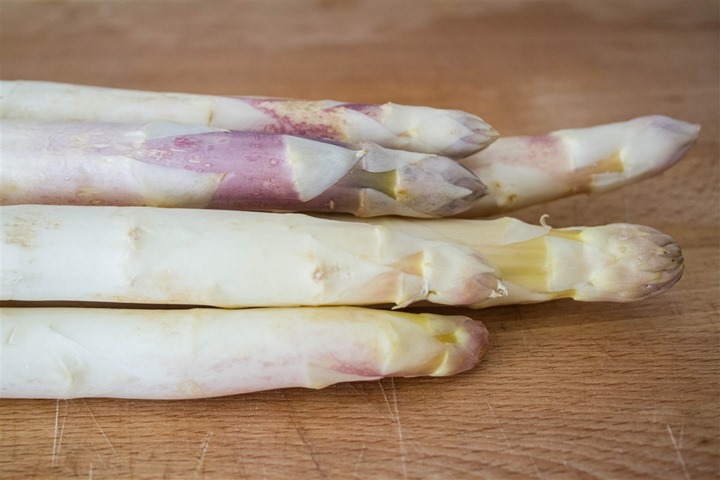 The tips were really good, the rest of the stalk varied.  If they were the big-ass variety, they stalks were a bit more bitter.
Good stuff though!  Oh, and just to give you a taste of some randomness that goes on in our neighborhood, this band was out playing behind our home all Saturday night.  Fun stuff (video):
It's like an entirely different city once it gets warm out.
A Drafty Sunday Ride: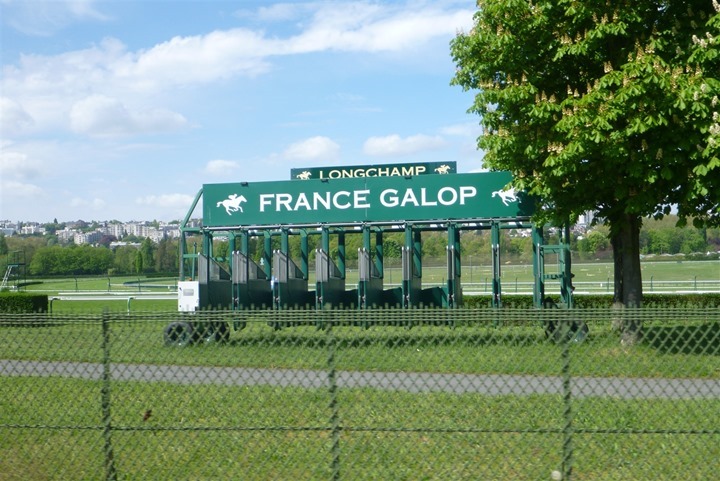 After signing up for a draft-legal triathlon next Saturday, I decided it might be good to dust off my drafting skills.  By drafting, I mean the act of getting pretty much right on someone's back wheel and holding it.  Of course, anytime you cycle here in France someone's going to draft off you, so that part's not particularly new to me.
What's a bit more new to me is the idea of proactively drafting off of others and moving from group to group as it makes sense.  I do that on occasion when there's not much choice on a busy day doing loops.  But this time upon arriving at Longchamp for 1hr and 45m worth of cycling I actively set out to draft off folks.
Unfortunately, the very first cyclist I stumbled upon wasn't a terribly good candidate: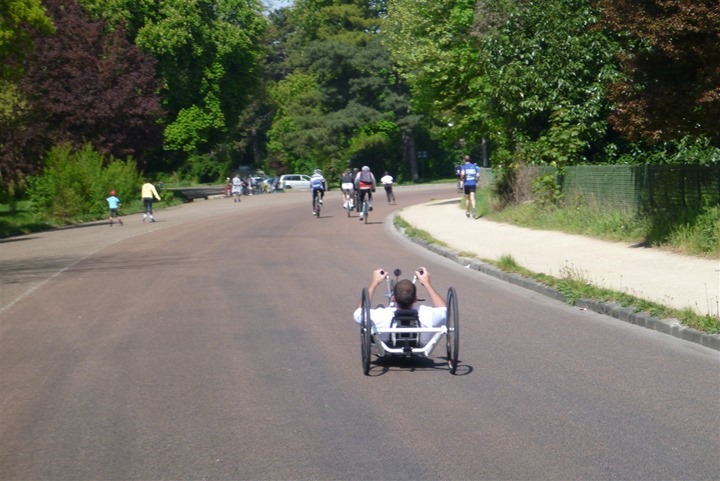 The second candidate wasn't either.  And in fact, as I was pondering whether or not it was OK for a cyclist to draft off a rollerblader, the question was immediately answered: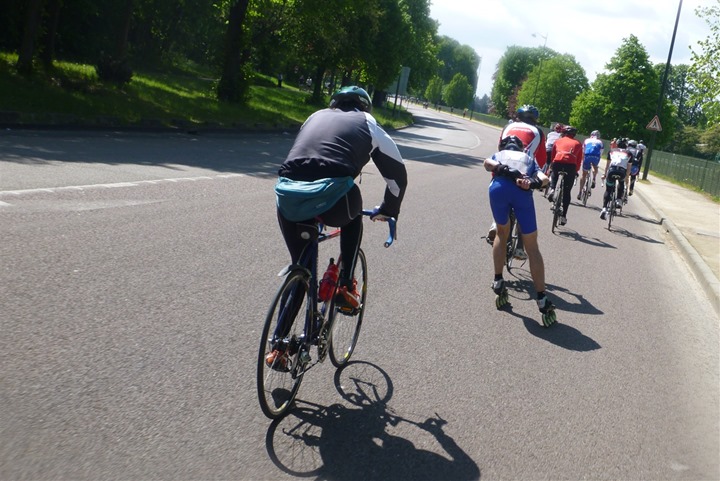 I was rather surprised with how many rollerblades were out and about today.  All over the city as well.  Doing loops though, many were clearly training and in tight groups moving surprisingly quick: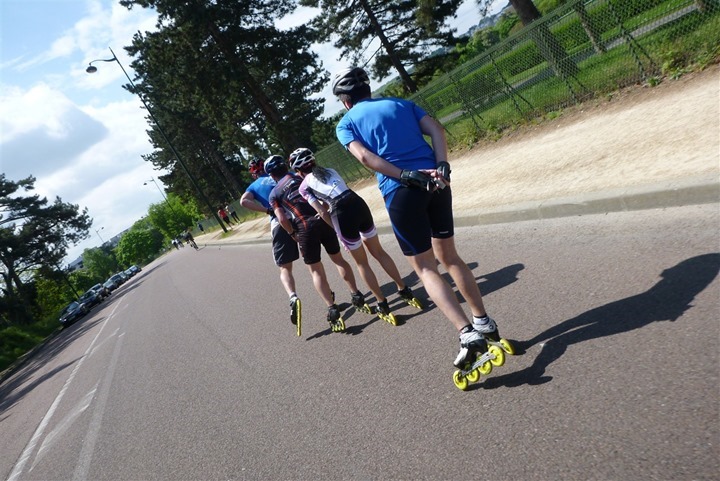 At any rate, eventually I found a group that was moving at roughly the right pace (a bit faster than me), and latched on.  I don't remember how many laps I did, but quite a few.  Most of the time I'd stay pretty close to the front.  Partially because I was amongst the stronger of the cyclists in this group, but more importantly because the back is just a recipe for crashes.  Here's a photo I took after I was all done with this particular group and drifted back to go back to some more Z2 work.
I've noticed over time that the various impromptu groups that ride at Longchamp very rarely (actually, never in my experience) lay down the hammer.  It's always about a very steady speed.  Kinda interesting.  Still, on the front I was pushing out some solid wattages.  You can see that my 3-minute best effort was 378w, with the 5-minute not too far behind at about 315w.  Of course, I'm not trying to hit any sustained numbers.  In fact, I was sorta trying to stay within Z2.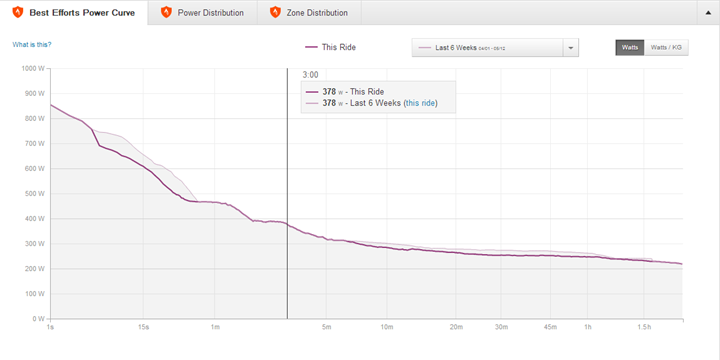 From there, I went ahead and completed a final loop grabbing a few final pics for this weeks O-Synce Navi2Coach review: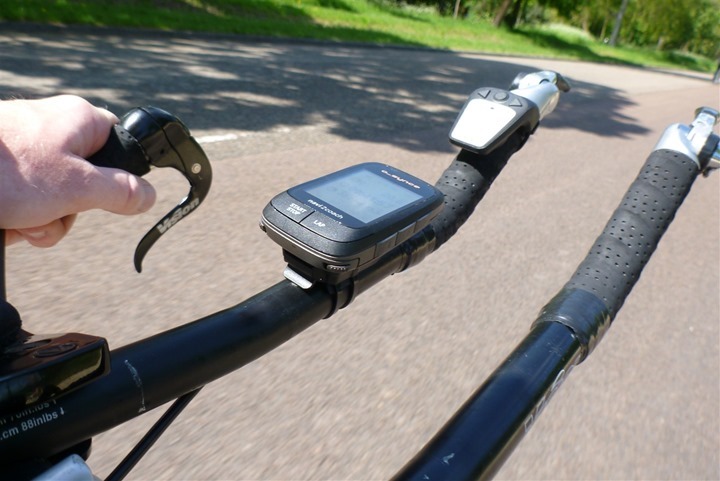 Then it was off to home, back across the city in a 25-minute traverse.  I do love the bike-bus lanes though.  And this particular section along the river (you can see the Eiffel tower to the right beyond the trees) is usually nice and quiet on the weekends.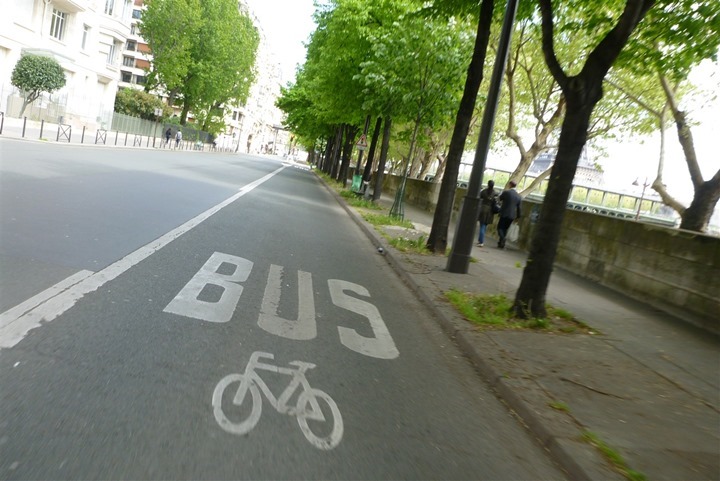 With that, The Girl and I are off for a bit of a French countryside and sea road trip the next few days.  But fear not, we've got some good swim/bike/run action in there too!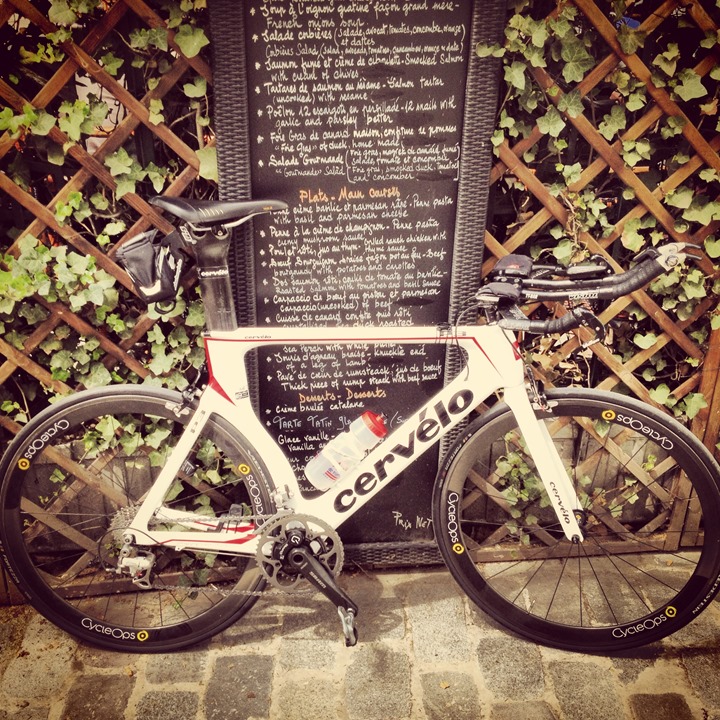 Have a great week all, and thanks for reading!