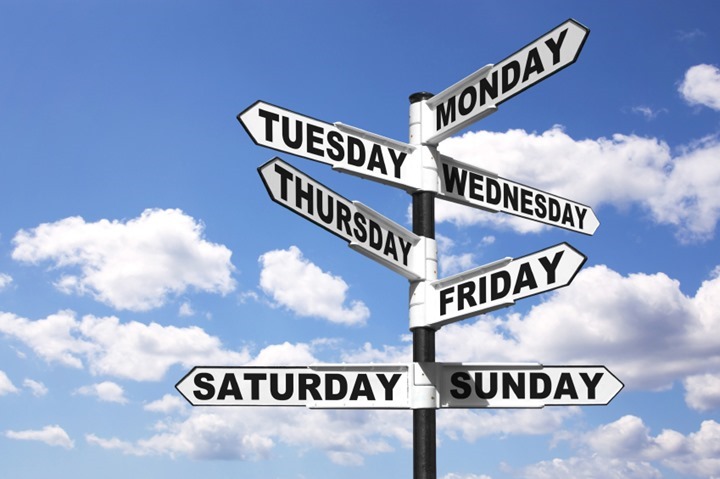 The Week in Review is a collection of both all the goodness I've written during the past week around the internet, as well as a small pile of links I found interesting – generally endurance sports related. I've often wondered what to do with all of the coolness that people write, and while I share a lot of it on Twitter, Facebook, and Google Plus, this is a better forum for sending it on to y'all. Most times these different streams don't overlap, so be on the lookout at all these places for good stuff!
So with that, let's get into the action!
DCRainmaker.com posts this past week:
Here's all the goodness that ended up on the main page of DCRainmaker.com this week.
Sunday: Week in Review–April 27th, 2013
Monday: Suunto Ambit 2 and 2S In-Depth Review
Tuesday: Profile Design Aero HC Aerobottle + Bike Computer Mount Review
Thursday: Training, race sign-ups, getting crapped on, and new product odds and ends
The Queue Posts:
The Queue is a place where I post quick galleries of products that have just started the review cycle.  At the moment, these don't show up in the main RSS feed since they are just quick galleries.  You can however subscribe specifically to The Queue RSS feed here (mostly to just use it as a notification mechanism).
Saturday: In the Queue: Bryton Cardio 60 GPS Multisport Watch
To see all previous Queue galleries, simply click here.
Sports technology deals of the week:
Here's a few new discount items that are definitely worth checking out.  As always, this little section is adhoc as I see good stuff worth sharing.  And everything below supports the site.
Garmin FR310XT down to $195US: This is about the lowest I've ever seen the FR310XT on any site to my knowledge.  In this case, the usual DCR 10% off doesn't apply as it's considered a deep-discount item.  But, free shipping does still apply for US folks.  And of course, picking it up there via Clever Training helps support the site.  At present, the FR310XT is one of the best deals out there for a triathlon GPS watch.  The major tangible differences between it and the FR910XT that's $200 more is the indoor swimming mode, outdoor stroke recognition, and additional power meter metrics. Beyond that, pretty much the same.
Garmin Edge 800 down to less than $350US: Garmin is currently doing a $100 mail-in rebate for the Edge 800, taking it from $450 to $350.  Then there's the DCR 10% shopping cart discount and free US shipping as well (coupon code DCR10BTF).  The same price and rebate applies at Amazon too (but no DCR discount there).  Rebate form here.  For those trying to decide between Edge 800 and 810, keep in mind that while I wouldn't expect to see any further Edge 800 updates, it's still a very solid unit for those wanting mapping for navigating new routes.
Are you a student?  If so, the FR210 and FR610 both have $50 mail-in rebates.  So basically $200-$50=$150 for the FR210, and then $350-$50=$300 for the FR610.  Then there's the DCR 10% shopping cart discount and free US shipping as well with Clever Training.  Rebate form here.
And finally, there's a $50 rebate form if you give your watch to Girls On The Run (non-profit) and then pickup a new Garmin.
(Thanks to Eli last week for noting these in the comments, I had missed them)
Stuff that I found interesting around the interwebs:
Here's a not-so-small smattering of all the random things that I stumbled on while doing my civic duty to find the end of the Internet:
1) Two Cyclists vs One Motorcycle: Hint, the motorcycle wins (and it's painful to watch).  A bit more backstory and information (there was also a GoPro video on a motorcycle directly behind as well, but looks like the owner of that removed it), on Bikehugger.
2) Jawbone acquires BodyMedia: Jawbone made the Jawbone Up (a Fitbit-NikeFuelband-like-thing).  Body Media makes similar devices focused more on weight loss.  Jawbone has semi-pretty software and hardware.  Body Media has very-ugly software and hardware.  Hopefully their offspring aren't ugly.  But as Gizmodo points out, it's all about the patents.
3) So, you've been eating an apple wrong: After watching this video, I'm not 100% clear on where the seeds went to, but beyond that it's pretty darn impressive.
4) How to repurpose your old Wii Board as a weight scale: Pretty neat, turns it into an Android connect weight scale – complete with app! (Via Steven)
5) The bike helmet with built in indicator lights: Not sure this will protect you from a motorcyclist on a blue-sky sunny day, but, perhaps it'll help on a rainy night. (Thanks to Diego P. for sending in)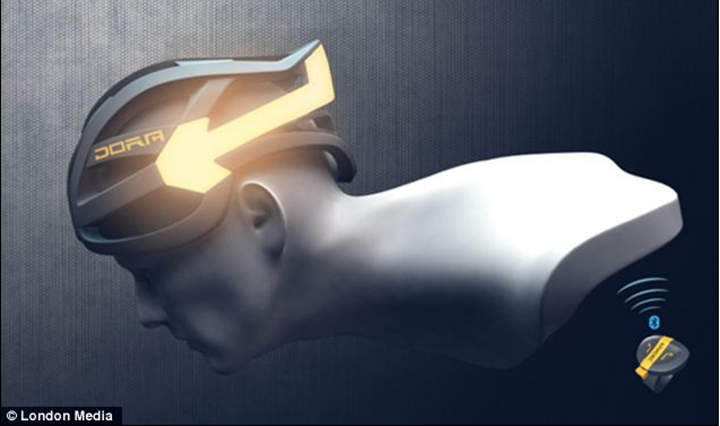 6) Inside Google's Bike Shop: Bet ya didn't know Google actually runs a bike shop.  Check it out.  Pretty crazy. (via BikeHugger)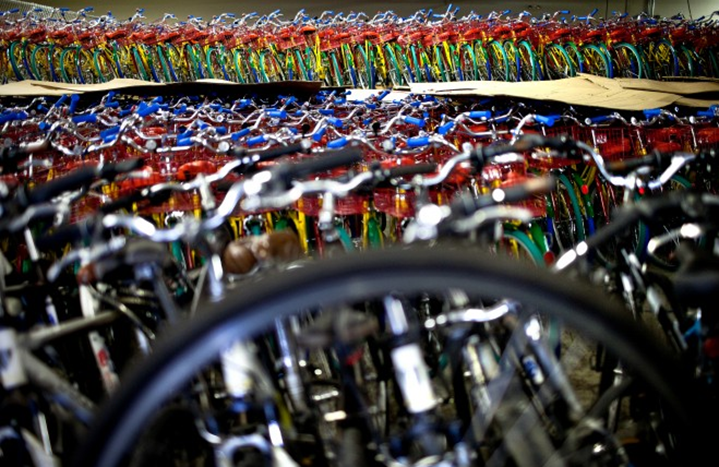 7) Suunto Ambit, Garmin Edge 810, and O-Synce Navi2Coach all covered in German adult magazine: Yup, about the only time you'll turn the page from O-Synce to O-My.  All of them being covered in the German edition of the bunny magazine.  The link in this post is completely safe for work.  The link from their Facebook to the magazine cover page is a mixed bag depending on your work.
8) Are your quick release skewers a piece of junk?  Here's a quick way to see if the skewers on your current bike will break, or if they're the real deal.
9) Going 135MPH on a bike…on snow: Ok, it's one thing to cycle on snow. It's an entirely different thing to do it at 135MPH.  I may live in France these days, but I can't even explain the thinking behind these Frenchman.  Oh, and I found a far better video than the one on the Outside.com page, so I put it below instead.  Skip ahead to the 2-3 minute marker for the fastest action.
10) It's Giro time! Yup, time for one of the biggest cycling races of the season, the Giro d'Italia.  This post gets you caught up on all the action from the first stage (like hours worth of reading/videos/photos).  You can then plan the next few weeks from there.
Crowd Funded Projects of Athletic Note:
This is a bit of a new section. Most of this content used to be found within the main section, but I figured I'd just call it out up here and make it easy to find.  I regularly sift through Kickstarter and Indiegogo (plus a few others on occasion) looking for sports projects.  Note that as always with crowd funded projects, assume the project will be late and will under-deliver on features.   Thus far, on the numerous products I've helped 'fund' (except a leather bike handle), that's been the case.
E-Bike Conversion Kit: If you always wanted your own electric bike, but without the 'new bike' part – here's your chance.  It replaces your front wheel (most e-bikes are rear wheel), and they even say it takes under 5 minutes. Kinda impressive.
Fancy hand-built bike racks: For those of you with minimalist and/or stylish tastes, here's a bike rack on Kickstarter that folds open to hold your bike:
Sports Technology Software/Firmware Updates This Week:
Each week I quickly highlight some of the new firmware, app, software and website service updates that I see go out. If you're a sports technology company and release an update – shoot me a quick note (just one liners is perfect, or Tweet it at me is even better) and I'll make mention of it here. If I don't know about it, I won't be able to post about it. Sound good?
Site/Firmware Updates:
Runkeeper elite Elite Subscriptions: They've added a few new features into the paid-subscription side of things

Garmin updates Edge 510 firmware: This should bring in line all of the Edge 810 fixes that came out a few weeks ago (power drops/etc…).  Along with a few new things, like Training Plan and heart rate graph support.

O-Synce Navi2Coach: Added advanced power meter metrics support for Rotor 3D Power Meters (Pedal Smoothness & Torque Effectiveness Power Messages), other power meter functions for SRM/PT hubs, and fixes.

Basis announces they'll be taking orders soon: US orders only, invitation-only first based on e-mail signups, and then after all that they'll open the doors up to everyone else.

Suunto Moveslink Device Uploader updated…twice: First was on Monday, then again on Friday. Monday was to support the Ambit2/2S, and Friday was because to fix some things with Monday.

Timex Run Trainer 2.0 Firmware Update: This addresses some power issues, tweaks a few other things. Full list available in release notes. (Thanks Dmitry for sending in)

MapMyFitness (including MapMyRide/Run/Hike/Dance/whatever) updates site: A pretty big revamp for the site.  Here's all the thinking behind it.
iPhone/iPad App updates this week: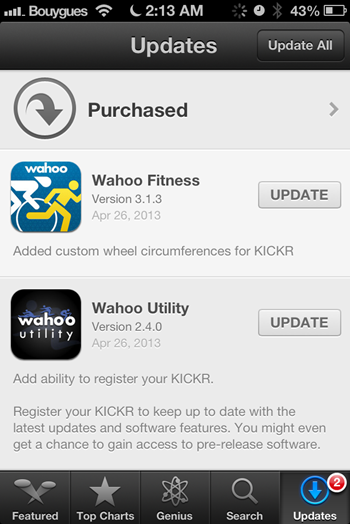 Android App updates this week:
Ok, my Android phone was apparently just wonky last week, so I got all of last week's updates this week.  Hence the big batch this week:
Windows Phone App updates this week:
—
Thanks for reading all!