An amazing weekend of perfect weather here in Paris, more like summer than fall.  Here's all the goodness that went down this weekend!
1) Friday Evening Delivery and Visitors
After a fairly busy day, I wrapped up things with a delivery from Wattbike.  You'll remember I got an initial Wattbike Atom back in August, as they launched this new indoor model (which has done crazy well in sales by the sounds of it).
However, they ended up making some minor tweaks to it after that initial unit, so they wanted to get me a final production unit in my hands so I can complete my in-depth review and ensure it's done on the final hardware.  Thus, they gave the delivery truck to an employee Friday morning and told him to drive to continental Europe from the UK as his task for the day.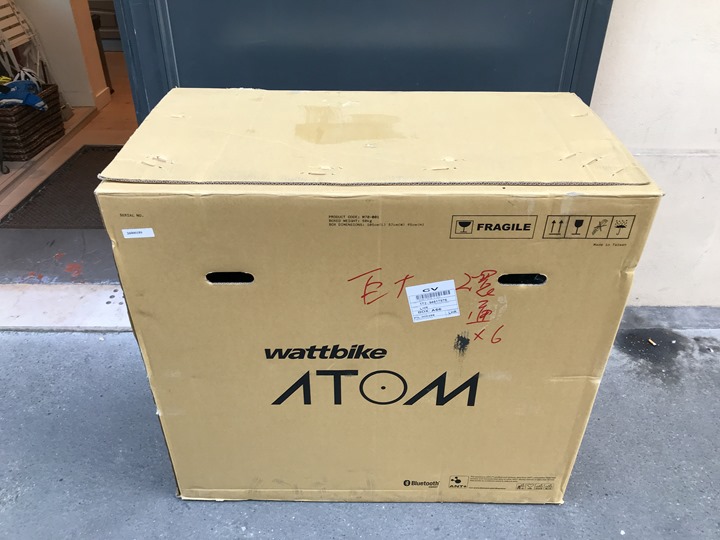 He arrived Friday evening and we quickly pulled the existing bike from the DCR Cave (not an easy solo job up the steep and tight staircase), and then unboxed the new unit on the sidewalk.  The whole thing basically comes out as a single piece, save the aerobars and power cable.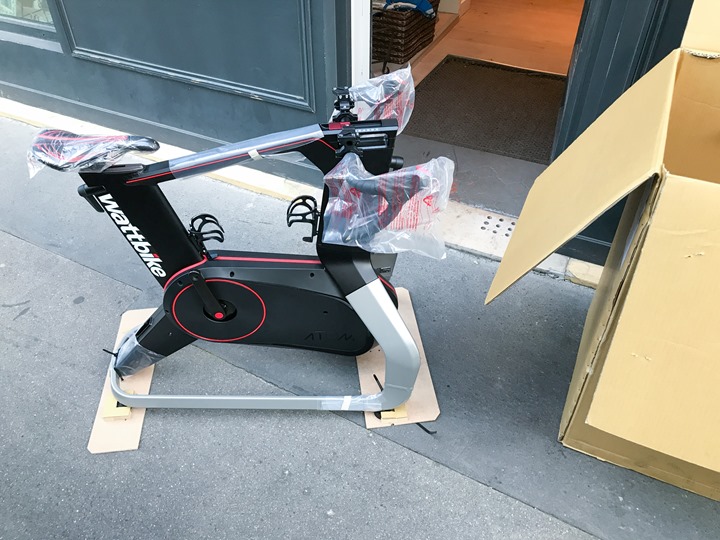 The whole transaction only took a couple minutes.  And I'll be able to finish the setup on Monday in just a few more minutes.  Super quick and easy.
And it sounds like the guy delivering the unit got a pretty good deal though – being able to enjoy the city of Paris for the weekend for free.  Not too shabby!
Speaking of visitors to the DCR Cave and Paris, two DCR Readers swung in just before Wattbike man and checked out the cave.  I regrettably don't have any pics of it – one of these days I'll remember to start doing that for anyone who stops by!  Doh!  Thanks for stopping by Sarah and Eric!
2) To The Pool With The Peanut
Saturday morning we headed to the pool with a bunch of friends and their babies which are all roughly the same age as The Peanut, to get in a bit of a swim.  We've been doing this on and off since last fall, along with swimming on getaways and vacations in various pools.
She enjoys either jumping off the edge of the wall into my arms, and of course captaining her boat.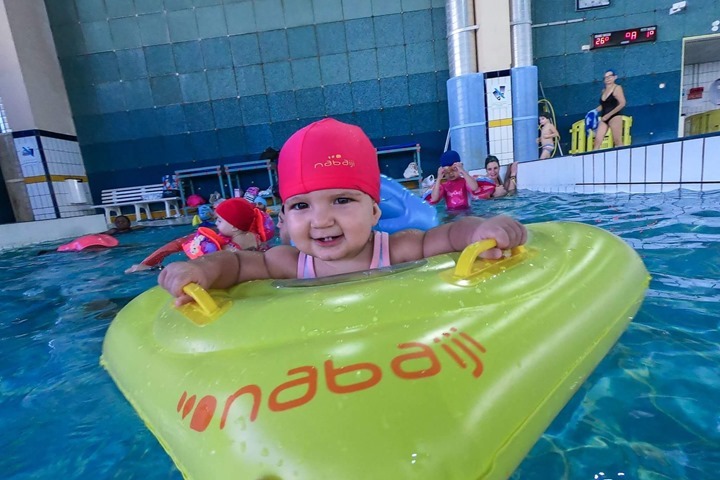 She puts up with going underwater, however it doesn't seem to be the highlight of her visit to the pool.  But she doesn't cry or get upset.  Just sorta looks at you like: Umm…why you do this?
In unrelated news, we probably need to get her a bigger swim cap.  We realized this upon entry (since it's required in the pool), and the one we have from before was basically from about a year ago.  At least the boat still fits.
3) Deciding on new bike build parts
Despite constantly tearing apart bikes to put on new power meters or test electronic group-sets, I've never actually built a bike from scratch.  Just never really had a specific need to.  And realistically, I still don't have a specific need…except for the idea of doing it sounds interesting.  Thus, that's good enough for me!
I started pulling together a parts list for a new road bike.  Why a new road bike?  Because.  Again, do I need a reason?  As you know, N+1 and all.
Actually, my reasoning is simple in that while I have two core bikes I use in testing (one road, one tri), I'm finding more and more often a third bike would be ideal to deal with newer power meters.  Sure, swapping things like pedals is quick – but less so cranksets when they might have different bottom brackets – which I don't often have as much control over as I want.  But sometimes I get a unit that's a bit longer lead time (months) before its announced and I want to be able to ride it sparingly over that period while still using the bike for other products/photos/video.  This summer was a mess of exactly that, complicating many photos.
In any event, I've got a whole separate post on the bike build-up.  But since I'm just about to start ordering the parts, I figured I'd post the parts list here in the hopes that someone might point out some incompatibility or missing component.  Note the only thing I've already purchased is the SRAM RED eTAP (I already have a different bike on Di2) and bar tape.  In fact, I purchased the eTAP setup a year ago and it's been sitting on my desk since then.
First up, the parts table:
DCR 2017 Bike Build Components
(Note: There's a distinct chance that if you're outside the US, when these links locale automatically behind the scenes to Amazon's locale country links, they won't find them. Unfortunately Amazon inventory outside the US is pretty low comparatively.)
A couple of quick notes to pre-answer some questions:
A) I selected Canyon because it's relatively inexpensive here in Europe, it's available immediately, and I like the look of it.
B) I selected that specific frame because most of the higher end frames are way more than I want to spend on the frame.  Also, the higher end frames all come with aero handlebars which have oval/custom upper bars, which is basically a waste of money because I'll immediately replace them with standard round ones.  Far too many gadgets arrive on my doorstep for testing with regular handlebar mounts.  I simply have to be able to to use these round handle-bar focused mounts (action cams, bike computers, aero sensors, lights, bike mounts, and so on).
C) This is less about building the coolest bike out there, and more about building a functional workhorse of a test bike that I'll still enjoy riding.  But future/current testing requirements are driving much of what I have on this bike.
D) I've ridden some Canyon bikes at a few test events over the last few months and I'm happy with them.  At the same time, as one who's constantly riding different bikes, I think I've become immune to it at some level.  As long as it fits and doesn't feel sluggish – I'm usually pretty happy.  And since it gets photographed and videoed a ton, I'd prefer it not look ugly.  This frame seems to fit those requirements and doesn't break my bank.
E) I'm not 110% sure on the bottom bracket piece, I've gotta reach out to Canyon on that.
I think that's it.  Again, I really want to stress this – this bike is heavily about being a test workhorse/platform – so it needs to be quickly swappable on various components.  For example, the 'default' power meter will be a Quarq DZero.  But if 4iiii or Shimano sends over a new power meter to test, then the Quarq temporary gets the boot.  I use the PowerTap hub on the wheels as a good baseline across everything.
With that – go forth and tell me what I'm missing!  Since bike parts can be a pain to get same-day here, I'm hoping to avoid any hold-ups on assembly day.
4) Riding to the farms
This weekend had astoundingly beautiful weather here in Paris.  It was upwards of 80°F (27°C), which basically means it was summer again.  I headed out Sunday morning to the countryside, starting in the city.
Apparently there were numerous fitness events scheduled for Sunday in the city.  First up was a 5K (maybe it was a 10K?) race in the city center around the Louvre and related gardens.  Either way, I cycled through shortly after it finished and the roads were kept closed to traffic but open to cyclists and pedestrians.  This same section is used for the Tour de France finish loop.
Then I continued on past the Eiffel Tower, where the Paris Roller Marathon was just about to start. Situated on the bridge spanning from the Eiffel Tower across the river.  I don't have a great pic from before-hand, but here's what it looks like later on as I came back into town.  The roads for the 5K/10K race were then transitioned to support the Paris Roller Marathon – so doubling-down on the same road closure.  Kinda logical.
P.S. – Those cobbles on skates look miserable.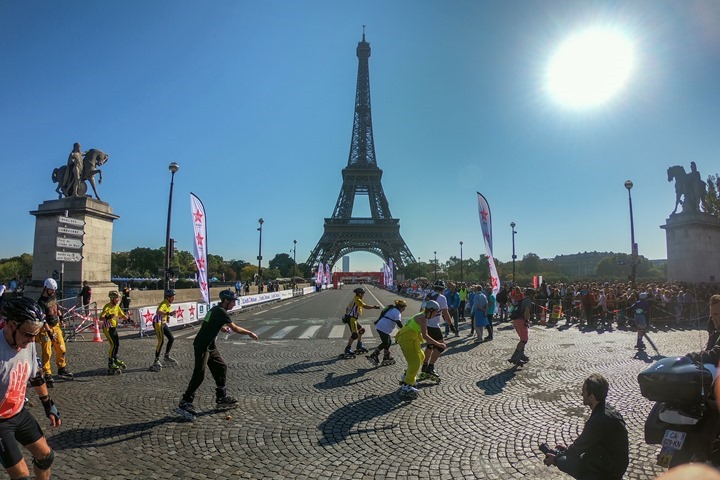 Soon I was climbing one of the larger hills in Paris(ish) and into the forests.  Where yet another event was occurring, this one a cycling ride of some sort.  I'm sure hundreds of cyclists went by in the opposite direction in the few kilometers our paths overlapped.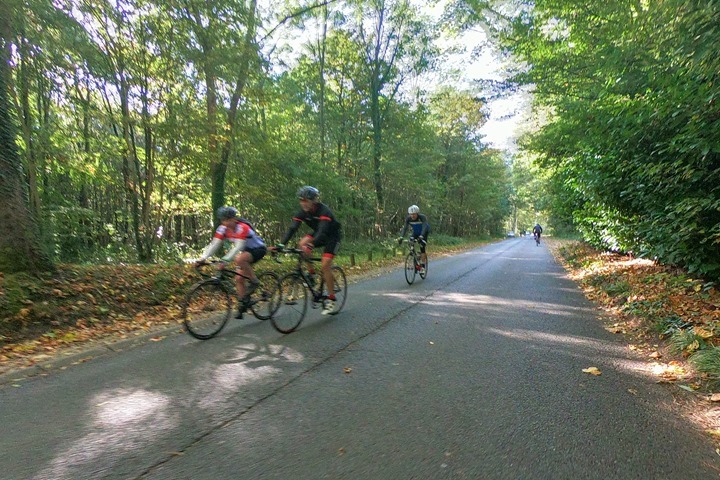 Eventually I got to Versailles and then wandered out away from it: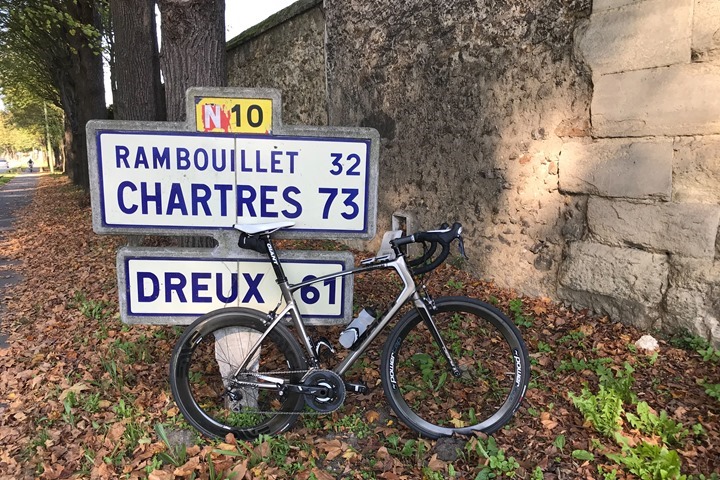 My goal was this short stretch of closed farm roads. It isn't open to traffic on Sunday, and thus they are just desolate and beautiful to ride:
From there I turned back towards Paris and worked my way into the city.  I stumbled upon the newly converted highway to bike path, which was also being used for the Paris Roller Marathon in sections.  But nicely, the bike lanes remained open to bikes: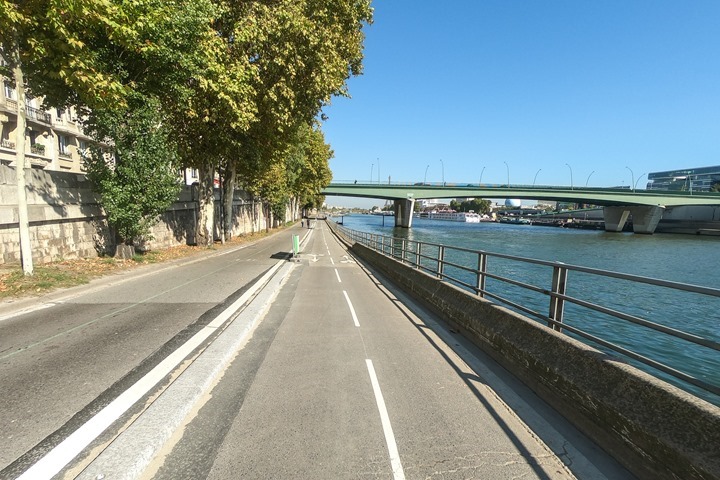 This used to be a two-lane roadway along the river, now it's a single lane road with protected bike lanes.  It's awesome.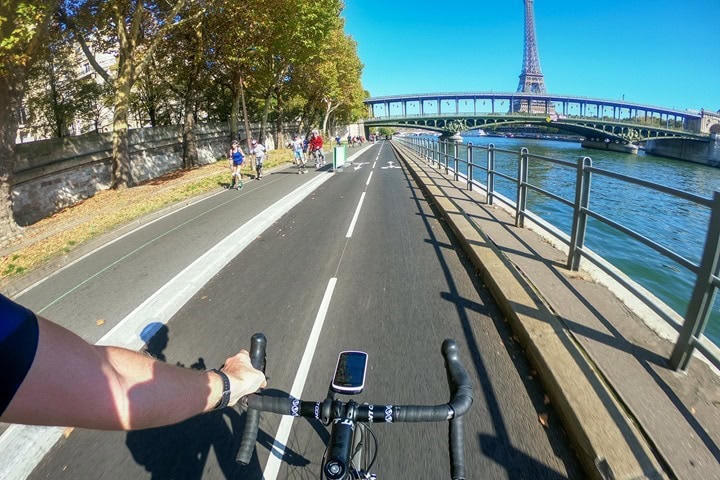 Then I followed the river all the way back home, which the Roller Marathon was also doing.  Good stuff, and certainly a beautiful day for the event.  As a side note, I did think it was interesting just how many athletes were wearing a backpack (not a hydration pack, but a backpack).  Did they not have bag storage, or is there something I was missing?
5) Getting some product photos done
I know, probably not the most exciting thing.  But neither is doing the never ending stream of e-mails.  In any event, I got through a pile of photos of the Apple Watch and other reviews.
Also, I spent considerable time and effort at McDonald's, because that's the only store nearby me that actually has a functional NFC/contactless payment reader (and that I can buy super cheap items testing from a self-service machine).  In doing so, I learned The Peanut doesn't mind a Speculoos McFlurry (if I'm stuck ordering food at McDonald's to test things, it's highly unlikely to be a burger or fries).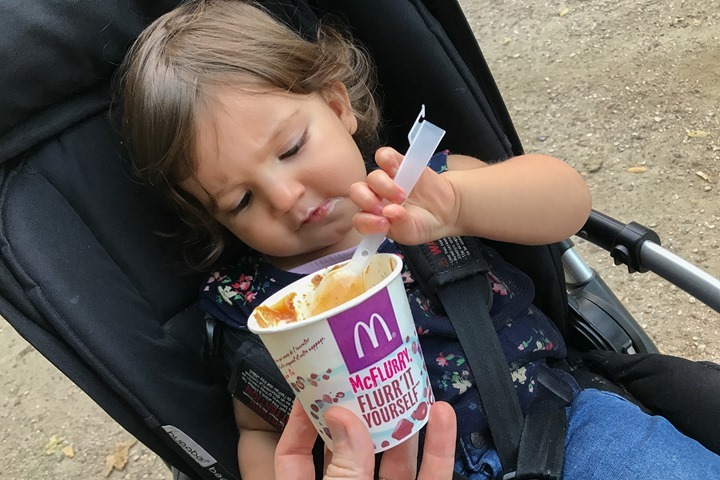 With that – thanks for reading all!
Have a great week ahead!