It was a whirlwind of a (short) weekend back home, with the majority of the weekend spread out across three different continents.  Here's what I was up to.
1) Flying back from Africa
As it seems many weekends start, first I have to get home. In this case, it was from Ghana.  That's a relatively short flight at only about 6hrs 30 minutes to London, then another 45 minute hop from there back down to Paris.  My noble steed upon arriving at sunrise in London.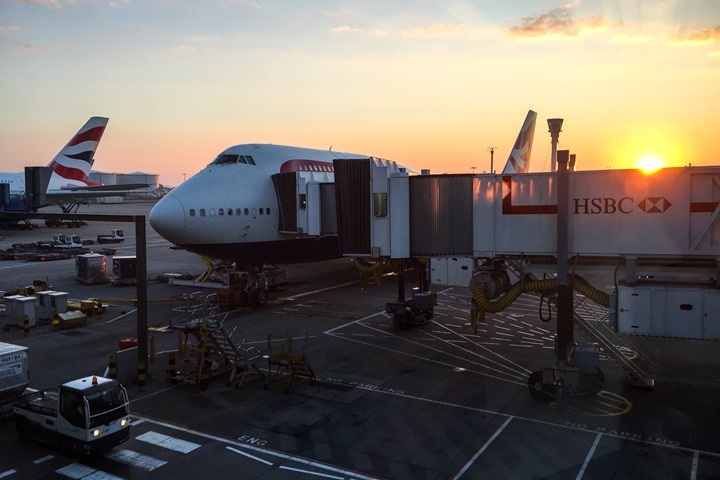 Since it was a night flight, you don't get to see too much – which is a shame.  Some of the most stunning landscape in the world to see from the air is over Northern Africa across the Sahara desert.  Most of the time when I head to Africa I'm on overnight flights, but on the way down it was a daytime flight, so while this was a few days earlier – I figured I'd show them here.
A thunderstorm of some sort was building, and we actually diverted around it, but it was interesting to see the dark clouds accented by bright sunlight.
2) Unboxing & Crepes
After getting home The Girl and I went out to lunch for some crepes at a local place we enjoy quite a bit.  As always, it was awesome.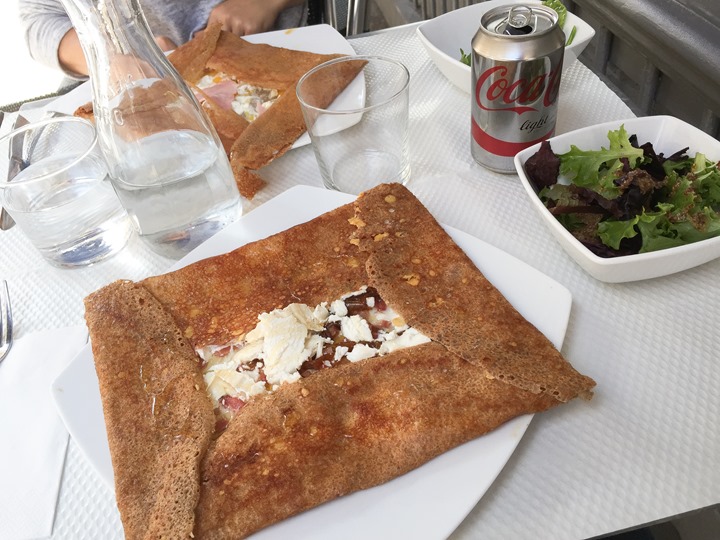 Following that it was time to get some unboxing done.  While I'll pick-up many items sitting in my forwarding box when I swing through the states this week, there were a few I needed sooner, so I had them shipped over.  This would allow me to get all the unboxing shots down at the studio, versus having to carry the boxes around.
Of course, this is the same spot we shoot most of our cakes too.  And by we, I mean mostly me.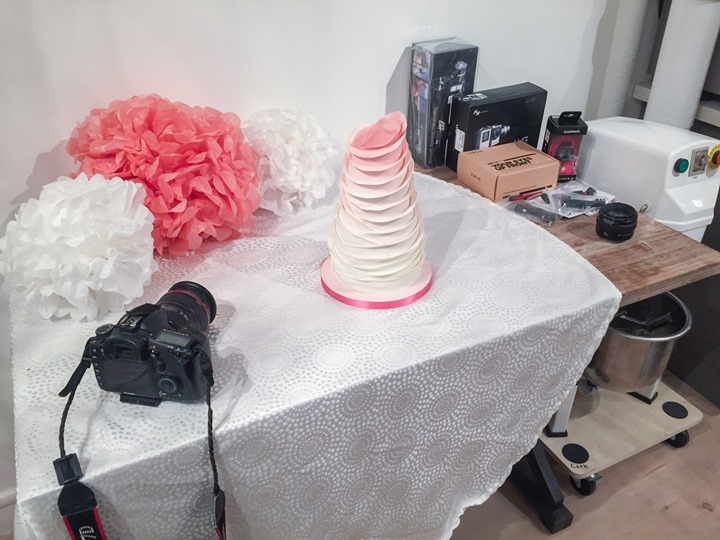 The old table we found on sale in Dijon (France) does double-duty for both of our worlds.  Sometimes it's even a display table for customers coming in to look at wedding options.  Though, I'm not sure I can mix the sets: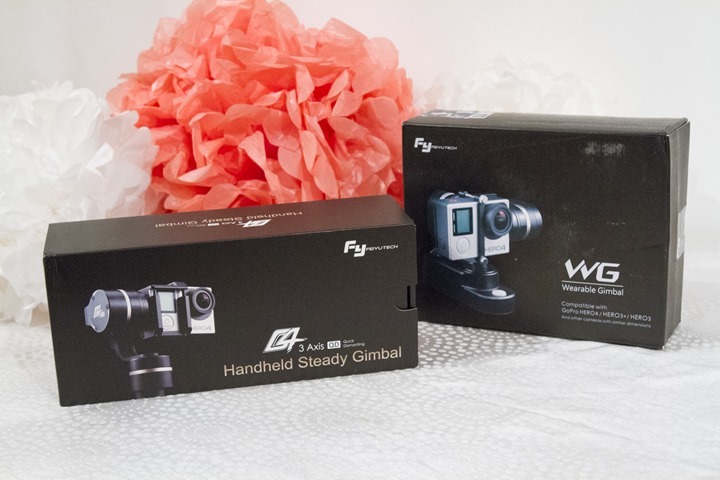 Today I was unboxing some gimbals I purchased. One to replace the one lost in my Croatia Airlines luggage this past summer, and the other a mountable version.  More on that in a bit though.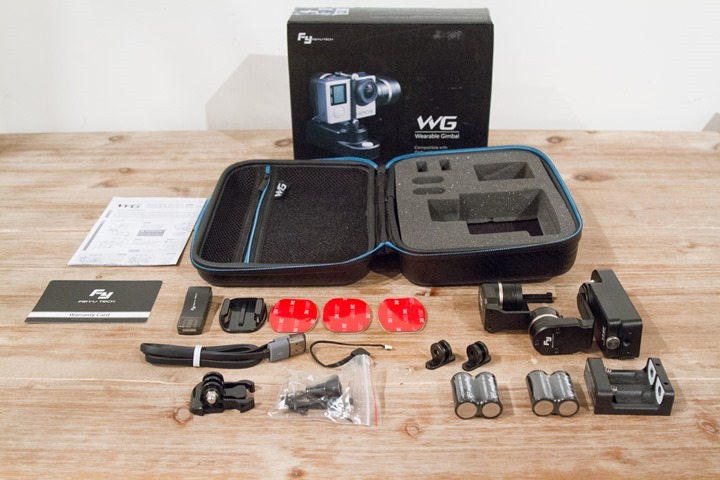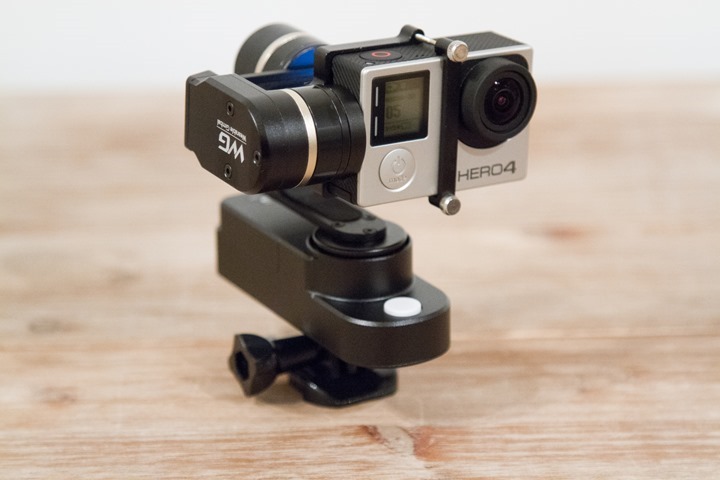 There was also the new Garmin Forerunner 25 in there, as well as the Fly12.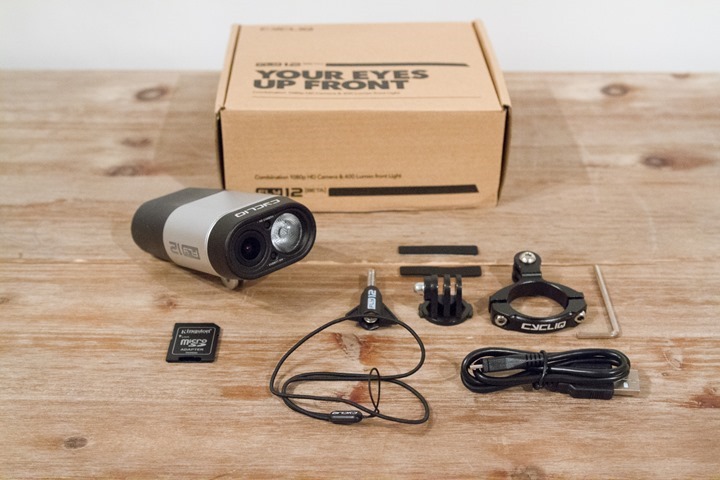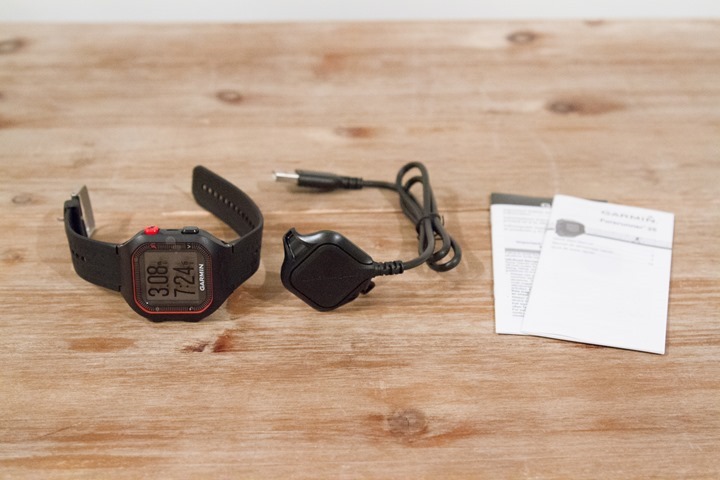 The Girl would go and take the FR25 for it's maiden voyage the next day.  And true to the origins of that term, it ended up being quite wet.  Like me, she got drenched in the rainstorm as well.
3) A very wet ride
The Girl and I spent more of Saturday down at the studio doing some odds and ends, cleanup and organizing.  We were mostly waiting out the absolute downpour that was the majority of the day.  Around 4PM it stopped raining and looked to be getting sunny out (as the weather app implied it would).  So, we headed out for our respective workouts.  Her a run with the FR25, me a ride.  And just to be clear, it's not (yet) that she prefers the FR25, rather, it was just the only smallish Garmin that was handy and charged for her to grab (her FR610 was at home).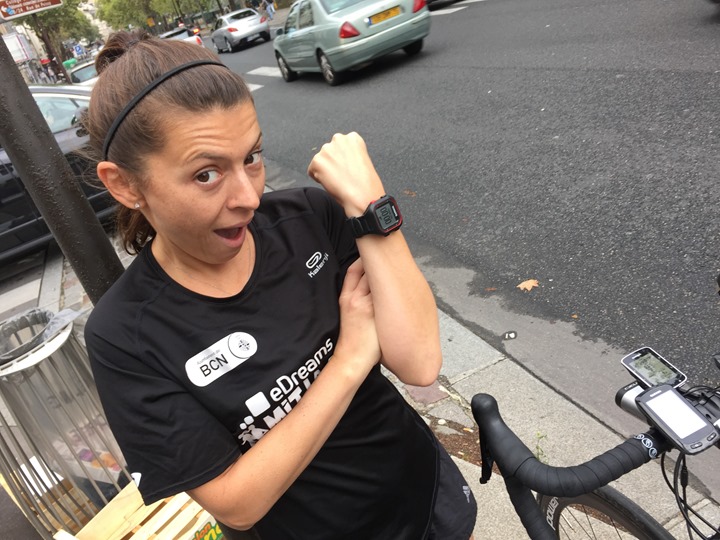 I had really wanted to wait out the rain because many of the products I was bringing with me weren't terribly waterproof.  For example, both gimbals – but also the two GoPro Hero4's that'd be mounted naked inside of them.  Sure they are splashproof, but not 'thunderstorm' proof.
I started off with the gimbal mounted to my chest, to see how that'd work: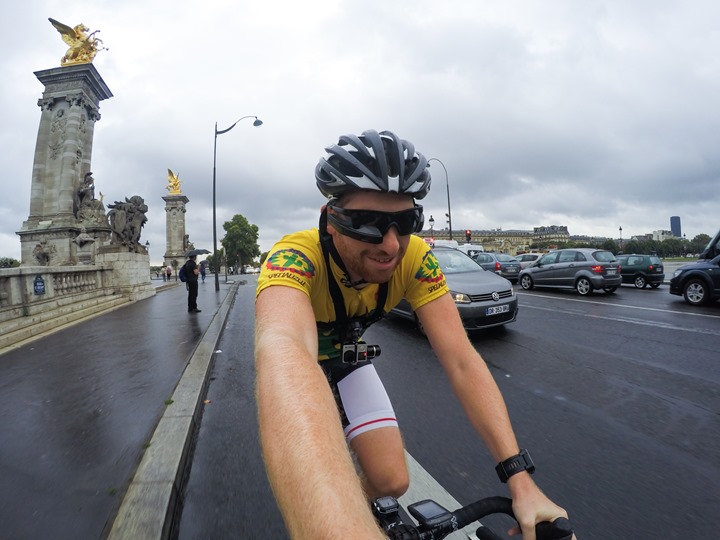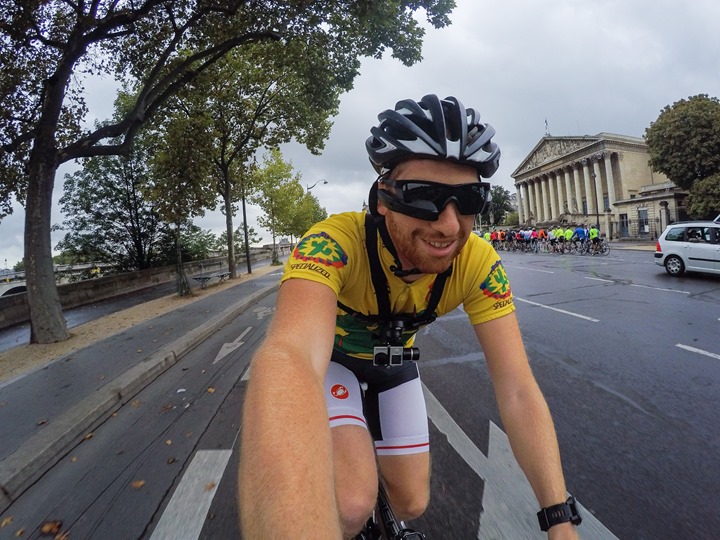 But then it started raining a wee bit hard.  Actually, it dumped.  So I stuck it back in my jersey pocket for a while.  It's funny, I had the VIRB X/XE chest harness, which meant it was actually super-easy to unsnap the gimbal in one second, versus having to unscrew it with the GoPro chest harness. Though, I think it added a bit more bounce on larger bumps because of being more outwardly.  More research there needed.
Meanwhile, the Fly12 kept on trucking along like a champ.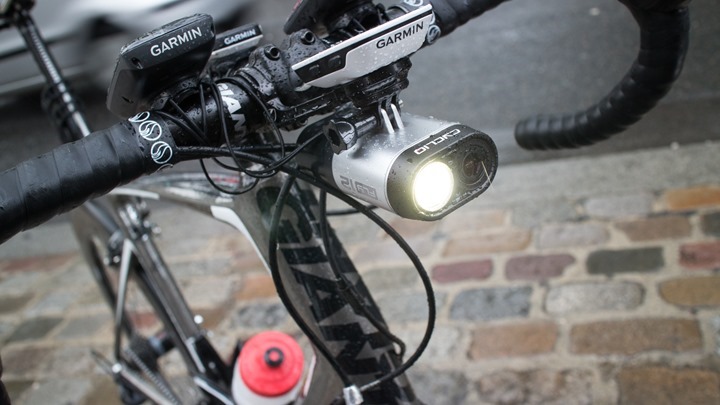 Granted, it's built like a tank, so it sure as heck better be able to deal with a bit of water.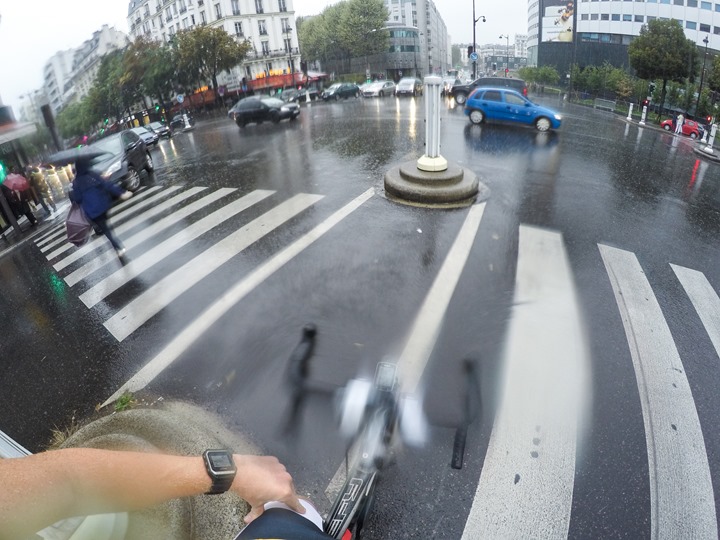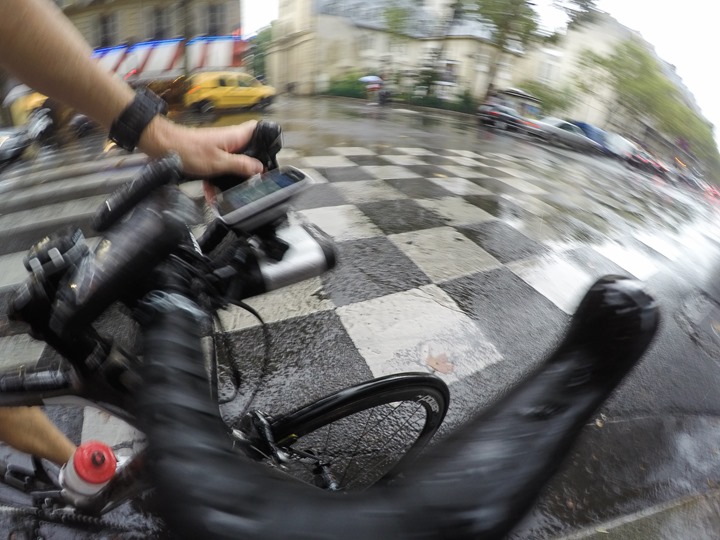 Or, a lot of water:
Eventually, the rain seemed to subside a bit, and I brought back out the gimbal and mounted it up front to the K-Edge mount.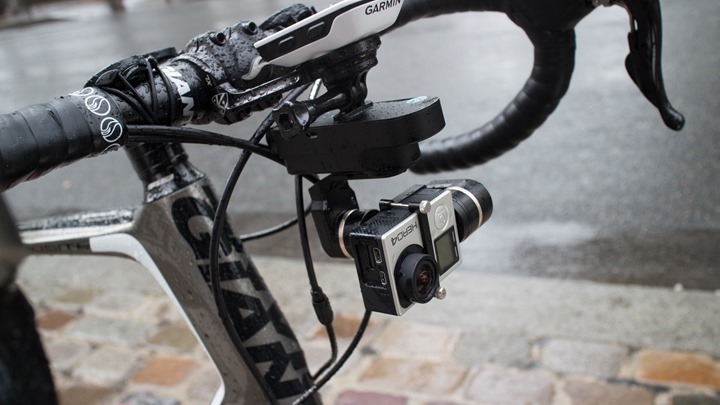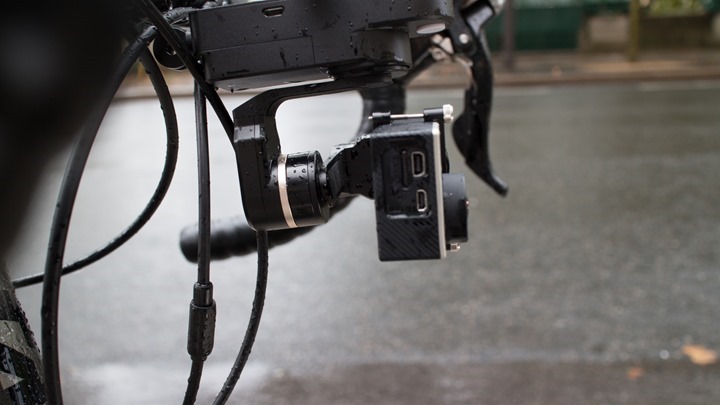 That kinda-sorta worked until it downpoured again.  The unit seemed to be having some trouble staying stable long term in the rain.  So I'll have to try again this week in Vegas in sunny conditions. Still, here's some footage from both the chest harness and front gimbal.  You can see it seems to do fairly well until the cobbles, and then skews a bit.  It's unclear if that was a water issue, or a cobbles issue.  Will do some more testing.
Oh, and finally, for fun I tossed on the Recon Jet again after getting the firmware all updated with the new double-tap to take photos feature.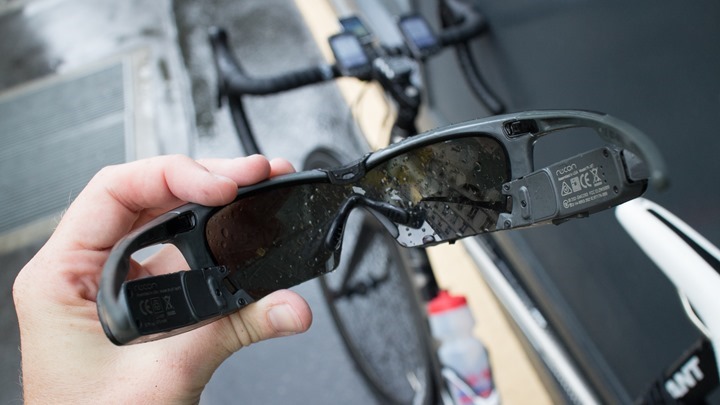 The new feature worked a gazillion times better for taking photos.  It's just really too bad the photo quality is so bad.  I'd love to be able to switch over to something this simple for grabbing quick photos.  Full activity here.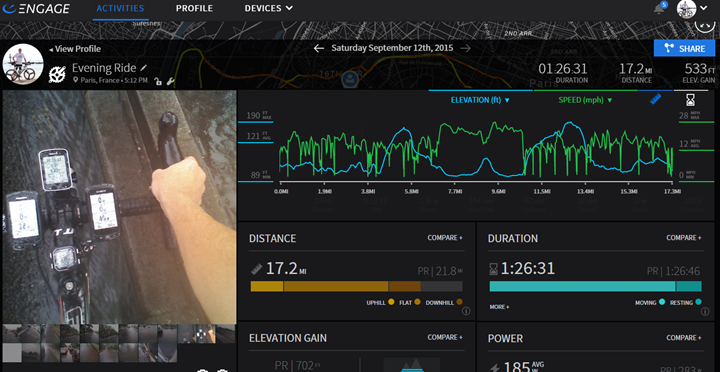 The ride itself only lasted about 1hr 20mins, all of it fairly slow and low-intensity.  The rain, slick roads, and oddly dense traffic just made it too dangerous to go much faster.
4) Off to Interbike…via California
Next up was beginning my trip to Interbike.  That'd start with a morning flight leaving Paris and heading to Chicago aboard a Boeing 777: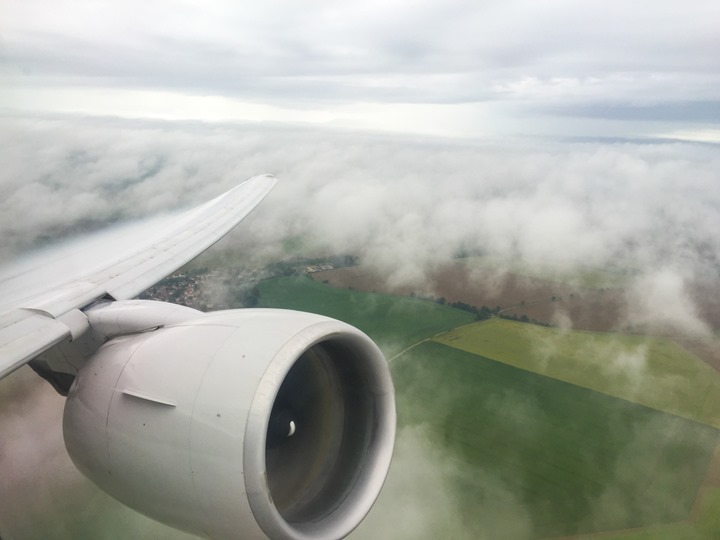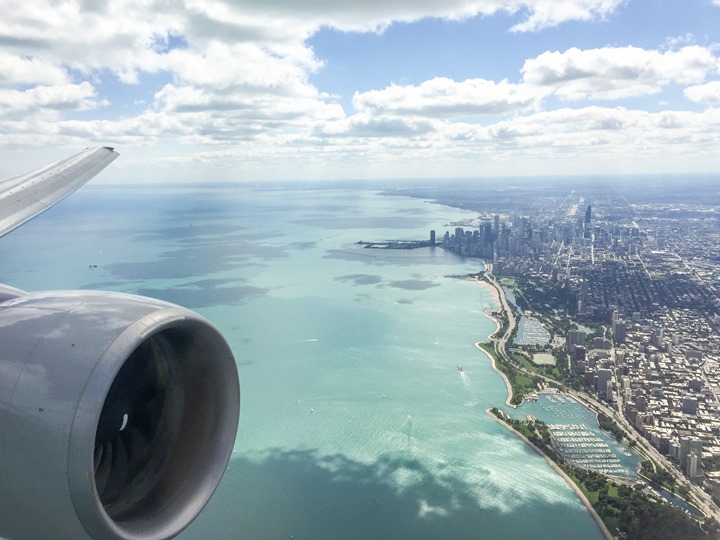 From there I'd connect to a second flight to San Francisco: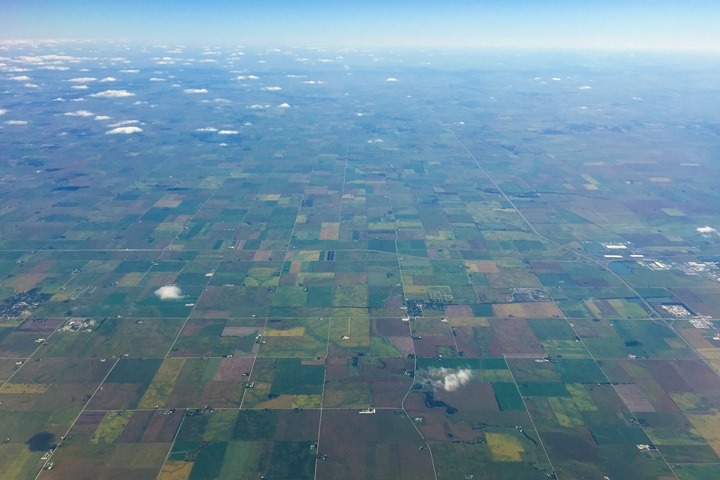 I've gotta say – having WiFi on both flights was awesome.  I got so many posts partially or fully done, and ready for the week ahead – which will no doubt be busy.  Plus, I caught up on episodes of the Late Show with Colbert.
Finally, it was off in a rental car down to Morgan Hill, CA.  There's of course only one thing there worth mentioning, but I'll leave that exercise to the reader for now.  More on what should be a fun Monday, a bit later.
And then of course we've got Interbike this week – including perhaps some rare posts by The Girl, who will be joining me in Vegas mid-week.
5) A bit of follow-me testing
After heading south an hour from the airport I found myself a few empty fields and random middle of nowhere roads.  Earlier last week drone maker DJI released a long-awaited 'Follow-me' mode for their units.  You'll remember some of my earlier sport-focused pieces on the drone industry for sports.  Follow-me functionality is a critical first starting point to sports-focused drones.  Remember, GoPro and Sony have already announced plans to develop action camera drones.
So DJI, which is largely like the Apple of the drone world, pushed out the new firmware last week.  The features aren't terribly complex, but before I attempt it on a bike off by myself in the middle of the Nevada desert, I wanted to understand how it worked in-detail.  So I quickly unpacked my Phantom 3 and got to work.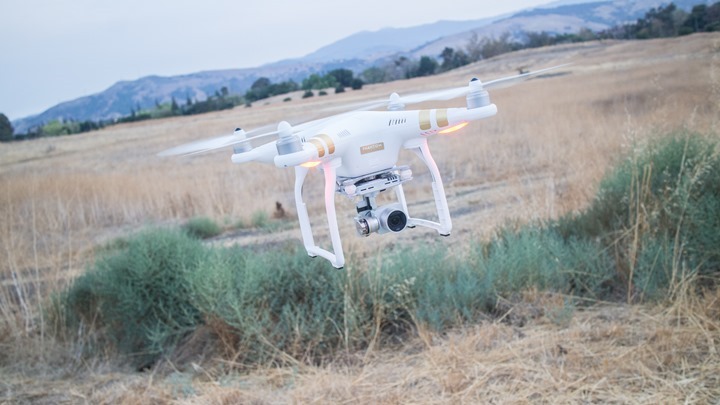 After doing some quick manual flying to ensure everything was happy after the trip (and firmware update), I switched it over to intelligent flight mode.  Essentially the unit follows you via following your phone which is tethered to the remote.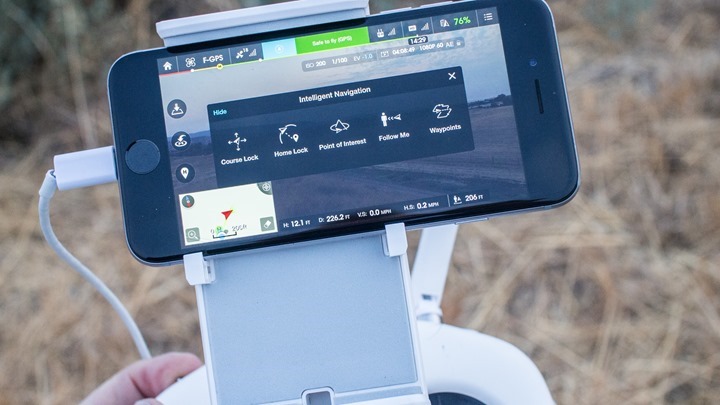 Once I got it all setup I walked around a bit and confirmed that it was indeed following me.  Then I simply got in my little Kia Soul rental and drove up and down the streets and dirt roads, seeing how well it handled.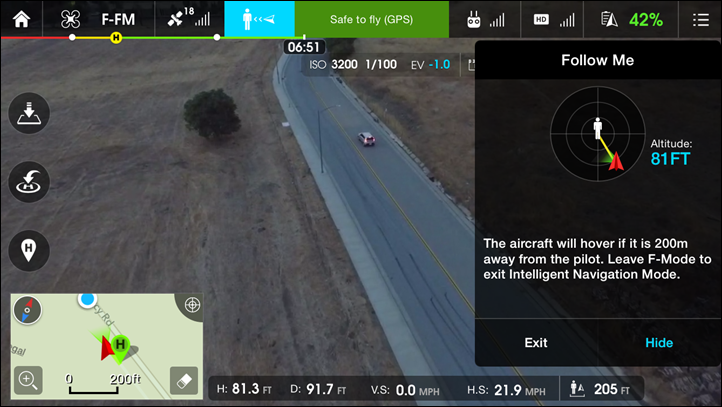 Overall, I was impressed with the ability to follow.  Far better than the 3DR IRIS+ testing I did earlier in the year (which would routinely lose the plot). I never once had it get confused.
However, it doesn't change altitude.  Meaning as I went up a shallow hill, the Phantom would stay at a constant altitude based on its initial setting.  So even though I was going up, the Phantom was effectively staying level (and thus, going down relative to the ground).  Eventually, it would have plowed into the hill.  But that was exactly what I was testing to validate.
It's somewhat peculiar that DJI doesn't leverage the barometric altimeter that's contained within the iPhone 6 (and iPhone 5 I believe as well).  But DJI also doesn't tend to push the boundaries either – they're kinda like GoPro.  They make a great, dependable, and stable product that has overwhelming market share. And they push picture/video quality levels (like GoPro).  But when it comes to lots of cutting edge tech beyond pixels, such as metrics and modes, that's actually other companies that do much of the groundwork.
As for the other players?  Well, the next 2-6 weeks will be very telling.  All of the long-awaited players: Airdog, Hexo, and Zano are in various states of starting shipping.  Zano started last week, and Airdog and Hexo are slated to begin over the next few weeks.  I suspect Airdog will be where it's at for most athletes since it has a simple wrist based control unit (like a big watch), while Hexo will dominate many of the cooler camera shots via its massive catalog of cinematic modes.  See my previous post for all my thoughts there.
At any rate – more later in the week….
Thanks for reading!