Ok, with all my Outdoor Retailer related posts out the door, here's what I've been up to otherwise.
1) Flew back home from Salt Lake City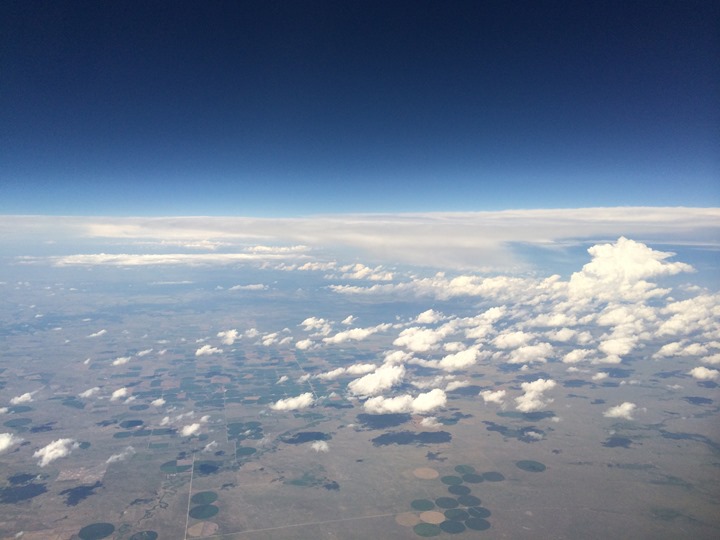 Friday I made my way back from Salt Lake City, where I had spent most of the week.  Well, all but one day – which was spent in Atlanta.  But more on what I was doing in Atlanta tomorrow.
A quick bounce through Chicago and I was once again crossing the pond – this time headed back home.  I think I'll only Atlantic-pond hop twice this month (August), though, three times if you count the last day of July.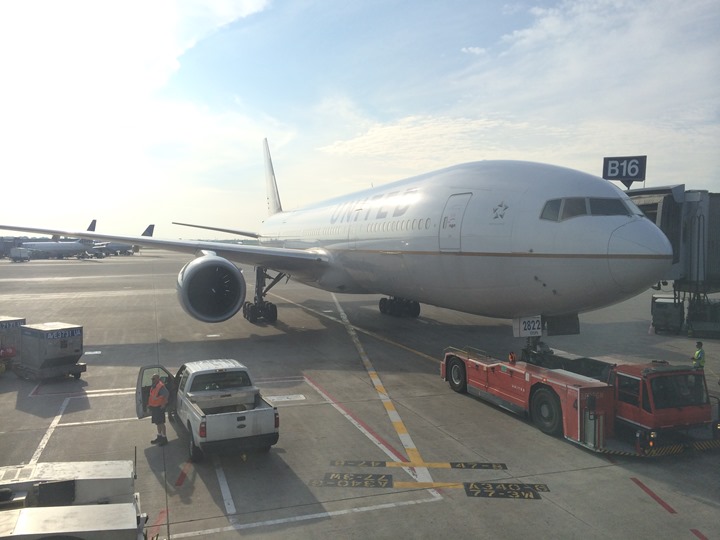 To some degree I sorta forget that I'm going to *Paris* each time I board a flight home.  Meaning that to me, it's just home.  But to much of the plane it's a dream destination for a vacation.  People around excitedly toting Rick Steve's guides, fanny packs for passports, and swinging iPad's around to take photos of every aspect of the boarding process journey.  But, it's kinda neat honestly.
After 7 hours and 25 minutes I had arrived back at Charles de Gaulle.  Despite my general hate for the airport, I think it's slowly growing on me.  Or, rather, I've just got so efficient at navigating the mind-boggling airport design elements near weekly that it doesn't phase me anymore.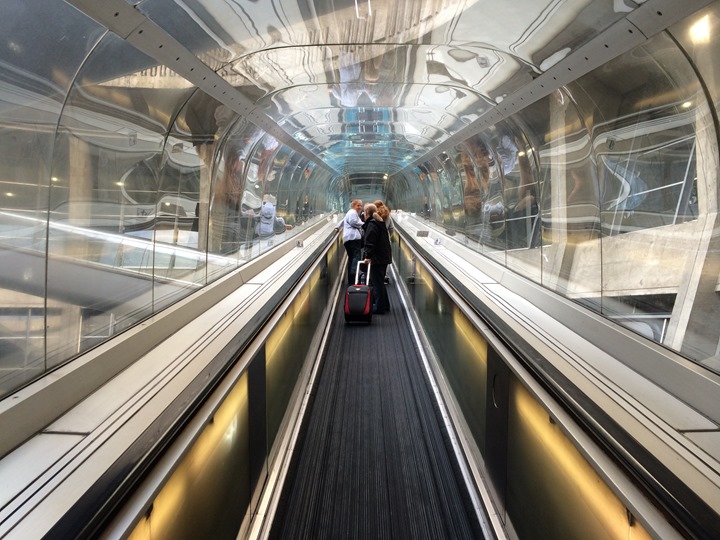 A quick taxi ride and I'm home.  Only one relatively small box this time, mostly of upcoming test gadgets picked from the show, or devices that had backed up at our forwarding box in Houston (it was much cheaper to just send them to SLC than Paris).
2) Delivered a wedding cake
About an hour after getting home from the above flight, I was back on the road with The Girl delivering this wedding cake to a location a bit of a ways outside of Paris.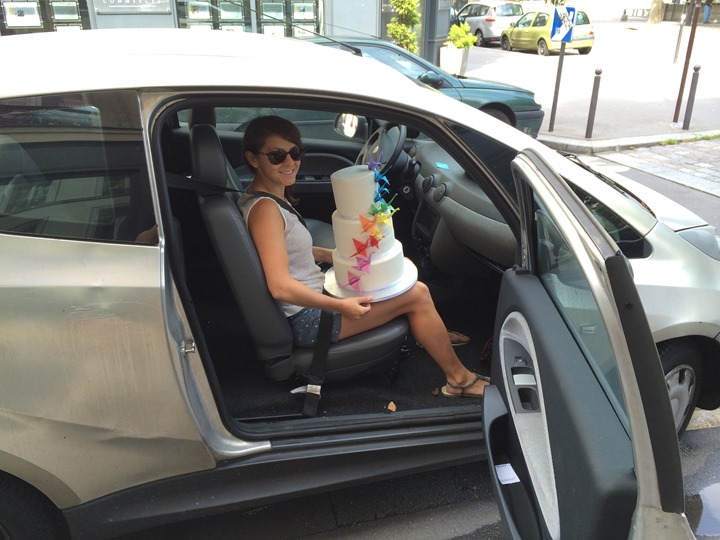 Of course, lacking a car we grabbed the Autolib.  The challenge there was that it was technically outside the area you're supposed to drive the Autolib too.  Albeit just at the edge of the range envelope.  Though, the site says they simply charge you a tiny bit extra (few Euros) for going outside the coverage range.
We arrived without issue to the location, a fancy place about 50 miles outside of Paris.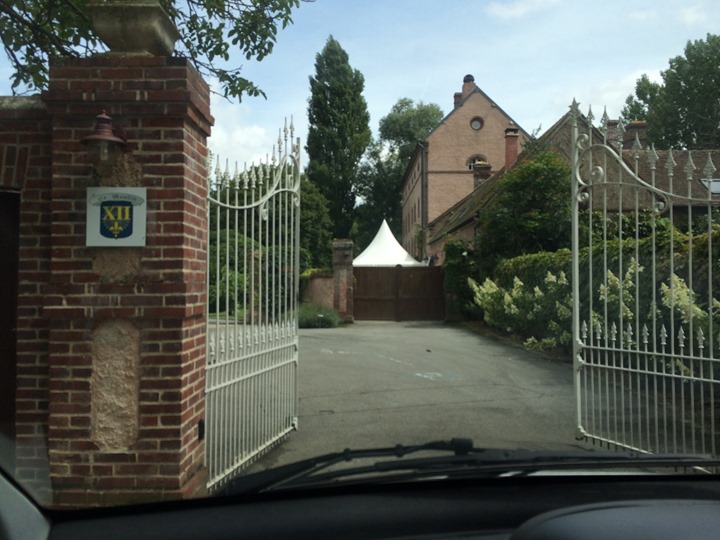 After getting the cake all settled, I noticed that our battery was at exactly 50%.  Not quite ideal.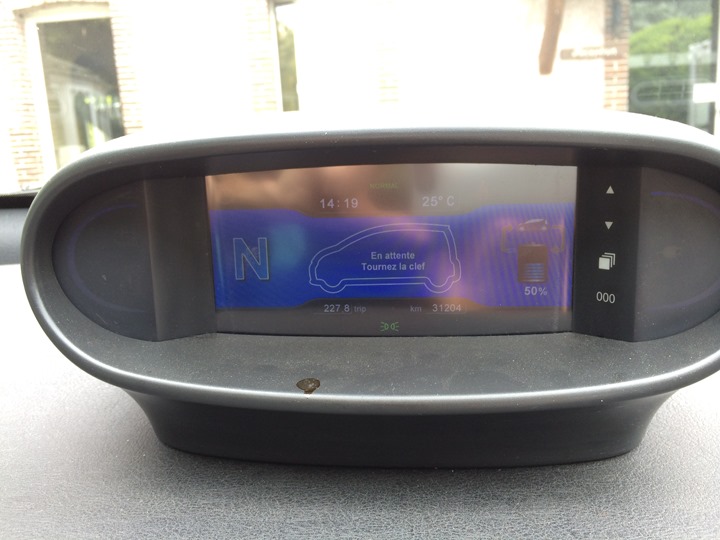 We ended up learning a lot about the Autolib on the way home.  We took splits at various speeds on the highway to determine how much time it took to go 1% on the battery at various speeds.  Turns out, faster is definitely not better.  We found about 80-85KPH was a good balance between allowing us enough juice to get home while still imitating the old ladies driving down the highway.  Any slower and they'd be passing us.
Unfortunately, we didn't quite have enough battery to make it home, so we had to divert and drop off the car around Versailles instead, about 10-12 miles short.  We aren't quite sure why we had more battery going out than coming back.  Heck, we had unloaded the 30+ pound cake too!
Thankfully we were able to just check in our little car and grab another fully charged one.  Good to go!
3) Enjoyed a (rather rainy) ride
Sunday afternoon I caught up for a ride with power meter guru Robert Chung, as he's been here in the city for a short bit.  He's helped on some of my power meter reviews, working to analyze data behind the scenes.  We met up at Notre Dame and then headed from there along the river and then eventually out through some parks before hitting up Versailles.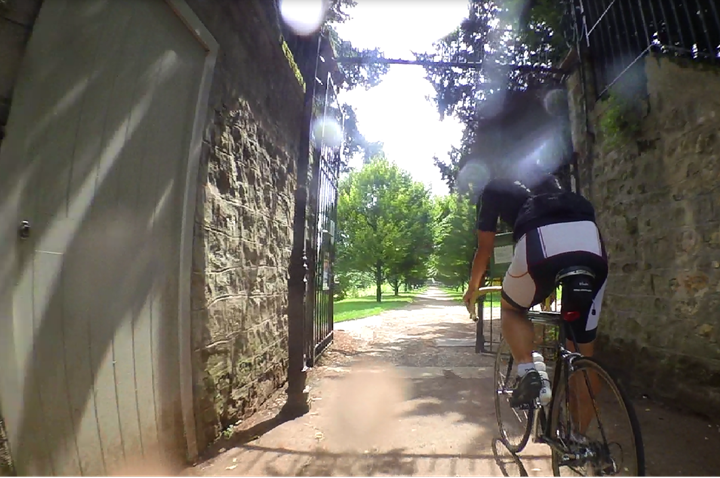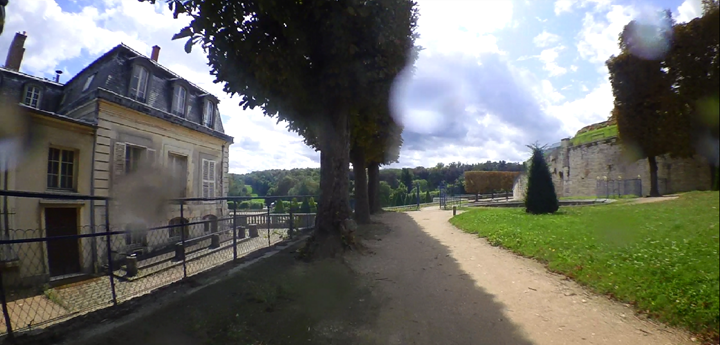 It was at about the furthest point from home that the rain clouds finally caught up with us.  We had been seemingly dodging them all afternoon – with the occasional light sprinkle for a minute or two.  But this time, there was no sprinkle: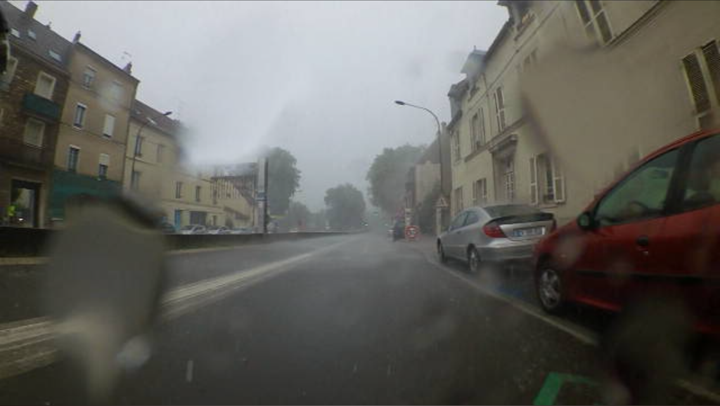 Very…very wet: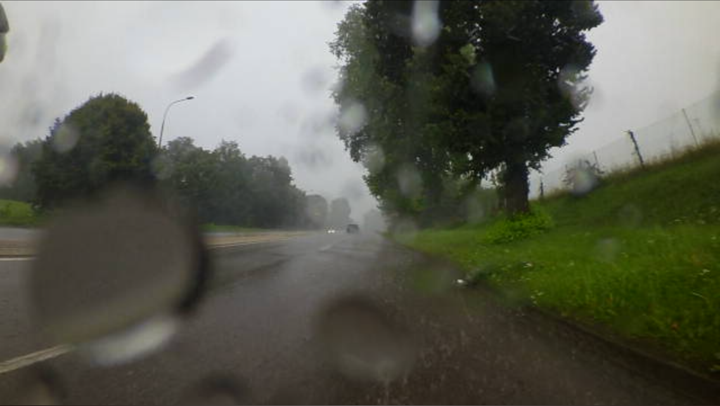 As always, about 10-15 minutes later the rain had stopped and the sun was out again.  Go figure.  All in though a great almost-40 mile wander just exploring a bit.  And of course more importantly, good chatting with Robert along the way.  As he and I were discussing – it's definitely going to be an interesting next four weeks in the power meter world, good time ahead!
(Note: I actually don't have a photo of Robert face-on, for the simple fact that I neglected to put the SD card back in the camera.  Though, I do have lots of video of his butt from the action camera on my bike.)
4) Market, mussels…and chocolate chip butter
Prior to riding on Sunday, The Girl and I actually headed over to Bastille to swing through the Sunday market there and find food for dinner.  We rarely go to this market, not because it's not awesome – but simply because we always seem to forget about it.  Which is too bad, as there's tons of great stuff there and it's huge.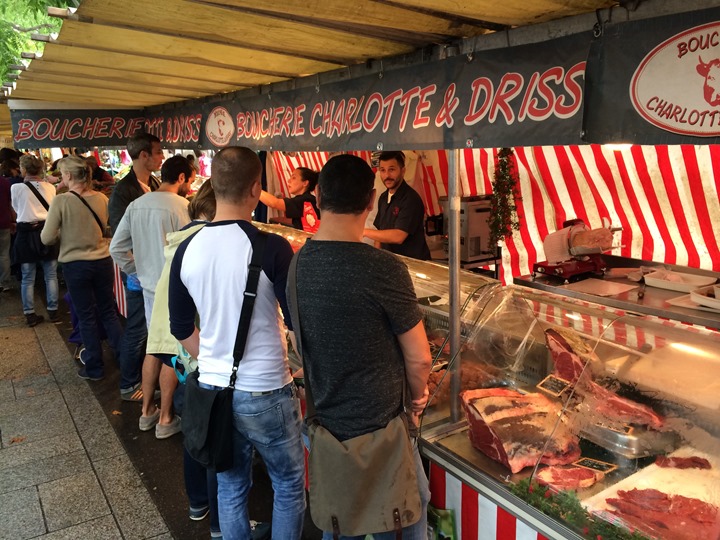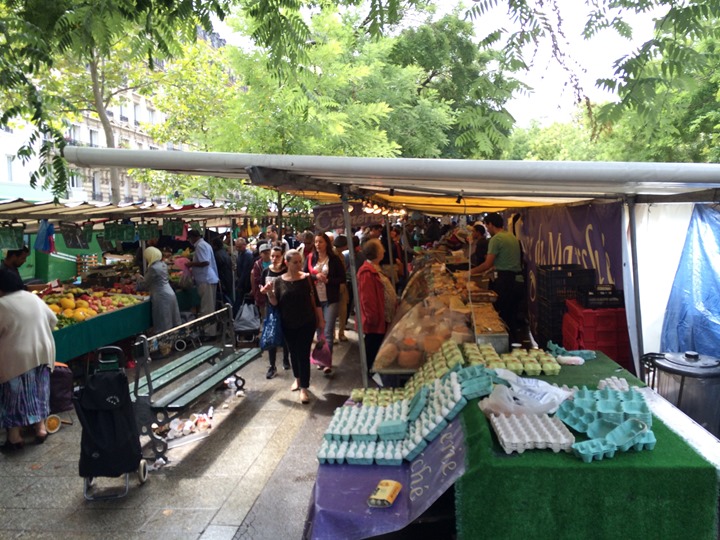 The stand below served as our lunch – going for a Lebanese crepe of sorts, with ham and cheeses in it.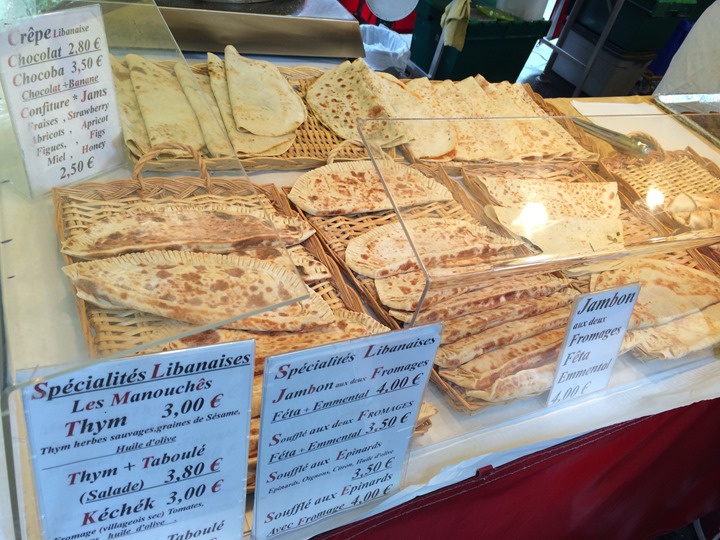 For dinner we went with mussels.  It felt like a mussel kind of night.  It was about 6 euros per kilo (a kilo is 2.2 pounds).  They weren't the biggest mussels we've ever had, but they were the biggest mussels we could find at the market.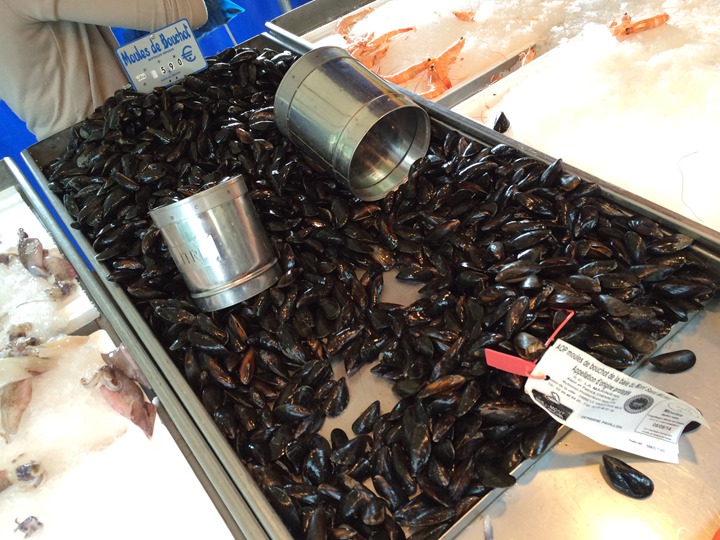 And we were pretty happy that inside the shells the mussels were actually a bit bigger than both of us expected.  Happy campers here!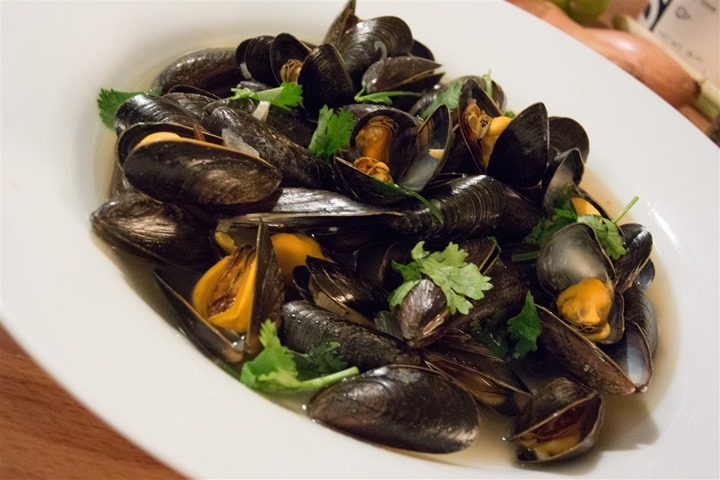 Next, to something far less healthy: Chocolate Chip Butter.
I had found it in the grocery store back a few weeks ago, but with all the travelling hadn't had a time to open it up yet.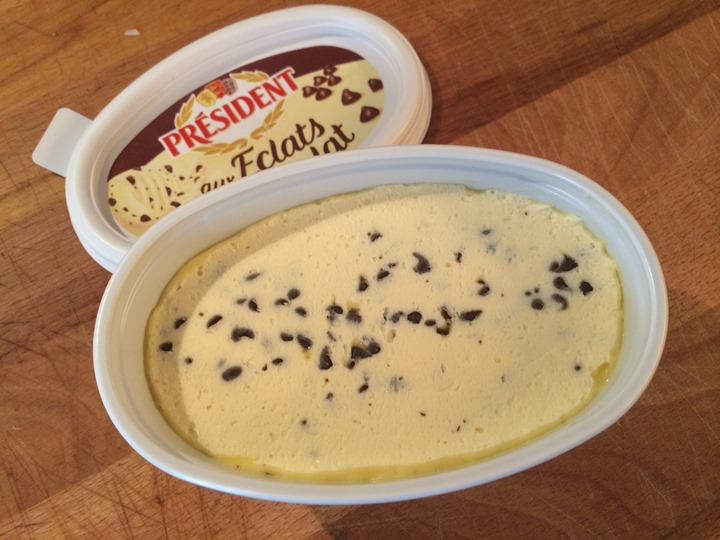 It is exactly what you'd think: Butter with tiny little chocolate chips in it.  Yes, pure awesome. Especially for toast.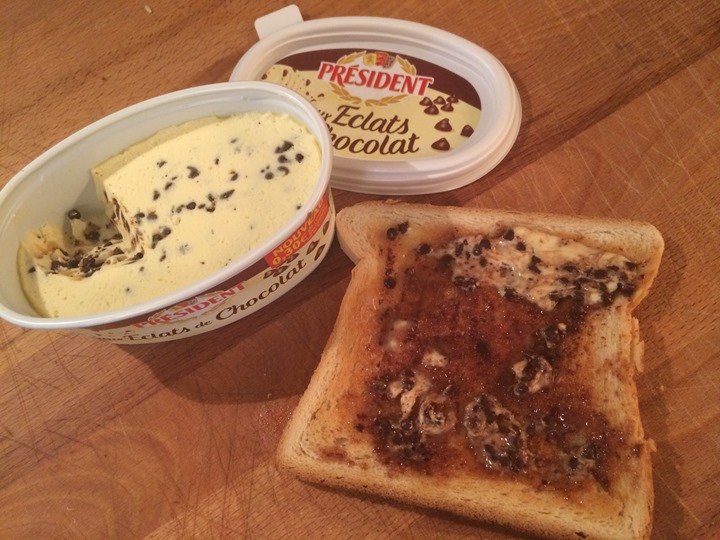 I'll have to figure out other things to put it on, but I thought it was important to share my discovery.  You can thank me now. 🙂
5) Wandered up to Apeldoorn, Netherlands.
Ever heard of Apeldoorn?  Nope?  Don't worry, me neither.  But, that's where I headed Monday morning.  On a nice 6AM train out of Paris to Amsterdam, and then changed to another train to Amersfoort, and then one final train to Apeldoorn.  It's here I'll spend the next couple days for some work meetings.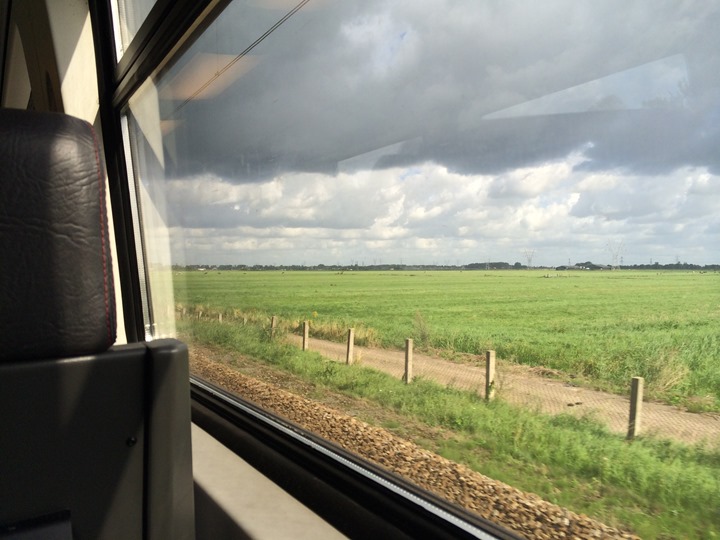 As for what's in Apeldoorn beyond some conference rooms and apparently a lot of trees?  I have no idea.  But, I'll be sure to find out and let ya know by the end of the week.
—
With that – thanks for reading, and have a great week ahead!