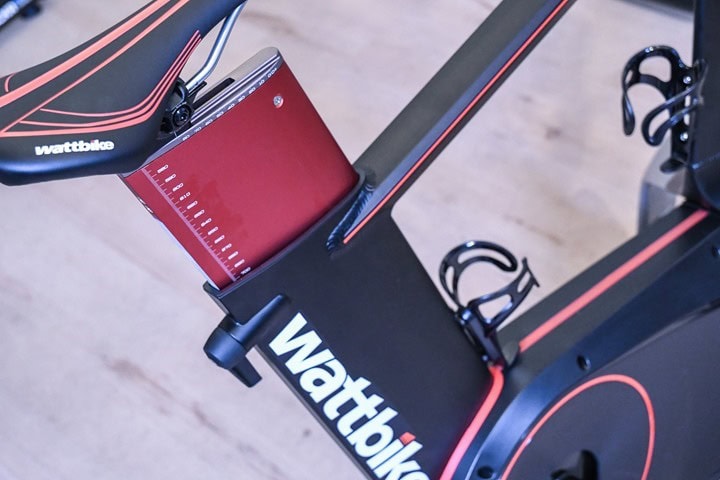 Today Wattbike has introduced their first consumer-focused smart stationary bike.  And unlike some of the other ideas floating around – this one is actually real, here today, and with production underway.  So much real that a unit has been sitting in the DCR Cave for a few weeks now.
And while it's easy for some to dismiss a stationary bike as not a real bike and trainer (I'd often do the same), upon reviewing the specs…and pricing…this thing is pretty darn compelling for a solid chunk of folks.  It's going to be the standard bearer for the next year as companies race to compete in the renewed indoor bike realm.  So without further ado, let's dive into it.
However, if you want the quick and efficient version of this, I've done a consolidated 14-minute video about the Wattbike Atom here:
(Oh, and yes, as always the Atom in the DCR Cave will be going back to Wattbike.  The poor guy that had to drive it over from the UK to France to drop it off, will also pick it back up again when I finish my in-depth review in about a month or so.  He'll also get the pleasure of getting it back up the tight staircase in the cave.  Bonne chance, mate!)
The Tech Details:
I suppose it's best to start with the size of the unit shipped, or delivered as it may be.  In this case, here's the Atom, boxed inside the back of a large courier van, next to a grown adult.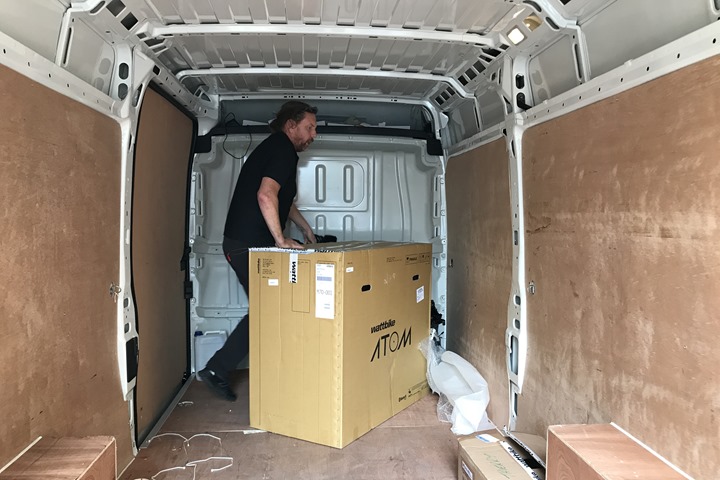 And here it is sitting atop the tiny staircase into the DCR Cave: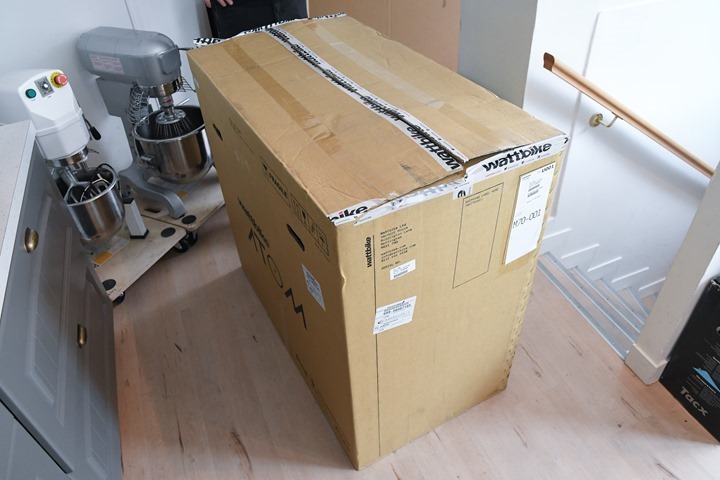 Now despite my significant concerns prior to shipping on how it might get into said Cave, it actually comes in just a few pieces that are fairly easily transportable.  A beastly treadmill this was not.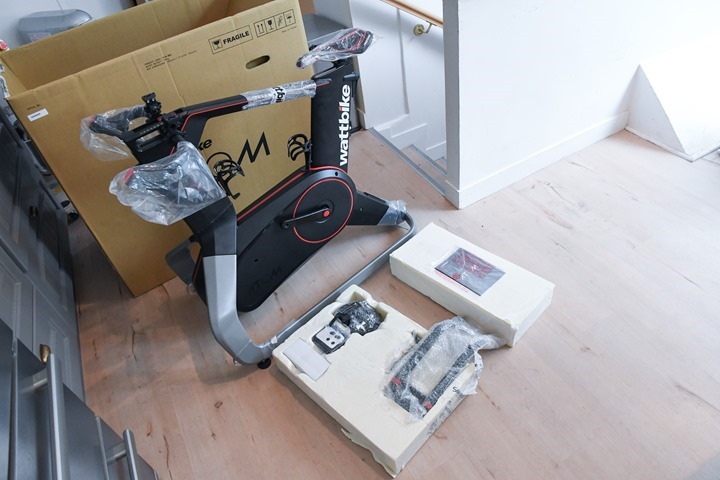 Putting it together was pretty darn quick and easy.  While I had a few minor suggestions for the manual (this was production unit #9), I've been assured some of those suggestions have already been incorporated.  Setup couldn't have taken me more than 10 minutes – and that's including taking a boatload of photos and video.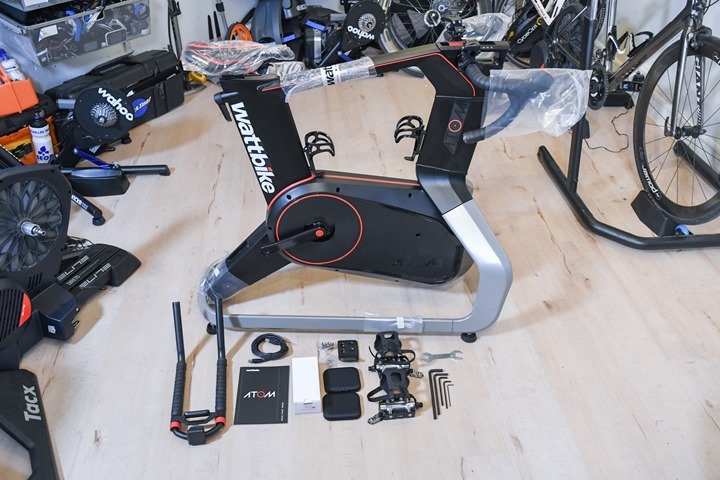 Once things were all setup, here's how it looked: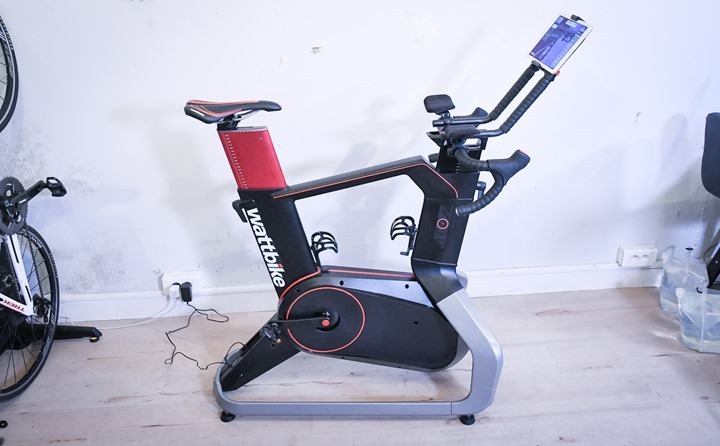 So let's dive right into some of the bulleted specs.  I've got some massive comparison sheets, but I think these are the most notable specs:
Resistance Type: Magnetic control
Wattage Range & Accuracy: 2,000+ watts at +/- 2%
Gradient Simulation: 0-25%
Connectivity Control: ANT+ FE-C Control, Bluetooth FTMS Control (so apps like Zwift, TrainerRoad, The Sufferfest and more)
Connectivity Broadcasting: ANT+ & Bluetooth Smart Speed, Power, Cadence
Heart Rate Data: Compatibility and pass-through of ANT+, Bluetooth Smart, and Polar analog straps.
Total bike weight: 44KG
Handlebar controls: Electronic shifting built in, supported in Zwift and other apps.
Flywheel: 4.64KG (10.2 lbs)
Power required: Yes (but battery pack coming in October)
All of the above are more the technical trainer-focused specs, but it's important not to overlook the bike fit side of the house.  For example, you can adjust all of the following:
Handlebars: Vertical and horizontal micro-adjustment, or, put your own 26mm and soon 31.8mm handlebars on there
Saddle: Vertical and horizontal micro-adjustment.
Pedals: Swap out your own, comes with flats
Display holder: Increase size to fit anything from phone to full tablet
Note that the crank arms are set for 170mm, so that piece isn't so swappable, but that shouldn't be a huge issue for most.  What's most interesting about this is that some of these bike fit things aren't even available on the higher end bike they have (Pro/Trainer).  In fact, almost none of the tech pieces listed in the first section are.  There's no FE-C control or similar, nor is there any Bluetooth Smart support of any type.  Lacking both of which you basically wipe out 3rd party app support.
For adjustability aspects, you've got a slew of options as noted above.  On the back of the bike you've got a simple lever to loosen the seat post, which can slide up/down and has markings on it, so you can easily remember what setting you're at.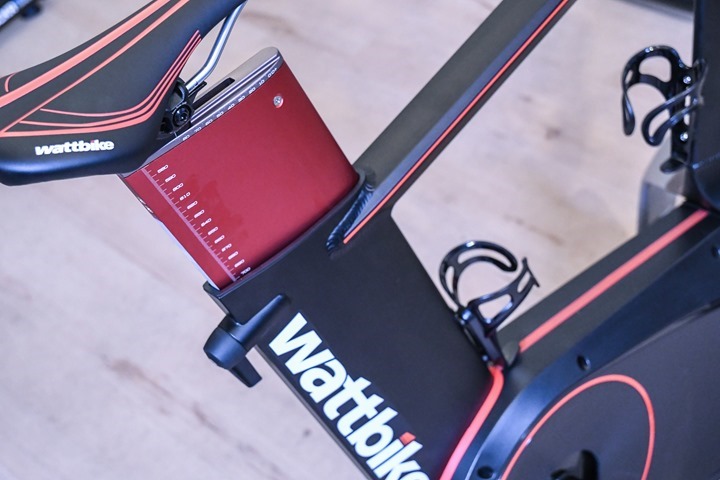 Similarly, the seat can be adjusted forwards/back, as well as an additional layer within the saddle rails itself as normal.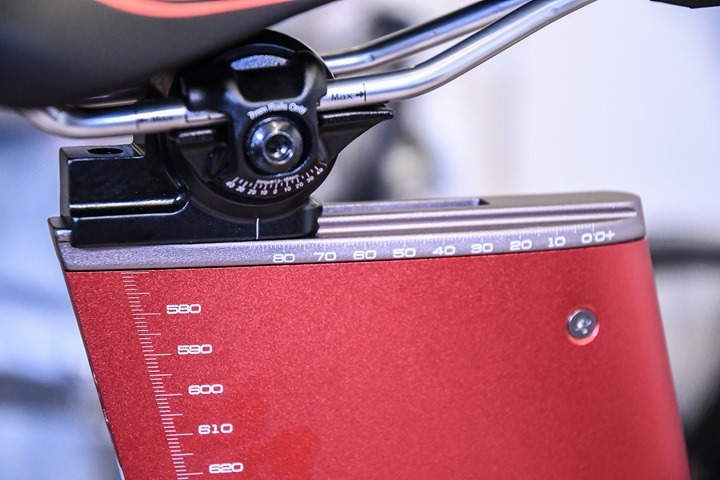 On the front portion of the bike, you've got the same quick-release style lever for overall height: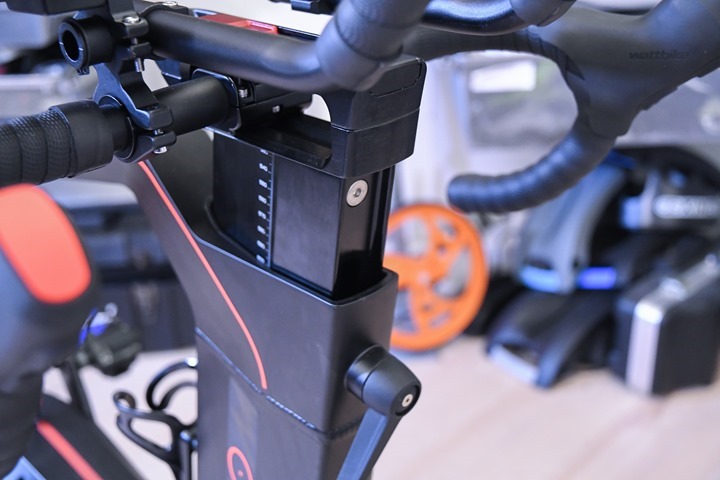 And then you've got a further pile of adjustability with the loosening of a single hex bolt in that red square.  That includes forward and back, and then with another bit of loosening you can slide the aerobars inwards/outwards.  The display stand is actually built into the front portion of the aerobars.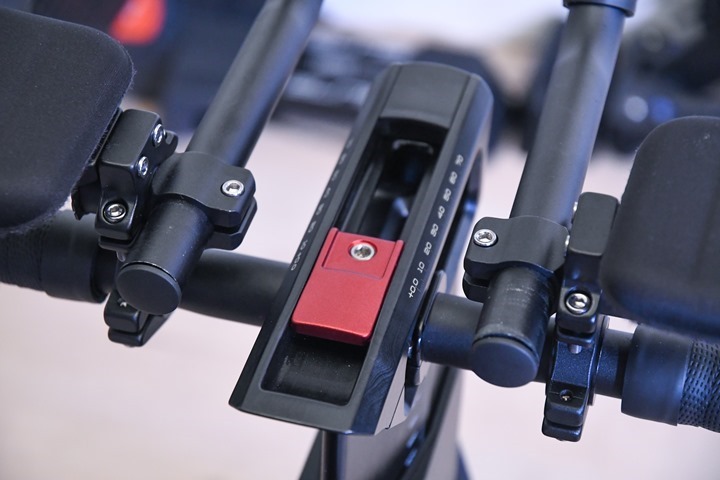 The entire handlebar system can be swapped out for your own 26mm handlebars (though they're working towards 31.8mm compatibility too).  That, in turn, means you could also swap for your own aerobar setup as well.
I will note that on the production unit I had, the holes were drilled just ever so slightly off on the aerobar pad holders, making them tilt slightly inwards/outwards, driving my brain nuts (it has no tangible effect on fit or stability – just straight lines).  Since that's a dollar part and something I brought up last week, I suspect it'll be addressed well before you see units.  Seems like just an automation error.
In any event, probably one of the most interesting things for most folks coming from the trainer realm is the addition of shifters to the end of the handlebars.  This allows you to actually shift within the game.  The two black nubs to the right of the word 'Wattbike' are the shifters.  The red portion is just cosmetic.  There are shifters on both sides.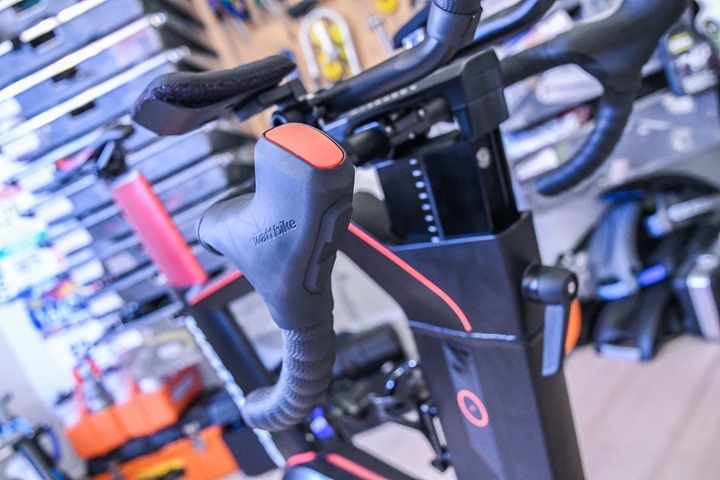 While these shifters are propriety, the company notes they actually looked at both SRAM RED eTAP and Shimano Di2 initially (and started building out on eTAP at first), but eventually went with this method as including handlebars equipped with either of those would have dramatically increased the cost of the ATOM.
Now while the inclusion of shifters are cool in theory, I'm giving them about four to five weeks to make them cool in reality (read: by my in-depth review).  I found the shifting a bit sluggish to the point it didn't provide much value (actually, more frustration than value).  The company says this is a mere software update (and I generally agree) that should be iterated on quickly.  And while that will help the sluggish aspect, I noted I really would prefer just regular bike shifters here that 'feel' and click like a bike.  Two little rubber buttons that don't click at all when pressed feel like…a 1980's VCR.
The company says they were aiming for a quieter/silent bike, which was a request they heard frequently.  I get that…but still…give me my click!
Still, it's the thought that counts – and I'm sure it won't be long till this is fine tuned a bit.
Oh, and before we wrap-up, the unit does require power.  But that shouldn't be too much of an issue for indoor use.  They're planning on introducing a battery pack of sorts in October, enabling you to bring it camping with you atop your Mini.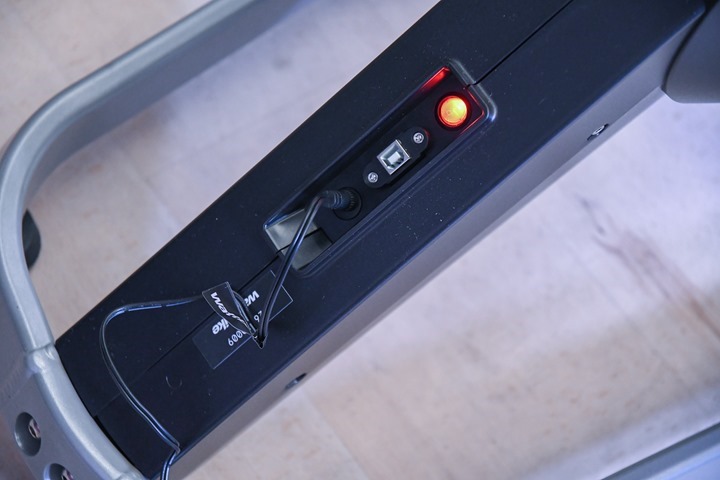 And it's also got nifty little rollerblade style wheels that make it easy to roll-around.  I show this in the video a bit.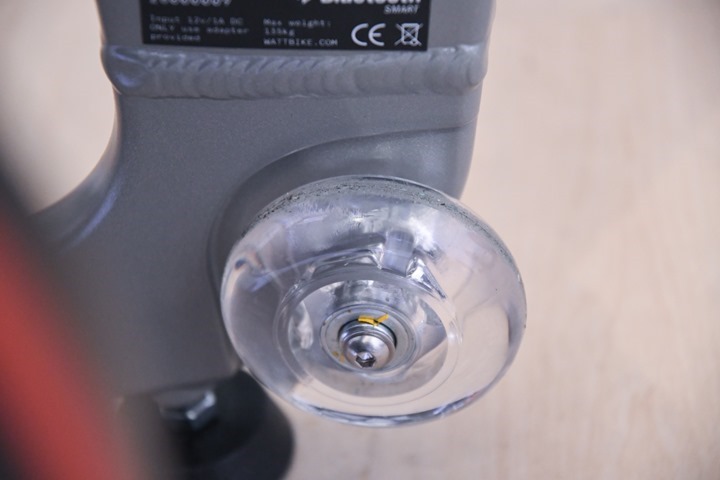 Finally, when it comes to road feel, I haven't had a ton of time on it – but all feels like a mid to mid-upper end trainer to me, which is logical given the flywheel weight matches those.  It's not quite as perfected as a higher end trainer in terms of inertia, but I'll also give them a few more weeks to fine tune that too.
App Integration: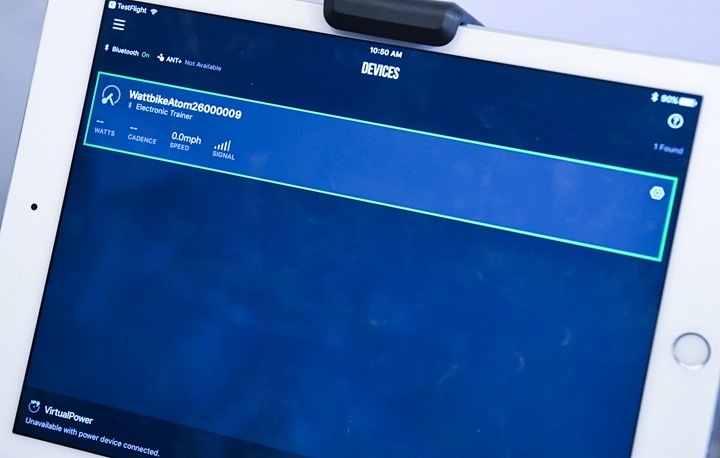 Because the Atom has ANT+ FE-C and Bluetooth Smart FTMS built in, virtually any app out there can control it.  I've talked about ANT+ FE-C before, and plan a post on FTMS shortly.  But basically it's a Bluetooth Smart variant of FE-C, albeit so new that the maturity of implementations by both equipment companies and apps is still a bit…fresh.  So we're seeing some growing pains.  I'll give props to TrainerRoad here that they've become a bit of the de facto troubleshooting hub for various companies like Elite, Wattbike and Tacx to figure out the quirks.
In any event, with ANT+ FE-C you're going to cover not just apps like TrainerRoad or Zwift, but also even head unit devices.  Both Garmin Edge and Wahoo ELEMNT/BOLT units support FE-C control of trainers, and that would now extend to the Wattbike Atom. This allows you to take something like an outdoor ride and re-ride it on the ATOM.  In general, you see more desktop/Android apps using FE-C, since it relies upon ANT+ which isn't natively available on iOS.  For iOS you've still got Bluetooth Smart FTMS of course.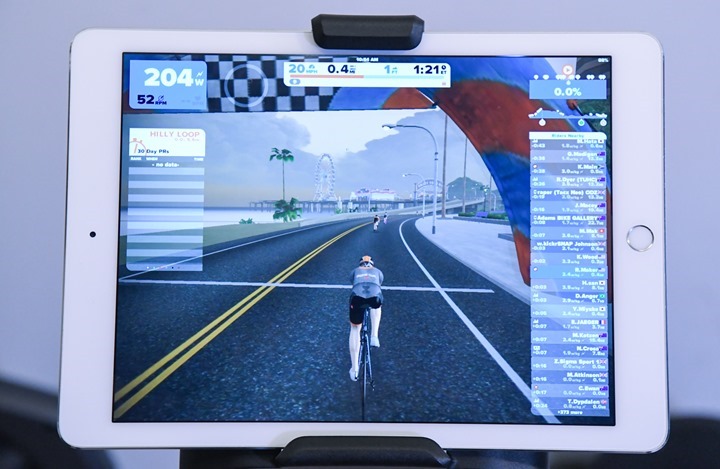 And then there's the native broadcasting of both regular ANT+ & Bluetooth Smart power, speed, and cadence sensor data.  So you could use virtually any sport watch that supports sensor data from either to collect things like speed, power, and cadence onto your watch.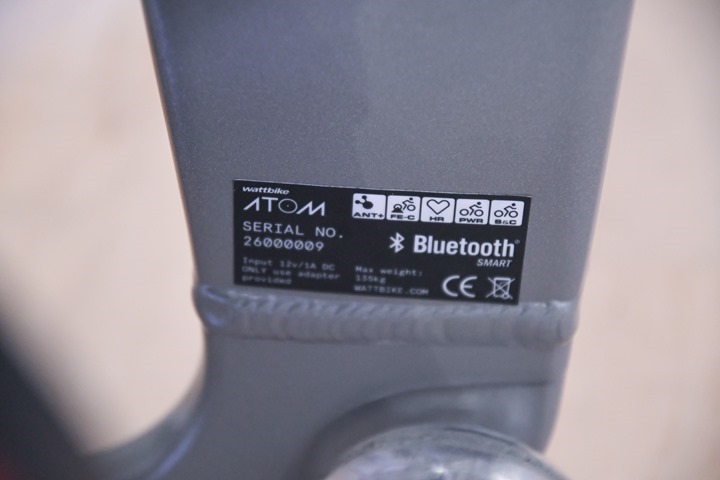 Last but not least is the interesting re-transmission of both Polar legacy analog heart rate transmission as well as ANT+ HR transmission over to Bluetooth Smart.  This means that on the Wattbike app (I've only tried iOS), it'll actually allow you to pair to both ANT+ & legacy Polar analog HR straps.  The way this works is that the bike does the pairing using goodness inside the unit.  Then from there it translates that signal to Bluetooth Smart and sends it onwards to the Wattbike app.
I haven't fully tested whether or not they are re-broadcasting it as standard Bluetooth Smart heart-rate accessible to other devices/apps (my initial look says no, but perhaps it's premature there).  Still, that's pretty darn nifty if ya ask me.
Difference to the existing Wattbike:
There's a slew of differences between the Wattbike Atom and the existing units.  I've covered what I feel are the most interesting ones up above, but of course – to each their own.  For example, the max rider weights (135KG for Atom, 150KG for Pro/Trainer) might not matter to most, but could be key for others.  As such, I've taken the gigantic comparison chart that the company sent over and kerplunked it into a table.  Said table is below:
Wattbike Model Comparison
| Sale/Delivery | Wattbike Atom | Wattbike Pro/Trainer |
| --- | --- | --- |
| Cost | £,1499 inc. VAT | £2,250 inc.VAT |
| Boxed and assembled delivery available? | Yes - Nb - the Atom is pre-assembles with only the tablet mount and pedals that require fitting | Yes |
| Availability Regions | UK (warranty supported) | Global (via distributors for warranty) |
| Sales Route | E-commerse (direct to consumer model) | e-commerse and regional distributors |
| Warranty | 2 years / 6 moths on wear and tyre items | 2 years / 6 moths on wear and tyre items |
| Fuction/Feature | | |
| Uses phone/tablet as control unit 'Device used to 'control' bike'? | Yes - Android/iOS with Wattbike App/Third Party App | Model B Monitor - connects to iOS / Adriod device via Bluetooth for App use N.b not via FEC |
| Polar view | Yes | Yes |
| Left/Right leg balance | Yes | Yes |
| Pedalling Effectiveness Score | Yes | Yes (via app) |
| Electronic Shifters | Control app and bike. 3 button controls on each shifter | No |
| Gears | 1 - 22. Across Power Curve | Air (1 - 10) and magnetic resistnace (1 - 7). Across Power Curve |
| Gradient | 0 - 25% | None |
| Ergo Mode | Yes | No |
| Climb mode | Climbs available in Wattbike App ( developed with velo viewer) | Virtual climbs not compatible |
| Ability to replicate road bike & TT set up | Yes | Yes |
| Sound | 70 decibels at 70 cadence | At 70 cadence in gear 5 pro & trainer are 79 decibels |
| Ability to update firmware | Yes (via app) | Yes (via USB cable & laptop) |
| Training content | Yes - tests, workouts and plans (via app) | Yes - tests, workouts and plans (via B monitor & app) |
| In built testing | Yes | Yes |
| Resistance | | |
| Resistance type | Step motor driving natrual magnets to replicate the Wattbike power curve | Air & Magnet |
| Wattage range | 40 - 2000+ watts | Trainer 0 - 2000 watts Pro: 0 - 3760 watts |
| Accuracy | +/- 2% - across the full power range | +/- 2% - across the full power range |
| Electronics system | Smart control wireless electronics. | N/A |
| Connectivity | | |
| ANT + | Yes | Yes |
| FEC | Yes | No |
| BLE fitness machine | Yes | No |
| Bluetooth | Yes | Yes |
| Heart rate | BLE, ANT+ | ANT, ANT + & Polar |
| Power | Yes | Yes |
| Speed & Cadence | Yes | Yes |
| Wattbike Hub | Save, share and analyse your data | Save, share and analyse your data |
| Third party apps | Yes - Any ANT+/ANT+ FEC/BLE enabled app. Custom BLE control via Zwift. BLE Exercise Machine Control support to follow after launch. Zwift, Sufferfest, Trainer Road | Yes - via ANT +/BLE Zwift, TrainerRoad and Sufferfest. Manual adjustment of resistance required |
| Data analysis ability | Wattbike Hub and connecting to Strava, TrainingPeaks and TCX export | Wattbike Hub and connecting to Strava, TrainingPeak and TCX export |
| Trainer control | | |
| Supports ANT+ FEC | Yes | No |
| Supports Bluetooth Control | Custom integration with zwift, BLE Exercise Machine Control support to follow after launch | No |
| BLE fitness machine | Yes | No |
| Technical Specifications | | |
| Power required | Mains adaptor OR battery pack (functionality coming in October) (5 volt 1.6amps) | External power not needed, internal generator |
| Ability to move | Yes, 2 Coaster Wheels | Yes, 2 Coaster Wheels |
| Max rider weight | 135KG | 150KG |
| Rider size | 5' - 6'5 | 5'1 - 6'4 (7'1 with extra long stems) |
| Bike weight | 44KG | 55KG |
| Footprint | 100cm (length) x 50cm (width) x 80cm (height to road bars) or 100cm (height with tri-bar & tablet holder) | 125 x 66 x 130cm |
| Handlebar adjustability (micro adjustment) | Yes - vertical and horizontal | Yes - vertical and horizontal |
| Ability to fit own handlebars | Yes (currently 26mm, working towards 31.8mm) | Factory fitted drop handlebars (not interchangeable) |
| Saddle adjustability (micro adjustment) | Yes - vertical & horizontal | Yes - vertical & horizontal |
| Saddle | Low profile saddle | Low profile saddle |
| Ability to fit own saddle | Yes | Yes |
| Crank length | 170mm | 170mm |
| Q factor | 160mm | 173mm |
| Pedals | Changable for user + Combination pedals - flat for trainers | Changable for user +E148 Wellgo (MTB SPD, Look Keo & toe cage for trainers) |
| Ability to fit own pedals | Yes | Yes |
| Tablet holder | Can accomodate from 70mm - 240mm in height | Coming soon |
| Power measurememt | measuring the chain tension over a load cell. The Wattbike measures angular velocity twice per crank revolution | measuring the chain tension over a load cell. The Wattbike measures angular velocity twice per crank revolution |
| Number of water bottle holders | 2 | 1 |
| Flywheel | 2x4.64Kg flywheels | Magnetic- 7.5kg & Fan- 5.6Kg (13.1Kg) |
| Drive train | Chain & timing belt | Chain to Drive Belt |
| Needs calibration? | Factory set | Factory set |
As for road-feel like nuances between them, the vast majority of my riding on the existing Wattbike products has been within races (indoor tri's), and honestly that was about the least important thing I was worried about at those moments.  Obviously, the larger (especially wind driven) flywheel means you're going to get more inertia though than on the Atom.
Note that I *may* look at adding indoor bikes into the product comparison database down the road, we'll see.  At present, I might just stick it in as a trainer and note some differences.  I wouldn't want to enter units into the product comparison tool until they're close to shipping or locked in spec.  For example, the Tacx Neo Smart Bike I noted a few days ago, that's still about a year away from shipping, and as such I see too much variability there to make purchasing decisions on – so I feel like including it in the product comparison tool is a bit premature.  Just my two cents.
Going forward: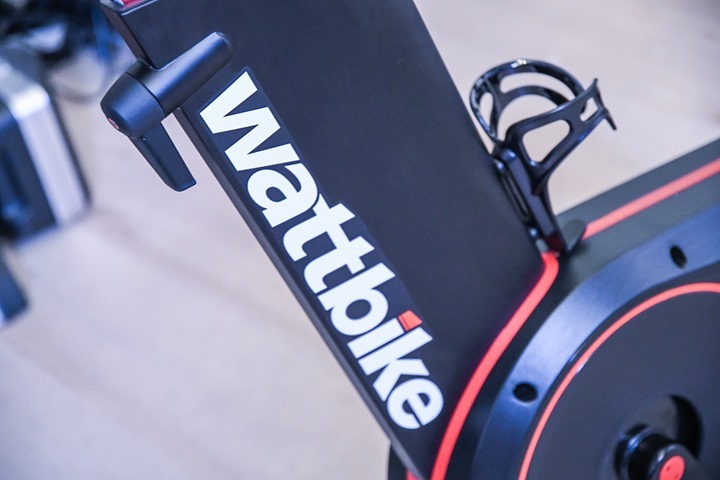 When companies first contact me about checking out their product, I usually have a rough idea within a few seconds of reading the e-mail whether or not I think it'll do well.  When I first saw Wattbike in the sender's domain, I cringed a bit as likely a product that was out of touch with what the indoor training market wanted these days.  But after I got through the e-mail and the specs they laid out – I was pretty intrigued.
However more importantly was that the product as delivered exceeded those expectations.  First off, it's stunningly pretty.  Or maybe I'm just a MKBHD-like sucker for a sweet black and red paint scheme.  And the assembly was quick and efficient,  I'd argue faster than assembling some trainers.  And from a spec standpoint, it actually bests much of the existing higher-end Wattbike product line.
But more than all that is the connectivity aspects.  This is the core of what makes this product interesting to me.  Like it or not, widespread app integration is critical these days to the indoor trainer market.  And without it, your product is dead to me (and most others too).  And Wattbike nailed that.  They've adopted every standard known to mankind, and even included translation for older ones like Polar's legacy HR straps.  That's cool.
Of course – there are still areas for improvement.  The shifting is a big one, and the company is also having to fight the good fight to sort out the growing pains of the Bluetooth FTMS control.  Major apps like TrainerRoad will have those aspects compatible well before you see a bike of course, but many other apps will likely have growing pains too (the entire industry really, trainers too).  And then the fact that it's only shipping to the UK this winter is a major bummer.  I think Wattbike has a very finite window before fall 2018 and the flood of new indoor smart cycles.  It'd be in their extreme best interest to at least re-prioritize figuring out US/Canada/Europe distribution while they've got the lead on everyone else.
Note that as I said in my Tacx Neo Smart Bike post, while I think there's space for some new smart indoor stationary bikes on the market, I'm not convinced there's room for every trainer company to introduce one.  Nor is there room for many options that are super-expensive.  But at the price point that Wattbike has (1,499GBP, which converts to 1,633EUR or $1,941USD), they'll do exceedingly well.  Hence you can see why there's not a chance in hell Tacx can sell their similarly equipped bike for 2,500-3,000EUR next fall (when prices will invariably be slightly lower with renewed competition).
In any case – plan to see a full in-depth review in early October, once I've had a bunch more time on the bike.  With that – thanks for reading!