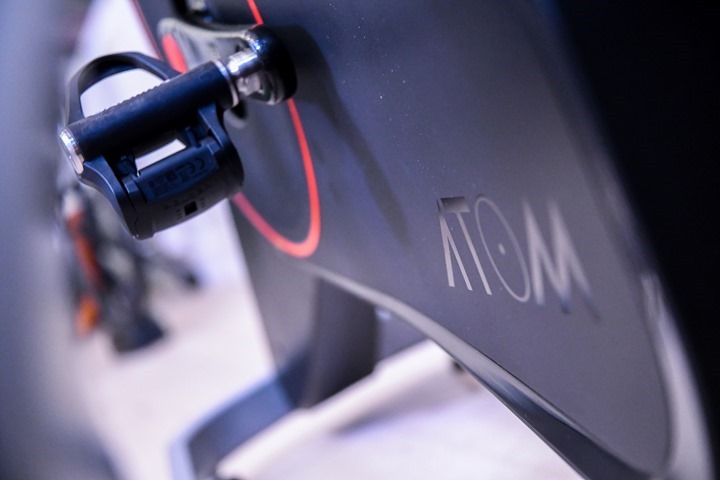 It's been just shy of three months since Wattbike announced their new Atom unit, which was designed to compete with higher end smart trainers like the Tacx Neo and Wahoo KICKR.  Up till now, Wattbike's indoor bikes have been rather pricey – upwards of £2,250.  But the Atom significantly dropped that price down to £1,499, and more importantly added a flotilla of features not even found in their higher end unit.
Since then I've been using a near-final unit, and then more recently a final shipping production unit.  Additionally, the company has started shipping our orders to customers (albeit a bit delayed).  At this time it should be noted that the company is only shipping units to customers in the UK, though they plan to expand into the remainder of Europe in 2018, and other regions (notably the US) by Fall 2018.  Though, the company will actually do a quote to ship you a unit now if you want, but support is then limited (and, you'll spend a boatload, literally, on shipping costs).
In any case, I've now got a number of miles (or kilometers) under my seat on both units and figured it's time to release my full in-depth review.  Note that as always, this unit will go back to them soon – whenever they send someone over to pick it up.  Just the way I roll.
With that – let's get started!
Unboxing & Setup:
One of the core reasons why Wattbike was able to so dramatically reduce the cost of the Atom compared to their previous units is by effectively cutting out the middle-man (distributors and such).  In doing so, they likely get about about 30% of the cost of the time.  Additionally, they also cut out setup and installation type services, meaning that you're just going to get a large box delivered from a big-ass truck or at least a big van: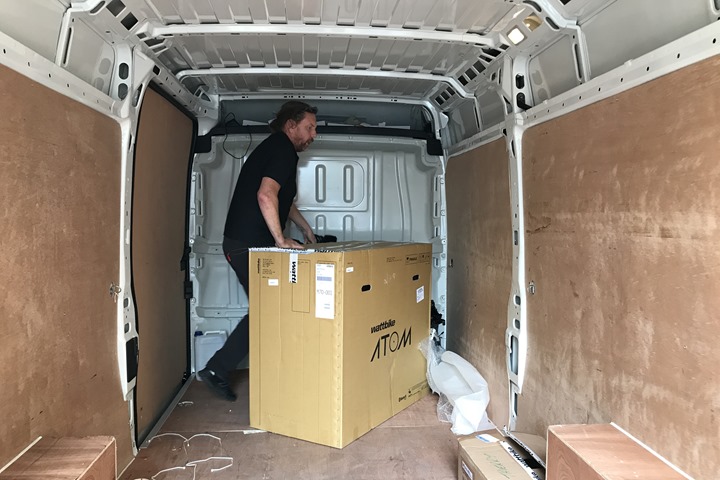 When I first saw the box, I had visions of sitting on the floor of my Cave for hours putting tiny little pieces together – figuring Wattbike had saved money by deferring assembly to you.  Turns out (thankfully), I couldn't have been more wrong. Here's what the box looks like sitting outside my front door: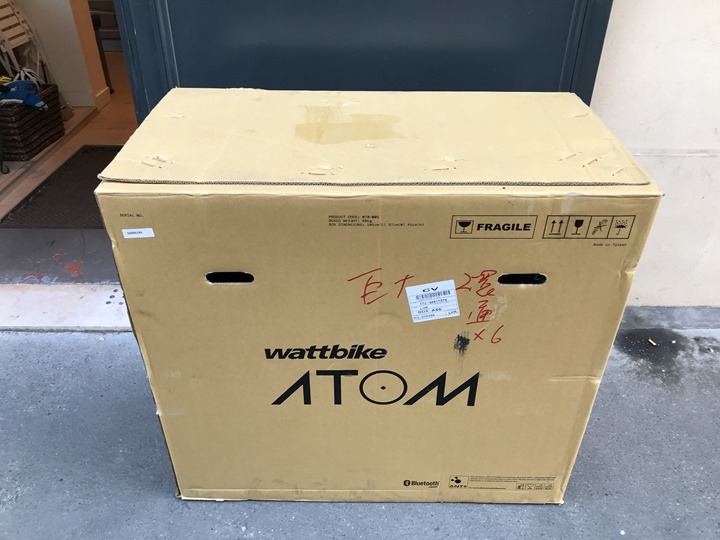 I've done this unboxing twice now (for two different bikes), for the second iteration I decided to just do a unique outside unboxing.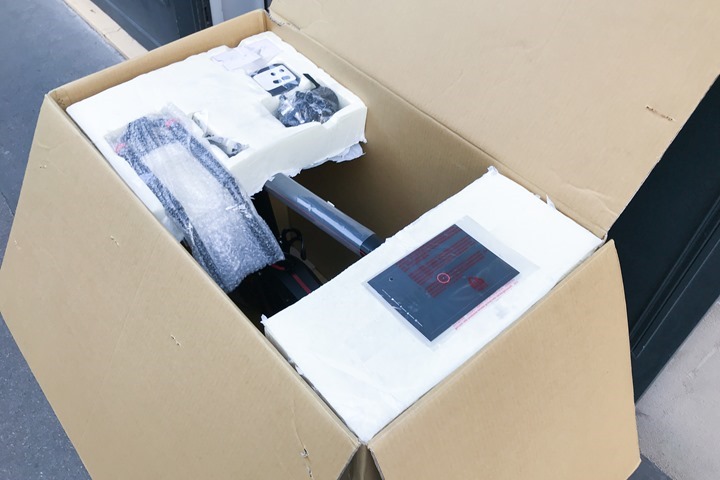 Once you lift the lid off, you'll see the bulk of the bike just sitting there: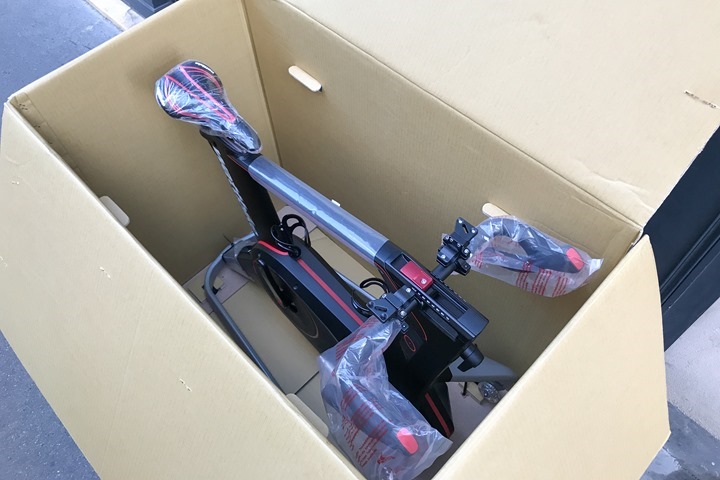 In fact, to my disbelief, almost everything is actually already installed.  I've spent more time putting together regular trainers than this thing.  You'll notice the seat post is in there already: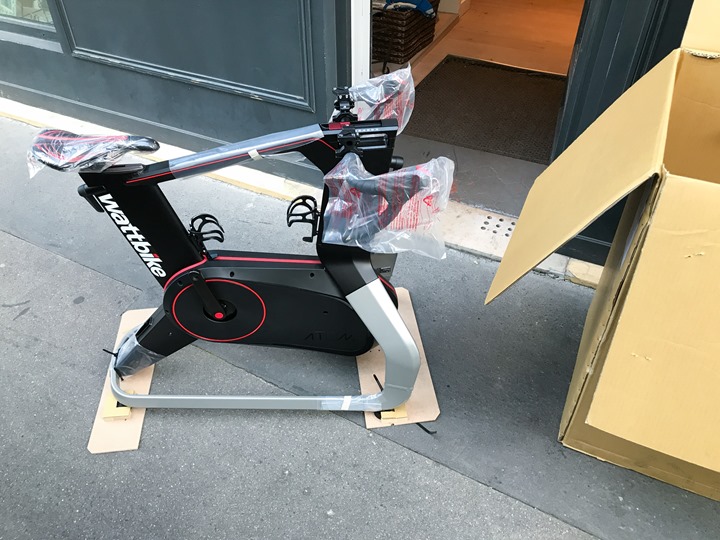 As are the handlebars, already attached.
In fact, the only things not attached live in a few boxes/parts bags floating around the box.  They are:
A) Aerobars/Aerobar Pads (as well as the tablet stand that's part of the aerobars)
B) Pedals
C) Power cable
D) Some Allen wrenches to adjust things
That's it.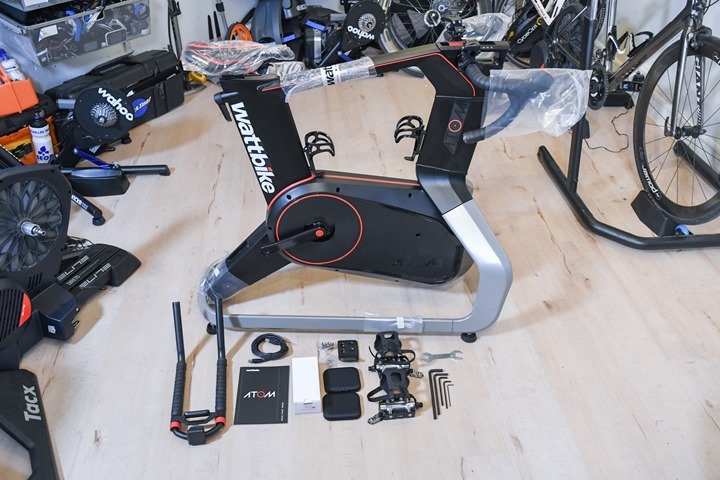 Of course, most of you won't be using the pedals, which are flats – but in the event you're more of a cycling studio you might. With all the parts on the street looking like a city yard sale, I brought them inside and then got them down the itty bitty staircase into the Cave.  I needed some help to get the bike down the stairs.  It's not super heavy, and I could have done it myself.  But in doing so I also ran a reasonably high risk things would go horribly wrong and The Girl would find me squished under a Wattbike at the bottom of the stairs.
Once in the Cave, I added my own pedals to the bike.  You can add any type you'd like: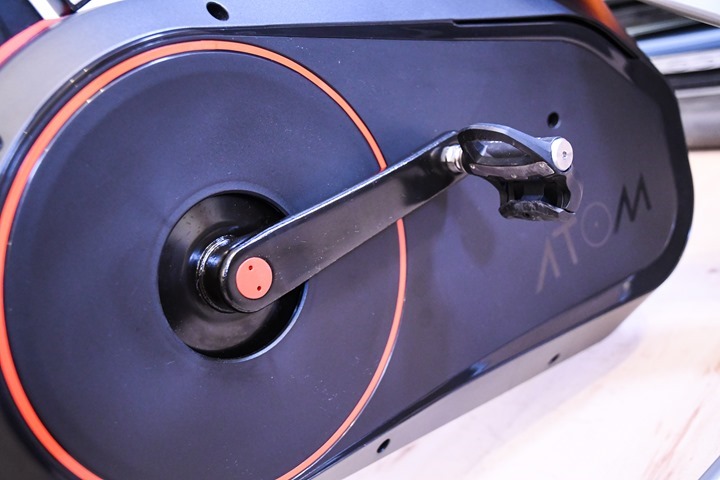 Then I installed the aerobars/pads, which forms the basis for the tablet holder too: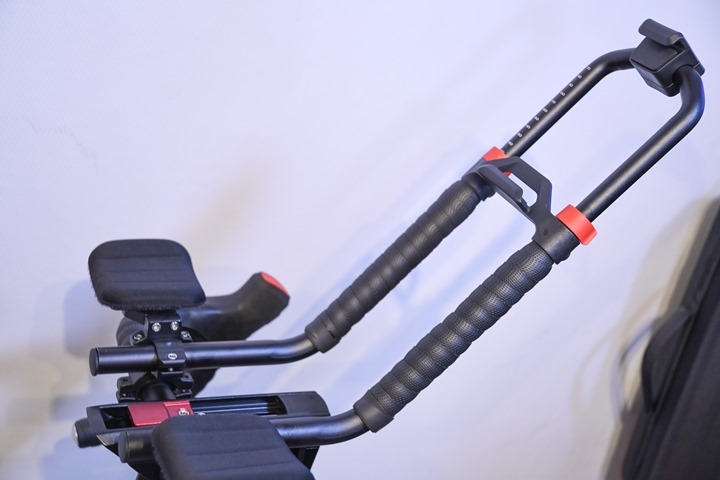 And finally, I plugged it in.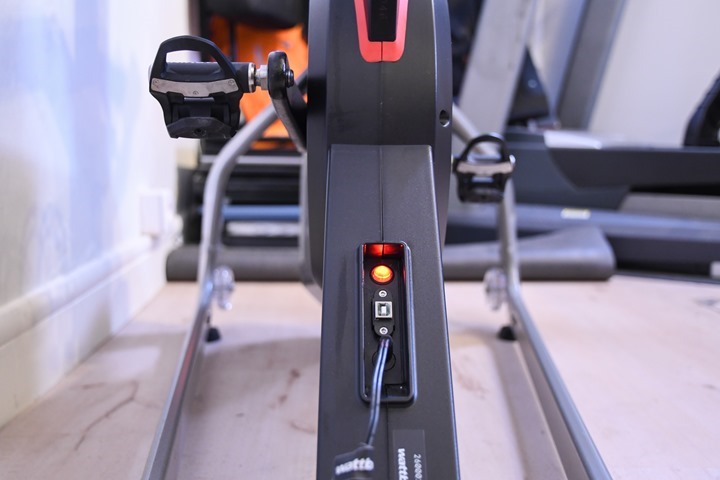 At this point, I was technically done – save any adjustments for fit, which I'll cover in the next section. Seriously, you can set up the Atom in under 5 minutes.  3 minutes if you know what you're doing.
The Basics: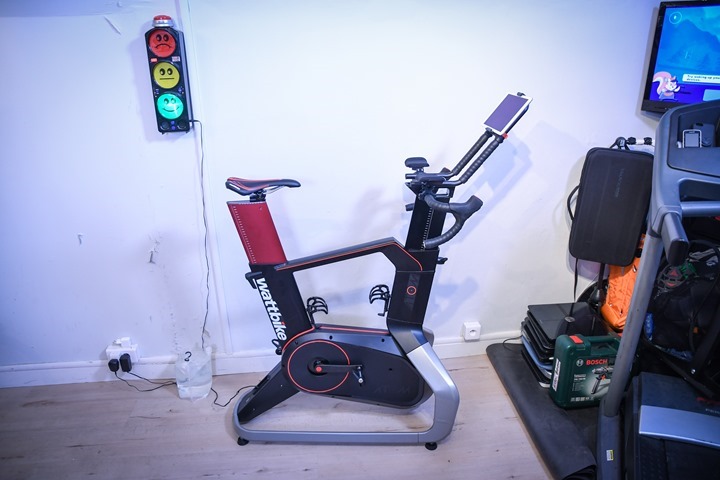 Now that we've got the thing all installed, let's talk about some basic specs.  These specs make the Wattbike Atom unique compared to the previous generation Wattbike's, in particular on the tech side of things.  See, unlike those previous units, the Atom is actually controllable in terms of resistance.  It has a legit ERG mode, whereas previous units didn't.  Meaning, you can set an interval at 275w, which you couldn't previously do.  More importantly, you can do that via industry standards like ANT+ FE-C and Bluetooth Smart FTMS, which again, you couldn't do before.  As for the all the differences, scroll down a boatload and I list them all out in a big table.
In the meantime, here's the top-line specs on the Atom:
Resistance Type: Magnetic control
Wattage Range & Accuracy: 2,000+ watts at +/- 2%
Gradient Simulation: 0-25%
Connectivity Control: ANT+ FE-C Control, Bluetooth FTMS Control (so apps like Zwift, TrainerRoad, soon The Sufferfest and more)
Connectivity Broadcasting: ANT+ & Bluetooth Smart Speed, Power, Cadence
Heart Rate Data: Compatibility and pass-through of ANT+ and Bluetooth Smart to Wattbike's own app
Total bike weight: 44KG
Handlebar controls: Electronic shifting built in, supported in Zwift and other apps.
Flywheel: Dual 4.64KG (10.2 lbs) flywheels, thus, total of 9.28KG/20.4lbs
Power required: Yes (but battery pack coming)
All of the above are more the technical trainer-focused specs, but it's important not to overlook the bike fit side of the house.  For example, you can adjust all of the following:
Handlebars: Vertical and horizontal micro-adjustment, or, put your own 26mm and soon 31.8mm handlebars on there
Saddle: Vertical and horizontal micro-adjustment.
Pedals: Swap out your own, comes with flats
Display holder: Increase size to fit anything from phone to full tablet
Note that the crank arms are set for 170mm, so that piece isn't so swappable, but that shouldn't be a huge issue for most.  What's most interesting about this is that some of these bike fit things aren't even available on the higher end bike they have (Pro/Trainer).  In fact, almost none of the tech pieces listed in the first section are.  There's no FE-C control or similar, nor is there any Bluetooth Smart support of any type.  Lacking both of which you basically wipe out 3rd party app support.
For adjustability aspects, you've got a slew of options as noted above.  On the back of the bike you've got a simple lever to loosen the seat post, which can slide up/down and has markings on it, so you can easily remember what setting you're at.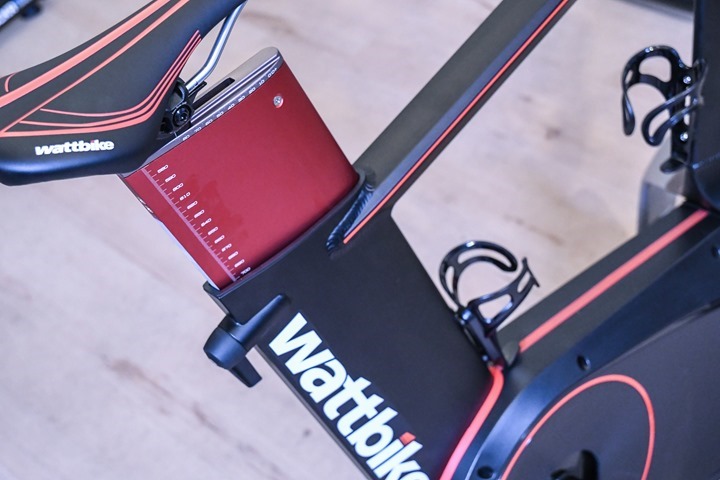 I will say that on the second unit I received (a final production model) I had issues with the seat post staying up.  It would slide down over time (a few minutes).  After discussing it with Wattbike, they noted they've seen a few cases of this on other people's units and have made some minor production changes to address it.  The cause appeared to be the lever not holding enough grip against the seat post.  As such, it would actually tear into the material, as seen below: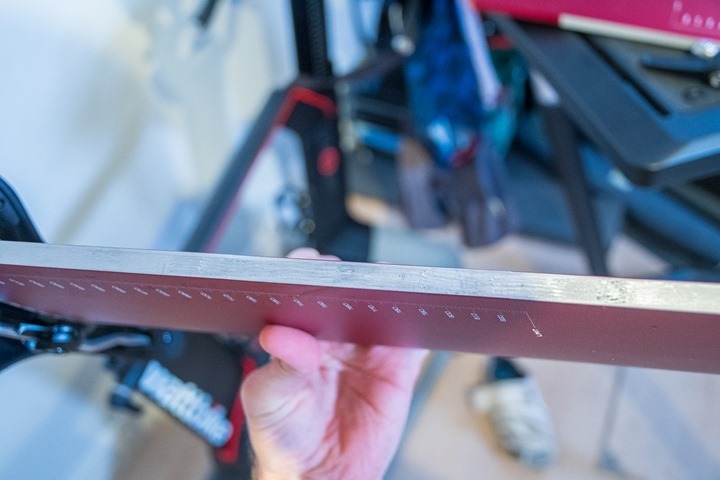 Wattbike sent me a new seat post that seems to resolve the issue, and are doing the same for anyone else that runs into it.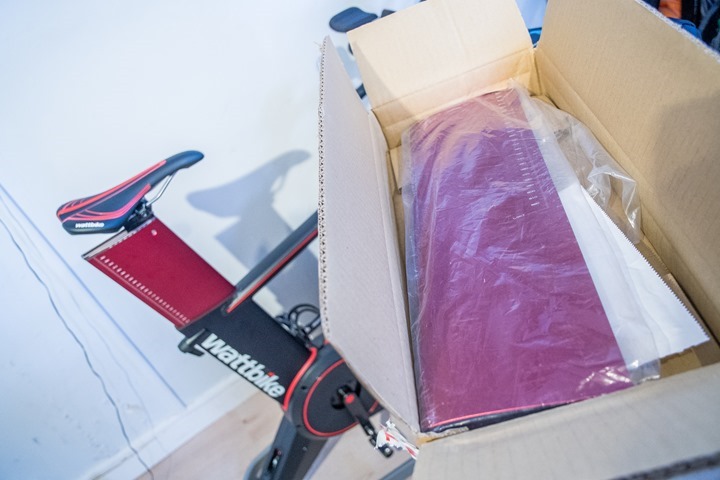 In addition to going up and down, the seat can be adjusted forwards/back, as well as an additional layer within the saddle rails itself as normal.  The one caveat I've found here though is that I wish I could slide the seat-post forward more (or inversely, pull the handlebars in closer than I have them currently).  I get that I'm an abnormally tall guy with really long legs, but I can't quite get my fit perfect here since when you raise the handlebars, it angles forward – thus making the gap bigger and bigger (since the seat post angles backwards as it rises).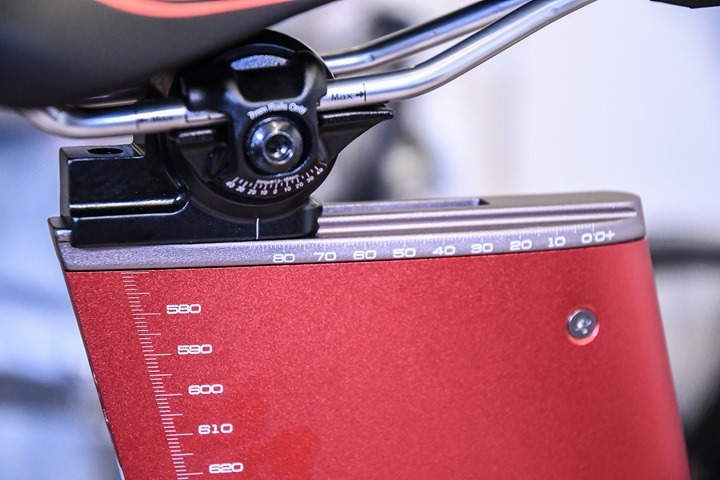 On the front portion of the bike, you've got the same quick-release style lever for overall height: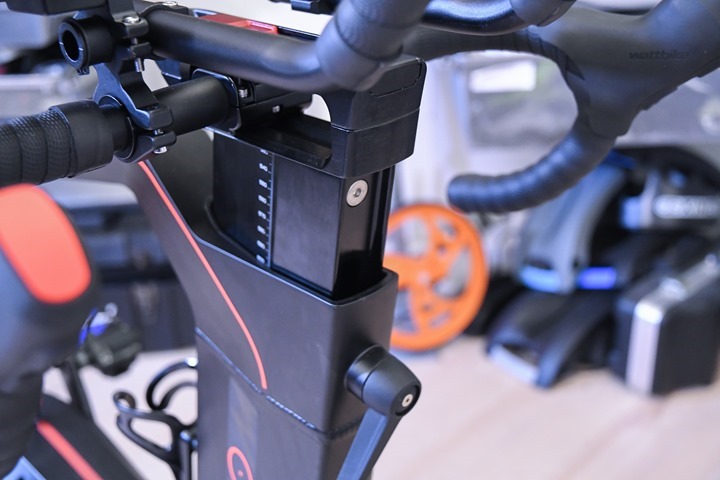 And then you've got a further pile of adjustability with the loosening of a single hex bolt in that red square.  That includes forward and back, and then with another bit of loosening, you can slide the aerobars inwards/outwards.  The display stand is actually built into the front portion of the aerobars.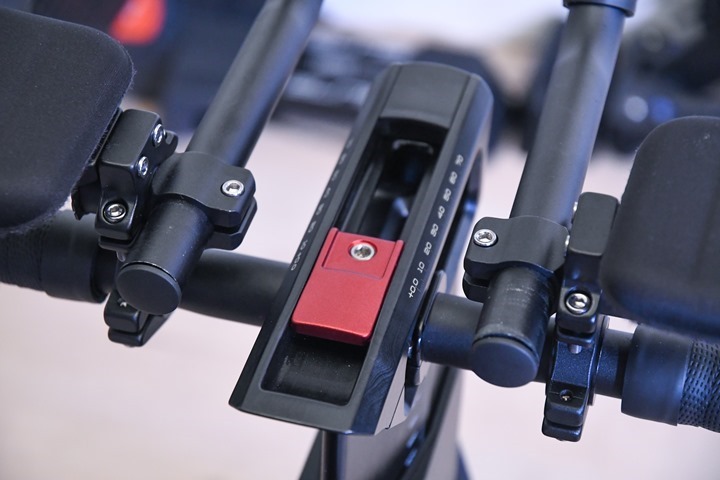 The entire handlebar system can be swapped out for your own 26mm handlebars (though they're working towards 31.8mm compatibility too).  That, in turn, means you could also swap for your own aerobar setup as well.
I will note that on both units I've had, the holes were drilled just ever so slightly off on the aerobar pad holders, making them tilt slightly inwards/outwards, driving my brain nuts (it has no tangible effect on fit or stability – just straight lines).  It's a simple drilling issue, and I'm kinda surprised it hasn't been resolved yet. [Update: Wattbike says this is on purpose, so the aerobars tilt slightly inwards, but honestly, that's not the way it works on real aerobars/bikes, so it's kinda odd.]
In any event, probably one of the most interesting things for most folks coming from the trainer realm is the addition of shifters to the end of the handlebars.  This allows you to actually shift within the game.  The two black nubs to the right of the word 'Wattbike' are the shifters.  The red portion is just cosmetic.  There are shifters on both sides.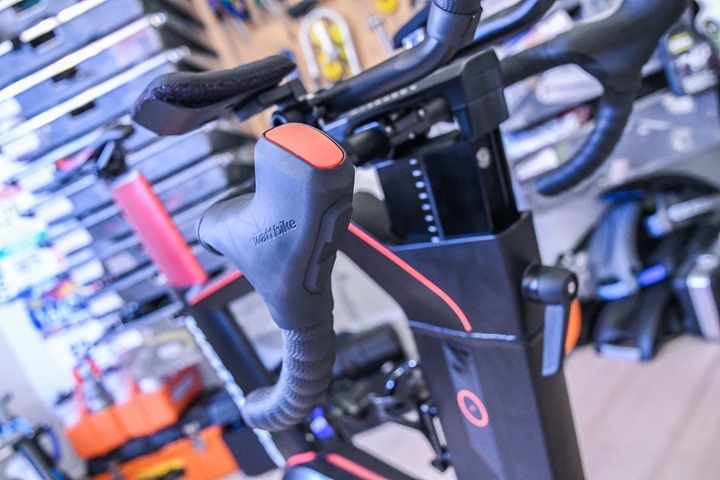 While these shifters are proprietary, the company notes they actually looked at both SRAM RED eTAP and Shimano Di2 initially (and started building out on eTAP at first), but eventually went with this method as including handlebars equipped with either of those would have increased the cost of the ATOM.
Now, while the inclusion of shifters are cool in theory, after almost three months of using them, I'm not super convinced of how awesome they actually are, due to a variety of reasons.  However, rather than hash those out here, I talk about them at excessive length down below in the 'Apps' section in relation to Zwift – where the challenges become most apparent.
Oh, and before we wrap-up on the basics, the unit does require power.  But that shouldn't be too much of an issue for indoor use.  They're planning on introducing a battery pack down the road, enabling you to bring it camping with you atop your Mini.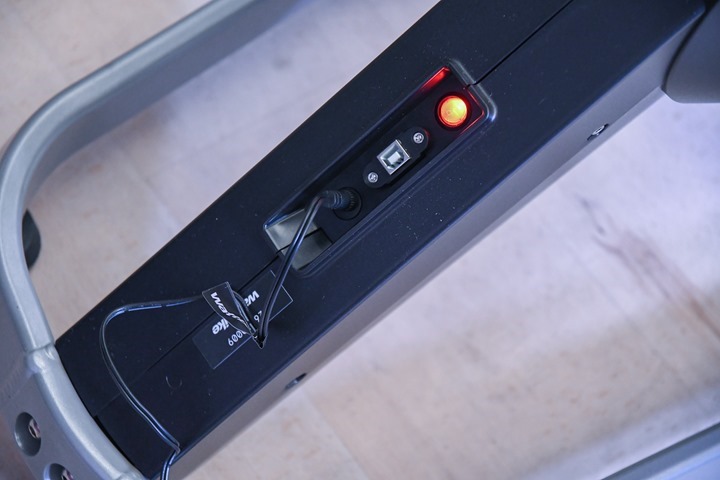 And it's also got nifty little rollerblade style wheels that make it easy to roll around.  I show this in the video a bit.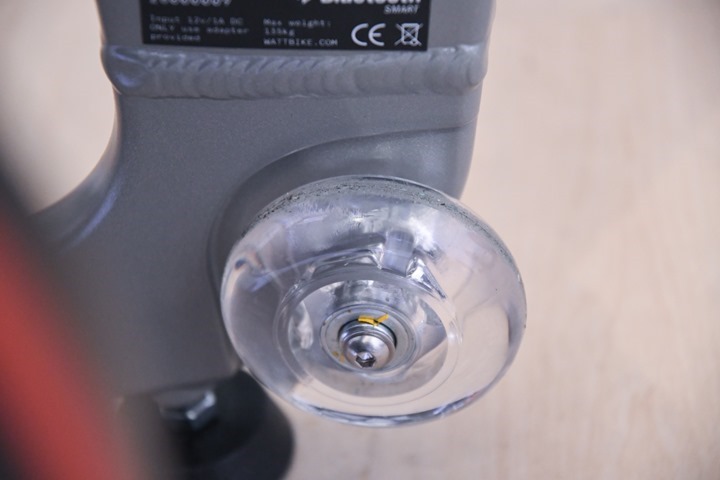 Before we talk about apps and such, a brief word about road-like feel.  Everyone always asks about road feel, but the reality is that road feel is subjective.  Objectively it's driven by things like the flywheel weight (real or simulated), but realistically that's not always the case.  You can put half a dozen very experienced and respected cycling journalists in the same room blindfolded and I will guarantee you that they'll all have differing opinions on which trainer feels the most road-like.
In general, I often note that I fall into the camp that road-feel only goes so far for me, since my brain still knows I'm inside staring at a wall.  So while I like an element of road-like feel, and know when a trainer feels like crap – as long as it gets to an acceptable level, I'm pretty happy.
With the Atom, to me it feels roughly on par with an upper-mid range trainer.  Meaning, not quite as clean as a Wahoo KICKR, but better than a KICKR SNAP.  Sorta on-par with an Elite Direto.  Again though, that's subjective, and I'd probably change my mind in a nuanced manner depending on the given day you asked me and what exact app and course I was riding.  Just like everyone else in that same virtual 50 Shades of Grey blindfolded room would.
Looking for a quick recap of all of this?  Check out my video I put together:
With that, let's talk apps.
Wattbike App: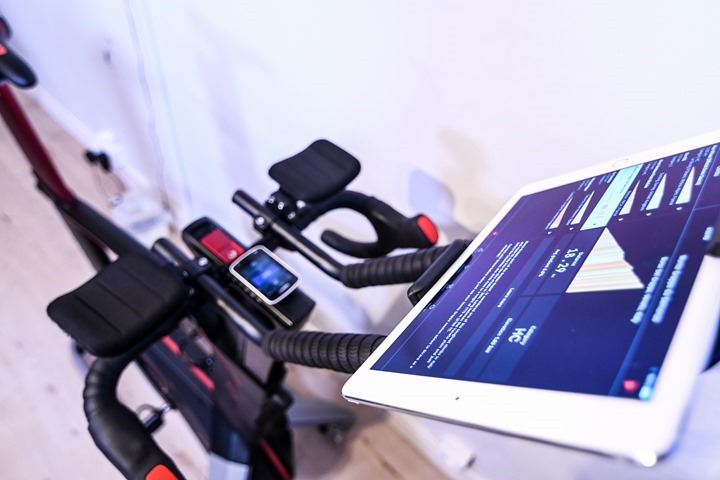 Before we talk about the 3rd party apps that everyone knows and loves, let's take a brief aside to talk about the included Wattbike app.  This app is basically split into two chunks: The ability to update firmware and check settings, and then some structured workouts they've provided for free.  In my case, I was using the iOS variant of this app on my iPad.
Starting with the config/settings piece, the most important thing the app can do is update the Wattbike Atom's firmware.  On average since August this has been roughly every two weeks.  That's pretty normal for a just-released product, and it is good to see them quickly iterating.  Wattbike has handily made the firmware update a portion of the app update.  So that way you can see the firmware update listed as the iOS app update description in the App Store updater.  Handy, no?
Once you connect to your Atom using Bluetooth Smart (which it'll do automatically), you'll get prompted any time there's an update:
The upgrade process takes less than a minute – and is super simple.  Just let it do its thing, once it's done simply restart the Atom by powering it off and on.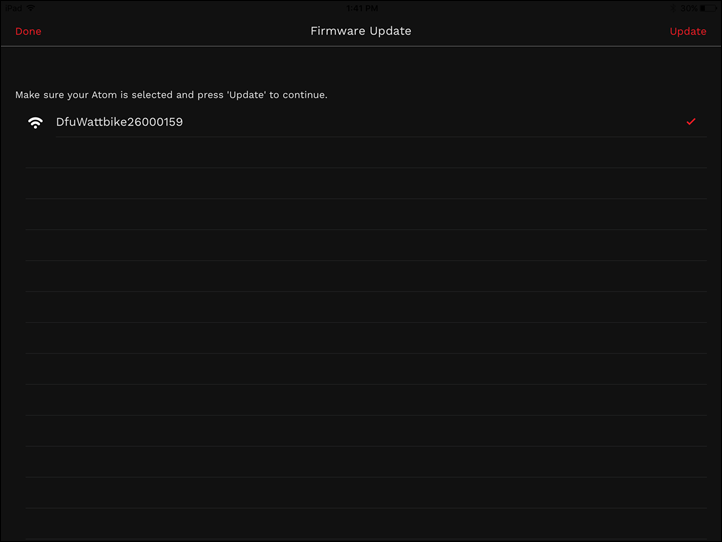 In addition, within the app, you can check settings – and validate things like whether the left and right handlebar transmitters are working correctly, and a boatload of other nifty geek settings.
One really interestingly cool feature of the Atom is the ability to pair to ANT+ heart rate straps and then funnel them into the Wattbike app as Bluetooth Smart straps.  This is useful because iOS doesn't natively support ANT+, and thus if you have a Garmin strap lying around you wouldn't be able to use it otherwise.  You can see below how I can search for ANT+ (or Bluetooth Smart) straps, which is leveraging the bike itself.  Pretty cool.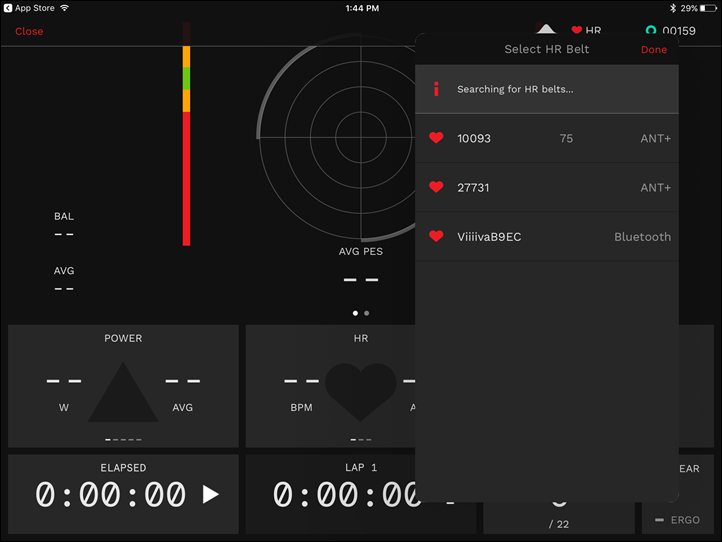 Then once paired to an ANT+ strap it'll show up in the app as any other strap.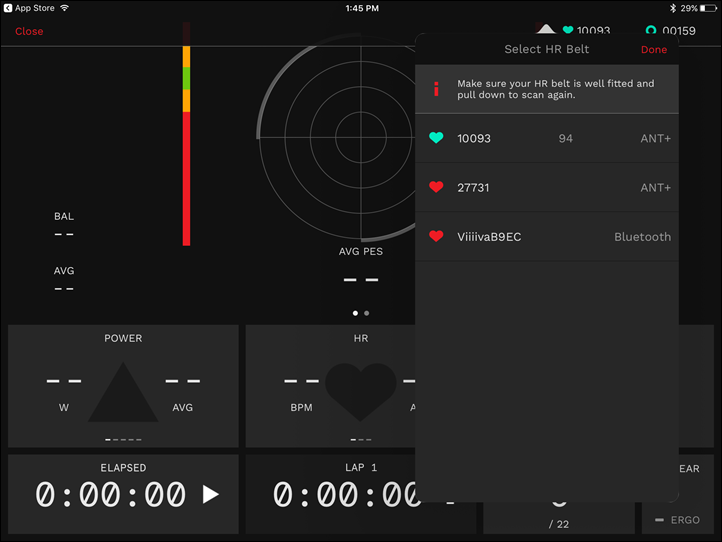 Which then gets to the other purpose of the app – structured workouts.  Wattbike has a host of workouts in there divided up into the sections seen on the left.  Each section has 3-8 different free workouts in it.
In addition, they have three plans you can pick from – which include a boatload of workouts over the course of 17 weeks.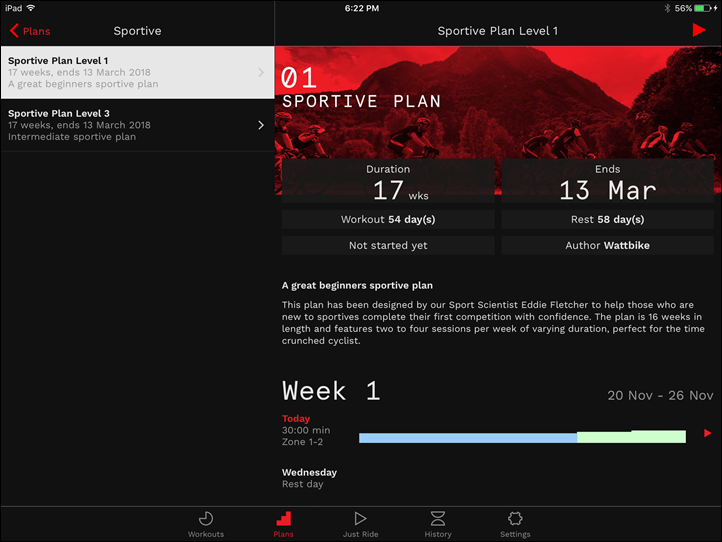 The majority of the workouts are based on FTP, so do ensure you've got that updated correctly.  If you're not sure about your FTP, you can take one of the tests included, allowing you to consider throwing up to minimize Thanksgiving Dinner weight gains.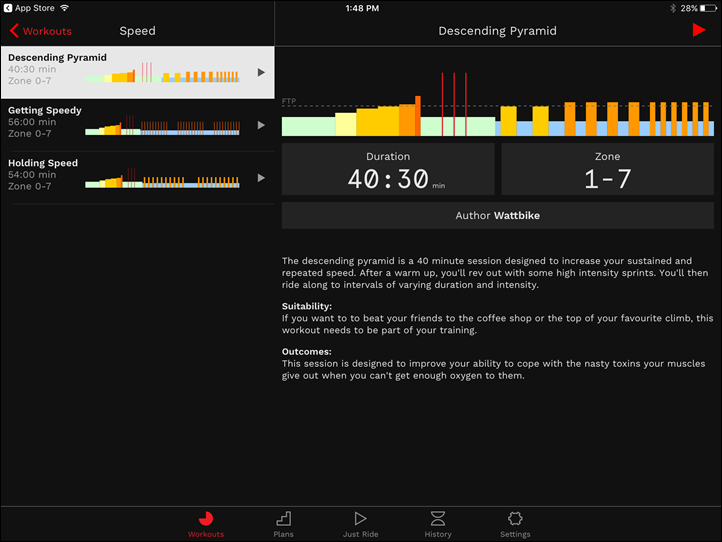 Once you've started a workout it'll iterate through each of the different sections for you, automatically adjusting the resistance.  This is known as ERG mode.  You can adjust the intensity of ERG mode (basically increasing or decreasing resistance) using the right buttons.  This is useful if you're having a bad day.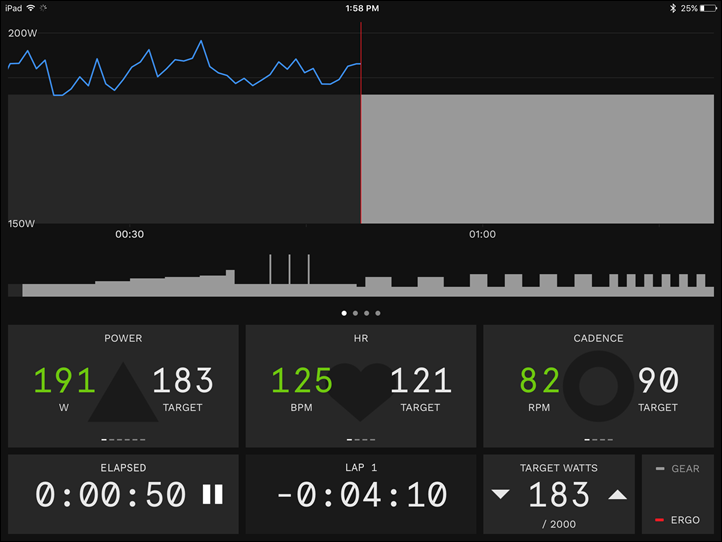 One thing that I've seen some confusion on with people online is non-ideally using ERG mode.  Traditionally speaking (as in, for the last 20 years), ERG mode means the trainer is automatically controlled and set to a given resistance.  Your actual gearing has no impact on ERG mode.  If you try and sprint, a good trainer will quickly reel you back in to the preset wattage (and that's true here).  It's like a heavy-duty rubber band, there's a bit of give, but not much.
Where the confusion comes in is that Wattbike has the option in the lower right corner to go into gear modes within a workout.  In this mode, it's like being on a flat road, and you have to adjust your gearing to hit various wattages.  Traditionally speaking this isn't called ERG mode by most companies (and in fact Wattbike doesn't call it that either, as the very button indicates).  If you're in this mode, then you're reliant on the shifting buttons and all their glory.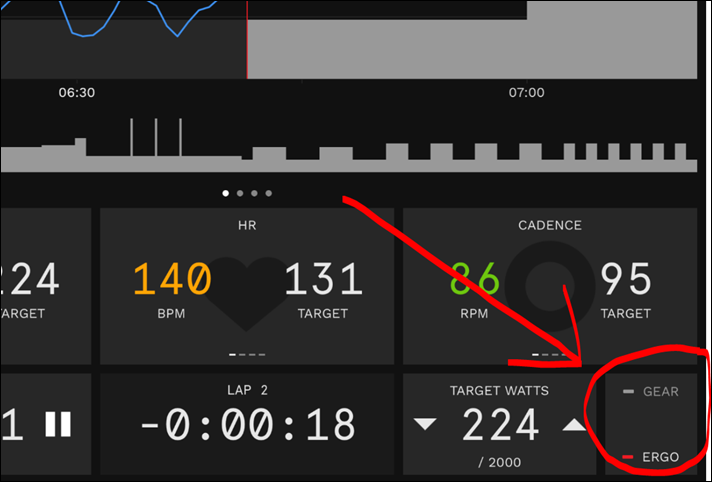 ERG mode nuances aside, the workout portion has four data pages you can cycle through. Each of these pages can actually be accessed by using the left shifter buttons – so you don't have to touch your tablet.  Pretty nifty.  Hopefully 3rd party apps can access this soon too – as it'd be great to be able to assign these buttons in TrainerRoad or Zwift to do similar functions.  Here's the four pages to check out:
The structured workout piece works well for me, though I will say that the ERG resistance change isn't quite as fast as TrainerRoad is.  For a ~150w jump on an interval (175w to 325w), it took about 4-5 seconds to complete.  Whereas in TrainerRoad on the Atom, it's able to do about 300w in 2 seconds (I prefer that).  This is really an app finesse thing, and something Wattbike could certainly tweak (just as TrainerRoad has).  Here's a screenshot of that.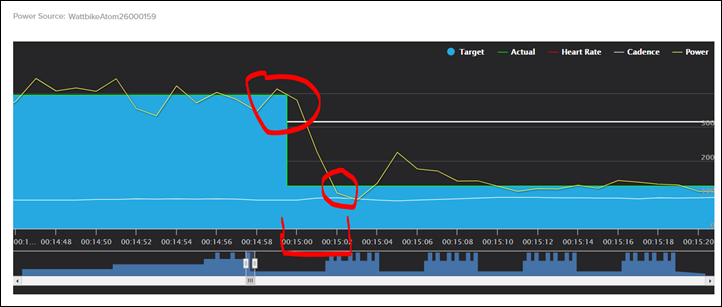 Once you're done, you'll get a summary of the workout on the app:
Additionally, the workout is uploaded into your Wattbike online cloud account thing.  It's here you can easily share the link with others.  For example, here's the link to my workout from earlier today (if you want to poke around).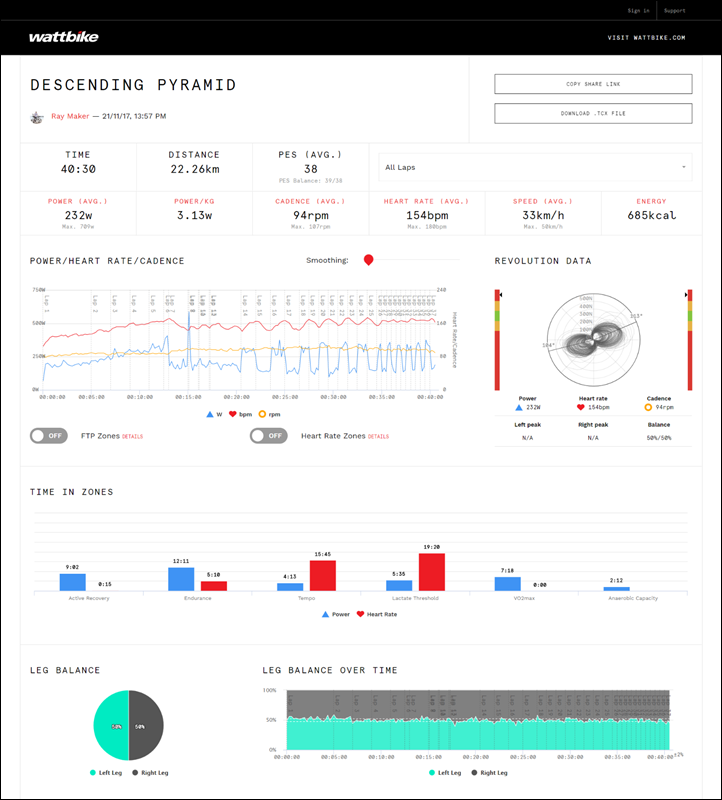 In addition, on the platform you can also add friends to follow their workouts, as well as connect it to both Strava and TrainingPeaks.  I lack any such friends, so…I haven't tried that out.
Still, for those that aren't sure what training platform they want, this is definitely a good place to start, given it's free.
App Compatibility (3rd party):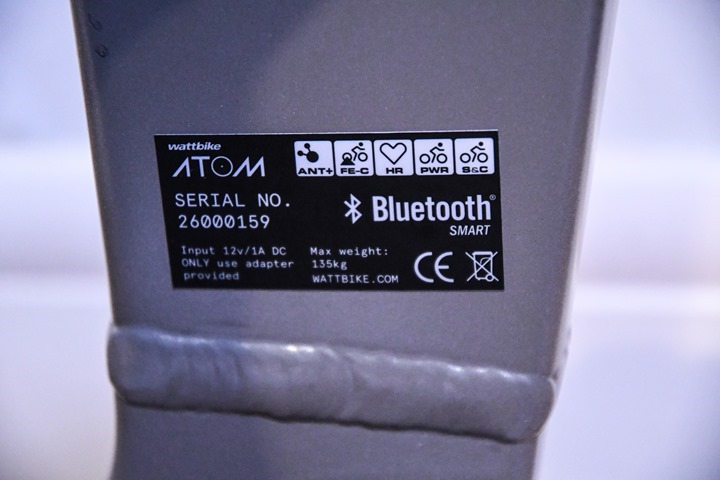 The Atom is compatible with most 3rd party apps today via a variety of industry standards.  It transmits dual ANT+ & Bluetooth Smart, enabling it to be seen as an interactive smart trainer across both standards (ANT+ FE-C & Bluetooth Smart FTMS).  Additionally, it also broadcasts itself as a traditional power meter on both ANT+ & Bluetooth Smart too – enabling more simplistic pickup of data streams, such as pairing it to your watch to capture power/cadence/speed data.
Now on the ANT+ FE-C trainer control side things are pretty clean, since that standard is over two years old and most companies know how to adopt it properly.  While Wattbike did have some minor quirks with it, and compatibility with certain devices, when they first started shipping, firmware updates have since solved that.  So all's good there as far as I can see.
On the Bluetooth FTMS front, that's a far newer standard that's really only started to see adoption this past summer (it's basically the Bluetooth equivalent of ANT+ FE-C).  As such things are a bit wobbly there, to no fault of Wattbike's specifically.  It's just that collectively the industry is trying to figure it out together.  So it's a lot of iterating.  As of right now it appears to work just fine for me on TrainerRoad and Zwift, but I expect other apps will take some time to get it implemented right.  This is the same problem though that Elite, Tacx, and others are facing as well as they transition to this Bluetooth Smart trainer control standard from their existing proprietary Bluetooth Smart trainer implementations.
Insofar as figuring out which apps support the Atom, simply refer to the list of standards a few paragraphs up.  As long as your app supports one of those standards, you're good to go.
Let's talk about some of the big apps though, notably TrainerRoad and Zwift.  Starting with TrainerRoad because that's quicker, it simply works these days.  TrainerRoad has done a really good job at leading the FTMS efforts in terms of app implementation across the industry, being basically the first major app to support it.  And my experience with it on the Atom (using the TrainerRoad iPad app as the controller) is great: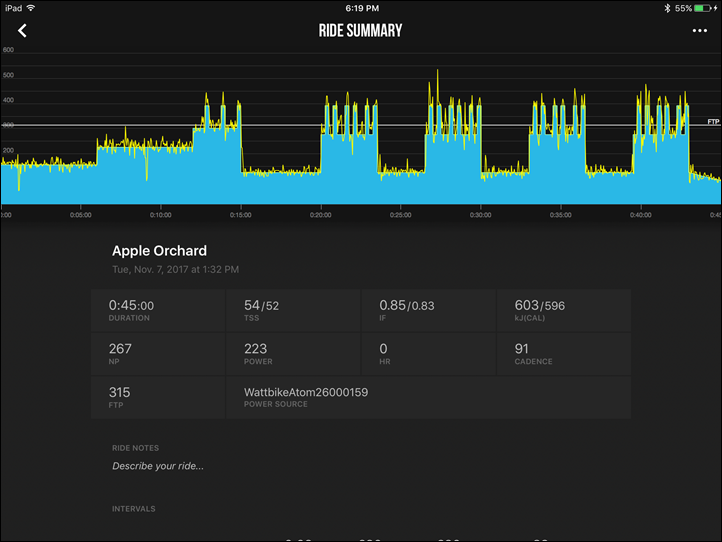 It responds very quickly in ERG mode, and you can see those 300w+ shifts in power, taking only a second or two.  You don't really want them to take under a second, as then it's like hitting a brick wall.
So not to cut the TrainerRoad portion short – but all is good there for me.  In ERG mode there's no reason to shift of course, since the trainer changes your resistance for you.  So you just pedal away and all is well.  Happy Panda.
Instead, I want to focus on the tricky one: Zwift.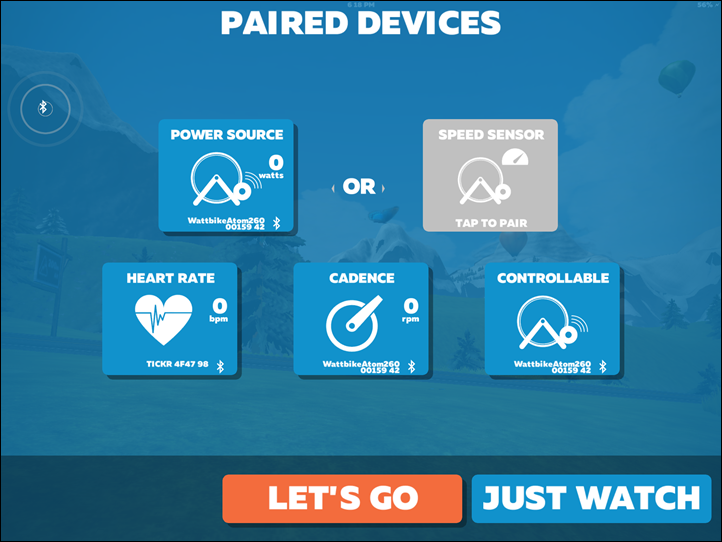 From a basics standpoint, Zwift 'works' just fine in terms of the ability to control the Atom such that it replicates the grade as you ride through Zwift normally.  And that works all well.  Where it gets complicated though is shifting.  As noted earlier, within Zwift you need a way to shift (even in workout mode) to be able to adjust to the grade of the terrain.  If you go up a steep incline, you need to be able to adjust your gearing for that.  Similarly, if you want to sprint, you need to go into a 'bigger gear' to throw down more power.  All of which is done via those two buttons up front on the right side (there's also the red front buttons):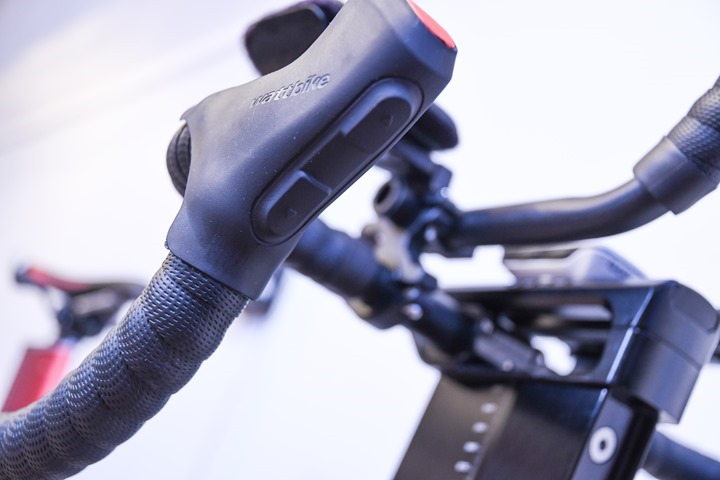 The challenge here though with Zwift specifically is the lag.  See, each shift takes about 1-2 seconds to complete on the Wattbike Atom.  Some might say it takes 3-5 seconds, but that's only when Zwift shows the power values on the screen, because those are smoothed.  Don't believe me?  Close your eyes, press the buttons, and count how long it takes to feel the power adjust (Hint: it's 1-2 seconds).  If you're seeing 3-5 seconds, then your firmware is old – update it using the Wattbike app.
If it were 1-2 seconds, that's not as ideal is sub-second shifting, but it'd be satisfactory for most.  Except here's the catch: That's just to shift one gear.  If you're just rolling along on easy hills or heading up a longer climb, then shifting one gear at a time is probably just fine.  But what if you want to sprint or attack?  That might be 3-5 gear shifts.  That means that entire interaction may now take 5-8 seconds.  You can certainly press the button 3-5 times quickly and that'll speed up the overall shift speed.  But the problem is you don't have a specific idea on where that shift will land you.  It's like shifting if you're both blind and deaf –  since there's no tactile feedback and no sounds made.  Not to mention that some of the gear shifts are about 20-30w as a jump – which is massive.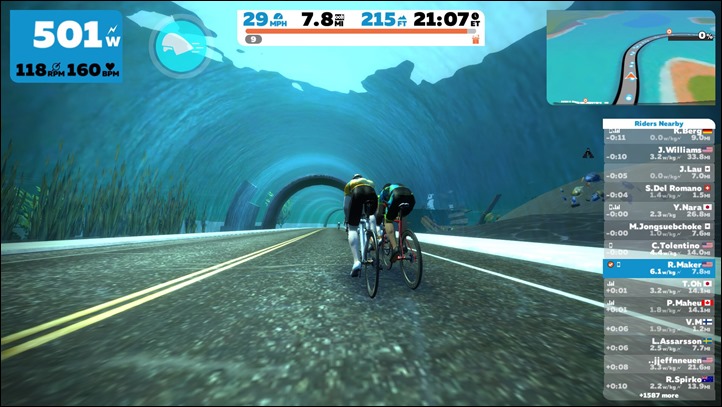 So how bad is it?  Well, it depends.  If you mostly just ride in circles on Zwift and aren't attacking in a race, it's not a deal breaker.  For me, I don't tend to do Zwift races, but I do occasionally make a half-assed effort for a sprint PR.  In that case, I know the line is coming and I can get my gears in order.  But if I were racing?  No way.
So what's the fix here?  Well, I think a few things would help, some software, and probably some hardware:
A) Zwift: Adding a virtual gear box on the screen would be immensely helpful. That way I could see where I am.  Realistically Zwift needs to 'deal' with this issue by next fall anyway, with the rash of indoor bikes coming out (like the Tacx Neo Smart Bike, among others planned).  And I totally get that this isn't really Zwift's problem in total, it's more of an industry problem. But since Zwift has semi-self selected/declared themselves as the indoor trainer industry leader, they get to deal with the issue first.
B) Zwift: Make some noise when I shift gears.  Again, not entirely a Zwift problem, but they get to deal with it first.  It's challenging because this has to be handled out of band of the existing FTMS/FE-C standards somehow and then ideally agreed upon by everyone. But a virtual click would go a long way to knowing that the gear has actually shifted.
C) Wattbike: Making the shifters provide tactile feedback.  Right now when you press them, it's like pressing a piece of dough, it doesn't click nor is there any feedback like the click of a keyboard. It's just silence.  So you don't know if something happened.
D) Wattbike: Going with actual shifters.  I get why Wattbike went with the two little buttons (+ red front buttons) – it appeals to a larger crowd beyond Zwifters.  But ultimately, I just want real shift levers on this.  I think that'd solve almost all my issues because I'd have tactile feedback, clear ways to shift from big to small ring in front (thus a big jump), and so on.  I think that'd probably resolve responsiveness as well, but that's just a guess.  Wattbike says the platform was designed with this in mind (and leveraging something like eTAP shifters), but that it would increase the cost. Personally, I'd pay a bit more (as an option) to have this capability.
E) Wattbike: Allow customization of the gearing.  Right now the jumps in some cases are just far too big between gears, well beyond what my regular cassette does.  Wattbike says they're working on something like this though – so hopefully that won't take too long.
Finally, I know I've focused on Zwift here, because again, Zwift.  But everything I say about Zwift and shifting is largely applicable to other virtual and real-world (I.e. outside riding style) apps like Kinomap and so on.  All of them depend on the shifting piece.
However, inversely, none of this applies to ERG mode in other apps.  None.  ERG mode in Zwift is different because Zwift is wonky in their ERG mode in that they don't actually hard-set a wattage value, but let you float (which makes this whole problem far worse actually).  The rest of the world works just fine, because remember, in ERG mode, there should be no reason to shift.  Just keep it in whatever gear you like and just keep rockin'.  That's the way it's worked for almost two decades in the trainer world (despite what one app thinks).
Oh – and lastly, I should point out that I've had lots of conversations with both Zwift and Wattbike about this.  Both companies understand the issues, and both companies are looking at solutions.  Zwift recently received an Atom to test with, and Wattbike has been making tweaks for the past two months, chipping away at improvements.
Phew, got all that? Good. Let's talk accuracy.
Power Accuracy Analysis: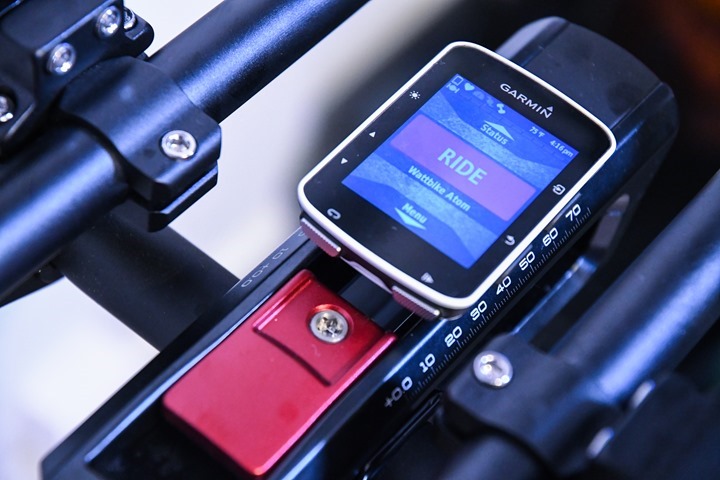 I've long said that if your power meter isn't accurate, then there's no point in spending money on one.  As always, I set out to figure out of the Wattbike Atom is accurate or not.  Generally speaking, indoor conditions are pretty easy to handle, but I still I test there nonetheless.  It allows me to dig into areas like low and high cadence, as well as just how clean numbers are at steady-state power outputs.  For reference, the Wattbike Atom has a claimed accuracy rate of +/- 2% (the same as the existing Wattbike units).
In my testing, I generally use between 2-4 other power meters on the bike at once.  I find this is the best way to validate power meters in real-world conditions.  However, that's a lot trickier on the Wattbike Atom because I can't swap out the crank arms or put a rear wheel hub on there.  So I was essentially limited to only one other power meter.  I thus used three different units: Garmin Vector 3, Favero Assioma, and PowerTap P1 pedals.
Again, the downside here is that I can only do two units on this – and thus if there's any major disagreements, I'd have no way of knowing which is right.
When it comes to data collection, I use a blend of the NPE WASP data collection devices, and a fleet of Garmin head units (mostly Edge 520/820/1000/1030 units).  These just make data analysis quick since I can easily offload the .FIT files and it records the ANT+ ID's of the various power meters automatically for my tools to analyze.  In this case, I use the DCR Analyzer, which you can also use now too.
Let's dive right into the first set, which is from today.  It's a workout that I did using Wattbike's app, and is a slew of intervals, getting shorter and shorter over time.  Descending intervals since the wattage amount reduces over the course of the workout.  Here's the Atom and Vector 3 overlaid atop each other (and here's the set if you'd like to look at it):

Captain Obvious would point out these are virtually identical.  Incredibly close to each other.  Let's zoom in on those 600w+ 10-second long sprints:

Check that baby out.  Look at that last interval – the units are a mere 3.75w different at the peak on that one.  That's increda-awesome.  And also, incredibly difficult to see in almost all testing I do.  Seriously, it's not easy to get that close on any short-duration test.
One interesting thing you may be asking is why there's a tiny little blip at one point where Vector 3 goes above the Wattbike for a second or so:

For fun I actually pushed a bit hard for about 3 seconds randomly while in ERG mode.  The Wattbike barely responded to this, but Vector 3 seemed to pick it up.  To see this more clearly, I've removed the 3-second smoothing I applied:

So it seems there's a tiny bit of smoothing (1-3 seconds is my guess) within the Wattbike data in ERG mode (not in other modes), which is actually kinda normal for most trainers.  One can nitpick about it, but that's a personal thing.
As for cadence, I didn't have a ton of variation on this particular ride, so things don't look too exciting.  But the units are generally within 1RPM of each other:

Let's now shift to a non-ERG mode workout, just a general Zwift ride around the island.  Here's the link to the DCR Analyzer sets.

Note, you'll see some drops of the purple line on Vector 3.  That's because I stupidly placed the Edge 1030 atop my laptop with WiFi, and you can see it dropping connectivity there.  My bad.  When I don't put it on my laptop, I don't see any issues.  I need more spots for Garmin mounts on the Wattbike!
In any event, with a regular ride I'm most interested in the sprints, since it's not ERG mode and thus there's no knowledge of what I'm about to do.  Let's look at that 700w or so (it's actually more than 800w, but on these graphs I enabled 3-second smoothing so you can more easily see what's going on).

Again here, the two track very closely.  You see a tiny bit of difference between the two as I virtually shift the wrong way briefly and then shift again properly (that dip around 29:45).  That's pretty normal to see slight variations on sprinting – mostly due to recording rates.  But at the peak, the two units are a .33 watts different.  Yes, one third of one watt.
In this set of rolling hill section you see a bit more variance between the units – but we're talking a couple watts in most cases, and at worst 10w on nearly 300w (or 3% for a second or two). Again, slight differences in recording rates typically account for this.

While I won't dig through it here, for those that want, here's another Zwift file – this one a structured workout (Jon's Mix).
Finally, we'll take a look at a workout in TrainerRoad.  This workout was full of quick changes in intensity – in some cases upwards of 300w between intervals.  It's these sorts of rapid paced changes that I'm interested in seeing how things perform.  Here's the files.

As you can see, things are pretty darn clean.  You see a tiny bit more variation in terms of how the ERG mode holds it steady (not comparing the units, just how it holds a given wattage).  This gets to the nuances of how every app handles ERG mode slightly differently, and how each trainer reacts slightly differently.
Picking one of the sets above, we'll zoom in a bit. You can see that it doesn't hold it super-tight, but allows a bit of flux for each wattage level.  Thus why it's not perfectly flat.  But the two power meters track very closely, despite the sometimes oscillating nature of my ability to go back and forth between 300w and 440w or so.

You'll also notice at the end there that drop from 425w to 125w: It does it in two seconds.  Super quick.
At this point, I could keep showing the same thing all day – but there's nothing I'm seeing of concern here on accuracy.  I've done both higher cadence work as well as lower cadence work in various workouts, and all of it is showing virtually identical results between the power meter values.  Same goes for cadence values too.
I'd have no issues trusting the power values coming off of this unit.  Oh, and best of all?  Like the Tacx Neo, it needs no calibration, just get on and ride.
(Note: All of the charts in these accuracy sections were created using the DCR Analyzer tool.  It allows you to compare power meters/trainers, heart rate, cadence, speed/pace, GPS tracks and plenty more. You can use it as well for your own gadget comparisons, more details here.)
Difference to the existing Wattbike:
I put this chart in my initial preview post, but I think it's important enough to display it again here.  The chart is from Wattbike themselves, though I've revalidated and tweaked a few minor items to make it more accurate from what I'd consider certain things to be.  Think of me as vetting it a bit as a 3rd party.
Wattbike Model Comparison
| Sale/Delivery | Wattbike Atom | Wattbike Pro/Trainer |
| --- | --- | --- |
| Cost | £,1499 inc. VAT | £2,250 inc.VAT |
| Boxed and assembled delivery available? | Yes - Nb - the Atom is pre-assembles with only the tablet mount and pedals that require fitting | Yes |
| Availability Regions | UK (warranty supported) | Global (via distributors for warranty) |
| Sales Route | E-commerse (direct to consumer model) | e-commerse and regional distributors |
| Warranty | 2 years / 6 moths on wear and tyre items | 2 years / 6 moths on wear and tyre items |
| Fuction/Feature | | |
| Uses phone/tablet as control unit 'Device used to 'control' bike'? | Yes - Android/iOS with Wattbike App/Third Party App | Model B Monitor - connects to iOS / Adriod device via Bluetooth for App use N.b not via FEC |
| Polar view | Yes | Yes |
| Left/Right leg balance | Yes | Yes |
| Pedalling Effectiveness Score | Yes | Yes (via app) |
| Electronic Shifters | Control app and bike. 3 button controls on each shifter | No |
| Gears | 1 - 22. Across Power Curve | Air (1 - 10) and magnetic resistnace (1 - 7). Across Power Curve |
| Gradient | 0 - 25% | None |
| Ergo Mode | Yes | No |
| Climb mode | Climbs available in Wattbike App ( developed with velo viewer) | Virtual climbs not compatible |
| Ability to replicate road bike & TT set up | Yes | Yes |
| Sound | 70 decibels at 70 cadence | At 70 cadence in gear 5 pro & trainer are 79 decibels |
| Ability to update firmware | Yes (via app) | Yes (via USB cable & laptop) |
| Training content | Yes - tests, workouts and plans (via app) | Yes - tests, workouts and plans (via B monitor & app) |
| In built testing | Yes | Yes |
| Resistance | | |
| Resistance type | Step motor driving natrual magnets to replicate the Wattbike power curve | Air & Magnet |
| Wattage range | 40 - 2000+ watts | Trainer 0 - 2000 watts Pro: 0 - 3760 watts |
| Accuracy | +/- 2% - across the full power range | +/- 2% - across the full power range |
| Electronics system | Smart control wireless electronics. | N/A |
| Connectivity | | |
| ANT + | Yes | Yes |
| FEC | Yes | No |
| BLE fitness machine | Yes | No |
| Bluetooth | Yes | Yes |
| Heart rate | BLE, ANT+ | ANT, ANT + & Polar |
| Power | Yes | Yes |
| Speed & Cadence | Yes | Yes |
| Wattbike Hub | Save, share and analyse your data | Save, share and analyse your data |
| Third party apps | Yes - Any ANT+/ANT+ FEC/BLE enabled app. Custom BLE control via Zwift. BLE Exercise Machine Control support to follow after launch. Zwift, Sufferfest, Trainer Road | Yes - via ANT +/BLE Zwift, TrainerRoad and Sufferfest. Manual adjustment of resistance required |
| Data analysis ability | Wattbike Hub and connecting to Strava, TrainingPeaks and TCX export | Wattbike Hub and connecting to Strava, TrainingPeak and TCX export |
| Trainer control | | |
| Supports ANT+ FEC | Yes | No |
| Supports Bluetooth Control | Custom integration with zwift, BLE Exercise Machine Control support to follow after launch | No |
| BLE fitness machine | Yes | No |
| Technical Specifications | | |
| Power required | Mains adaptor OR battery pack (functionality coming in October) (5 volt 1.6amps) | External power not needed, internal generator |
| Ability to move | Yes, 2 Coaster Wheels | Yes, 2 Coaster Wheels |
| Max rider weight | 135KG | 150KG |
| Rider size | 5' - 6'5 | 5'1 - 6'4 (7'1 with extra long stems) |
| Bike weight | 44KG | 55KG |
| Footprint | 100cm (length) x 50cm (width) x 80cm (height to road bars) or 100cm (height with tri-bar & tablet holder) | 125 x 66 x 130cm |
| Handlebar adjustability (micro adjustment) | Yes - vertical and horizontal | Yes - vertical and horizontal |
| Ability to fit own handlebars | Yes (currently 26mm, working towards 31.8mm) | Factory fitted drop handlebars (not interchangeable) |
| Saddle adjustability (micro adjustment) | Yes - vertical & horizontal | Yes - vertical & horizontal |
| Saddle | Low profile saddle | Low profile saddle |
| Ability to fit own saddle | Yes | Yes |
| Crank length | 170mm | 170mm |
| Q factor | 160mm | 173mm |
| Pedals | Changable for user + Combination pedals - flat for trainers | Changable for user +E148 Wellgo (MTB SPD, Look Keo & toe cage for trainers) |
| Ability to fit own pedals | Yes | Yes |
| Tablet holder | Can accomodate from 70mm - 240mm in height | Coming soon |
| Power measurememt | measuring the chain tension over a load cell. The Wattbike measures angular velocity twice per crank revolution | measuring the chain tension over a load cell. The Wattbike measures angular velocity twice per crank revolution |
| Number of water bottle holders | 2 | 1 |
| Flywheel | 2x4.64Kg flywheels | Magnetic- 7.5kg & Fan- 5.6Kg (13.1Kg) |
| Drive train | Chain & timing belt | Chain to Drive Belt |
| Needs calibration? | Factory set | Factory set |
As for road-feel like nuances between them, the vast majority of my riding on the existing Wattbike products has been within races (indoor tri's), and honestly, that was about the least important thing I was worried about at those moments.  Obviously, the larger (especially wind-driven) flywheel means you're going to get more inertia though than on the Atom.  And thus, more road-like feel than the Atom.  If you came from an existing Wattbike, you'd definitely say the Atom has less road-feel.  But if you're coming from another trainer, you probably won't notice it.
Note that I *may* look at adding indoor bikes into the product comparison database down the road, we'll see.  At present, I might just stick it in as a trainer and note some differences.  I wouldn't want to enter units into the product comparison tool until they're close to shipping or locked in spec.  For example, the Tacx Neo Smart Bike I noted previously, that's still about a year away from shipping, and as such I see too much variability there to make purchasing decisions on – so I feel like including it in the product comparison tool is a bit premature.  Just my two cents.
Trainer Comparisons: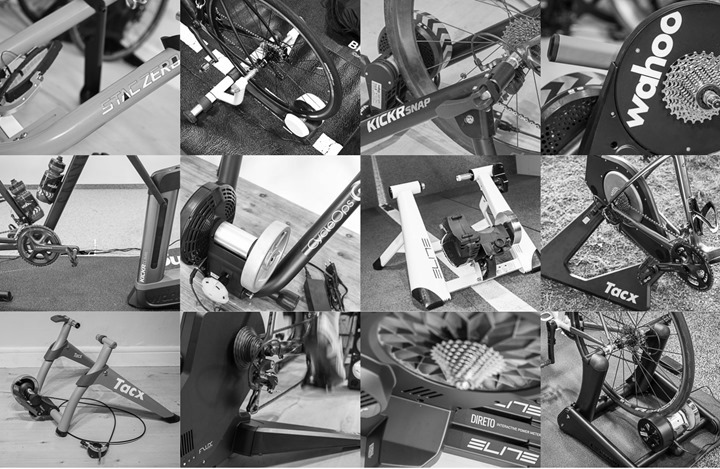 Trying to compare the Wattbike to a traditional trainer?  I'll be honest, it's tough.  I've actually come to really like the idea of just jumping on the bike – something I thought I'd never say.  But it's a tougher battle when comparing it against higher end trainers, especially the Tacx Neo and Wahoo KICKR + CLIMB combo.
In many ways I don't have an easy answer for you.  If the shifting on the Atom was flawless, then it'd be easy to be honest.  And, I'd even pay a few hundred bucks more for a crispier solution.  But without that, it's going to depend on what you do.
If you're primarily a Zwifter, I think you're probably better served by a traditional trainer.  Whereas, if you're an ERG mode person and looking for accuracy – it looks beautiful on the Atom.  Really beautiful.
I'd suggest you check out my full trainer guide here, which dives into all the nuances of trainers.
Wrap-up: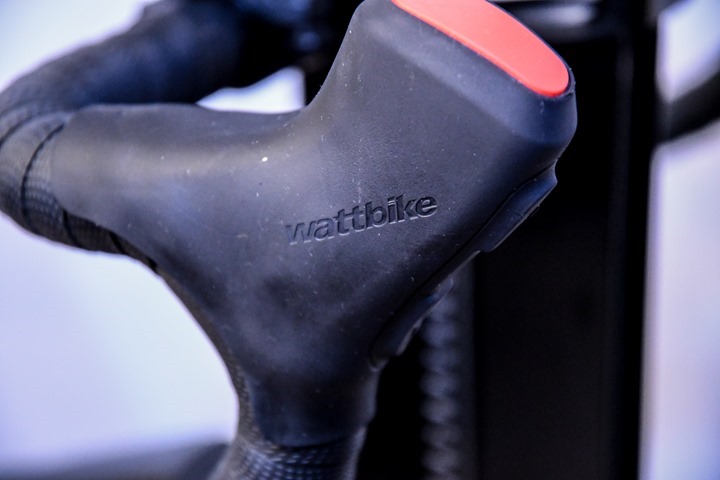 In many ways Wattbike did what no one else dared to do: Make an incredibly tech-laden indoor bike that's on the cutting edge of indoor trainer standards, and most importantly: Make it actually well priced.  They're doing all of this essentially a year before the plethora of indoor bikes hits next fall, from companies like Tacx and others that you know and love in the segment.
Of course, in being the pioneer on this – they're also having to go thru some growing pains of that.  Nobody has a virtual shifting standard, the concept simply doesn't exist in the standardized trainer app world today (or didn't until three months ago).  Thus, they're having to blaze some trails that aren't super well defined.  As part of that, the experience for virtual shifting isn't ideal today, especially for apps that heavily depend upon it – like Zwift.  Will it get better? Of course – both companies commit to that.  Can they make it as seamless as a regular bike?  In my opinion, not on the current handlebars, though the design of Atom is to allow handlebar swapping.  How that plays out specifically, it's not yet clear.
Probably a bigger question is: Will I buy one?
Yes, but not quite yet.
As Wattbike themselves can attest – I was more than skeptical of their indoor bike plans in general, in large part because up till now the tech in most bikes on the market has sucked.  Like bad gym treadmills from decades ago sucked.  But that's not what happened with the Atom.  They nailed the underlying tech – really nailed it.  And surprisingly, I actually like jumping on it.  It has a really high 'just works' factor in terms of always being ready.
Except for me, I keep going back to shifting and Zwift.  If the companies can sort that out, then I'm definitely a customer and my credit card is ready.  In one word, I want it to be 'crispy'. Make it crispy, and you can have my credit card number.
With that – thanks for reading!