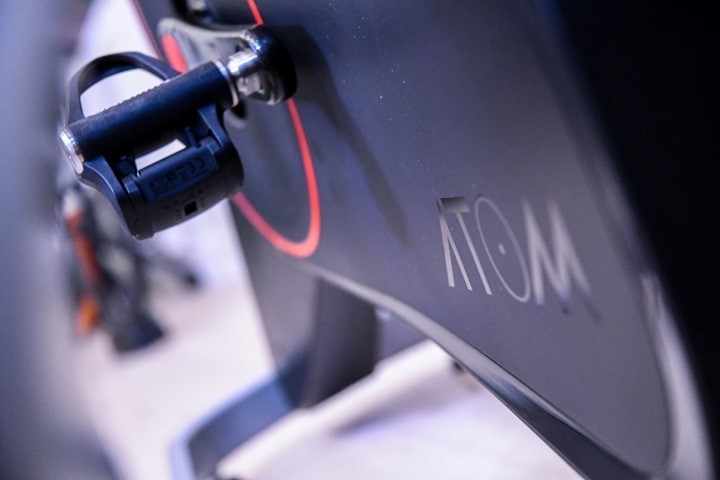 Almost exactly two years after announcing the Wattbike Atom, the hard to get indoor smart bike is finally going to be available to purchase in the US. The company has made significant tweaks to the bike in the last two years, largely to software – but changes that fundamentally have changed the way the bike feels and acts, and now brings it very much in-line with expectations for what an indoor smart trainer translated into a single bike solution should be like.
But first, let's talk details on this whole availability thing. See, up till now, when you tried to order the Wattbike Atom from the US, you'd get this page. Which, actually, is the case for countless countries around the globe – even much of continental Europe. About the only places you were good to go was the UK, Ireland, Scandinavia, and…South Africa and Australia. Outside of that, you got this sad panda pic: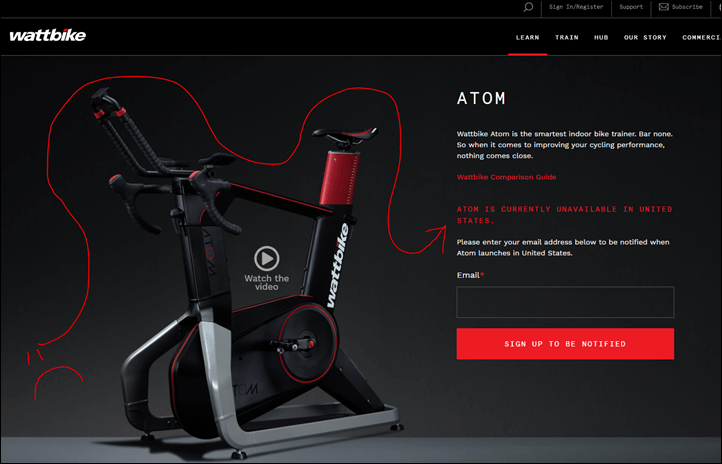 Yes, oddly Australia and South Africa were in there. I mean, nothing against either location – we've spent our past two winters in those two countries. But out of all the places I would have expected them to expand to, they wouldn't be top of the pile from a sales standpoint. In any case, that's neither here nor there.
The Details: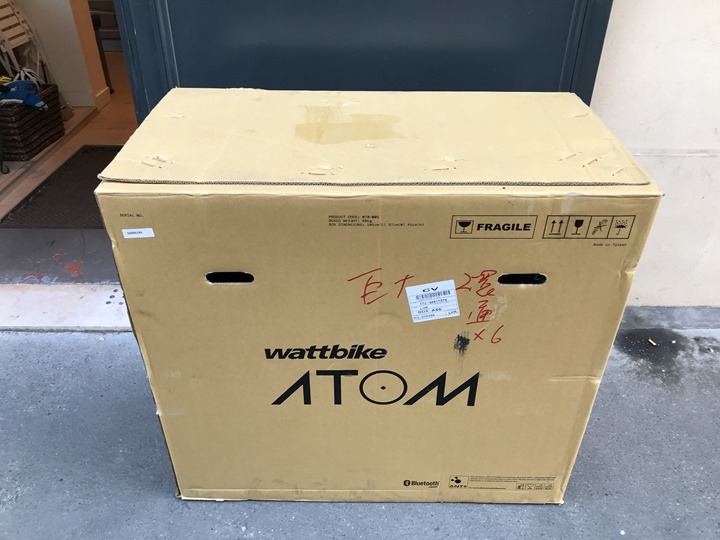 Starting next month (October, for those calendar-challenged), you'll be able to order the Wattbike Atom within the US. Ordering will be direct from Wattbike themselves, just as it is within the UK and other regions today. The price is a bit flexible still, but they're targeting approximately $2,500USD. That may fluctuate depending on whether or not delivery is included, and that's the piece they're still finalizing in the coming weeks with various delivery services.
To begin with, they're specifically launching in the NY tri-state area (New York, New Jersey, and Connecticut). However, this isn't so much a hard-stop ordering limitation, but rather a soft-block to ensure that one understands if outside this region that support of any parts might be delayed. Within the tri-state region they're aiming for 3-4 days for any replacement parts.  Additionally, outside the tri-state region they'll be working with different delivery carriers, so final delivery price may fluctuate.
Now I will point out that there's a pretty big shift in price from the current UK pricing, which is 1,599GBP, or equal to $1,933 at current exchange rates (inclusive of VAT). That's roughly a $500-$600 increase in price, and does make it less compelling than the relative 'bargain' pricing found in the UK specifically. There's something to be said about having an indoor bike priced below Peloton's offering.
However, as I've alluded to in various posts and podcasts, Wattbike has finally released this summer their updated firmware which significantly improves the feel of the Atom with respect to shifting. They've simplified the shifting paradigm, and it's had a significant effect on things. Atop that, since I originally tested way back nearly two years ago they've now got Zwift gear indicators on-screen, again, making it more clear which gearing you're in.
I'll be finally dropping my updated review or something on that in the next week or two, so stay tuned for that!
The Competition:
Ahh yes, you wanted it – a complete chart of competitive specs. After all, this is the Eurobike of the indoor smart bike, and there's no better place to highlight all these specs than the DCR Comparison Database and Charts. So I've slated up all the big competitors into the chart below. This chart will automatically update over the course of the day as new offerings are announced:
Oh, and before you ask why I haven't included some products into the above – here's the quick and dirty answers:
Peloton Bike: It's not a 'smart' bike in the sense of the above, it doesn't allow you to set a specific power level (it does tell you the current power level). Rumors are Peloton is working on such a bike, but nothing today.
SRM Bike: This was also announced today, with full smart integration. I've got a chat with them in a few hours. Stay tuned!
True Kinetix Bike: This will likely be in the above chart by the end of the week. They're planning on shipping me a test unit in the next week or two, and I'll be meeting with them this afternoon. I just want to get a clear understanding of timelines and capabilities (specifically the ANT+/BLE bits) before I add them above).
VirtuPro: It could also get escalated into the above chart, I've talked about it in the past. But I need clarity on when they'll (actually) ship it with ANT+/BLE support, and realistic timelines to that. Else, it's a proprietary solution that doesn't really fit what the tables are designed for (the rest of the bikes here are compatible with all industry protocols).
Again, I'm more than happy to add products into the database. In general, my rule of thumb is I want hands-on time (or butts-on in this case), and I want some realistic level of clarity on delivery timeframes.
Wrap-Up: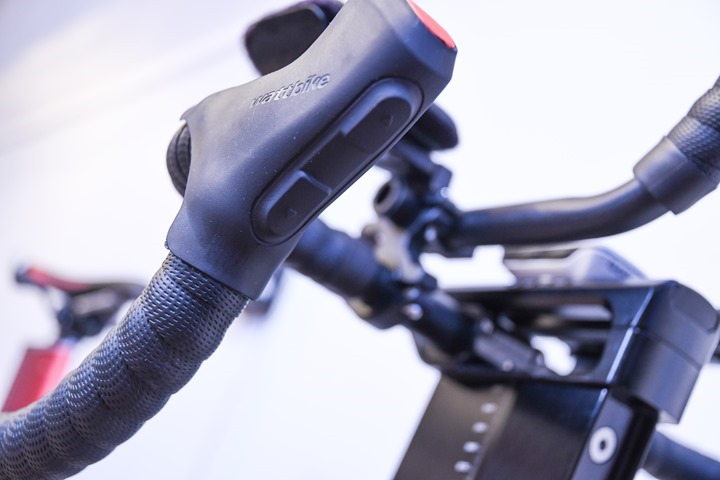 This is a good move for the company, especially since they offer a tried and tested product that's already in thousands of homes. As is always the case with new indoor trainers and bikes, there's something to be said for something that's already been proven (even if it does have competitive shortcomings).
Pricing wise, as you can see above – it'll be a battle between them and Stages. At the $2,500 price-point Stages at $2,600-$2,800 offers a slightly more compelling product in terms of things like shifting, brakes, and steering (eventually). As well as some of the minor things like USB ports. But on the flip side, Wattbike will start shipping in a month, whereas Stages is sometime early next year – assuming no delays.
Of course, there is the reality that Wattbike could have owned this market for the last 1-2 years in the US, with no competitive pressure at all. Now they're up against a slate of well-known competitors – albeit all of them more expensive than them. If they can play their cards right they could capture the market for people that don't want to wait for one of today's new entrants to actually start shipping. Hopefully they can do just that.
With that – thanks for reading!