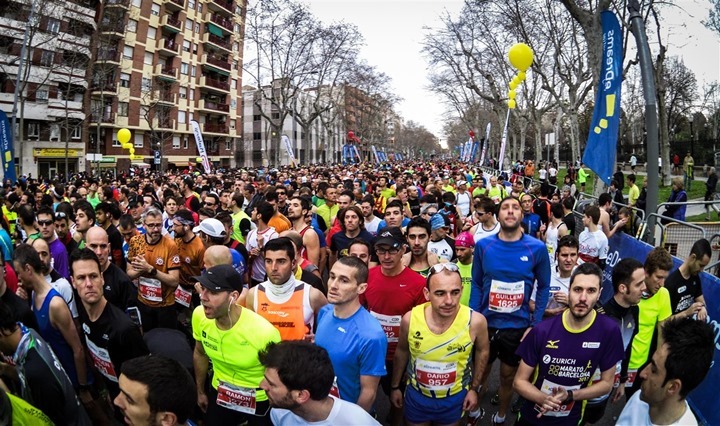 First up on the race calendar this year is the Barcelona Half-Marathon.  We had targeted a race earlier in the season, aimed primarily at ensuring that I'm progressing nicely towards later-spring marathons.  Looking at the schedule, Barcelona was spot-on timing-wise, mid-February and in a slightly warmer locale than Paris typically is this time of year.  A month from now is the Paris half-marathon, but we were too late and missed the cut-off by…uhh…a few hours.
So, Barcelona it was!  Given it's only a 75 or so minute flight, it's an easy hop for us, and the flights are always super cheap down to this beach town.  Which, btw, looks like this: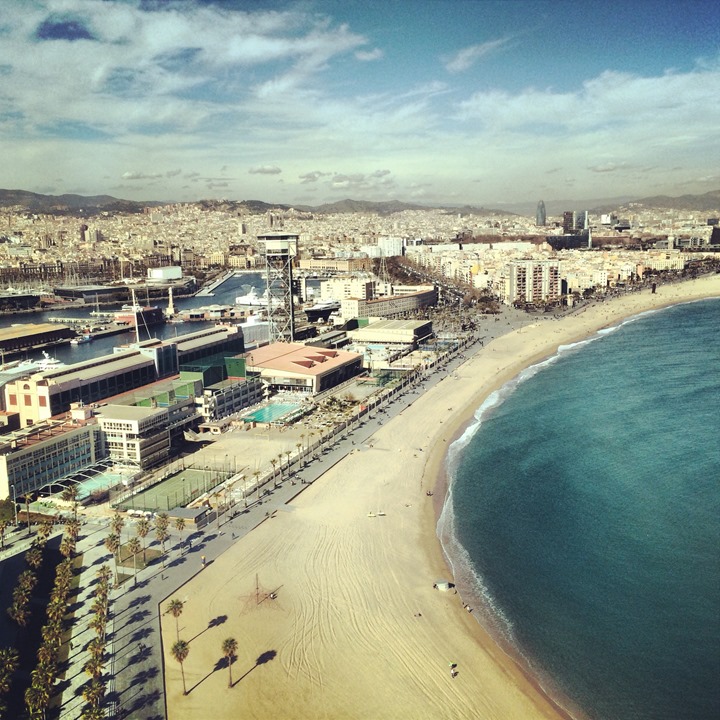 And this past weekend – we had perfect weather to match!  Climbing to just under 70°F for the non-race times.  Woot!
With that intro out of the way, let's get on with the event!
Packet Pickup: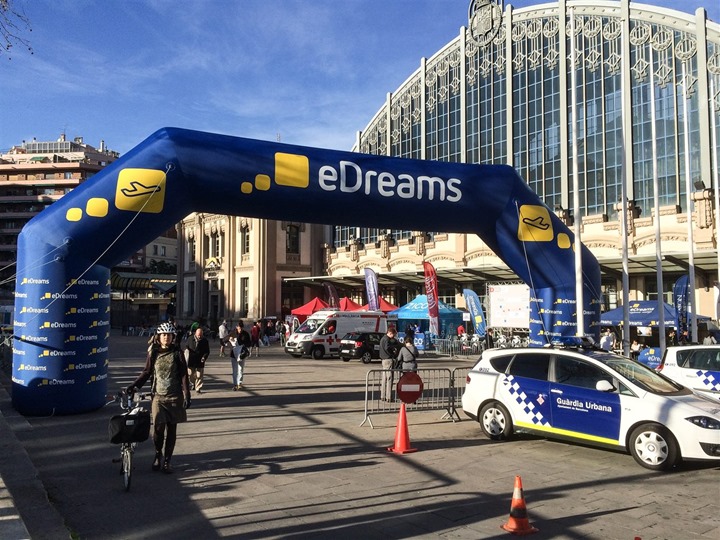 Packet pickup was held near the start of the race, in a beautiful old building that would double as the bag drop the next day.
In actuality, if you lived nearby you could have picked up your packet the same morning (up till 45 minutes before race start).  But we preferred to not worry about it race-morning.  Also of note is that you could have registered up till the day before the race – as they were doing registration at the event.
Inside, packet pickup took approximately 12 seconds.  Perhaps 14 seconds if you count both of us.  No lines, and without question the fastest packet pickup of my life.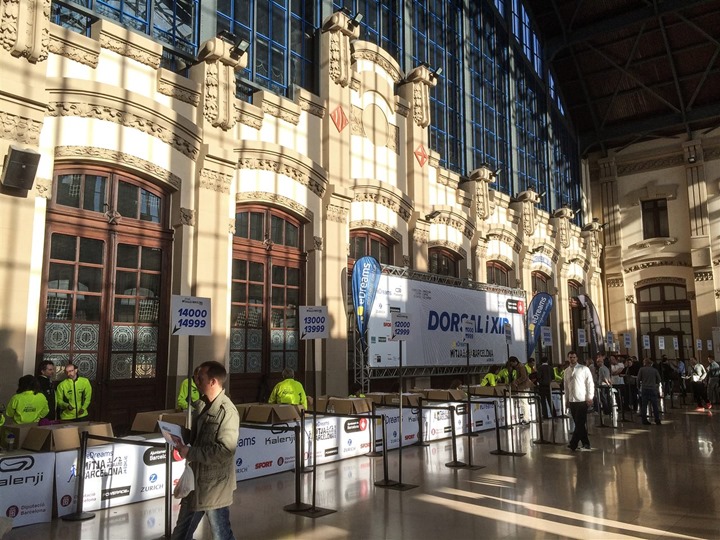 Inside the race bag there were a few flyers for other races, and then a t-shirt I didn't think to photograph.  Though, I'm sure it's shown in some of the photos below.  We'd see many folks committing flagrant violations the race t-shirt rule of wearing the finishers shirt the day before the race (running/walking around), as well as the same bad-luck rule of wearing it during the race (though, we've found such rule is much less strictly adhered to in Asia or Europe).
Pre-Race Warm-up: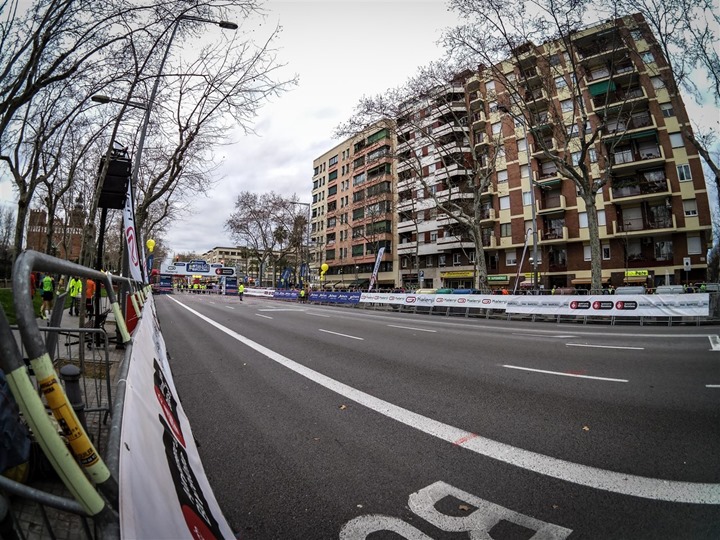 After taking care of business, we headed a few hundred meters over to the starting area – which was astoundingly empty.  Just beyond it though was a really pretty park, which was all of 5 meters from the entrance to our corral.
This would make for the perfect location to complete a warm-up run.  A nice big 5-6 minute loop at pace.  So I did two of them, slightly shortening the second one to make it work-out time-wise.  The first was nice and easy, and then on the second I slowly brought my heart rate up to race intensity.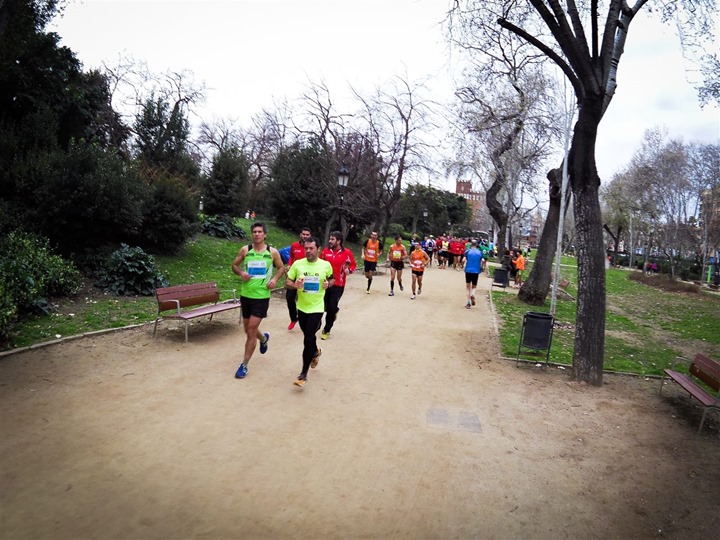 With that completed we headed back to the starting corrals.  Where…I found this (the below).  Yes, it's a video.  Yes, just watch.
Yup, they were doing loops…in the corrals.  I'm actually sorta impressed.  I've never seen such circling before – kinda like watching fish in an aquarium.
After evaluating the flow situation, we headed on in…and kept out of the way.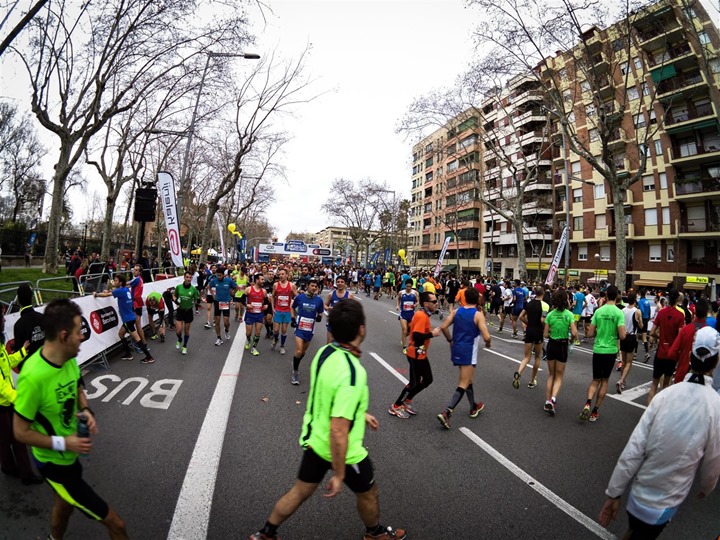 Here's us, preparing to go.  There were a couple of corrals, and we had signed up for the 1:20-1:30 corral.  After saying goodbye, I left The Girl hanging out towards the back of the corral, while I headed up a bit further forward and got ready to head out.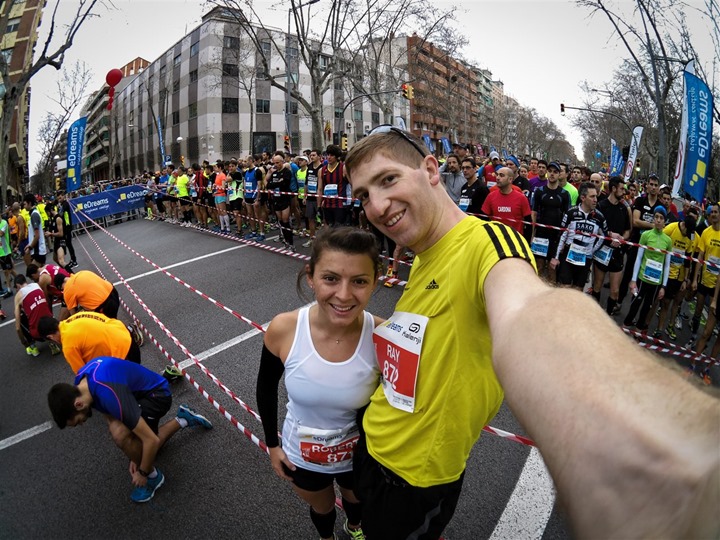 The Race: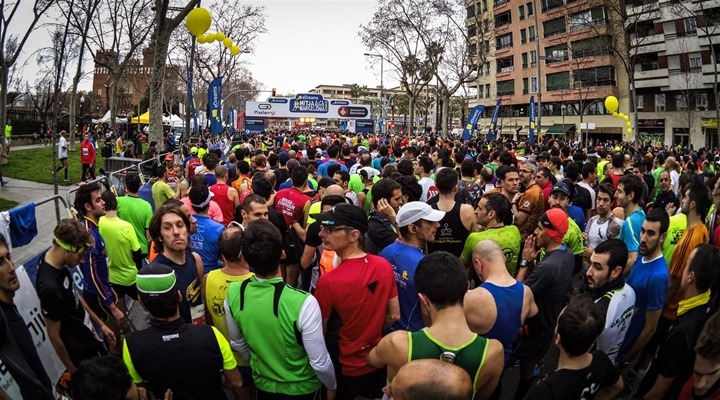 Despite how far I look from the start line, somehow things compressed and moved forward, so by time the starting gun went off, I was basically just a few meters back of the line.  I'm not quite sure how that happened, as I wasn't really planning on being there, just got pushed along.
With absolutely zero fanfare (as is customary for every race we've run in Europe), they counted from 5 to 1 (in Spanish), and off we went.  Except, unlike all the races we've done they shot off canons with confetti.  An impressive amount of it.  Was kinda neat looking back, like New Years Eve in Times Square.  Also neat to see everyone starting their watches as they cross the timing mats.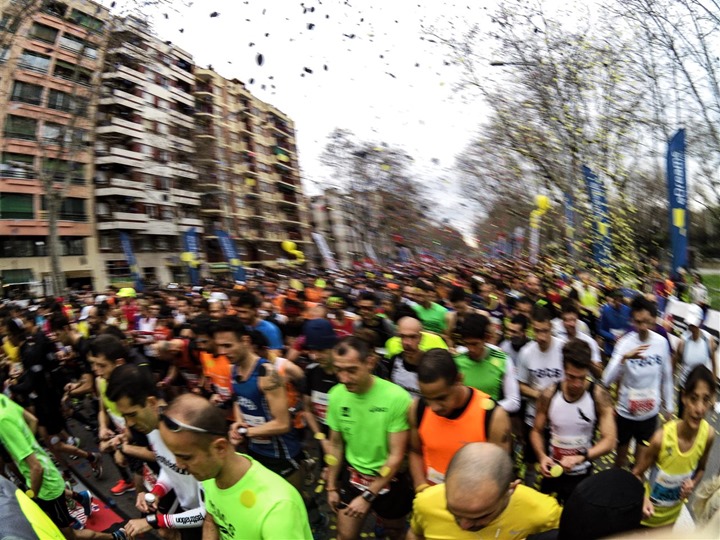 With that, me and 10,000 or so of my friends headed on out.  Of note is that there were multiple inflatable banner thingies at the starting line, just to keep you on your toes.
There was no issue with folks being seeded far out of pace place.  Unlike the US, folks are really good at it here.  You don't see walkers in the first corral (not that this race permitted it, it only had a 2hr 45m time limit).  And, like most races here people run really damn fast.  Keep in mind that I finished in only 689th place…remember that when you see my time at the end.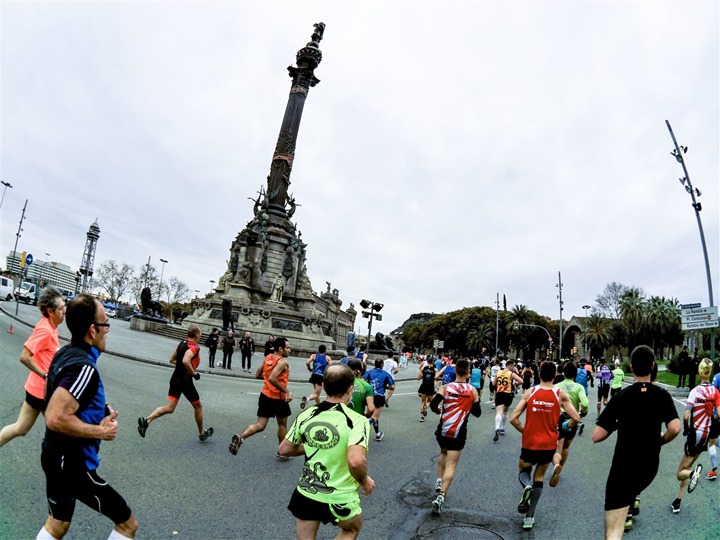 My pacing strategy was based purely on heart rate.  We switched that up from the pace-driven one we used in my marathon back in November, in part because this way I don't have to think about whether I'm doing poorly and have it spiral out of control.  So this way, I merely need to run harder/slower to keep in my HR zones.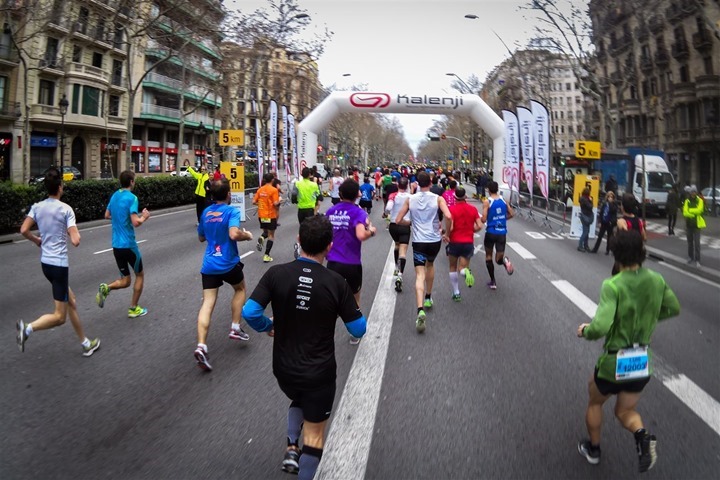 My coach had basically divided up the race into three sections:
Miles 1-5
Miles 5-11
Miles 11-13.1
As I progressed through the sections, my target HR range slightly increased.  Ultimately, this would basically keep my pace constant at about 6:25-6:30/mile (3:59-4:02/KM) throughout the race (minus the last few miles, which I'll cover later).
The course was fairly flat and fast – so flat in fact that during this very race today a woman set the new women's half-marathon world record (1:05:12).  About the only thing that slowed me down was the water stops, not because they were inefficient, but simply because I slowed down a few seconds a mile to take in gel and water.  With the aide stations spaced every 5K, I took in one gel and about 1/3rd a bottle of water.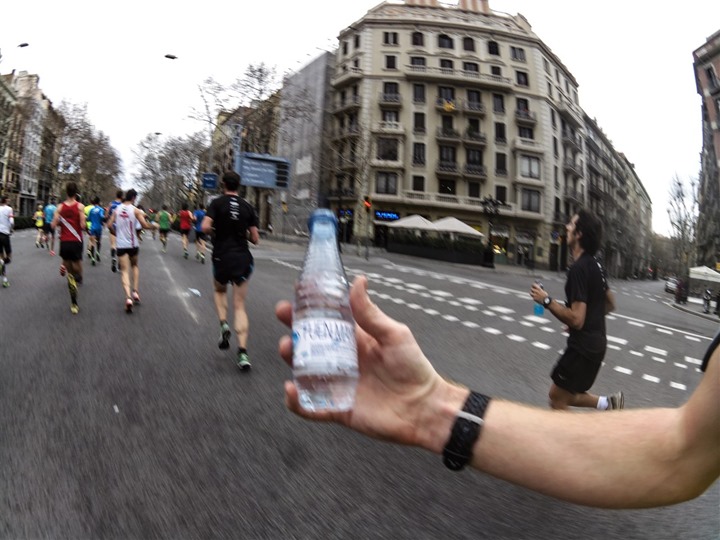 The race had a handful of music acts performing along the way.  This one at the 10KM marker, seen on the stands behind.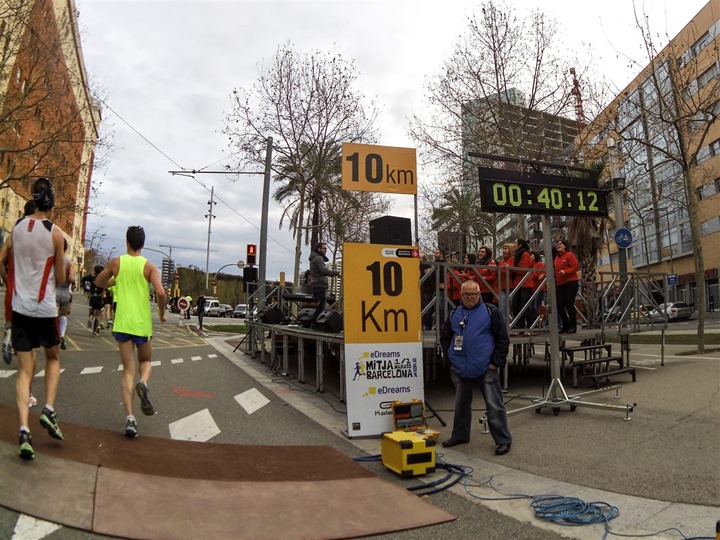 And this one a few miles later: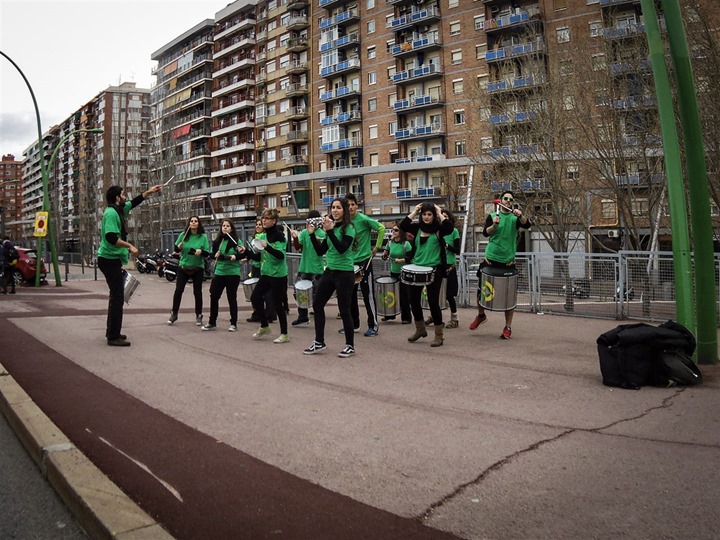 There was a bit of a head wind coming down this one stretch around the 7 mile (12KM) marker for perhaps a mile.  For whatever reason I got in a section where there was nobody in front/back of me by a few dozen yards.  Except this guy.  What was interesting was observing the impact of drafting behind him.  I determined that drafting behind him slowed me almost exactly 1 second per mile, but, saved me 2-3BPM in heart rate fighting the wind.  Clearly, a well worthwhile tradeoff for a mile.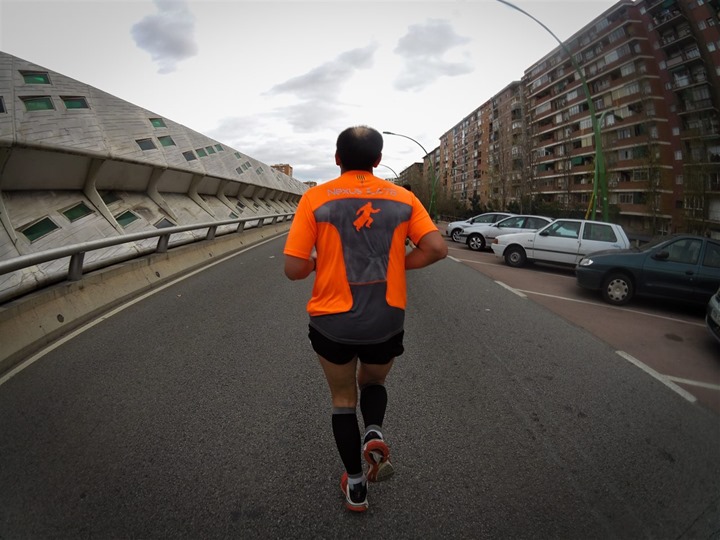 Soon, I found myself nearing mile 9-10 and the beach.  I'd point out that when it says 15K marker, it's a bit of a mind-job.  In my head, 15K means that I'm 5K to the 20KM, which is almost, but not quite the finish.  In reality, the finish is 21.1K.  Thus, when I think only 5K left at the 15K marker, mentally I think that about 30-40 seconds later I'd be in the 2.9x mile left category.  In reality, that's not true.  It's really like being almost 4 miles to the finish.  And that's a huge difference compared to 2.anything miles.
Just sharing my thoughts.
Oh, another thought: This little couple meter rise felt like a mountain after an other-wise flat course.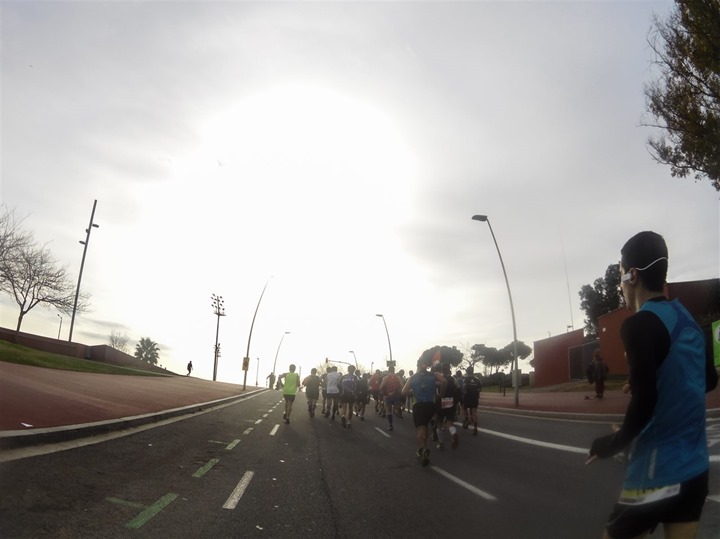 Here I am, around mile 11-something (17KM), cruising along with the beach off to the side.  I had actually slowed a little bit around the mile 11 marker, for reasons that aren't entirely clear.  Just losing a little bit of steam, about 10/seconds a mile (6/sec KM).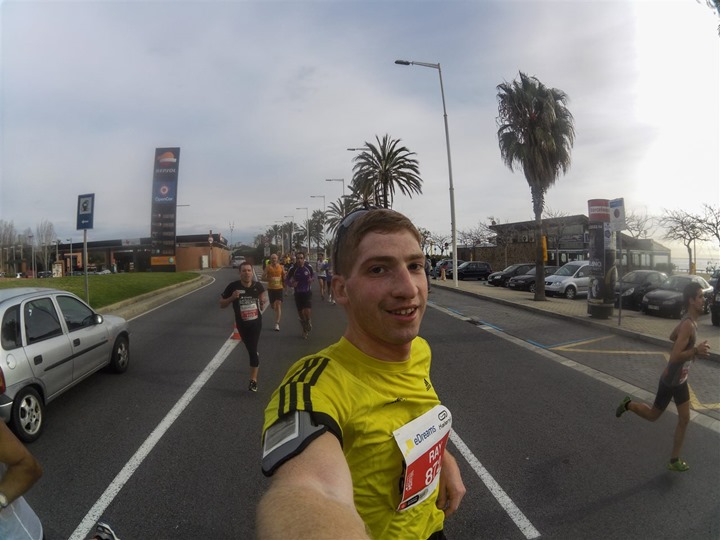 And here we are at the 20KM marker.  Which, my mental-math will point out is very different from 1KM to go, since it's really 1.1KM to go, and that last 97.5 meters actually matters (and hurts).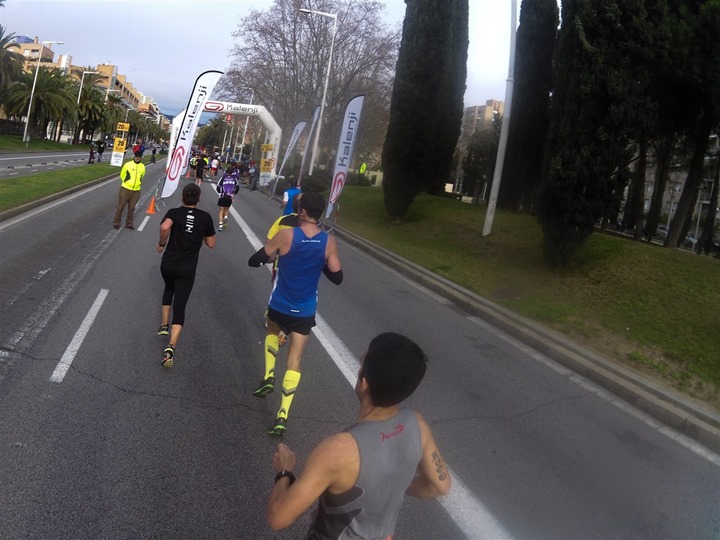 As the finish line came into sight I pushed about as hard as I could, which, I found, wasn't actually all that much faster than I was going when I wasn't pushing as hard as I could.  There just weren't any gears left to switch into – having me top out a whopping :10 seconds/mile faster than I was going in the previous kilometer.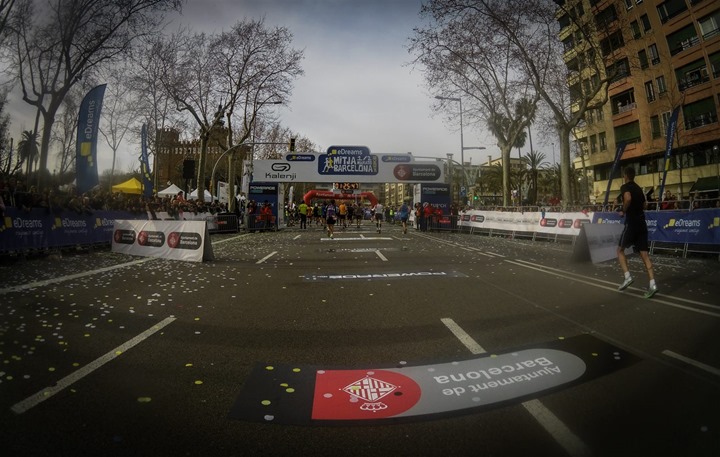 Still, despite my apparent lack of 'final kick' gear, I ended up with a rather nice official time of 1:25:35 – or an average pace of 6:31/mile (4:04/KM).  While it would have been kinda nifty to have been sub-1:25, I don't really see where I could have found the extra 35 seconds.  Obviously, if I could have maintained the higher heart rate the last 2 miles, that would have done the trick, but that wasn't to be.  For those curious, I've posted my race file to Strava for more of the laps/splits/HR detail.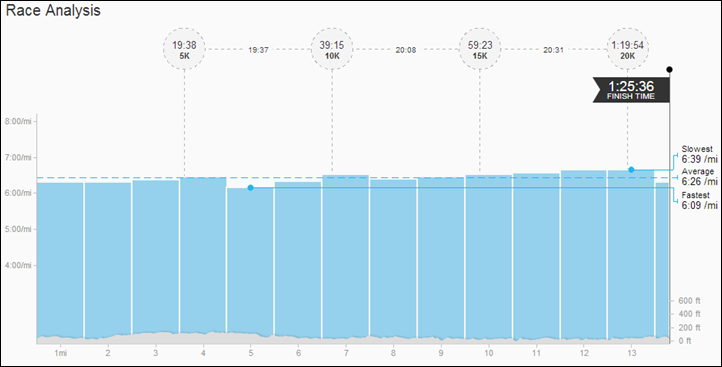 I wasn't quite sure if this was a PR or not, I new it was sorta close, but turns out I was about 50 seconds shy of my current half-marathon PR.
Finish Area Goodness: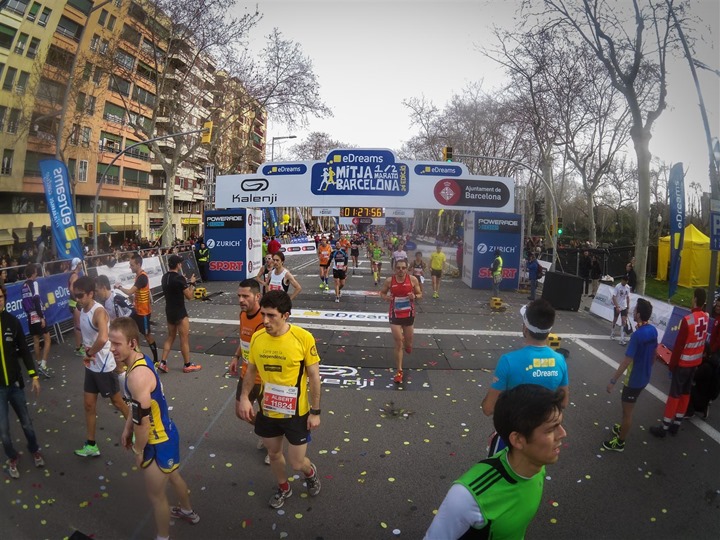 After catching my breath for a few minutes I puttered around waiting for The Girl, who'd show up a couple minutes later.  While doing so I noticed there were stretchers handy.  Thankfully, unlike a few people that came in – I didn't have to use them.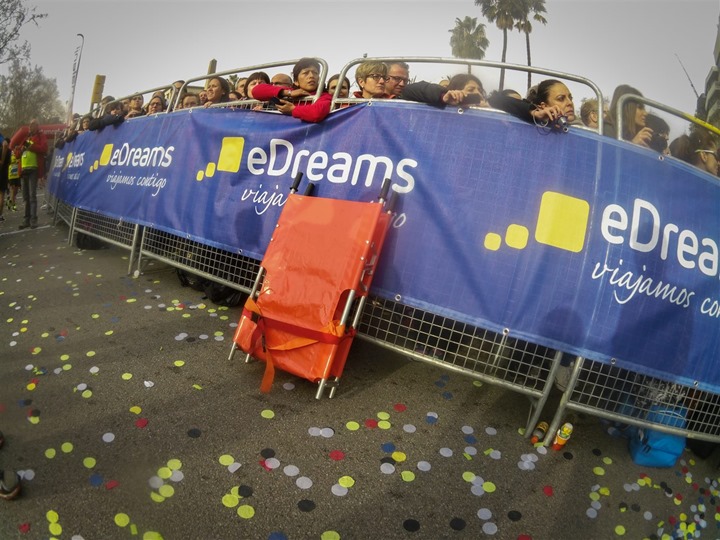 Soon, she came in.  Unfortunately, out of the three photos we took together, one her eyes were closed…one mine were closed, and this was what was left.  Obviously, we didn't bother to check said photos before leaving.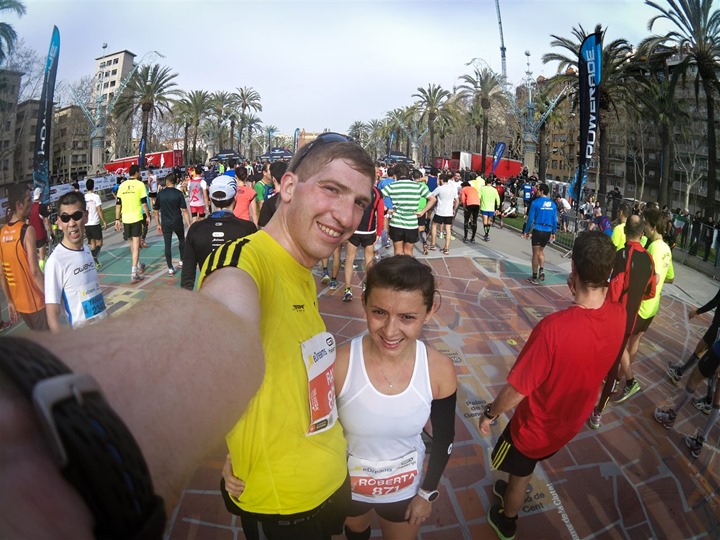 After having our timing chips removed, we headed over to pickup our little medals.  They were in tiny plastic bags all sealed up.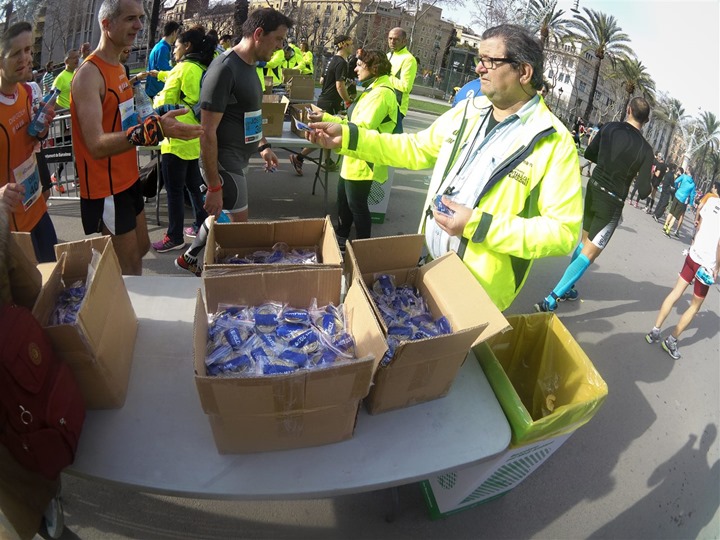 So, since nobody put them on our necks, we put them on each other: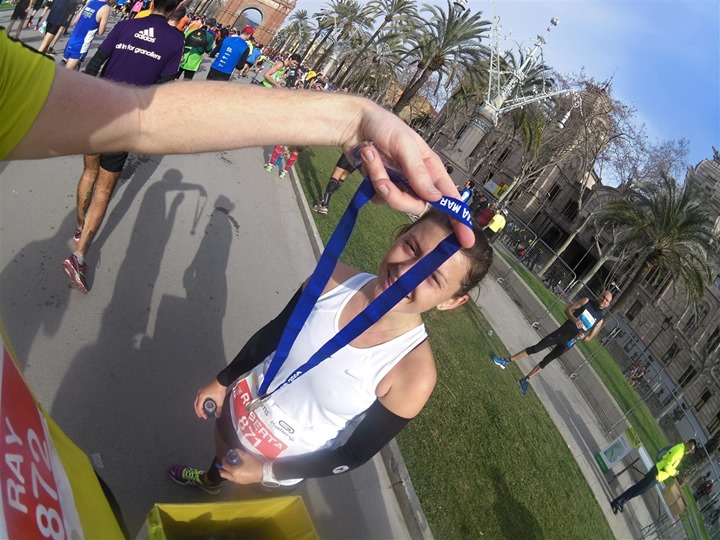 From there we grabbed some oranges (from Spain), and bananas (from a box).  My only suggestion to the race organizers would be a tiny bag.  With two bottles of liquid given (water + sport drink), a medal, bananas, and oranges…we sorta ran out of hands to hold things.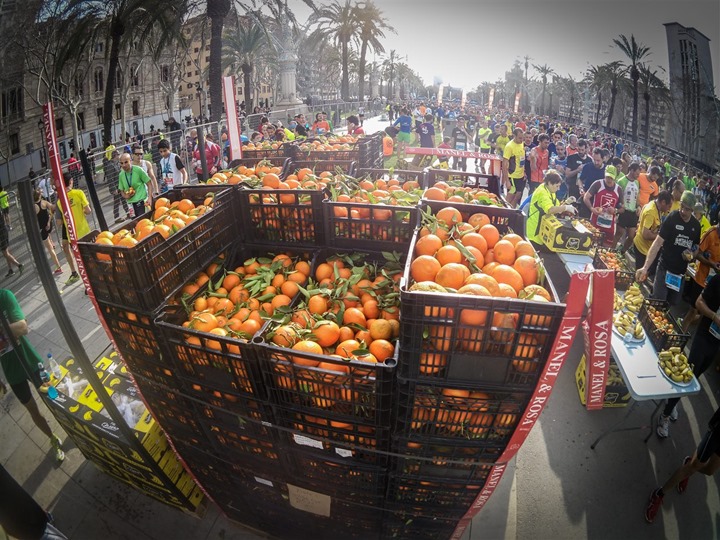 Afterwards we went over to the gym to grab our bags.  We're loving how many races we do in Europe where they've taken over gyms as pre/post-race staging areas.  Even better was that the volunteers were actually running back and forth.  Seriously.  The line had zero people in it.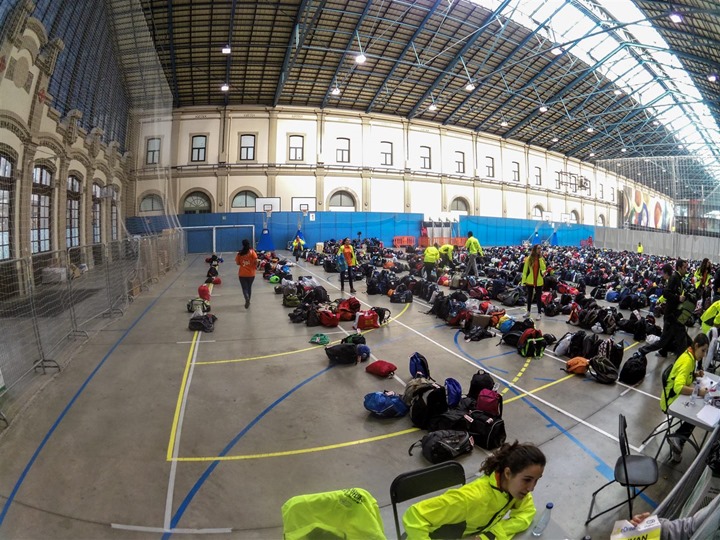 With that, we shuffled back to the hotel to relax a bit (ok, we didn't relax at all, but that's a story for another day).
Without a doubt we'd definitely do the race again – perfectly cool weather for it, fast course, and great volunteers.  Oh, and a great city!
Thanks for reading!