I arrived in the Kingdom of Saudi Arabia Monday evening for two days of meetings.  I had flown first to Bahrain, and then drove across the causeway that connects the two countries.  The actual driving portion of the journey probably only takes about 30-40 minutes, but the border crossing procedure takes considerably longer.  Not because there were lines (thankfully none), but because of the multiple steps (I counted between 6 and 7 checkpoints we went through).
Getting a visa to Saudi Arabia requires a wee bit of planning, and thankfully that was mostly taken care of for me a few months back.  I was a bit nervous going into the border though because my current visa expired the day after I was scheduled to leave Saudi Arabia.  Sometimes countries get nervous about that.  Further, my visa was originally processed as 'arrival by aircraft', as opposed to 'arrival by car', thus further compounding potential issues.  Thankfully, the border guards didn't seem to care about either, and happily let me (and driver) into the country.  And they also must have decided that I wasn't carrying any alcohol or drugs into the country, as they didn't tear apart our car (like every other car).
As for where I was headed, it was to the city of Al Khobar, which is in the Eastern Province of Saudi Arabia, overlooking the Persian Gulf.  Here's a quick map as a refresher: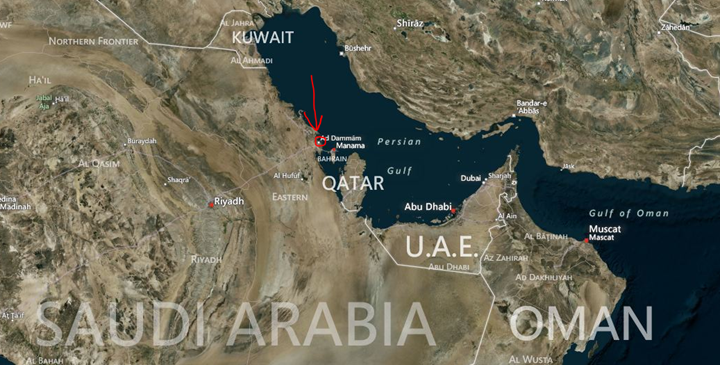 Also, as a note that may be somewhat obvious – I was a bit more careful here in what I took photos of.  Thus, no people at any close or distinguishable distance, nor any buildings beyond some Americanized/tourist sites.  By the same token, the area I was in is extremely safe these days, and I really had little to worry about (likely far safer here than in the bad parts of Washington DC).
—
With that, I headed out of the hotel Tuesday night and out into the nice warm sun.  This time of year the weather here is actually quite pleasant.  Neither too hot, nor cold.  Just right.  And in what was I think the fastest ever satellite acquisition time (about 2 seconds), my GPS watch was ready to go.  Must have gotten turned on at some point in my bag while nearby, thus having the hotfix ready to go for the next time.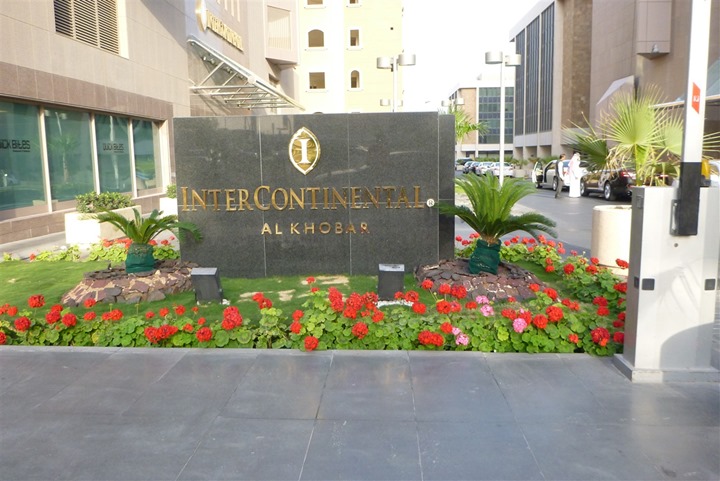 My planning for the run was somewhat minimal.  The night before while arriving at the hotel I noticed a waterfront area with some shops, and then took mental note of how to get there from my hotel.  It didn't seem too far away, perhaps a mile.  So, I headed back out to the main road and followed it back along towards the water.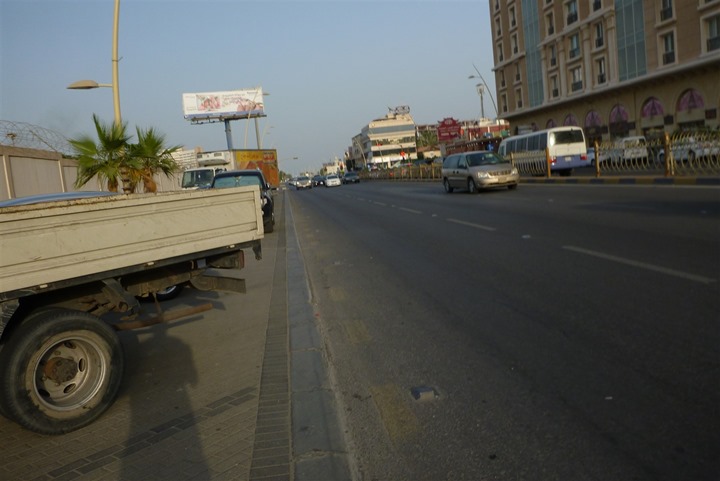 The road turned out to have a plethora of chocolate and other sweets shops on it.  Like the diamond district, but for chocolates.  Really, every other store was chocolates for hundreds of meters.  Calorie friendly this street was not.
In fact, there was even not one, but TWO cupcakes shops (Pink Box, and A Cup of Cake):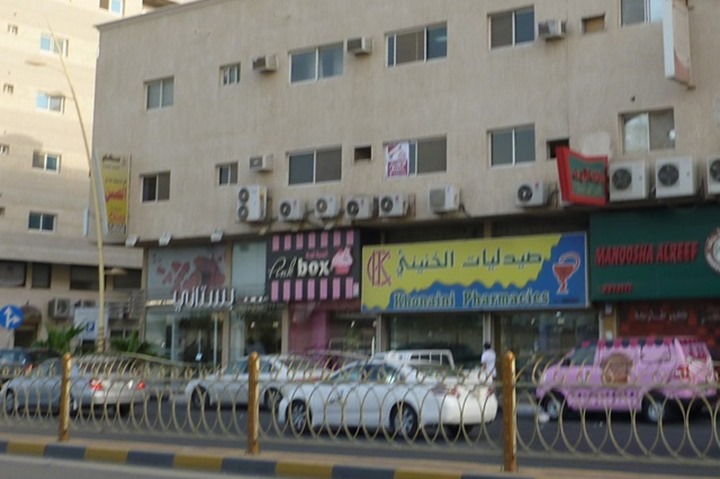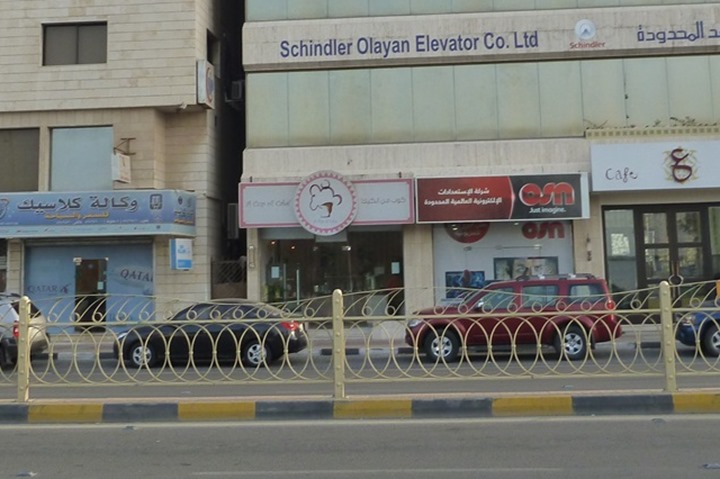 Later on that night I went and checked them both out, buying cupcakes from both stores (about $1.50 each per cupcake).  Ok, actually, I bought a few cupcakes per store.  A sampler.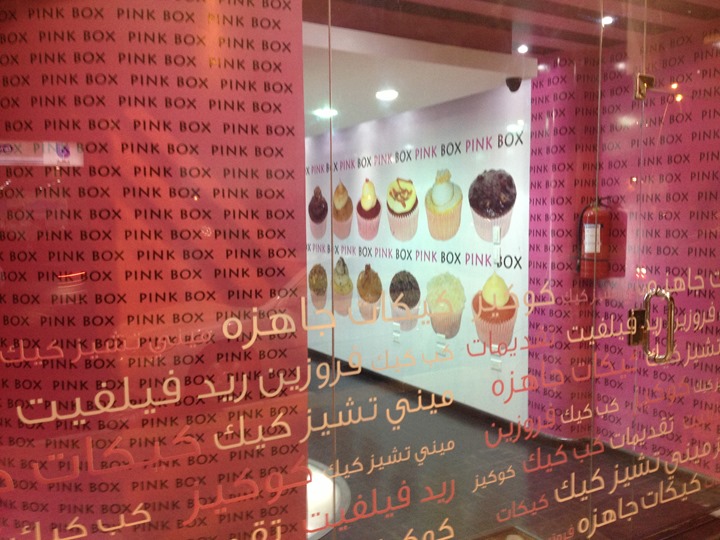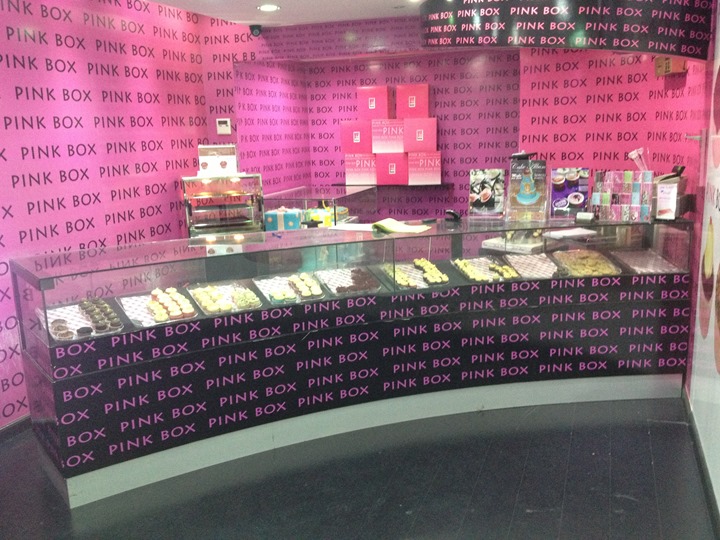 Inside A Cup of Cake: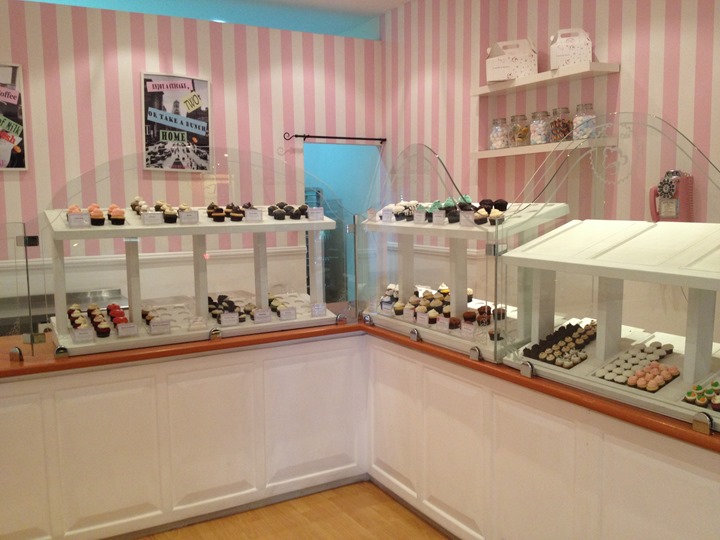 Interestingly, the 'take-away' device was just various paper bags.  The man behind the counter (they're all men here), warned me that my particular cupcake selection was not apt to work well in said bags.  So, I just hand-held it instead.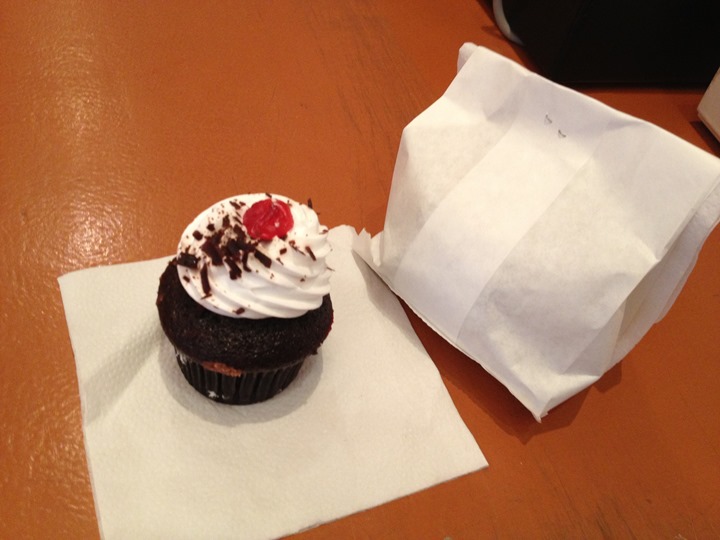 The taste of the cupcakes was a bit mixed.  One of the icings (Mocha) was actually quite good, and the cake along with it solid and not dried out.  But the other cupcakes were all dried out, and the icings were also dried.  They're made offsite, and then dropped off to sell in the storefront.  I suspect they sat for a while.  I only ate about 1-2 bites of each (sorta like wine tasting).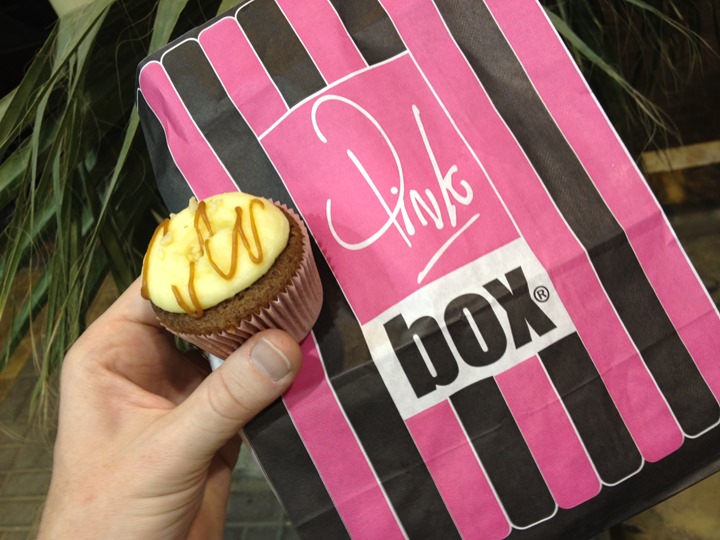 On the flip side, they did have a cupcake van.  Kinda nifty, can't argue with that.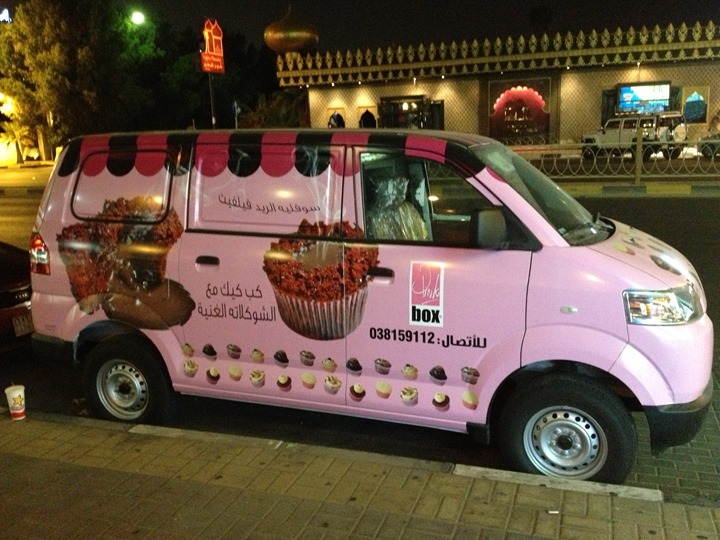 At any rate, back to running.  Shortly after the cupcake shops I saw this building.  This is apparently where small satellite dishes go to die.  I've never seen so many small rusted out satellites dishes in a single location on this planet.  Unfortunately the photo doesn't accurately depict the sheer number of dishes up there.  The exact reason for such concentration is unclear to me.  Perhaps it's sorta like the old SETI projects, crowd-sourcing.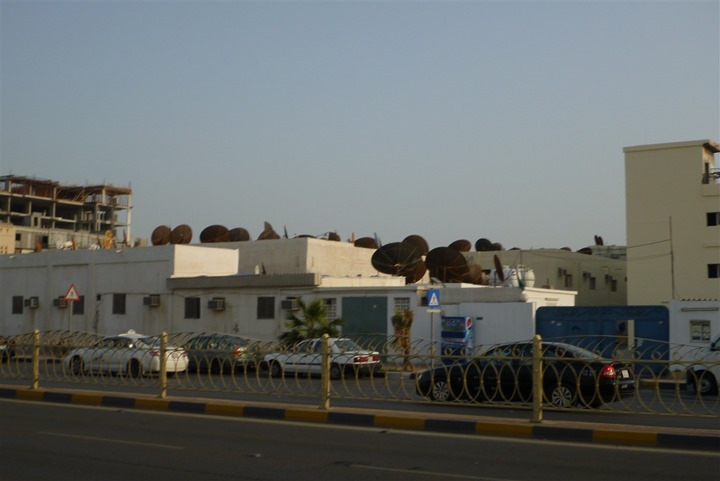 I continued along the road towards the water.  In my running world, there are always two 'easy picks' for running while traveling: Along water sources, and around airports (perimeter roads).  Without fail, these two options always work.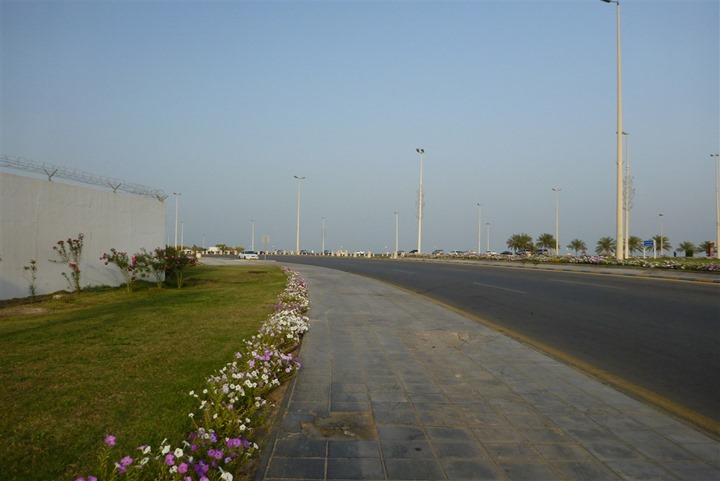 Eventually, it turned from city-scape to seascape.  There was a large park on one side of the road, butted up against the Le Meridian hotel (with its massive fences seen above).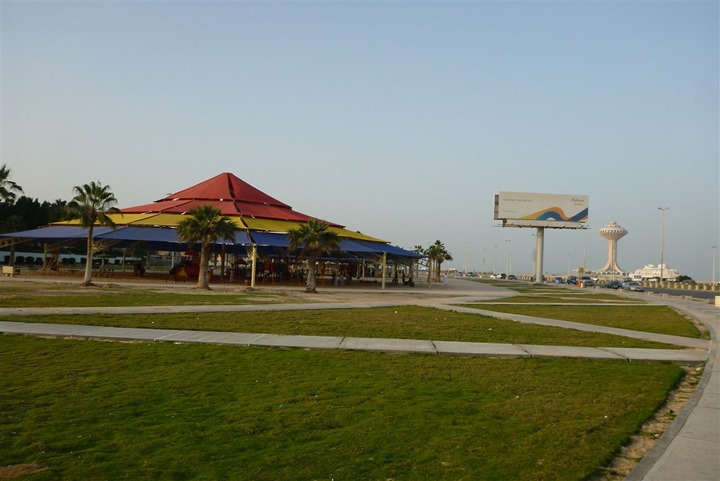 On the other side in the distance though I saw a water tower.  There was some construction blocking my view, so I figured I'd run a bit longer and maybe get a better look at it.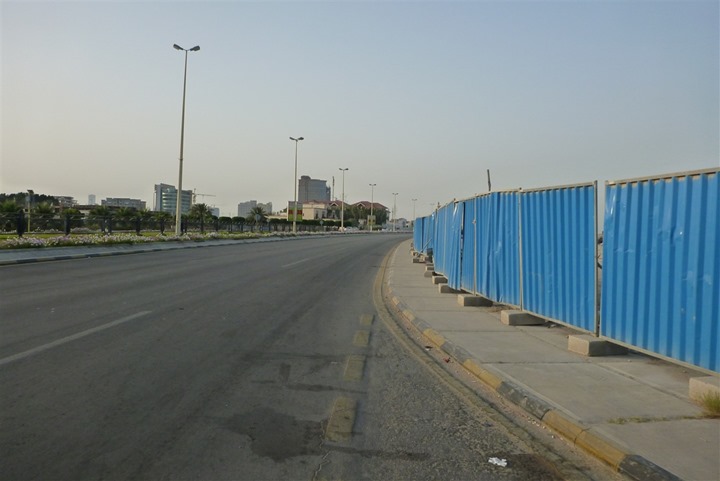 Eventually I found a hole in the wall: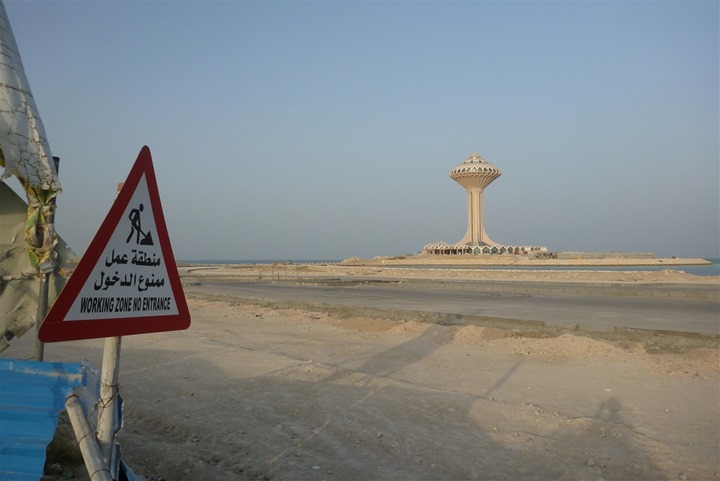 Turns out, this tower was built by the local water company, and started about 15 years ago.  Construction has never quite been finished.  Think of it as a living monument.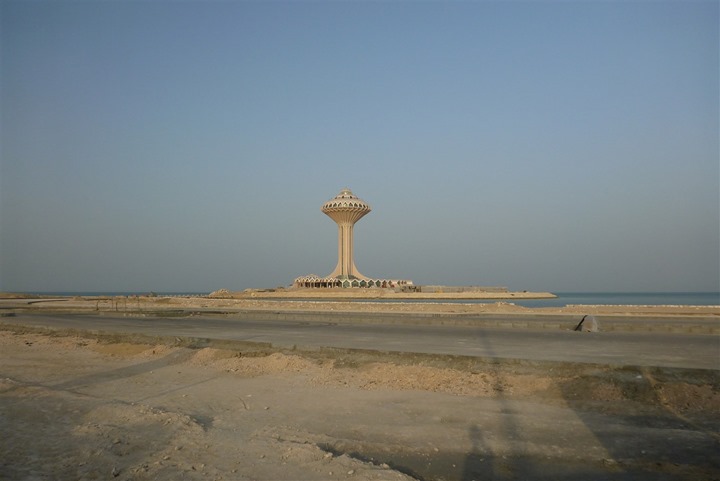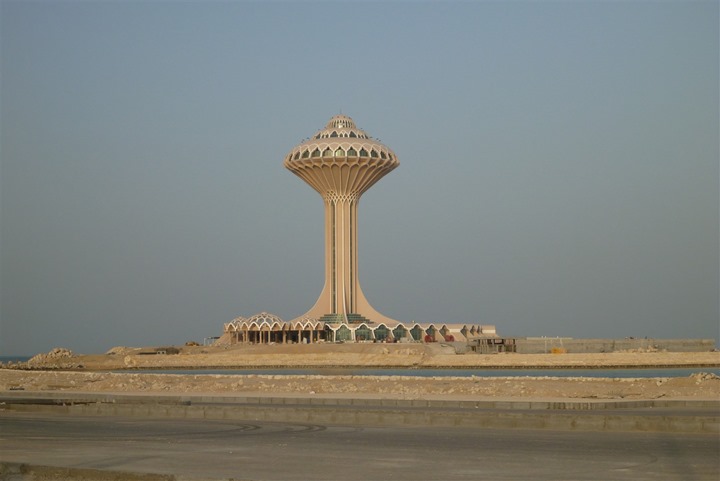 Satisfied that's all I was going to see of that, I headed back the other direction along the water.  I was happy to see there were public bathrooms available.  I didn't have to use them, but always nice to have the option!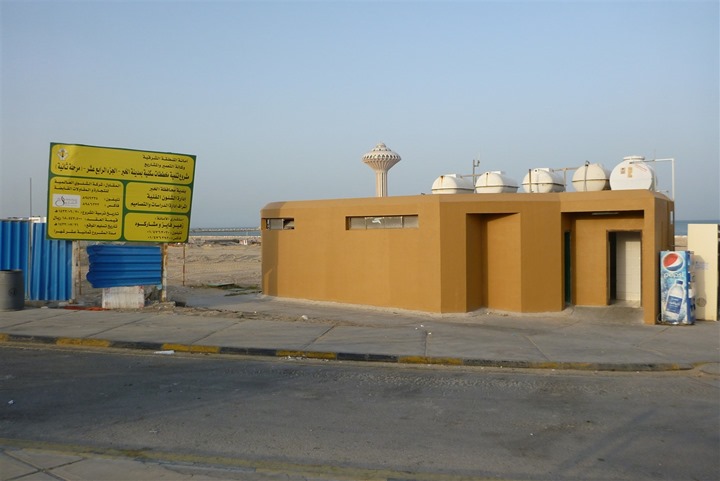 Soon the real waterfront park started.  This park is considered a bit of the crown jewel of parklands in the area, and indeed it's quite nice.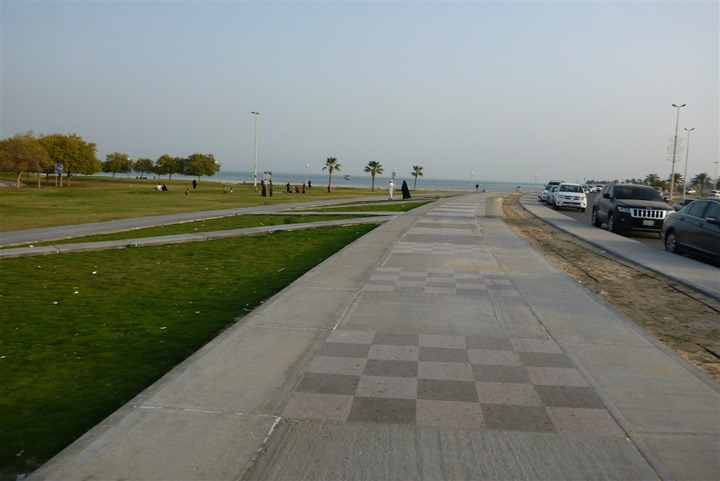 It meanders along the water, and is fully non-motorized only.  There were plenty of people out running/walking and even some casual biking.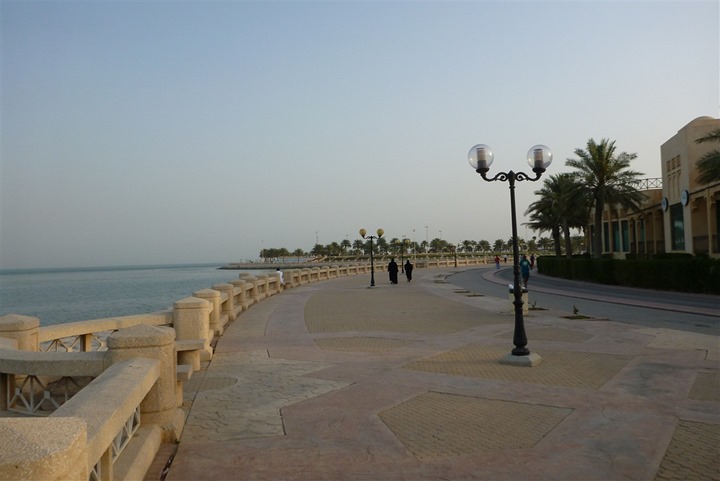 Also lots of families out and about.  Note that swimming was not permitted here, which is too bad – might have made for a good openwater swim site:
There was even a small train running along the roadway!  Ok, so I guess one motorized vehicle (and follow-truck) was allowed.  Apparently small trains follow me everywhere these days.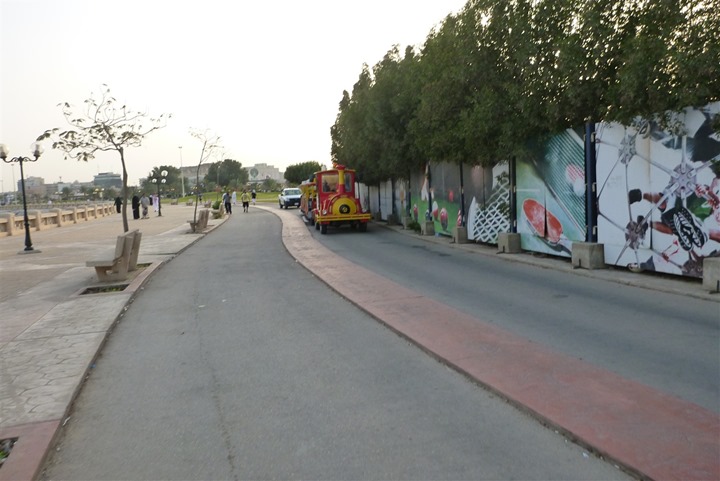 After about 1.20 miles of running along the beach path, it came to an end.  Obviously, that was a fine place for a self-portrait: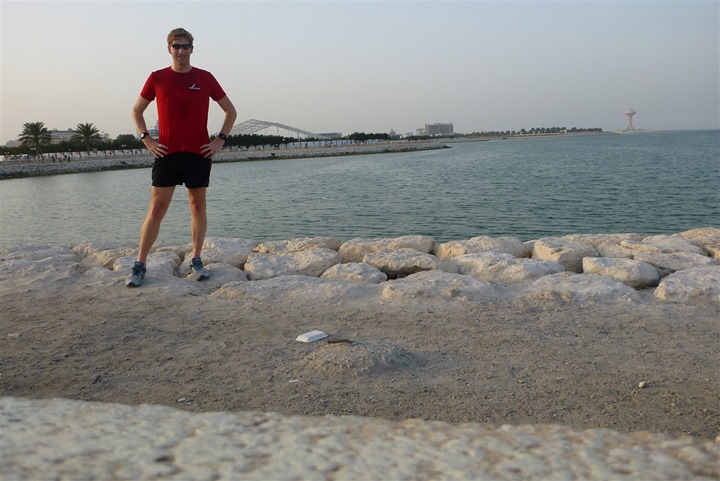 As to why I know this distance of exactly 1.20 miles it's only because I later noticed in Strava that I triggered a single segment run by exactly three people…including me.  The segment included the beach area, starting with this sign: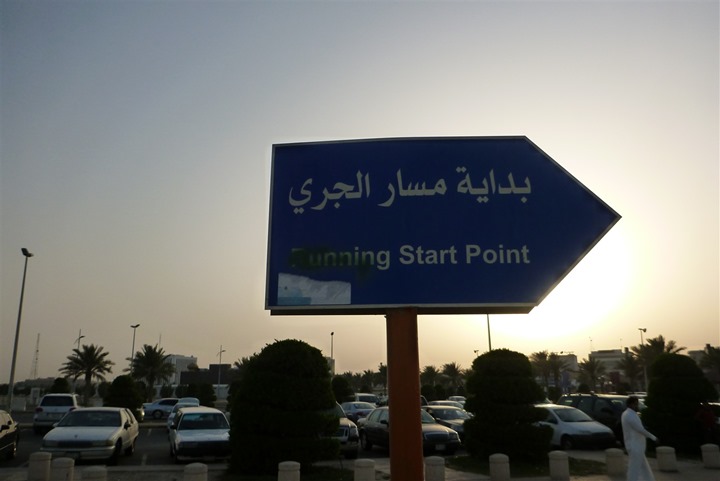 And here's the segment: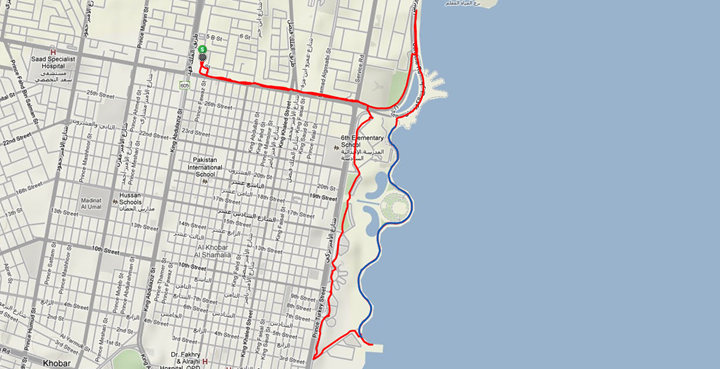 From there, I decided against going back along the water, and instead dipped across the park towards the city a bit.  I passed what I presume to be a covered prayer area: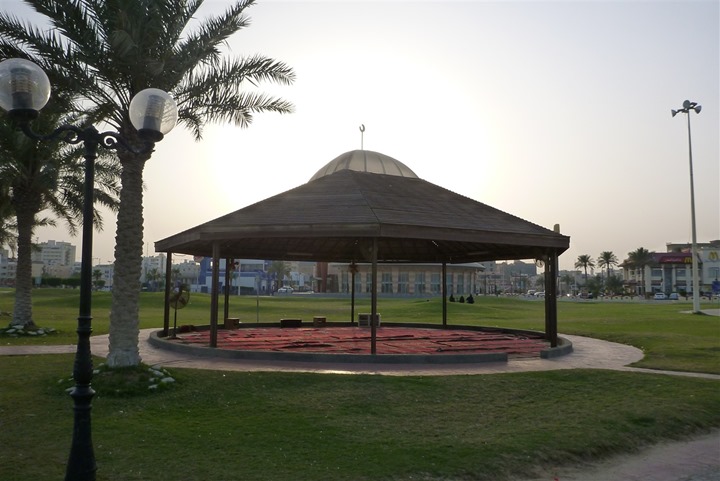 A short bit later, I came to the mother lode of American influence in Saudi Arabia.  Starting with none other than a Toys "R" Us variant: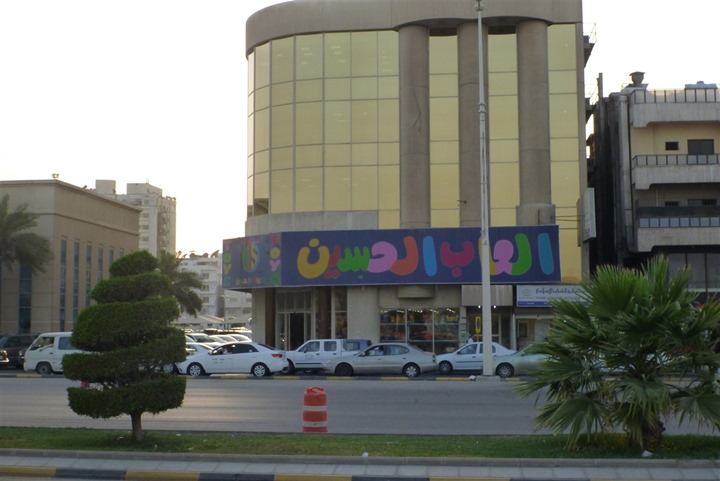 Across the street was a plaza, somewhat designed like those service station plazas up and down the I-95 on the US East Coast where you can quickly pull in.  This plaza backed up against the park/beach/water, but was filled with American eating establishments.  For example, McDonalds, Burger King, Taco Bell, Applebees, Pizza Hut and more.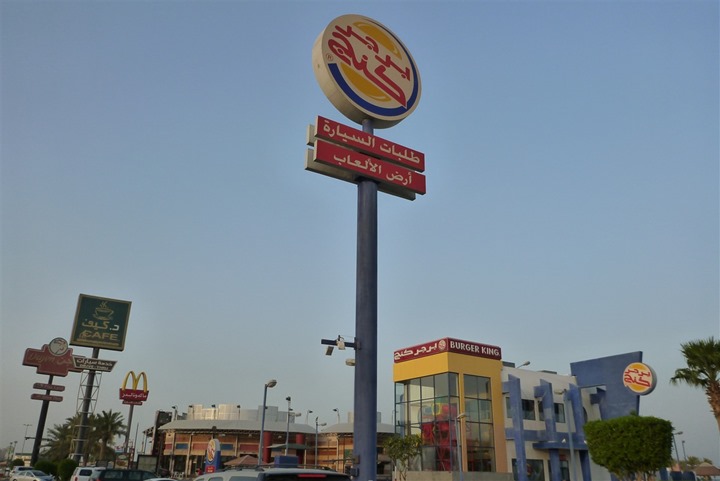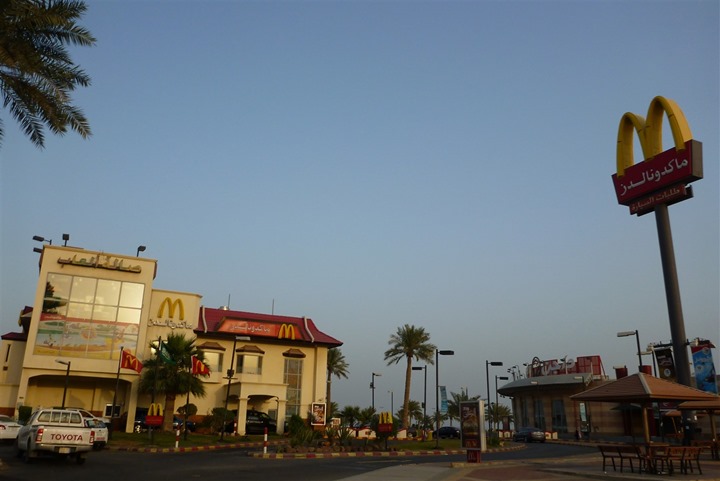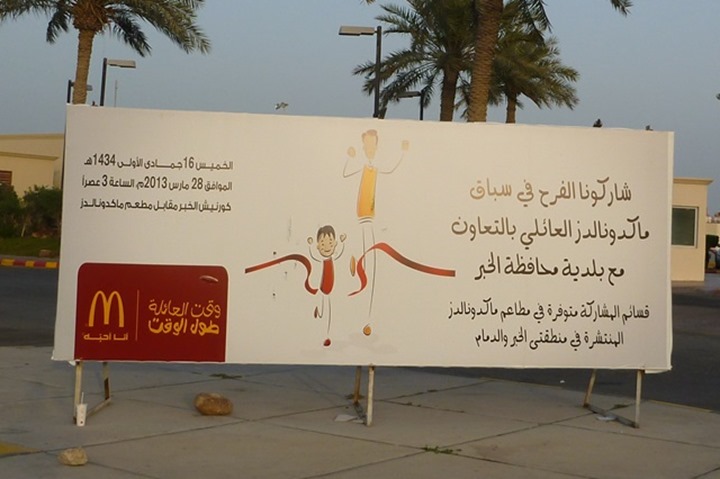 As well as the always present KFC, and Hardees: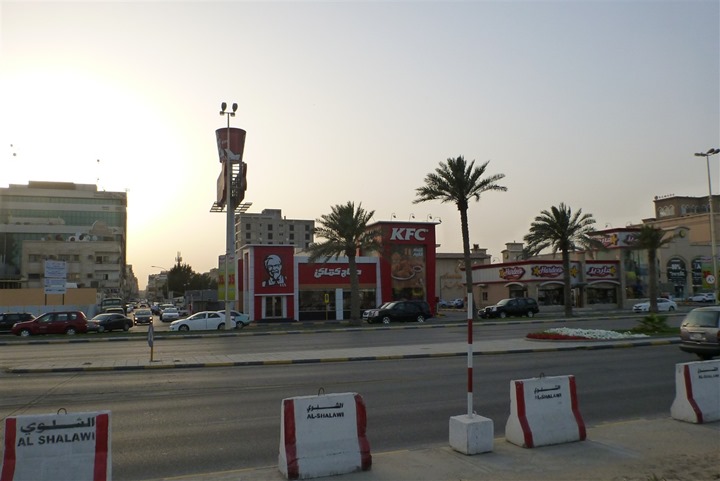 Further down the road Chili's, Starbucks, TGIF, and the Outback Steakhouse: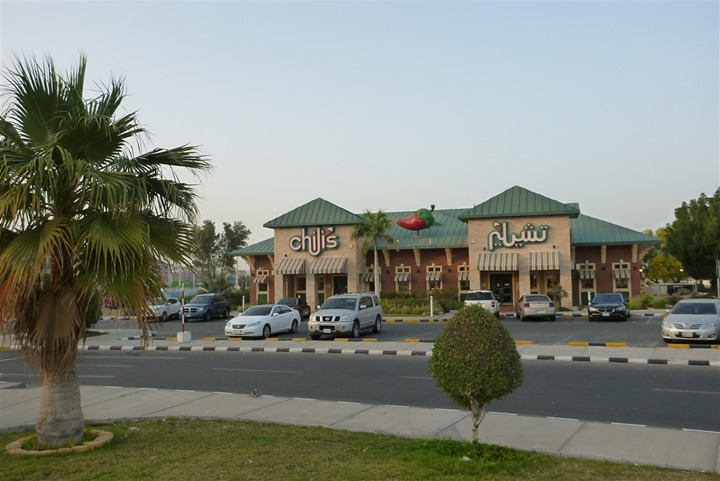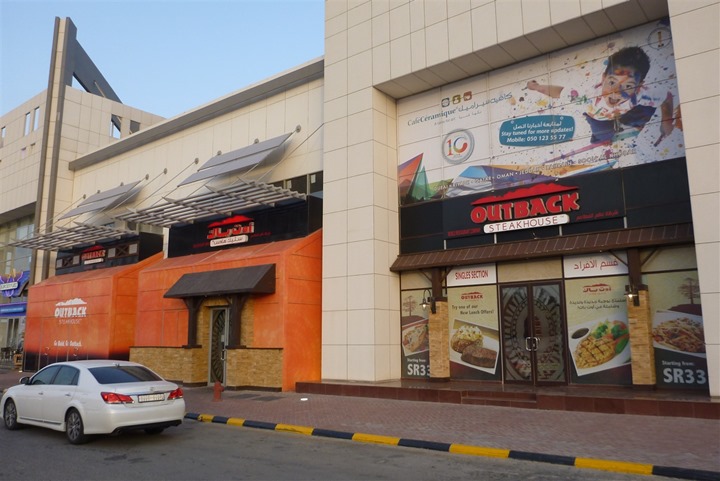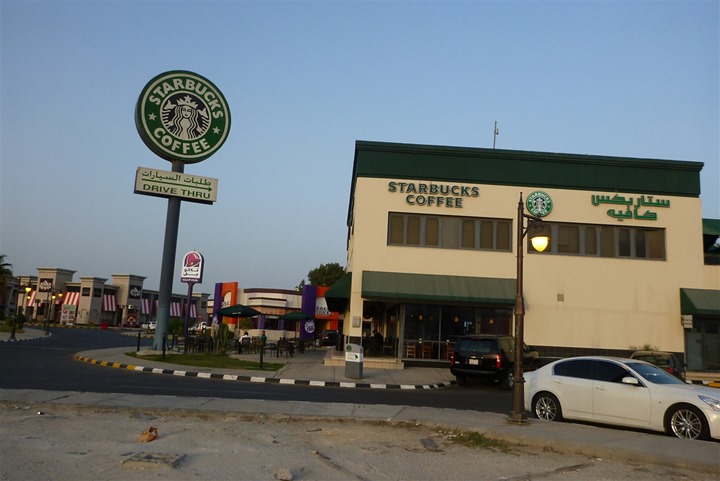 It's sorta mindboggling actually.  I don't think I could find this concentration of American restaurants in the US!  And, also nearby was Quizno's, Krispy Kreme Donuts, and additional redundant McDonalds (clustering for high availability is important).
In fact, I found it somewhat interesting than when crossing the board from Bahrain to Saudi Arabia (driving across), the very first building upon completing the 6 or 7 inspection checkpoints checking for illegal (Western influenced) contraband…was McDonalds.
Ok, back to running…
At this point, the sun was starting to set.  The weather was still beautiful out.  Pretty much the perfect warm weather running temperature: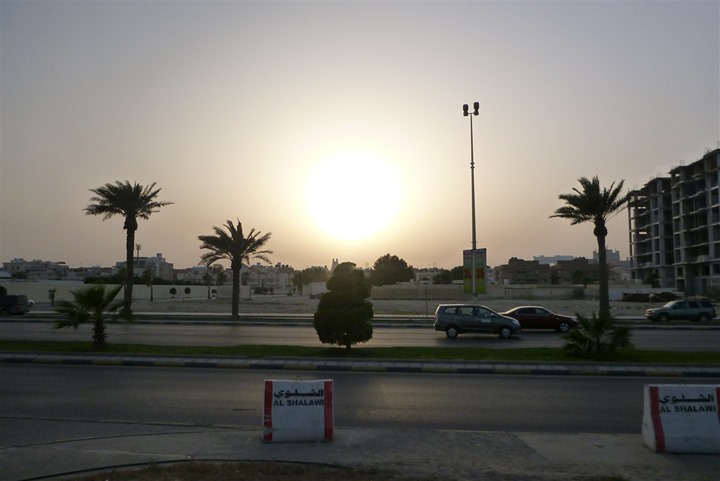 I then made my turn back down the main drag towards my hotel.  One thing I found interesting was the stoplights including countdown timers letting both the stopped as well as non-stopped drivers know how much time was left.  There were no yellow lights – just red and green.  You can see the gigantic timer board off to the right: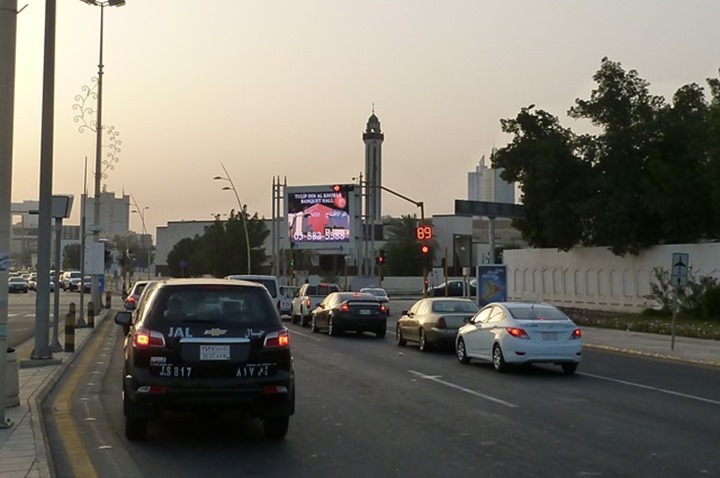 A bit longer down the road and I was soon back at my hotel: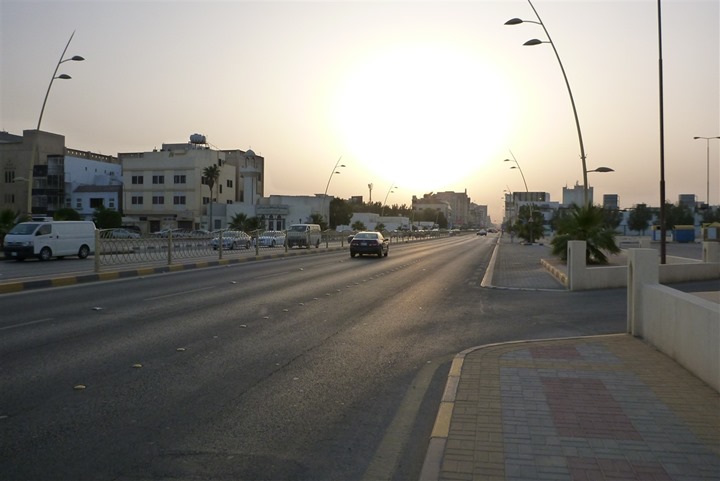 All in, just a nice 45 minute easy run on a taper week.  From a running perspective, I couldn't have asked for a nicer venue in the area to run.  I'm not sure if there are many running races or triathlons in the area (though I know there are some in Riyadh, the biggest city about 4hrs drive from here).
With that, I'm headed back home this evening, ready to run the Paris Marathon on Sunday.  Good times ahead!
Thanks for reading!