I'm flying at 41,004ft, headed southeasterly over Nahr az Zab, Iraq with a glaringly bright sun shining into the cabin of my very empty airplane.  But this morning certainly didn't start out in the sun.  Nope, it started out in the cold and dark.  At 4:04AM when my first alarm went off.  After hitting snooze a few more times, I stumbled downstairs and got on my bike for a 4:30AM start.
I didn't get as much sleep as I wanted to last night.  I had attempted to go to bed early, but lots of little last minute things kept on pushing that back closer to 11PM.  Then once there I just couldn't fall asleep for a while.  All in all, only a pitiful 2 hours – with a resting heart rate during that timeframe much higher than I'd normally be (I'm usually between 39 and 42BPM).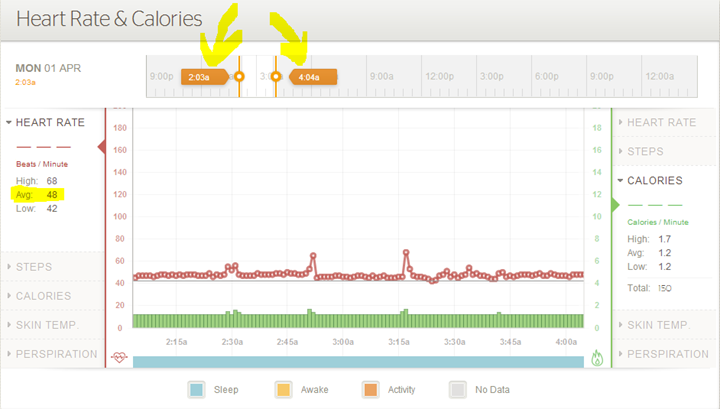 Still, time to get the ride done.  With the focus shifting back towards triathlon now, there's little room for skipping on bike workouts.
It took a minute or so to get the tires pumped back up to the right pressure.  By keeping my tires at exactly the same pressure each time I use the trainer, I can minimize how much time I have to spend re-adjusting resistance during the calibration.  Done correctly, zero adjustment is required post-calibration.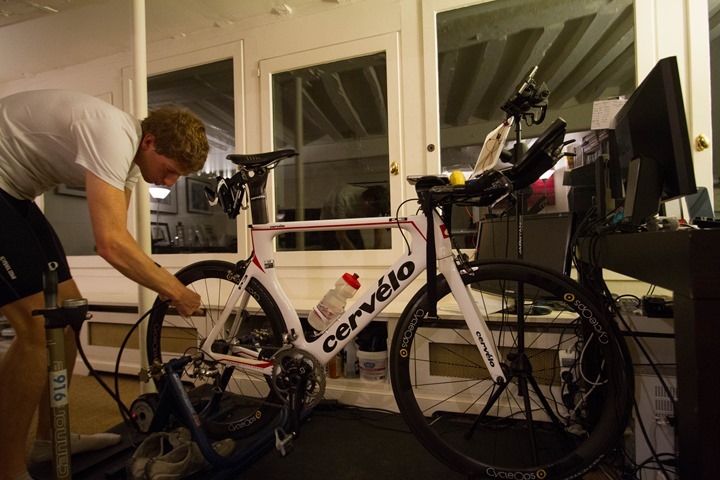 After inflating the tires, I'm good to get on.  The night prior I had arranged everything I needed to minimize time in the morning.  While getting on the trainer sounds simple, in reality there's a lot more steps once I consider adding in product tests.  Here's the run-down of prep:
1) All test five bike computers fully charged: 2xEdge 800, 1xEdge 500, 1xO-Synce Navi2Coach, 1xAnother Unit
2) WASP ANT+ to WiFi data logger bridge online and plugged in
3) iPhone dedicated to recording WASP data fully charged, connected to WASP WiFi network
4) Heart rate strap ready to put on, sitting on aerobars
5) Water bottle filled up
6) Nutrition/breakfast on bike (in this case, a banana)
7) Workout instructions printed (in this case, a sheet for that month has been sitting nearby), provided by my Coach, Alan Melvin.
8) Entertainment charged ready to go (oddly, I decided on Pawn Stars, a US TV series about a pawn shop in Las Vegas), headphones attached
9) Fan pulled over and plugged into the dedicated US voltage outlet (my favorite fan isn't euro-friendly)
After getting on the bike, I pedal for about 30-40 seconds.  Just to get things barely warmed up on the electronics front.  I do an initial calibration of the power meters at this point, just to get things ballparked.  I always calibrate pre-ride, and then again about 10-15 minutes into the ride.  If you don't do this, you're power data is probably more or less useless.  Really, it is.  Power meters are getting better in this area (actually, Stages being one of them), and auto-zero helps, but you'd be surprised in the shifts you'll see otherwise.  You've gotta be religious about it. And, religious about understanding if you've got a bad calibration value.  Otherwise, that new +20w PR you just set isn't real.
By calibrating pre-ride I'm setting a baseline based primarily on temperature in the room.  Given my previous ride was outdoors at about 38*F, that's a big difference to the slightly warmer than normal 74.9*F in the room.  And a quick check of the calibration numbers shows a solid difference between where they left off Saturday afternoon outside, and where they are now.  I'll get back to calibration in a few minutes.
This morning's ride has a scheduled time of about 1hr and 30 minutes.  It'll likely end up a minute or two less.  My trainer rides aren't based on total time, nor distance, but rather a series of individual blocks that make up a given workout.
In the case of this morning's workout, it's got effectively three major components:
1) The warm-up, and then subsequent build (wattage + heart rate build)
2) The main set: 3 x 10 minutes @ a touch under threshold power (actually, it's probably my current threshold power)
3) Some final sprints, and then cool-down
With everything double and triple checked on the power meter recording front (biggest item is ensuring all sensors are reading and reporting roughly accurate power of data), and my initial calibration done, I'm ready to begin.
The first 10 minutes is just an easy build in intensity.  Nothing structured.  Just build to Z2 by the end of it.  Given I'm still a bit sleepy, I took my time getting to Z2.  Further, I took this opportunity to consume the banana.  Sorry my head is cut-off, the camera was situated more for aero than sitting up.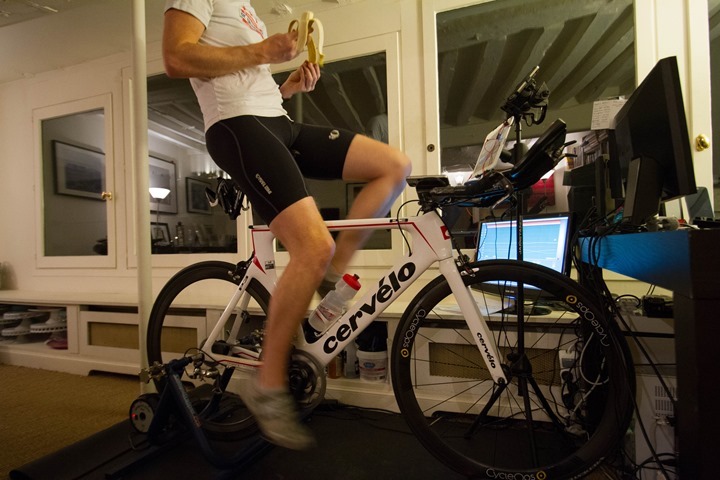 With the 10 minute warm-up complete, I'm onto some spin-ups.  For about 10 minutes I do 30s (30-seconds) on, 30s easy, building up to 130RPM.  By the end of this, I'm closer to a Z3 heart rate.
While historically I've done CompuTrainer calibration at about the 10 minute marker, I've noticed (with as many power meters as I have on this bike lately), that I still see some residual drift a touch bit longer than 10 minutes.  So I've recently switched to the 20 minute marker, which fits well in between workout segments.  15 minutes might be absolutely perfect calibration-wise, but it doesn't fit into my workout blocks.
With the CompuTrainer, calibration requires spinning up to 25MPH and then letting it coast down.  Standard spindown/rolldown procedure.  In my case, the numbers are spot on 2.00, so I'm good to go there.  I then move onto calibrating the other three power meters on the bike.  I get off the bike and stand over it, applying no pressure to it.  I start with the PowerTap, validating that the torque shows zero, and that it comes back with a calibration value where I'd expect it to be.  Next up is the Quarq and Stages Power.  I arrange the cranks pointing up and down (required for stages).  I'll do these at the same time, and both come back quickly with numbers where I'd expect.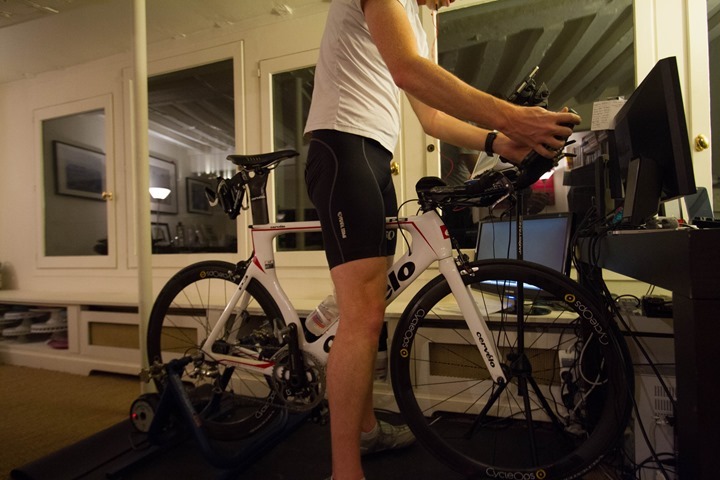 For those curious why I'm using a CompuTrainer as opposed to the Wahoo KICKR, it's not because I enjoy dealing with all the wires.  Instead, at the moment it allows me an additional power meter to compare against during sessions (for power meter testing).  With the Wahoo KICKR I lose the rear wheel, and thus lose the PowerTap in that rear wheel hub.  By using the CompuTrainer with CTANT+, I can send a total of four streams of ANT+ power data over to the WASP, all time-synchronized.  Since the introduction of CompuTrainer ANT+ broadcasting from TrainerRoad this past weekend, I'll probably switch over to that, just to clean-up things on the software front.  Below, you can see all the power meter streams being recorded (screenshot from last week).  The 'PPS' is the number of values being recorded per second from that device (often upwards of 4x that of a typical ANT+ head unit would record).  The screenshot below isn't 100% real-time, more just for quickly checking sensor connectivity, so there's some variance expected in this screen.  Interestingly, you can see the temperature (Garmin Tempe's) and geocaches (Garmin Chirp's) hanging out. Also an ANT+ weight scale and a bunch of speed/cadence sensors down lower.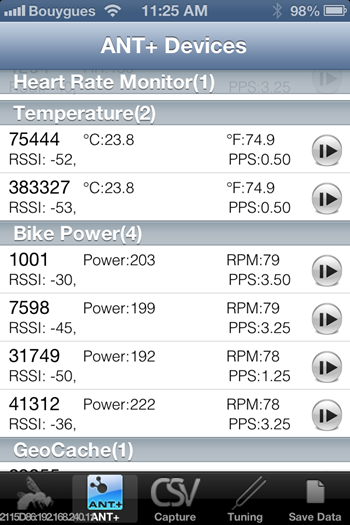 With the calibration all set, I'm off to begin the build portion of the workout.  This is sub-divided into three segments.  First is a 3-minute segment into Z3, then two 5-minute segments building up into Z4A and staying in Z4A.  In effect, this is really just a tricky way for my coach to actually add another interval on there without me realizing it (5+5 = 10min, interval length = 10min).  The thing is, I'm onto it.
These three shorter pre-main set segments go well, though I was probably a touch bit behind the curve on attaining the higher heart rates, and thus, higher wattages.  If you look at this section below (highlighted), you'll see it lags slightly compared to the others.  Additionally, the drop you see prior is because of the calibration.  Ideally that would have been a bit earlier so that I'm carrying through the fatigue of the 10-minutes bordering on Z3 prior to it.  Essentially, I just needed to ramp-up the wattages sooner.

Up until this point in the workout, the workout has been driven by heart rate.  But now is where it switches over to power.  I've established a power level for today that will allow me to maintain a given HR zone, and will be utilized for the next 3x10min sections (with a slight reduction offset of 5w).  In this case, that's 285w per the CT.  If I exceed an upper HR limit that's set, then I'm to reduce wattage to maintain my HR within the HR zone.  Effectively, a cap, or limiter.
After a two-minute easy spin, it's into the first set I go.
I swear, the first two minutes of the first set is always the worst.  It's that point where you know you've got a long way to go, and it already sucks.  I find this true whether on the trainer or the outside on the track (running).
Thankfully, by the third minute life is OK again, and I'm just cruising along.  My body has stabilized and I'm good to go.
I've got Pawn Stars up on the iPad.  I'd actually never used the Amazon video service thingy before, but decided to check it out, and after failing to find half the shows I wanted to watch on there with any recent episodes, I stumbled into this.  I hadn't watched it since living in the States last spring.  You can't just channel surf your way into the Discovery Channel (or TLC?) and watch a few hours of mindless Pawn Stars or Storage Wars over here.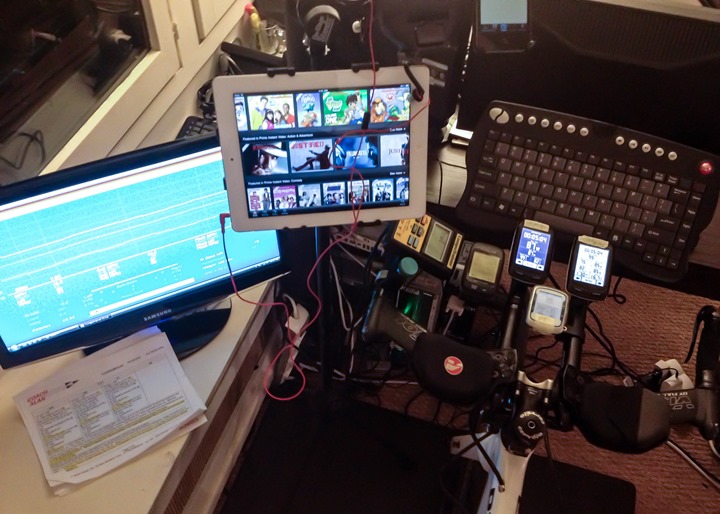 I also had forgot it's only a 30 minute show.  Or, without commercials as is the case here, 21 minutes.  Thus, I went through 4 of them during the ride.
At any rate, as I'm nearing the 8-minute marker on the first set the CompuTrainer CTANT+ software decides it's too early to be up.  And crashes.  A first for me.  In doing so, I lose all resistance instantly.  Luckily, I catch it quickly and get it back up and running.  Though, it imparts a non-graphically pretty mark on my otherwise perfect intervals.

I wrap up the set and after a quick 2-minute rest interval, I dive into the next set.  At this point, I'm pretty much on auto-pilot.  Just me, strange things for sale on Pawn Stars, and a relentless trainer which doesn't budget on the wattage.
Some of you may wonder about aero-position.  I had hoped to have some pics of me and all that jazz, but despite having a 32GB card in the camera I neglected to turn-off the RAW image duplicates, so I burned through that card in just over 20 minutes…leaving you with no photos of me in the main or build sets doing aero.
As far as the gadgets go, for these sections I moved the O-Synce unit up to my desk so I could use my aerobars.  As I've noted previously, your arms pretty much wrap right around all this mess on the bars.  Obviously I wouldn't use this in a race (just the single Barfly in the center), but for capturing data in training that's fine.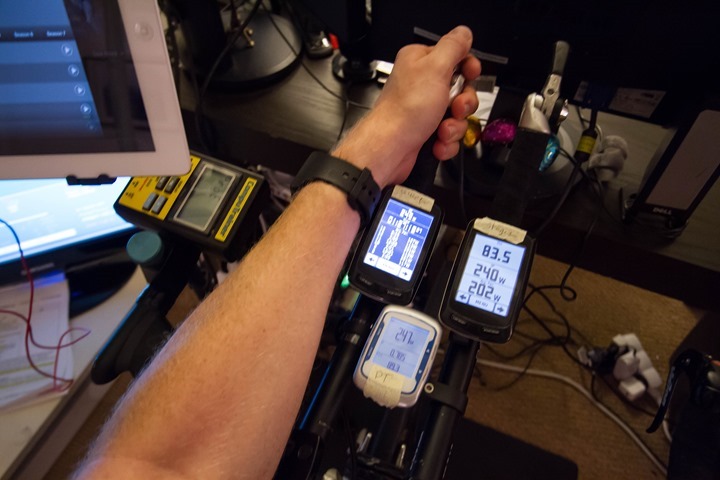 At this point I'm wrapping up my third interval, and thus far they're looking pretty darn close to each other.  Looking at the intervals, you can see they're quite close.  And you see a slight increase in average HR for each set.

Finally, with the hard parts done, I'm onto the sprints.  These are fairly straight-forward.  I have four sprints, timed to start every 2 minutes.  It's 20-seconds on at a high wattage, and then the remainder of that 2-minutes easy.  Normally I'd like these to be closer to 600w+, and instant on/off with the resistance.  But with the way I have the CompuTrainer configured to support the ANT+ power meter testing, it's difficult to do with CTANT+ because it takes so darn long to manually increase from 100w to 600w.  So it's a bit wonky.  With something like TrainerRoad I could likely eliminate this issue (note: I don't generally like using the structured workouts on either platform because it ends up being too much of a mess to maintain/create in the workout creators).  I'll investigate that for next week though.
This week, they ended up only about 550w before I had to spend 20+ seconds getting back down to 100w (so 20s button pressing + 20s at wattage and 20s desperately trying to reduce the wattage back down).  Not ideal.  It should be 100w one second, and then 600w the next. Boom.

With the sprints done, I'm in the clear.  Just five minutes of easy pedaling.  I usually set it for 100w for easy pedaling and/or any rest intervals.  Just a simple number to get to, whether on the CompuTrainer or the KICKR.
So how does the breakdown then look at the end of the workout?  Well, you can see how things are generally in one of two camps.  Either easy (around 100w), which is my initial warm-up, my cool-down, and the rest intervals (2-3 minutes), and then a bit of a gap, followed by the work intervals between in the 250-325w range.  Because of the way power meters record, you're not going to see a perfect 281w for the blocks, rather, it's going to be splattered all around those points, hence why I have three large blocks in that rough region.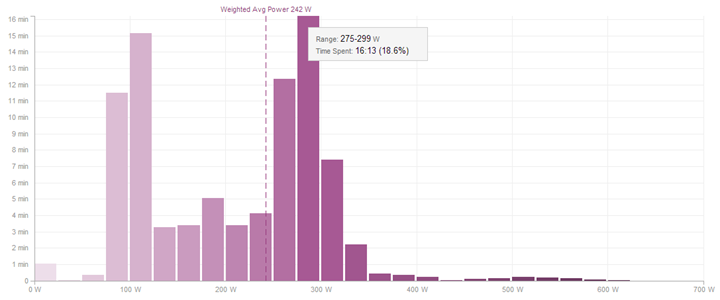 And, another way of looking at it.

With the workout done, I'm roughly on schedule time-wise to get the airport.  I had aimed to be done about 6:00AM, and given the setup and what not it's just after, at 6:05AM.
A quick shower and I'm more or less ready to go by about 6:20AM.  Plenty of time until my 8:15AM flight out of Paris Orly.  I took a couple extra minutes before leaving the house to get all the data downloaded from all the units, so I wouldn't have to drag nearly half a dozen GPS units through airport security checkpoints repeatedly for the next 4 days.
From there I headed out into the cold and still dark Paris streets.  Two days ago it would have been light out.  With our time change yesterday though, no luck.  Given the national holiday today, it's completely deserted.  Save for the newly added graffiti on the green boxes that arrived overnight.  Who tags on Easter?  No worries, it'll be gone within a few days.  The city is lightening quick in this area with removing it.
A hundred or so meters away I find taxis hanging out at the taxi stand.  I love the taxi line, always there, always taxis.  Had I a bit more time I would have just taken the train, but this early in the morning and on a holiday the schedules are sometimes funky.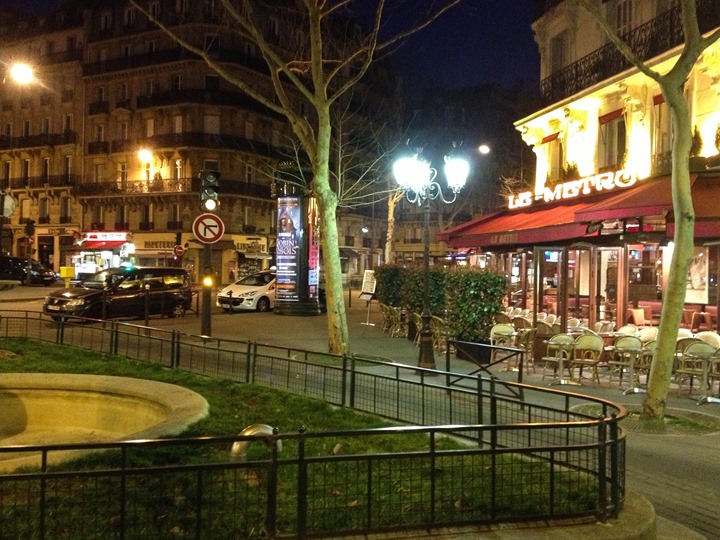 A short 20 minute ride later and I'm at the (empty) airport.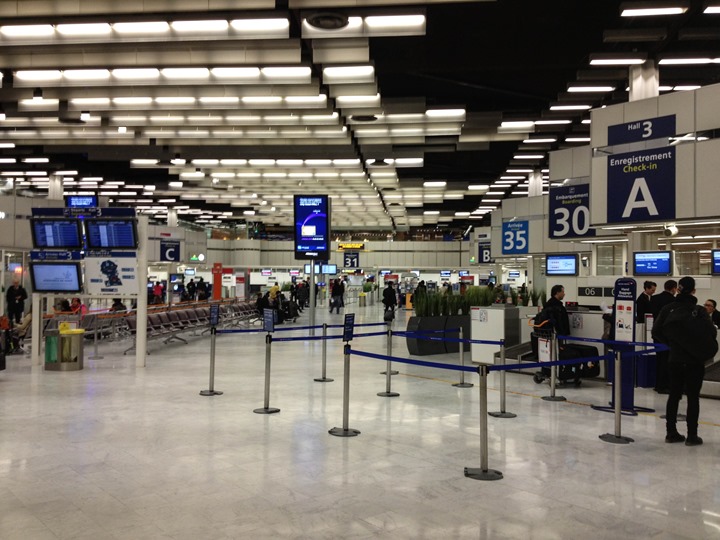 Flying in and out of Orly is like flying in and out of Washington National in DC.  Close to the city, quickly through security, and virtually no distance to walk.  From the drop-off point through customs and security to my gate it takes me roughly 4 minutes.  Beautiful.  Compared to CDG, it's more like Dulles. Generally a mess in every respect.
By 7:45AM I'm seated on my first flight of the day, a quick hop up to London before connecting on my long-haul wide body airplane.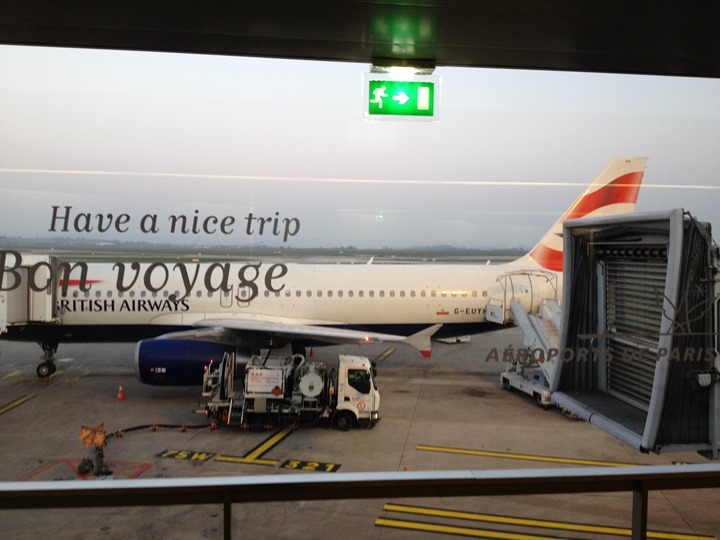 And now, I'm ready to sleep, and it's only 8:45AM.
More from my next destination tomorrow…
Thanks for reading!