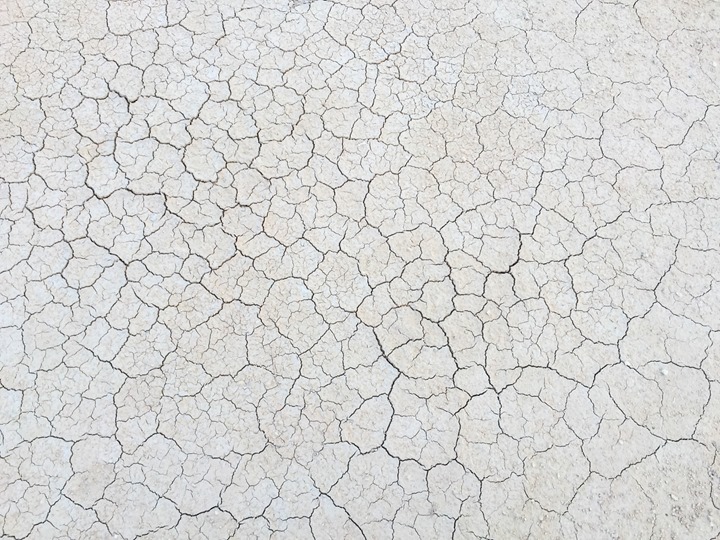 I landed in Qatar rather late Sunday night, about 11:30PM or so, making it roughly 12:30AM by time I got to the hotel.  For the super-quick geography reminder, here's where Doha is: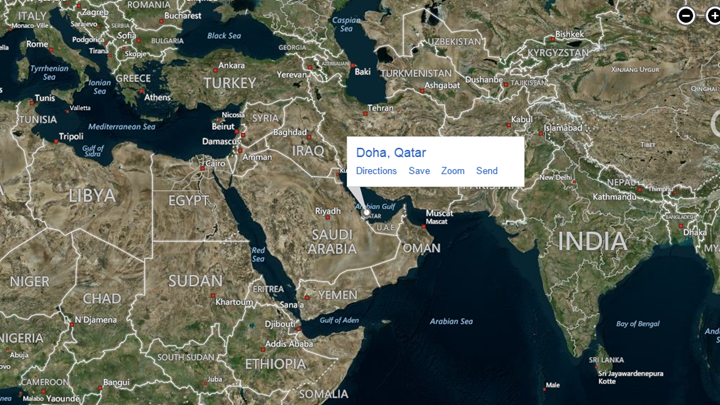 With work meetings taking up most of the daylight hours on Monday & Tuesday it wasn't until Tuesday night before my flight back home that I got a chance to head out for a run.
(Yes, I could have run at 5:11AM when sunlight burst into my hotel room windows with all the force of the flaming fireball it is…but…I'm not exactly a morning exercise person)
So instead, I went with post-work workouts.  I had some 6-7 hours to kill until my 1:40AM flight back to Paris.  I headed outside into the warm near-80°F (27°C) night.  Thankfully the wind had died down from the day prior.  On Monday it was howling out, making for a surreal sandy/dusty scene outside that morning: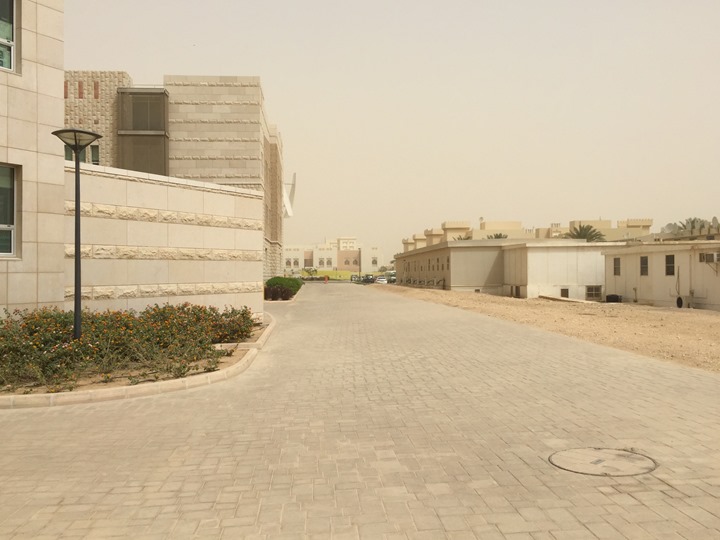 Speaking of which, that chunk of ground you see at the top is from across some dusty lot of sorts I crossed while lost in the windstorm looking for my taxi.
Anyway, back to the run. As I was saying, I headed on out of the hotel – ready to run.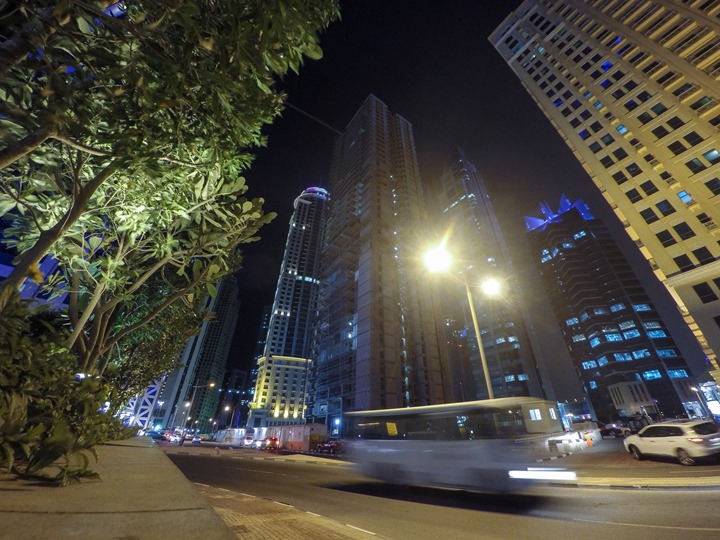 From there I went a block away and started working my way along the water.  At first it was mostly just a nice sidewalk in front of what appeared to be numerous consulates/embassies (with numerous 'Do not photograph or we'll shoot you signs').  Oddly, there were also do not swim/fish/hike signs next to them.
From there I joined into the Corniche, which is a nice long stretch of beautiful parkland along the water.  On this night, like I assume most others, it was packed with families out enjoying the evening.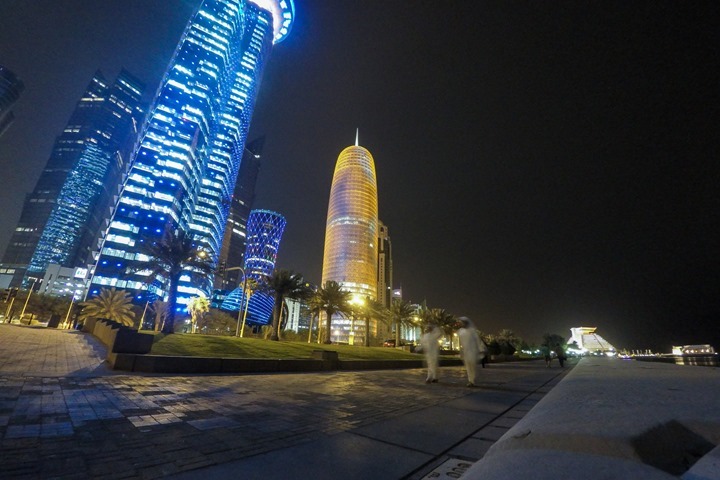 I was doing 800m repeats tonight, at a theoretical 5:45/mile pace (3:34/km).  Sometimes it worked out…sometimes not so much.  I say that it's the thought that counts.
At around the 2nd or 3rd one, I hit my turnaround point.  It afforded a nice view looking back around the bay with the city behind it.  It looks quite a bit prettier in person than the below shot makes it, given the wall sorta blocks the view.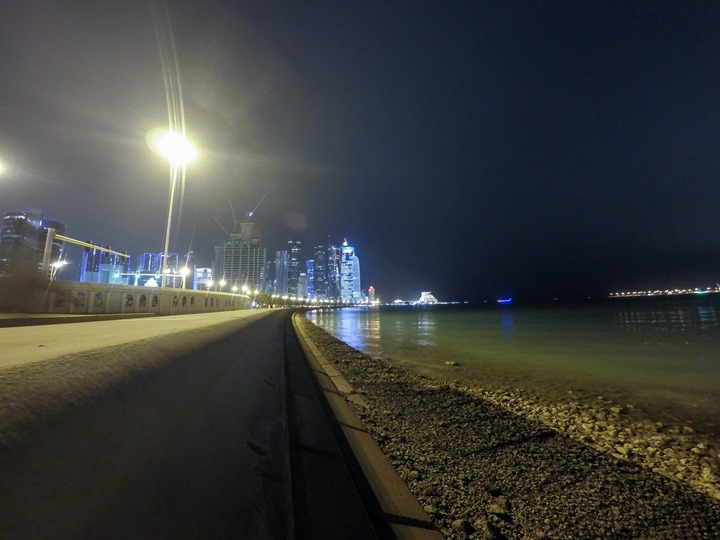 Having never been to downtown Doha before (many times through the airport however), I'm impressed with the city.  It's got the modern vibe of Dubai…without the semi-fake feeling of much of Dubai.  It's also relatively compact, compared to Dubai's 40KM never-ending city and traffic.  On the flip side…it lacks Dubai's ski resort.  Or the tallest building in the world.  But not every city can be the overachiever.
At the turnaround I worked my way back along mostly the same route – only taking one minor detour to see how far the boardwalk went.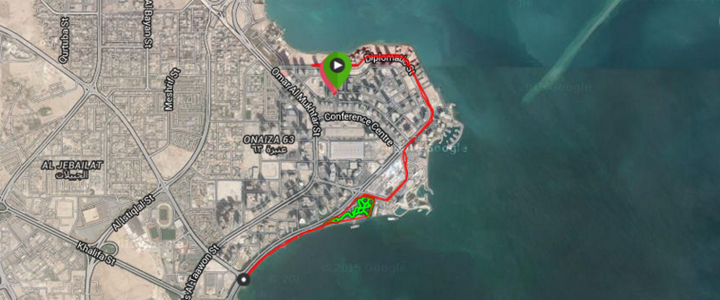 From there I finished up on a quiet stretch of semi-deserted roadway to do a handful of sprints.  I tried to capture it on the camera leaving it on the side of the road…but it never really captured anything other than a blur.  I'm just that fast.  The 'best' shot I got was when I was fairly far away, seen below.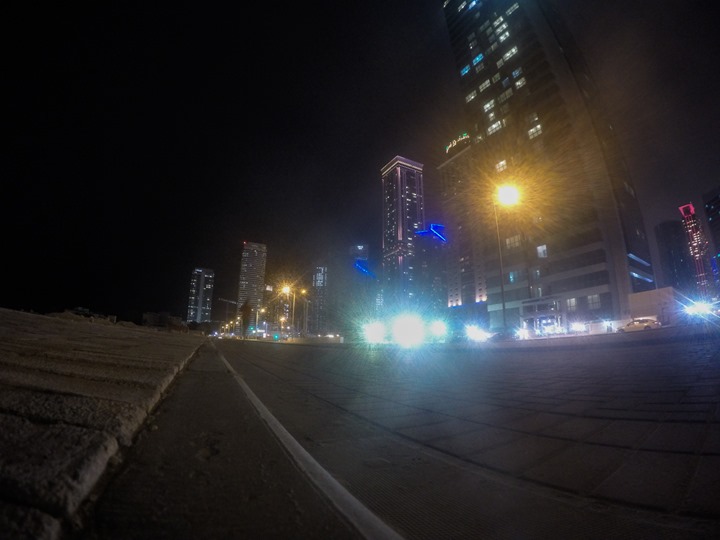 From there it was back towards the hotel into a bit of a cool-down.  I also took that opportunity to get a few more photos for a post later this week on the Recon Jet.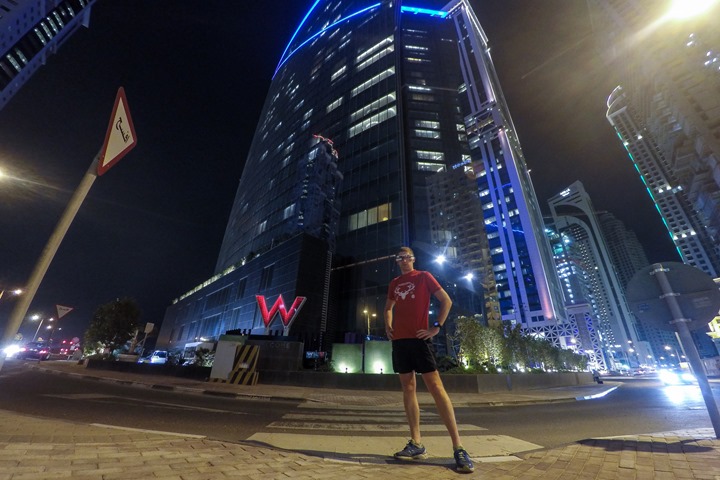 And then back into the hotel I went.  I've stayed at a number of W Hotels over the years, but I'm definitely impressed with the exterior and interior design of this one.  Pretty cool.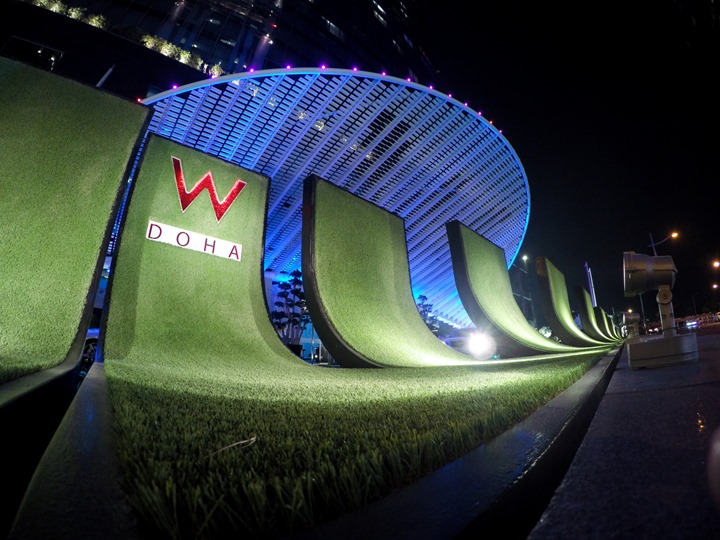 Oh, and since some are curious about my hotel allegiances…I've kinda given up there.  I used to be a Hilton/Marriott person, but then realized that there were very few benefits to be the top-tier at either of those.  So now I've become a Hilton/Marriott/Hyatt/Sheraton person with almost-top-tier status on all of them.  It works out better.  Plus, with most of my travel being international there are many cases where there simply aren't hotels of a given chain in that city that I'm travelling to.  Or, aren't hotels near where I have work stuffs.
In any case, post-run it was off to the airport for my 1:40AM flight back home.  Plus, I've got 7 whole days before my next trip!  Lots of productivity about to happen!
Thanks for reading!