After my meetings finished on Sunday, a run was in order.  Now ideally I would have done said run at 6AM on Sunday, well before my meetings.  But when my alarm went off there was lot of snooze button pushing and I was largely pretty exhausted still.  So I figured since the heat was already in the mid-upper 80's at 6AM, there wasn't much difference at 4-5PM.
Turns out that there was about a 15-20°F difference.  And not only was it over 100°F, it was also incredibly humid.  No humidity that I've felt before can match this.  Having the Red Sea all of a few meters away probably didn't help.
In any case, off on my run I went.  I started from the relatively green and lush hotel compound and quickly wandered outside.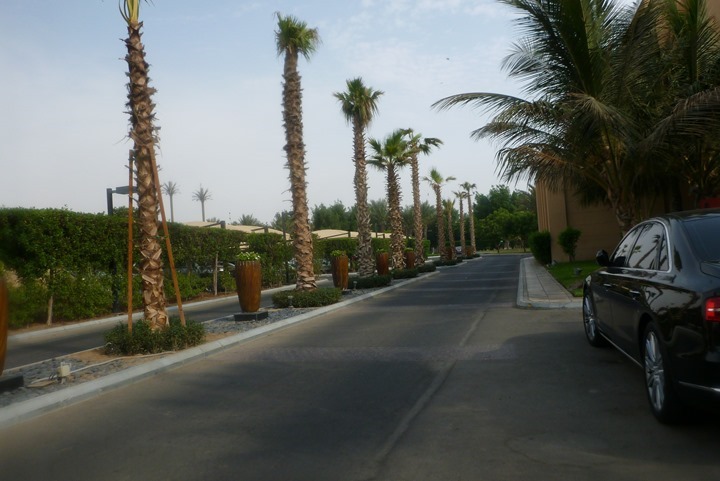 Immediately outside there was a large roundabout with a statue in it.  As you'll see, there's actually a fair amount of artwork in most roundabouts as well as along the way.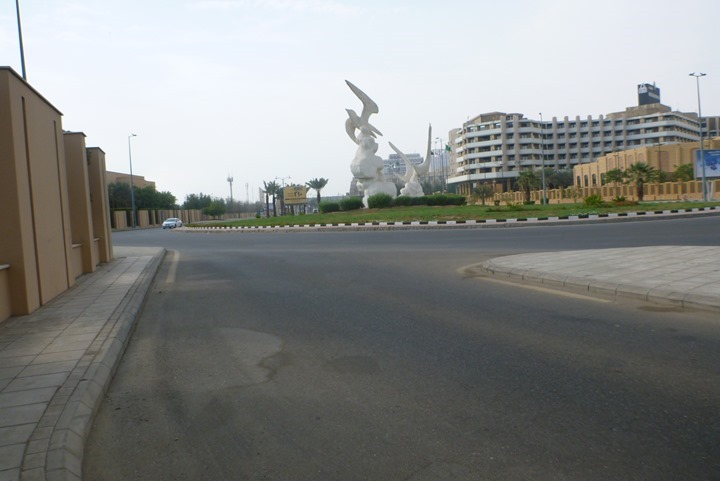 I soon joined up with a seawall and a corresponding park.  The night before as I passed this coming in from the airport this had been relatively full of families enjoying the end of the weekend.  Now however, there was only a handful of people: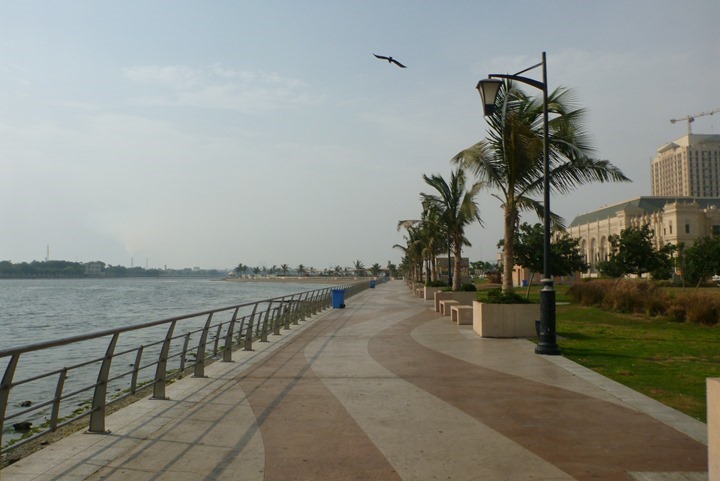 In some sections there was a bit of a beach area.  I saw a few women dipping their feet in the water here, but beyond that it was pretty empty.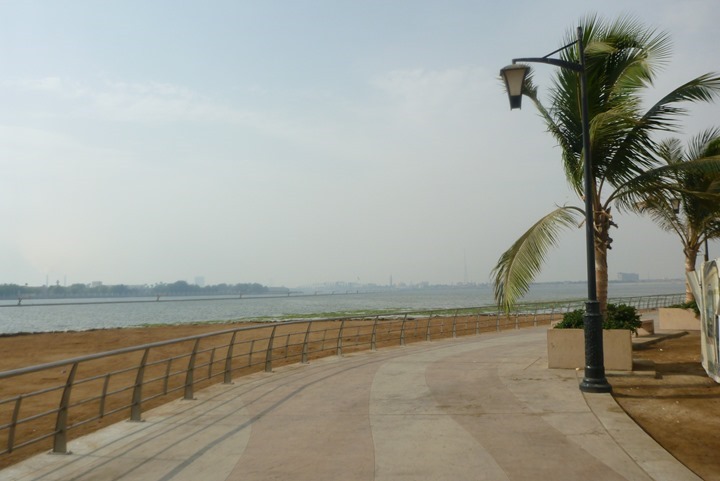 Below was one of the many works of art inside the park area.  The little strip of a park along the water was arguably the only public green space I saw anywhere around the city (at least between my hotel, the airport, and the offices I was meeting at).  Obviously the heat and desert-aspect of this area means growing anything is tricky.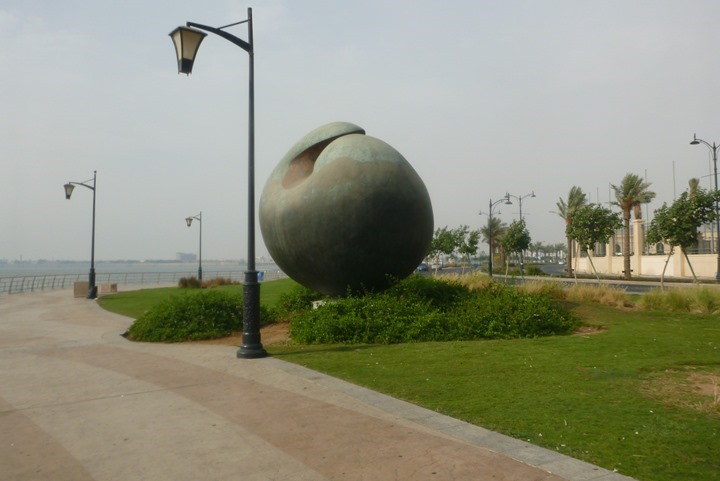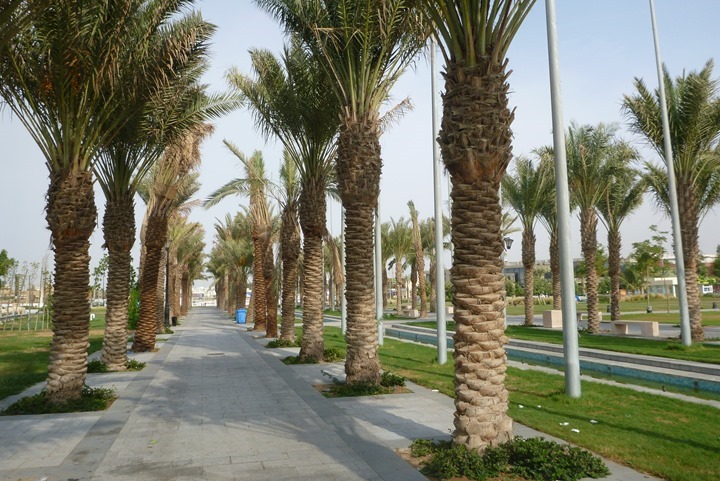 Far off in the distance you can see two white pillars, that's a huge Mosque I'd ultimately make a gradual loop around as the path passed it.  Still not many people around.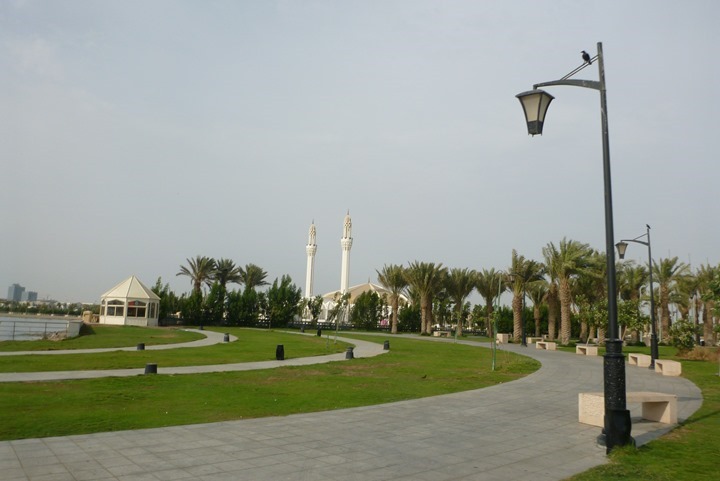 The park I was running along for the first portion was called Middle Corniche Park.  There are different sections of this park that are along various areas of the coastline.  From what I gathered from others, it's where most of the running is done in these parts.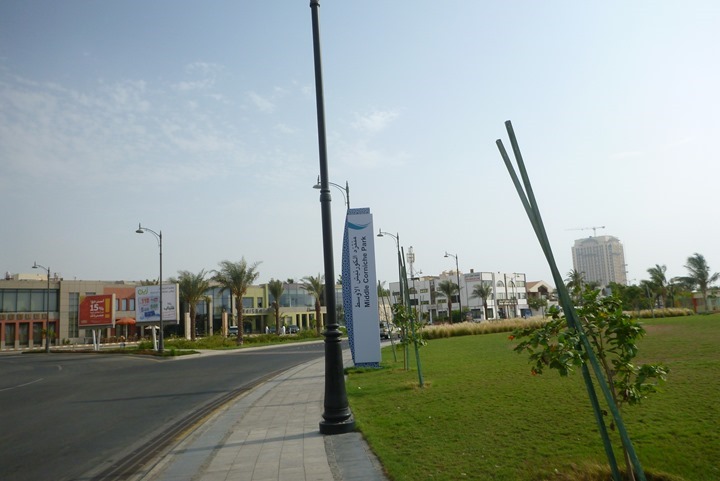 I'd soon leave the green behind though and work my way around a giant compound that was in between me and the next chunk of green.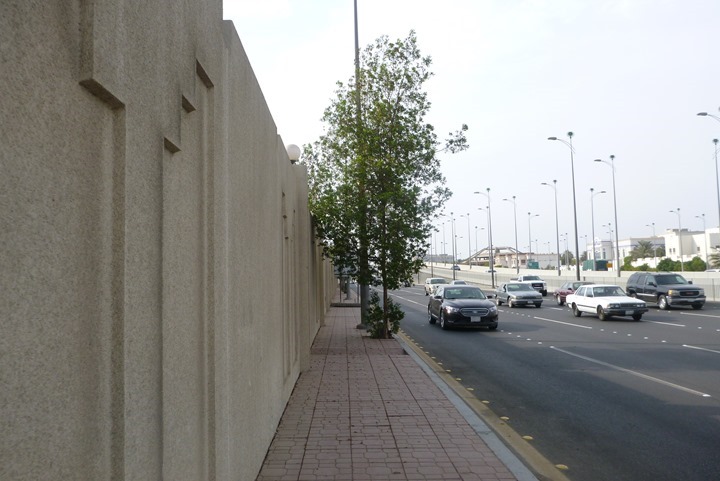 It was at this intersection that I nearly had a minor problem.  I planned to work my way around the roundabout, but it turns out that the next exit on the roundabout is also an entrance to said gigantic military compound.  Except, that wasn't terribly clear…at least until the guard started whistling at me.  Of course, I hadn't actually gone down that route yet, and just around the corner there was another guard, so I certainly wouldn't have gotten very far.  Plus, they were both friendly.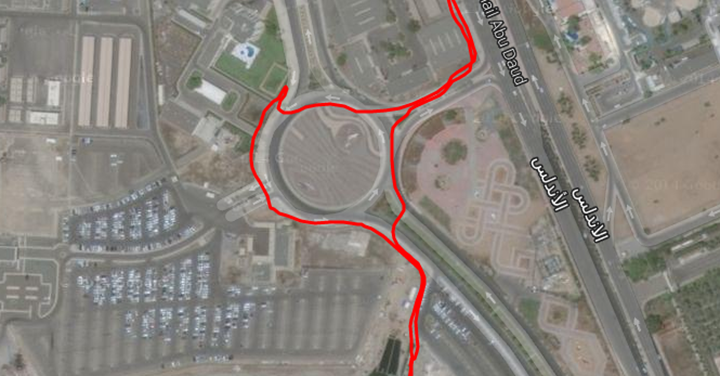 Once past the roundabout I continued along towards…nowhere.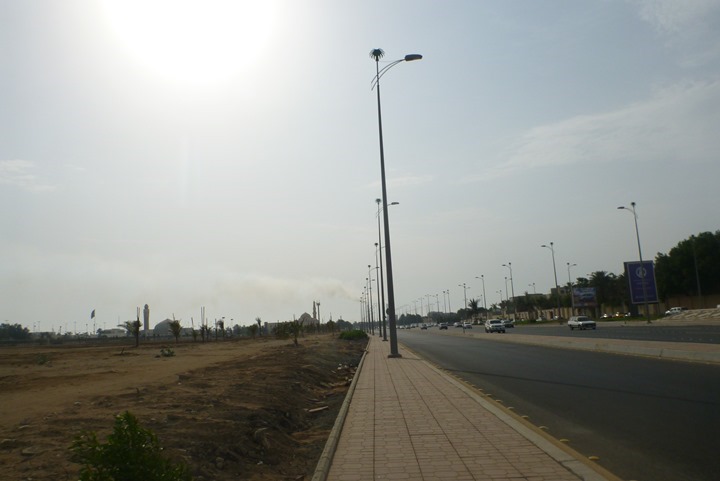 Observation: It was really hot out in nowhere.
At about this point it became obvious to my body that going for as long as I wanted to wasn't really in the deck of cards.  Since I was doing an out and back, I didn't want to get stuck too far out if things got significnatly worse.  I figured I could always tack-on time/distance nearer the hotel if need be.  So I turned around at the 5K marker and started working my way back.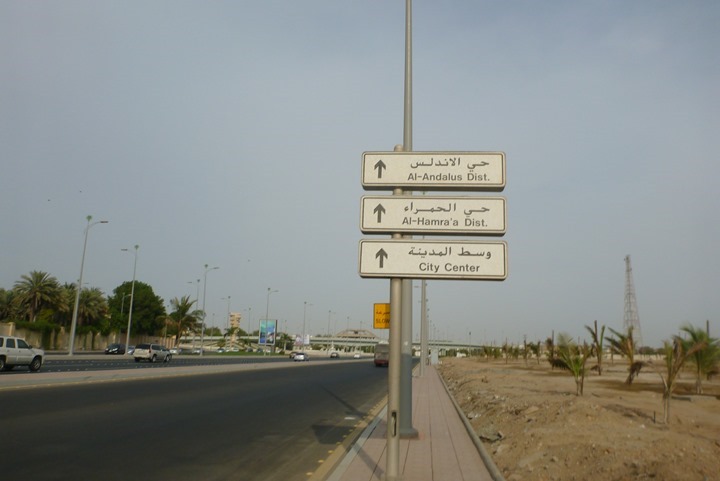 A short bit later after uneventfully passing the military compound, it was back onto the Corniche: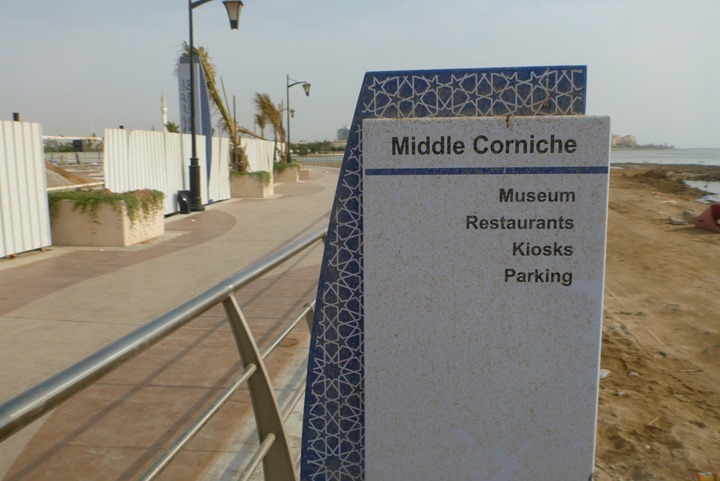 And then from here back past the beaches and the mosque before continuing my way to the hotel.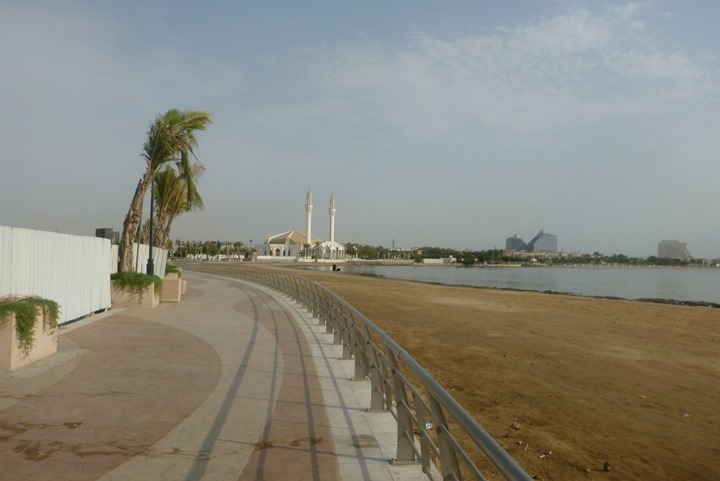 Unfortunately, two things occurred.  First, my camera just completely gave-up.  Unclear why, as it was running on a full battery.  And second, my ability to run consistently also went out the window.  The heat and humidity was definitely catching on.
How hot you ask?  Well, here's the temperature graph from the run.  Remember that it takes about 20-30 minutes for most GPS watch temperature gauges to stabilize: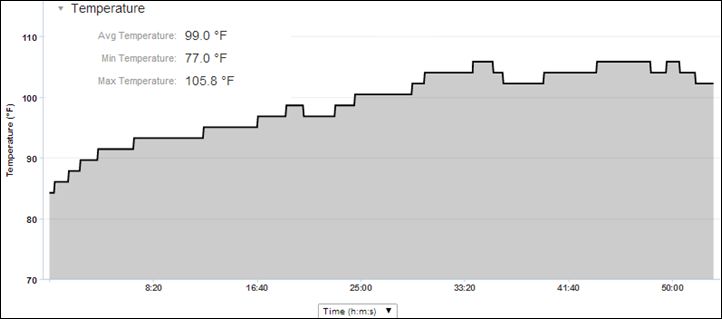 Which meant that by time I finally got back to the hotel (and grabbed my cell-phone) for a walk around the compound as a 'cool-down', I felt like this: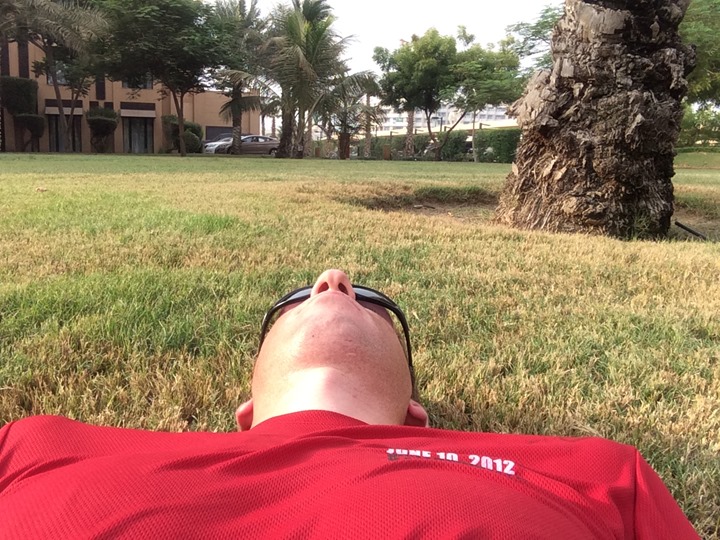 Clearly my issue was not consuming the cucumber water that they had at breakfast…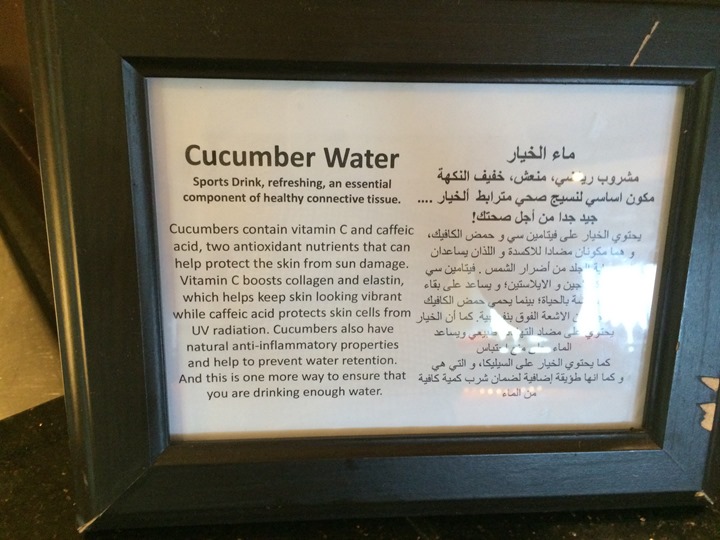 And on the bright side, by time I got back it had cooled down to a chilly 100°F: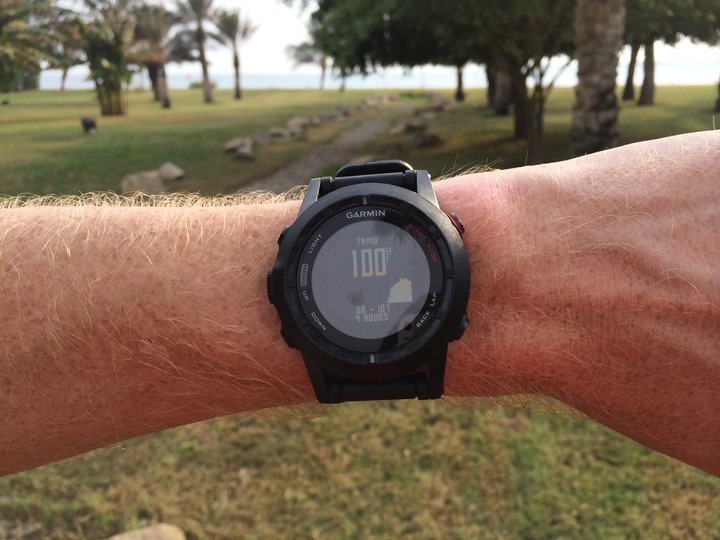 And thus, the end of my run: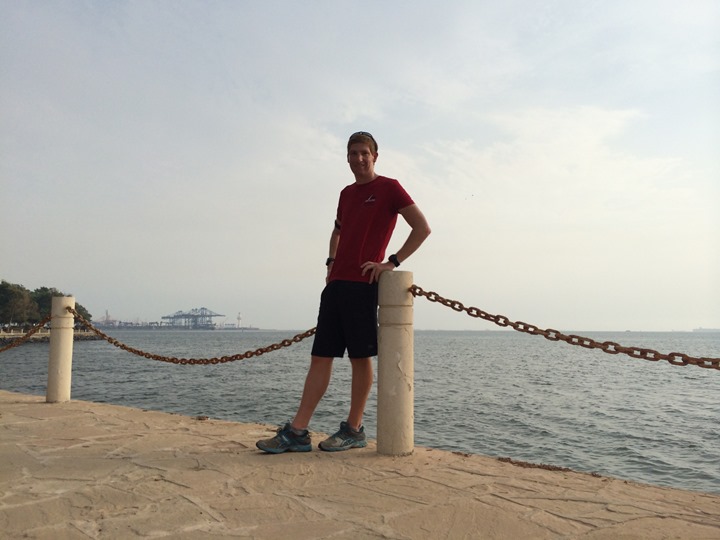 Oh – and for those curious, I actually selected a much longer pair of shorts for my run in Jeddah.  I dug through my closet looking for something that was roughly knee-length.  In consulting with both my hotel as well as another hotel's website, that seemed like I should be fine (as a male) with roughly knee-length ones versus shorter running shorts.  By 'fine', I mean avoiding an interaction with the authorities on dressing inappropriately.  Thankfully, no problems there – thus, another successful Saudi Runaround in the books.
Thanks for reading!
(Side note: Feel free to comment as always, but please let's keep any comments focused on aspects of my run, as this is not a foreign policy blog.  There are plenty of other places for that elsewhere on the interwebs.  Sound good?  Good.)