Ok, I lied in the title, it's actually six random things this time.  No worries, I think you won't mind.  Here's this week's look at our random weekend life in Paris, complete with chocolate filled rice rolls to what's under the buildings of we occupy.
1) Nutella Filled Sushi and Bowling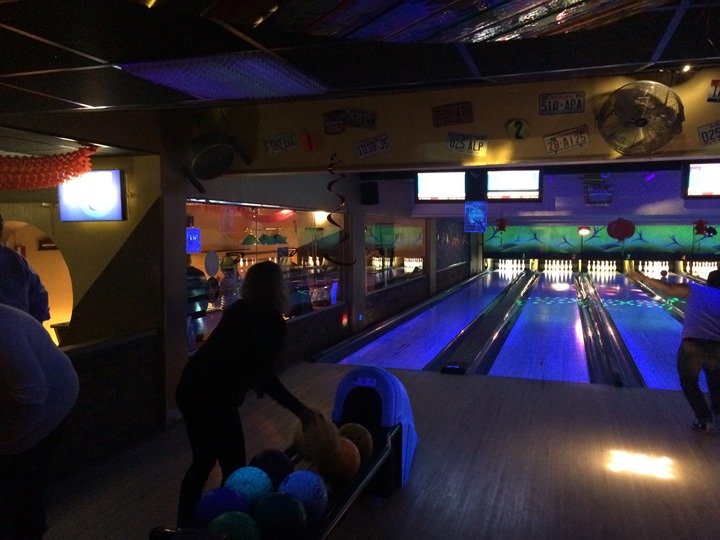 First off, when I just typed Nutella above, the blog software thought I misspelled Nutella, giving me squiggly red underlining.  The poor thing has never even heard of it. Shame.
In any case, before we get to that, there was bowling to be had.  We met up with a bunch of newfound friends for a night of bowling.  There's a well known place just up the hill from us, that's an easy Velib bike ride away (and a way more fun bike ride coming back – all downhill to our doorstep).
The place is reasonably cheap but disappointingly lacks nachos.  Yes, the chip and cheese creation. In fact, it only has two food items, both coming from a microwave – and neither of which seemed appetizing.  On the bright side, they have a bit of a combination host/announcer that dresses up like something from Lord of the Rings and hands out candy and prizes if you get a strike.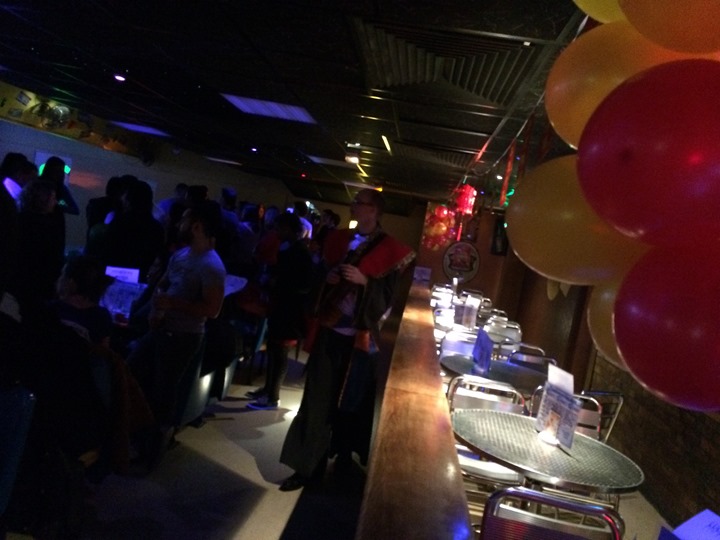 As for the sushi, we went a block or so away to our favorite sushi place.  It's not so much because the sushi is spectacular (it's just 'pretty good'), but because it's cheap and the servers there are the friendliest ladies you'll meet in Paris.
While I pretty much order the same thing each time, I happened to notice the Nutella Maki roll option this time, and decided to give it a go.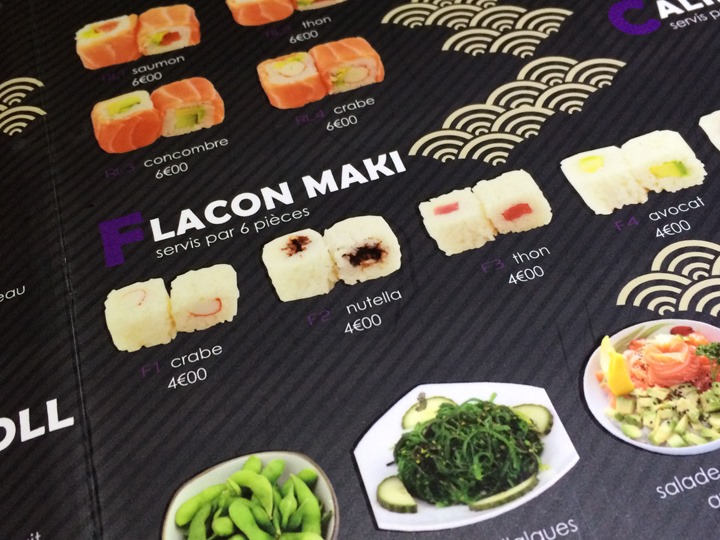 While we waited for it to arrive, one of the girls was describing another sushi nutella roll from a place across town.  The roll as she described it included a take on the Nutella-banana crepe, with bits of banana as well as a panko crust and then was deep fried.  That sounded brilliant.
Shortly thereafter, my roll arrived.  It was bad.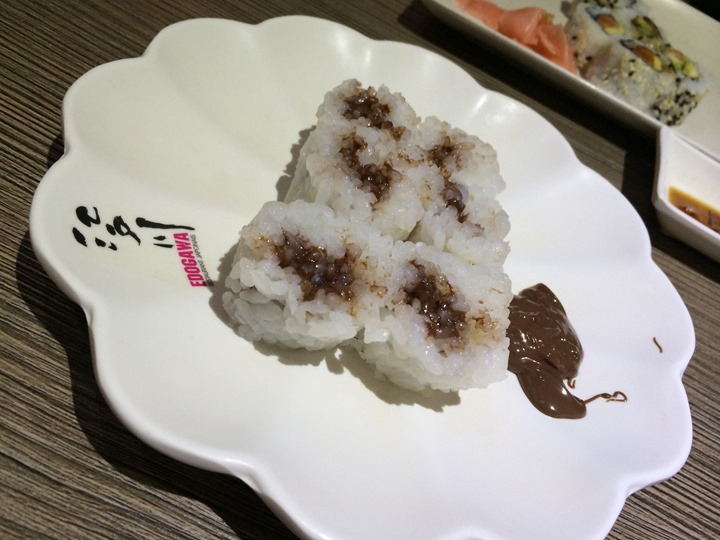 I ate about half a piece, and couldn't finish the rest.  Basically mushy rice with Nutella.  Sometimes, no matter how hard you try – Nutella can't save you.
2) Random trainer ride, and a brief observation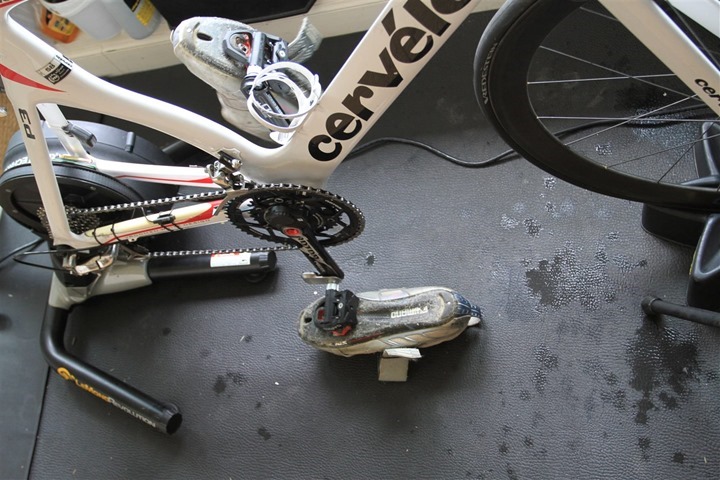 When you do enough power meter comparisons you start to notice patterns.  It's particularly easy when you have 3-4 power meters concurrently running.  Over time I've started to notice which power meters (and trainers that have power) are 'easier' to work with, and which ones require a bit more hand-holding.  By 'work with', I'm mostly referring to how easy it is to get/keep accuracy within those units.  In other words, how consistent is it from ride to ride if I were to just zero the power meter and start riding.  When I'm doing PM testing, I'm generally trying to get the PM's to agree (to the degree that they should, based on bike placement).  Thus, I'll repeatably calibrate until the darn thing acts the way it should – but I'll also call it out in a review that it's often a bit finicky.
The more I do testing, the more convinced I am that for the most part, the majority of people's power meters are generally not accurate on any given day.  It's a crap-shoot.  In doing testing with multiple PM's it's easy to figure out which PM is wrong on that day, and then quickly re-calibrate it to get it back in line.  But, how does a user do that with only one PM?  Most users can't tell by feel whether a power meter is off by only 10-15w, but that's a fairly big deal in the power meter world.
In general, I find that the PowerTap and Quarq PM's are the easiest to work with, with Vector being fairly close to that (Stages is also silly easy, but a bit harder for me to use in baseline testing).  I've gotta re-visit current Power2Max units, but that was pretty consistent as well when I last played with it (about 18 months ago).  They have offered to send me a new unit, but I'm backlogged at the moment.  I'm reserving judgment a bit on both Pioneer and ROTOR.  Anyway, food for thought, and probably something I'll consider adding to my 2014 Power Meter Recommendations guide in some sort of table format (I'd expect such a guide would come out like last year, around September).
3) Playing with my new sous vide machine – Sansaire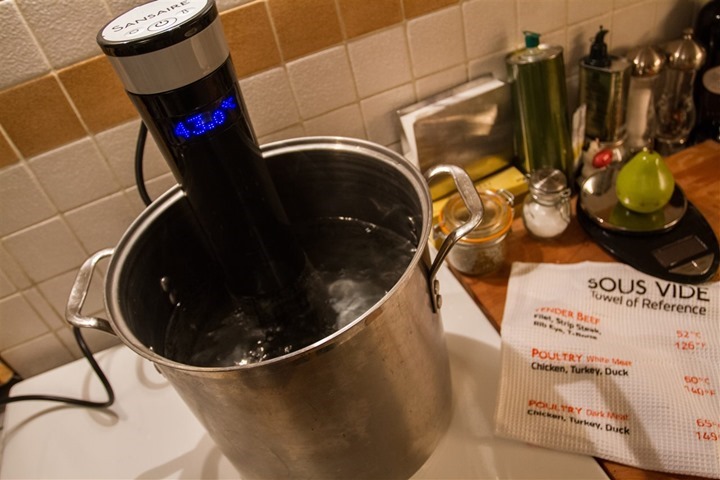 Long time readers will remember a few years ago when I built a sous vide machine following some DIY instructions.  Since then, the creator of said instructions created a for-sale unit and put it on Kickstarter last fall.  Those units started shipping a few weeks ago, and mine finally arrived.  Unfortunately, that also meant my previous little DIY creation bid farewell to our household (space is at a premium).
The new unit simply clips to the inside of a pot.  The pot doesn't have to be on a stove, it could even just sit on your countertop.  Then you swirl the top to set the desired temperature.  After which, it'll show you the current temperature (in this case, the current temperature just after I put water in it was 43.7°C).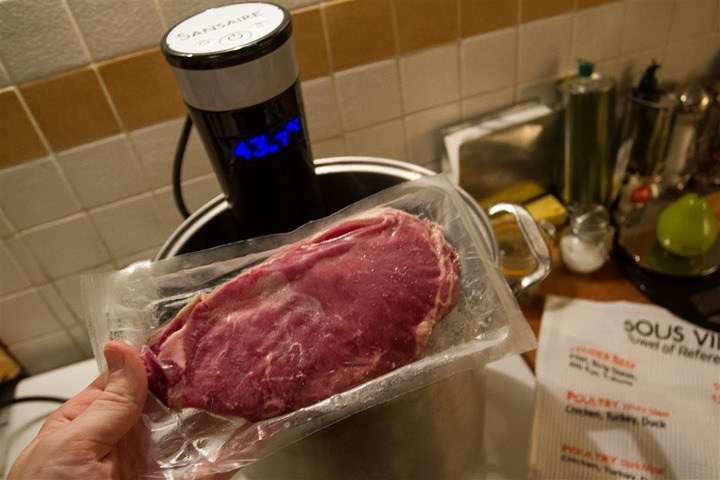 Sous vide cooking is basically using vacuum sealed bags that you put food in (often meat, and sometimes eggs) to achieve the exact same temperature across the entire piece of meat.  This ensures that if you cook the steak to a 'rare' preference, it's rare across the entire cut, rather than being rare only in the center.  Sous vide has the benefit that it's virtually impossible to overcook.  You simply drop it in the water bath and come back when you're ready.  Once done you can sear it using a hot pan, or a blowtorch.  I have a torch, but need to get gas for it.  So I just used a quick pan tonight.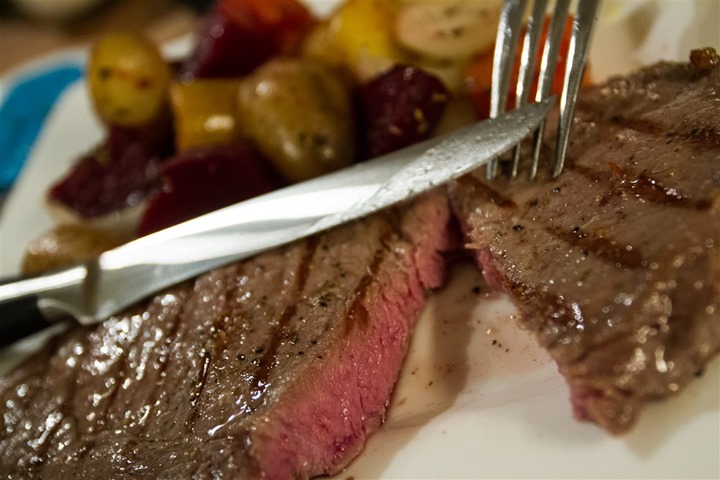 Meanwhile, The Girl cut up some beets, carrots, potatoes and onions for a simple roasted side dish.
We're lucky in that we can actually easily get pre-packaged sous vide meats here (but, we can also just do our own).  In my case, the particular steaks I had in the freezer were a bit too thin to really take advantage of, since the time to sear had to be super-short to not accidentally cook it any further.  Ideally you'd want a thicker steak.  But, it's just what I had on hand.
Oh, and the machine itself is just silly simple to use.  Overall, a good start – much more to come there.
4) A sunny 17+ mile long run on a new route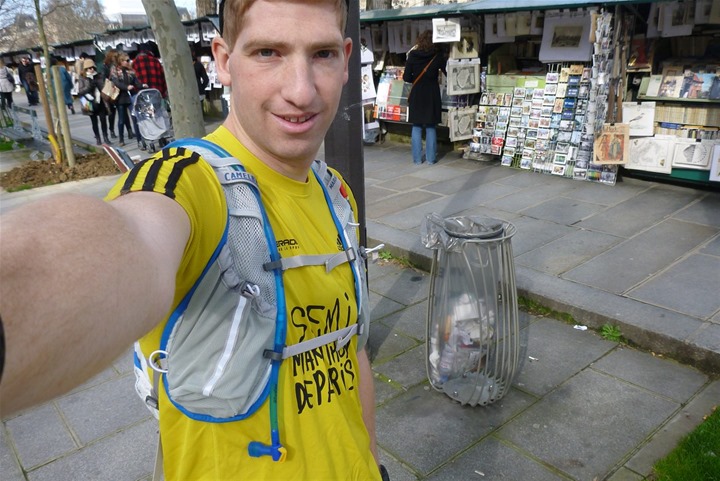 This was easily the nicest weekend of the year, beautiful sunny day that was probably close to 60°F (if not over).  Perfect for a mid-day long run.
It was also my first run with my CamelBak that I ordered, the Marathoner. I selected it because it has more pockets to stash things I'm testing (especially on the front).  And that's true, that piece of it's awesome.  What's less awesome is there are no zippered/sealed pouches like my other older CamelBak for things like cash/credit card or a phone.  Kinda disappointing.  The Girl though is going to whip something up for me there to address the shortcoming, thankfully.
A few weeks ago I shared a link to a site that had made running heat maps for a number of cities, including Paris.  On that map, I noticed some highly trafficked areas that I had never thought to run before.  So I decided for today's 2hr and 10m run I'd go give it a whirl, in this case, literally.  The route was around the perhipherique of Paris, or basically, just mirror the ring-round that loops around the city.  Generally speaking, if you're inside the ring, you're in Paris, and if you're outside the ring, you're not.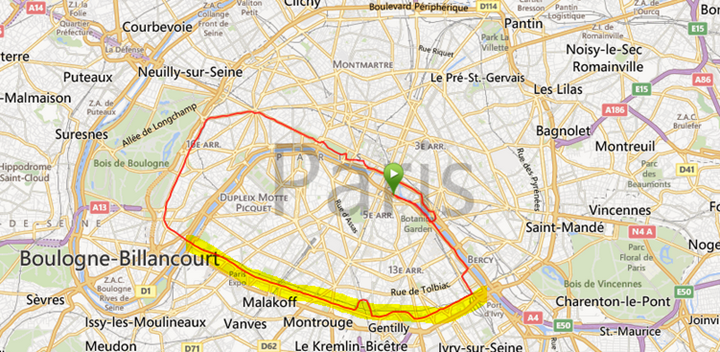 Because the entire route would take way longer to run than I had allocated, I just focused on the bottom portion for today, basically the 'left bank' of the river, with a small hop across to add a bit more mileage.  The route is silly-easy to follow, because it has a tram inside grass lanes all the way down the center of it.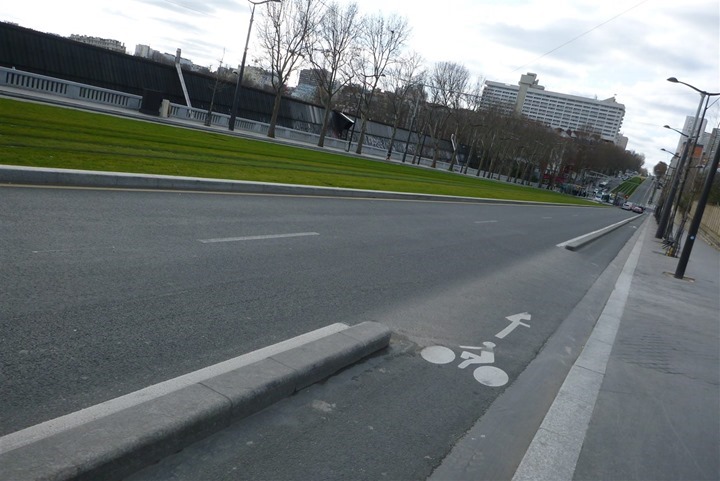 Unexpectedly however, it also had a number of up and down hills (seen above).  In fact, it was pretty much rollers the entire way around.  I took one diversion into a nearby park at the southern-most end of it.  The park was jam-packed with both runners and Parisians enjoy the blue-sky day.  There was a bit of a running loop in there, my guess is about a mile around, but it had a solid hill in the middle of it.  Would be a moose for repeats.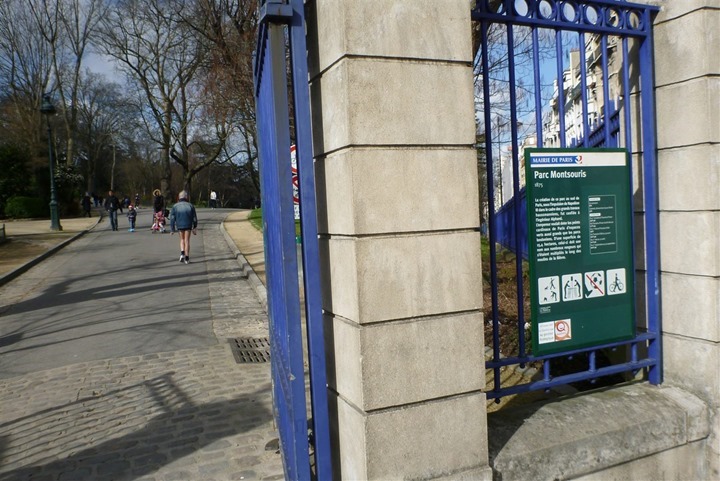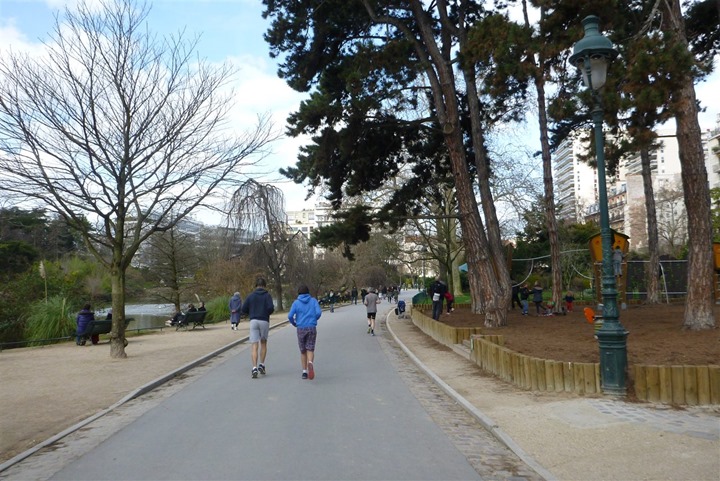 Oh, and there were ponies.  Shhh…don't tell The Girl!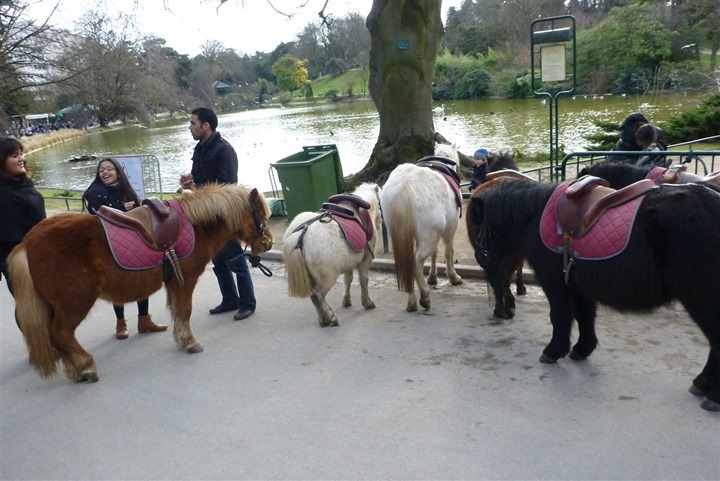 While the route from river to river (southern portion) wasn't terribly scenic, it was generally stop-free (to my surprise).  Sometimes, it was also blocked by a Sunday market (that was just wrapping up):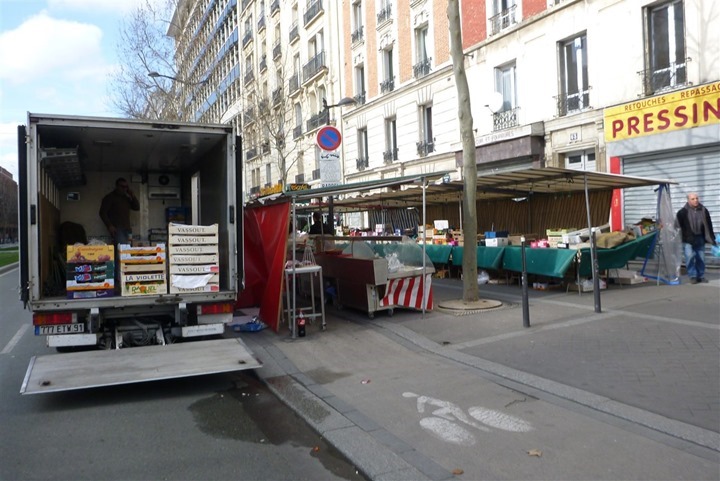 After crossing back over the river I ran up to the Arc de Triomphe, and then back through the Tulleries and Louvre before working my way to the house.  The gardens were busier than any summer day I've seen.  Unfortunately, my camera had ran out of juice about 8 miles earlier.
Overall I clocked 17.55 miles of Z2 long-run pace running in 2hrs and 10 minutes.  Good stuff.  Here's some stats: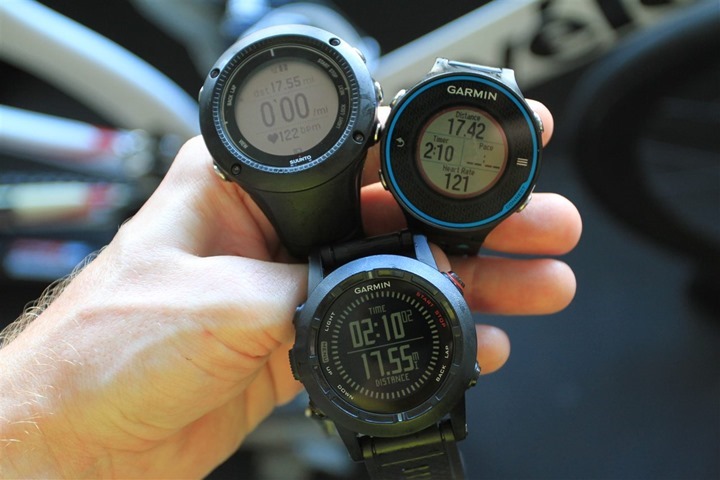 They were actually even closer until one final tunnel about a mile from the end (and about 200m long) tweaked things a bit.  Still, even 17.42 compared to 17.55 still is 99.2% to each other.  Which, is well within GPS accuracy for any consumer GPS.
5) Off to Barcelona!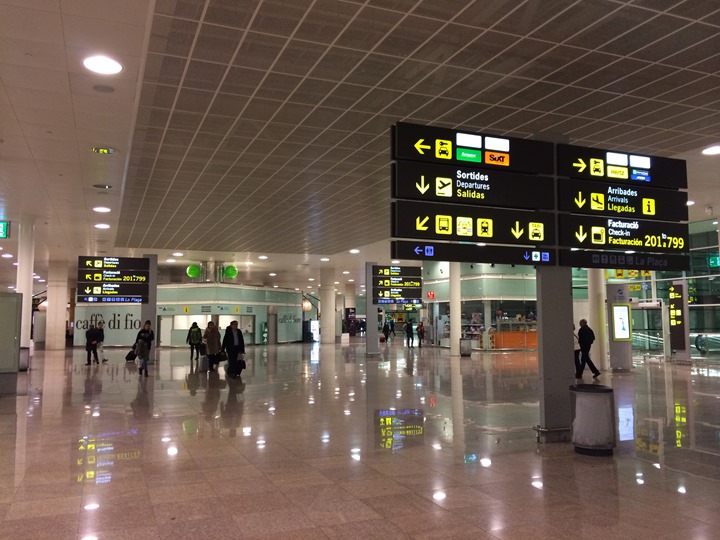 I sit here now on my flight to Barcelona, ready to begin a whirlwind day and a half in the city for Mobile World Congress 2014, accented by 1-2 openwater swims.  As noted on Friday, if you've got places you want me to check out, leave them on the comments section of that post.  I'll repeatedly check back in there during the course of the day – so if folks hear of newly announced items of interest, I'll go track them down.
6) BONUS Item: The Cave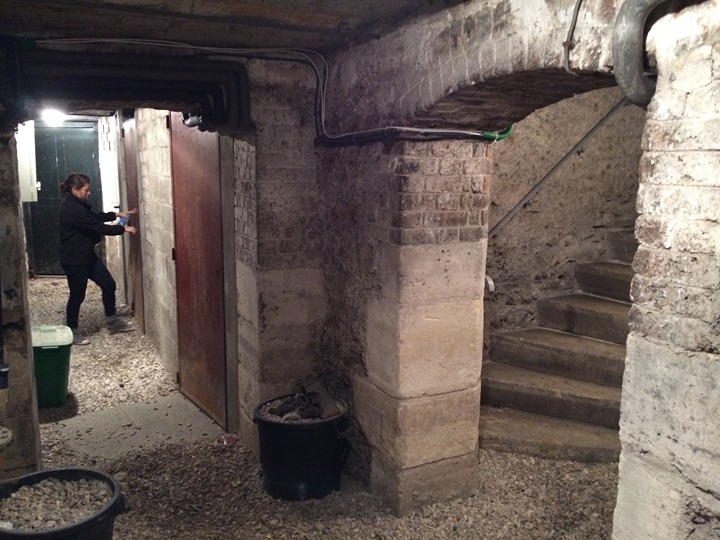 This past weekend we cleaned out and moved into a new cave for the CupCakery.  In France, the 'cave' as it is known, is simply what most Americans might call a cellar.  It's a bit different though in that most buildings in Paris have caves, but you don't have private access to it like a basement.  Instead, it's more like self-serve storage.  The quality of the caves vary widely.
For example, below the CupCakery itself we actually have access to a huge cave there (about double the size of the shop itself). But, it's not usable because drainage is poor and it's fairly damp and space isn't properly secured.  Thus, we've been using one in the building next door at street level.  Now, we've moved into a new cave a block away.  This one is beautiful downstairs – very clean (as far as caves go), and tons of space.  The space of this particular cave is about 2m by 4m (6ft by 12ft).
But what do we put there?  Boxes.  Simply boxes.  As business has increased, we needed more storage space for incoming pallets of boxes and bags.  Thousands upon thousands of boxes (all of which The Girl and I will have to carry down one liftable chunk at a time).
And there's also holiday decorations.  Definitely nothing edible. Everything is sealed up in giant Rubbermaid containers.
—
With that – thanks for reading!  Have a great week ahead!