This morning, Stages Cycling announced a new crank-based power meter, StageONE, which will be available for $699US.  The power meter includes both ANT+ and Bluetooth Low Energy (BTLE/BLE/Bluetooth Smart), allowing you to connect to any of the ANT+ power meter heads out on the market today, as well as all of the phone based Bluetooth Smart phone apps and devices coming down the line.
Back at Eurobike three weeks ago I had the change to sit down with the guys behind the power meter and gets a brief hands-on peek at the unit.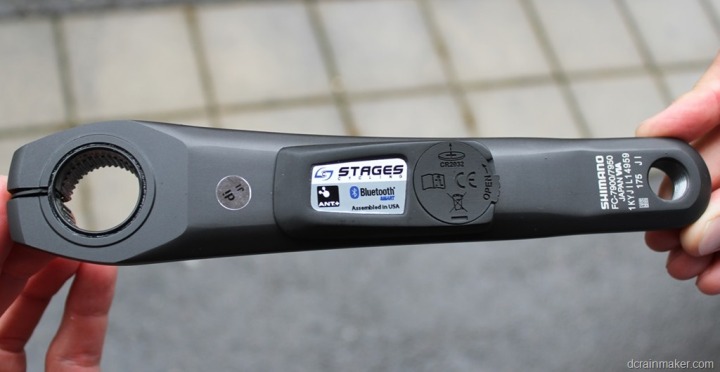 As you can see above, the unit is literally on the crank arm, specifically, the left crank (the riders left crank).  This is different from most "crank based" power meters that typically measure closer to/around the spider of the right side of the crank.
From an implementation standpoint this is substantial because it doesn't require a specific chaining setup, nor specific pedals or wheels.  Meaning that you can move it from bike to bike as long as you have the same and/or compatible cranks.
Interestingly, this isn't terribly different from the measurement point of the Pioneer power meter I wrote about at Eurobike.  With the Pioneer, they are measuring across both crank arms (to gather individual left/right power), whereas the StageONE measures it in one location (thus total).  The Pioneer though has a significantly more complex installation situation though, which mandates a person go through Pioneer's training program to install it.  I thought it was interesting that in StageONE's official press material, they seemed to subtly call it out and poke at this "No wires, magnets, zip-ties or additional mounted hardware".  The magnet reference though is tied to the lack of magnet needed for cadence, which is commonplace in today's crank based power meters.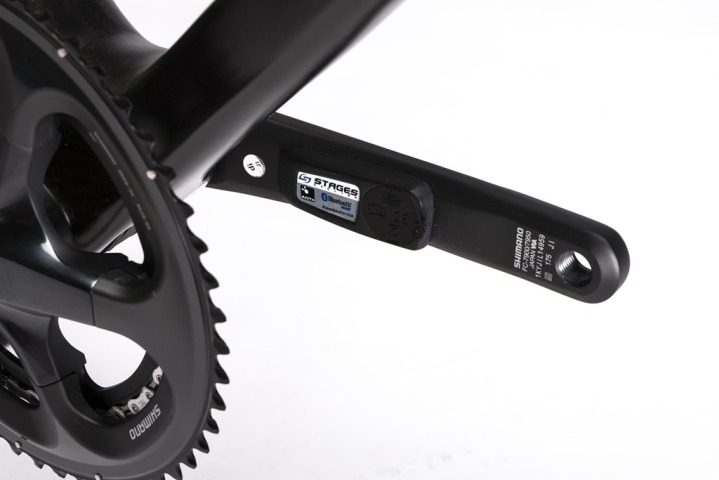 The unit will however require specific crank types, which means that you have to either purchase a compatible crank, or already have a compatible crank.  Below are the compatible cranks/arms, and the prices.  Note there are two prices – one for just the power meter (if you already have said crank), and one for the full left/right crank kit (including power meter).  The sealed extra pod that attaches to the crank arm adds 20g of weight to that of a normal crank.
Shimano Products:
Shimano Dura-Ace 9000, $949 power meter, $1,399 complete crank
Shimano Dura-Ace 7900, $899 power meter, $1,299 complete crank
Shimano Ultegra, $799 power meter, $1,099 complete crank
Shimano 105, $699 power meter, $899 complete crank
Shimano Dura-Ace Track, $899 power meter
Shimano XTR, $899 power meter, $1,299 complete crank
Shimano XT, $799 power meter, $1,099 complete crank
Shimano Saint, $899 (only available as a power meter)
Shimano DXR, $899 (only available as a power meter)
SRAM Products:
SRAM X9 GXP, $699 power meter, $899 complete crank (Compatible with X7, X9, X0, XX [166 Q model], and many Truvativ models]
SRAM X9 BB30, $699 power meter, $949 complete crank
SRAM Rival OCT GXP, $699 power meter, $899 complete crank
(Compatible with Apex, Rival, Force, Red, Truvativ Omnium (track), and many other Truvativ models)
Cannondale BB30 Products (all Cannondale pricing still TBD):
Cannondale Hollowgram SI SL (pre 2012, road/mtn power meter only)
Cannondale Hollowgram SI SL2 road
Cannondale Hollowgram SI SL2 mountain
Cannondale Hollowgram SI road
Cannondale Hollowgram SI mountain
In total, they are offering 14 specific models.  Which, if you had a bit of time on your hands and wanted to lay them all out – would look like the below.  First are the road bike variants:
Then the mountain bike variants: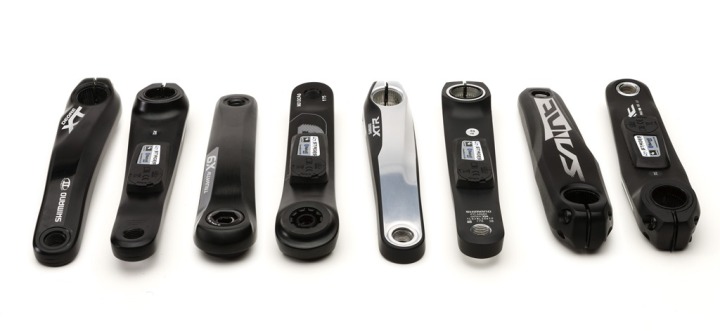 Despite measuring on one side (left), the unit does correctly give you total power by taking the left power and applying an algorithm to determine total power.  If you compare it to spider based power meters, that is measured at the spider, which takes into account force from both cranks.  Note however that none of the left/right crank based power meters currently available on the market today however independently measure left/right power.  They all estimate it.  The only direct force power meter today on the market that separately measures left/right power is the Polar/Look pedal based power meter.  There are crank based units coming down the line next year that will measure it independently (i.e. the ROTOR system).
The accuracy of the unit is advertised to be within +/-2%.  The unit includes temperature compensation to protect against drift due to temperature.  It also supports a standard zero offset done ahead of riding.  They are not however at this time opening up the unit to do any form of static load test or manual calibration.  Though, they left open the possibility for that to change.
Here's a quick blip by them on the temperature compensation component:
"The StageONE power meter uses a thermistor to actively compensate for temperature changes during the use of the power meter. The StageONE uses factory calibration points to plot a linear power slope. A pre-ride zero reset serves as a starting point for the ride's power calibration. The thermistor active temperature compensation will move that slope based on ongoing environmental temperature readings to maintain consistent power values as the ambient environmental temperature changes. Furthermore, we match the thermal properties of the StageONE power meter's strain gage to the base crank, thus the crank and gage's properties are affected similarly by external temperature."
While the unit measures only on the left side, it uses a "mathematical algorithm" to determine power across the entire system.  It remains to be seen how different the values from the StageONE compare to something further downstream in the system (i.e. a PowerTap at the hub). That's one area I'm looking forward to testing.  Once I have a unit, I'll be able to provide concurrent power data accuracy tests from this, a PowerTap, and a CompuTrainer (three total streams).  One would suppose down the road you could also add a pedal or cleat based power meter as well.
Included in some of the material I received this weekend was the below comparison between themselves and a competitor (crank-based).  Of course, once a unit lands in my hands – I'll be doing some detailed accuracy testing against other power meters.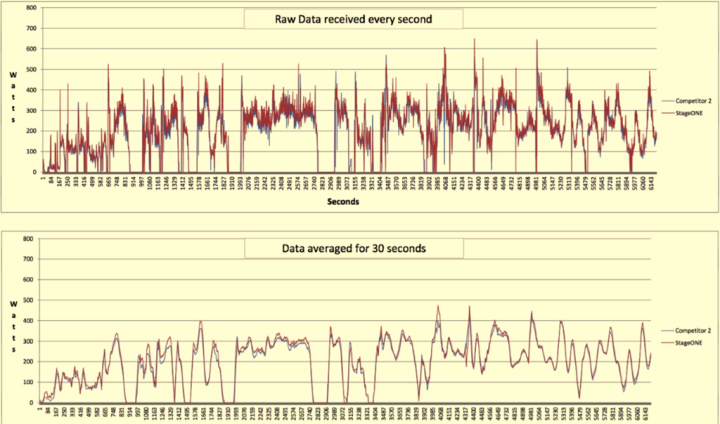 As noted earlier, the unit does not require a magnet to obtain cadence, and instead includes an accelerometer to determine cadence.
The power meter is powered via a standard CR2032 battery, and gets about 200 hours of life on the single coin cell battery.  This is the same battery used on just about every other ANT+ device out there today in the market and typically costs about $3-5 to replace.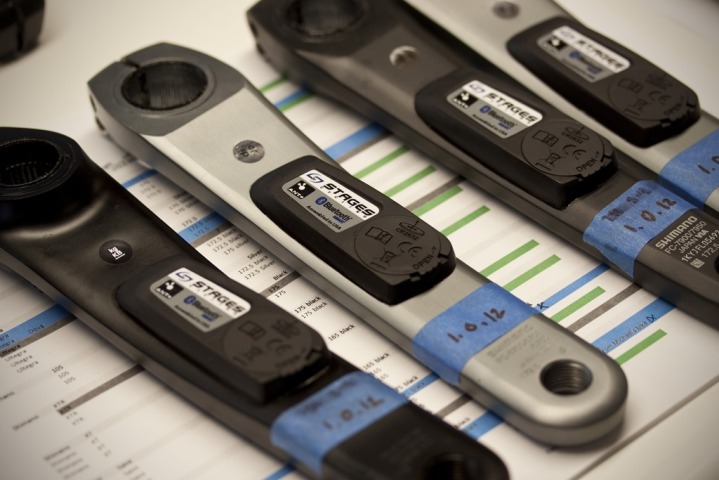 The unit transmits both on Bluetooth Smart as well as ANT+.  This is huge in that it's the first power meter to do so and gives you complete choice and flexibility when it comes to head units.
The Stages Cycling team worked with Wahoo Fitness on the Bluetooth Smart components, to ensure that they appear identically to that these components report and display power in the same way as the Wahoo Fitness KICKR trainer, as well as the Kurt Kinetic inRIDE trainer accessory.  All of these devices adhere to the nearly standardized Bluetooth Smart power meter device profile, as well as the long standardized ANT+ power meter device profile.  This is an important distinction, compared to something like the Velocomputer Bluetooth Smart power meter, which is not following these standards and requires specific apps to be written for it.
With the standardized units, you can hook it up to any app that follows the published device standards.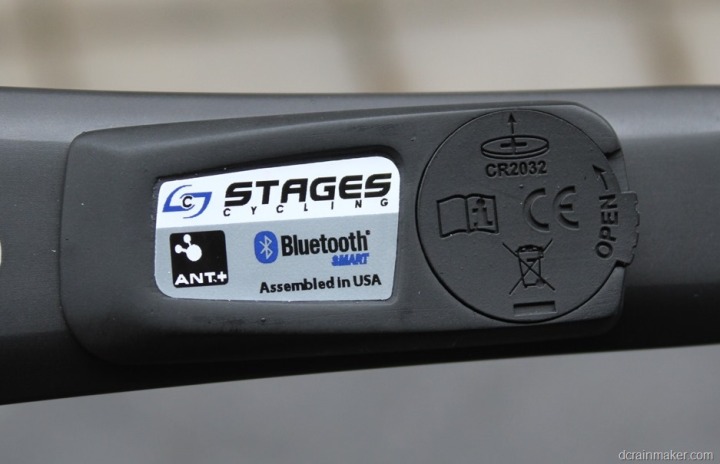 The unit also supports wireless firmware updates, which has become commonplace in today's cycling accessory market.
And finally, they'll be introducing a power meter protection plan.  This is now the second company I've seen to offer/advertise such a plan (after Power2Max announced them at Eurobike), which enables you effectively buy insurance against accidental damage protection.  The prices are directly tied to whether the power meter component you bought was $899/$799/$699, with the corresponding cost for the protection plan at $135/$125/$105.  In other words, $105 for two years of accidental protection against crashes/etc.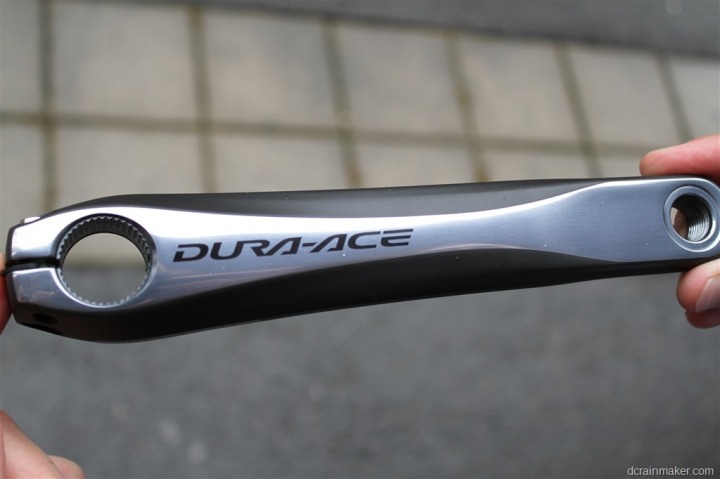 The units will start shipping in January 2013.
Once the Interbike convention show floor opens up on Wednesday morning I'll be swinging by where they've invited me over to get on a bike and give it a shot in person.  Look for this post to be updated with additional hands-on thoughts with it actually attached to a bike.  In the meantime, here's a massive gallery of photos they sent over (PR supplied).  I'll put together a different gallery once I get more hand-on time.  The photos above with the watermark are ones I took at Eurobike.
Interbike 2012 Update:
I've gone through all of the questions and sat down with the Stages team and had them answer every last one.  I think we got them all covered.
In addition, I took shots of everything else I could find in their booth and placed it in another gallery below for your browsing.  Enjoy!
As always, if you have any questions, feel free to drop them below.  Thanks for reading!