Every year at Interbike one of the coolest non-showfloor events to head up to see CrossVegas, which is a huge Cyclocross event that takes place on Wednesday evening – about a 15 or so minute drive from the Las Vegas Strip.
I've gone in the past, and it's a blast.  Last time I took a ton of photos (and video), which you may want to check out if you're looking for an introduction into the sport.  Essentially it's like a combination of road bikes mixed with offroad terrain mixed with a touch of running and hurdling.  Sorta.
For tonight though, I just enjoyed a relaxing evening walking around the massive staked out course – which is laid out over a huge local park/field area.  It's not all pancake flats though, in fact, there's both man made and natural hills – as well as obstacles barriers to run over.
First up though, warming up.  This is a big time event, attracting teams and groups with full on team trucks/vans/vehicles.  Below, the men warming up on a long string of identical trainers.  The women were just finishing when I arrived, so I unfortunately missed most of their race.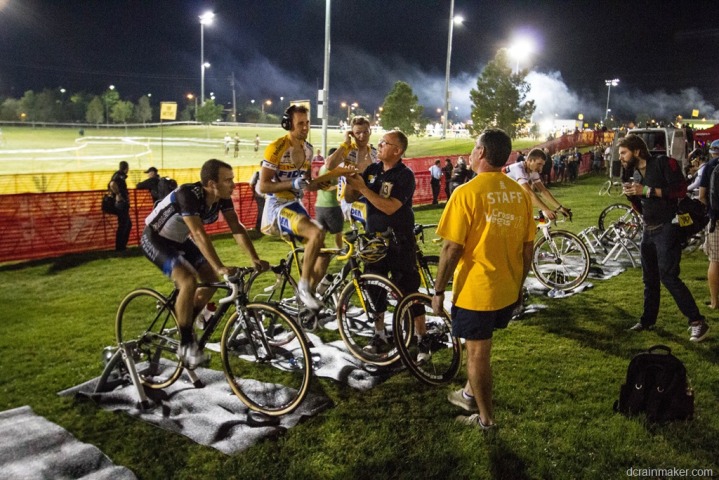 Here we are about 15-20 minutes later at the start of the race.  Tons of media around snapping off photos of cyclocross stars as they prepare for the start of the race.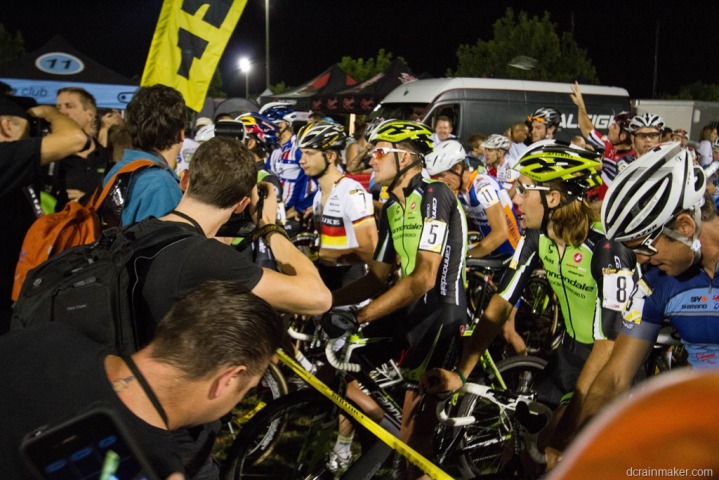 I staged myself a few dozen meters downstream from the start and waited for the gun to go off.  Within seconds the pack was moving at breakneck speeds. Amazing how fast they were cooking.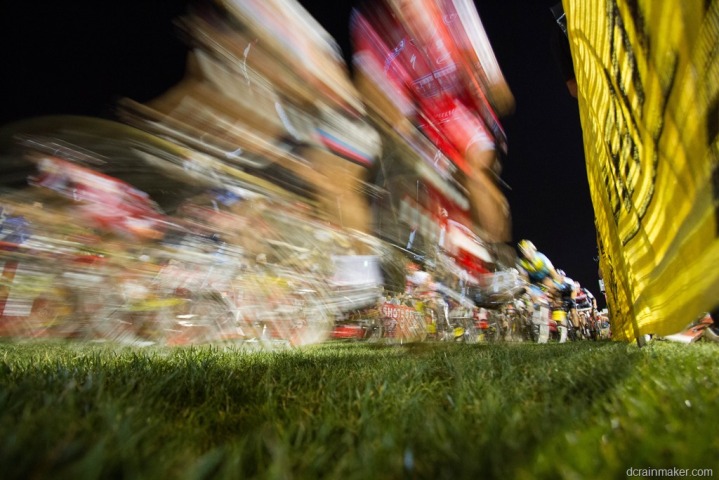 The course includes a under-over wooden platform.  The racers cycled towards me, and then looped around like a highway onramp behind me, up to the ramp itself.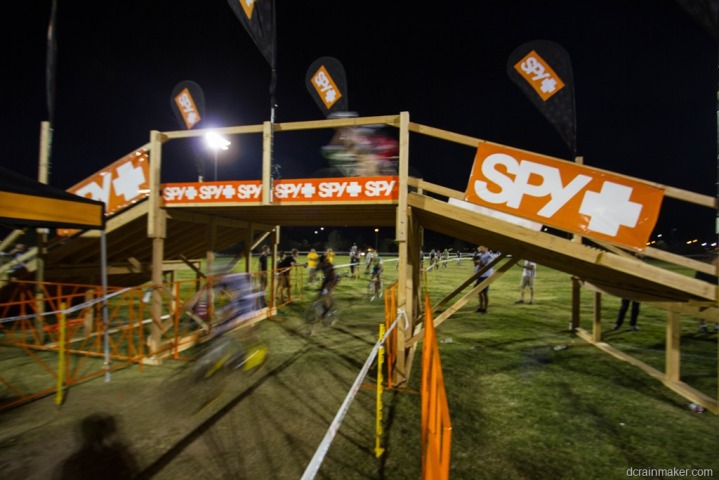 You can see them heading up the wooden ramp here.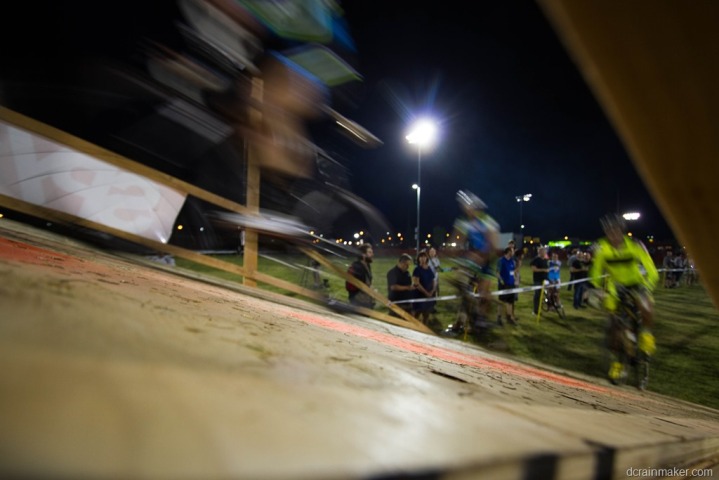 Depending on how far back in the pack you were, you had more liberty with the stunts you pulled off going over the top of the ramp.  This guy was a wee bit further back, but put on a nice show.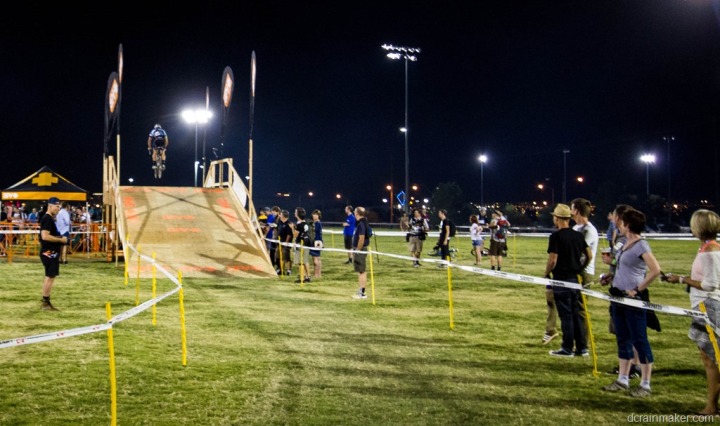 As I noted last time I wrote a post up on the event, part of the allure of cyclocross is the party atmosphere of it all.  In the background of this photo below are sponsor booths lining the course, all of which are providing a steady stream of complimentary alcoholic beverages.  There were even some Mardi Gras style beads out there…and a guy dressed as Swamp Thing.
Meanwhile, tons of folks around the course hold out single dollar bills and the riders try and nab them.  Typically this isn't the lead pack riders doing the pickups.  Most of the athletes that partake (guys and gals) then take the bills and just slip them under the leg of their bike shorts for safe keeping.  I'd love to know what a skilled money grabbing cyclist could pull in during a night here…as there was a lot of cash being handed out.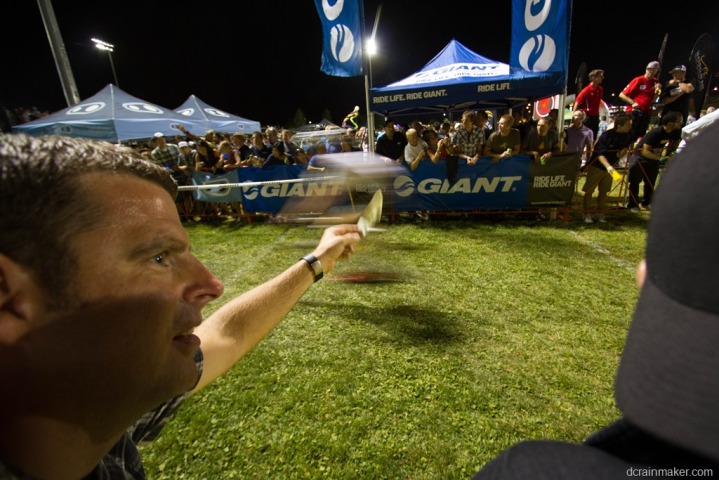 Just to the left of the above photo, are obstacles, which can be seen below.  You can choose whether to get off your bike and run over them, or to try and bunny hop them.  Sometimes the hop works out…and other times, not so much.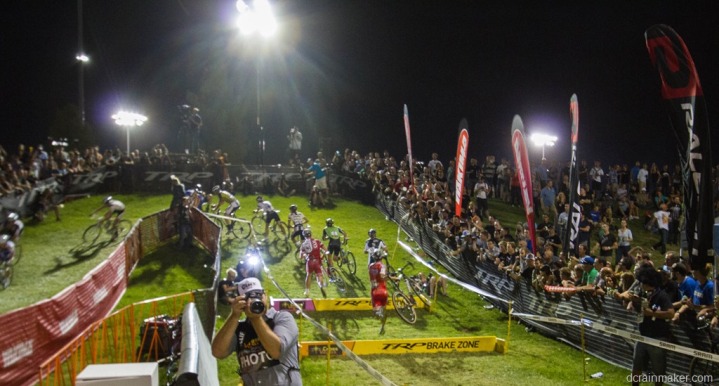 It doesn't take long after the turnaround point beyond the obstacles for the guys to be screaming fast again on the bikes.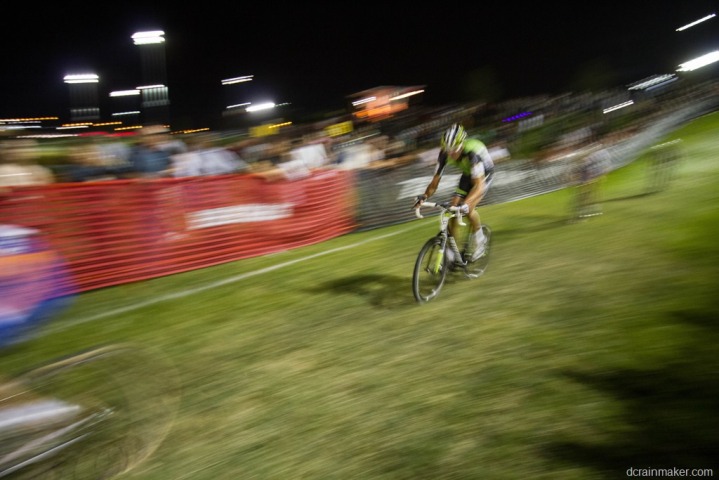 During the event, there's an announcer giving the play-by-play, which is broadcast throughout the park.  This same play-by-play is also broadcast online live, along with video.  Pretty cool.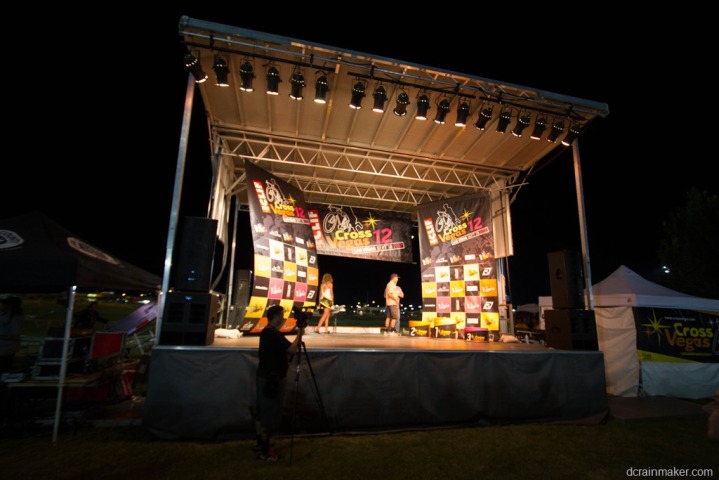 The whole event lasts about an hour, with the competitors doing nonstop loops around the massive course during this timeframe.
At around 10:30PM, the elite men wrap up – completing a string of races that started much earlier in the day.  You'll see a number of guys further back in the pack cruising on in for quite a while however.  It doesn't end in just a minute or two.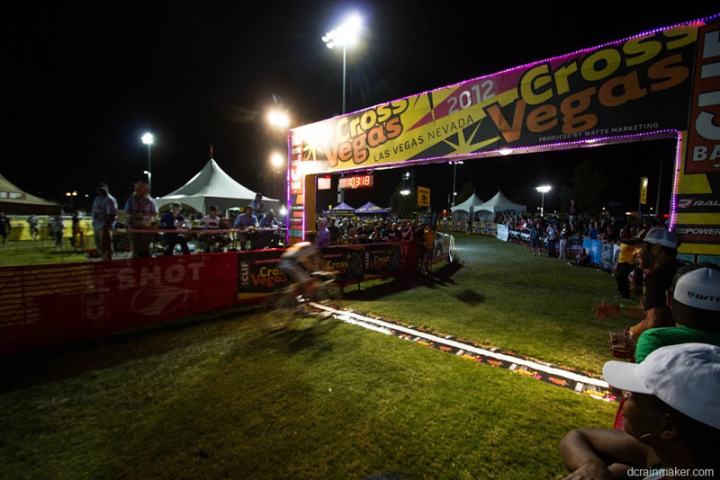 With that, my brief stay at CrossVegas was complete – and back to the Vegas strip I headed.  If you make it to Interbike (or just happen to be in Vegas at the right time) – definitely go out and check out the race.  Or, if you found the above interesting (and trust me, it's crazy wild to watch the speed, power, and agility of both the men and women here) – go check out your local cyclocross events.  This past winter I went and saw one in DC that was totally awesome.
As always, thanks for reading!