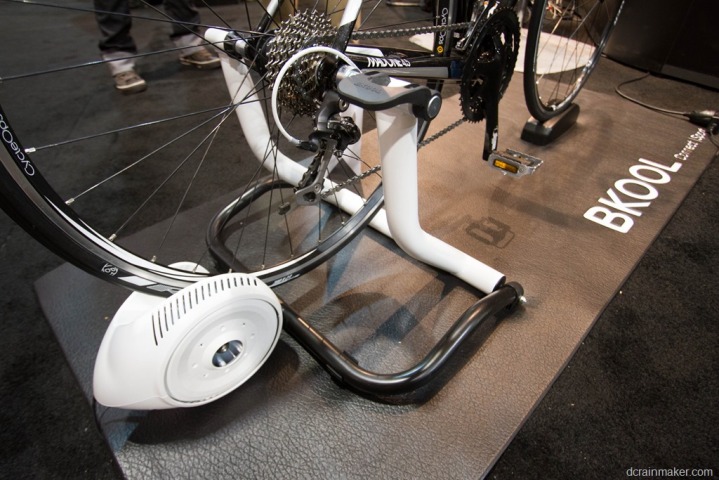 This morning I spent a good bit of time getting to try out the BKOOL trainer, which is a resistance controlled trainer that enables you to create and ride specific workouts while automatically changing the resistance/load based on the terrain or course.  In addition, it also does real video style rides with recorded video of both known major cycling events as well as interesting locations.
The engaging piece here is really the pricing aspect, which is about half the price of the competition, at between €450 and €500, depending on the exact country within Europe.  Yes, you did read that right – Euros – but the main reason they are here at the show (in the US) is to get distributors on board here in the US.  So for now they're just shipping within Europe, but I suspect that'll change soon.
But they offer an interesting package for that price point, with features that frankly aren't out on other units.  So let's dive into it. Oh, and this will be a quick overview, since I'll have a unit in my hands next week.  And I'm going to try and see if I can squeeze it in with the rest of the trainers in early October – but at the moment things are getting clogged up a bit in the review pipeline.
The BKOOL kit has two major components – the trainer itself, and the cloud driven software suite.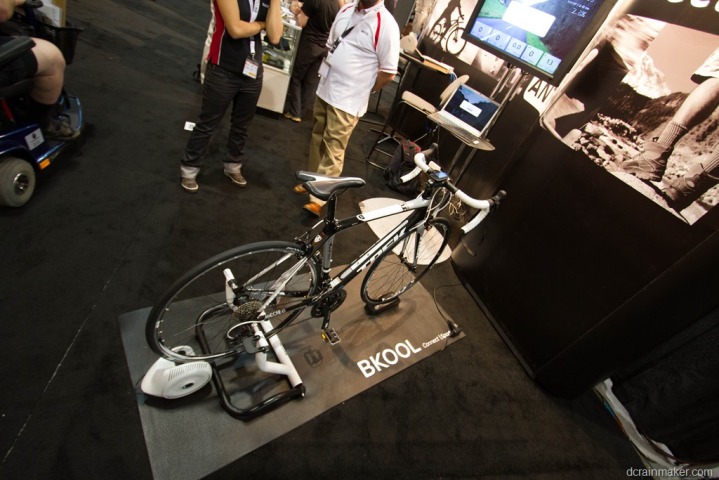 The software itself is heavily web based when it comes to tracking your rides, creating workouts, and competing in contests against other.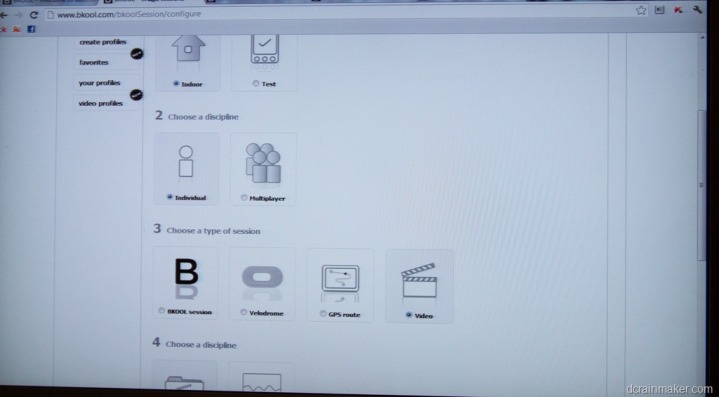 You can select courses to ride, as well as view your past activities.  As you can see above in the menus, the online software suite spans both the trainer, as well as their iPhone and Android apps.  So it offers a bit of a one-stop-shop when it comes to tracking your rides, whether they are indoors our outdoors.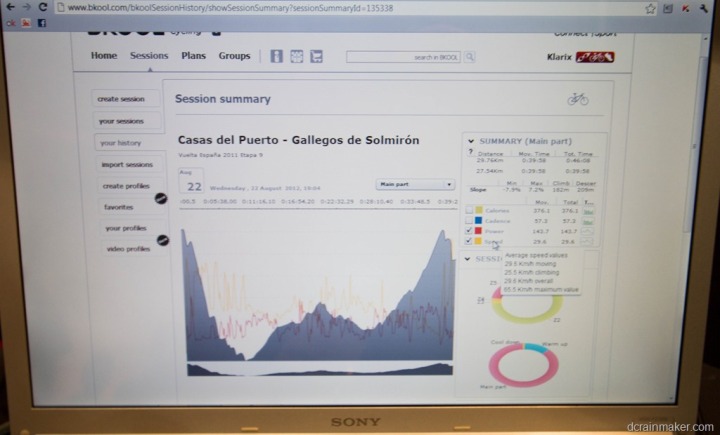 In playing with it this morning, it's clear their biggest selling point (aside from price) is around the group-riding and stage competition events.  On the group-riding side they can support up to 100 concurrent racers at once, all via the Internet.
Additionally, they can do both live shared racing, as well as individual stage racing where each person has a given set time period to complete the stage.  In the competition shown below (which anyone can setup), you see that there are five stages, and each stage they get about a week to complete it.  Sorta like checking back in your library book.  You do still use your local library, right?
Then, below the stage listings you need to complete, you can see the various classification rankings (individual/teams/spring/mountain/etc…).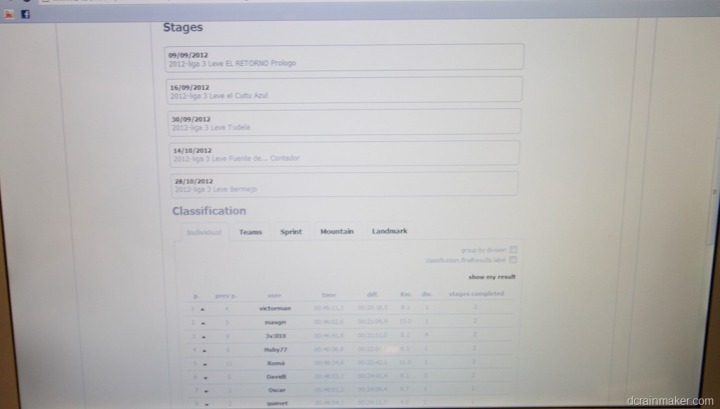 In some ways, it's like some components of Strava – but without the graphical prettiness of Strava (or sheer volume of users).  They do things that Strava doesn't really do (such as these stages races), and Strava does things they don't do.
In addition to competitions, you can always just ride a given route on your own.  You can create a workout based on a GPX file from your device, or select and existing route.  Or just create a simple workout that depends on you hitting various zones/parameters (like a coaching mode).
Additionally, you can choose from about 100 course videos to ride.  All of the online content costs a flat rate of $10 per month.  This is unique, as almost everyone else charges per-video (which you have to buy), and usually cost between $50 and $100US+.  Effectively they've created a Netflix-style 'all you can eat' model.  I love that.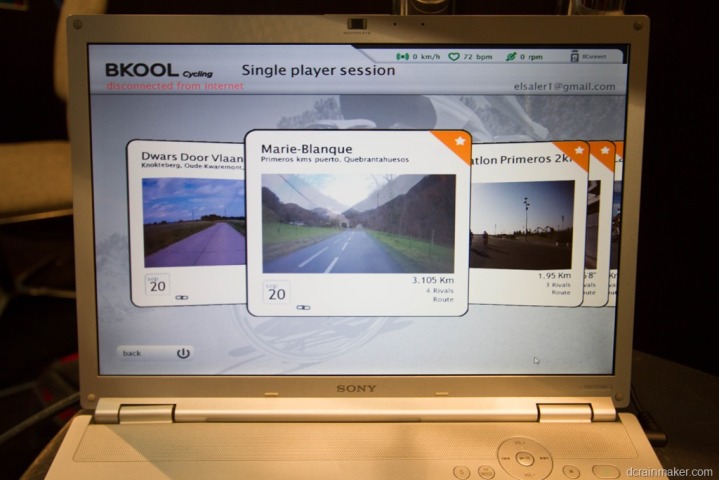 Once the video is selected and the ride starts, you'll see your various ANT+ data (speed/cadence/power/HR) shown along the bottom.  You connect and pair your sensors via an ANT+ USB stick that's included.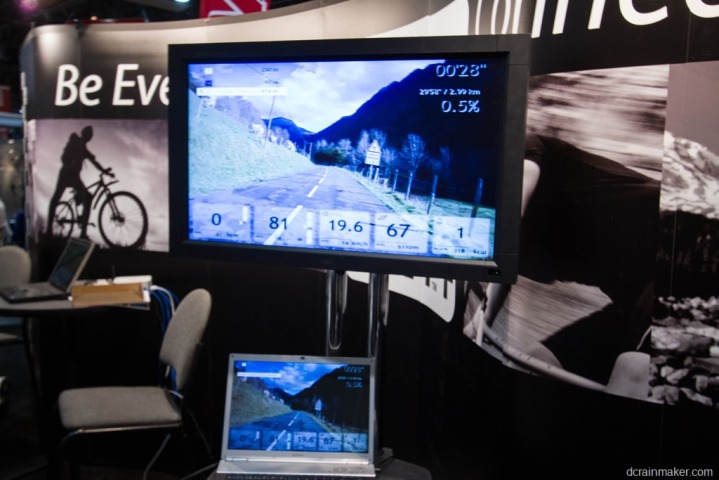 You can also clean up the screen and just show the view.  While in video mode, you can select to have the vide playback either done at your cycling speed, or at the recorded speed.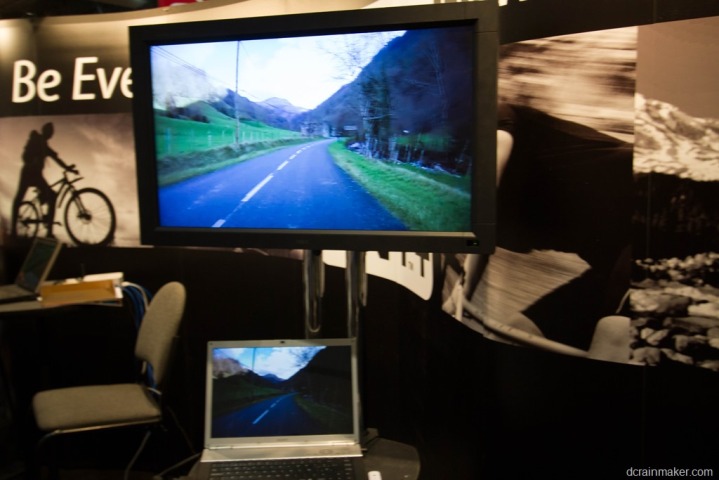 In addition, in competitions you can see how far ahead/behind you are other rides, as well as the course terrain.  Quite a bit of flexibility on the display front.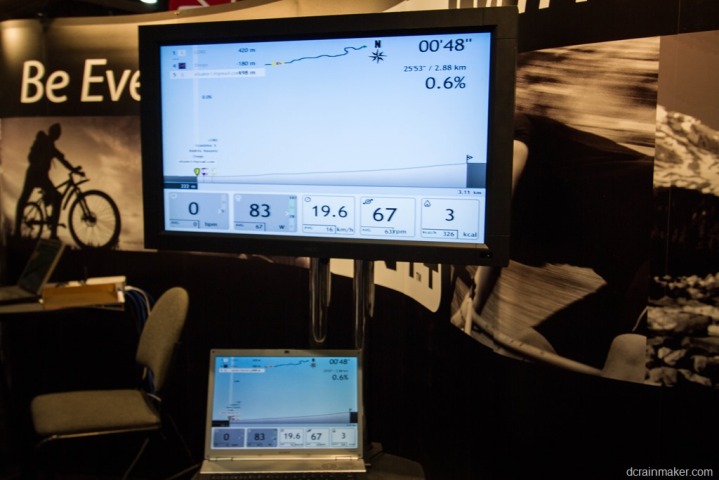 While the graphical interface isn't as polished as some of the other offerings out there, it does get the job done.  And once you're in one of the video modes, you don't notice it and just enjoy the ride.
The hardware aspect includes a single trainer assembly that does require power be supplied to it (just plug it in the wall).  However, all communications with your computer happen wirelessly over ANT+, similar to the TACX units.  Today, they're using private ANT+ for the resistance control piece, but now that ANT+ has finalized the spec around the resistance control device profile, they may make that more open in the future.
From a trainer use and accuracy standpoint, there's a couple of things to be aware of.  First is that you can't adjust the tightness of the wheel against the trainer.  Instead, it's mainly using your own body weight.  In my playing around with it (including a couple of climbs), I didn't see any immediate issues with this design.  But I reserve that judgment to ensure slippage isn't happening until I can play around with it more.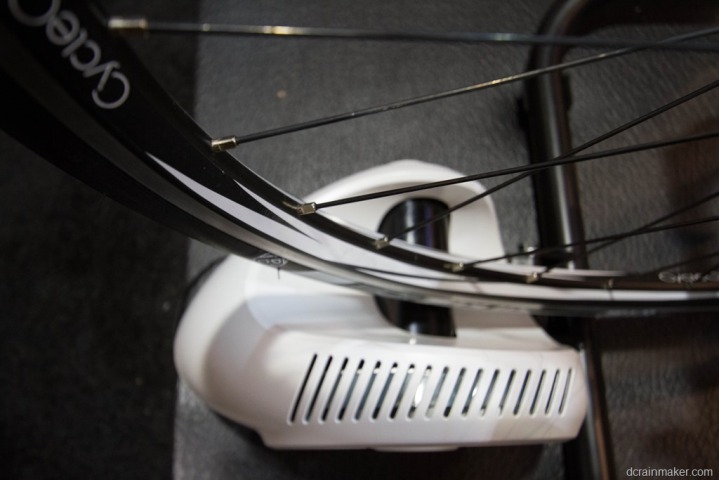 The second notable aspect is that while the unit is pre-calibrated at the factory, it can't be calibrated by you at home.  Instead, it relies on you entering in your accurate weight as well as correct tire pressure for the wheels.
This means that you can't do a roll-down test to calibrate the power meter, and thus validate power meter accuracy is 100%.  As you can see from the bike above, they had a PowerTap wheel on there, and in their testing they're finding accuracy within about 5%.
From my perspective, at this price point, I think that's actually alright given the product.  At the roughly $500 price point, your primary goal in buying this trainer is likely on the entertainment (videos/courses) and group riding/competition aspects – and not on having a power meter that's within the typical industry accuracy rate at +/-2%.  Again, this is just my opinion – but it seems to match others I've talked with in the industry over the course of the day.
Anytime you drop the price that substantially from the competition (who are $1,000+), there's tradeoffs to be made.  In this case, it's going from the standard +/-2% to +/-5%.  Each person will have to decide if that's a tradeoff they want to make.
Overall though, I'm excited to spend more time with the unit, and see some how it responds off the show floor.
As always, if you have any questions – feel free to drop them below in the comments.  And thanks for reading!