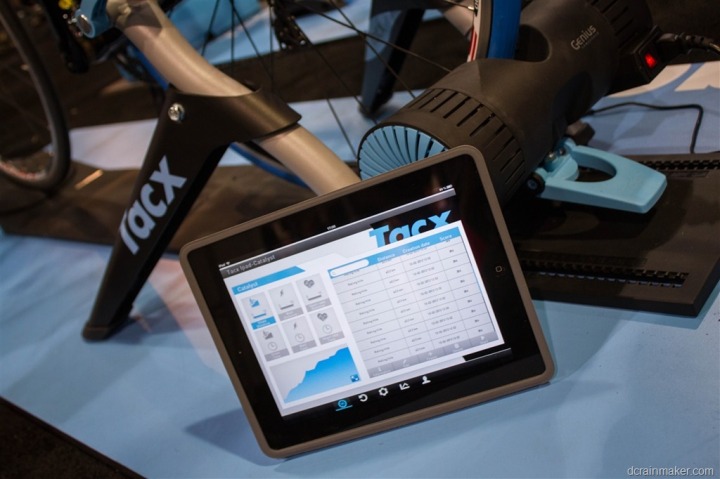 I got to spend a tiny bit of time today looking at a very early beta version of the upcoming Tacx iPad app, which will be released just after the new year in January 2013.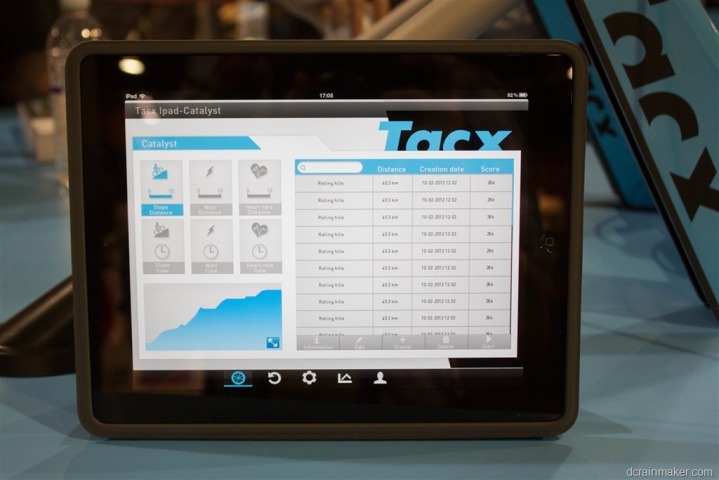 The app aims to control the Tacx trainer via the use of an ANT+ adapter/key (similar to the Wahoo Fitness ANT+ iPhone/iPad adapter/dongle).  It will ultimately allow a user to completely replace the head unit currently included within the Tacx bundle.  You don't have to replace it to use the Tacx trainer, but it would allow you to if you wanted to.
You can see below that you can dig into your historical rides, as well as preview information about courses.  You'll find the majority of the Catalyst style functionality in the iPad app, whereas much of the video-type functionality will still be in the PC app.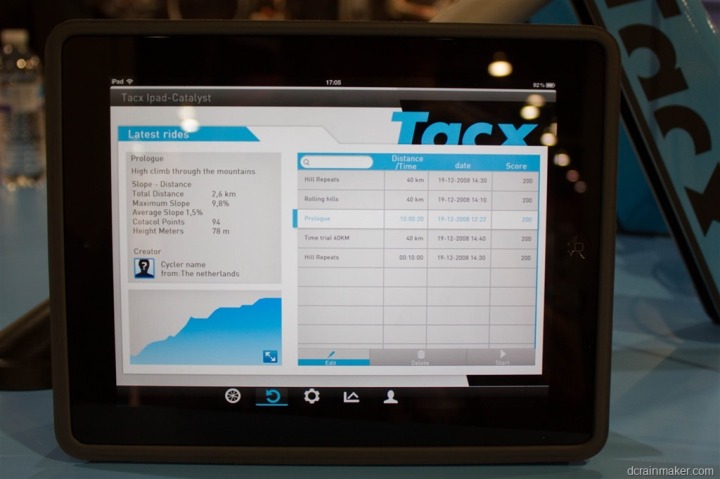 The iPad to trainer pairing process is fairly simplified here.  Though, it won't work yet in a multi-Tacx unit scenario, i.e. – two units close by.  I suspect that's a fairly small scenario today (as in, the number of people that have two Tacx units and two iPads is fairly slim)…me exempted.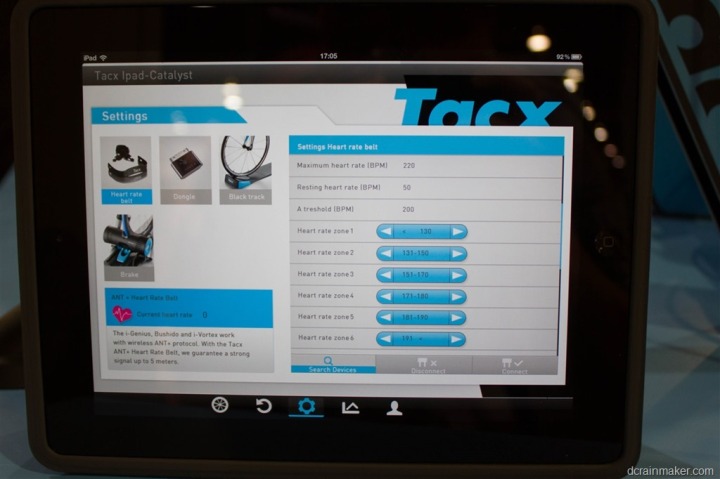 As of today, they didn't have videos included – but the plan is to include some of the various course video training scenarios that you see offered via their external DVD packs today.  However given the early stage, the details of that are still being worked out.  Again, a very early beta right now (albeit functional).
Below you can see one of the courses pulled up, with the general information about the course eing displayed.  You can click on that to dig into more detail about the course.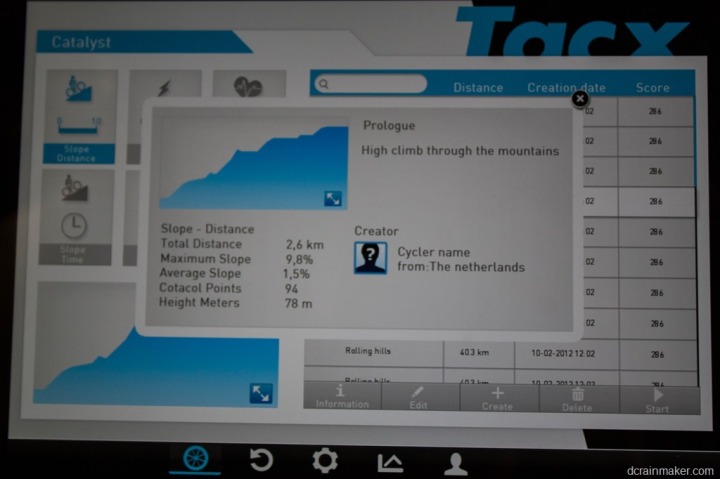 The software also includes a full workout creator, enabling you to simply drag, drop, and slide using your finger to create workouts on the fly.  Seemed pretty simple to use – but of course I'll withhold full judgment until I have to re-create one of my coaches Indoor Trainer (IT) workouts on it.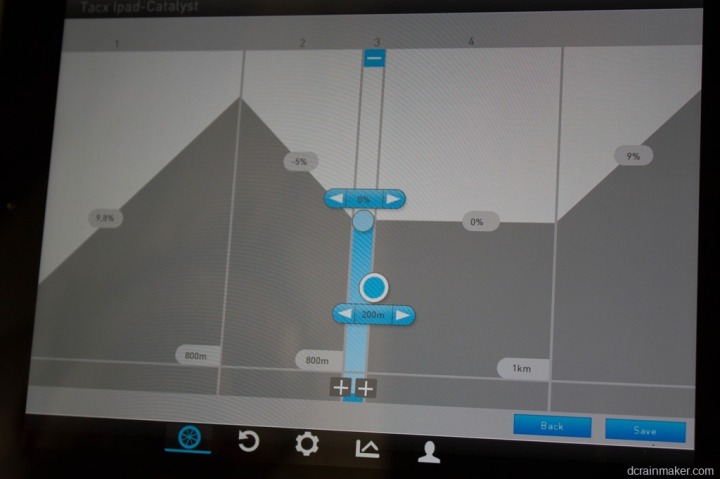 Additionally, while I was here they noted that they have completed and released their latest Tacx TTS suite, version 4.2.  In conjunction with that they've also made available the new Google License piece, which I detailed a bit more in my Eurobike post.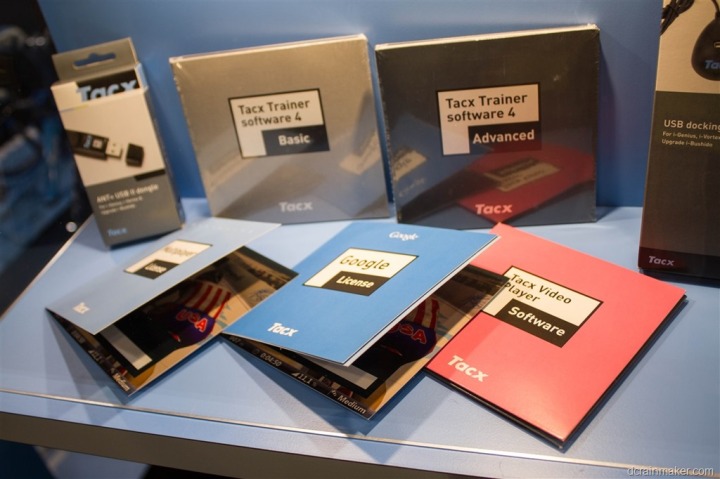 As noted last month at Eurobike, the Tacx folks sent over a demo unit of their Tacx Genius trainer to try out, which I'll be doing and writing a review up in the near term. That review will use their latest software (4.2), so you'll get more detail on that in the coming weeks (beyond what I detailed in the Eurobike post about it).  In the past, I've used their Tacx Bushido trainer, which is one step down from the Genius.  However, both trainers work with 4.2, and both will work with the iPad app once released.
That's all from the Tacx folks for now – but I'm definitely looking forward to seeing how the app evolves as it nears towards release early next year.  Right now my impressions are that it's super clean and is at least visually appealing and functionally simple to use.  The real test will come with how stable the application is during use with the trainer, and the overall connectivity setup to the hardware (which they noted was an area they've spent a lot of time on).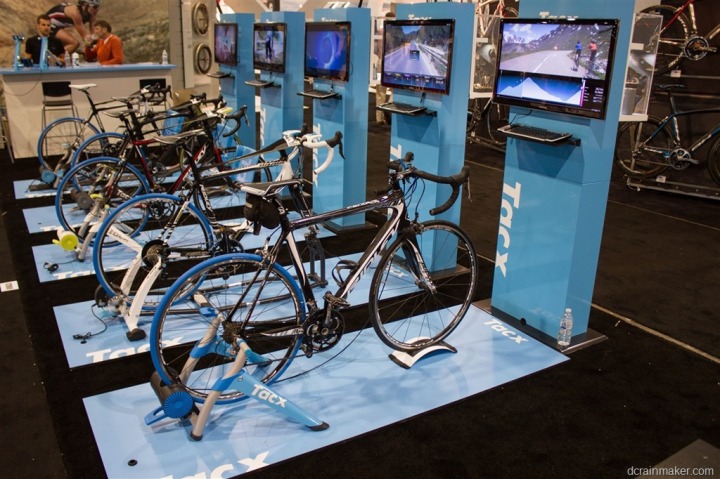 As always, feel free to drop any questions below, and I'd be happy to get them answered.