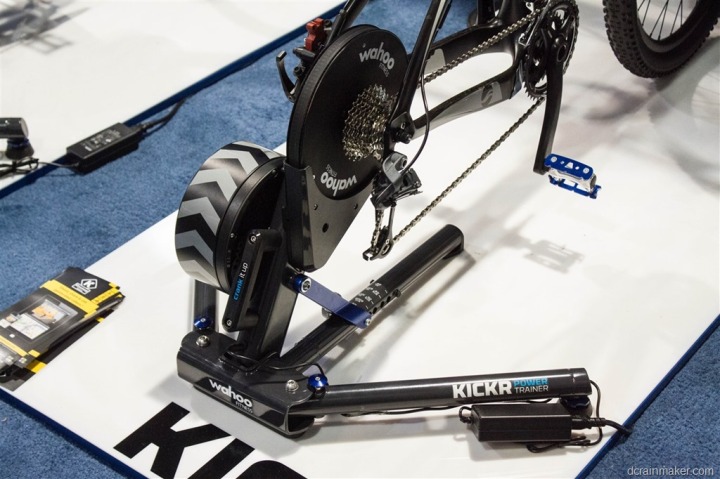 Back at Eurobike I went pretty detailed and deep on the new Wahoo Fitness KICKR trainer, which is the first Blueooth Smart and ANT+ combination resistance controllable trainer out on the market.  The trainer was designed to allow application developers to write apps against it, as we've already seen with TrainerRoad and Kinomap (in addition to the Wahoo Fitness app).
At the time, pricing and availability wasn't finalized.  But in talking with the Wahoo Fitness guys this morning, they've firmed up that piece.
The unit will be available January 1st, 2013, for $999US.
For those outside the US, the final pricing is still a bit in flux – primarily just due to shipping and import logistics.  They're looking to work with local bike shops and distributors in the different countries to finalize those details.
From a pricing standpoint, here's where things stand competitively in this segment (all prices US).  These are ONLY trainers that offer some form of power measurement and resistance control.
CompuTrainer: $1,649
Tacx Genius: $1,600 (review soon)
CycleOps PowerBeam Pro: $1,200
Wahoo KICKR: $999
Tacx Bushido: $980
Note, although not included the LeMond Revolution is: $580 – as it does not include resistant control, but does inclue power measurement.  Note, review soon on that too.  Also note, prices are either Amazon (cheapest) or MSRP – whatever the lowest I could find.
As noted earlier, I'm still aiming for a trainer roundup coming in early October, but it's unclear if I'll have a beta KICKR to add to that roundup at that point.
For all the technical details on the Wahoo Fitness KICKR – see my previous post, which I've been keeping up to date.  Any technical questions are probably best for that post – as it helps others as well.
Thanks for reading!