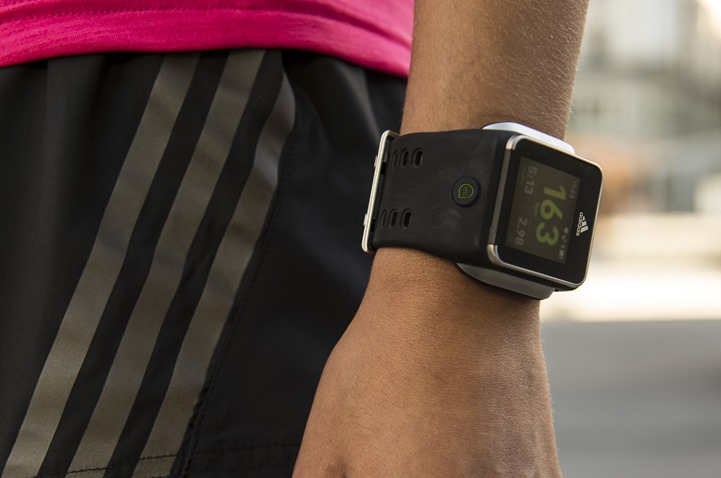 Update note: My In-Depth Review of the Smart Run GPS has now been published, check it out here!
Last week Adidas announced their first foray into the GPS device world with their Adidas Smart Run GPS watch.  While this may be the first physical GPS unit for the company, they've actually been fairly involved in the sport tracking world for a bit now – with previous connected sensors such as footpods designed to go into your soccer cleats, as well as other speed sensors for running related activities.
Following the announcement I spent time in a deep-dive discussion with the Adidas Smart Run team peeling away the layers of the device to get beyond the typical press releases.  The discussion dove into every aspect of the device and we literally went through every single menu and button press – via conference in a device simulator.  As a result, I've consolidated as much of that as possible into the below.
They'll be sending me a device in roughly the next 7-10 days, ahead of release.  Obviously, I won't be able to put together an in-depth review in the matter of a day, but given the interest I'll definitely fast-track it as quickly as possible towards a mid-November review release.
With that, let's dive into it…
General Use and Overview: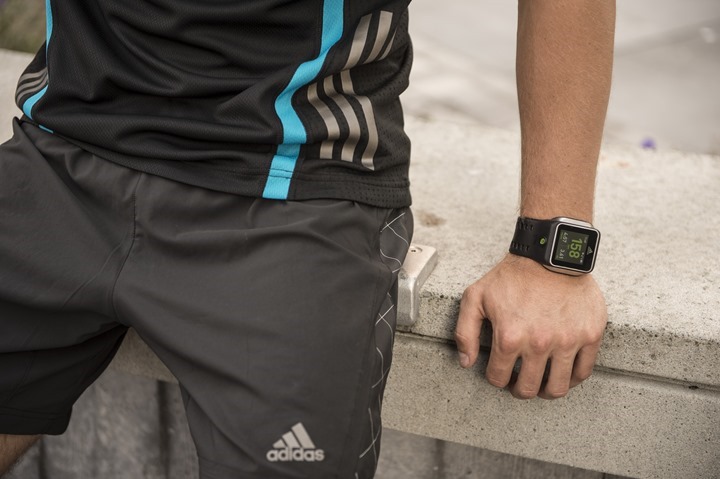 Perhaps the single biggest item of note is that this is the first GPS watch with built-in optical heart rate recognition. This means that your heart rate is optically measured at your wrist, rather than requiring you to wear a heart rate strap.  The Adidas team partnered with Mio, who makes the Alpha optical HR watch to provide the optical sensor portion.  That's good, because in my testing previously – it does quite well.  While Adidas hasn't released any photos of the back of the unit yet, I've been told the sensor is virtually identical to that used in the Alpha.  Which means it'll pretty much look just like the below: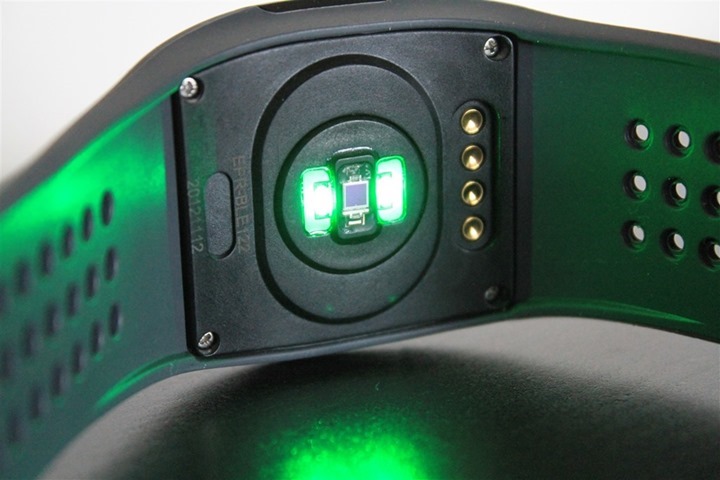 They have made some changes though, specifically around the Alpha's single biggest weak spot: The strap.  The Adidas team went with a completely new strap that better integrated with their device (since they only used the optical sensor portion of the Alpha unit).  They noted that they spent a lot of time testing the device against smaller wrists, in particular both women and interestingly many smaller test subjects in Asia (which tend to have smaller wrists).
Once you're ready to run, you'll swipe right on the touch screen to get into the running mode.  The unit only has a single button at the bottom, which is used for starting/pausing your workouts, as well as triggering a lap.  All other operations take place via the touch screen with swipes and taps – similar to the Motorola Motoactv in some ways.
Within the running page you'll have a small bar graph that shows you your total running time that week.  This is customizable with different metrics of your choosing.  Further, your scheduled workout is also displayed at the top.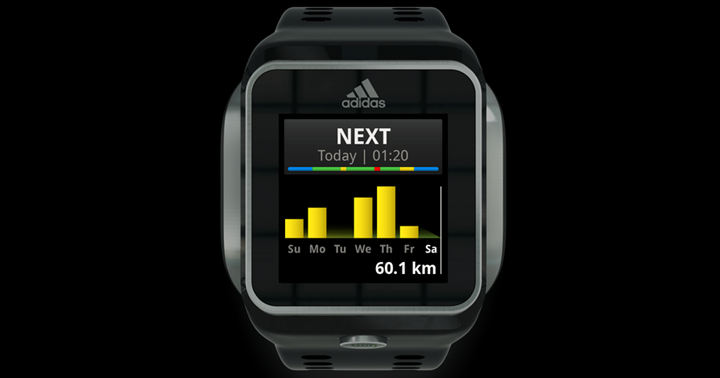 The unit focuses on two basic types of running modes: Free workouts, and structured workouts.  In free workouts you simply go out and run at whatever pace/heart rate you'd like.  The unit will track your location for later viewing on a map, as well as record any other metrics such as heart rate.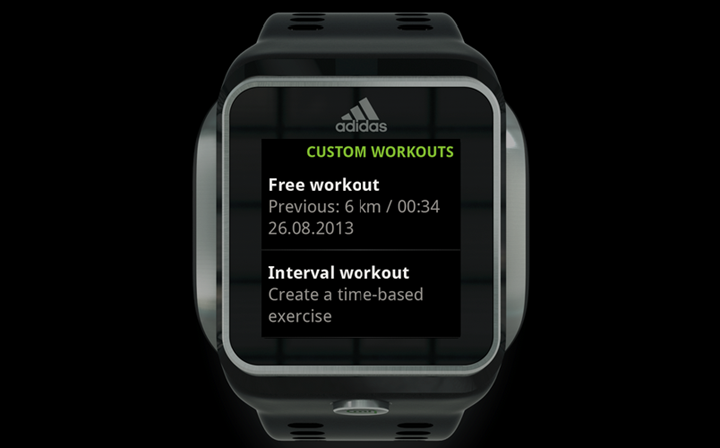 Outside of the free mode, you've also got training plans, which are designed as coached workouts.  These workouts have specific goals (such as heart rate zones) that the unit will walk you through (audibly) the different phases of the workout.
Below you can see an example of this.  The unit will tie your heart rate (HR) zones to colors: Blue, Green, Yellow, Red.  This forms the basis of the training plan platform.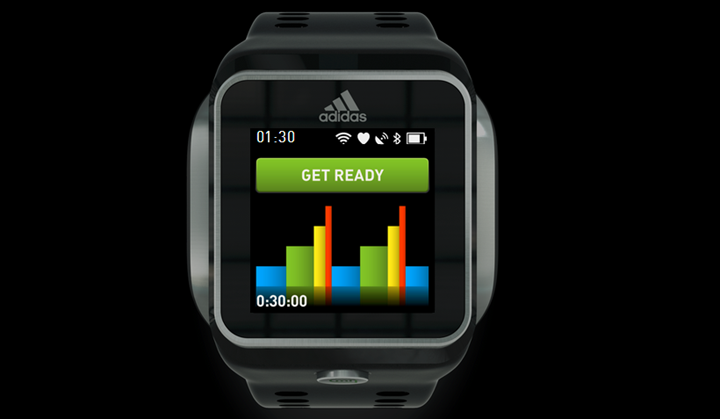 When you're ready to get going, you'll tap 'Get Ready', which will go ahead and start up the optical HR recognition, as well as enable the GPS.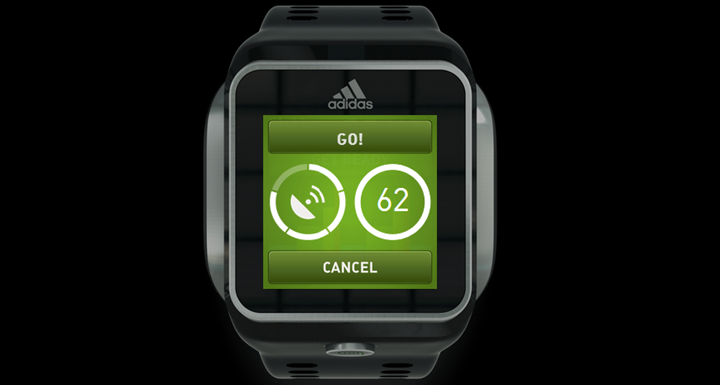 Next, as the workout progresses it'll walk you through each of the zones.  In this case I've transitioned from Blue Zone to Green Zone.  My current heart rate is displayed in the center (152), and the time into the run is displayed on the chart (12:47).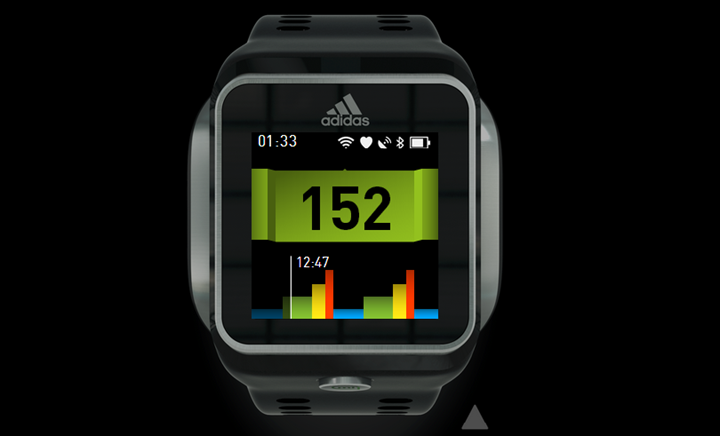 If there's a zone mismatch, the unit will tell you to "Speed up to Red Zone", or, whatever the zone you're supposed to be in.  Such as below where I'm below the intended zone at 152, versus yellow zone which is higher than that.
The unit also contains vibration alerts.  The audio alerts however require Bluetooth headphones.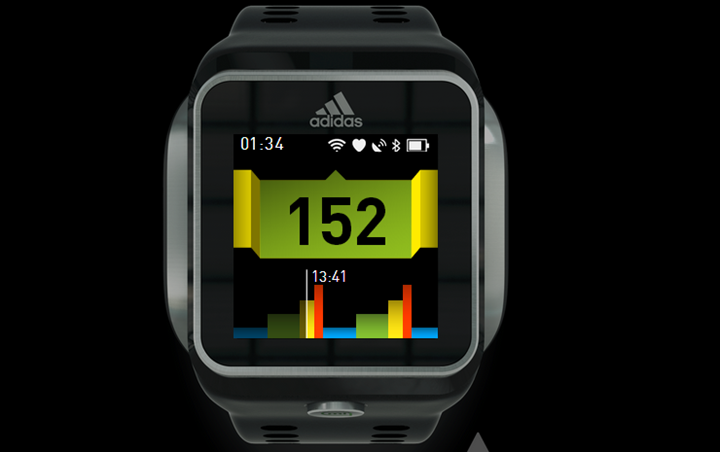 Meanwhile, I can swipe up/down to view my configured data pages and fields.  In this case, a data page with my current pace, my lap pace, and the total number of laps.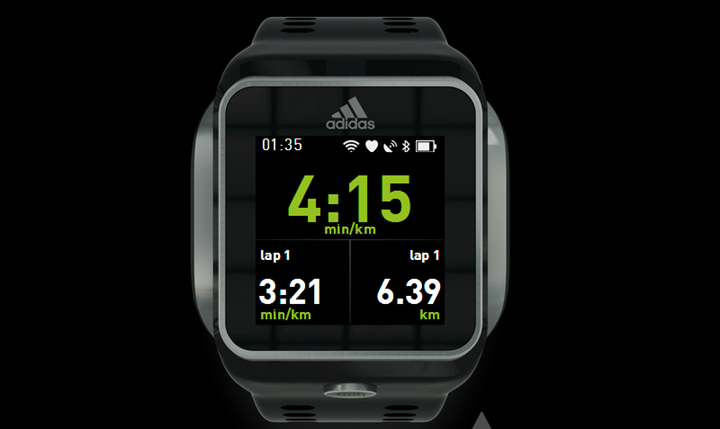 I can also at any point swipe to the right to access music, and increase the volume.  But more on that later on in the music section.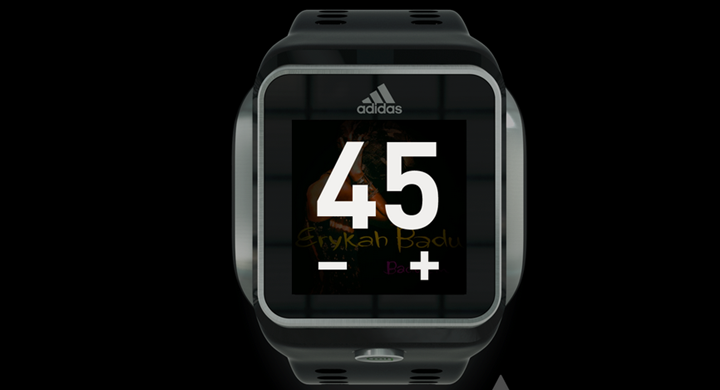 I can hold the button down down at the bottom for a few seconds to pause the workout.  Here you'll see a brief graph of my progress plotted against the goal zones.  Personally, I think this is pretty cool.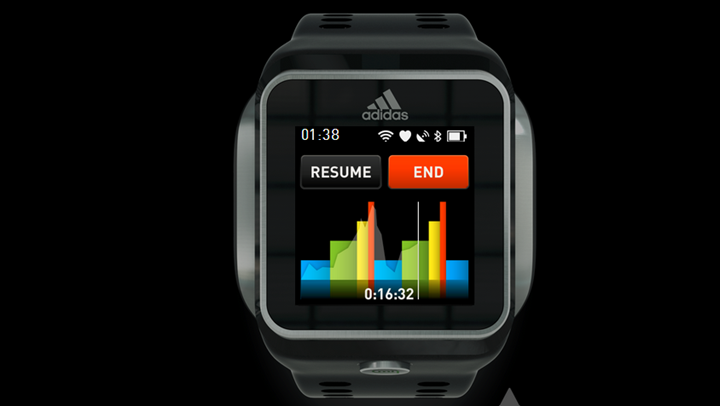 I can also swipe up to see other metrics while paused, such as distance, average heart rate and pace.
Finally, upon completion of the workout the unit gives me a summary screen (pretty similar to the above), as well as starts the WiFi initiation process to look for a preconfigured WiFi access point for uploading the workout to the miCoach site.
Strength and Flexibility Workouts: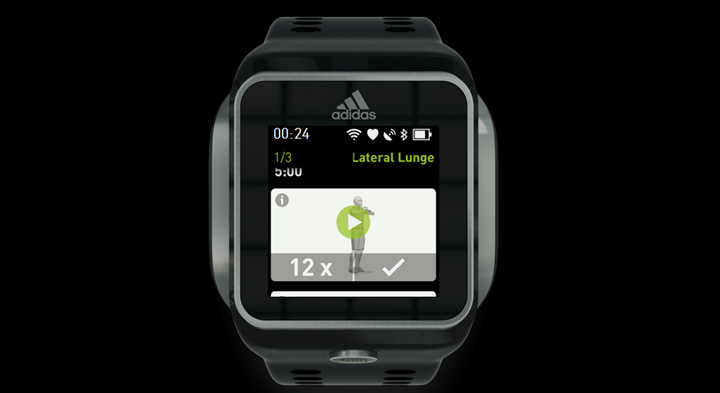 When talking to the Adidas team it became clear that they believe a significant component to making a stronger runner is improving areas such as core strength.  In an effort to focus on that they've included a slew (about 400 to be exact) of different exercise to download to the unit.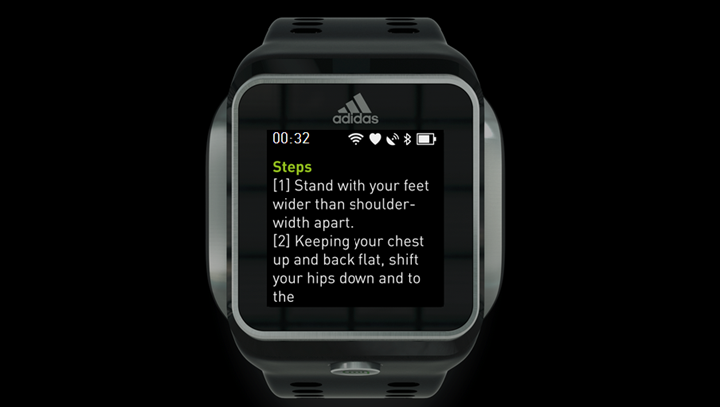 Each one of these different activities/movements includes a short animation that demonstrates how to complete the movement.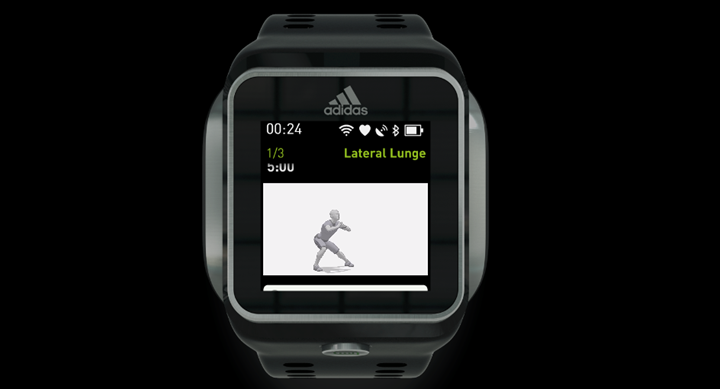 In addition to completing a specific singular exercise, you can also string together a bunch of them to create an entire workout.  You can either utilize ready-made workouts from Adidas, or you can create your own combo platter.  All of this is done online, and then sync'd to the watch via WiFi.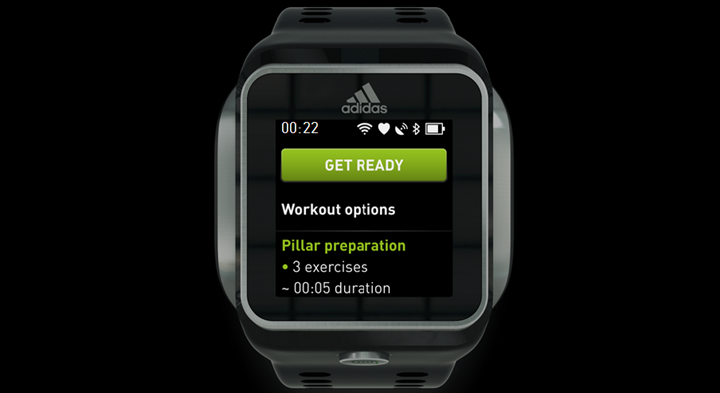 The actual tracking of each activity is manual. Meaning, the unit doesn't leverage any of its internal accelerometers to track your movements and record whether or not you're doing them correctly – or doing them at all for that matter.
As you complete each movement the required number of reps you go ahead and tap the checkbox.  Ultimately, you'll get a summary screen at the end of the workout (which contains multiple different movements/reps).
Music/MP3 Player: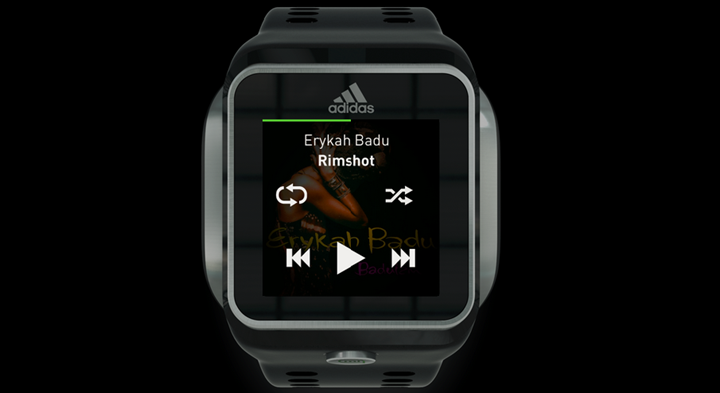 The unit's 4GB internal storage allows for 3GB of end-user accessible space, primarily to store music files.  These files can be uploaded in standard music formats including MP3, WMA, and AAC.  However, like most devices out there it cannot handle any form of DRM/Rights-Protected music files.
To load music onto the device you'll simply use the included USB cable, where the device will enumerate as a standard USB mass storage device.  Drag and drop is the name of the game here.  This is ideal in that no special drivers are needed, so if you're running an operating system outside the lands of Windows or Mac, you're still pretty much good to go.
The device doesn't have a headphone jack on the side.  Instead, it relies on Bluetooth to connect to any standard Bluetooth audio device, such as wireless Bluetooth headphones.
This is probably a good move, as the headphone jack was perhaps one of the fatal flaws of the now-discontinued Motorola Motoactv unit – letting in water that would ultimately kill numerous Motoactiv's.  Many parallels can be drawn between the Motoactv and the Adidas unit – in terms of underlying core operating system (Android), as well as the color screen, music capabilities and connectivity options (WiFi).
The device supports a number of basic playback modes, such as by artist, album, or directly picking songs.  Further, it also supports playlists and the ability to shuffle songs.
From a battery standpoint, the music playback takes a pretty big whack at the battery life.  In fact, about 50% hit to battery.  With full-GPS tracking and MP3 playback, you're going to get about 4 hours of battery life.  With music playback turned off, it'll be closer to 8-9 hours.
Connectivity & Uploading: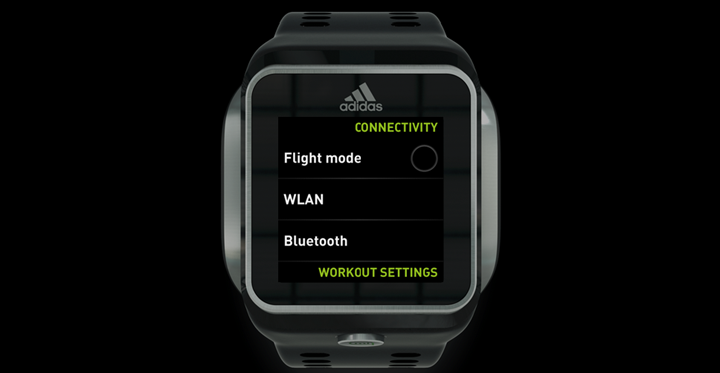 The device is 'connected' wirelessly, but not in the way most of the mainstream press thought.  In fact, despite having the word 'smart' in there, there's no aspect of a traditional smart watch.  It doesn't connect at all to your phone directly via Bluetooth or good vibrations. Period.
Connectivity and uploading is only done via WiFi (except to place MP3 files, which is done via USB).  The unit can store multiple WiFi networks and will automatically connect to the networks upon completion of the activity. The Adidas team noted that in the vast majority of cases, by time you walk into your home, take off your running shoes and get to your computer – the file is already there and ready for viewing.
The device can connect to any password protected WiFi network, or non-password protected network. However, it is unable to deal with any form of proxies in the network, or any sort of 'I agree' type pages that are common at most public WiFi spots (such as Starbucks or the like).  There is no method for the device to display that page and allow you to press 'I agree' (or similar).
As noted above, the device does not connect to your phone via Bluetooth (though, the device does contain a full Bluetooth 4.0 chipset in it).   This means that it neither uploads data via your phone, nor does it offer any form of live tracking.  Bluetooth on the device is only used for playback of music to headphones – not to phones.  As seen above, there's also a flight mode to disable the connectivity pieces while on an aircraft.
As part of this playback though via Bluetooth, you'll also get audio announcements of status related items such as pace, heart rate zones, and heart rate.
Once the data is uploaded via WiFi, it's published to the pre-existing Adidas miCoach platform, which offers display of your running route, as well as metrics over the course of the route.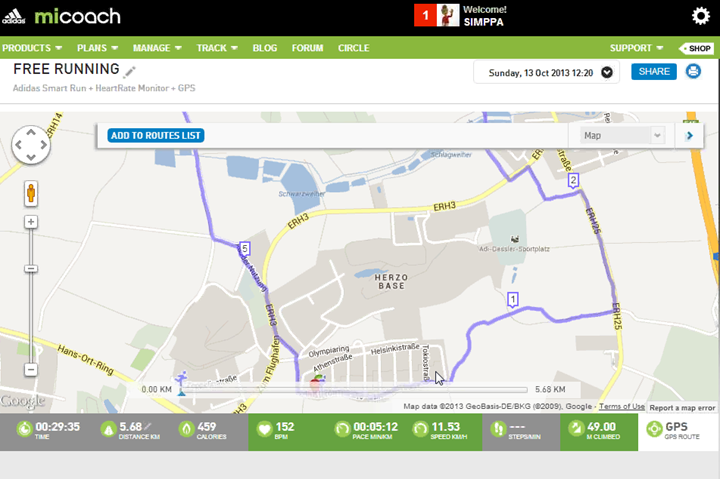 Here you can see the graph mode, where you can drag along the graph and then display the corresponding heart rate/pace/elevation/stride rate data for that point in time.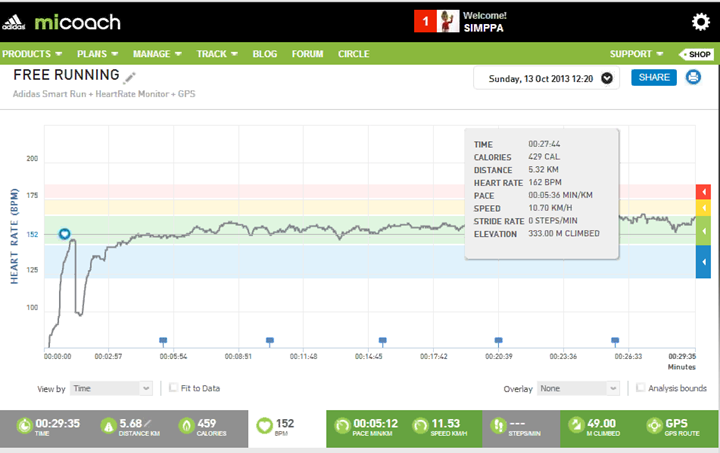 3rd Party Compatibility:
Next, we get to what I suspect is probably the single biggest deal-killer for most advanced runners (which is the stated target market for the watch): It has no ability to export the files to 3rd party services.
In fact, there's no connectivity at all to any 3rd party providers.  Thus no uploading to Strava, neither to TrainingPeaks, or to Daily Mile.  In fact, there isn't any supported way to get data out of the platform at all (no CSV/TCX/FIT/anything).  It's the dreaded Nike+ island scenario all over again…well, until Nike got smart back a few months ago and opened up their platform (and then further announced expansion of those efforts early last week).
Finally, there's no API offered to either the web platform or the watch, outside of a few minor partners primarily with insurance providers (for use in corporate wellness programs).
Customization: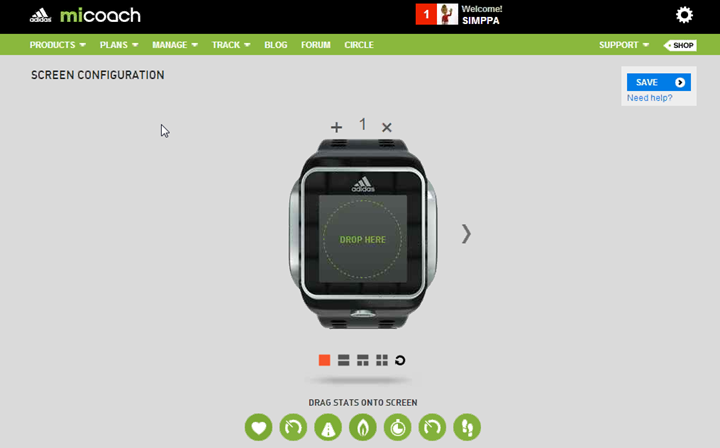 The unit contains a web-based data field customization tool, which allows you to configure all your data fields/screens online and then push the to the unit via WiFi.
You can customize up to 5 screens, with each holding between 1 and 4 pieces of information (metrics).  Below for example, is a screen with four pieces: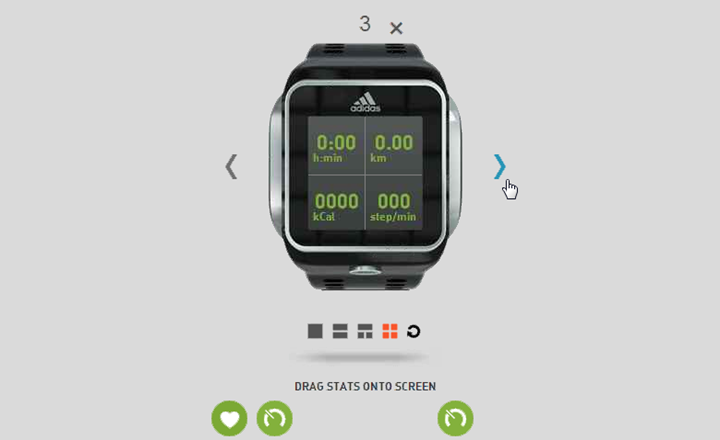 And here's one with just a single piece: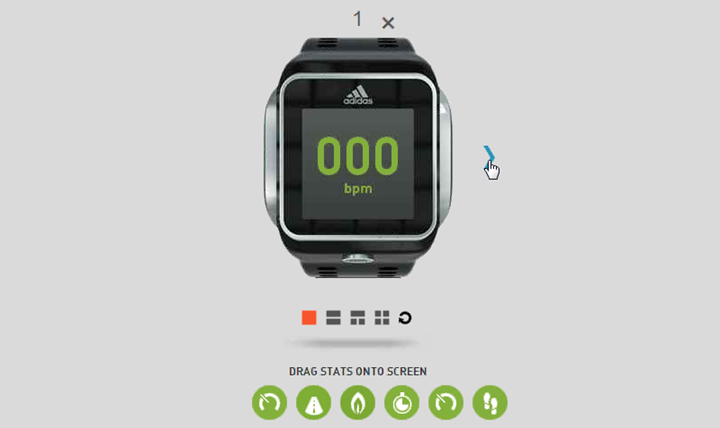 You just drag and drop the different metrics shown along the bottom onto the screen up above, after selecting a display template (field arrangement).
There's also an additional screen with lap-focused metrics.  You can use either auto lap based on distance/time, or you can press the button to create a lap.
The metrics available to put on your display are as follows: Heart Rate, Speed, Distance, Calories, Time, Pace, Stride Rate (Cadence).
Product Comparison & Functionality Table:
In an effort to better be able to understand all of the functionality included within the Adidas Smart Run GPS unit, I've gone and and completed the typical product comparison table database for the product.  I worked with the Adidas team to fill this out.  For those components that were more subjective (meaning, I decide whether it's true, not marketing), I've left them as TBD/TBA.
I've gone ahead and populated the units on the market that the Adidas unit is most likely competing against – primarily based on a combination of price and functionality.  As I'll talk about in the summary, the unit is in a bit of an odd spot price-wise relative to the functionality of other GPS running watches on the market today.
Note that you can swing over to the product comparison tool to mix and match any units you'd like.  These are just the ones I figure make the most sense.
Function/Feature

Adidas Smart Run GPS
Garmin Forerunner 620
Garmin Forerunner 220
Polar RC3
Copyright DC Rainmaker - Updated April 9th, 2021 @ 10:16 am New Window
Price
$399
$399
$249
$215.00
Product Announcement Date
OCT 16, 2013
SEPT 16, 2013
SEPT 16, 2013
AUG 13, 2012
Actual Availability/Shipping Date
Nov 1 ,2013
OCT 31, 2013
OCT 31, 2013
SEPT 2012
GPS Recording Functionality
Yes
Yes
Yes
Yes
Data Transfer
WiFi
USB, WiFi, Bluetooth Smart
USB, Bluetooth Smart
USB
Waterproofing
1ATM (~IPX7) - No Swimming
50 meters
50 Meters
IPX7
Battery Life (GPS)
6-8 Hours (Updated)
10 hours
10 hours
12 Hours
Recording Interval
1s
1-second & Smart
SMART RECORDING (VARIABLE)
1-Second
Alerts
Vibrate/Visual (Audio only with headphones)
Audio/Visual/Vibrate
VIBRATE/SOUND/VISUAL
Sound/Visual
Backlight Greatness
Configurable, great.
Great
Great
Good
Ability to download custom apps to unit/device
No
No
No
No
Acts as daily activity monitor (steps, etc...)
No
No
No
No

Connectivity

Adidas Smart Run GPS
Garmin Forerunner 620
Garmin Forerunner 220
Polar RC3
Bluetooth Smart to Phone Uploading
Yes (Added Summer 2014)
Yes
Yes
No
Phone Notifications to unit (i.e. texts/calls/etc...)
No
No
No
No
Live Tracking (streaming location to website)
No
Yes
Yes
No
Emergency/SOS Message Notification (from watch to contacts)
No
No
No
No
Built-in cellular chip (no phone required)
No
No
No
No

Cycling

Adidas Smart Run GPS
Garmin Forerunner 620
Garmin Forerunner 220
Polar RC3
Designed for cycling
No (can show speed)
Barely (Speed mode only)
Barely (Speed mode only)
Yes
Power Meter Capable
N/A
No
No
No
Speed/Cadence Sensor Capable
N/A
Yes
No
Yes
Strava segments live on device
No

Running

Adidas Smart Run GPS
Garmin Forerunner 620
Garmin Forerunner 220
Polar RC3
Designed for running
Yes
Yes
Yes
Yes
Footpod Capable (For treadmills)
Yes
Yes (internal accelerometer)
Yes (also has internal accelerometer)
Yes
Running Dynamics (vertical oscillation, ground contact time, etc...)
No
Yes
No
No
VO2Max Estimation
No
Yes
No
Yes
Race Predictor
Yes
Yes
No
No
Recovery Advisor
No
Yes
No
Yes
Run/Walk Mode
No
Yes
Yes
No

Swimming

Adidas Smart Run GPS
Garmin Forerunner 620
Garmin Forerunner 220
Polar RC3
Designed for swimming
No
No (protected though just fine)
No (protected though just fine)
No
Record HR underwater
N/A
No
No
No

Triathlon

Adidas Smart Run GPS
Garmin Forerunner 620
Garmin Forerunner 220
Polar RC3
Designed for triathlon
No
No
No
No
Multisport mode
N/A
No
No
No

Workouts

Adidas Smart Run GPS
Garmin Forerunner 620
Garmin Forerunner 220
Polar RC3
Create/Follow custom workouts
Yes
Yes
Yes
No
On-unit interval Feature
Yes
Yes
Yes
Yes with firmware upate
Training Calendar Functionality
Yes
Yes
Yes
No

Functions

Adidas Smart Run GPS
Garmin Forerunner 620
Garmin Forerunner 220
Polar RC3
Auto Start/Stop
Yes
Yes
Yes
No
Virtual Partner Feature
Yes (added June 2014)
Yes
No
No
Virtual Racer Feature
Yes (added June 2014)
No
No
No
Records PR's - Personal Records (diff than history)
Yes on site (not on unit)
Yes
Yes
No
Tidal Tables (Tide Information)
No
No
No
No
Weather Display (live data)
No
No
No
No

Navigate

Adidas Smart Run GPS
Garmin Forerunner 620
Garmin Forerunner 220
Polar RC3
Follow GPS Track (Courses/Waypoints)
No
No
No
No
Markers/Waypoint Direction
No
No
No
No
Routable/Visual Maps (like car GPS)
No
No
No
No
Back to start
No
No
No
Yes
Impromptu Round Trip Route Creation
No
No
No
No
Download courses/routes from phone to unit
No
No
No
No

Sensors

Adidas Smart Run GPS
Garmin Forerunner 620
Garmin Forerunner 220
Polar RC3
Altimeter Type
GPS
GPS
GPS
GPS
Compass Type
N/A
N/A
N/A
GPS
Optical Heart Rate Sensor internally
No
No
Heart Rate Strap Compatible
Internal
Yes
Yes
Yes
ANT+ Heart Rate Strap Capable
No
Yes
Yes
No
ANT+ Speed/Cadence Capable
No
Yes
No
No
ANT+ Footpod Capable
No
Yes
Yes
No
ANT+ Power Meter Capable
No
No
No
No
ANT+ Lighting Control
No
ANT+ Bike Radar Integration
No
ANT+ Trainer Control (FE-C)
No
ANT+ Remote Control
No
No
No
No
ANT+ eBike Compatibility
No
No
No
No
Shimano Di2 Shifting
No
No
No
Bluetooth Smart HR Strap Capable
No
No
No
No
Bluetooth Smart Speed/Cadence Capable
No
No
No
No
Bluetooth Smart Footpod Capable
Yes
No
No
No
Bluetooth Smart Power Meter Capable
No
No
No
No
Temp Recording (internal sensor)
No
No
No
No
Temp Recording (external sensor)
No
No
No
No

Software

Adidas Smart Run GPS
Garmin Forerunner 620
Garmin Forerunner 220
Polar RC3
PC Application
No
Garmin Express
Garmin Express
PPT/Websync
Web Application
Yes
Garmin Connect
Garmin Connect
PPT.com
Phone App
Yes
iOS/Android
iOS/Android
Polar Beats
Ability to Export Settings
No
Yes
No
No

Purchase

Adidas Smart Run GPS
Garmin Forerunner 620
Garmin Forerunner 220
Polar RC3
Amazon
Link
Link
Link
Link
Backcountry.com
Link
Link
Link
Link
Chain Reaction Cycles
Link
Link
Link
Link
Competitive Cyclist
Link
Link
Link
Link
REI
Link
Link
Link
Link
Wiggle
Link
Link
Link
Link

DCRainmaker

Adidas Smart Run GPS
Garmin Forerunner 620
Garmin Forerunner 220
Polar RC3
Review Link
Link
Link
Link
Link
Again, to mix and match any units beyond the default ones – just go here.
Summary: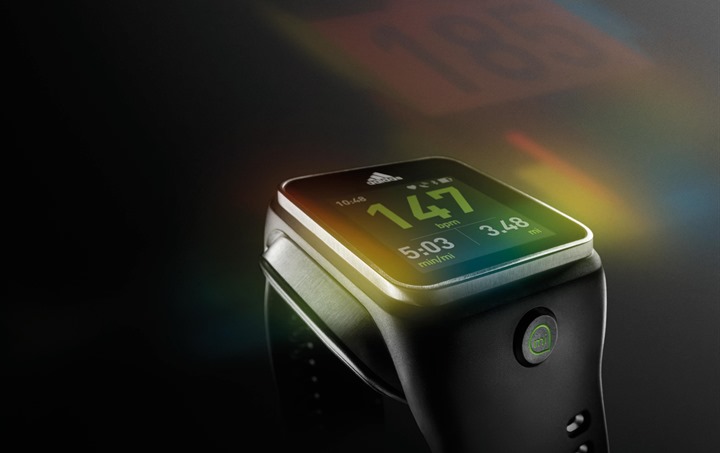 So, what are my thoughts?  Well, I'm mixed.  There are some areas that I like (such as the Bluetooth Audio and music playback), and then there are other areas that I think are missed opportunities (such as connectivity to the phone).
The $399US/EUR price is pretty tough. On one hand, you have to keep in mind that it contains a full-on optical heart rate sensor in it.  And that's pretty darn cool.  But on the other hand, if you exclude that functionality, the price-point doesn't match the rest of the market.  A simple look at the comparison table above will illustrate that nicely.
Next, looking at connectivity I actually couldn't use the device personally.  For example, shortly after this post publishes I'm headed to the airport (like almost every week).  I won't come back for 7 days.  During that time I'll be using typical hotel internet, which requires some form of authentication.  Because the unit doesn't permit USB downloads of the data, nor does it link to a smartphone for uploading – I'm completely out of luck for uploading my data during my trip.  The team argued you could create a WiFi hotspot with your phone, which is true. Except, many cell phone plans these days don't permit that except for extra charges.
The workout functionality around movements typically found in the gym is really interesting.  I don't think it'll appeal to the average (or even advanced runner) though.  But I do think that the combination of that functionality with the music piece will greatly appeal to those that spend more time in the gym doing circuits than running.  In fact, I think that Adidas is probably missing the boat from a marketing standpoint focusing on runners, and should instead really be focusing on the larger strength audience.
I like aspects such as the web-based ability to configure data fields (though, I believe you should be able to do the same on the unit as well).  I wish more watches out there blended these two worlds together.  And I like the flexibility in the sizes of the screens and the quantity of screens you can display, even if the number of different metrics is quite low.
Lastly – and perhaps most importantly – is the lack of 3rd party platform support.  I've stated before that I simply won't recommend anyone purchase a unit when the company islands your data.  I stand by that statement.  Your data should be yours, and you should always be able to take it somewhere else.
Update: I have received the Adidas Smart Run GPS, and placed a slew of unboxing photos into The Queue. Enjoy!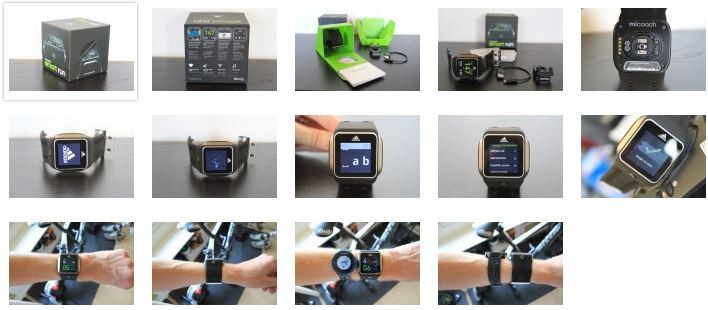 Frequently Asked Questions, Odds & Ends:
There's a lot of random things I asked that I figure you'd find the answers interesting.  Rather than try and writing a bunch of text in a paragraph around them, I figured I'll just go ahead and include them here rapid-fire style.  Additionally, as I see trends in the questions below in the comments, I'll add them up here too.
General: Day to day watch mode, and are there alarms?
Yes, the watch can display the current time in standby mode (for up to 14 days), and also displays the date (i.e. 21 OCT).  It does not however have any alarm functionality.  This is because the unit doesn't include an audio speaker.  It only contains vibration alerts and visual displays.  In fact they do not see this device as a replacement for your non-running watch, noting that the unit is "Not an attempt by us to replace anyone's day to day watch."
General: Does the unit have a cycling mode?
Sort of.  It can be configured to display the 'Speed' metric (i.e. 20MPH or 30KPH), but it doesn't have a strict cycling mode and doesn't connect to any Bluetooth Smart speed/cadence sensors.  Fwiw, this is in-line with the initial release of the Garmin FR620.
General: What's the price and when's it available?
The price is $399 (both USD and Euros is the same), and is available to ship starting November 1st, 2013.
Sensors: How accurate is optical heart rate (HR) in the wrist?
The Adidas Smart Run GPS leverages the Mio Alpha platform that I reviewed last year.  It's the same sensor, just stuffed into this unit.  Now in that case I found it very accurate for myself during activity (unlike for example, the Basis B1 optical HR unit during exercise).  However, my wife found it highly inaccurate.  Her problems stemmed from the oversized wrist strap that the Mio Alpha unit had.  Whereas with the Adidas unit they've got their own wrist strap that they noted specifically goes much smaller.  Obviously, accuracy testing of this implementation will be a core component of my in-depth review.
Sensors: Can the unit record pace/distance and cadence while indoors on a treadmill with GPS off?
Partially. It can record your cadence (stride rate), but cannot record pace (speed) nor distance.  The wrist accelerometer is currently not setup to do so.  However, you can purchase the Adidas Bluetooth Smart Speedcell, which the unit will pair to and then allow you to track pace/distance while indoors.
Connectivity: Can you update the firmware?  And how?
Yes, you can update the firmware on the unit.  This will be done via WiFi.
Connectivity: Does the unit have ANT+?
No, the unit does not contain ANT+, thus it's unable to connect to ANT+ sensors.
Connectivity: Can the unit connect to Bluetooth Smart accessories?
Some. It can connect to the Adidas Bluetooth Smart Stride sensor.  It cannot connect to a Bluetooth Smart HR strap however (but, it has optical HR internal to it).
Connectivity: Will they enable smart phone uploading or live tracking?
I asked this, and was told neither are in the plans today.
Platform: Can the unit run Android apps?
No, it cannot.  They are focused on "their own experiences for now".
Functionality: Is there a virtual partner and/or ghost runner type functionality?
No, not at this time.  In their discussions with runners, they did not see significant demand for this type of functionality.
—
Thanks for reading!