The guys at LeMond Fitness offered a tour of their facility over a year ago, when I first met the at the 2010 ANT+ Symposium.  Given I'm often in Seattle to visit family, it was just a matter of time before my schedule and their schedules matched.  And finally, last week I got a chance to go check out their Woodinville, WA facility.  Woodinville is about 20-25 minutes away from downtown Seattle, towards the Cascade mountains.  It's most well known for its wineries, many of which you're probably familiar with – such as Chateau Ste. Michelle.  These days though, much of the surrounding farmland is now gone – replaced by office parks, homes and concrete.
But overlooking some of the last of the farmland, and sitting directly next to the most popular running/cycling path in the Pacific Northwest (Burke Gilman Trail) – is the headquarters of LeMond Fitness.
Most of you have probably seen LeMond Fitness spin bikes and other indoor cycling equipment at the gym.  But last year is when they started to make themselves better known in consumer circles when they introduced the LeMond Revolution Trainer, which is a wind trainer (meaning it uses wind resistance as opposed to magnetic or fluid resistance) that you attach your bike to, albeit without a back wheel.  Instead your bike mounts directly via the cassette. Some of you may be wondering why I haven't reviewed a unit yet.  Turns out there was a minor communication SNAFU where they thought I had a unit shipped for review last spring.  No worries though, that's getting fixed. The most recent stockpile arrived shortly before I did, and within that pile sits a trainer for me to review.
But enough with the backstory though, let's get onto the tour!
When we arrived at the office park, I found it appropriate that a FedEx freight truck was just pulling up to the loading dock.  In a matter of just a few minutes it very quickly loaded its contents, managed to do a modified donut in the parking lot (impressive), and then headed on out.  But what was going on just inside of that loading door?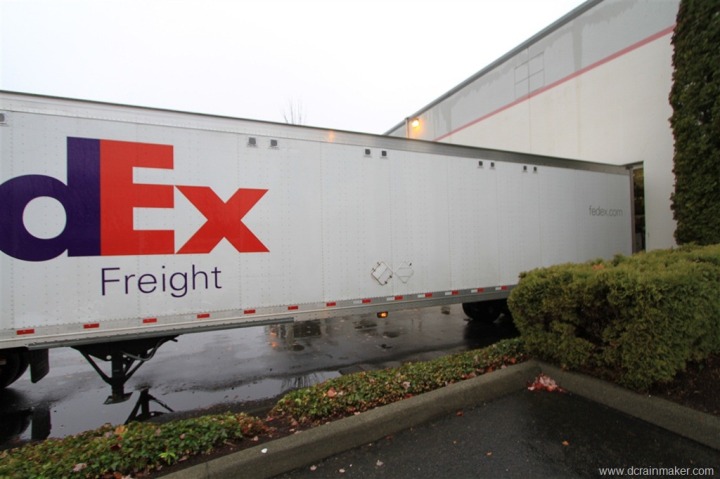 This.
A gigantic pile of Revolution trainers and other assorted LeMond fitness gym equipment.
The above pile of Revolution Trainers was just delivered prior to my arrival.  Like virtually everything in the cycling industry, manufacturing for LeMond Fitness is done in Taiwan.  The trainers are then placed into containers (two for the pile above), and loaded onto a cargo ship.  That ship takes approximately 21 days to get from Taiwan to the Port of Seattle.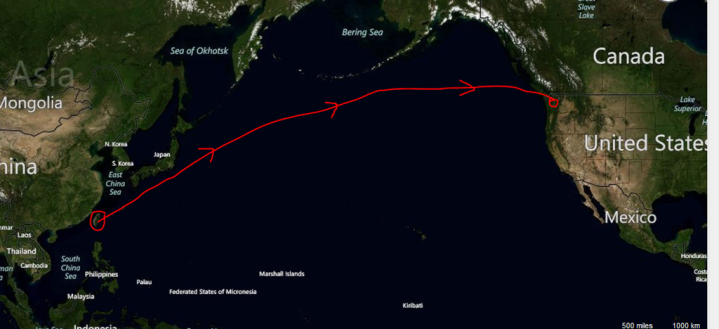 At this point it's unloaded by longshoremen where spends a few more days clearing customers.  Finally it's loaded onto a truck for the short drive over to Woodinville: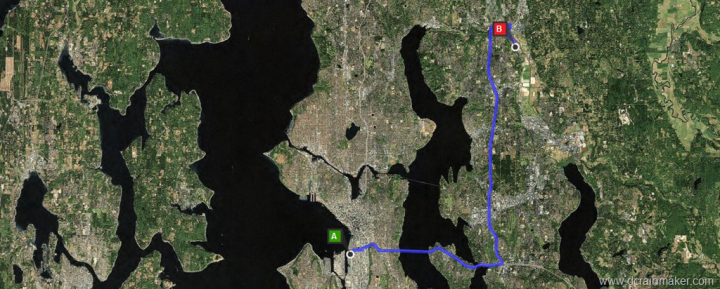 You'll notice as they arrive onsite at the LeMond headquarters that they are still fully palletized.
I thought it was interesting to see the original manufacturing pallet inventory writing still wrapped in the pallets: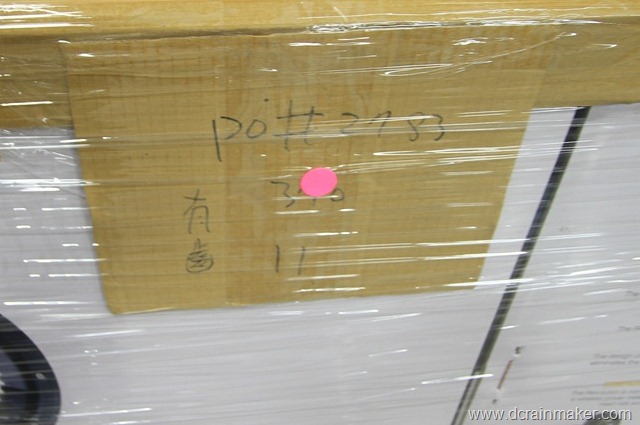 Once here these trainers are shipped all over the world.  LeMond Fitness generally prefers consumers to buy from a local bike shop, so the majority of the trainers head out to bike shops as opposed to directly to an end consumer like you or eye.  In fact, as I was there UPS came by and picked up a small pile headed out to a LBS on the east coast.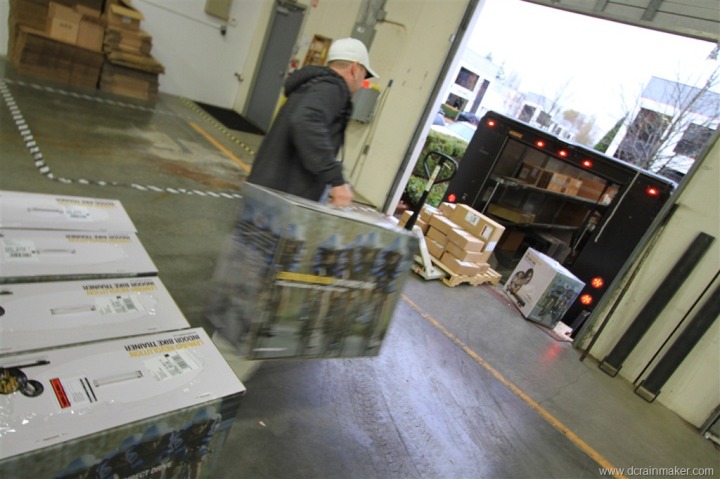 But shipments and support parts aren't limited to just the US.  Check out the below shipment – headed out to US Air Force Base Bagram, Afghanistan.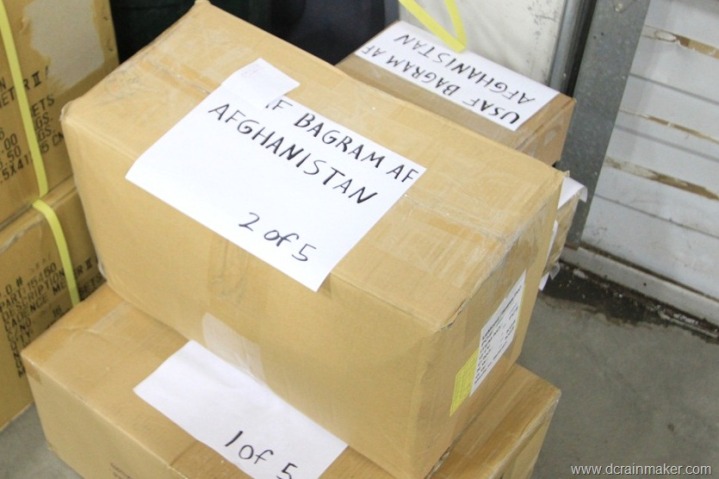 And shipments aren't just limited to Revolution trainers either.  Here's a slew of exercise bikes that will eventually go to a gym near you:
Now you may have noticed that the warehouse seems pretty empty – perhaps a bit overly large.  That's due to the fact that they just moved into it a few months ago from a much smaller facility.  They wanted plenty of room to grow, given the massive growth they're seeing.
But this space also gives them plenty of room to store lots of things. Take for example, all of their show floor materials – for events such as Interbike: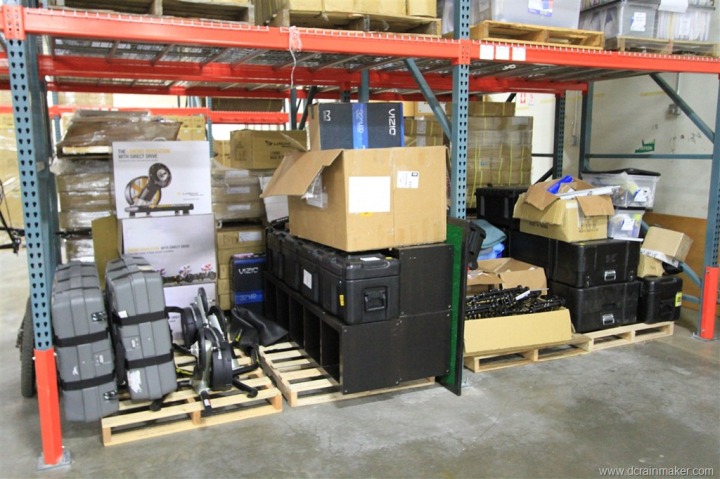 And they have got their own gym in there.  Apparently they've got a bit of a group TRX routine going on – one that multiple employees commented that they were still sore from the previous days workout – and these folks looked pretty darn in shape already.  Back towards the windows there is all the usual equipment you'd see in a gym from treadmills to bikes to free weights.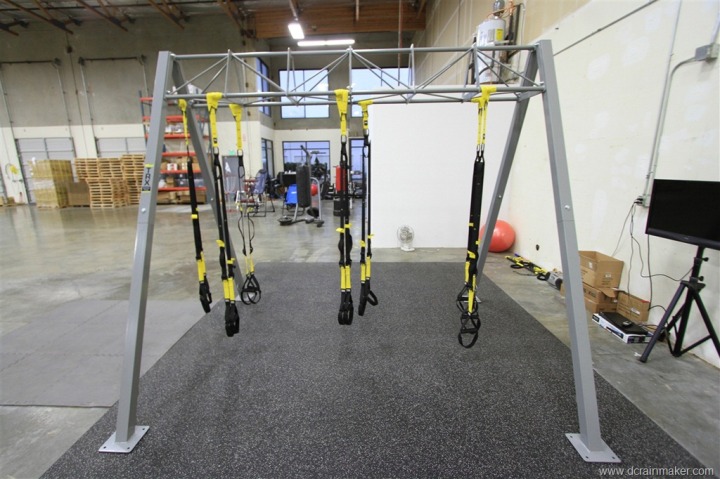 Stashed in the far back corner there's the 'Office Party' pile, which is a giant pile of equipment that will ultimately end up on Craigslist.  This is mostly just various pieces and parts that are being sold 'as-is'.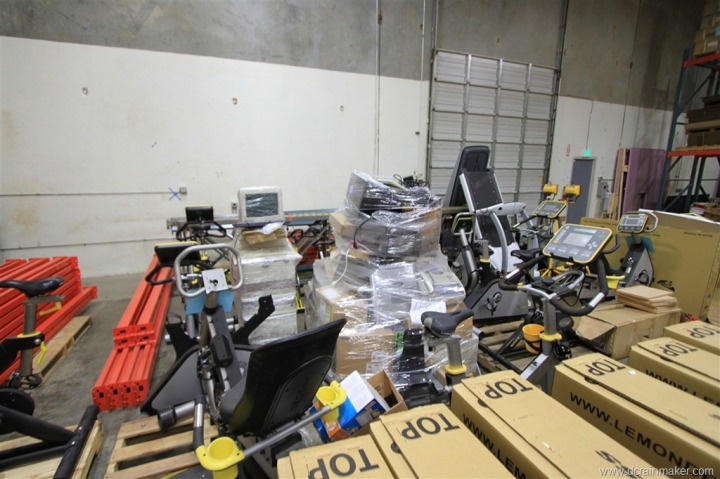 Next up is the development area.  Everything you see below is part of the development area, which actually extends to the left a bit as well.
So what do they do here?  Well, everything from testing of their own new designs for new pieces of equipment – to improving old designs, to testing competitors equipment.
Below is an example of them taking apart some potential options for brake units, merely as a way to redesign that portion of the unit – though not for an entirely new product:
One thing I was surprised to hear (separately from a few different folks) was how involved Greg LeMond actually is from a design standpoint.  I assumed it was mostly a name thing, but in reality, he's actually here pretty frequently – and he's constantly giving the team direction on new products.  I heard it described a few times along the line of 'The man has a 1,000 ideas  for new products and improving others, and is constantly delivering those ideas to us'.  From the discussions it was clear that is on the trigger side of innovation at the company, though he ultimately empowers the team there to execute on his ideas/concepts.
One little example that happened to be easy to convey was the below bike.  Apparently on a trip a few weeks ago he sat down in it, decided he hated the seat – and then took a saw out and actually sawed the seat to his liking.  What you see below is now the new design.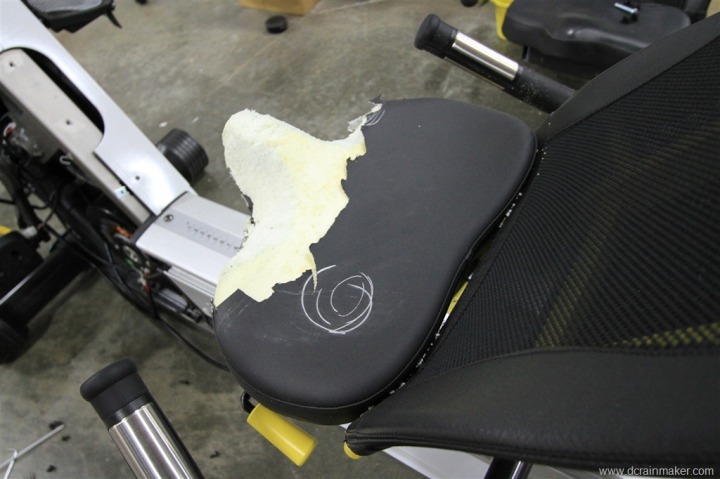 I asked if his involvement has shifted from the past (with either more or less involvement), where everything was focused on the gym side.  They noted that the Revolution Trainer really added a renewed sense of innovation in the company, one that they're really excited to drive towards.  The trainer was really the reincarnation of an idea that Greg LeMond had seen previously many years prior and wanted to improve upon.  And that's not to say that they aren't looking to improve it.  They're listening to the feedback and working to see how they can address the only issue that most folks find (the noise).  From Greg LeMond's standpoint though, he would only release a product that absolutely felt like the road – even if that meant something that also sounded like a small jet engine.
Next to the development area was the parts depot.  This is where they stockpiled parts and accessories for when your LeMond product needs a little bit of love:
Of course, before you get a new part shipped out to you – you'll probably talk with the support team.  They're just a few yards away, right inside the more cube-like area.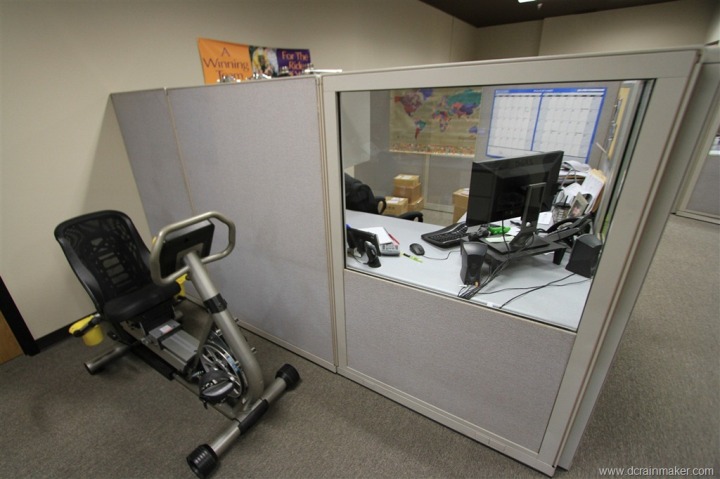 Though I suspect that your cubes don't have a Noah's ark of every LeMond product sitting out-front:
Like the boxes you saw shipping off to Afghanistan – their support team was pretty proud of helping out soldiers as well.  Here were two certificates of appreciations from US Forces in Iraq.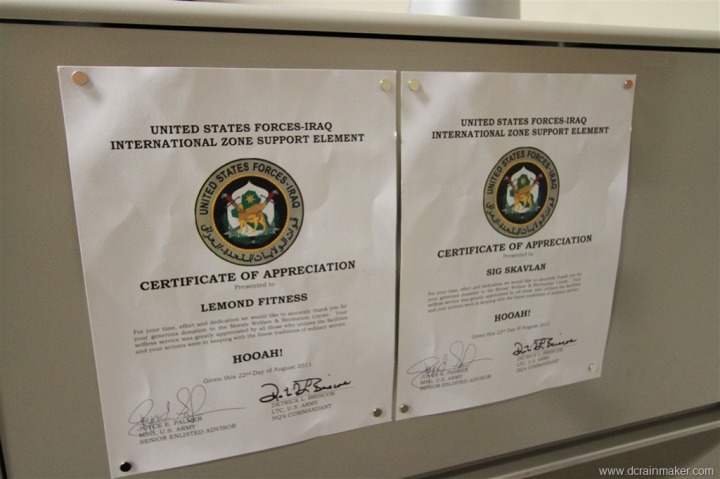 Last but not least…LeMond Fitness's grand expansion plans.  As I alluded to earlier, the company is expanding rapidly. Part of the reason to move into the larger facility was for the warehouse and development area, and part of it was to also house employees working on future projects.  The following hall of cubes are empty today, but are quickly being tagged for new employees they plan on hiring shortly.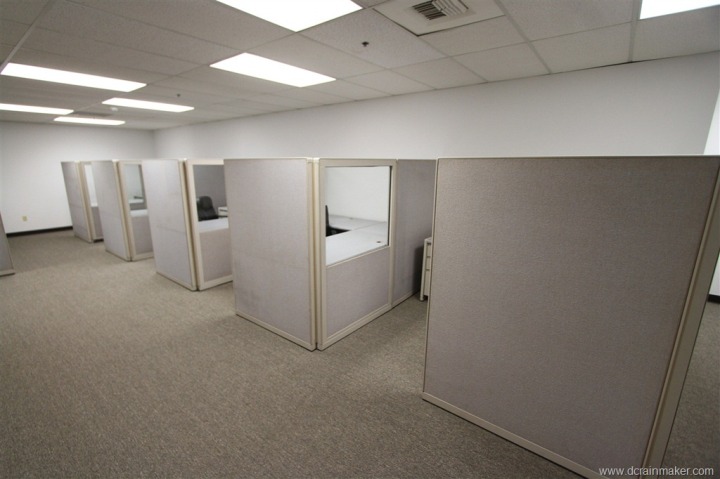 With that, my pre-Thanksgiving Day tour was complete!
Just want to say a quick thanks to Matt, Devon and the rest of the crew there for spending a bit of time the afternoon prior to Thanksgiving to give me (and you) a tour of the place.
Thanks for reading!