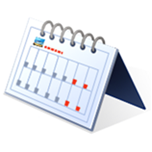 The Week in Review is a collection of both all the goodness I've written during the past week around the internet, as well as a small pile of links I found interesting – generally endurance sports related. I've often wondered what to do with all of the coolness that people write, and while I share a lot of it on Twitter and Google Plus, this is a better forum for sending it on to y'all. Most times these different streams don't overlap, so be on the lookout at all these places for good stuff!
So with that, let's get into the action!
DCRainmaker.com posts this past week: 
There was plenty of interest in the Tacx Trainer post – but of course, nothing quite compares to the fiasco that was the Hot Chocolate post.
Monday:  DC Hot Chocolate 15K 2011 Race Report (Alternate Title- How not to organize a race)
Tuesday: At look at InsideTracker's Nutrition Testing Service
Wednesday: Tacx Bushido Trainer In-Depth Review
Thursday: Garmin Forerunner 910XT delayed until after the holidays
Friday: Friday- Olympics, Presidents and everything else
Stuff that I found interesting around the interwebs:
Here's a not-so-small smattering of all the random things that I stumbled on while doing my civic duty to find the end of the Internet:
1) 2011 Ironman World Championships on TV today (Saturday) – at 4:30PM on NBC.  In case you hadn't seen the preview trailer, here it is:
2) San Francisco Urbanathlon on TV – Since I was out there for this event (albeit not racing this one), I figured this was worthy as well.  It's at 2PM on Saturday on NBC.  So basically, you can just grab a pizza and hang out watching NBC Saturday afternoon.  I might even be in there, we'll see! Other events (Chicago and NYC) are in the queue…
3) Paralympian, un-paralyzed by crash, now eyes Olympics – An incredible story that you've really gotta read.  Just amazing stuff.
4) Video on 18 year old rock climber from down the street – A really well done piece on a local young woman and her rock climbing.  Pretty awesome stuff, cool cinematography.
Sasha DiGiulian. "Pure Imagination" 5.14d (9a). from Adidas Outdoor on Vimeo.
5) Motorola Motoactv coming to Sport Tracks soon – The Motorola Motoactv will soon get Sport Tracks support.  Good to see.  This follows on the heals of Training Peaks rolling out support this past Thursday night.
6) Pretty impressive Jawbone UP letter from CEO , and refund offer – I've been lucky in that my little Jawbone Up has been working without issue – but for some (many?) there's been some pretty ugly hardware issues.  If you're one, you should definitely read the letter and refund offer (which includes keeping your device).
7) Washington Post follow-up article on Hot Chocolate 5K/15K – A number of interesting quotes here from both local authorities, and in the comments section – from the lead cyclists regarding some of the items.  Still a lot of finger pointing stuff by all parties involved.
8) National Park Service looks to ban cyclists on Blue Ridge Parkway – This could indicate a pretty big shift in one of the most popular Appalachian Mountain riding areas, which butts up against Skyline drive.  If you're roughly in the area, you should read this.
9) Swim tracking technology meets New York Times: Cool to see Swimsense – or any swim technology for that matter, being featured in the New York Times.
10) A sneak peak at the FR910XT Swim Metrics page: I posted this to FaceBook earlier in the week, but figured I'd draw attention to it here.  Based on all your feedback, I will go ahead and publish the FR910XT vs Swimsense  comparison post next week.  Still undecided on exactly which day (I may be doubling up posts next week), but it'll be out sooner rather than later.  I've got a lot of smaller product review posts that I know many of you are waiting for in order to base holiday shopping on.
Random Notes:
Per the requests of a few of you, I've gone ahead and enabled support for mobile devices – which appears to make things far easier to read for most phones.  Give it a whirl if you have a chance.  It should automagically redirect you, but you can also switch to the full site if you'd like.  Hope you like it!
Thanks all – have a great weekend!