One of the things we both really enjoy doing is going to u-pick farms and picking our own fruits and vegetables.  In the past, we've primarily picked apples, blueberries, and strawberries.  Given it's fall (crazy, huh?), we figured it was time to go out and pick some apples.  After a bit of of research, we found a place only about 25 kilometers from our home (with the exchange rate, that's like 15 miles – quite runnable in fact).
Unfortunately, it wasn't located too close to a train/metro stop. And even then, we'd still have to figure out how to haul back our apples.  We don't have a car here in Paris, as we decided against the expense and hassle (despite that it came for free from my company).  So instead we use Autolib, which is like Zipcars in the US.  We pay about $15 or so a month for membership, and then pay by the half-hour while using the car.  It's a little electric car.  We simply walked about 200 yards away and picked up our little friend (seen below).
Then from there, we drove about 30 minutes (in traffic of course) out to the farm: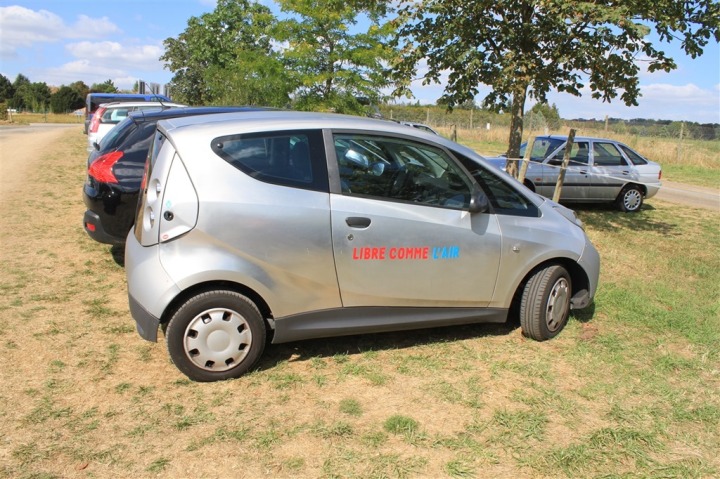 Once at the farm, we found a gigantic board that listed all the things you could pick, as well as the prices for each one (most by weight).  It was like the train station boards.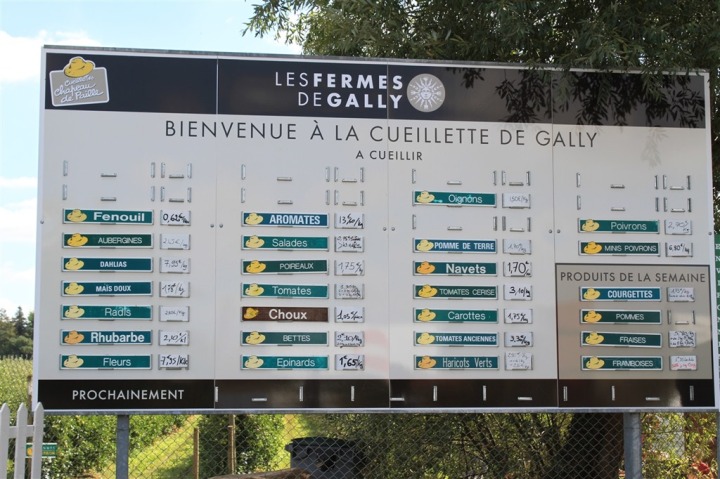 It's in French, which gave us practice at translating everything.  We're both getting pretty good at French words for food items, likely out of necessity.  We found it funny that while they had icons next to each food on every sign in the farm…all icons were the same: A little floppy hat.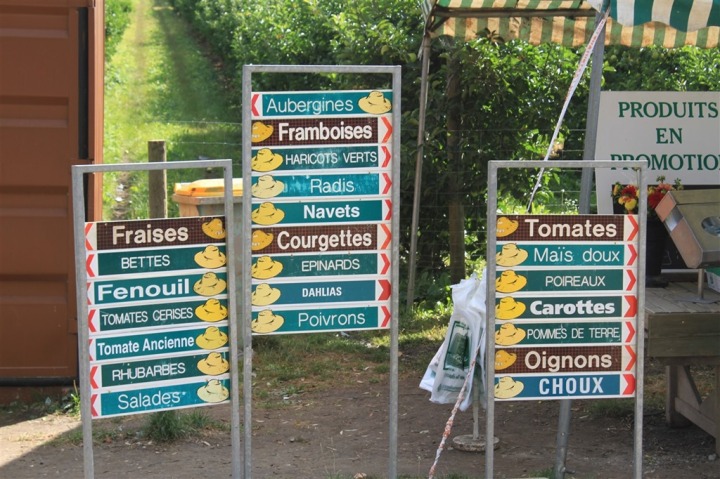 We then picked up our wheelbarrow and headed on out.  The farm itself is huge.  Like, run a 10K or so around it huge.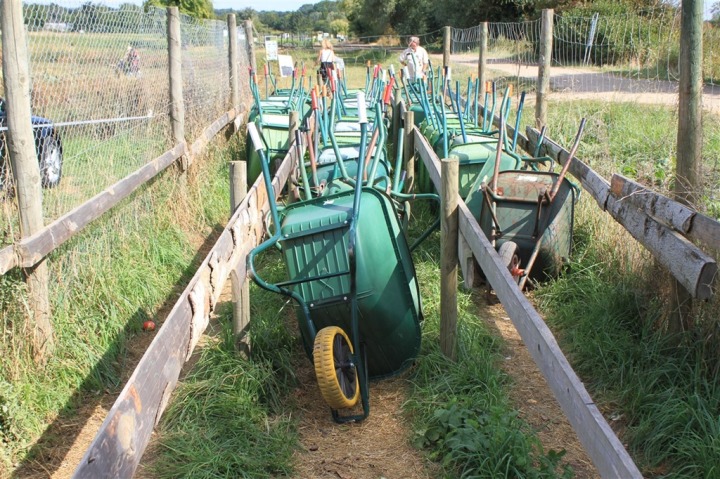 As you'd pass each crop, they were marked in French, along with the cost per kilogram.  Below, were Eggplants, which were 2.45 a kilogram. A kilogram is 2.2 pounds.  So basically a Euro a pound.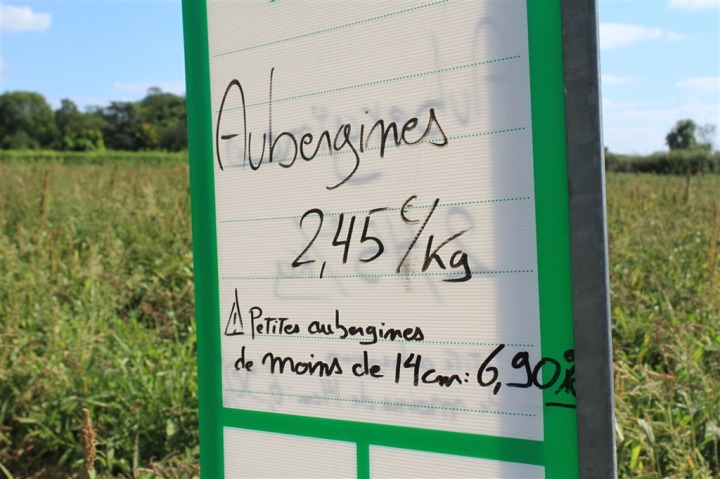 We got a whole bunch, with the plan to make eggplant parmesan.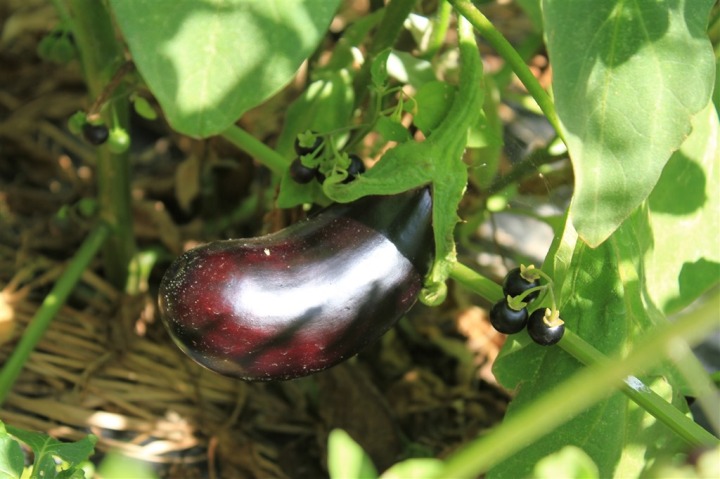 We then divided and conquered.  The Girl went off to pick some carrots.  And by pick, I mean dig.  She's going to make carrot cake from them.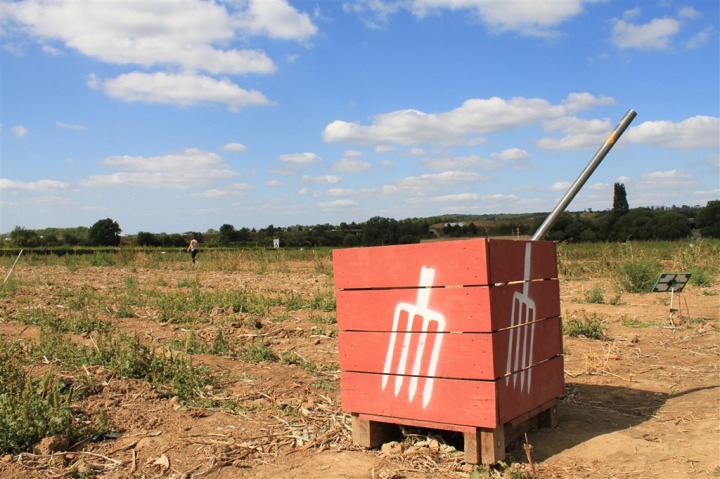 Meanwhile, I went picking for beans.  I love string beans.  I'm going to make…well…string beans…from them.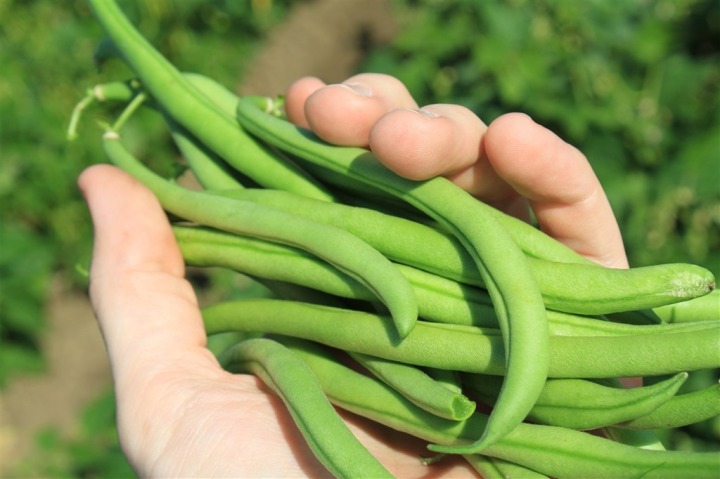 From there, we hit up the raspberries and did that for quite some time.  We got a nice carton of them, but, it was slow picking.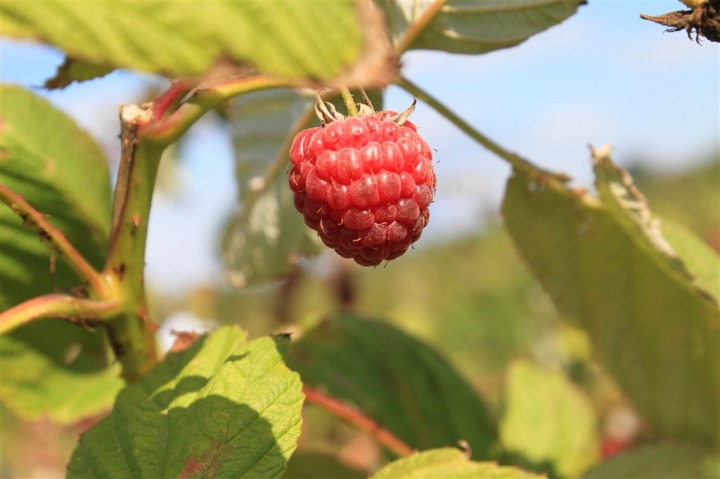 After which, it was apple time.  They had about half a dozen varieties of apples open for picking this weekend (but had others for other times of the season).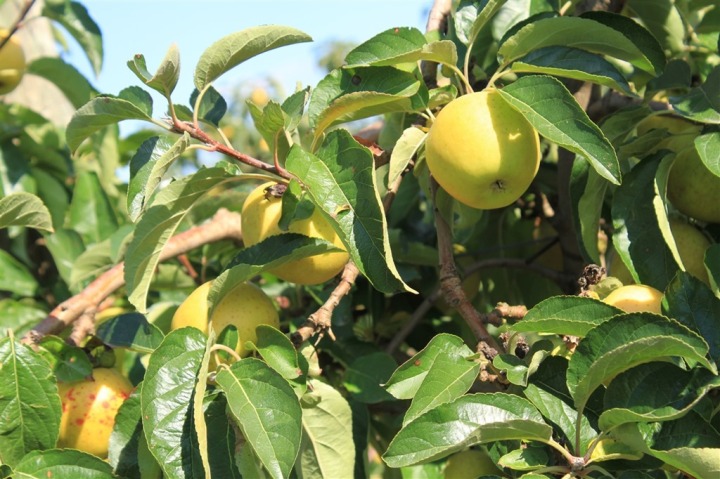 Before we started, we went and got a crate.  It was a flat-rate cost for an entire crate full of apples, with as much as you can fill for €23 (about $30US).   We liked that you get to keep the crate (in the US, you often just get your apples in paper bags).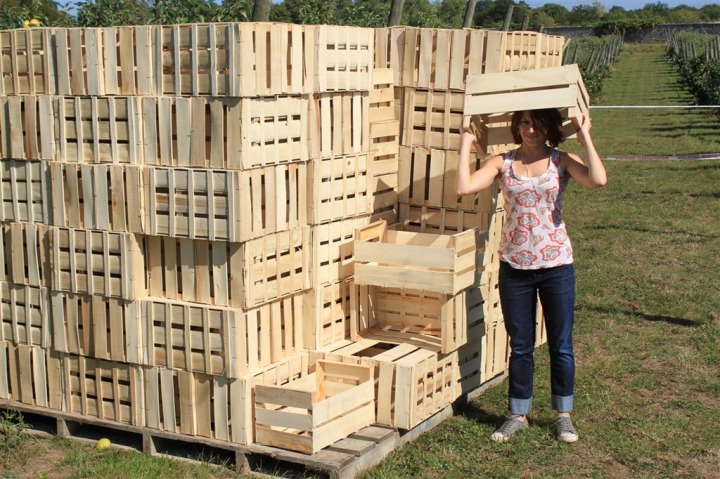 We picked a few varieties, based on cooking and raw eating needs.  These specific varieties will last months, so we're good to go for the fall.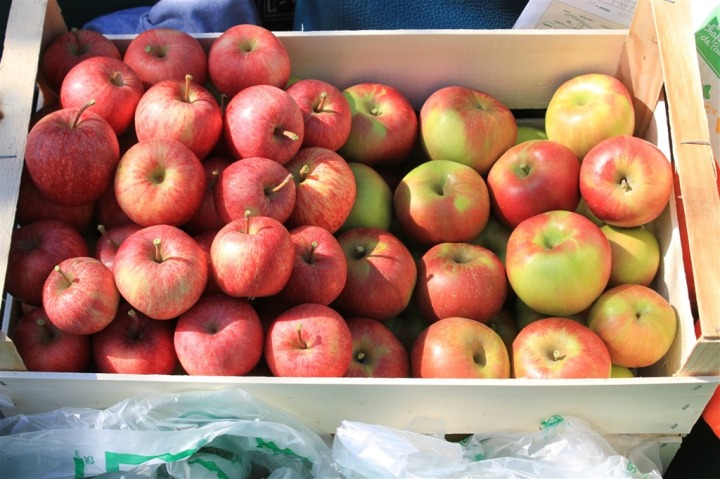 After the apples, we got a small contingent of leeks.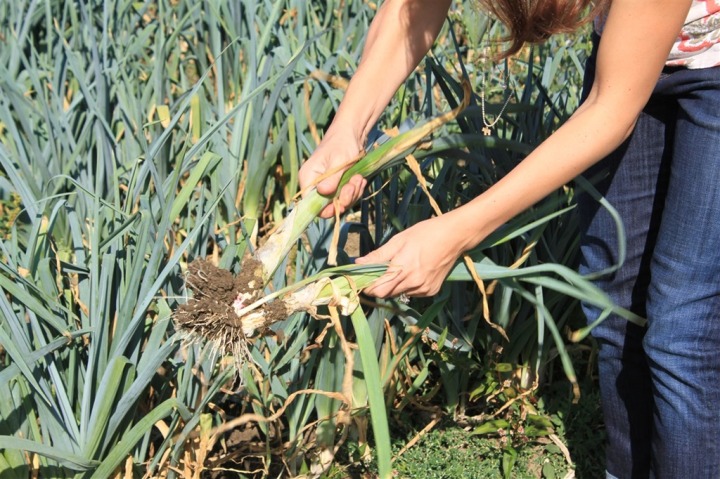 Then we got both zucchini and zucchini blossoms.  The blossoms were far cheaper than we thought.  In total for I believe 16 blossoms, we paid 80 cents.  Seriously.  Total awesomeness.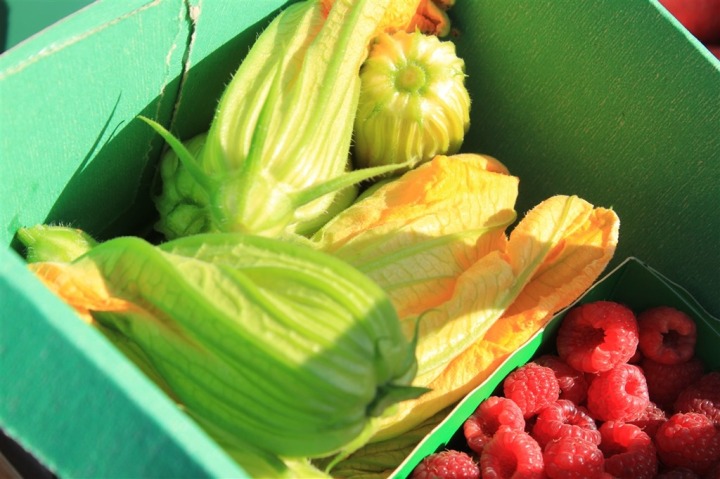 We went into the vast strawberry netted areas, but the pickings were slim for the portions that were open today.  They rotate crops by days of the week so that if you're there early on the set days for that portion of the crop, you can get good pickings.  The strawberries opening tomorrow for the next two days should be awesome.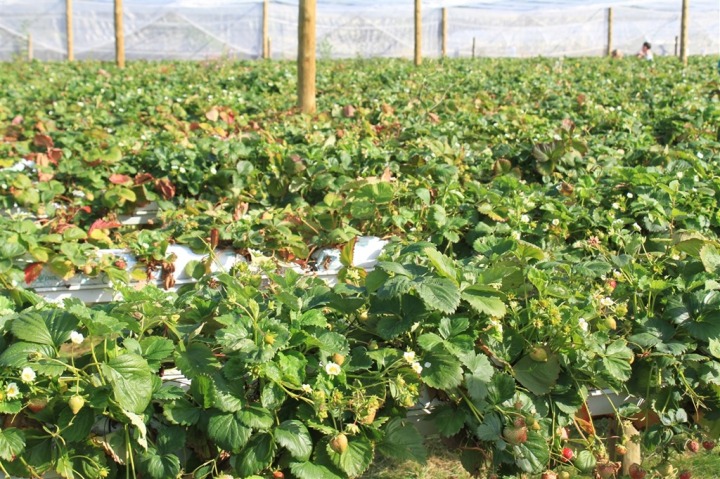 And lastly, we grabbed some various herbs.  Chives and mint were on our list. But they had plenty of others.  We also got some lettuce and a few other random things like beets and little pumpkins.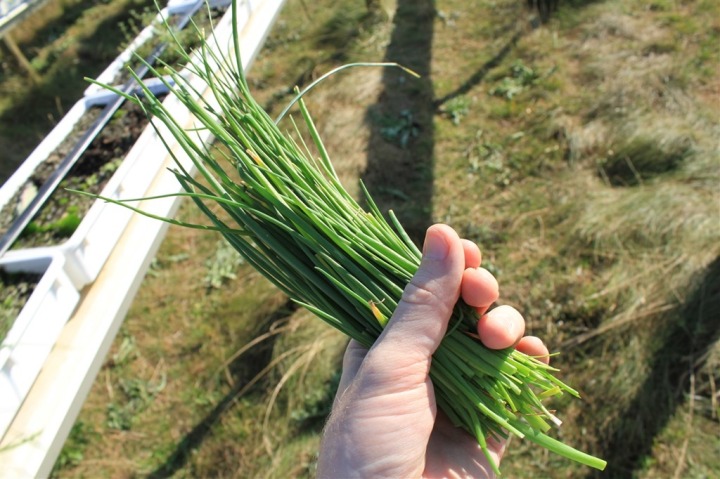 With that, our final loot: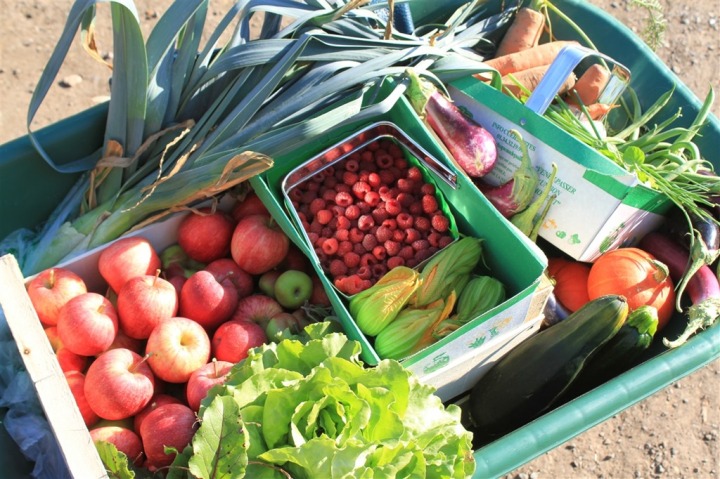 Now, here's the kicker.  The whole bill came to €44.  €23 of which was the apples.  And of the remaining €21, €5 for the raspberries.  Unreal.  Especially those €.80 blossoms (for ~16 in total!).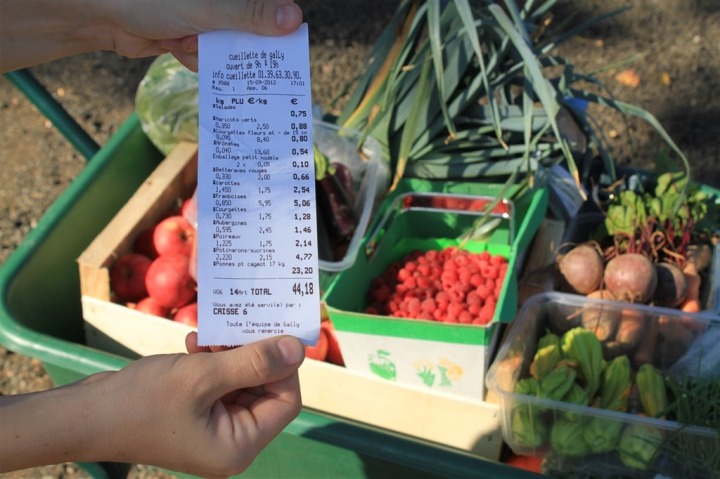 With that, we packed up our little Autolib, and headed home:
From there, it was onto a 90 minute bike ride (and run for The Girl), before we cooked up a feast!  But more on that later.
Thanks for reading, and hopefully everyone is enjoying their weekends!  I know we certainly are!
(Interesting side-note, our first date was actually to a u-pick farm, almost four years to the day…you just didn't know it then.)