So it's twofer post Sunday I guess. I had a really busy – but awesome – weekend. The good news for you is that both of these posts are 'short' by my normal standards. Lots of pics, but otherwise short.
If we rewind to Saturday morning, I first knocked out a 12.5 mile 'long run'. This was my first 'long run' since Ironman Canada, a little under 4 weeks ago. While I'd been doing workouts daily – plus the race last weekend, most of my stuff was high intensity and not too long. But now the focus is on Philly – the Philly Marathon that is, on Nov 23rd. Without question the primary goal is Boston Qualifying (BQ) time – and short of a major disaster that shouldn't be an issue. But the real goal time is sub-3 hours (sub-7/mile for those trying to do mental math). Actually, the goal is slightly less than that – but those just be details.
I did a 1.5 mile time trial last Thursday (which, for the record made my lungs burn). The first mile wasn't a problem, it was the last .5 that sucked – no pun intended. I finished virtually even splits though every 400m at a 5:21/mile pace. This was also my first track workout in two months, so we've got a fair bit of room for improvement still.
The workout plan for Saturday morning however was 90 minutes, split into 60 mins Z2, and then 30 mins Z3 – focusing on as many hills as I can find. Hills you say? Okey dokey, hills we go.

Because it was a nice cool morning I was able to sustain a descent clip in Z2 – averaging about 7:20/mile overall. I was relatively happy with that given my first real running since IMC, and being all Z2. The marathon won't be in Z2, it will be in a higher zone. Plus, we've got 8 weeks of speed work to add it. Woohoo!
After the long run, I ran with the rest of the team in the 5K, bringing my daily total up to about 15.5 miles.
And then…it was off to pick apples! Well, actually, first I went to a wine-tasting – but I don't have any photos of that. So anyway…apples!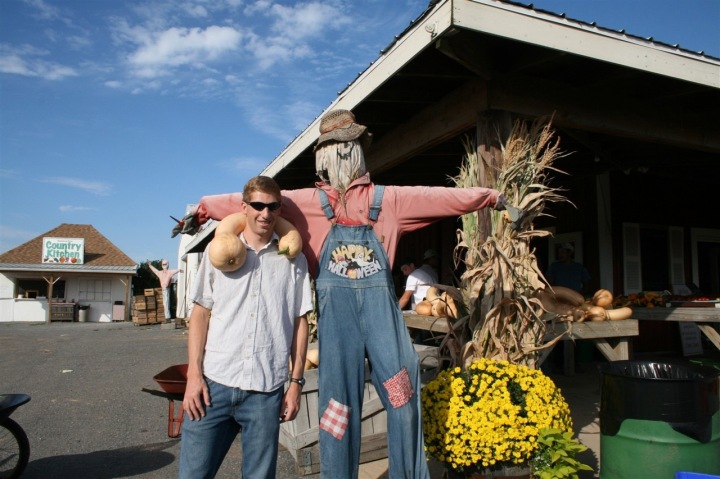 (Yes, there are sooo many photos that could have occurred here with that squash…)
This is the same farm I went to pick strawberries at back in May. Yesterday we picked a LOT of apples. Ok, just shy of a CRAPLOAD of apples. Luckily apples – if kept in a cool dark place – will last forever. So I'll be making apple stuff all winter long. My usual apple wares include apple sauce and apple pie, both of which you can look forward to in future weeks.
It was interesting to see all the different apple varieties, and how different the trees are that hold them. Some are super skinny and tall, and others are more plump and short.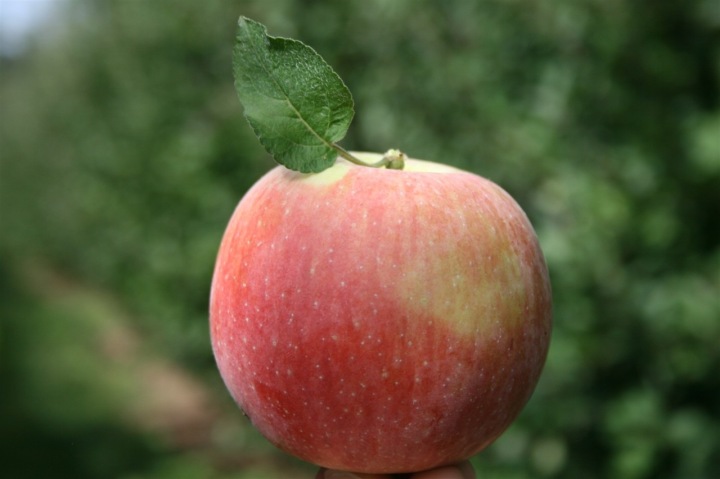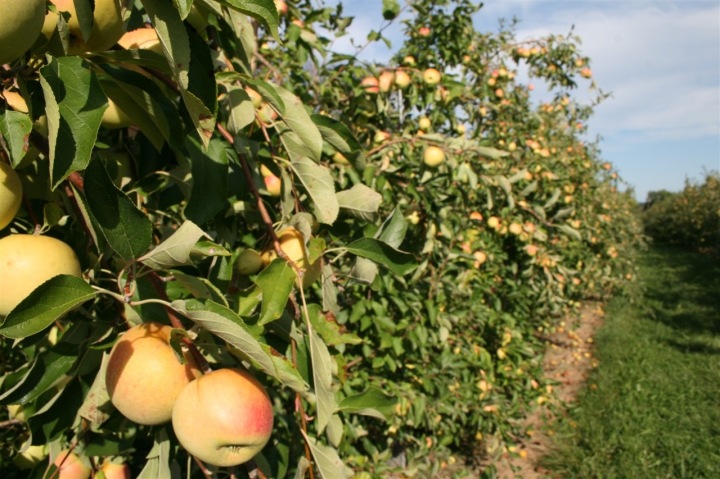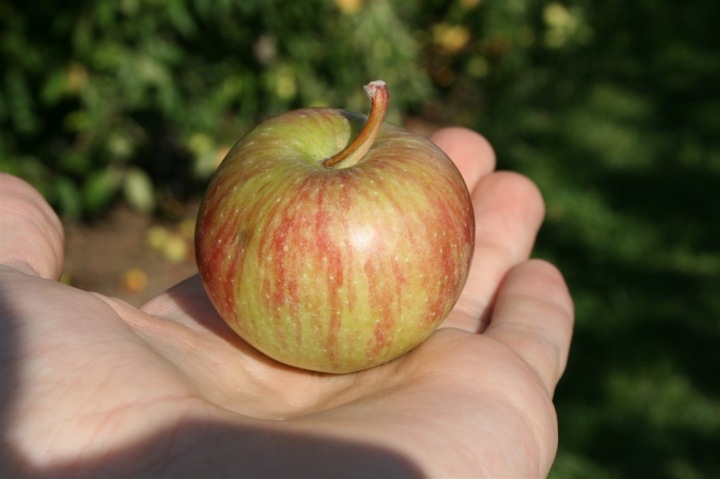 At one point along the way, we stumbled into some well picked raspberry bushes. It was the end of the season, but with a lot of persistence we picked a ton of Raspberries.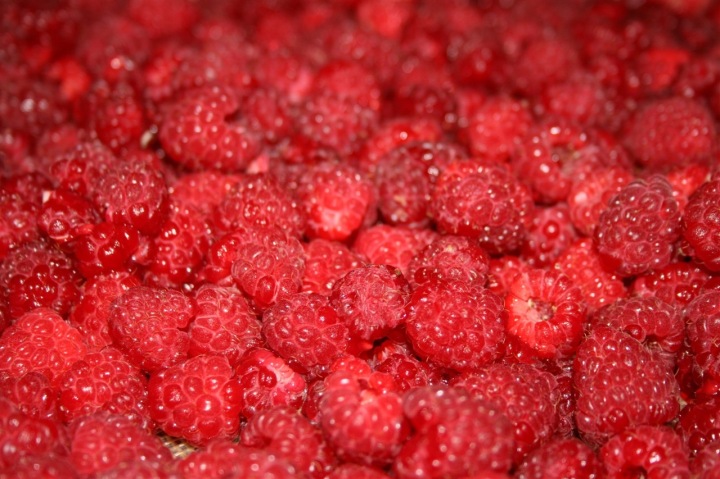 After we had reduced the gas mileage of my car significantly with all the extra apple weight – it was time to head home and cook up some dinner.
Tonight's dinner was Filet Mignon with Bourguignon Sauce and Chocolate Volcano Cake dessert. These little individual cakes are my favorite dessert to make.
I forgot to take a photo before I dumped the sauce all over it and started eating it – so you'll have to do with a half-eaten piece of steak.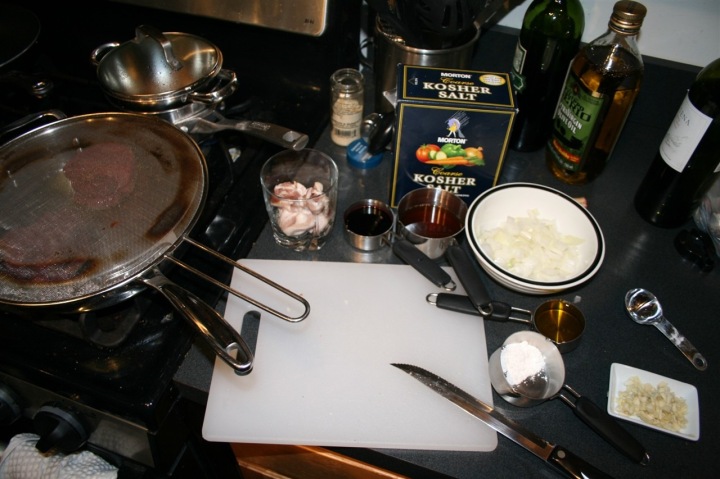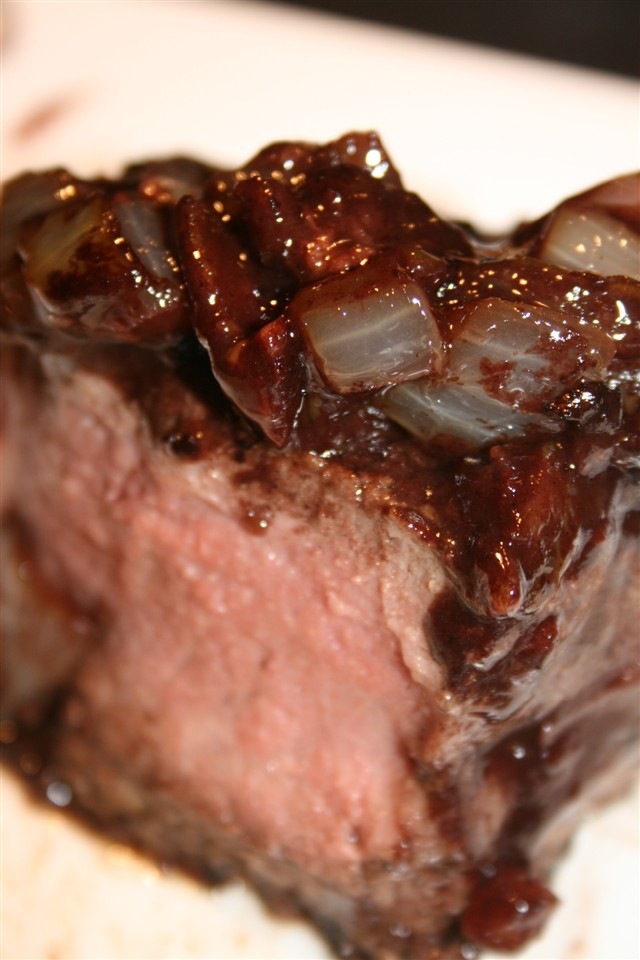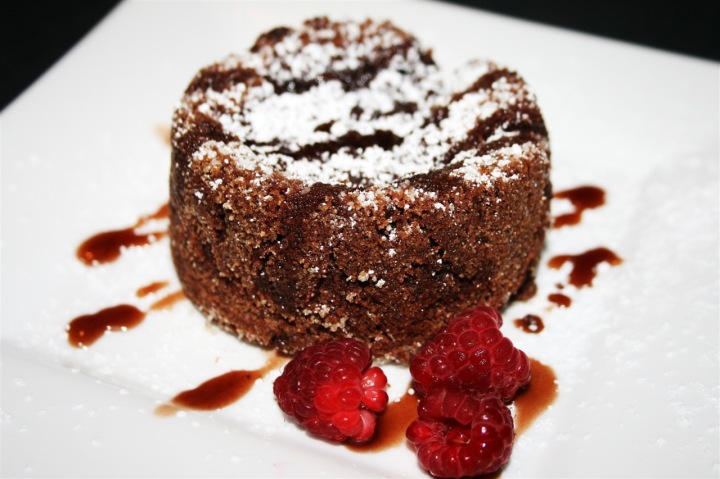 Now that my Sunday's have been reclaimed with NOT having to ride 9 hours out on Skyline drive, I can lay back and enjoy the morning again. This morning I made some waffles and threw together a quick raspberry sauce from some of the raspberries yesterday.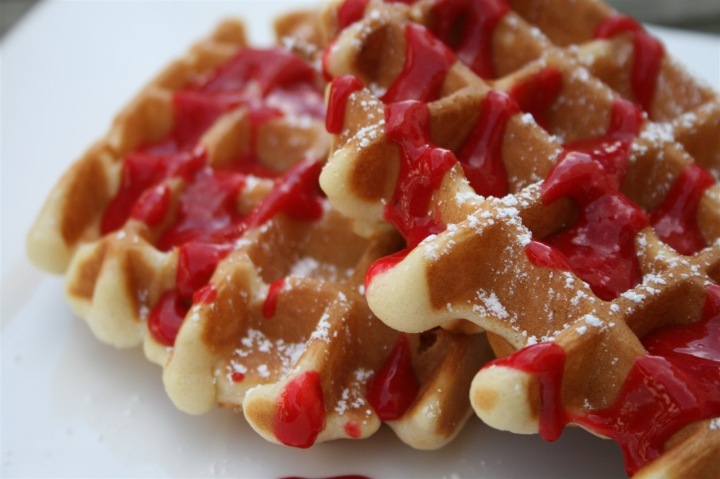 Then eventually I went out on my bike for an easy 25ish mile ride. Played a lot with the 705. I'm really starting to love this thing for cycling. Just 'fits' the job so much better than the 305. I passed this nursery, which had pumpkins out front. Fall is here. :-/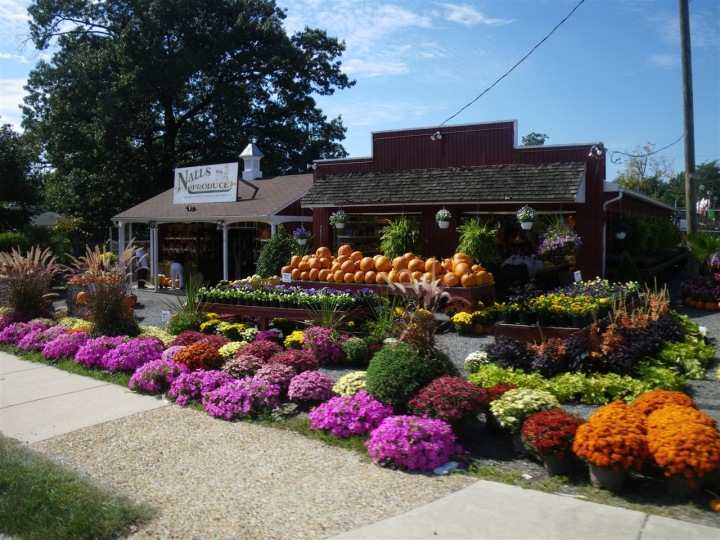 After a quick shower, I sprinted to the airport to catch my flight to Seattle for a few quick days here. I got to the gate 14 minutes before the flight departed. Perfectly timed. 🙂