In many ways, my weekends are somewhat predictable.  Run, Swim, Laze Around, Sleep, Bike, Run.  Repeat.  But, I try and mix things up as much as possible to keep the routine from becoming stagnant.
Saturday:
I met up with the running group a touch after 7AM.  The route was put together to allow runners to race in the Kelly Cares 5K race that morning through and around Del Ray.  While I wasn't racing, I did do the pre-run, and then watched an assortment of friends race.  The great thing about 5K races is that they are pretty much over, done and wrapped up in under an hour for everyone.  None of this 17-hour nonsense.  And unlike the massive 5K event going on downtown at the same time, this one only had about 500 people in it – which was cool because then I could cheer for each person individually as they streamed by over a period of 35 or so minutes, from little kids (like 5 y.o.) racing to 'seniors'.
Oh btw, it was humid as all getup yesterday morning.  Far more humid than my time spent in the Amazon jungle.  Just standing there you were soaked.  Having it be 98* didn't help either.
In order to rectify that situation… I went to the pool.  I hit up an outdoor pool I had just found out about on Thursday.  Figures, a pool only a mile or so away from me and I never knew it existed.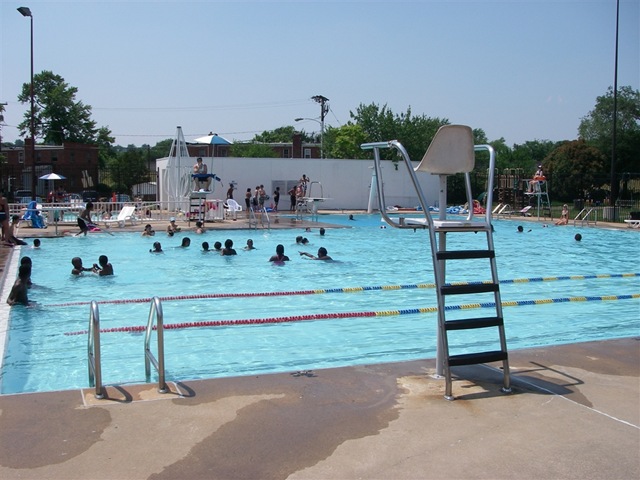 (The Alexandria Old Town pool, just one block from King Street and the King Street Metro station)
It was pretty nice.  Another triathlete was also there at the same time, so we chatted a bit.  The water temp was perfect, although at only 3' deep, in another few weeks it could get a wee bit warm.  While I was there the Washington DC NBC affiliate came by and was filming.  I didn't make the cut for the evening news – but my pull buoy did sitting at the end of my lane did.  Woot – go PB!  I would spend the time to transcode the little video and post it…but I'm lazy.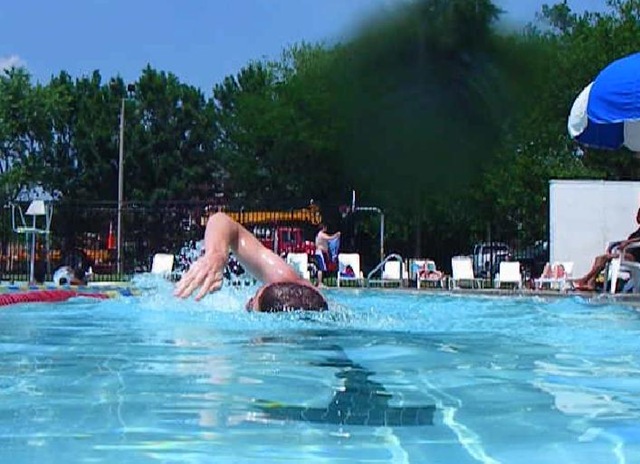 (Grr…my head's too high out of the water, should be about half that much.  I was working on a different issue that set.  Oh, in case your wondering – waterproof digital still camera set to just video my swim and then I took a snapshot from that.)
After that…it was off to go pick strawberries!  I had stumbled upon the idea from Hungry Eye's blog, and I hadn't been out to the farm since last fall for apple picking season.  Perfect!  I had planned to go with one friend, but they bailed at the last second.  Ironically, another friend who was planning on going picking also had their mate bail as well.  So we teamed up and went to bring home the bacon…err..strawberries.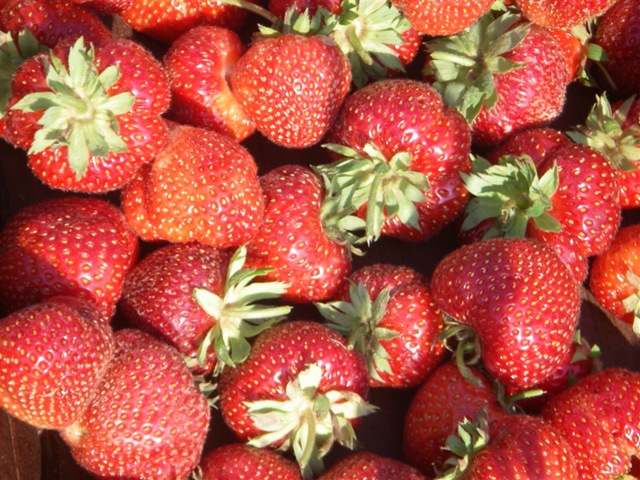 (A tiny portion of my massive flat of berries, pre-cleaning)
I brought home 9 pounds of strawberries.  Holy berry-crap I have no idea what I'm going to do with that many berries.  But they're awesome!  Afterwards, it was off to the Fair.  The only fair I've been to before is out in Seattle, the Puyallup Fair (or as us Seattle folk say – 'Do the Puyallup!').  But this one was pretty cool and I had a good time, despite the fact that I'm a sissy and don't go on any of the topsy-turny type rides as I'll easily get sick.  Yes…sad and pathetic.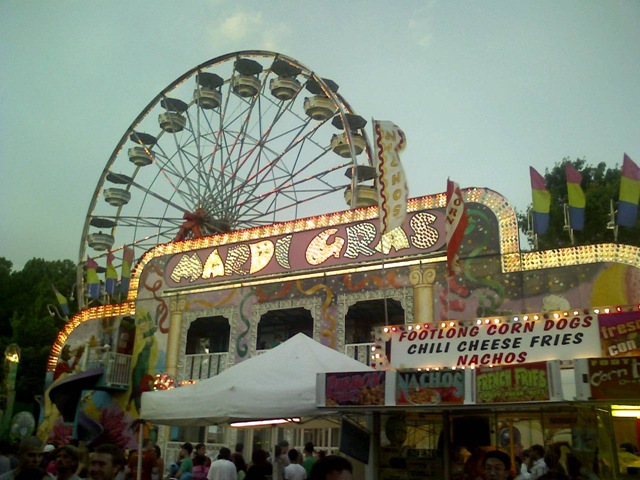 Sunday
Back up to the mountains again for another ride on Skyline drive.  Today I only saw one squirrel.  Seriously – just one.  Apparently they have learned.  However, it appears that The Squirrel's may have decided to bring in the big guns!  First, I saw numerous snakes (some alive…some not so much).  Although hitting a snake wouldn't  likely take me down, it would make Mr. Cervelo unclean.  Then there were the two deer that taunted me.  But really – when The Squirrels pull out all the stops…they go the distance and enlist the help of the bears.
He was hanging out right in the middle of the road, just waiting for me.  This time I had plenty of time to slow down and stop – and check him out.  By the time I had gotten my camera out and on he had meandered off the road and into the woods, so my photos aren't exactly great (well, they suck actually).  But…nonetheless – here's Yogi!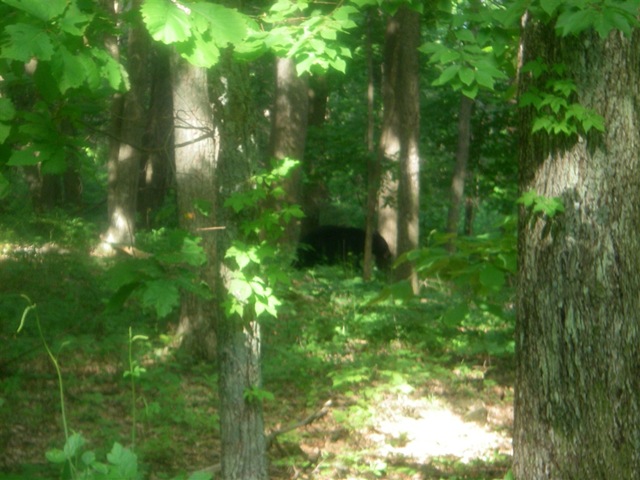 A park ranger who just happened to be passing by at the same time said that this bear was about as big as you'll get.  It was pretty darn big – despite how small it may look on my photo above.  After that, it was off to the top of my ride – Pinnacles Overlook, about 35 miles in (making it 70 in total).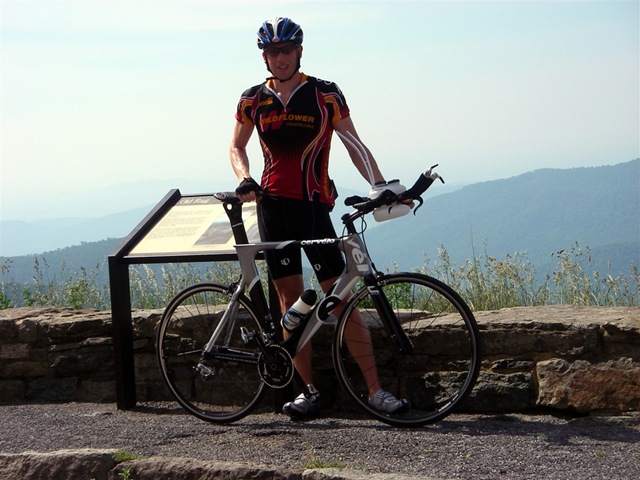 (Since no one was around, I had to kinda situate my camera in an odd place, light conditions not ideal) 
After that, time to work my way back to town.  That includes a pretty fun section from Pinnacles until shortly after this tunnel, lots of quick turns at high speed (going downhill).  Overall I felt fairly strong after the bike.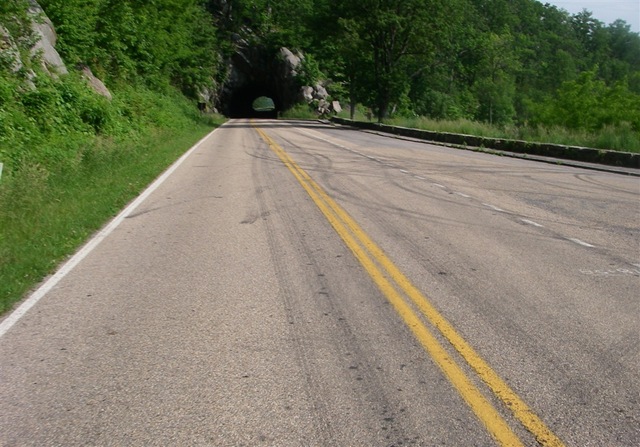 Once back in town, it was time for the usual 5K brick afterwards.  Ugh – nothing like 96*+ temps and humidity up the ass, with a good measure of hills tossed in to make a fun little run out of it.  The only thing that kept me going was continually thinking about SNL's Schweddy Balls skit and also thinking about all the folks doing Eagleman 70.3 suffering through the same thing…but for 13.1 miles.  I got back to the car…and simply collapsed into the grass for awhile.  Heat & Humidity for the win.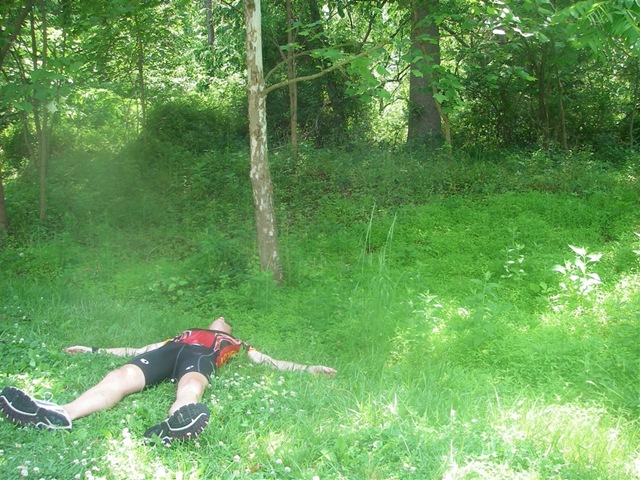 Finally, I got home and sorted 9 pounds of strawberries onto different sheets based on 'grades' and usability potential (less pretty ones for sorbet & pie, pretty ones for other things).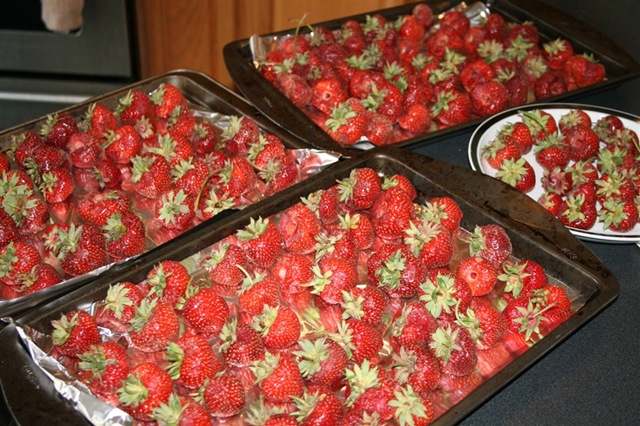 Then I made four quarts of fresh Strawberry Sorbet.  And two loaves of Strawberry Bread.   And a Strawberry Rhubarb Pie.  And I still have two sheets of strawberries left…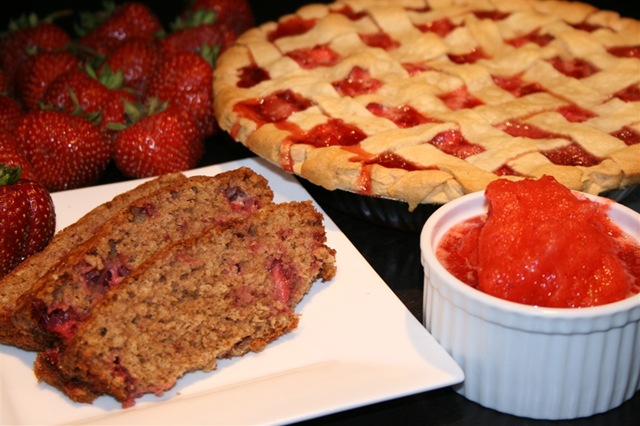 Ok, I'm done now.  Have a good week!