Alternate titles: "My new girl is bi"*, "Sorry Mr. Squirrel", "Rainmaker: 1, Squirrel: 0"….
So my Sunday ride started more or less like any other. I got up at the asscrack of dawn (literally, before dawn) and jetted out to Skyline drive for another hill festivus.
Except there was one minor difference… I had my new girl with me. Otherwise, it was business as usual. After passing through the park's gates it was up, up up… – 5,889 feet of climbin' here I come. The weather was picture perfect. There were plenty of little (and big) animals about. And it was mostly dead quiet (as I would expect at 6:45AM). I took this short video clip as I climbed up – slowly cooking along at 9-10MPH. It's cool because you can hear the birds, and barely make out the continuous cadence up the side of the mountain. Also it's note quite all sunny yet as the sun is still low behind the mountain. (If you're in a reader, you'll have to likely click to see it.)
For reasons that I can't explain – there were many squirells out there this morning on the road. They would sit there on the road and then scurry away at the last moment. After a short while I realized that if I made a sharp whistling sound they'd bail off the road near instantly – well before I got there. The only catch was this didn't work above about 25MPH, the wind obscures it.
As I was nearing the bottom of the first major descent (1,000 ft) of the morning I noticed two little furry creatures up ahead. One squirrel saw me (and the car trailing me), and immediately bailed. But the other one was rather stoic in his place just off the right edge of the road. Hmm… no worries – it's dead quiet up here and I can see no cars coming, I'll just bail to the complete other side of the road to ensure at the last second he doesn't jet out in front of me. At this point I was going about 40MPH and had slowed down to 35MPH due to the impending showdown.
Well… sure enough – Mr. Squirrel jets across the street (all the fricken way across) and right in front of me. I had only one choice – hang on tight and hope for the best.
Turns out…hoping for the best didn't work. Smack/Thwak/Thump. Direct hit. About 1/100th of a second later I realize I'm still going and in one piece despite a head on collision with a squirrel at 35MPH. I pull over a few hundred yards later at…the infamous MMOF location. Yes – the exact same location where last week I had the MMOF, this week I had a secondary MMOF. There were many expletives shouted before/during/after hitting Mr. Squirrel. I don't know if the squirrel survived…but he wasn't lying TU on the road. Btw, this isn't the first animal run in I've had.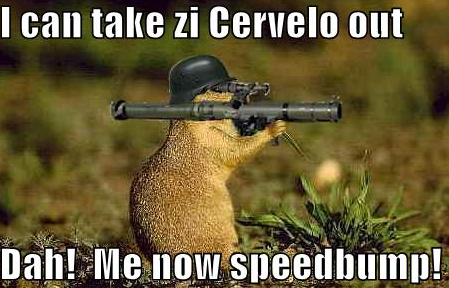 Oddly enough…. I saw only one more squirrel the rest of the trip. I continued on for another 10 or so miles to my turnaround point. On the way back though, about 5 miles later the girl started making strange notices. Not good me think. I pull off to the side and start trying to figure it out. After a short while I realize I've got a massive bulge in the back tire.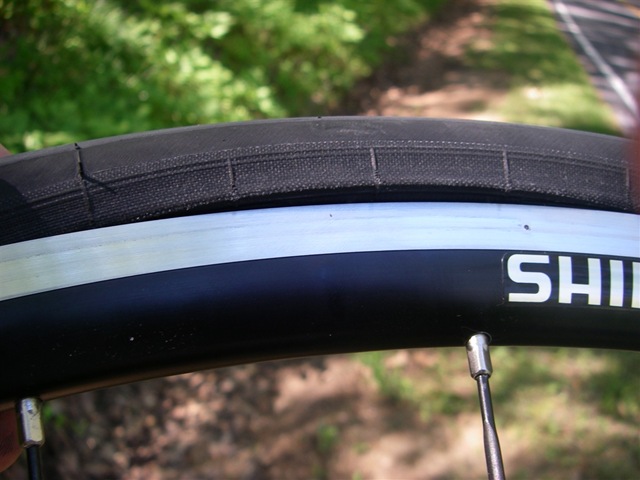 A rather quick deflate, push/pull and re-inflate and the tire was all good. This was actually my first time using CO2 – I really didn't read the instructions and just hoped for the best. That stuff rocks!
Anyway…Here's a shot of me at the turnaround by a random tourista. Unfortunately despite being from Virginia her spoken command of the English language and the camera is lacking…and she missed getting my bike in the shot.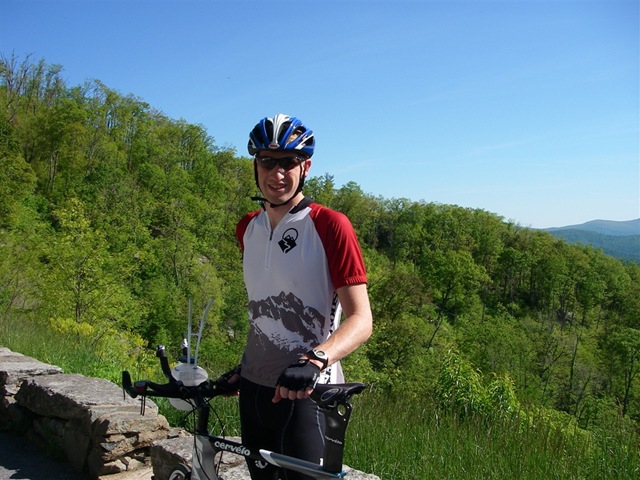 And, here's a deer I saw on the way back. Caught him just in time, he bolted as soon as he saw me (I think he would have won though in a Cervelo vs Animal rematch).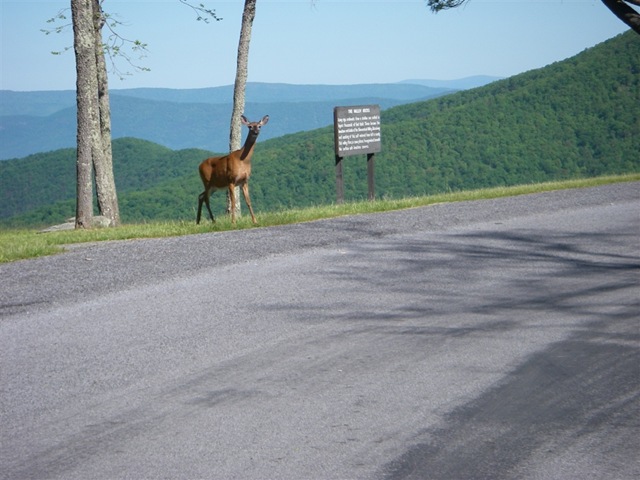 And finally, a nice shot of the ridge line as I motored up the last hill before a nice long cruise back down into town (much better than last week's semi-dreary day).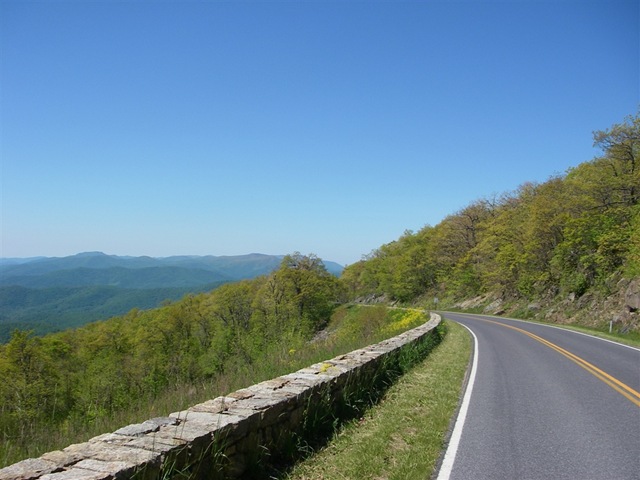 Post-bike, I knocked out a quick 5K+, and then hopped in the car back to DC. Overall, I love my new bike. I was about 1.5MPH faster on the ascents today, with a fair bit lower HR (there were no flats to guage). As coach pointed out, most of that is the bike fit. A tiny bit may be the bike. But I feel like I have so much more power – and my cadence was a sustained 90RPM over the course of 4 hours (including descending where I stopped pedaling over 33MPH). Awesome bike! Can't wait to buy the aero-wheels in the next few days! And I can't wait to get out on the flats. There were actually a few flat sections along the ridge line that I was just screaming along in aero, but it's hard to tell if they were perfectly flat or not.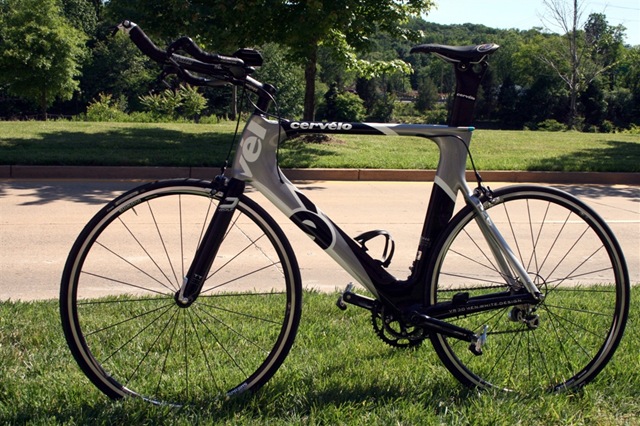 (My new bike, in front of its new home)
*Title clarification for Audrey…she's bi because she likes both me and squirrels and me.
Cake Love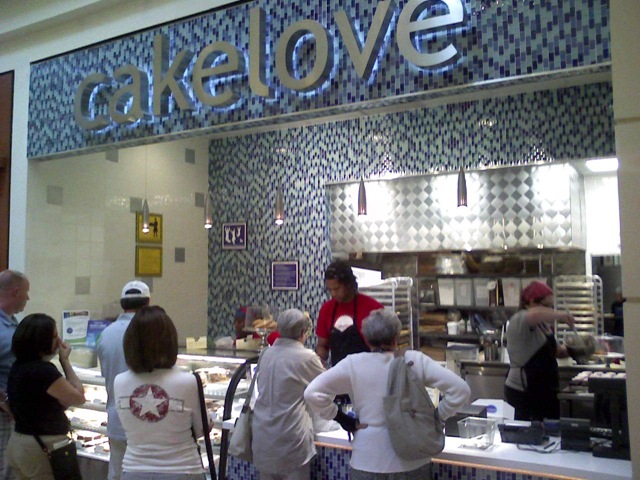 After cycling, I went out to the mall to buy some new clothes…cause very few of them fit (all too big). I stumbled into a new Cake Love that's located at the Tysons Corner Mall. Sweet! For those of you that don't know – Warren Brown – the owner/founder of Cake Love is a DC native who once had a Food Network show (that's Warren at the counter, via my cell camera). The show was alright, but the food rocks! And he just released his new book, I knew it was coming but somehow missed the release a few weeks ago. I ended up picking up a copy and he even signed it. Sweet! Oh..and I had a cupcake. 🙂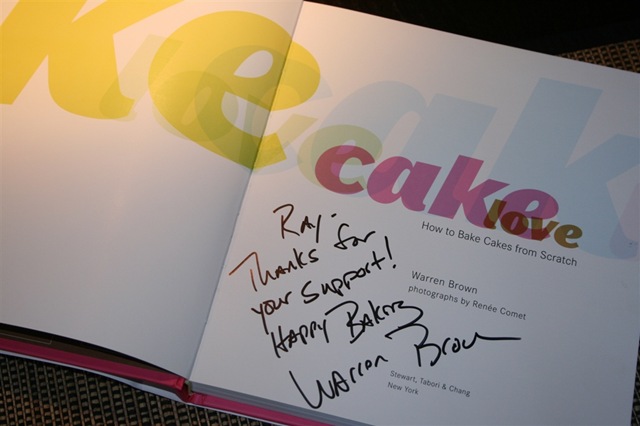 (If you haven't noticed by now… I love to cook – and I have a massive cookbook collection, which is kinda like bike porn…but food porn instead)
BBQ!!!
Monday was reserved for a BBQ being held at my place for a group of runner friends. In short, I cooked up the following: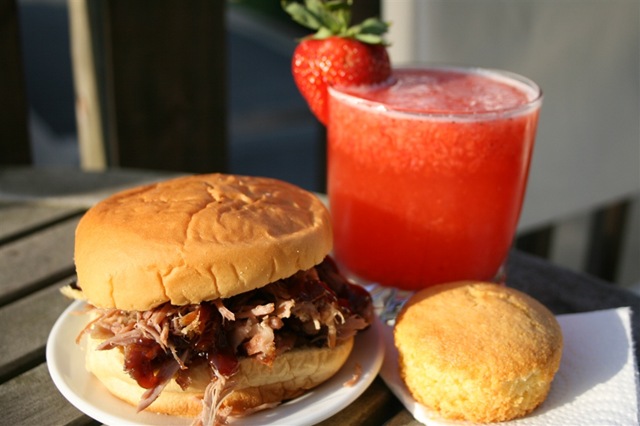 Main dish – Pulled Pork Sandwiches. I slow-cooked the 8.5 lbs pork shoulder for 14 hours on the BBQ. That's after rubbing in some good solid pork rub and letting in do it's thing, and then injecting it with a secret apple-juice/salt/sugar mixture to keep it incredibly moist and sweet.
I made the Strawberry Lemonade as well, from scratch. It's so easy (1C Fresh Lemon Juice, 1C Sugar, 7C water – mix. Done). And then add about 7-8 strawberries in afterwards with a blender.
Oh, and then I threw together some cornbread muffins right before the pork-ass shredding festival occurred (cause shredding 8+ pounds of pork is a fork festival).
After the pork we all hit the pool (in my little community they have a small pool) and lounged around for many many hours in the sun. I could post photos…but really – you don't want to see me and a bunch of very fit peeps laying around in swimsuits and bikinis in the sun…do ya?
…moving on…
For dessert the I made a fresh raspberry sorbet (the night before). I love this recipe, which is from the Ben and Jerry's book. It's got an incredible flavor and smoothness…boosted by a touch of red wine. 😉 It's simple to make – only about 5 minutes of prep, and 20 in the ice cream maker. Toss some fresh mint leaves from my little deck garden, and we're all set.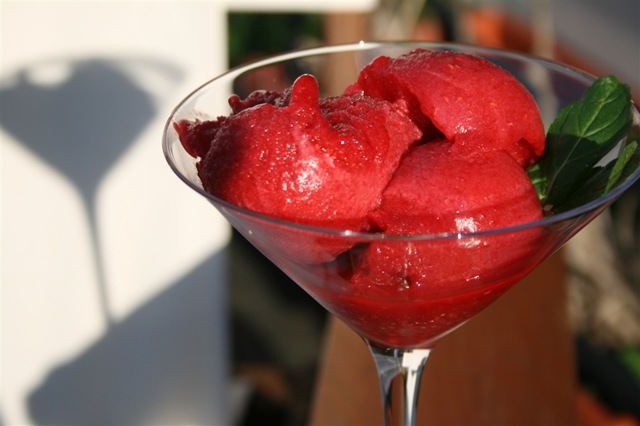 All in all… a great weekend with incredible weather and great friends, kicking off the first weekend of the summer.