So I already had an aero bottle – why on earth should I get a new one?  Well, because my coach said so.  And to be fair, I didn't exactly like my existing one.  My previous one dumped out half the contents of the bottle in the first 1/4th of a mile at Wildflower – as well as any other time I hit a bump*.  Plus, it only held one beverage type.  This new fangled bottle held TWO beverage types – and it kept the stuff from bouncing out.
So what is it?  The Podium Quest Aero Bottle.  It costs about the same as most other bottles, and is available from a slew of places.  At first look it appears a bit chubby.  But, in reality it's less chubby than you or I.  Plus…remember the most important thing about front-mounted hydration systems:
They aren't going to be more 'aero' than nothing at all – but they are more aero than you bonking on the run or the bike.
What does that mean?  Well the purpose of most of these bottles is to put the straw in front of your face so you actually DRINK liquid.  Because if you're like me (and most others), you'll likely find all assortment of excuses to not reach down and grab that water bottle in the middle of the race:  Over the next hill, after I pass this person, around the next corner, oh – you mean 17 minutes ago – I'll just wait till the next water stop… I've thunk  of them all!
Without further ado, let's get started.  After a quick two-piece assembly (Straw: meet bottle), I was ready for the 'before and after' shots with the existing aero bottle.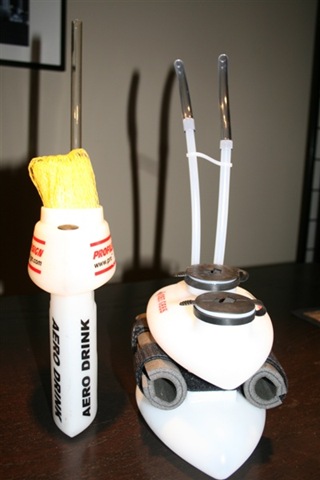 Yup, it's chubby.  But…it has TWO chambers.  One is on the lower half, and one is on the upper half.  Each of those chambers is connected to a straw.  Each chamber has a little lid on it to keep anything from sloshing out.  The upper chamber carries 23 oz, the lower 27 oz.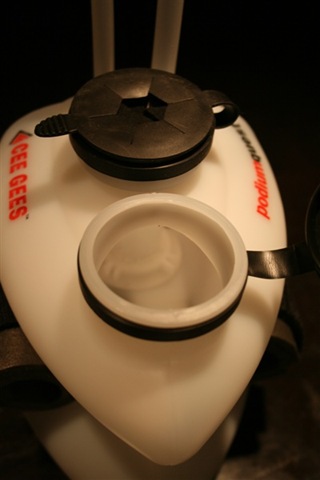 The lid has some rubber thingy (technical term) which allows you to stick a standard water bottle inside of it and then squeeze it out.  Normally at water stops on the bike they are handing you a bottle, simply take the bottle – turn upside down and squeeze.  We can all handle that.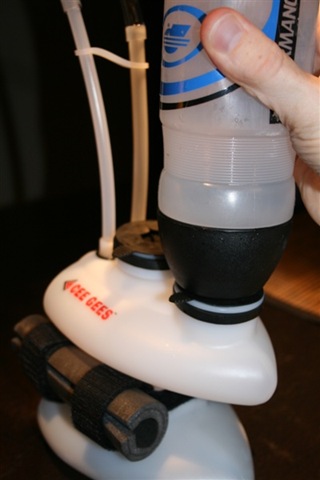 Next comes the mounting piece.  This was a fairly fatal flaw with the previous bottle.  The rubber bands needed to be taken out and shot – they were horrible.  The bottle ended up all sideways half the time.
But the Podium Quest has got craploads of velcro.  If I tried to rip it off with all my force – I would still lose the battle.  There is a bit of a fine art to getting it on and taking it off, once you figure it out it's not too bad.  But it doesn't move a millimeter during the ride.  No clunking, bonking or other odd noises either.  It fits perfectly on both my Fuji road bike (with Profile T2 bars) or my P2C.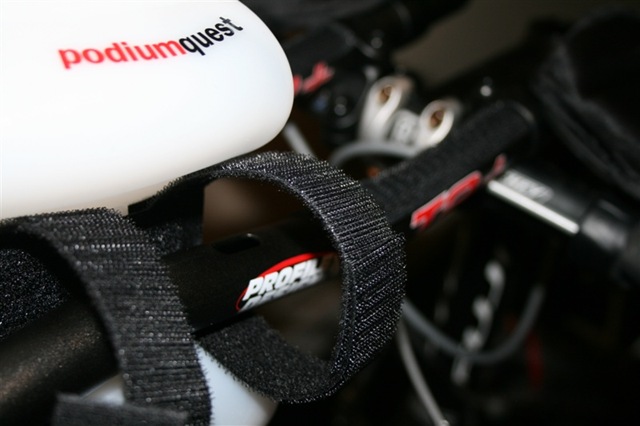 After you slide the loops on, you just button the hatches by Velcroing it all tight.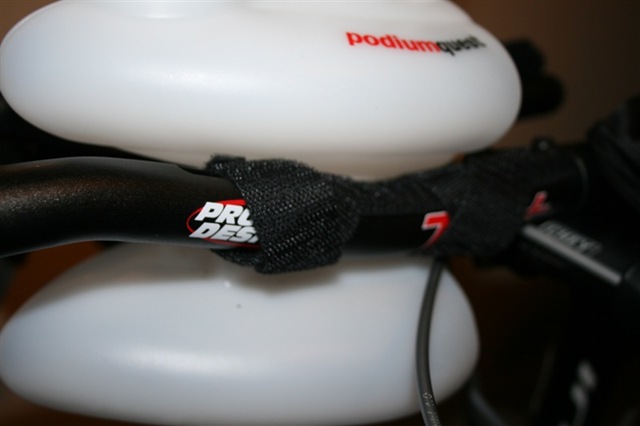 Finally… here ya go – on the bike and on the road: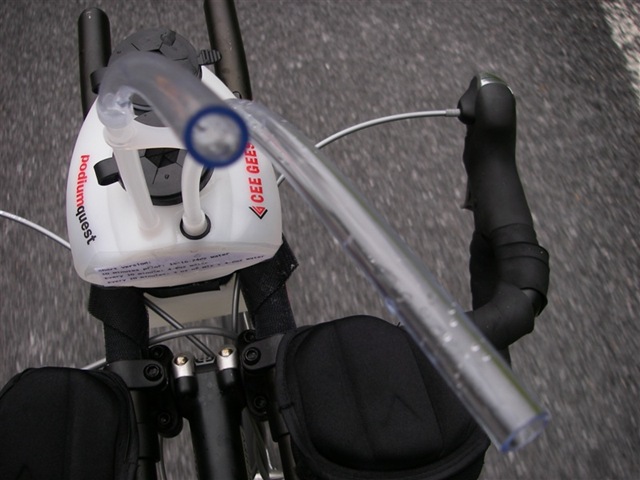 The straws are flexible and attached together via connector, but easily turn and slide out of the way.  The coolest part is they are always just about 2-3" from my mouth – easy access!  And the back is flat on the thing, so I've been able to tape my nutrition/route stuff on the back for me to easily see (and not screw up).
In short – I can't recommend this thing enough.  I can keep basically two water bottles in it (one for water, one for non-water), and then super-easily refill from a stock of bottles either in cages behind me, below me or at aide stations.  Simple and easy.
It costs about $45 and is available all over da place.
(*Note: I noticed recently that my previous aero-bottle from Profile Designs is now available with the same nifty lid as the Podium Quest, which does help solve one of the major problems with it.)