It was time.  It was time for a collection of the male species to gather and fest.  This could only be done properly in the company of over 25 sausages.  We're talkin' about tasty, juicy, thick and plump ones.  Ya know – the ones that get slightly burnt after being in the heat of the moment for a bit?
No ladies, get your minds out of the gutter… Every few months a group of friends/folks from work make a mad lunch dash ten minutes to my place and light up the BBQ to grill a cornucopia of sausages.
We're not just talking some bland mega-brand type here.  We're talking freshly made sausages like "Chicken, Spinach & Feta", "Andouille Pork Sausage", "Spinach & Garlic Veal" and of course: Das Bratwursts!
We pick them up fresh from the meat counter at Whole Foods the morning of (or night before).  A while back one of the guys at the meat counter used to give us an incredible deal (like pay for one sausage, give us 4-5 for free).  But I think he left…shame.  Either way, it's still dirt cheap.  We also get a pile of 'unique' chips each time.
With yesterday's weather, it had to be done!  We lit up the BBQ around 11:30AM and tossed on the dogs at noon. I work with a great group of guys (and gals…although none have been to S.F.), so it's always good to get away and just hang out.  We're all back to the office by 1PM.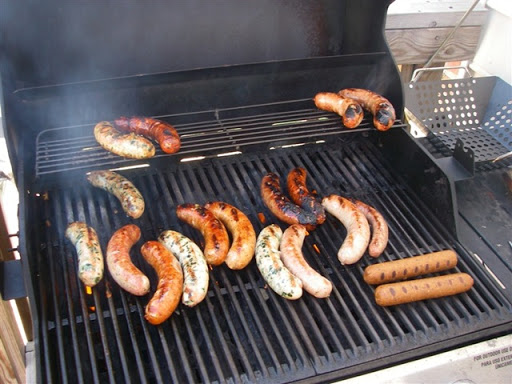 (Round 1 on the BBQ)
The trick for me (thy Grillmaster) is to memorize all of the sausage orders.  This week was fairly light – we only had about 25 sausages for about a dozen folks.  But sometimes we've had as many as 35-40 sausages.  But I gots myself a secret to keeping track.  It's all about seniority/title/rank.  When someone has the same seniority level I then defer to how long they've been there.  Then I just do that left to right on the grill, with the sausages staggered slightly for each person
And fear not vegetarians – we do those too!  See them faux-dogs in the lower right hand corner?  Yup…for you!  And when I mentioned the event to blogger Jeanne, she had to help out with the festivus. She dropped off a snippet of her greatness to decorate with!  Sausage tape!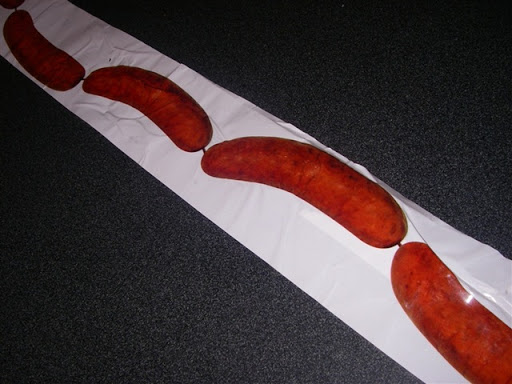 In other sausage related news…
Thursday's at the local running group have become a bit of a sausage-ego-fest in their own right.  They've taken on a more competitive twist lately – in particular between me and another guy.  Friendly and all… but it's turned into balls to the wall race for the 5.4 mile course.  And really – once you start, you can't back down.  Cause that wouldn't be type-A.
I have no idea how long this will continue, but I fear it could be a long war.  Currently I'm 3-0, but I think he's catching onto my tricks.  My biggest trick of course being to force him to pace by staying about 10-15 feet off his back, and then around the 4 mile marker pulling ahead and kicking up the pace.
Oh…and I might have 'decided' to chat with him for the first 2-3 miles last week…I think he was trying to breath or something.  Is that considered mean?  I was just trying to be friendly and all…and have a good conversation. 🙂
Upcoming Weekend
Tomorrow morning brings a fun 14 mile jaunt through Rock Creek Park with the running group (no sausage-ego-runs applicable tomorrow).  Currently forecasted for torrential downpour,  winds…and cold.  Following that up with a 60 mile bike ride.  Undecided if I'll do it indoors on the trainer or outside.  I only take the HTFU thing so far when it's pouring, 40* and 20+mph winds.  Yes…I'm a wimp.
Have a good weekend!