Well, not together at the same time. 
Because that'd be awkward – mainly for me.  And probably a little for him.
He would talk about Olympic Gold and Silver medals and Olympic opening ceremonies…and I would talk about plastic trophies from junior ski racing when I was 8 years old.  Really not entirely equal.
Thus, we're talking separately – in two unique sessions.  But together, we're still considered part of the top five reasons to attend.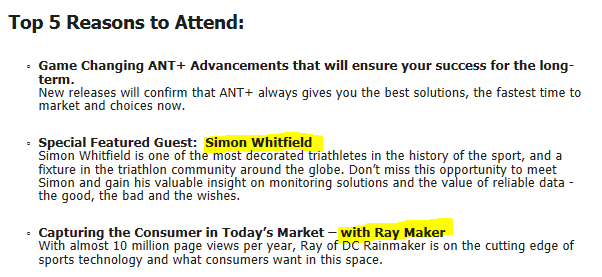 This will be the third year I've presented at the ANT+ Symposium.  It's my opportunity to talk to all of the sports technology companies out there*, and tell them what you want.  I also get to talk about all sorts of cool ideas and where I think the industry is going.
(*All, as in, everyone except Polar.  And rumor is, they watched and sent around my presentation from last year too.  Virtually every other software and hardware company doing anything in sports technology is there in attendance.)
Officially, here's what I'll be covering:
"Capturing the Consumer in Today's Market – with Ray Maker of DC Rainmaker
With almost 10 million page views per year, Ray dives deep into how sports technology companies can better engage and utilize their new and existing customer bases; why Kickstarter matters to you; and what consumers want when it comes to the tough issues like 3G connectivity in devices, Bluetooth Smart and cell phone integration."
Which, essentially means – anything I darn well want.
Actually, no, I've got a really cool well defined outline for this year – with a new twist on things from past years.  I'm going to tackle some of the areas where I think companies continue to falter (both in hard product, as well as customer service).  It's gonna be good!
If you want to check out last years presentation to get the flavor of things – I've linked to it below.
In the past I've tried to rig up some sort of live way for you to watch me and haven't entirely been successful due to interweb issues.  I'll see what I can pull off this year.
For those companies that will be at the ANT+ Symposium in a little under two weeks, definitely schedule a bit of time – I'd love to talk (NDA's are fine).  Historically, I've had meetings (formal or otherwise) literally from 7AM until near-midnight – so I definitely want to get you on the schedule (and preferably not a timeslot at 3AM, as The Girl might become suspicious…).
Thanks all!