Here's what I've been up to the last few days!
1) Running with power
Mid-last week my final production Stryd unit arrived. You'll remember I first discussed it last January when I did some initial testing. Since then they've changed the device from being a little clip-on pod, to being heart rate strap integrated. The Stryd unit is effectively a power meter for running. I know some will fiddle on a technicality with the term power meter versus something else since it calculates versus measures strain, but that's what I'm calling it for lack of better term.
(Side note: I actually preferred the little pod, because I really prefer not to wear heart rate straps. Especially since I find this one cuts into me far more than others. I hope going forward they'll re-introduce the clip-on pod idea)
I had used it while running some intervals on Thursday, and things worked fairly well and it was interesting to see the intervals play out on power. For my run on Saturday it was more steady-state, and as such, much less variation in power.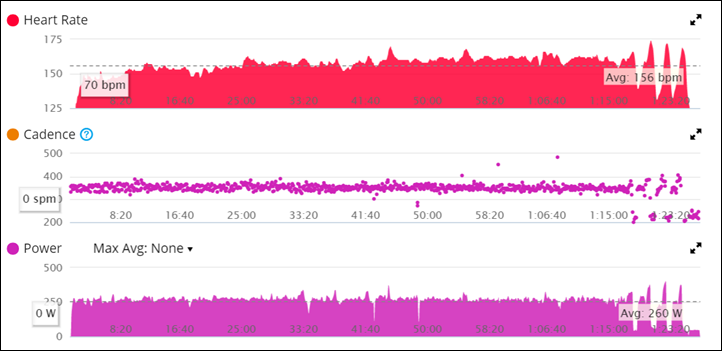 A couple of things to note. First is that while Suunto supports power meters while running (within their Ambit3 at least, haven't tried older units), Garmin does not. So on a Suunto device I can go into my running profile and all is great! But on a Garmin device I have to use cycling, which means you get things in MPH/KPH instead of 'pace'. To fix that Stryd developed a Garmin IQ data field that shows you pace. A nice little workaround.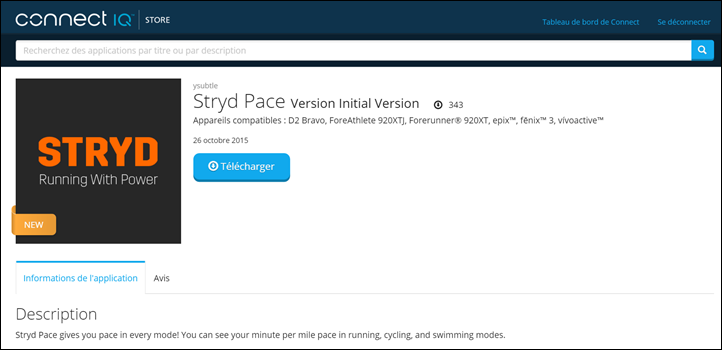 But sorta like trying to plug a leak, it breaks other stuff. For example, cadence data doesn't get recorded from the watch natively. And you've got to manually change the activity type – so it doesn't record PR's correctly on your watch. Among other things.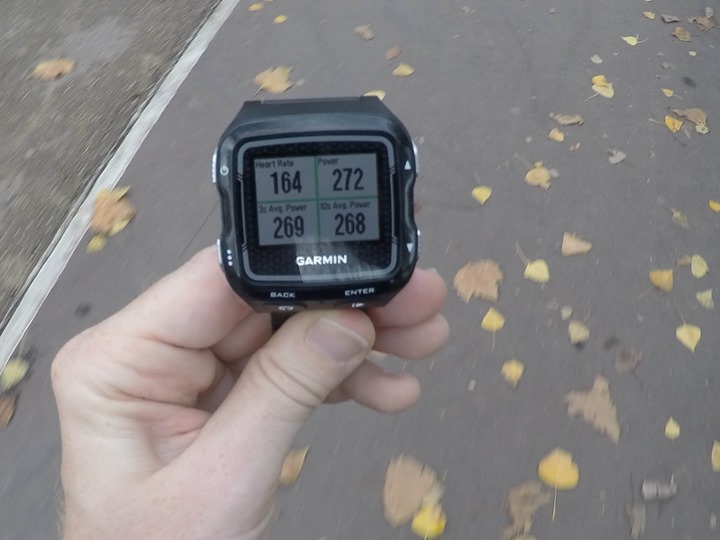 It would behoove Garmin to add support here for just recording the power stream. Behind the scenes the platform (Garmin Connect) shows the power correctly while running, just a matter of recording it. After all, Suunto does that just fine today. Second, I'd humbly suggest that they add it to the FR920XT, Fenix3, and Epix…oh, and the FR630. Yes, the FR630.
First off in the 'benefits for Garmin' pile, it increases the value of the FR630 as a runners-only watch. With the FR230/235 having so many previously higher-end features, folks are overwhelmingly shifting from the $399 watches down to the cheaper FR230/235 unit. This provides a reason to spend more. On the 'benefits for the user' standpoint, it gives you not only power while running – but also gives some cyclist the ability to record power data in a minimalist manner (semi-rare, but occasionally requested).
Now of course we could all just wait until Q1 when Garmin adds this capability to Garmin Connect IQ. But why bother to wait? Well, because again – Garmin could try and nab those sales now, versus have people buy cheaper units and get the same functionality in Q1 on the FR230/235. Sometimes it's about providing a financial motivation to a company. This be one of those cases.
As for Stryd? I've got lots of interesting tests I'll be doing over the next month or so. It's one of those devices, somewhat like a cycling power meter, that's going to take much more time to really understand all the limitations. So expect early-mid December for a review.
2) When not every restaurant is good
I often post about many of the places we eat here in Paris. After all, there are few cities on this planet that have as many incredibly good restaurants as Paris – or such an appreciation for food (all aspects of it). But that doesn't mean everything is great. Far from it. Many cafés these days here just microwave food to unsuspecting patrons, not even hiring cooks. Even mid-range restaurants are often just reheated boxed desserts.
This weekend we had some friends in town and met up with them for dinner Saturday night. We've been slowly working our way through a list of recommended restaurants from a website The Girl follows, and thus far have had really good food. We got a late reservation for Saturday night and arrived.
In theory the menu looked mostly appealing. The dishes seemed to be innovative and potentially quite good.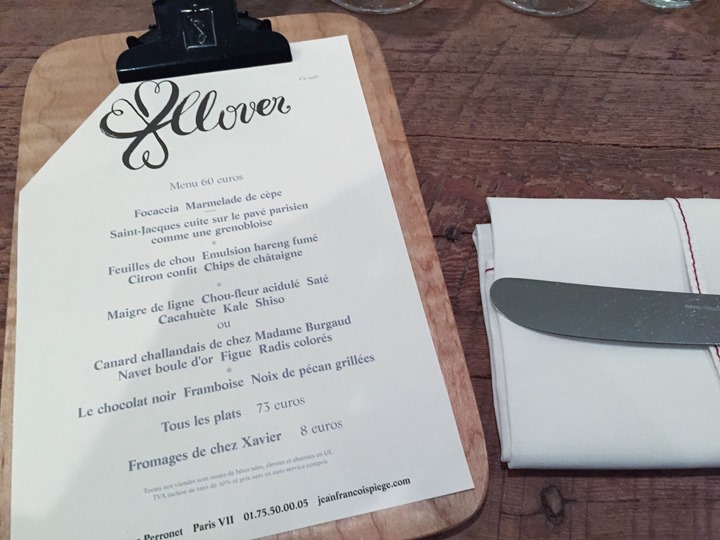 In reality though…nothing was really good. Sorry Tyler & Heather – sometimes we misfire!
Take for example these scallops below. The theory was that they were cooked/served on a scalding hot stone. You see that big rock there, that's the stone. They placed the raw scallops directly on the stone and said to wait 30 seconds and they'd be cooked. The shell was added for the heck of it.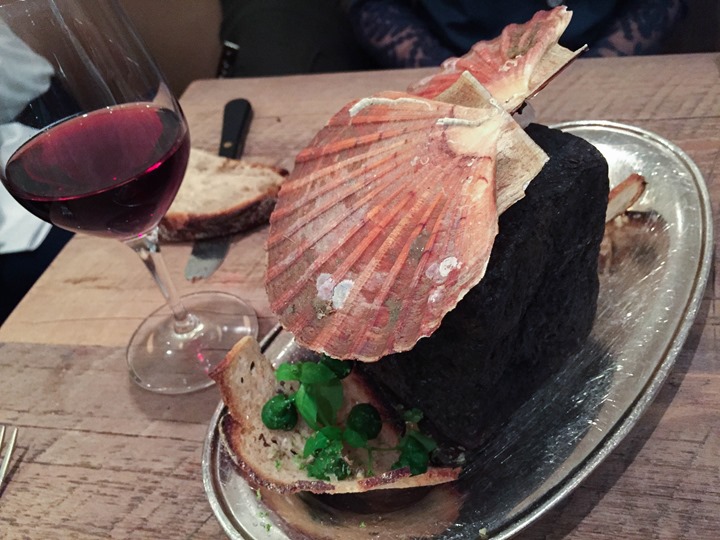 They weren't cooked, they were raw. One side was seared, while the other still raw and stuck up against an unwitting scallop shell.
My fish later on? Also raw. All of our dishes just seemed to miss the mark both on flavors and cooking techniques. Further, they actually charged for water – which for those not familiar isn't permitted in France. You can always request tap water, they wouldn't allow that. They said we had to buy bottled water. Water which they then just filled a bottle themselves. Super annoying. Even three-star Michelin Restaurants we've been to in Paris happily serve tap water. In fact, some higher end restaurants in the city now don't even serve bottled water anymore.
As for dessert? Not so much either.
Win some, lose some.
3) One Ride, So Many Devices
Sunday I headed out for a bit of a ride with a ton of stuff. I had many devices I was trying to gather data on, either passively or actively. For me, an active device is something I'm monitoring during the run/ride an actively using as part of that training effort – an example of this would be the Edge 520's – I'm watching those constantly during the ride. Whereas passively is something I'm just collecting data on. For example I had BSX with me on that ride, and it was paired to a FR920XT to capture what data looks like there (plus its own recording on the BSX itself).
In that case I wasn't paying attention to that data during the ride, but just capturing it for later. Similarly, out of the four Garmin head units I was using (3xEdge 520, 1xEdge 810), I was looking casually at the differences during the ride – but really it was about capturing the data for later analysis.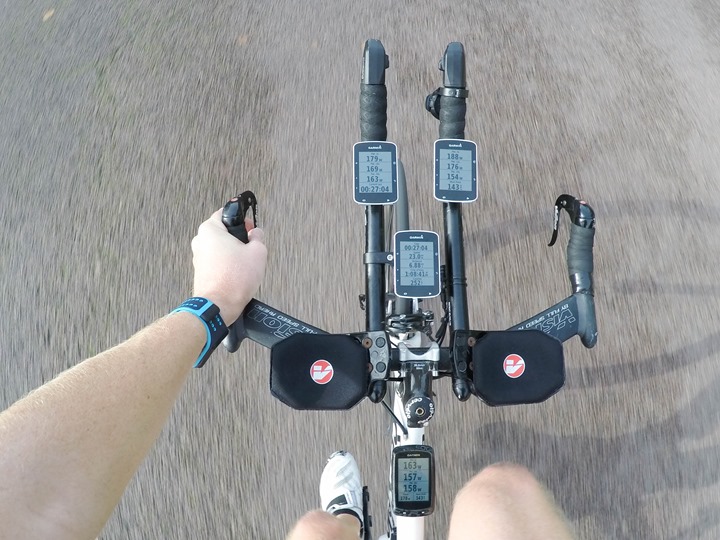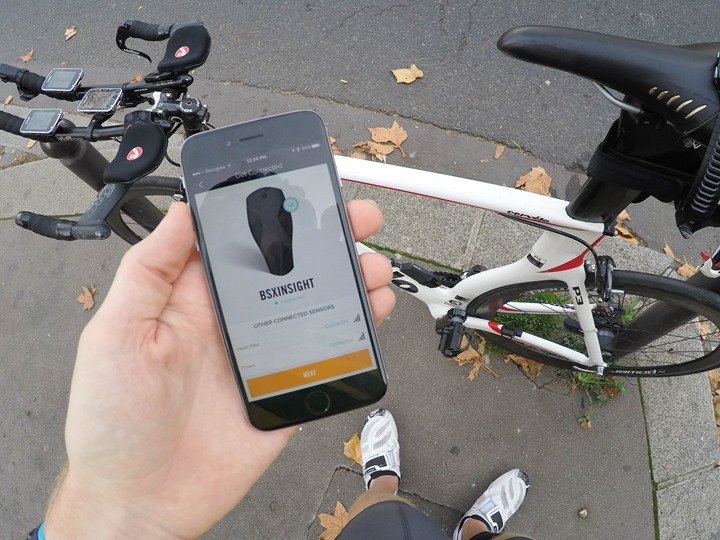 I was also wearing numerous heart rate sensors. I had the TomTom Spark on my left wrist, and a Microsoft Band 2 on my right. Then a Scosche Rhythm+ on my upper arm…and finally a Garmin HRM-TRI on my chest. Again, all mostly for just capturing HR for later analysis.
On this ride, neither the TomTom Spark or Microsoft Band did well for optical HR. They've done better inside though, fwiw.
As for the ride – it was another beautiful fall weekend here. Rather warm weather, sunny skies.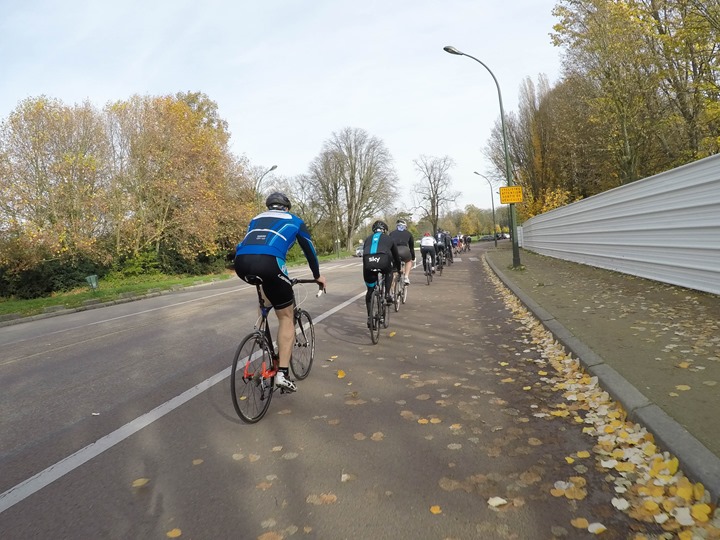 And lots of riders out around the loop at Longchamp.
4) Enjoying A Sunday Stroll
Sunday after my ride (and her run), The Girl and I (and Lucy) headed out for a bit of a stroll around Paris. Mostly on many of the closed roads.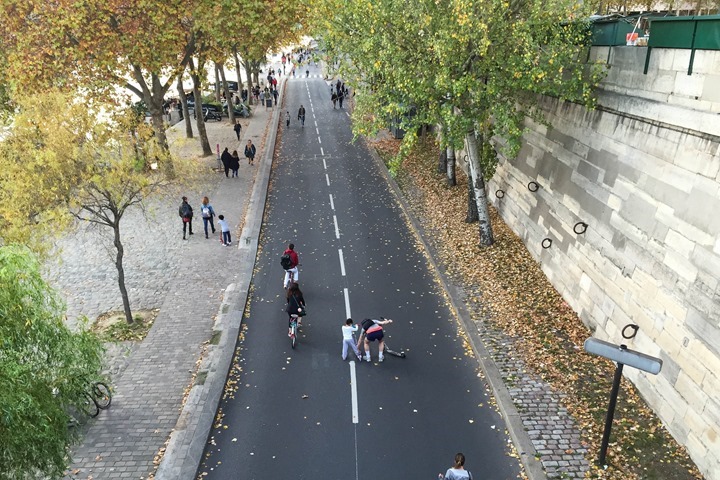 This road will be permanently closed next summer, which we're hugely looking forward to.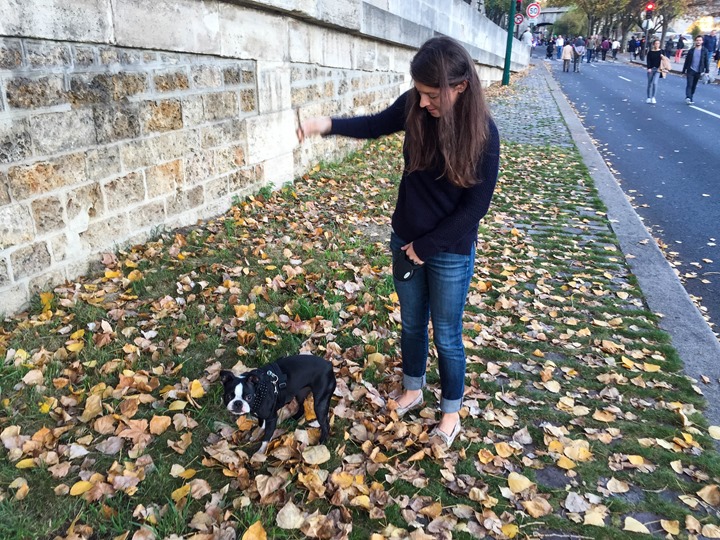 Along the way we got distracted and stopped for a crepe. Our normal crepe place is closed on Sunday's, so we had to make do with just some random place.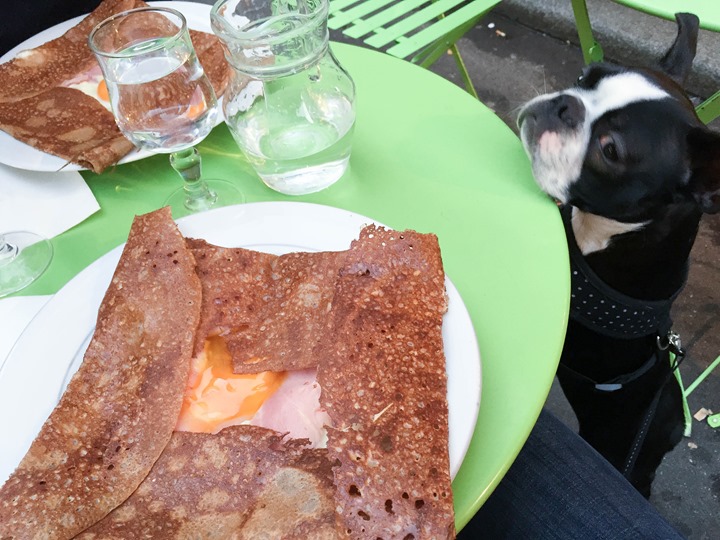 Nothing special, but it hit the spot!
5) Went to Cirque du Soleil
Finally, Sunday night we headed slightly out of the city to go watch Cirque du Soleil. For those familiar with the Las Vegas shows of Cirque du Soleil it's essentially the same thing, except the productions aren't as big and they travel around. This one was held in the park: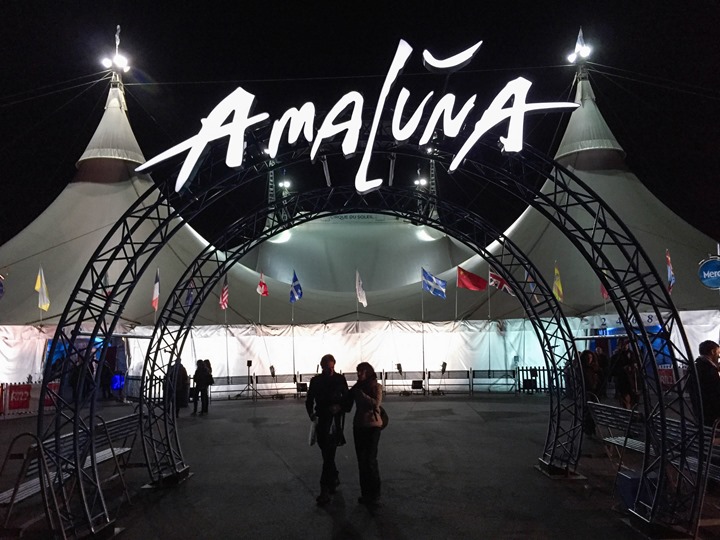 Big tents and all! You aren't allowed to photograph inside the tent, so nothing there. Instead I give you photos of a truck out front: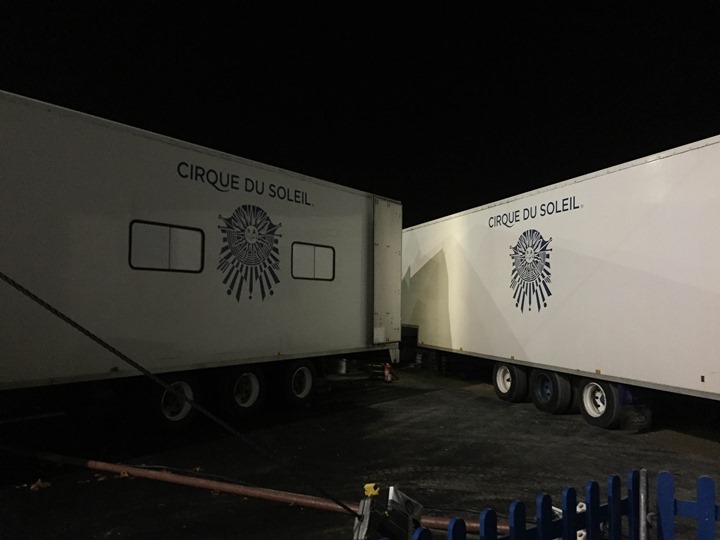 Great show. It just opened up on Thursday though (and is here for a few months), so you could see there's still some imperfections in the routines. Imperfections you rarely see in the Las Vegas shows (for the 3-4 I've seen there). Nonetheless definitely worthwhile going.
Oh – and yes, we valeted our Autolib. There isn't really a good way to get to this locale via Metro (closest is 1.9KM away), so Autolib it was! Still cheaper than an Uber would have been too!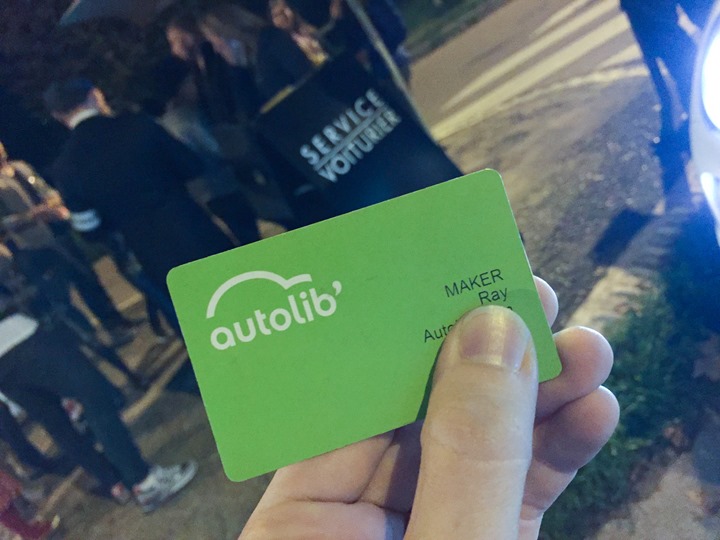 The valet kinda laughed (since there is no key to give, just a keycard), but otherwise didn't see any problem doing so.
—
With that – thanks for reading all – and have a great week ahead!