This year, as a promotion for their V800 multisport watch, Polar announced a rather unique twist on the iron-distance race format.  Pro triathlete Tim Don stepped up to give the Las Vegas strip a glimpse of what a 140.6 triathlon is all about…well kind of.  Since this was a solo event and not an actual competition with traditional swim-bike-run venues, the PR folks went all creative on us and threw together an interesting  variation.
For starters they kept all three events centered around the Consumer Electronics Show venues.  This year, CES expanded its physical presence into a few different locations around town, mainly because of the tremendous amount of show floor space required to house all the new technology being shown.  With attendance at greater than 160,000 attendees and 3,600 exhibitors the CES is massive and has outgrown any single location, hence the perfect opportunity for, well, a triathlon.
Kind of a mashup of a point to point race and an out and back course, they split the locales over two locations; The Sands Convention Center and the Las Vegas Convention Center.  Given that those two points are only about 2.5 kilometers apart, at best, and with no large bodies of water anywhere close by, the creativity started early in the race.
The carefully choreographed plan called for an early morning swim for Tim in the lap pool at the Venetian, a well known landmark on the Las Vegas strip. From there he would bike a bit to get over to the Polar booth at the Sands, where he would quickly mount his bike on a stationary trainer and knock out the rest of his 112 miles.  And as if that wasn't mind-numbing enough, he'll then do a quick T2 of about 2.5 meters and jump on a treadmill for a quick marathon. And all that would wrap up with a short run back out into fresh air for a jaunt to the finish line at the Las Vegas Convention Center, where there are a gazillion people assembled, maybe not for this unique 140.6 finish, but they will be assembled there nonetheless.
The Swim:
So, on to the excitement.  Las Vegas truly never sleeps, but at a 6 AM start at an outdoor pool it was eerily quiet, and eerily lacking in light, hence not a lot of photos here.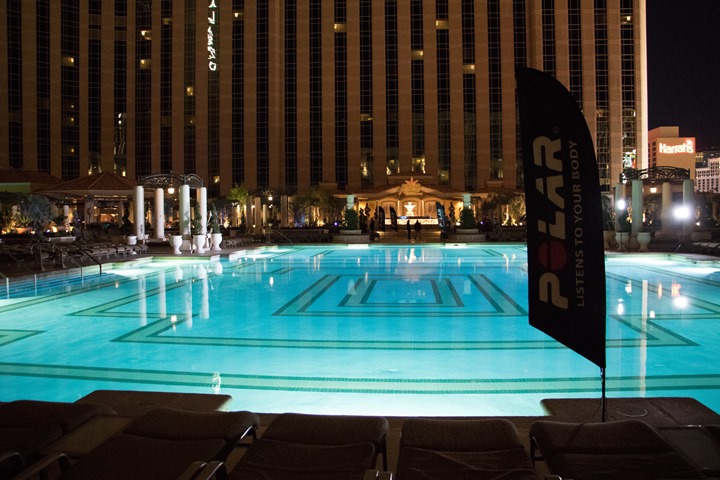 But I managed to pull off a few. Tim was quite chipper and social for his PR interviews, at least for someone who was about to tackle what for most of us would be pure trainer/dreadmill torture. Extra points for The Real Starky sighting below.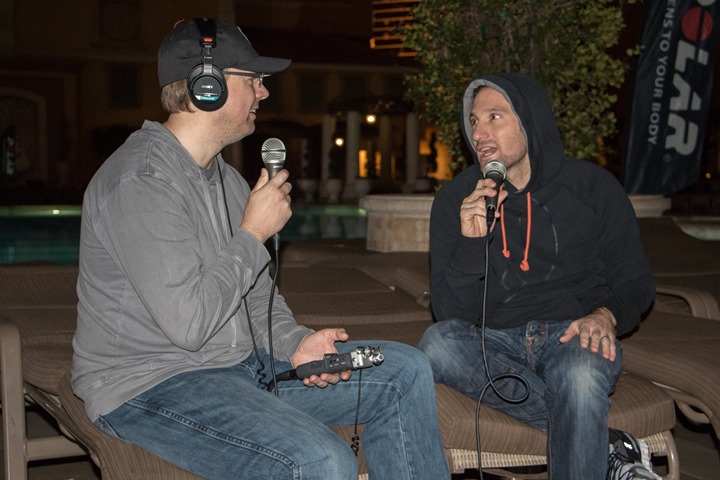 So, a quick change into a full wetsuit, and then he was off.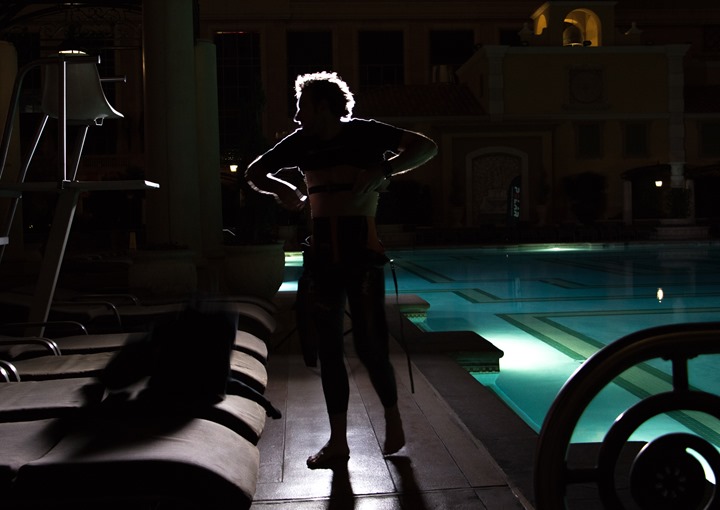 After a nice controlled 2.4 mile swim it was time to mix things up, so out of the pool, onto one of the absolutely most unusual T1's you'll ever see.  A quick kit change and we were off to the freight elevator.  Tim's best line of the morning: "I wish all transitions had such a nice pool cabana!".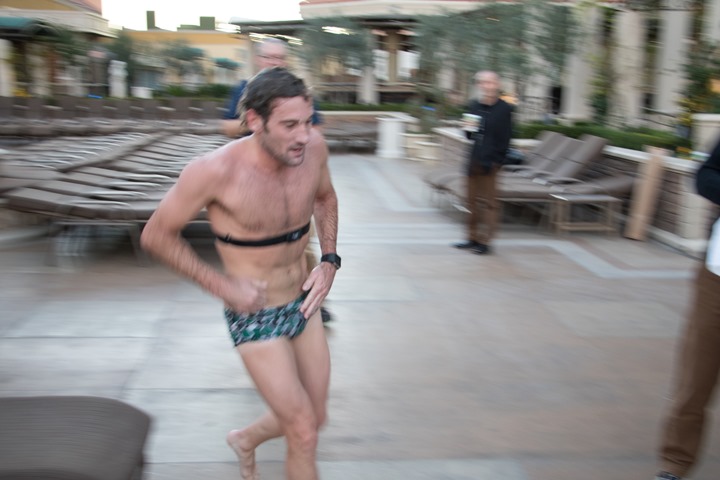 The Bike:
The freight elevator led us through the bowels of the huge Venetian complex and we exited feeling all Ocean's Eleveny…right onto the casino floor.  None of the regulars so much as batted an eye.  It was as if it was an everyday occurrence for a three-time Olympian to burst out of a freight elevator dragging a phalanx of photographers and videographers. Just another morning at the slots.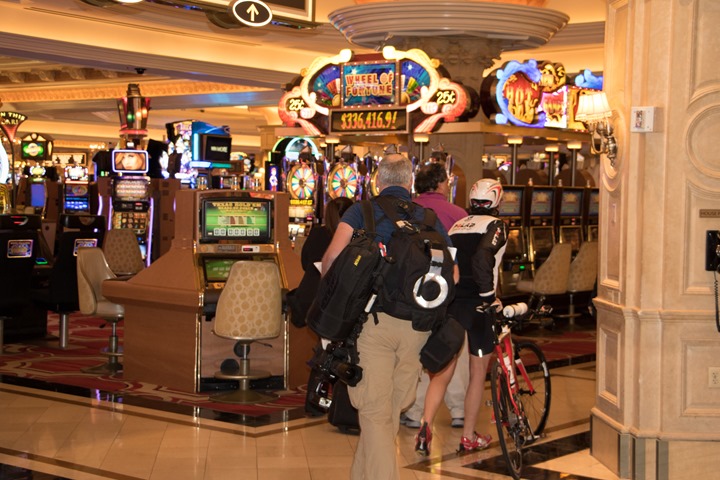 From there it was out into the brilliant desert sunshine and directly into heavy traffic.  And as Tim proved, the Las Vegas Strip is very cycle-friendly, as long as you have a police escort.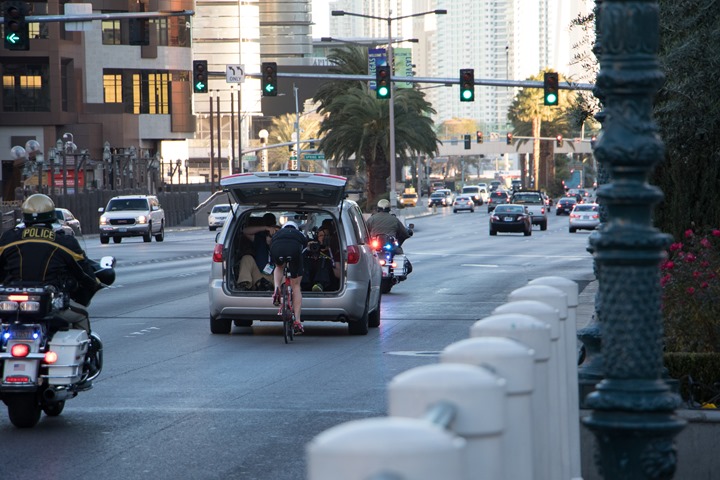 Once at the other location Tim briefly had to de-bike himself and navigate some cyclocross-like obstacles, inadvertently violating that sacred airport code of 'stand to the right, walk to the left'.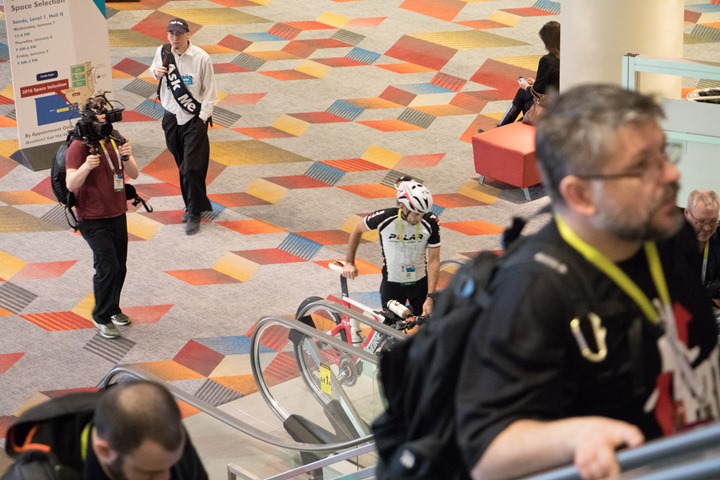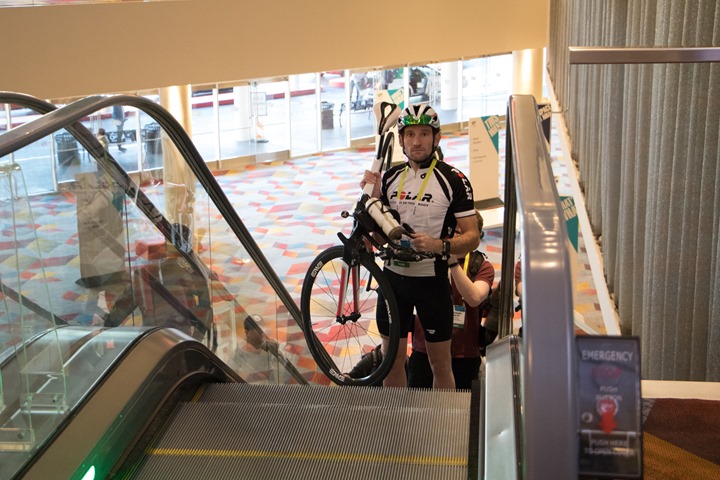 Now keep in mind that this portion of the 140.6 took place before the show floor was opened to the conference attendees, hence the sparse foot traffic.  That would soon change.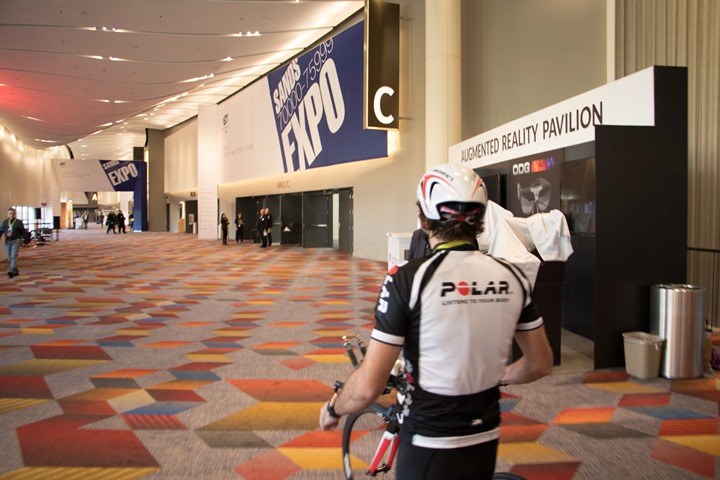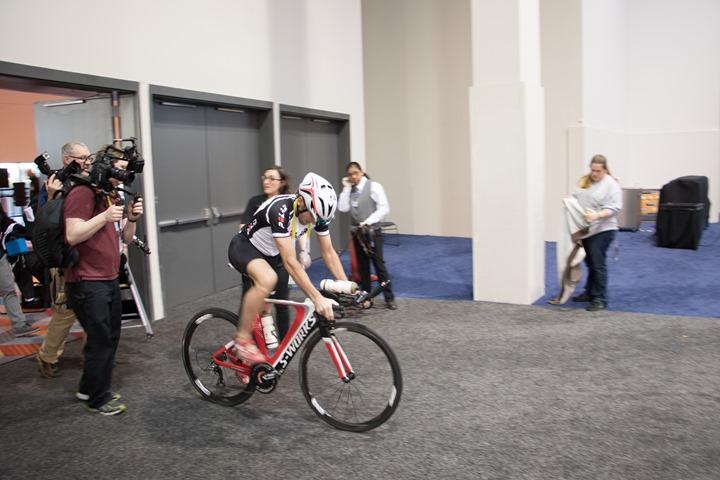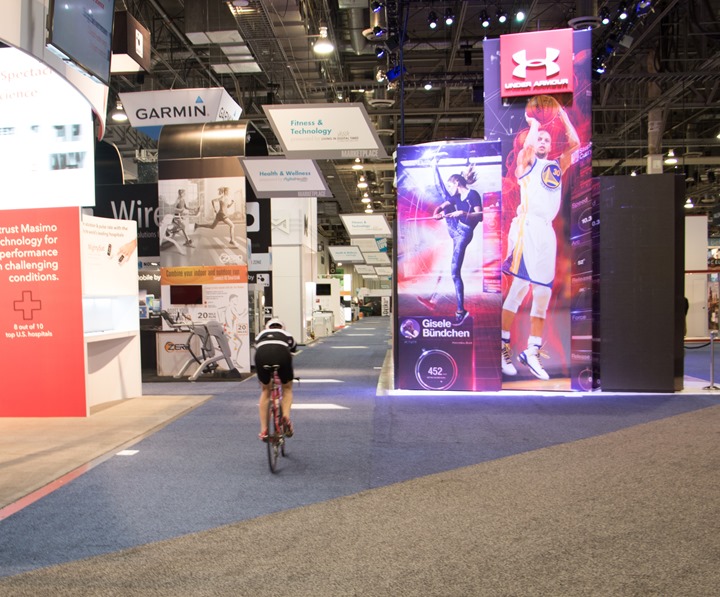 A quick CompuTrainer mounting exercise and then he was off for the remainder of his 112 mile bike ride.  Well, not really off, more like just on…forever.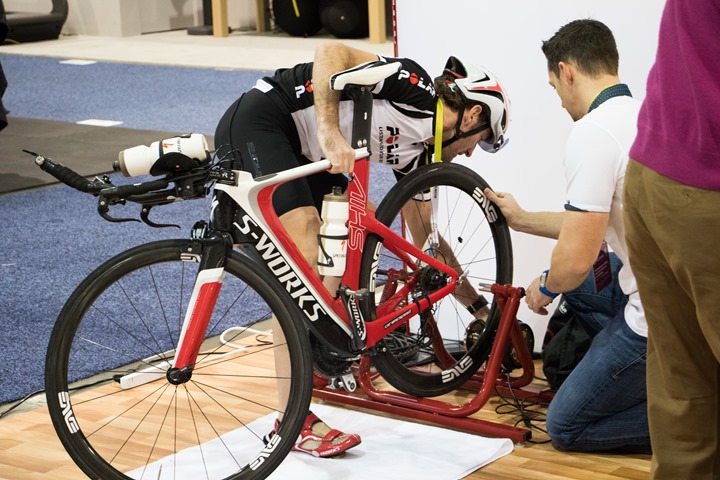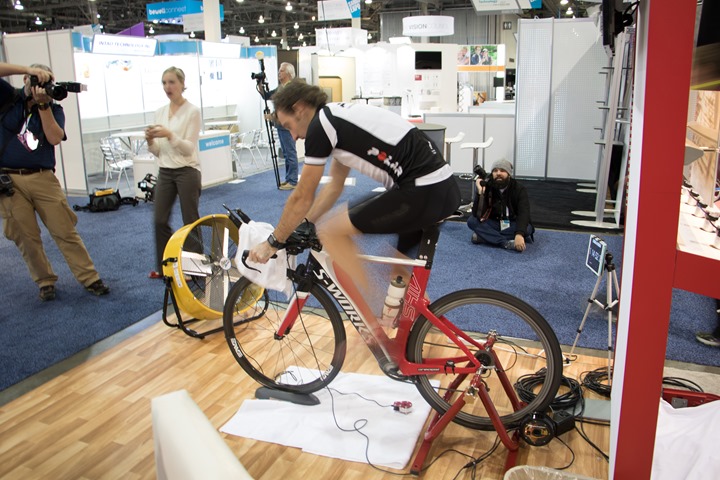 Here's where you have to appreciate what this man put himself through, four and half hours on a trainer is mind-numbing, even with the great people watching that CES presents.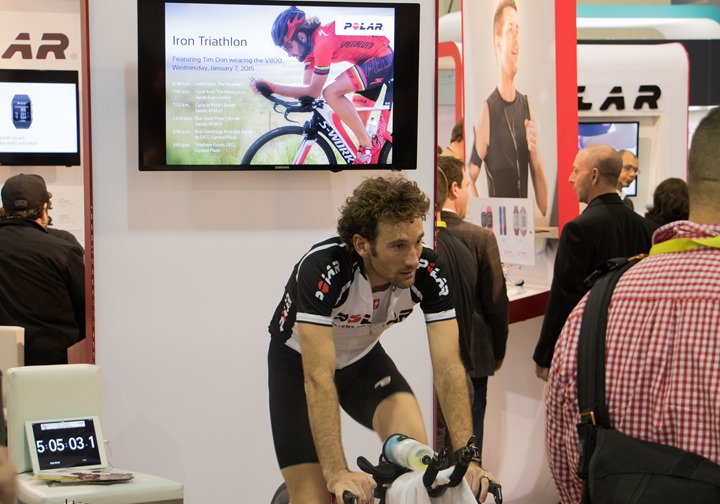 On a positive note, Tim's 'special needs table' was always conveniently close at hand.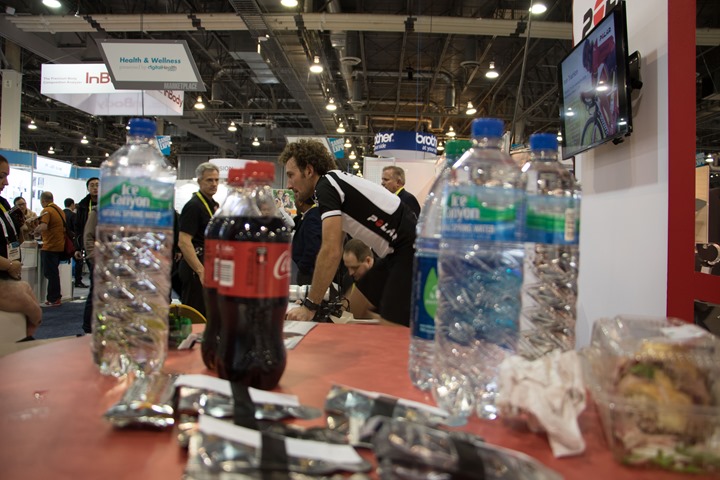 As were the ever-present microphones and selfies.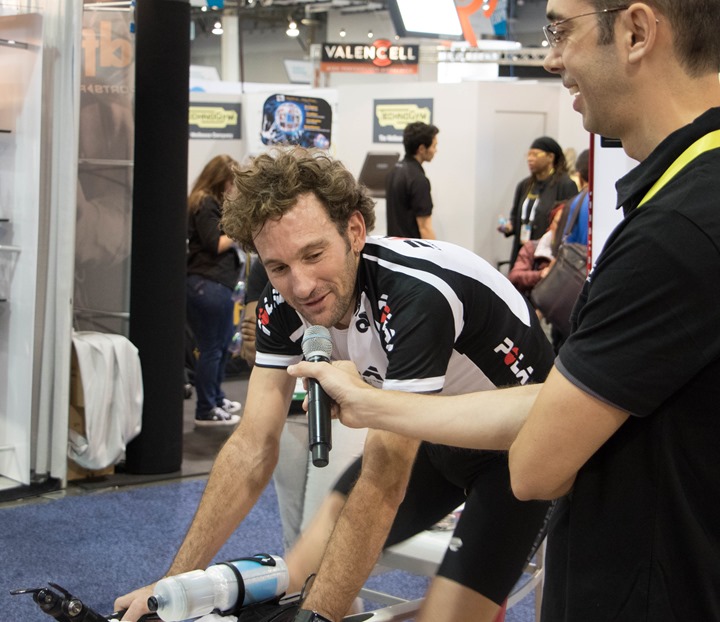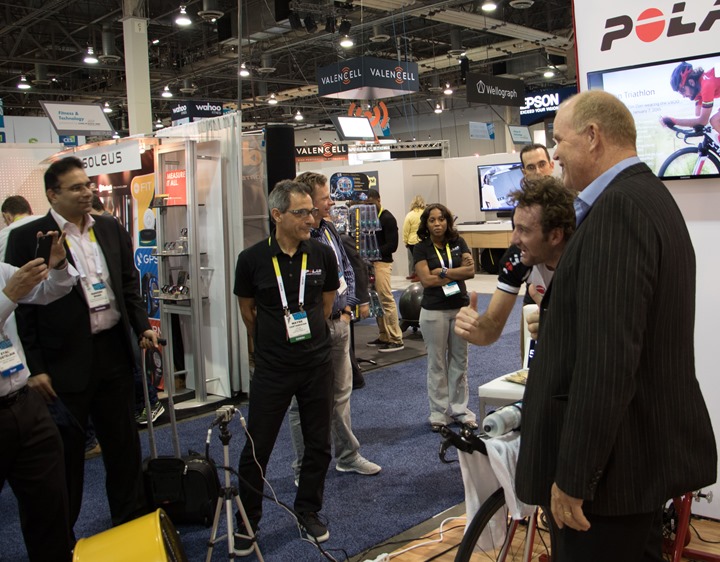 Finally it was time for another transition, albeit a very short one, distance-wise.  The awaiting treadmill is like maybe 10 steps away.  And of course, in true method-acting tradition, Tim prepares for his flying dismount in the shot below.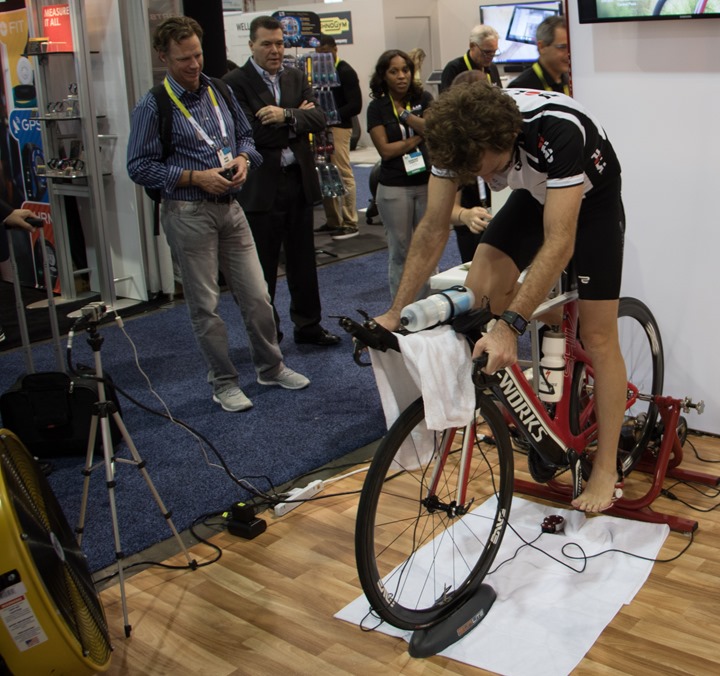 The Run: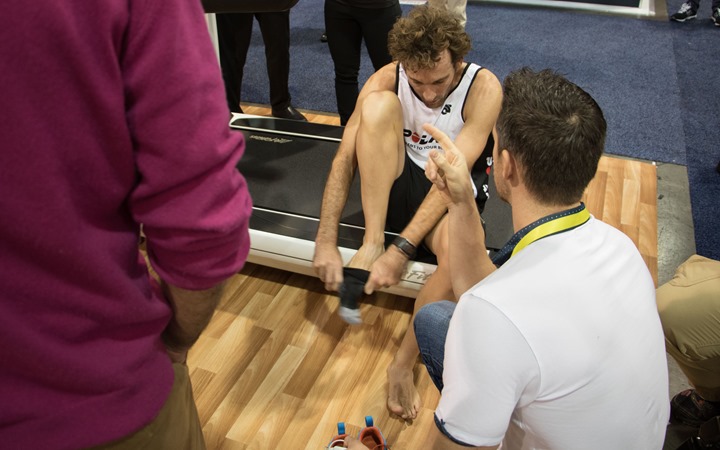 A quick kit change and more Polar bling and the run begins…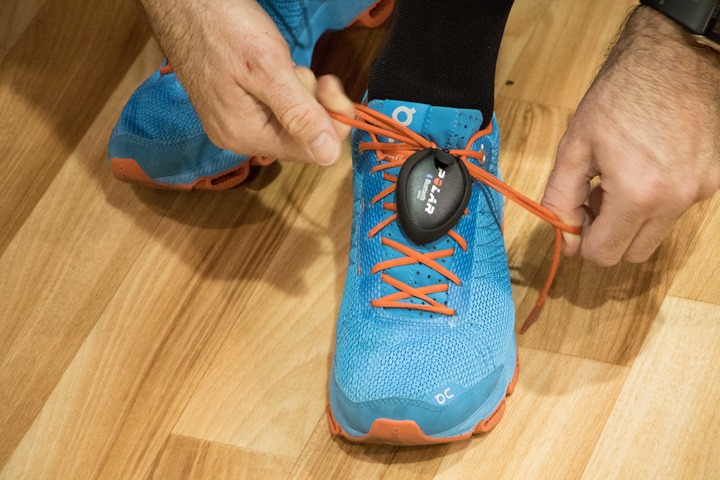 And more reporters, microphones, and cameras.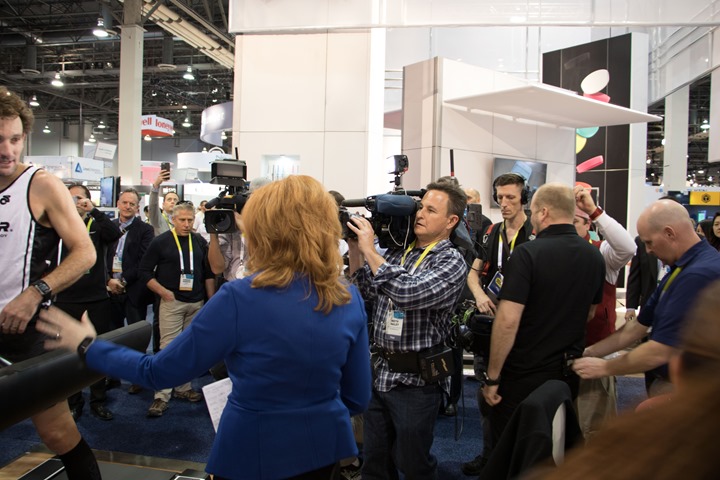 This shot is at about the 21 mile mark, he makes it look so easy.
And this is the face of a man who just hit that point where he realizes he can get off of a three-hour treadmill run.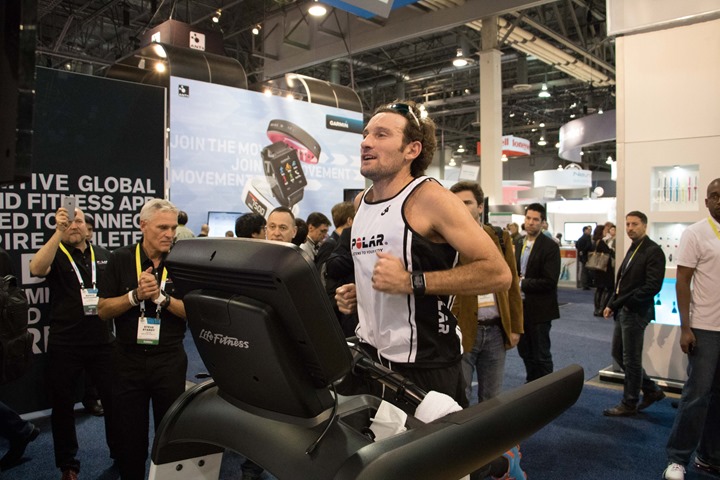 Finally.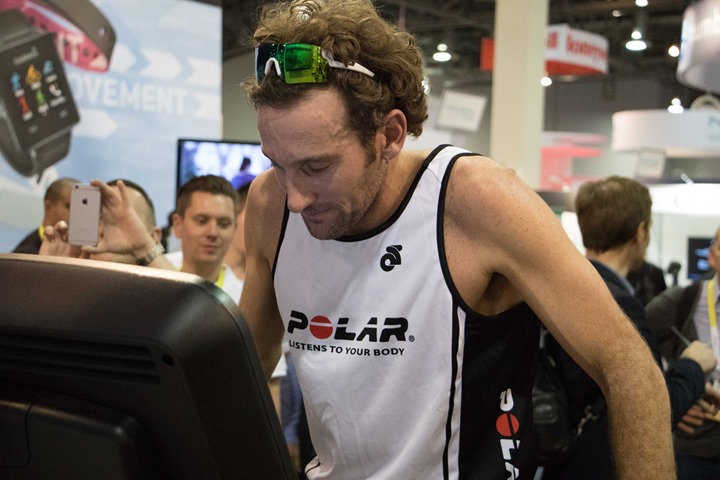 Back through the now crowded lobby, to the sunshine and then just a couple of more miles to the finish.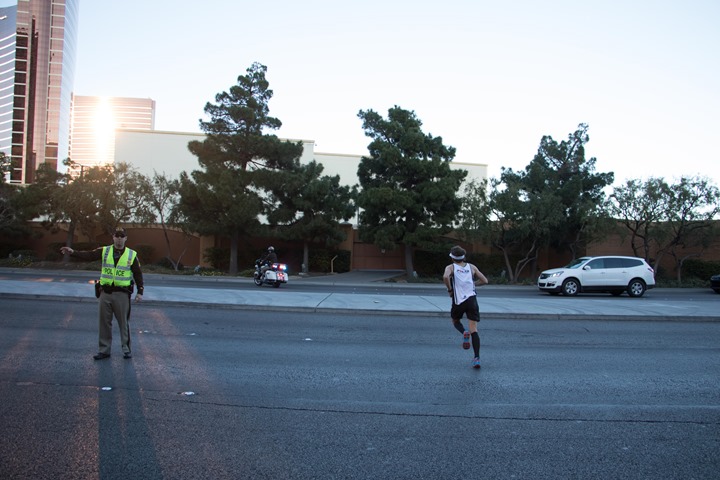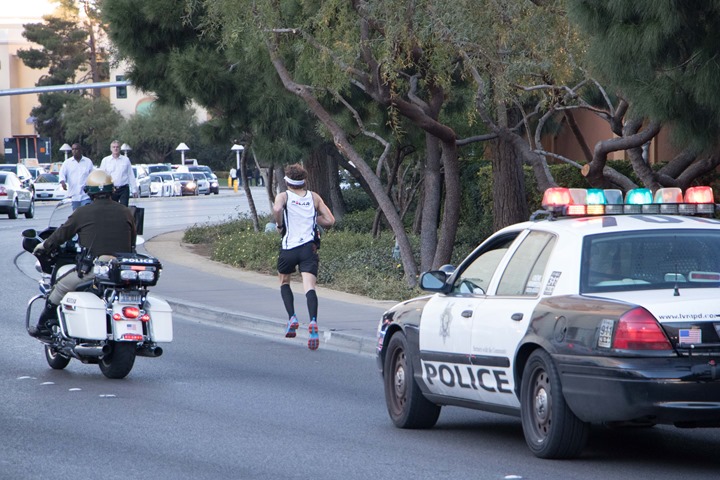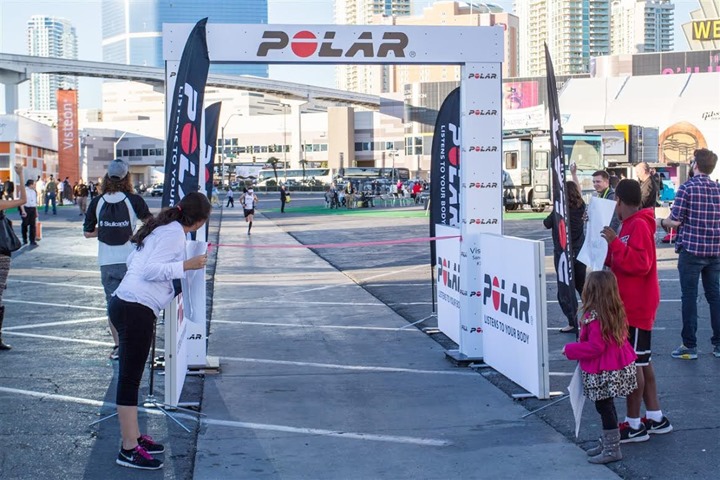 First place for a podium finish!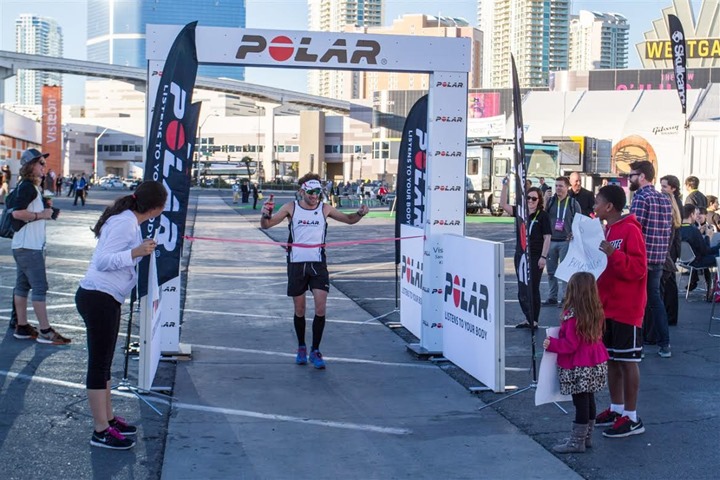 And another Real Starky shakedown interview.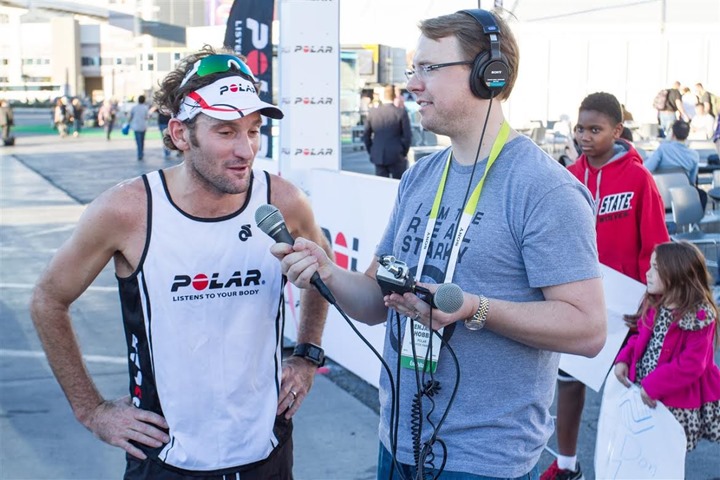 And thus ends the first ever official Las Vegas 140.6.  Oh, and the back-story behind this event is that there was great concern that a timing issue would keep it from ever happening.  Fortunately the timing worked out in everyone's favor; a big congrats to Tim and his wife for that new baby boy born on Christmas Eve!
And below are a few photo outtakes, but interesting nonetheless. Thanks for reading!
–
Welcome to CES 2015! Don't forget to check out all my CES 2015 coverage, as well as my continual updates throughout the day on Twitter.  It's gonna be a crazy busy week!