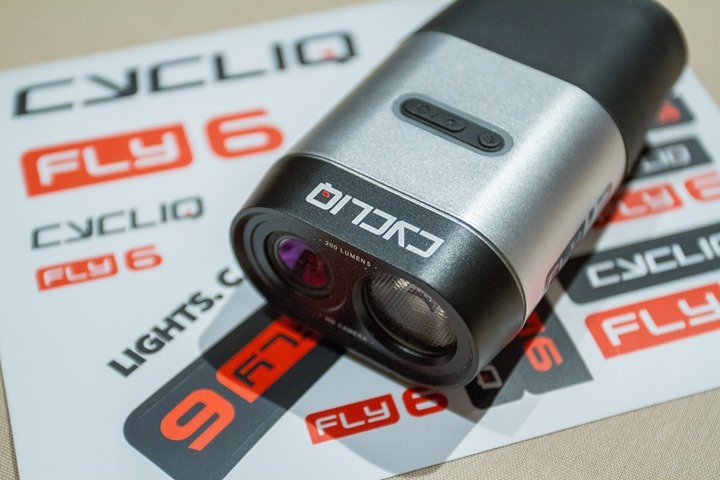 Update: My full in-depth review of the Fly12 is now posted! Swing over and check it out here.
Some of you might remember last year my post on the Fly6 rear-facing bike camera and light.  This unit was a combination of a rear bike light along with a rear mounted camera.  The camera wasn't so much a GoPro competitor as it was a safety measure designed to capture potentially troublesome drivers.  Since its initial release, it has captured a number of incidents as well as close calls.
Following their first version of the Fly6, the company introduced an updated version of it this past fall at Eurobike.  The goal there being a slimmer design, along with a number of tweaks from increasing light brightness to higher camera resolution.  Around the same time they renamed the company to 'Cycliq', to avoid the whole self-titled product name conundrum.
Now going into their second year they're going to be launching a Kickstarter campaign next month with their third product – the Fly12.  Except this time they're no longer focused on the rear, but on looking forward.
Overview: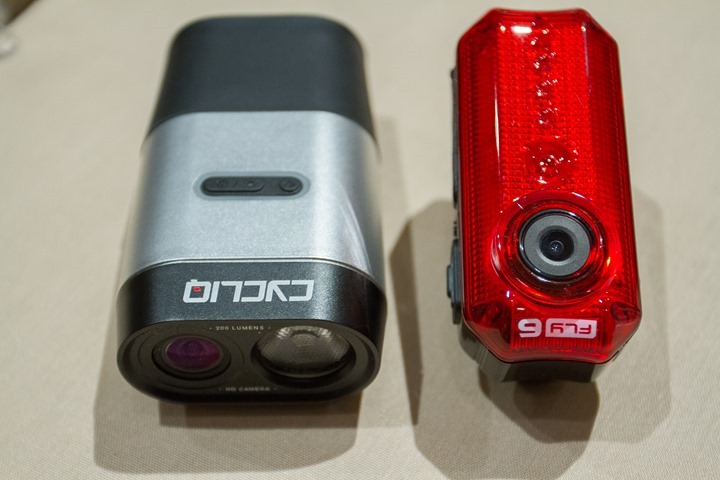 (Above, the new forward-facing Fly12 to the left, and the previous rear-facing Fly6 to the right)
The totally new unit is designed for the front of your bike with the same concept as the back.  It features both a combination bike-light as well as a 1080p camera.  The camera can rotate the image based on whether it's mounted flat or vertically.
The USB chargeable light gets a battery charge ranging from 2 hours to 5 hours depending on usage.  For example with the HD camera and full brightness turned on, it's closer to 2 hours.  Whereas with a blinking pattern and the camera enabled it's just over 5 hours.  Apparently the act of blinking the light saves a crapton of battery.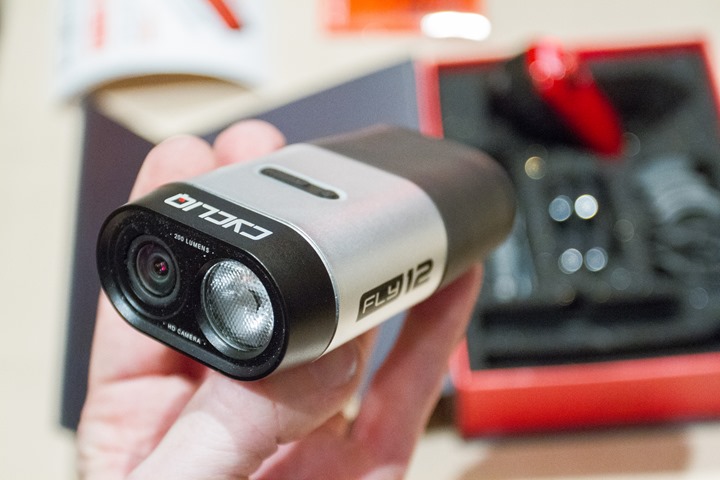 Meanwhile, if you turn off the front light (such as riding in the middle of a bright summer day), then the camera gets close to 10 hours of battery – pushing it about 3-4 times longer than most mainstream action cams out there.  The camera uses a standard Micro-SD card and will support sizes upwards of 128GB (and can automatically overwrite older footage).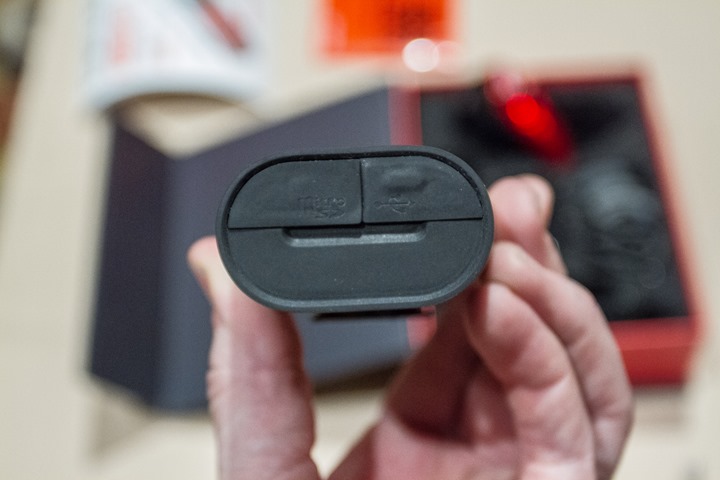 App Integration:
The Cycliq folks have a few cool tricks up their sleeve though software-wise.  First up is that they'll be enabling you to digitally superimpose 'tram lines' onto the video footage using their app.  These tram lines are the standard 1-meter or 3-foot lines that many states/countries have passed laws around recently when it comes to automotive traffic and bikes.
The idea behind this is that using their app (which will now connect to the camera using both WiFi and Bluetooth) you can very quickly demonstrate to someone that a car buzzed you (be it a police officer or just the interwebs at large).
Further, they're planning on using the Strava web development interfaces (API's) to allow you to connect to your account and grab the Strava ride activity file directly and then overlay your metrics like speed onto the video footage.  Pretty cool stuff (and, a prime example of why not charging $5,000 to access your platform builds and increases customers).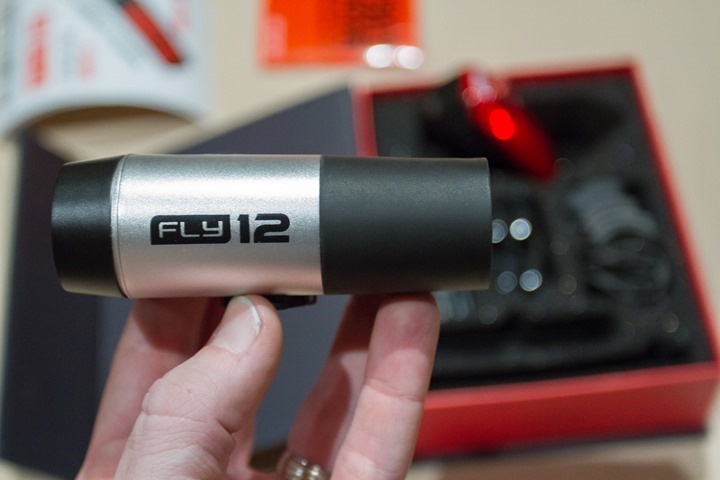 Like the previous Fly6 unit, the internals are completely waterproofed using nanotechnology.  This means that you can fill up the insides with water and all will be well after it dries.  To test this last spring I filled the original Fly6 camera completely with water (while it was powered on and recording) until it finally turned off, due to about a cup of water being inside it.  After I let the water escape it was perfectly happy again.  Pretty cool.
Of course, it'll stay on just fine in regular rain/etc, it's only if you somehow end up submerged underwater that it'll lose power temporarily.  I suppose in that scenario underwater illumination Seaquest-style is the least of your concerns.
Speaking of illumination, the Cycliq folks are currently aiming for a forward facing light of no less than 400 lumens.  Right now the engineering team though has somewhat blown those specs out of the water, so it's possible the final version will be higher (higher is better).
Still, it's impressive that inside the vast (and already illuminated) convention center on a ceiling at least 2-3 stories above me, you can very easily see the brightness glowing like a spotlight (seen upper right).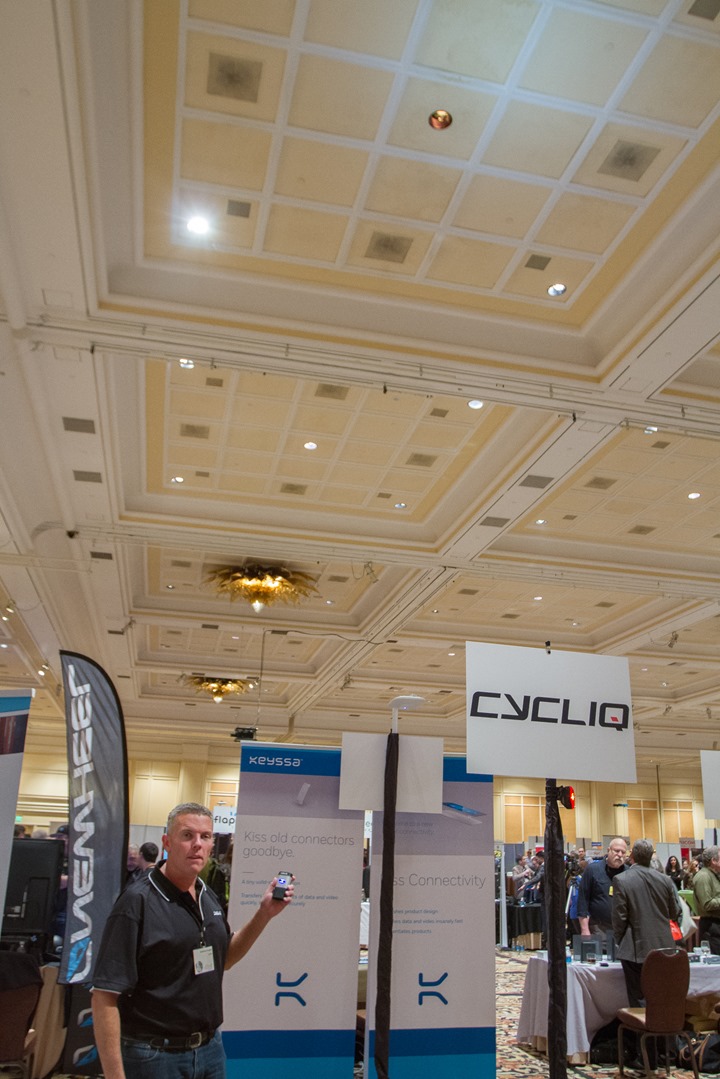 The front light isn't the only illuminating design aspect, the power button lights up when the unit is on.  In the next prototype version they're working to probably make the blue ring go all the way around the unit so that you can see it from any mounted angle.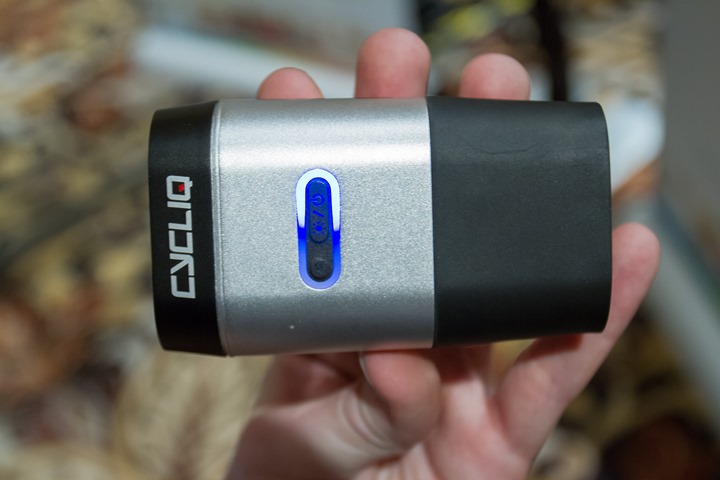 Mounting wise they're using the standard Garmin quarter-turn mount.  Except not made out of plastic, but rather metal.  They're working with K-Edge to have slightly more beefy mount that'll work for both your Garmin as well as the Fly12 – likely with the Garmin mounted up top, and the Fly12 mounted down below.  Using the standard rubber band mounts would probably be fine on smooth roads, but questionable on bumpy surfaces, hence the desire for a more sturdy mounting platform.
Additionally, with the K-Edge mount they'd have the unit angled slightly downwards towards the road, rather than just being straight out into the darkness.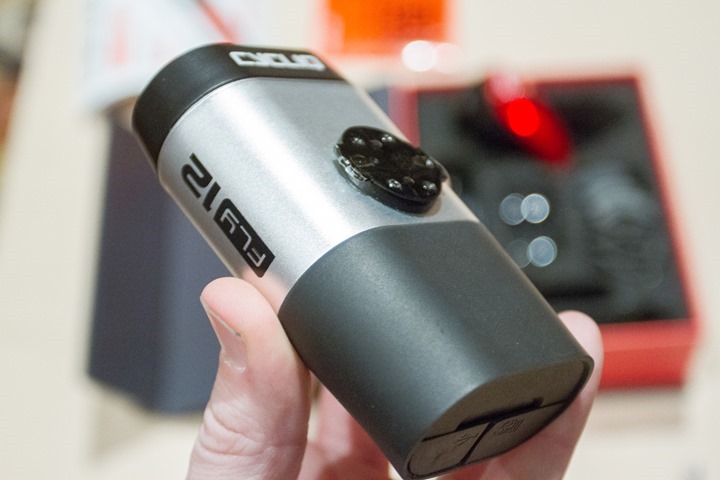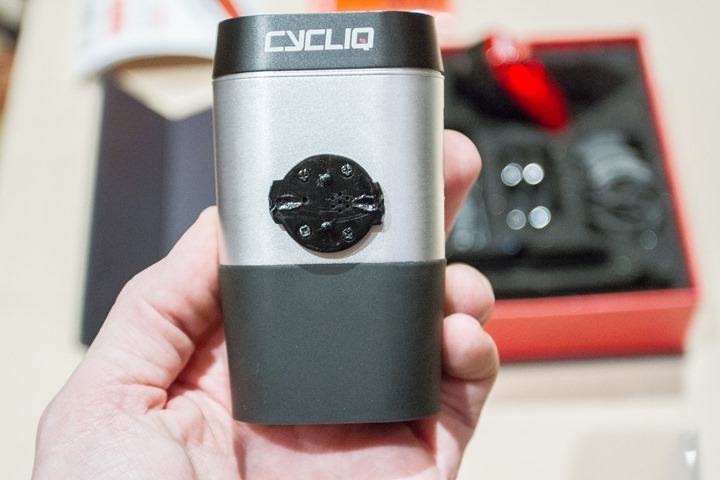 When it comes to availability and pricing, their Kickstarter campaign is aiming for launch in February.  The current plan is a retail price of $399US, though it remains to be seen if the Kickstarter prices are lower (often they are).  Additionally, they aim to ship no later than the end of year holidays (2015), with a target weight of 200g (a GoPro is normally about 150g with the waterproofed case).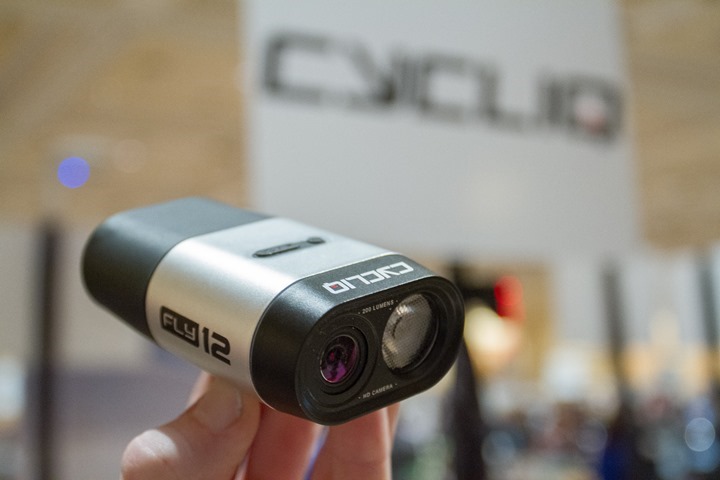 Now I will note that I'm not as much of a fan of established companies using Kickstarter for 2nd and 3rd generation products, especially ones that are fairly well through the engineering process with widespread distribution.  I often feel like crowd funding sites really should be aimed more at getting start up companies exposure.  Though my thoughts there don't take away from the coolness of the product or what the company has delivered to date (all positive).
With that, if you've got any questions feel free to drop them below and I can try and get the answers rounded up.
Thanks for reading!
–
Welcome to my CES 2015 coverage! While the show might be over, don't forget to check out all my CES 2015 posts, as well as many products I saw that I only posted on Twitter.  It was a pretty crazy busy week