Finally back home after a busy week with Ray in Las Vegas for the CES coverage, while backing up photo files, I ran across a few shots that a lot of you will find interesting.  Last Monday, my first day onsite, Ray and I ran across the Garmin Connect IQ Program Manager, just randomly in a hallway.  All this while we were navigating various far-flung CES venues seeking out a press conference, one that we never found.  But it worked out for the best after all.
I got a rare glimpse into how Ray operates; how he gets his great product scoops, and as a bonus, how he gets his great product photos.  I know Ray has written about his photography before, but this is a unique viewpoint on said photography.
It turned out that the PM just happened to have a few watches with him with some prototype Connect IQ software loaded on them.  Taking advantage of a unique opportunity, Ray convinced him to allow for some quick product shots for his upcoming In-Depth post.  Keep in mind that this happened early afternoon on Monday, a day before the conference officially kicked-off.
With the gentlemen's agreement in place to allow photos, Ray looked around at the dimly lit massive and bustling hallway we were standing in and started hunting a suitable location for a quick impromptu product photo shoot.
Taking in the subdued lighting and the hallway decor, Ray instinctively determined that the 'suitable location' was about a quarter mile away, down through meandering hallways, stairways, and lobby areas at the front entrance to the Sands Convention Center.  So off we went.
Trust me when I tell you that Ray walks fast, very fast.  I quickly discovered that is his secret sauce for covering the massive acreage of display booths we would be canvassing all week.  And I don't mean just fast walking, like a power-walking soccer mom, it was more like a full on trot for me, but just a casual pace for Ray.  But the Garmin guy and I both managed to somehow keep up, all the while Ray was peppering him with probing questions about Connect IQ, where it was now and where it was headed.
Once outside, Ray looked around and said "This is the spot".  Mr. Garmin and I looked quizzically at each other, since we were standing literally in the middle of traffic at the front entrance driveway. Traffic that was comprised mostly of fume-belching busses and taxis that were loading and unloading conference attendees. Hundreds of attendees, dozens of busses and other assorted vehicles in the few minutes we were there.  Not quite sure what Ray had in mind, he led us over to the curb beside the heavily trafficked bus lane.  We were like, What?  Where?   Ray points to the small patch of rocks crowded onto a little spot of typical convention center driveway landscaping.  And given the desert locale of Vegas, this was more xeriscaping than landscaping.
So, to make a long story short, most of those beautifully composed, light-balanced, perfect depth-of-field watch photos that you saw in last Friday's Connect IQ In-Depth post came about in the most unlikely of places and with a most impressive display of quick field photography.  I know it looked like the photography was done in some scenic southwestern desert locale, but really, it all took place here: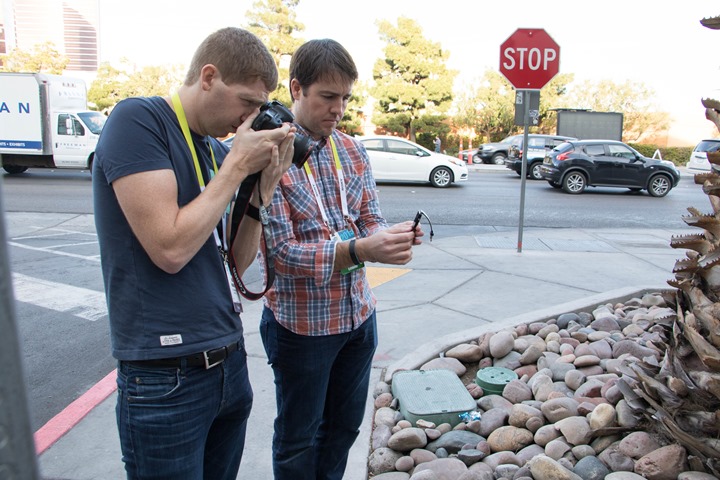 A quick artful set-dressing and product arrangement: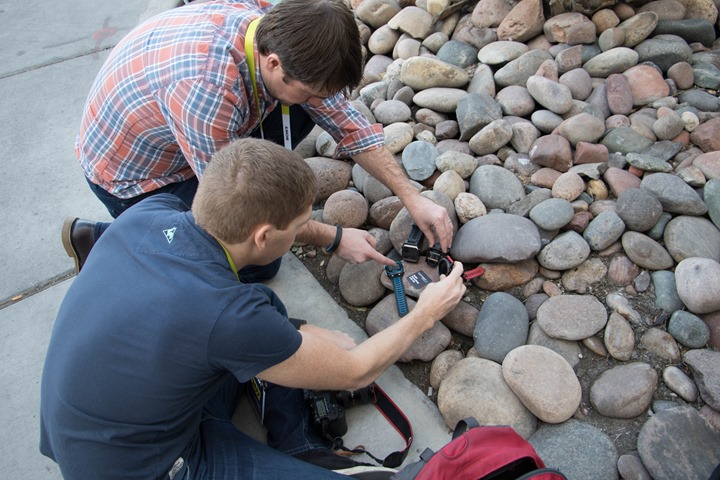 A great display of Ray's yogi-like nimbleness: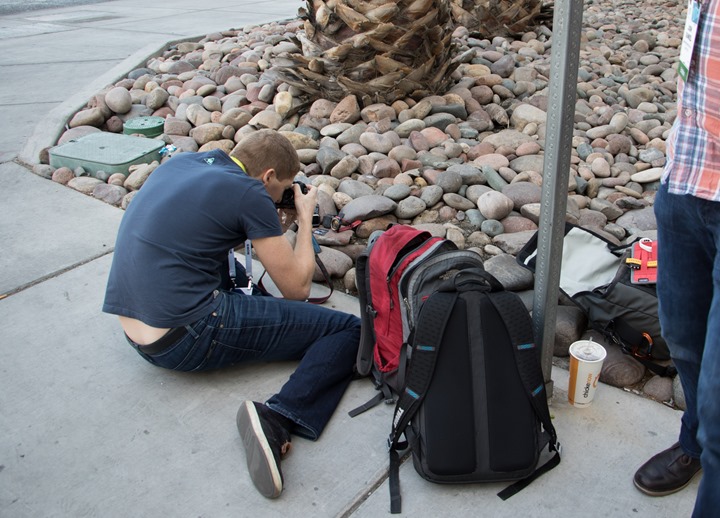 All while heavy traffic was zipping by.  I know everyone driving by thought we were nuts.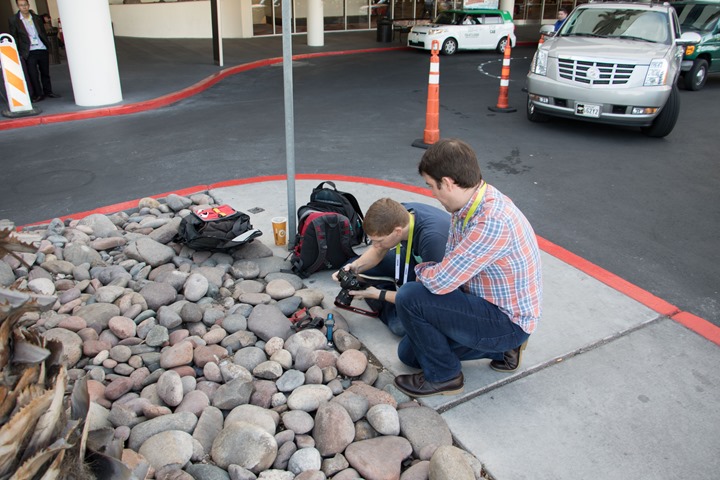 But, this is truly where the magic happens.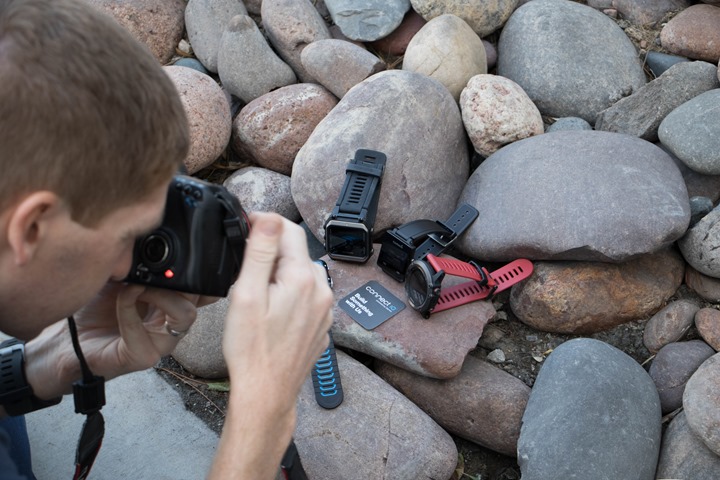 And that's how you got this: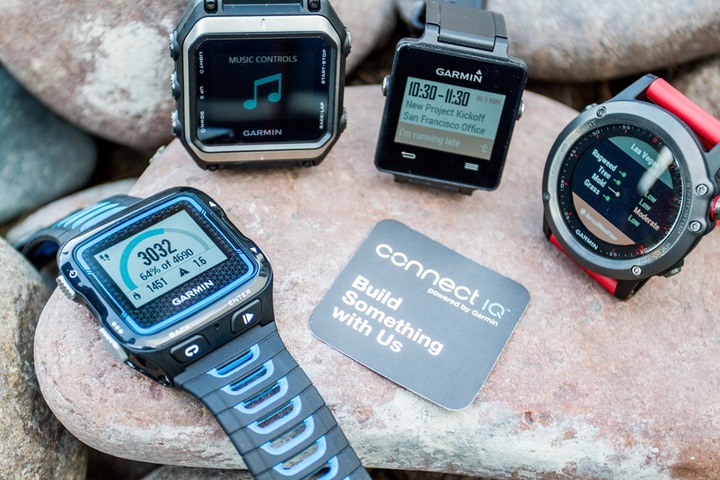 And just like that, it was a wrap.  No sets or lighting to disassemble, no transporting back into town.  We just gathered up watches and backpacks and headed back into the maze of CES hallways and booths.
–
Welcome to CES 2015 posts! Don't forget to check out all my CES 2015 coverage, as well as a slew of updates that were only seen on Twitter.  It was a crazy busy week!  (And yes, there are still yet more left to write and post about – including a number of things that didn't seem to get any coverage anywhere else)