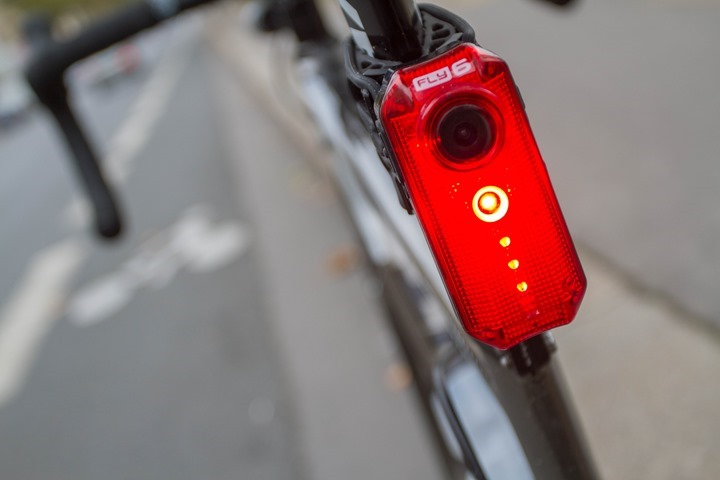 I've been using the Fly6 (Generation 2) for the better part of a year now.  While I wrote an initial preview last year of the Generation 1 model, it was just that – a preview.  I figured it was about time to close that loop and see where things stood after a year of use.
So what it is? Well, it's a combination bike taillight (rear) with camera.  When you turn it on, it's always recording.  It's effectively a black-box, but combined with the utility of a bike light.
Before we go too far though, it's important to note one thing: A camera on a bike won't keep a driver from hitting you (the light might though). That's not the point of this device, or others in the same vein.  The point of this device (as I see it) is ultimately insurance.  It's insurance for when a Bad Day happens and you need proof that it wasn't your fault.  For the $169 cost, that's pretty cheap considering it also includes the bike light.
But, let's not get too far ahead of ourselves.  I just wanted to ensure everyone is approaching the product purpose from the right angle.  Don't think of it as an action cam – it's not a replacement for a high-end GoPro Hero4.  It's a bike light that happens to record the chaos behind you.
Unboxing: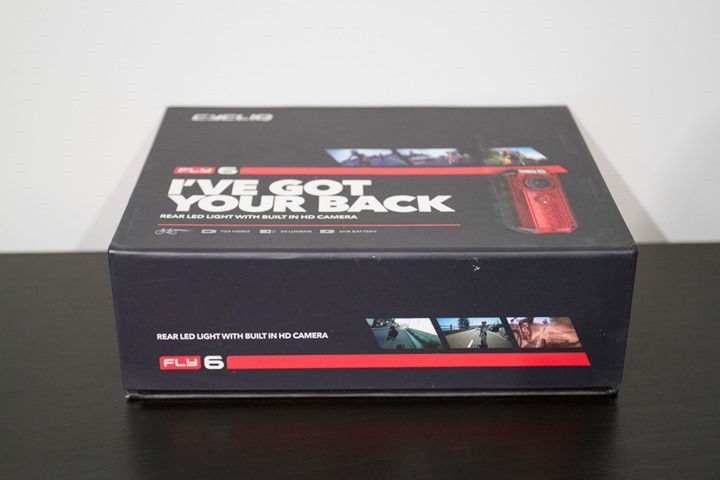 First up is getting the unit unboxed.  I'll give them credit – they packaged the crap out of it.  You know those egg-drop contests you did as a kid where you tried to package up a raw egg so that when dropped from altitude it wouldn't break?
Well those kids apparently grew up to make bike light packaging.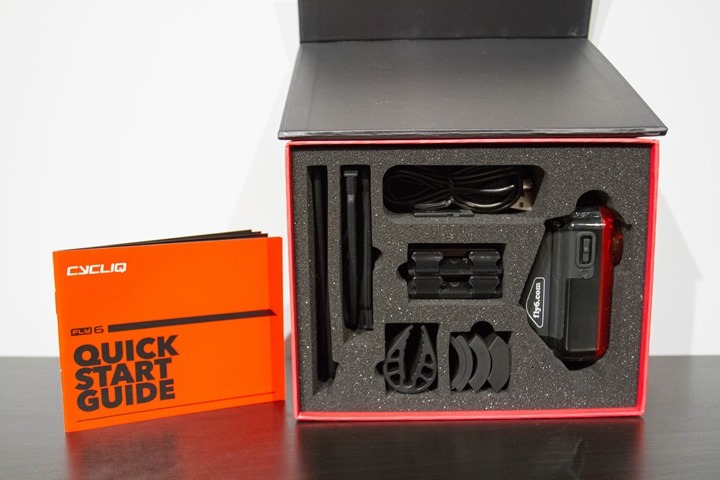 Once you got all of those parts out of the packaging, here's where you'll stand: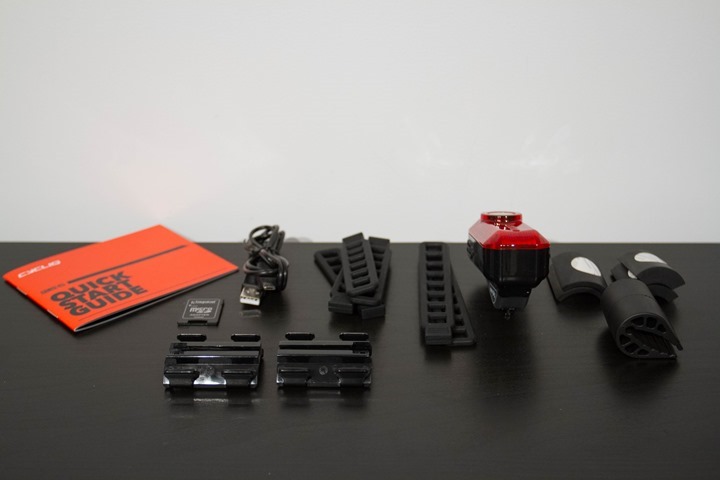 Everything basically falls into a couple of core categories.  First up are the industrial strength rubber bands.  Two short ones and two long ones.  Just depends on your seat post width.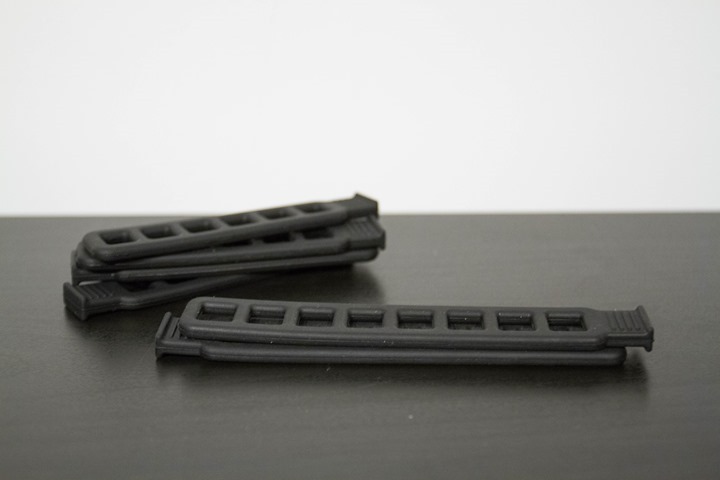 Next, we've got a pile of shims.  These have differing angles to equalize out the slant of your seat post, keeping the camera level: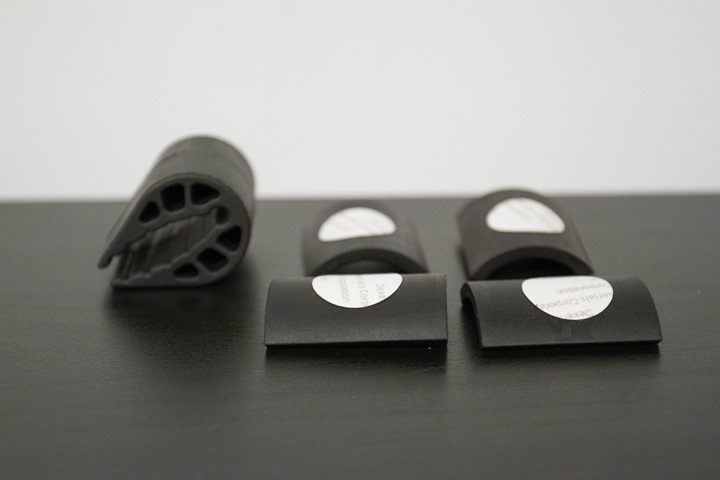 Then we have the mount itself.  This plus the shim and the rubber band is what goes on your seat post.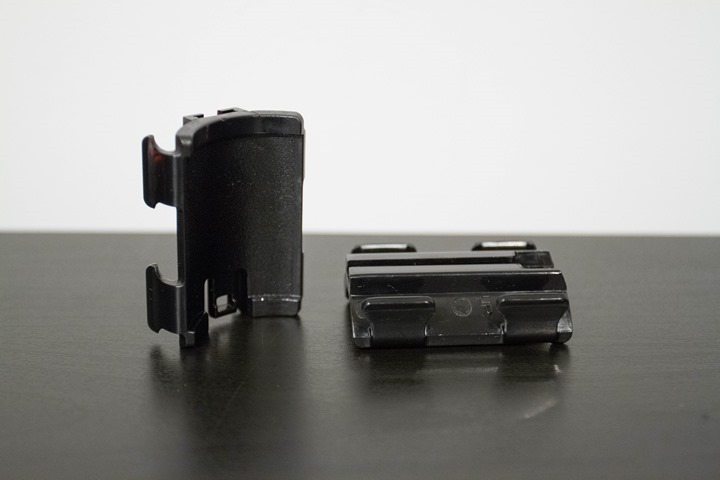 After that we have the micro-USB cord and Micro-SD to SD card adapter.  This allows you to take the included micro-SD card out and plug it into a computer/reader.  Or, you can just use the cable to both charge and read the files.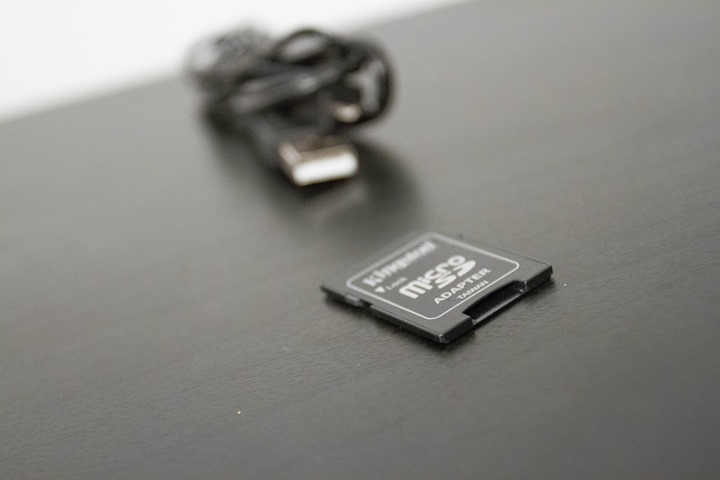 Then we've got the quick start guide.  Totally unnecessary after this post.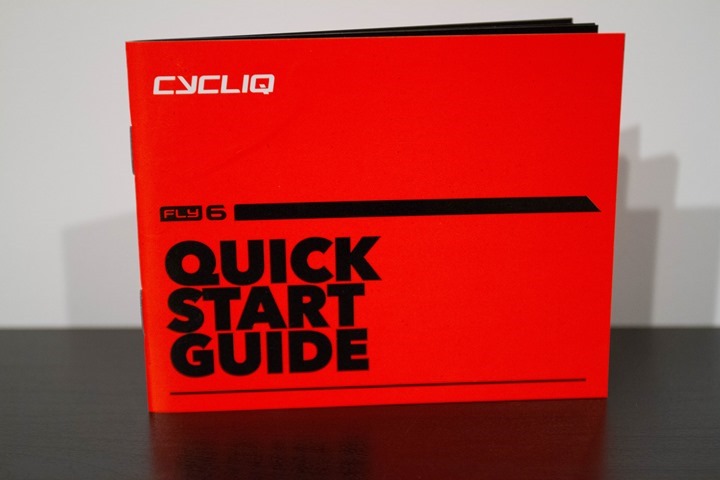 And finally, the little unit itself: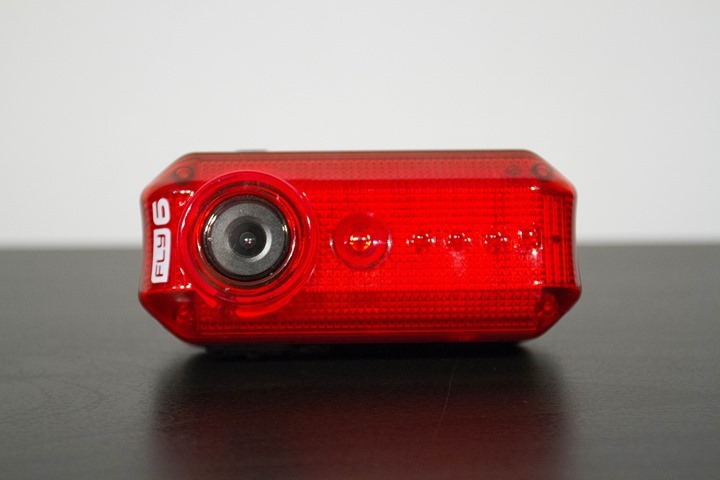 The camera is up top there in that black hole, and the unit is purposefully slanted so that it evens out the slant of your seat post.  Inside the unit it includes an 8GB micro-SD card, but you can buy a bigger one if you want.
Weight & Models:
So how much does this puppy weigh? It comes in at 116g: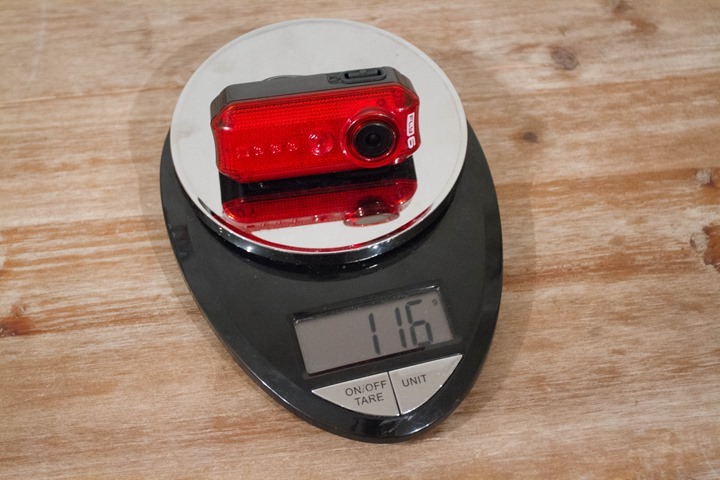 It's actually a bit lighter than I expected (no pun intended), especially compared to some lights.  Of course, it's heavier than others without a camera.
Note, there have actually been two versions of the Fly6 since inception.  Well, three if you count the re-branding (seen in the middle below).  In the very first version I tested way back when, it was a larger model.  Whereas the current (2nd generation, to the right) unit is smaller with brighter lights and better quality.  So keep that in mind if reading other (older) reviews – it's a new unit.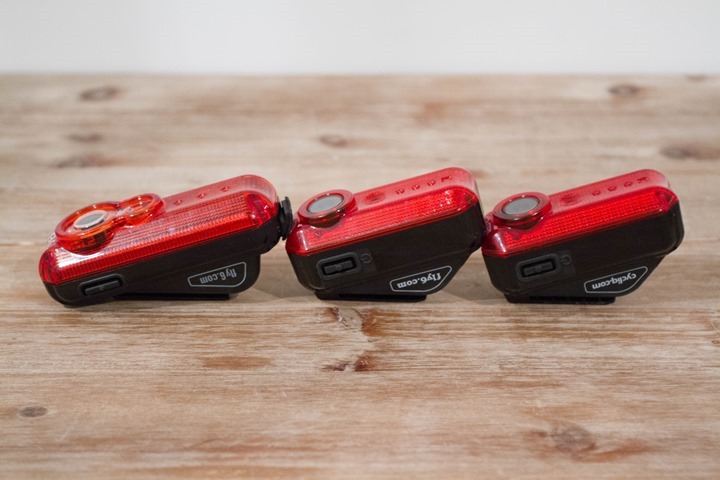 The easiest way to tell them apart?  Just look at the branding.  See, along the way the company renamed themselves from Fly6 to Cycliq.  It used to be they did the self-titled thing and the company name and product name was Fly6.  Now, the product is the Fly6 (or Fly12), and the company is Cycliq.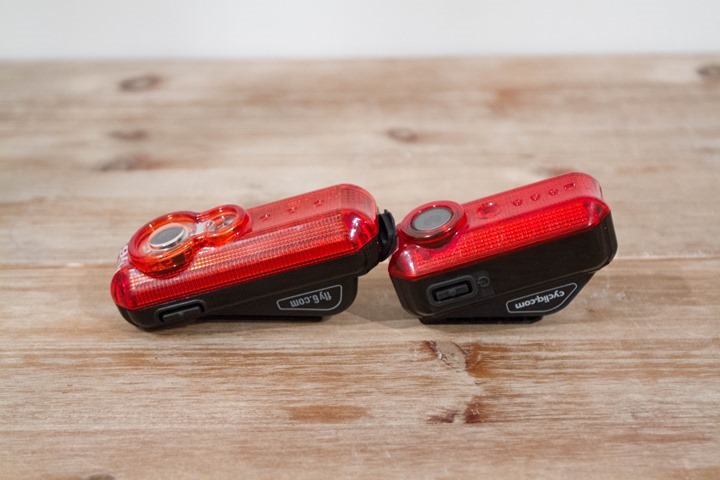 If you look at the unit and it says 'Fly6', it's old.  If it says 'Cycliq', it's new.  Super easy to tell apart.
Mounting:
As you saw in the box, it comes with a crapton of mounts.  All of which are designed to be mounted to the rear of your bike, since it's a red light.  Just to be super clear again: There's only one light color: Red.  Thusly it goes on the back of your bike.
Where you mount it is a bit flexible, assuming the mount location includes the seat post.  You can even use the mount system on a rear hydration rack, such as here on my triathlon bike with the older unit and a zip-tie: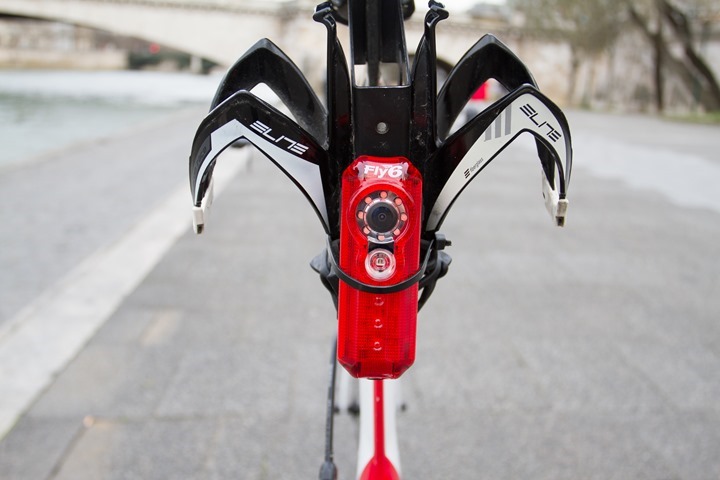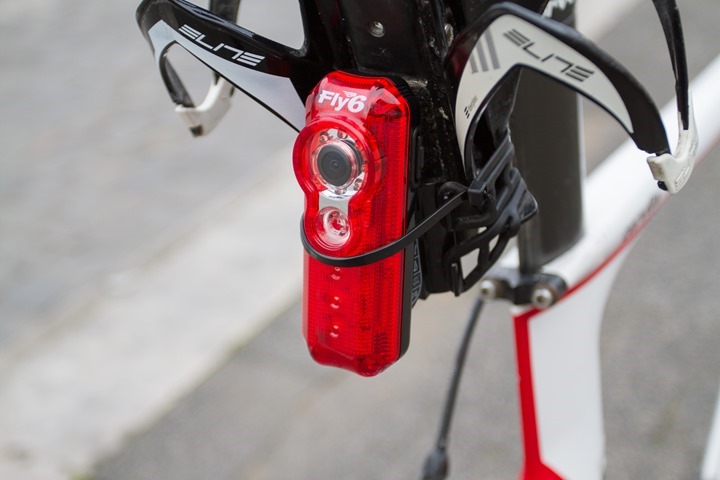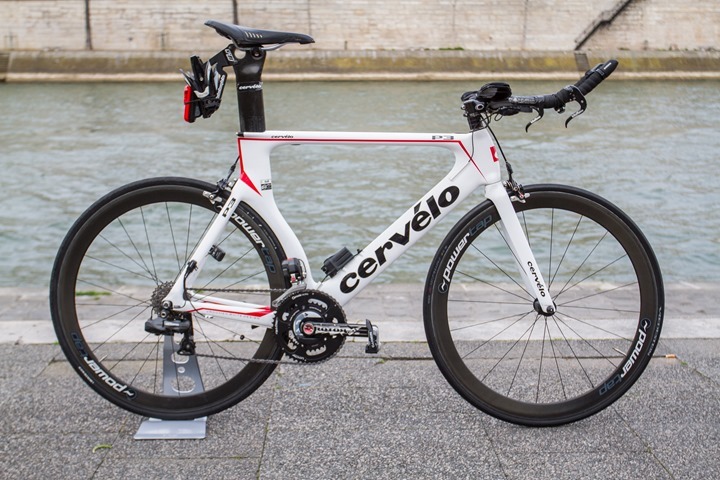 Or on a different bike I have, a road bike: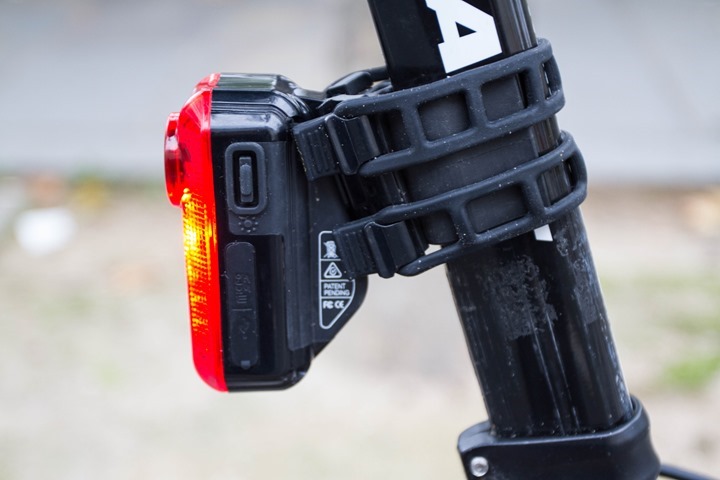 Either way, you're basically using three components:
A) The sliding mount part
B) The two rubber bands to hold it on
C) Shims to correct orientation
The sliding mount part is perhaps the greatest piece, since it's super-easy to take the light off the bike and leave the mount still there.  Just slide up and past the clip and you're done.  Now interestingly, Cycliq actually recommends you remove the entire band each time rather than using the rail sliding clips – as they note that over time it can cause rattle with the unit (a little bit of which you can barely see in my videos in some bumpier sections).  Ultimately, I'll take the slight rattle over having to remove the rubber bands each time. I'm lazy that way.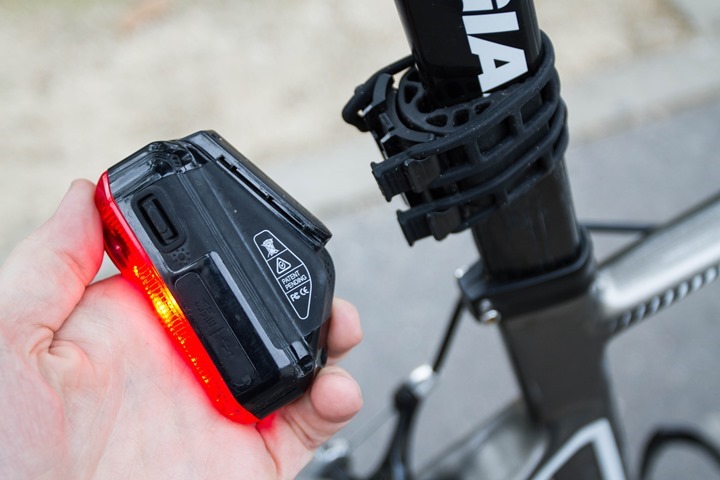 Next are the rubber bands, those simply hold it in place.  While here seemed to be some issues with earlier bands, I haven't had issues with the 2nd generation units (produced from last fall).
Finally, on the shims, they're just there in case the angle of your seat post is sharp enough that you need to correct the angle to be level for the light itself.
The Basics:
To begin, the Fly6 has just two buttons – making it pretty much impossible to screw up usage.  You'll press the left side button to turn it on (I suppose it could be the right side, depending on which way you're looking at it).  Within a few seconds you'll hear a loud chirp and then the lights will illuminate.  At this point, you're done. Seriously, that's it.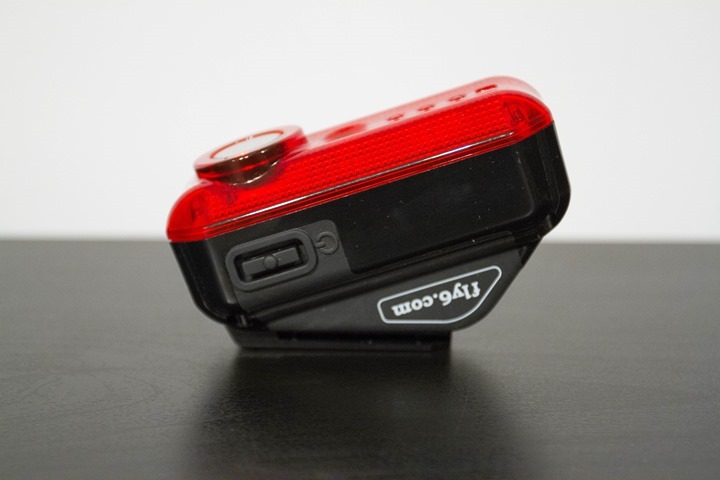 The number of chirps actually corresponds with how much battery is left.  Four chirps is a full charge, whereas one chirp means it's pretty darn low.
You can also shift between the different light modes by pressing said same button via a short press.  There are three modes: Two flashing ones, and one steady always-on mode.  The output of the light is 30 lumens.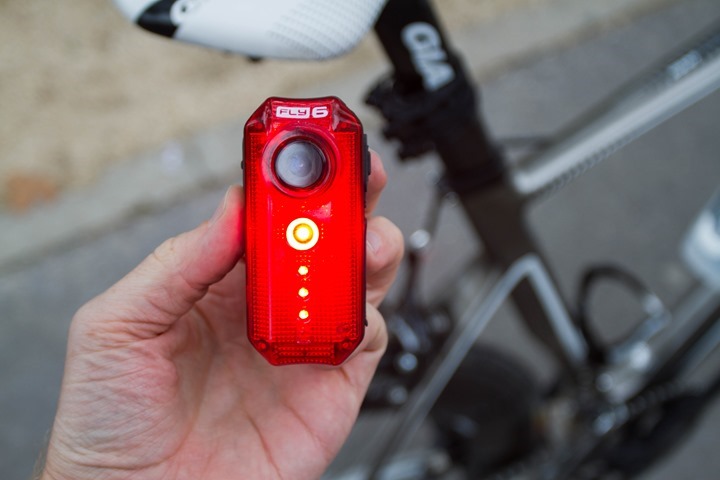 Meanwhile, on the other side is the other button.  This simply changes the brightness.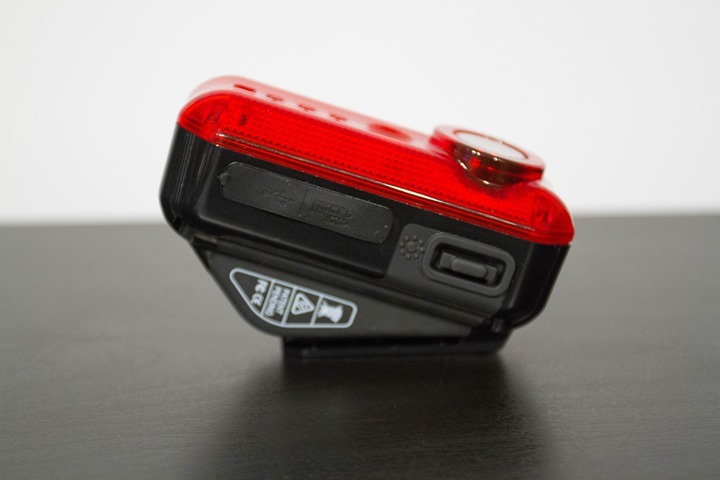 The key thing is that once turned on the camera is ALWAYS running.  Like a black-box, as long as you've got lights on, the camera is on.  Minus one exception: When the battery is under 5%. In this case the unit turns off the camera to save battery and gets you about 90 minutes of lights-only time.  To me this is a fair compromise to keep you visible.
Once you're done riding, you simply hold down the power button again and it'll shut off.
Next, you can plug your camera into your computer using the micro-USB cable.  Or, you can use the SD card adapter and plug the card in that way.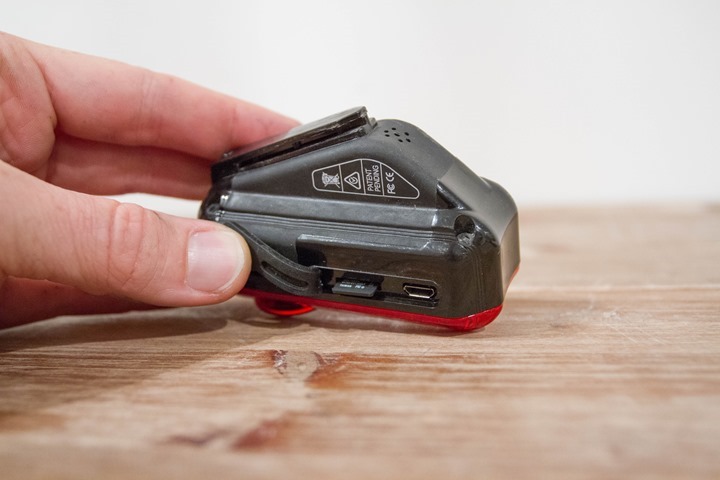 Once that's done it'll show up just like any other USB drive (or SD card).  The videos will be found directly in a folder, easily sorted by date/time: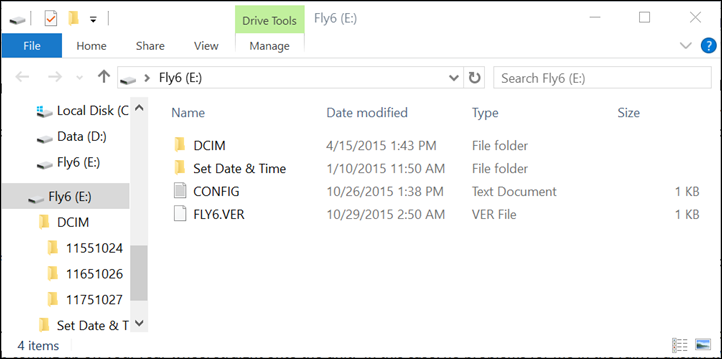 These are standard video files (.AVI files, resolution of 720p/30), that include the timestamp within them automatically.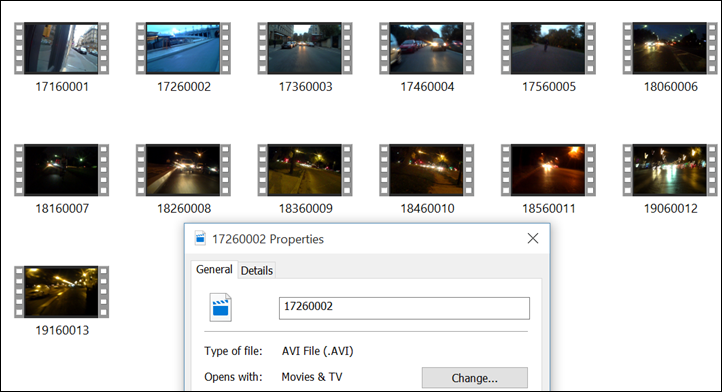 You can change the timestamp using a simple procedure by editing a single text file with the current time.  While this solution is a little low-tech, it does work.  Fwiw, with the Fly12 front-facing camera you can use the mobile phone companion app.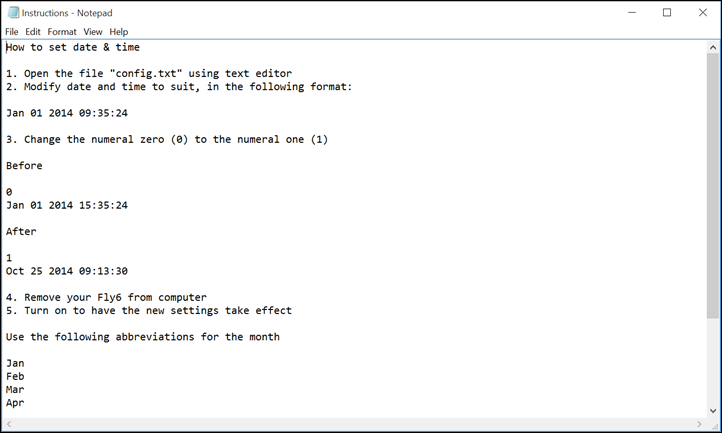 It's via this same micro-SD card that you can complete firmware updates as they come out.  It's been a few months since the last one, but honestly there really isn't much to update.  It just works.
When it comes to charging, you'll use that same micro-USB cable.  It'll take a few hours to charge, but for most people you'll just do that after your ride.  They claim a 5-hour battery life with everything on.  I haven't seen cases where it's significantly below that, but I tend to use it on shorter rides around the city – rather than much longer rides.  So I don't have as good of a handle on the exact battery drain since I tend to be more of a frequent/short term trip person.
Finally, when it comes to waterproofing, the unit is internally waterproofed with a special protective spray such that you can actually fill the thing with water and it'll keep on operating for a while.  Eventually though, it'll stop.  But here's the fun part – once it dries out, it's good to go again.  I note this because the unit has both a micro-SD card and a micro-USB port.  In most electronics, that combination might be the kiss of death long-term, especially for something that's in the line of fire for crap coming up off your rear wheel straight onto the unit.  In this case, no problems for me in the rainy Parisian weather (as seen below in my videos).
Footage Examples:
I've been collecting footage over the past year from the device, in all sorts of conditions.  Here's a pile of different rides.
First up, some general footage on a nice day just on the city streets:
In this case you can see the quality is quite good, and we can easily pick out the license plates of cars going past.  Which, to be clear may not always be the goal.  Meaning, that shouldn't be used as a finite yes/no test, because in many accidents that actually hit the cyclist, the driver probably stopped.  And if not, then a description of the car from the video would go a really long ways.  The 100 degree viewing angle helps capture a fair bit of what's going on behind you.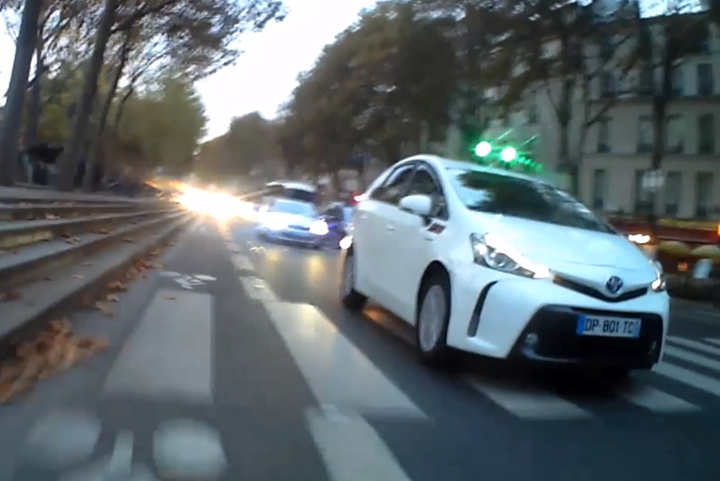 On the flipside, if you're trying to use the camera to enforce close-call type situations, then the license plate is more important to have.
Next, we've got a rainy day. And by rain, I mean elephant pissing downpour:
In this case, it's going to depend a little bit on how the on-road water is hitting the unit.  In my case riding my road-bike I didn't have any sort of fenders that might be present on a commuting bike.  So the water basically just streamed up against the camera.
Then, we've got some night-time riding.  This goes from dusk to straight-out night, both in city areas as well as non-lit areas:
You'll see that as it gets darker, the camera quality starts to suffer a bit.  It'd be harder to pick out a license plate in these situations.  Not impossible, but not as easy.  It'd really just totally depend on the situation.
Ultimately I don't really have any good close-call type footage from the Fly6.  Or at least I don't know if I have such footage.  By that I mean it's sorta like whether or not a tree makes a noise if it falls in the forest and nobody's there to hear it.  If something happens behind me that doesn't impact me and I didn't see it – it's hard for me to review what is likely a hundred hours of footage to find it.  Still, it's kinda fun to look backwards.
Fly12 Preview: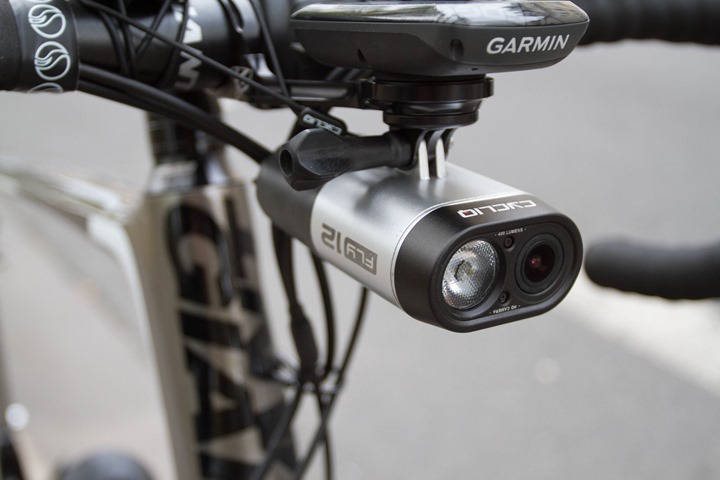 It's probably worth taking a very brief diversion from the Fly6 to talk about the Fly12.  No, the Fly12 is not a new version of the Fly6, but rather an entirely different product – this time focused on the road ahead.  With the Fly6 aimed behind you, the Fly12 aims on the road ahead of you.
It takes the same light meets camera concept of the Fly6, but extends it to include connectivity to your phone.  It's with that connectivity that the company has added the ability to overlay tram lines (to show popular 3ft or similar rules), as well as overlay metrics from Strava.
To start, the hardware is pretty beefy.  While the Fly6 is fairly light, the Fly12 is much heavier (229g in my prototype unit, which may change) – in large part because of the extended battery that's required to not only power the camera but the fairly bright front lights.  These lights clock in at 400 lumens for up to 10 hours depending on the exact modes you have it in (camera & lights).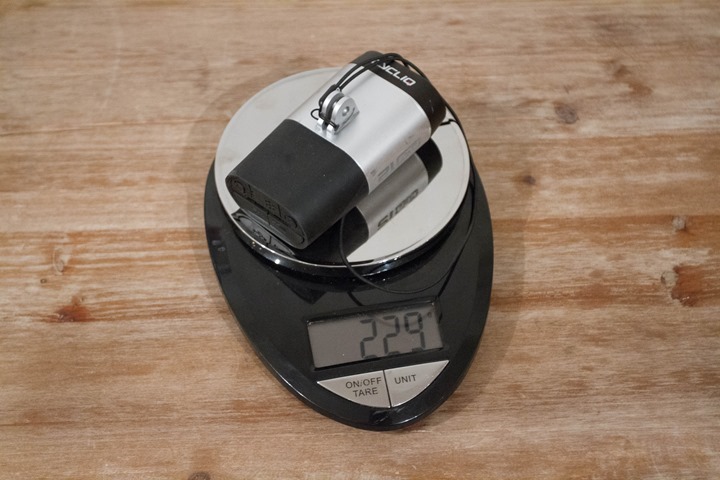 The unit attaches using a GoPro mount, which is awesome.  This means that it connects onto existing mounts like the K-Edge GoPro & Garmin combo mount, which I use on all my bikes: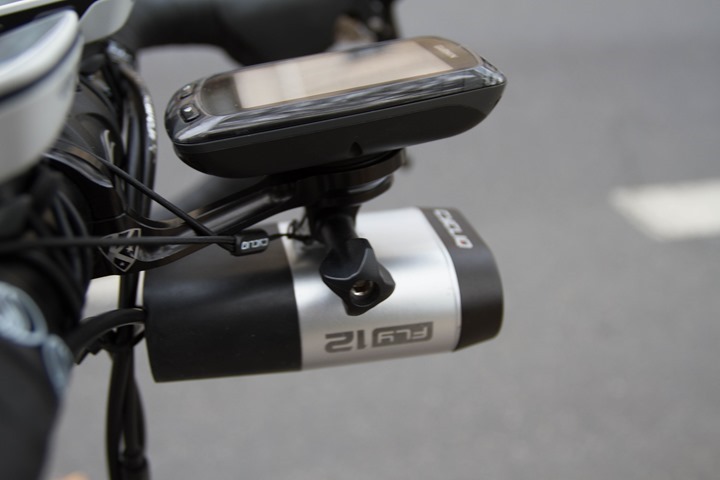 The camera quality is 1080p/30 and 1080p/45 (as well as some 720p modes).
Along the back we've got buttons for powering it on, as well as turning on/off WiFi.  See, the unit uses WiFi to stream video samples to your phone.  Not for during the ride, but rather afterwards.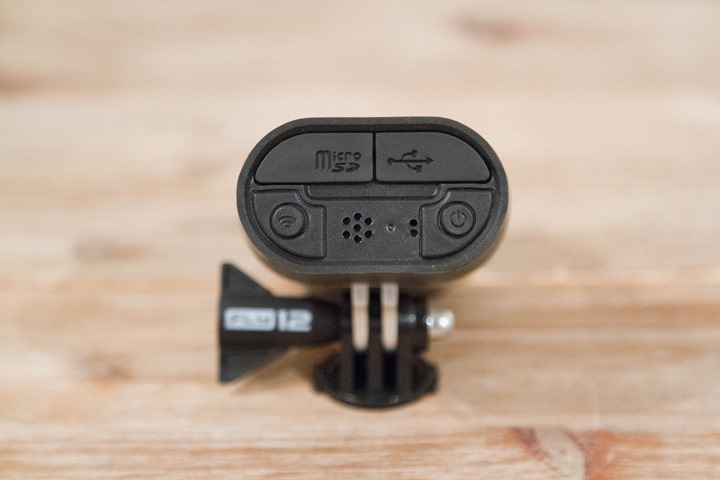 Within the app you can then download those video clips from the ride, and create snippets.  With these snippets you can select to link your Strava account and overlay ride data from it.  It's a bit of a circuitous route to get data onto the camera (versus something like the Garmin VIRB X/XE that just directly connects to the sensors).  But it works nonetheless as long as all your data file dates are exactly up to the second correct (most use GPS, so it usually lines up).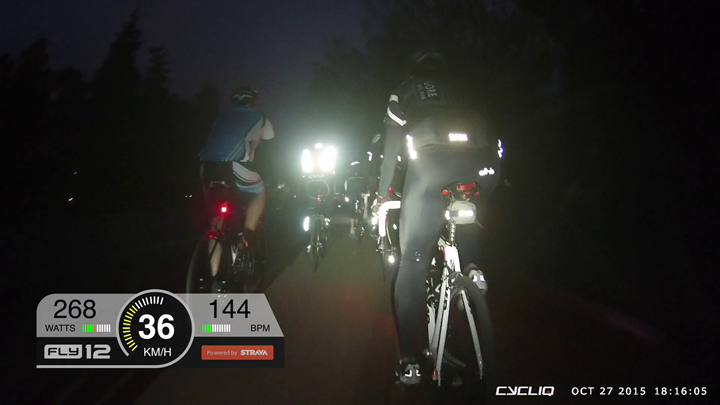 In addition, you can enable tram lines.  These tram lines allow you to easily show whether a car got too close.  It does this by overlaying variations of the 3-foot rule onto the screen.  You can configure which exact rule (basically width) as well as from where that's measured: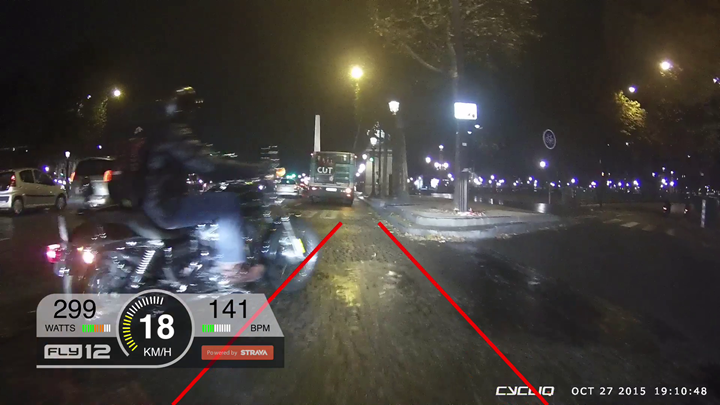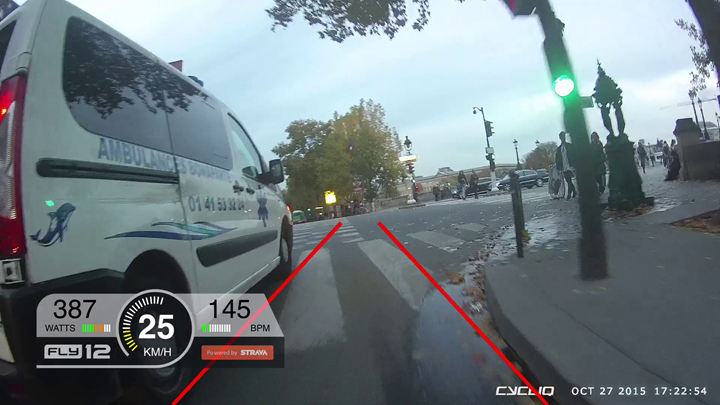 Once that's all said and done you can export the video clips out.  Here's a few samples I took around town recently:
Right now the unit is slated to start shipping in December, and has a separate price of $279 (Fly12).
Wrap-up on Fly6: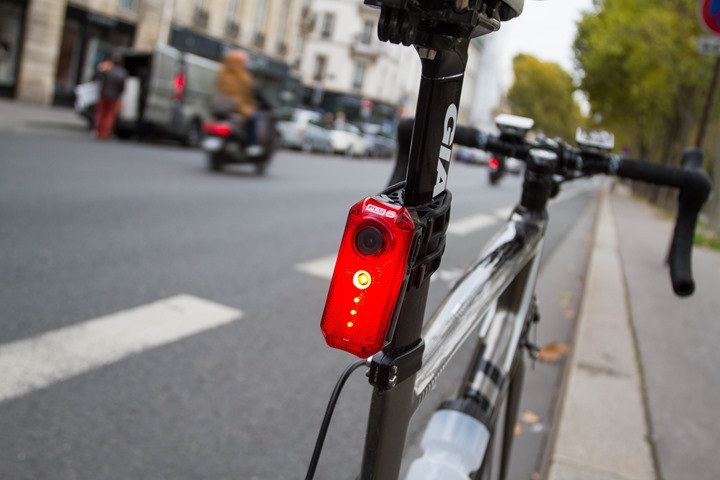 Ultimately, I love this little thing.  It just works. Every time.  I charge it, and quickly slide it on my bike, then off I ride.  If/when I need to grab footage – it's easy to do via plugging it in, or just using the micro-SD card.  I've never had issues with missing footage, or any weirdness.
While the quality isn't that of a $400 action cam, it's generally sufficient during daylight and dusk hours to identify a license plate.  During night hours it's honestly a better bike light than camera, but does get the gist of what's going on, so you could still easily use the footage in an investigation.
Obviously, it'd be nice if the Fly6 had the WiFi clip downloading capability that the Fly12 (front light) has.  But for now that's OK.  I like that it's cheaper, and realistically I'm less likely to use rear-facing footage than front-facing footage in day to day stuff (if you race road bikes, that might differ of course).
You might be wondering if the Fly6 is set to be replaced by a Fly6+ (or whatever they call something new).  Honestly, I don't think so anytime soon.  It's a small company, and they seem to have enough on their hands already with getting the Fly12 shipping by the end of the year.  That effort has taken them roughly 1 year to get to market from initial announcement.  I'd imagine future products would be fairly long as well (note: I have no insight into that though).
With that – thanks for reading!
Found this review useful? Or just want to save 10%? Here's how:
Hopefully you found this review useful. At the end of the day, I'm an athlete just like you looking for the most detail possible on a new purchase – so my review is written from the standpoint of how I used the device. The reviews generally take a lot of hours to put together, so it's a fair bit of work (and labor of love). As you probably noticed by looking below, I also take time to answer all the questions posted in the comments – and there's quite a bit of detail in there as well.
I've partnered with Clever Training to offer all DC Rainmaker readers exclusive benefits on all products purchased, most notably 10% savings. You can read more about the benefits of this partnership here. You can pickup the Fly6  through Clever Training using the links below. By doing so, you not only support the site (and all the work I do here) – but you also get to enjoy the significant partnership benefits that are just for DC Rainmaker readers. And, since this item is more than $75, you get free US shipping as well.
Cycliq Fly6 Rear-Facing Bike Light & Camera
Additionally, you can also use Amazon to purchase the Fly6 or accessories (though, no discount). Or, anything else you pickup on Amazon helps support the site as well (socks, laundry detergent, cowbells). If you're outside the US, I've got links to all of the major individual country Amazon stores on the sidebar towards the top.
Thanks for reading! And as always, feel free to post comments or questions in the comments section below, I'll be happy to try and answer them as quickly as possible.