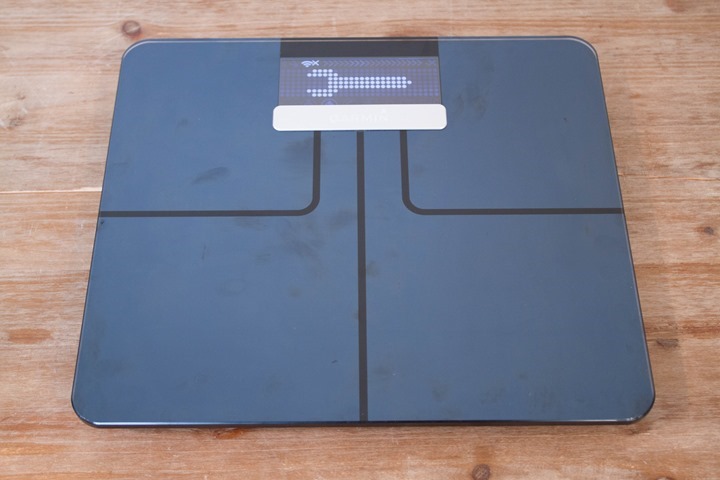 ***Update Feb 2016! I've now published my full in-depth review on the Garmin Index Scale – so swing on over to that page for all my thoughts!***
Wrapping up what ought to be classified as a massive year of new product announcements (21 sport products*), Garmin added two more products to the pile today: A weight scale and a revamped optical-sensor enabled Vivosmart HR.  I cover the Vivosmart HR in a separate post, so go swing over to that if you want the deets.  However, for the skinny on the weight scale, this is where you'll want to be.
This scale probably won't come as a surprise to many. While Garmin has tapered support for ANT+ weight scales within their running watches over the last few years, they actually haven't lessened the visibility of the weight functionality within Garmin Connect.  In fact, last week's Garmin Connect overhaul brought it much more front and center.
Thus we find ourselves here with the new weight scale.  Let's dive feet-first into it.
*2015 Fitness Products: Fenix3, Epix, Vivoactive, Vivofit2, VIRB X, VIRB XE, Forerunner 25, Forerunner 225, Forerunner 230, Forerunner 235, Forerunner 630, Edge 20, Edge 25, Edge 520, Edge 1000 Explore, Vector2, Vector2s, Varia Radar, Varia Front/Tail Lights, Index Scale, Vivosmart HR
How it works:
First up is the obvious: It's a WiFi enabled scale. While Garmin (and only Garmin) used to enable some of their older running/triathlon watches (and actually all current Edge devices) to connect to 3rd party scales via ANT+, that's not the case here.  Instead, this is all about WiFi…with one minor exception that I'll cover in a moment.
This switch makes complete sense.  The ease and ubiquity of WiFi makes it far easier to transmit weight data within your house than ensuring you have an ANT+ enabled watch near you (or even a phone).  We've seen massive success of this method with both Withings and Fitbit and their WiFi weight scales.  While the others that have tried to go with Bluetooth or ANT+ only solutions have largely fluttered.
So, to begin you'll connect the scale either using the Garmin Connect Mobile phone app, or by just using WPS to connect to your local WiFi access point.  WPS is where you press the fancy little WPS button on your WiFi access point, which saves you from having to enter the password.  By default out of the box the scale will be in a pairing mode, and will seek out a WPS beacon signal like me to cupcakes.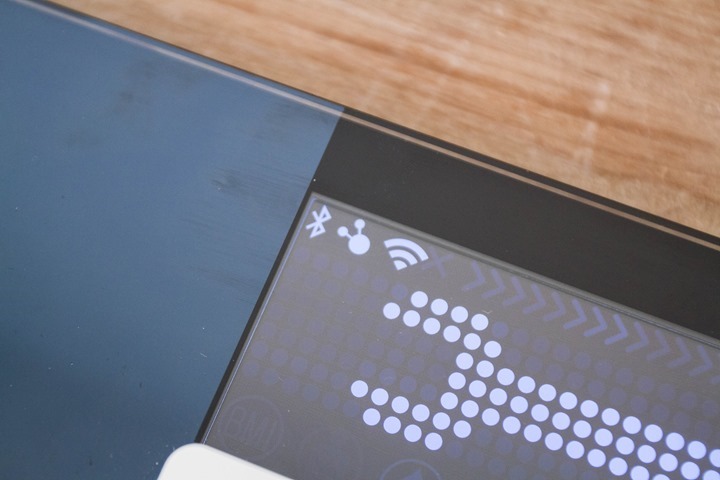 I'd note that the WPS procedure is a complete and total PITA (pain in the ass) if you mounted your WiFi access point up on the ceiling – as is the case in the DCR/Bertie's Studio.  Of course, that's why the Garmin Connect Mobile app is handy for also pairing via Bluetooth or also via ANT+ on the desktop side (however that's for configuration only, not daily usage).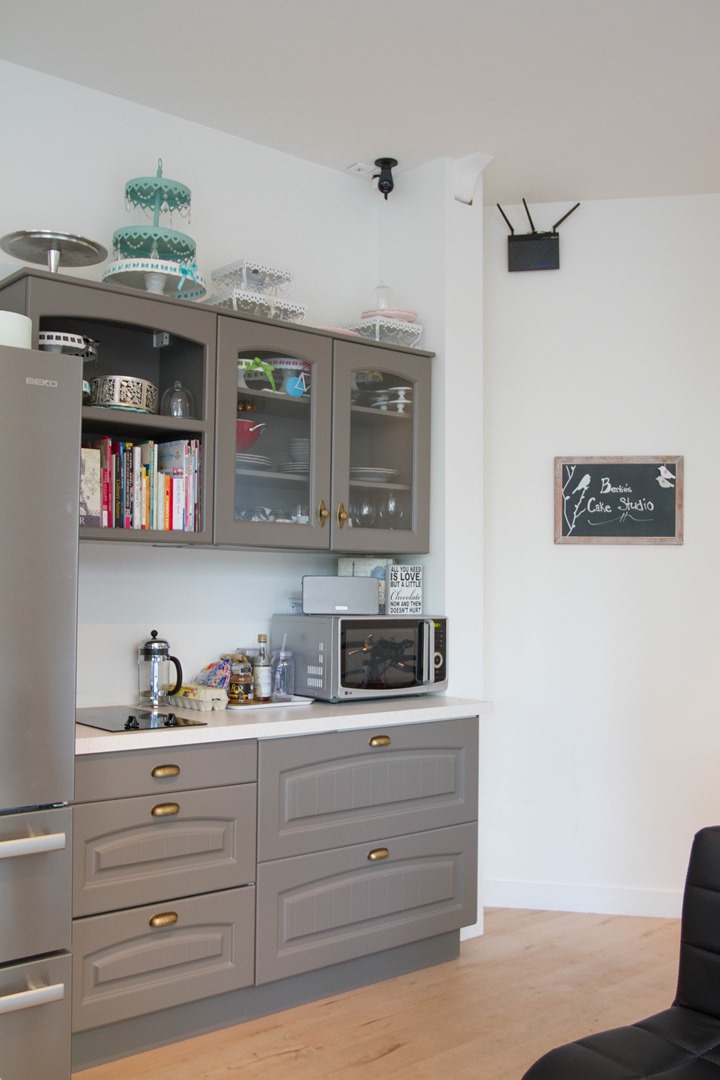 While using the phone app you'll be able to configure the scale to use your Garmin Connect account, or rather, link it to it.  I don't have a specific screenshot of this, as it was done for me ahead of time.  Instead, I actually was 'invited' to use the scale as a secondary user.  This is interesting, and somewhat different than how it works for other companies.
In the case of Garmin's scales, the 'owner' of the scale goes into their mobile phone app and selects a Garmin Connect contact to invite (so basically through your 'Connections' page).  From there they select you and send an invitation, which looks like this: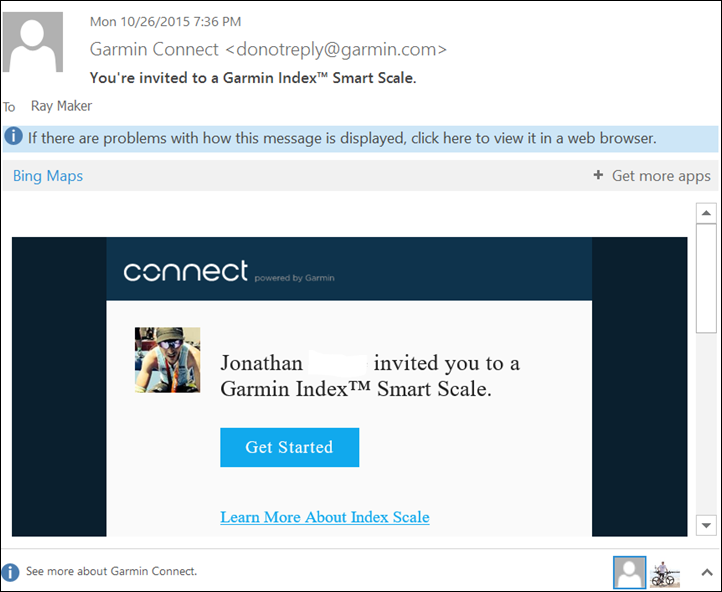 Once I accept the invite, I can go ahead and update my personal details.  In my case my age, weight, gender and other goodness is already entered in there from existing data on Garmin Connect.  You'll notice though that I need to provide a four character display name.  This is what's shown on the scale for multi-user configurations.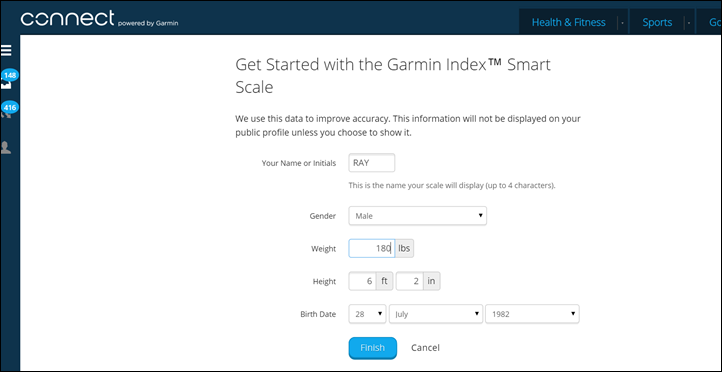 Once that's done, I'm basically good to go and ready to use the scale.  Note that on the back there's a button to switch between the three display modes: Pounds, Kilograms, Stones.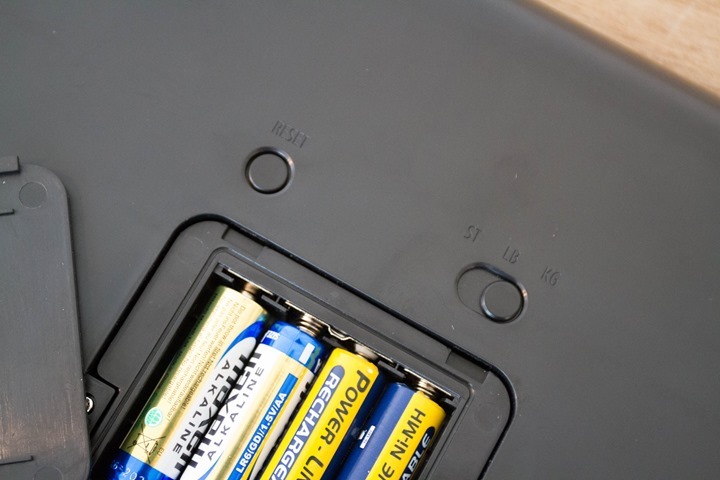 Now I'll flip it over and stand atop it, just like every other scale on this this little mostly-green planet.
Within a few seconds it'll give you your weight in whichever metric you've chosen (pounds/kilogram/stones):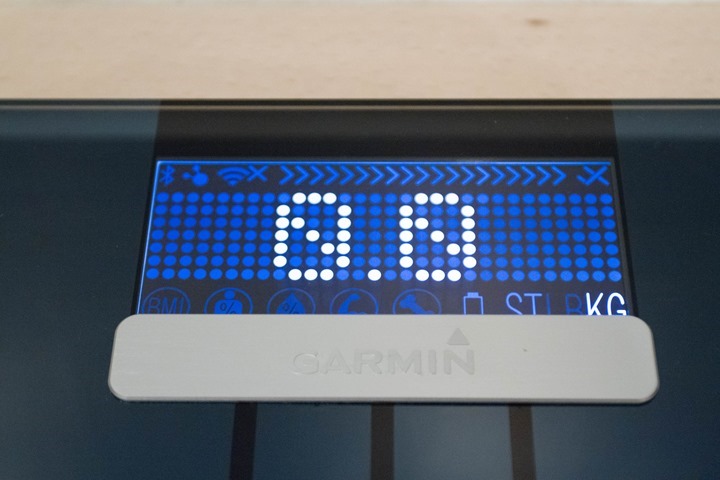 Next, it'll confirm your identity.  It does this in order to validate aspects such as gender and height, which will impact body fat and other related metrics.
You can simply tap your foot to the left or right to scroll through the identities.  The unit can support up to 16 people, so either you've got the Playboy Mansion, or perhaps run a small business.  The idea with the multiple people is to be able to also tie-in with some of Garmin's health initiatives such as the Vivohub, and corporate wellness programs.  Or again, the Playboy Mansion.
Once you've selected your name it'll then give you extended information, including BMI, Body Fat %, Water %, Muscle Mass & Bone Mass. You can see the little icons along the bottom of the screen for each of these.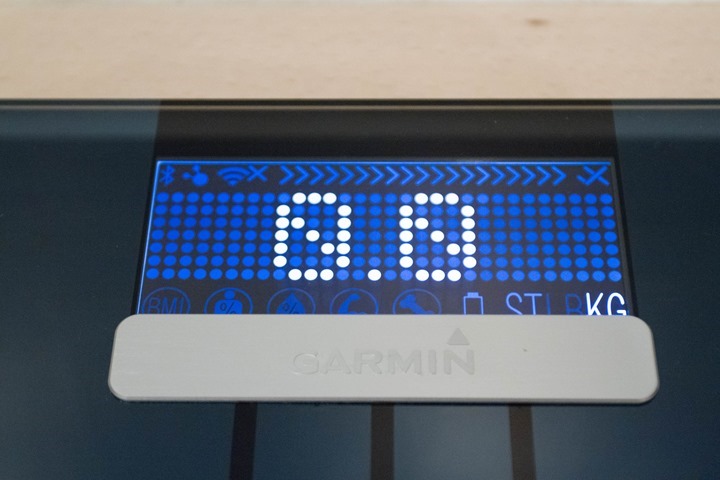 (I don't have an image of it up on Garmin Connect yet, as I'm not yet able to pair the scale to the production app since it was just announced today, so my chain of evidence isn't quite yet complete.)
All of this is then pretty much instantly transmitted to Garmin Connect, where it'll also be fed downstream to certain partners such as MyFitnessPal (note: not all partners can store all metrics, such as bone mass).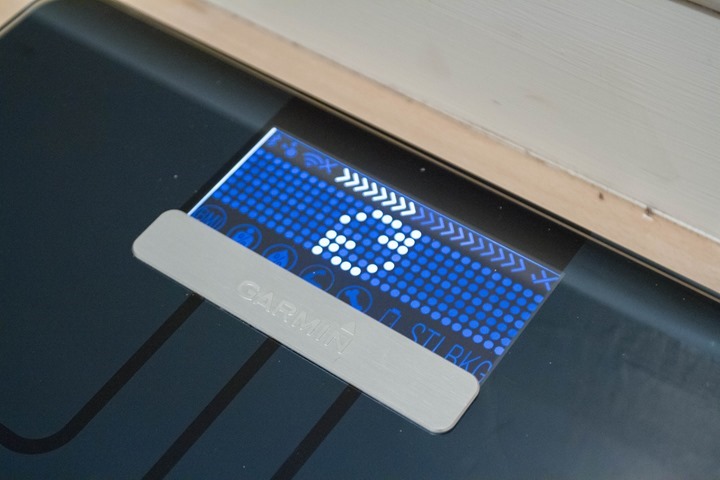 In addition, it'll show up in your Garmin Connect Mobile app as well within the Health section.  As noted, the sync isn't quite linked to my account right yet, so here's a screenshot I was sent over to show what the data looks like for someone a might lighter than I:
The accuracy of the various scale metrics isn't something I'm able to test at this point in time, though perhaps down the road.  However, in general for consumer scales I'd point you at this past post series I did on accuracy of consumer scales, which basically showed that the actual weight piece is highly accurate – but that body fat and related metrics are far more variable.
Finally – on the weight and size, it's a bit beefier and dimensionally wider than either the Withings WS-50 Scale or Fitbit Aria Scale.  Not that it really matters, for most people it just sits there on the bathroom floor.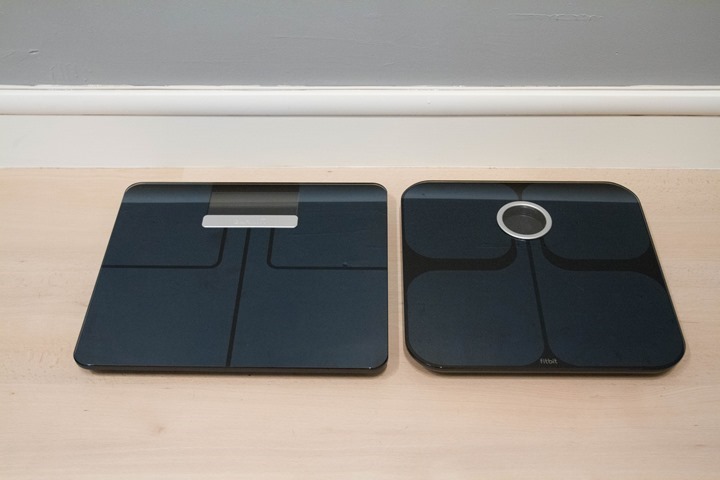 The material is a similar glass to the tops of both of the competitor units, which means just like those you'll need to wipe it down often to keep it from looking all covered in prints.  Note that Garmin is releasing both a white and black version of the scale.
Initial Thoughts: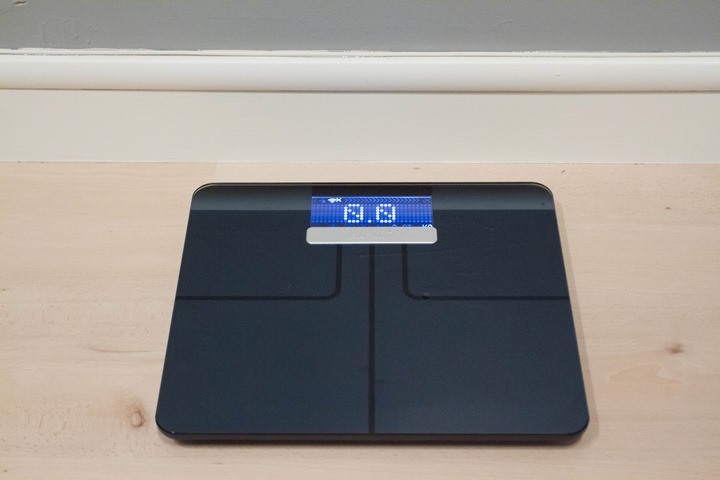 Now technically it's got more functionality within the device than either the Withings or Fitbit scales, by incorporating some of the muscle and bone mass metrics in it.  Further, it can be configured by both ANT+ & Bluetooth Smart, all of which lead to usage on WiFi.  I'm not really sure there's any consumer advantage in using ANT+ over Bluetooth Smart on the desktop for scale configuration alone, it's probably a wash since they'd still have to ship a USB adapter to ensure broad compatibility.  Had they enabled the ability to connect to older Garmin watches via ANT+, that might have been a selling point (albeit a slim one).
As for the additional tech metrics, they will no doubt appeal to some.  Though, I'm going to guess the accuracy of those will be similar to other scales I've tested in that while weight is great, things like Body Fat should be used more for trending.  And metrics like bone and muscle mass just aren't terribly useful metrics by themselves.  There may be some medical uses for tracking that data, but this isn't a medical grade scale.
Of course, the main selling point of the Index Scale is to connect to the Garmin platform, notably Garmin Connect.  If you're a Garmin user you've got semi-limited means of connecting non-Garmin scales, and we don't know if those tricks will continue to work after the scale launches (one hopes so, since really those already-Garmin customers are buying far more expensive Garmin devices than scales).  But the inverse is actually a bigger question: How will Garmin work with 3rd parties to get your weight data to other platforms.  That's a massive selling point of the other two main WiFi scales on the market.
Right now Garmin says it's only working with MyFitnessPal, and other partnerships remain to be seen in terms of integration.  Whereas Withings has over 100 partners for their platform, and Fitbit has 32.  Garmin? Roughly 10, of which only one accepts weight data from Garmin Connect.  I suspect more will illuminate quickly, since it's likely nothing more than a case of those 3rd parties picking up the weight .FIT file that's sent to Garmin Connect.  But still, that integration will take some amount of time.  And will consumers wait to pay more for ostensibly less functionality?
For that, I'll circle back in about two weeks with a scale show-down post.  Hopefully by then Garmin will have details on their partnership roll-out plans, since I see that as the major deciding point between the different scales.  Speaking of timelines, the Garmin Index scale is set to ship in the November timeframe for a price of $149USD.
Thanks for reading!
–
Heads up! You can now pre-order the scale from Clever Training.  Doing so supports the site, and makes you awesome.  Also, you can use your DCR-Clever Training VIP benefits, as described here.  Here's the link:
Pre-order estimated dates are based on the estimations that Garmin has provided to Clever Training (CT), plus a 'reality check' factor that CT typically applies to all manufacturer's claims.  This means that they typically provide a more realistic estimated delivery date than others.
Thanks for the support, it helps the blog here!