This past weekend I spent a bit of time poking through all the new apps that have been released onto the Suunto Ambit App zone.  There's tons of really cool stuff that people are doing – despite the highly limited nature of the App Zone functionality.  And I hadn't really planned on posting about it – but after seeing one specific example I decided it was definitely worth a mention.
A commenter (err…developer I suppose ) on last week's post left a link to an app that caught my attention: A power meter display on the Ambit.
Well, mostly a power meter display.
The app takes advantage of the known power curve of a specific trainer (the Kurt Kinetic Road Machine) and takes your known speed to determine your power output.  This is precisely how other more full-fledged apps like TrainerRoad do it.  There's really nothing stopping anyone from putting together a similar app for all of the trainers out there that have known power curves (TrainerRoad themselves has a HUGE list of them).  It also means there's no real difference between the App and TrainerRoad from an accuracy standpoint (obviously there's a massive difference between this and TR from a functionality standpoint).
I decided to give the app a quick whirl.  So I added it to my Movescount library, and then placed it into a data page view (seen below: Bike Trainer).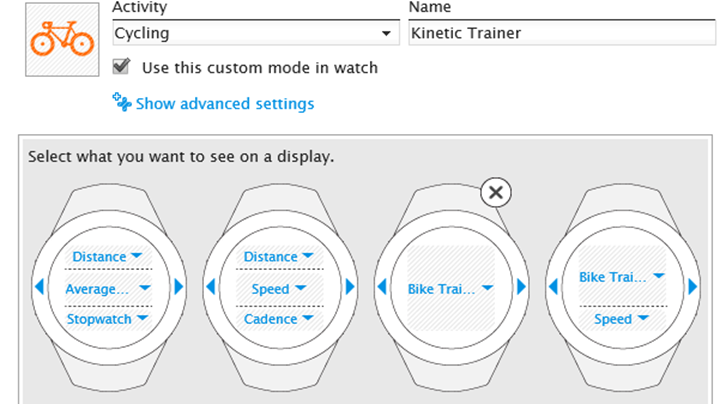 Now one of biggest limitations of the App platform for the Ambit does become immediately visible here: I can't add more than one 'app' onto a profile at the same time.  This of particular importance to this app because there's actually two apps.  There's an instant power app, and than an average power app.  Two separate apps with two distinct purposes.  Instant power shows you this seconds worth of power, whereas the Power Average app gives you ride average.
The no-two-apps issue manifests itself in that once I've added one app, I'm no longer able to add a second app to the cycling profile: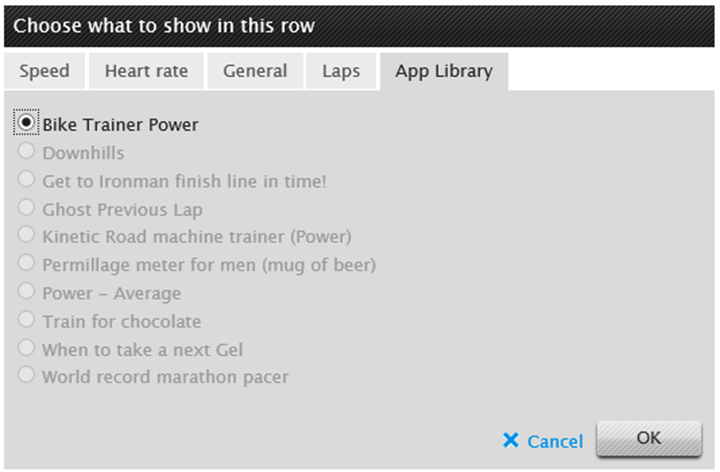 Having to pick one I just went with instant power for now.
With that, I named this particular profile something useful – Kinetic Trainer – and off to ride my bike I went: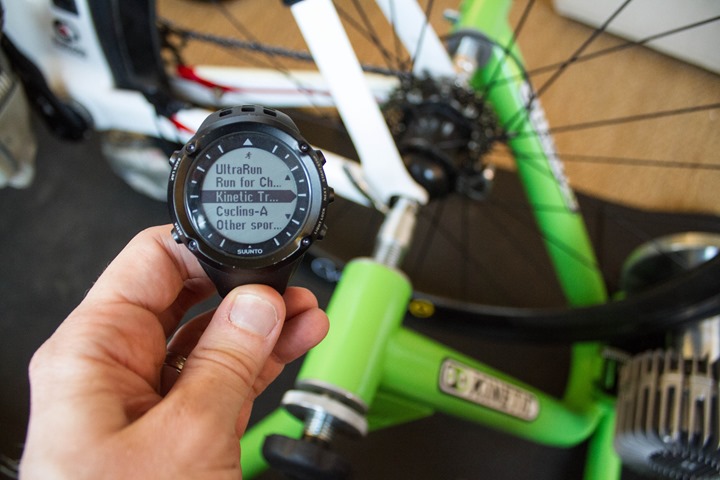 Once on the bike and all paired to my ANT+ Speed/Cadence sensor, I changed views to the custom app page I just added.  It's here that I can now see my power number: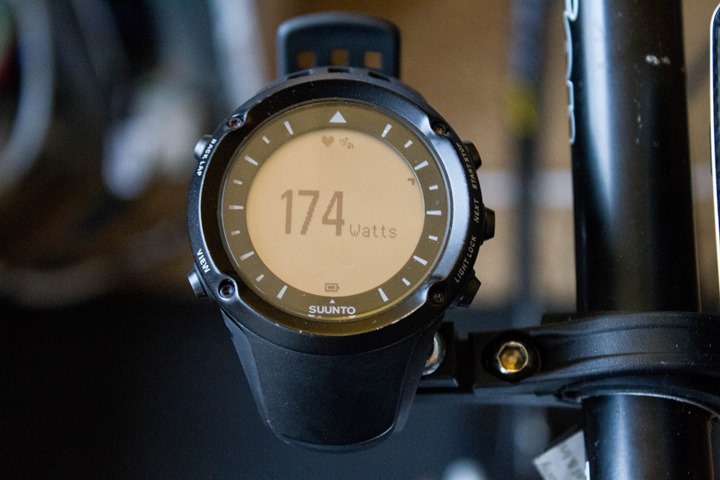 Of course, many of you would ask how accurate this number is.  In my experience, it's within about 5-10% of being accurate (this applies to any power curve based math, such as TrainerRoad).  It tends to be consistent – assuming though you set it up exactly the same each time (tire pressure, trainer tightness, etc…).  For fun, you can see the values of a PowerTap (power meter) connect to the Edge 800 on the right, with the Ambit to the Road Machine on the left (the 8 looks obscured because it's in the middle of changing numbers when the photo was taken):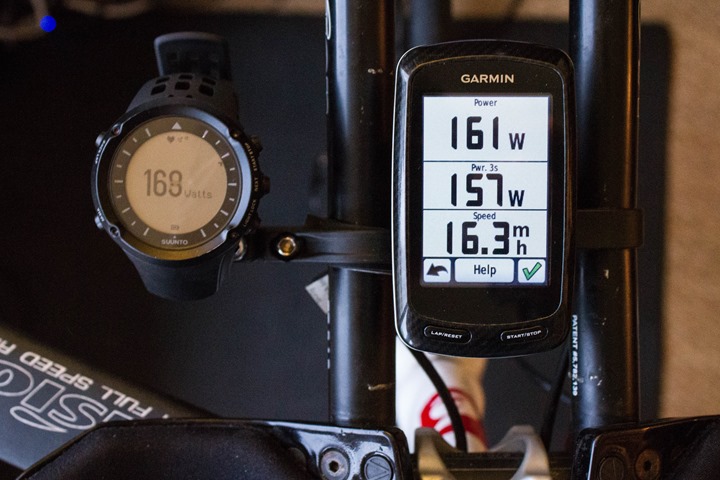 Not perfect, but fairly close.
Of course the challenge with the App Zone is that this data can't be written anywhere – instead, it's just there for you to view at that point in time.  Ideally in a future release the Suunto folks would allow developers to write data as well.
Now this is just a quick preview of an app written by a non-Suunto person, but in looking at it – it's clearly just the tip of the iceberg and the perfect example of how powerful this platform can be.  There's over 500 apps on the published App Zone now (excluding private apps, which may be a ton more).  And while a significant chunk of them are probably duplicate in functionality in some way – it still shows that in just three days the App Zone has exploded with creativity.
Like I said before, other watch companies better pay attention – because once Suunto fleshes out the app concept a tiny bit more, it'll allow folks to do whatever they darn well please – negating the need for people to look at any other watch on the market since they can just pickup an app on the App Zone for it, for free.