The weekend started rather early.  About 3AM on Saturday type early.  We, well, The Girl, was participating in an annual holiday event as the American School in Paris – selling cupcakes at their boutique.  In preparing the nearly 300 cupcakes for the event, she had to start a wee bit early.  Normally the shop opens up around 11AM.  But with us having to leave by 9AM – as well as pack up the cupcakes for travel across town, she started quite a bit earlier than normal.
Thankfully however, my contribution didn't start until around 6AM, when she was nearing the time to start the icing, toping, and boxing stage.  That's when I'm the most useful (I'm good at moving cupcakes around – which I suppose is probably her really saying that I'm horrible at the creative parts, like icing or decorating).  Here's my and my boxes that I put together (half-way through).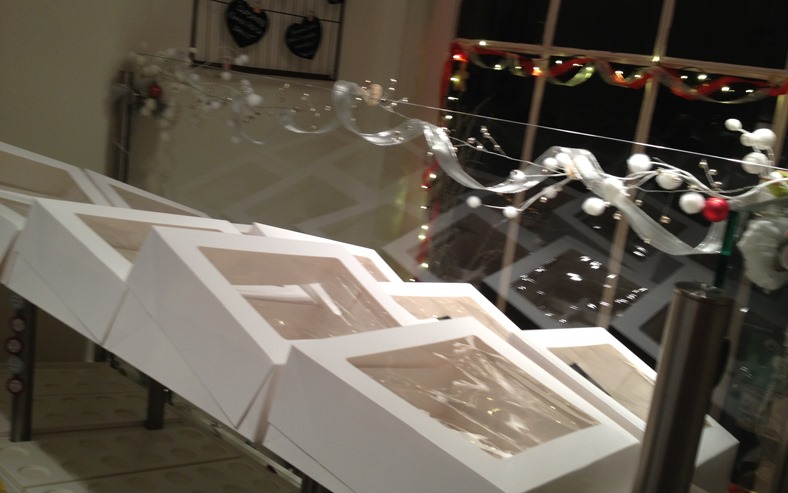 Dozen after dozen of cupcakes into the boxes they went.  Then eventually, into our little Autolib zip-car like thing.  It's really our only way of getting around outside the bikes.  There's no way we'd ever try it with a taxi, simply because they'd drive too rough – plus, we had a bunch of props for the table.  Speaking of which, here's the table (under the table is all the extra cupcakes to refill the top):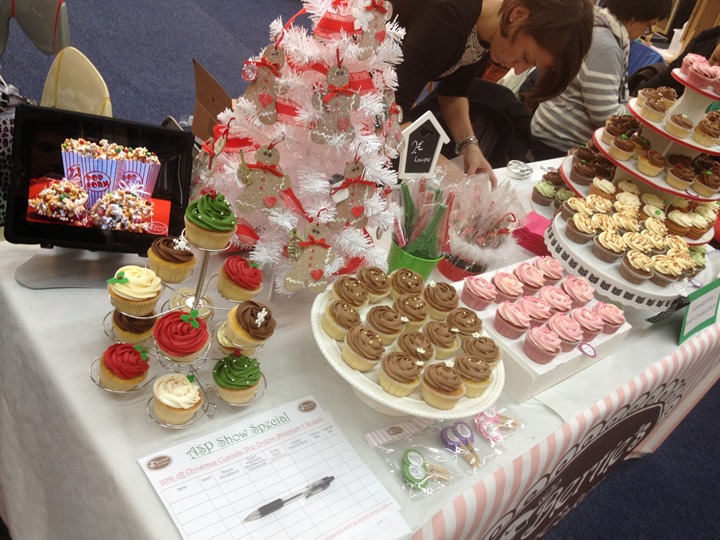 The event was fairly big, with tons of small business vendors setup in the gym, as well as others sprinkled about the building.  Outside they had a bunch of different areas you could wander to.  Though, my favorite was probably the American BBQ station where you could buy tickets for BBQ.  No, the French don't really do BBQ.  At least not good ol' American BBQ.  Sometimes it's the little things you miss (we don't have room for a BBQ).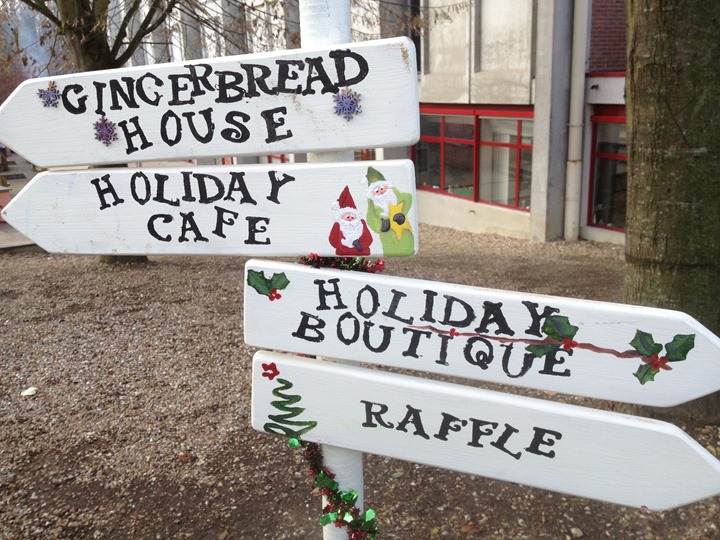 After dropping off The Girl and ensuring everything was all set, I drove back home and went to the market – as I noted in my Paris post on Saturday.
Once complete at the market and back home, it was unboxing time.  I posted in The Queue on a bunch of items, with a few more still to pop out.  But I probably won't post on the below item, merely because there's no review planned.  It's just something I bought on Amazon semi-randomly, given they were $3.
They're touch-screen friendly gloves.  While most touch-screen sport devices like the Edge 800 are just fine with gloves, it's the phones that are more problematic.  These cheap gloves solve the problem and make it so you can use the screen while still keeping your fingers warm.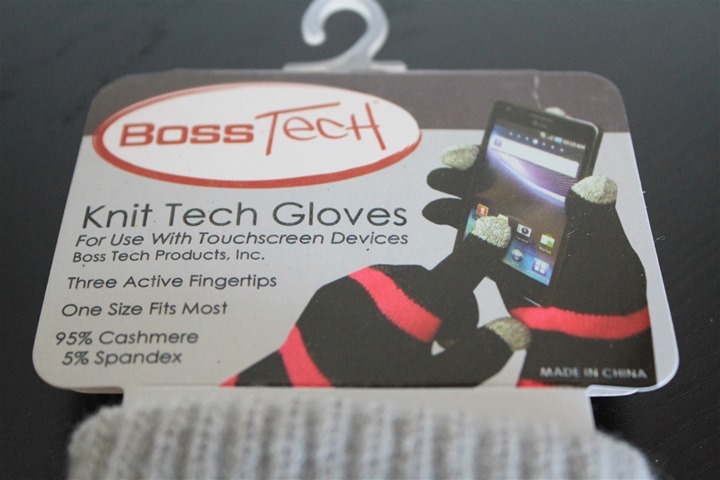 It's the little black fingertips (three on each hand) that have the magic in them.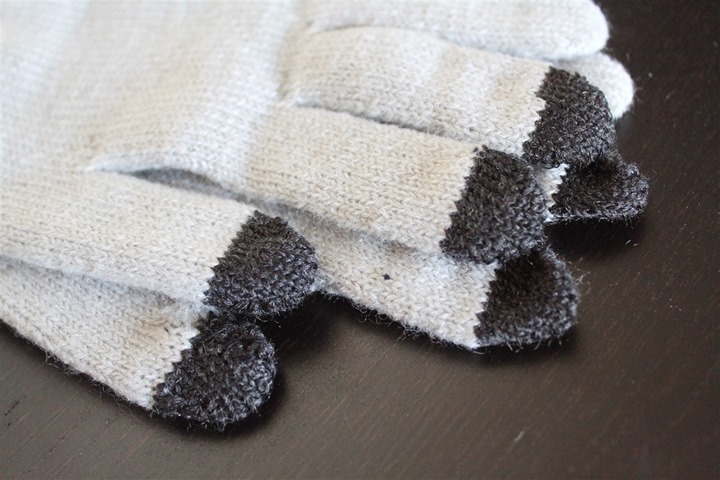 The other pile of stuff to unpack was the Withings WiFi-Bluetooth Scale, the Delorme Two-way Satellite Communicator, the new FitBit One (I got the FitBit Zip a few weeks back), and then a bike light.  Good times abound!  Most of that stuff is visible in The Queue section.
By time the end of Saturday came, we were both exhausted – so I don't remember a whole bunch there.
Sunday came along though and I decided some baking was in order.  The Girl was at the shop doing her own baking, but for me I went with something a bit simpler – my Grandma's cookies.  She made these White Lebkuchen cookies (German cookies) every Christmas for us, as part of a larger tin of cookies she went send out to us (she lived in Rhode Island, and us in Seattle).  These days, my Aunt has taken over the family tradition and does the great cookie bake.  Meanwhile, I just make the one cookie that's my favorite.  For those that are interested, the recipe is over on her site at the end of that post.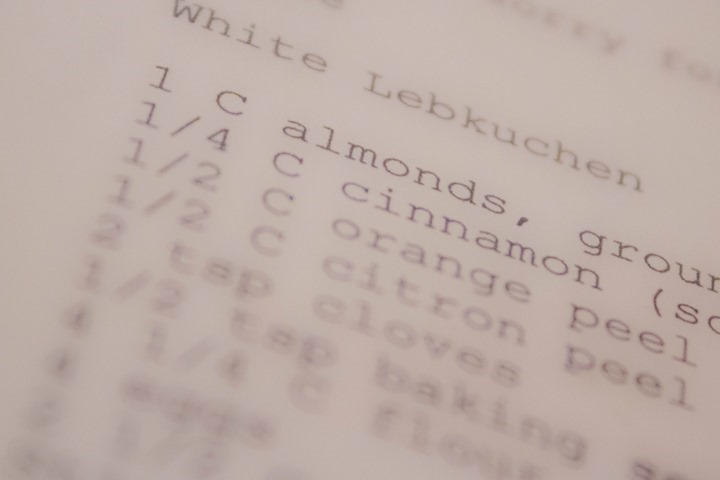 These cookies would of course make good use of the candied orange and lemon peel that I picked up at the market on Saturday.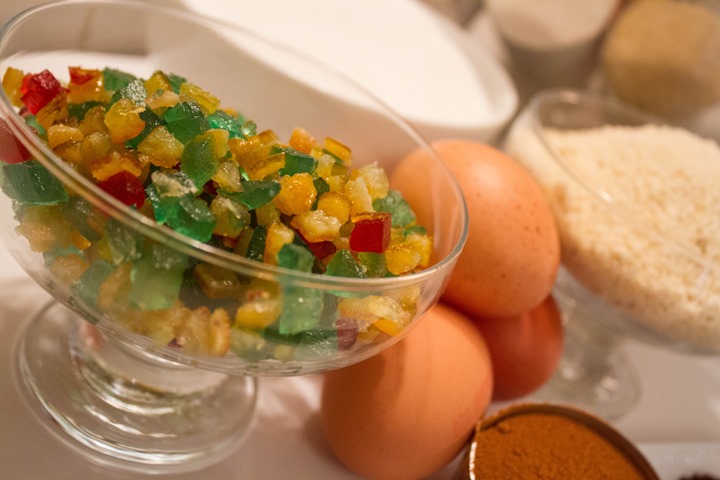 The recipe is fairly straightforward, mostly just slowly mixing in the ingredients one after another in a round robin manner until everything is in.  You can't mix it all in at once otherwise the whole thing kicks the bucket.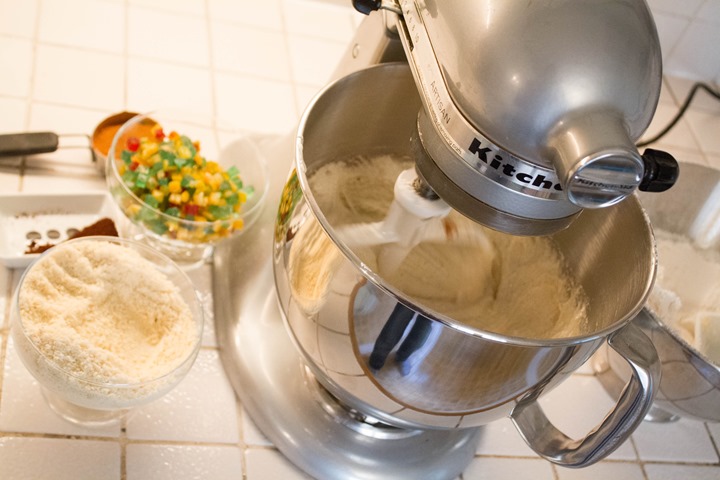 As always, the best part is the extra batter…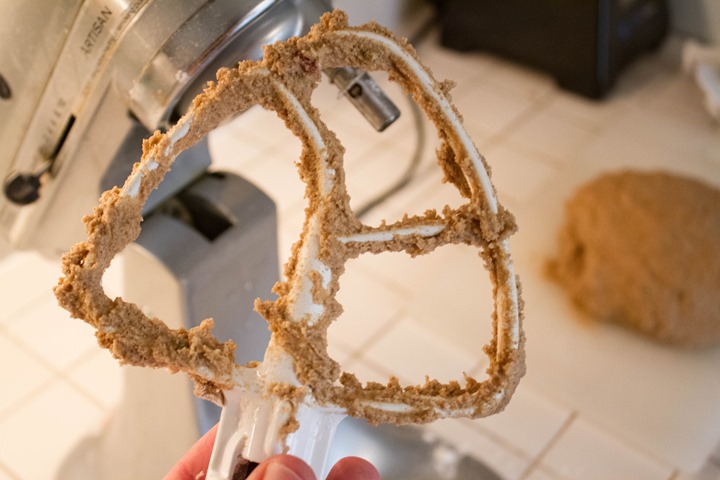 What?  You thought that rolling pin was only used for watch size comparisons?  This is not a uni-tasking household!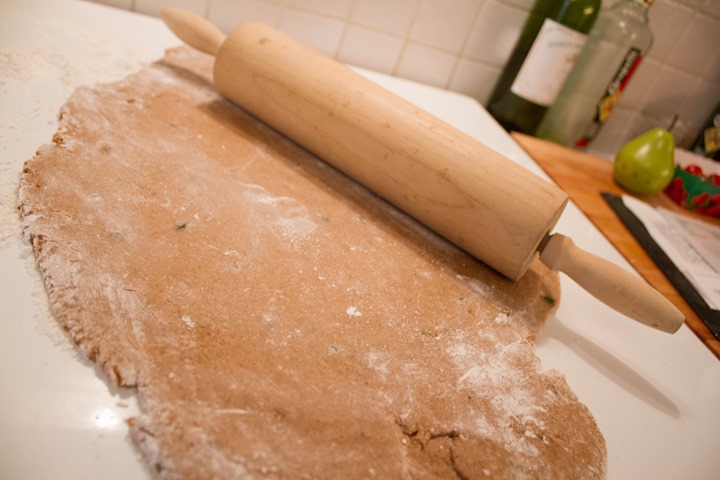 The biggest challenge in our new home continues to simply be the size of it – or rather, the lack thereof.  Thus, things end up in strange places.  And some things are still yet unboxed.  So finding the right kitchen tool sometimes takes a bit longer than it did back in DC.  With The Girl away at the bakery, I was left trying to figure out exactly where my cookie cutters went to.  Instead, I found her gigantic set of them.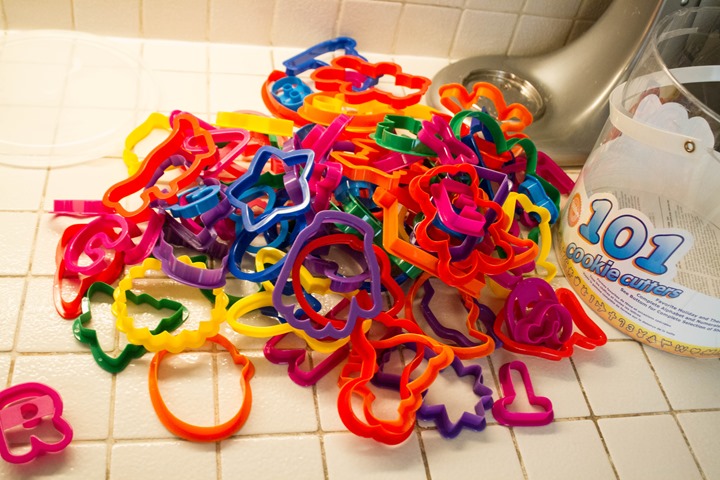 However, after a lot of analysis of the 101 shapes, I only found two circles, and neither of them were the right size.  One too big, one too small.
So I went digging again in boxes and eventually found my cutters.  Score!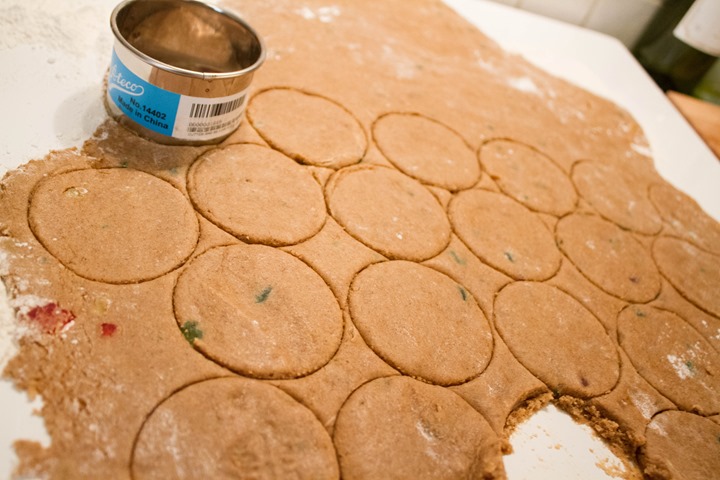 Next up is the challenge of the oven.  Of course, said oven is in Celsius.  And while I do know certain oven temps that I use most frequently, I don't know all of them yet.  So we've printed off this handy little conversion chart and taped it to side of the stove vent – completely out of view.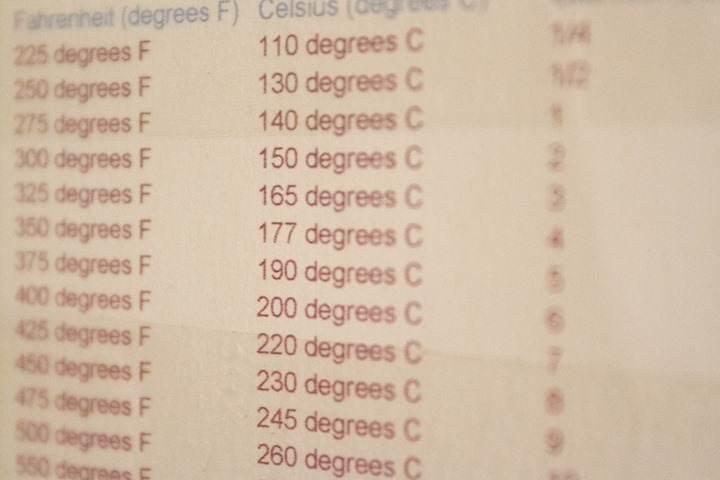 Then it's just a matter of pressing enough buttons until the right numbers come up.  Eventually it usually works.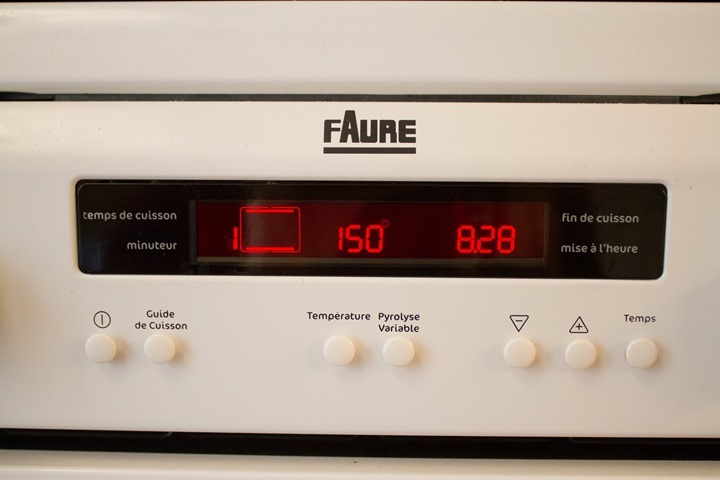 With that, into the oven my cookies went!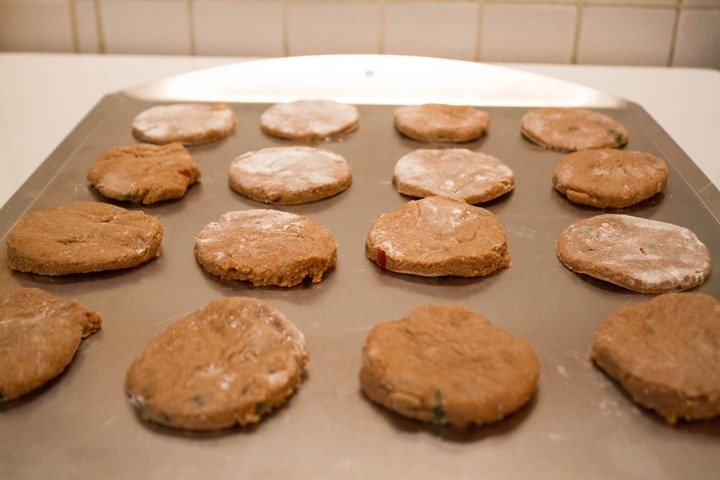 And a short bit later, they came back out.
The cookies call for a quick icing (just confectionaries sugar and water).  I always forget how easy it is to make.  It's probably best I forget though – because if I remembered more often, I'd probably paint this stuff on everything I make.  And that likely wouldn't be good for anyone, least of which being me.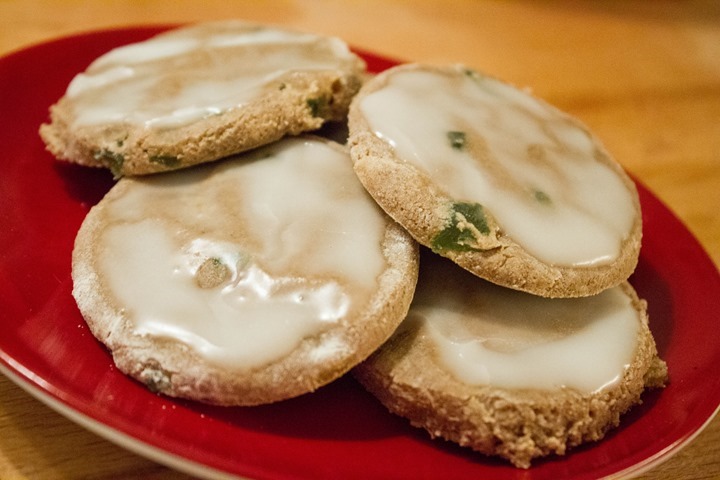 Later in the evening we went for a bit of a walk around the city.  It was cold out (about 32*F or 0*C), but since there was no wind it made for a nice wandering night.  We had dinner a few blocks from the Louve, and then continued on from there.  We eventually arrived Place de la Concorde, which sits at the end of the Champs Elysees (that's where the Tour de France ends).  At some point in the last few weeks they setup a giant Ferris wheel there.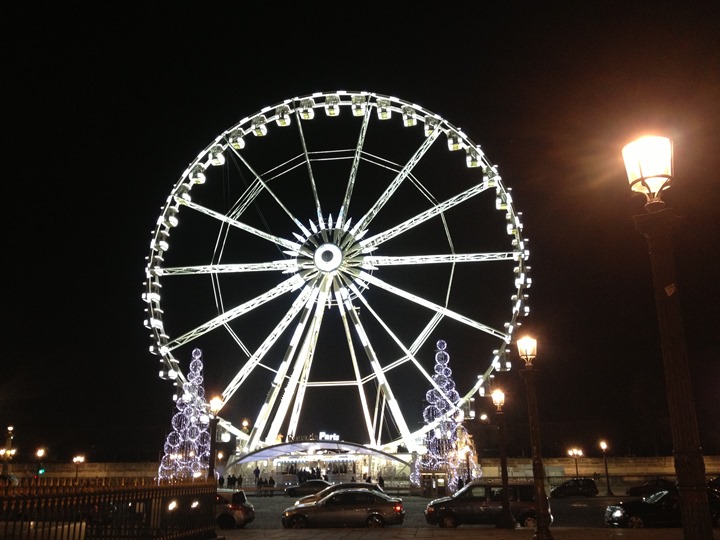 At about 10PM, there was virtually no line, only a couple minutes long – so we decided to head up in it.  I should point out that The Girl was not terribly thrilled about this change in events, as she's not super-excited about higher elevations.  Nonetheless, she required only minimal dragging to get into the little pod (it's nice, the pods have glass around them so it's a bit warmer).
And while I only had my cell phone on me – the view was quite nice!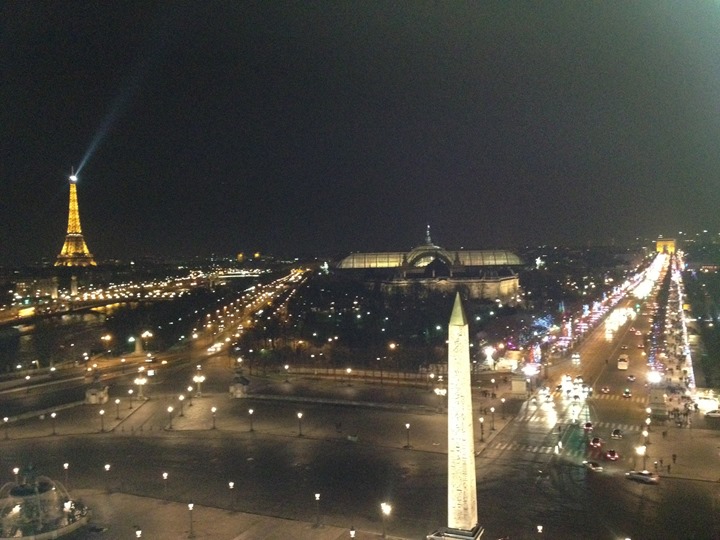 With that, our weekend complete – hope everyone had a great weekend!  And thanks for reading!