The markets in Paris are amongst the most well known markets in the world.  Every tour book and online site talks about having to go check out the various farmers markets, with many recommending specific markets to see.
But the reality is for most folks living here, we don't have to go terribly far to a neighborhood farmers market.  This morning as we were driving across Paris to the other side, I drove past half a dozen farmers markets on just the route I was going on alone.
We're lucky in that 'our' fresh product is only about 150 yards away behind our place – super close by.  The market is open Tuesday, Thursday and Saturday, from about 8AM until 1PM.  Though you can usually get items slightly before that or after that depending on the vendor.
Let's go through a quick tour of things from my journey out this morning.  The market itself occupies a space about half a football field.  Unlike most markets that are along given road or pathway, this is in an open square.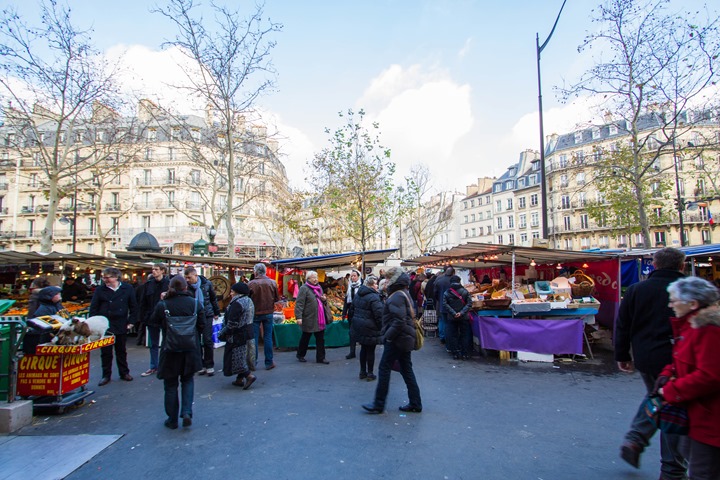 Interestingly, if you're driving down the main drag (Boulevard St. Germaine), you'll actually see all the trucks lined up facing outwards.  Funny enough though, they block the left two lanes – which means that locals know to avoid the area during market times, as the traffic backs up for easily half a mile or more.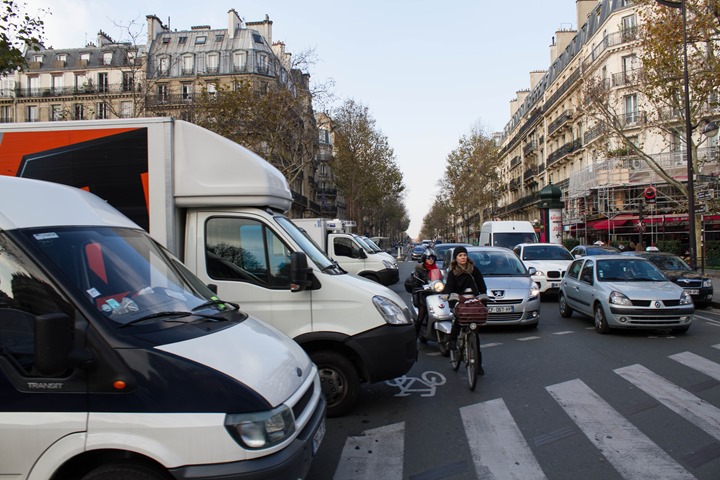 The market itself is arranged as a bunch of rows of stalls.  The stall's metal structure is actually put up and taken down by the city every day that the market is open.  It's rather impressive.  Each row has about 2-4 shops on either side of the aisle.  And there's probably about 8-10 rows in total.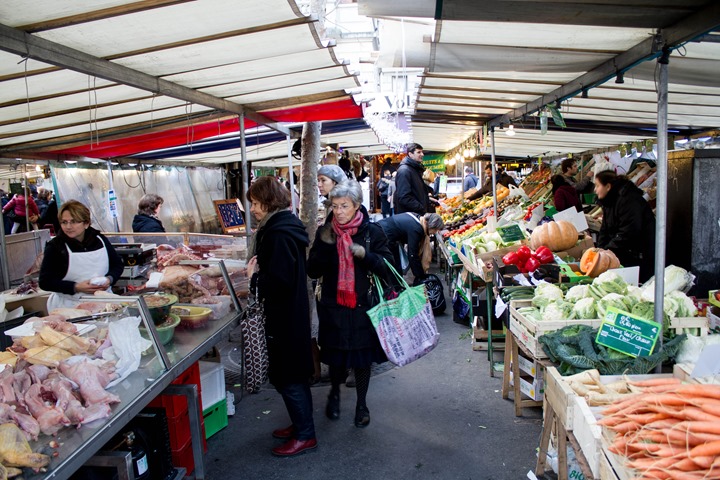 The offerings are generally divided into a few buckets.  First, are the produce vendors.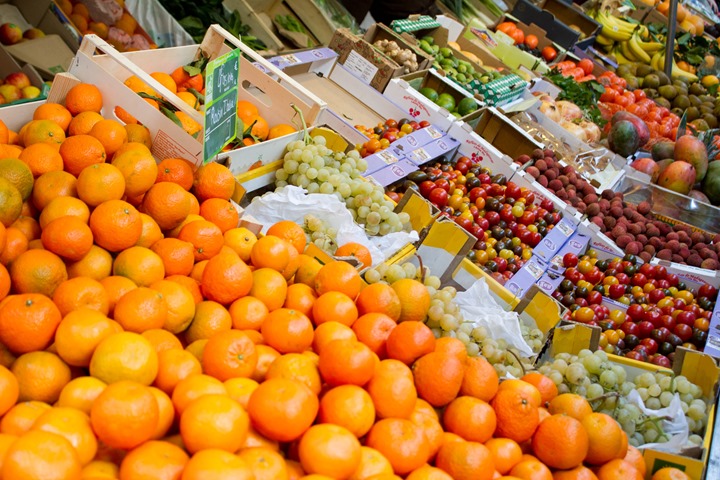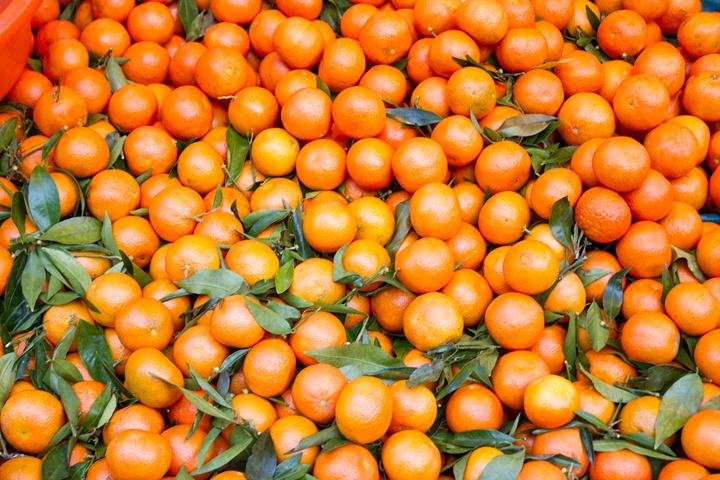 There's probably 6-8 different produce vendors, all offering mostly the same products.  But over time you figure out which vendor is best for which type of produce.  For example, we get small tomatoes from one guy, but get our herbs from the guy across the way.  They both carry both items, but the quality varies on a per item basis.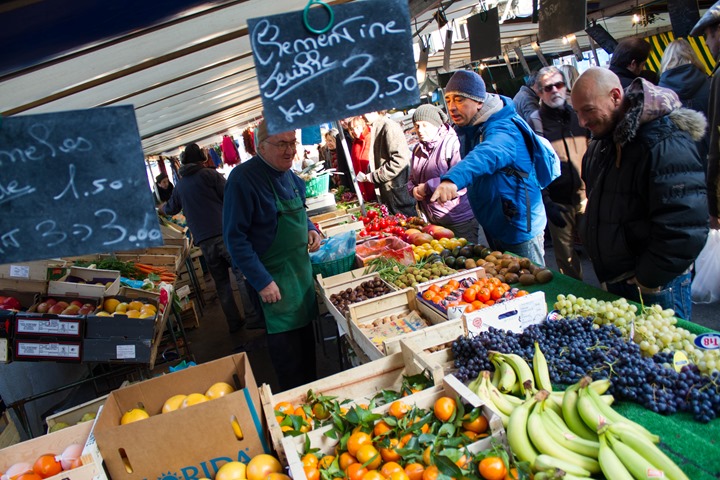 Depending on the months, some of the items are local, and some are not-so-local.  Most items are marked as to where they came from and you adjust accordingly depending on what you want.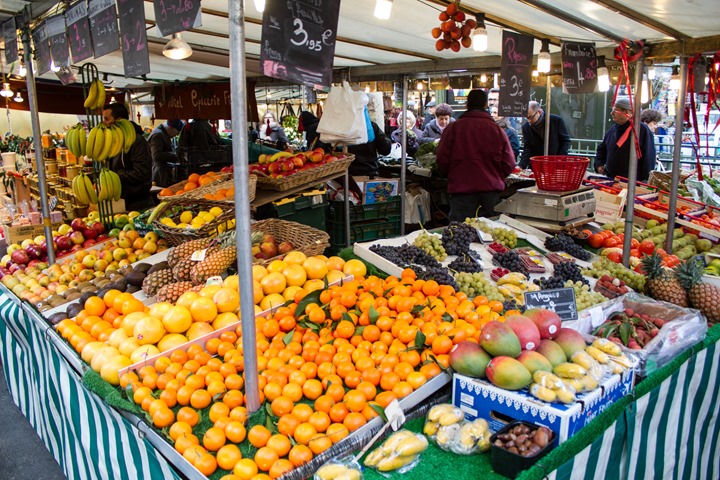 Additionally, many places here offer organic products.  But here they're called Biologique, or 'Bio' for short.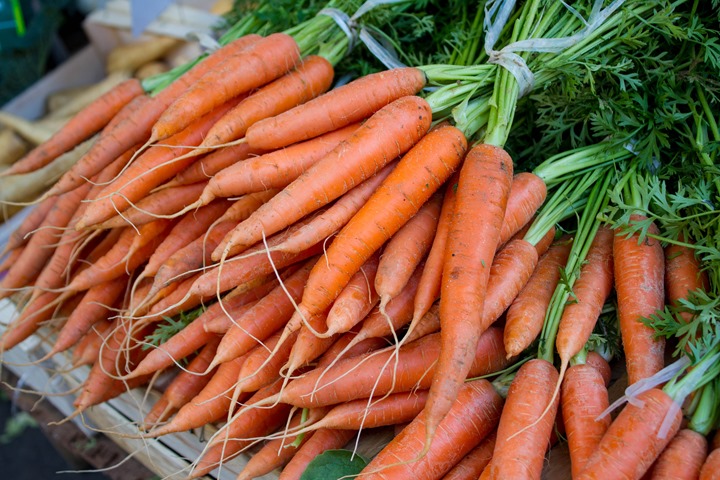 After the produce we have the fish offerings.  There's only about 3-4 of these in our nearest market, but they more than cover anything you'd want.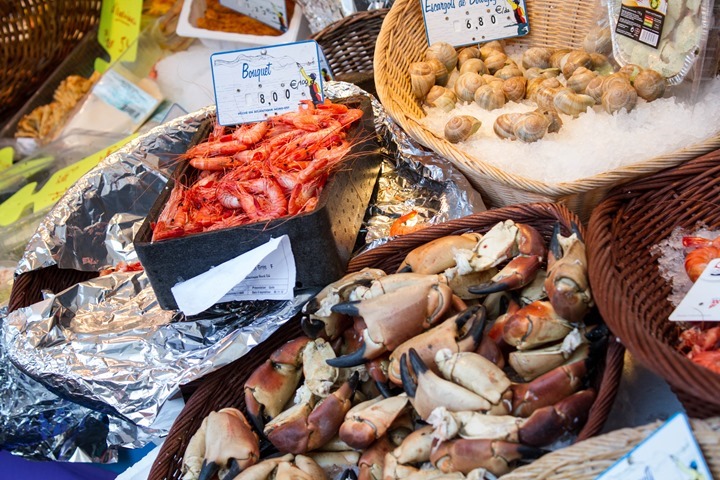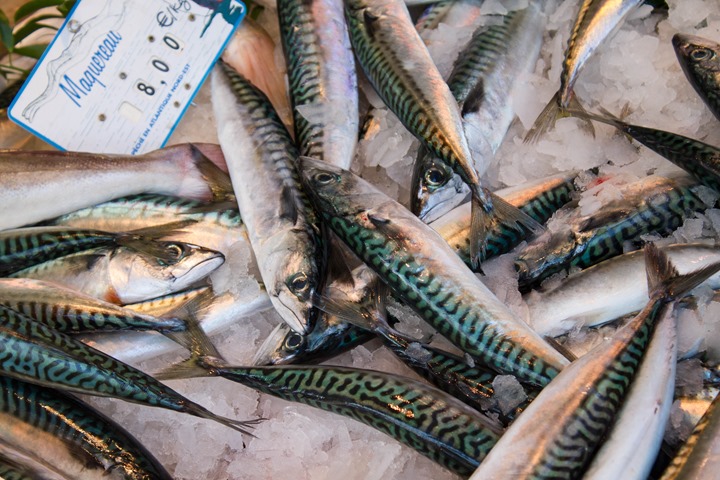 Like the produce, everything is labeled as to where it came from.  Obviously, given the fact that Paris is a few hundred kilometers from the sea, you aren't going to get as much 'local' choice.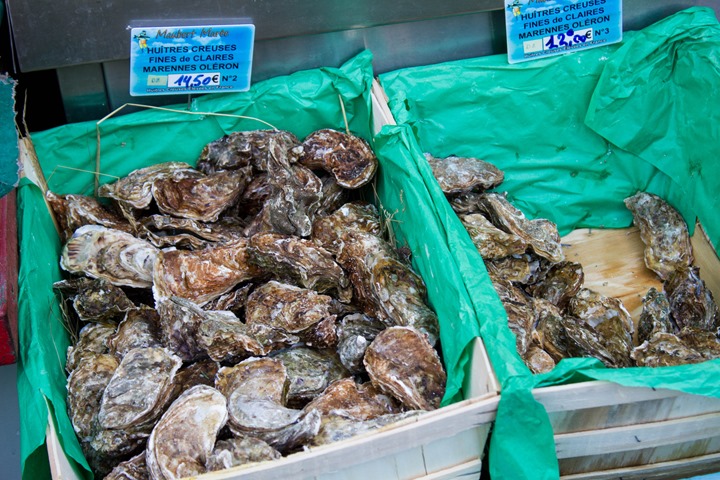 After the fish, we have the meat.  Oh glorious meat!  There are only about three meat vendors in this market (including the sausage man).   But their goods are downright awesome.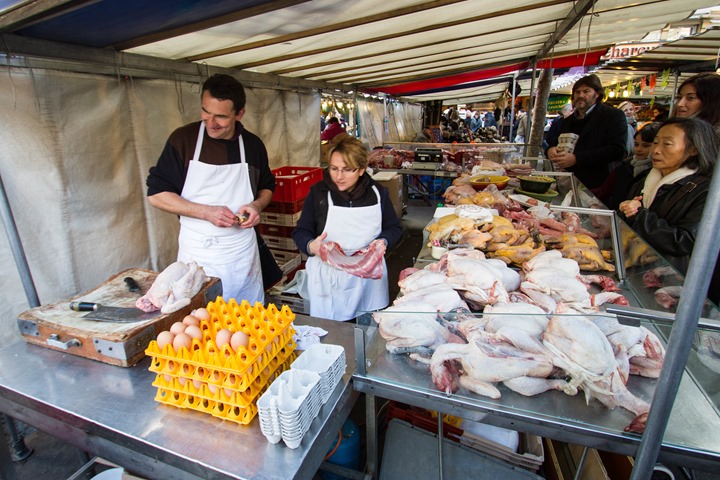 This couple above will happily butcher whatever you want…right in front of you on their slabs.  Both of them wield big knives and know how to use them.
Sausage man is however my favorite.  He's got a big variety of sausages to choose from, and I love the 1 Euro sausages.  Perfect for a snack!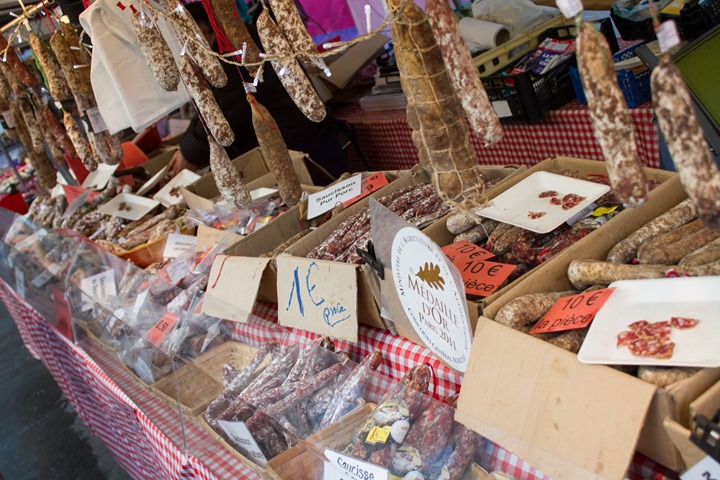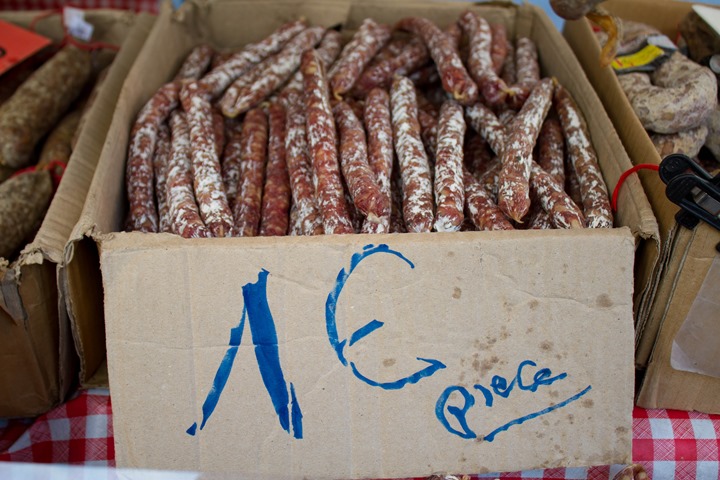 Along the back of the market, there's a few always-there vendors (storefronts).  Within that, you can get hot items as well, like these small chickens.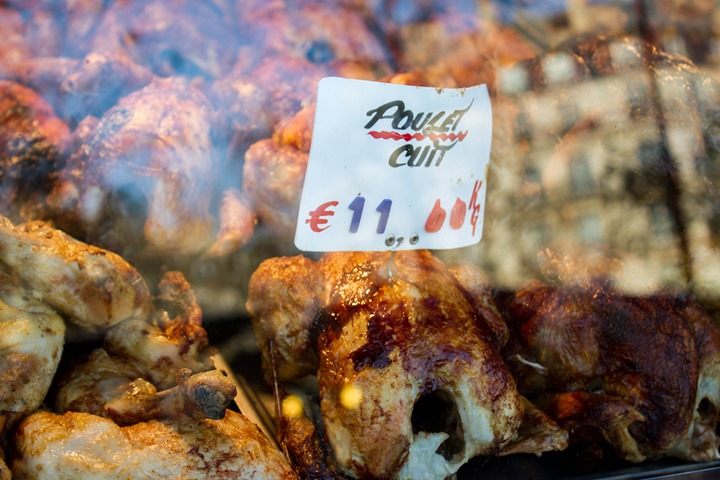 Of course, the goal of the market in addition to freshness is variety.  And there's tons of that.  For example, this cheese shop (which stretches all the way the full length of the row):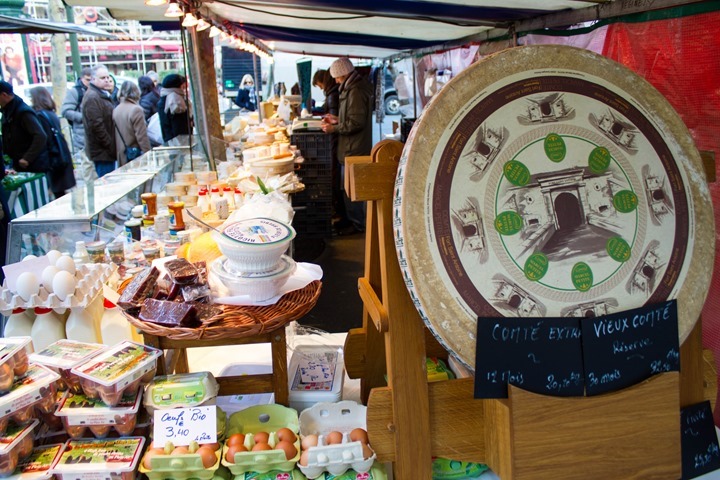 There's flowers too!  In fact, this place also had small Christmas Trees for sale this morning.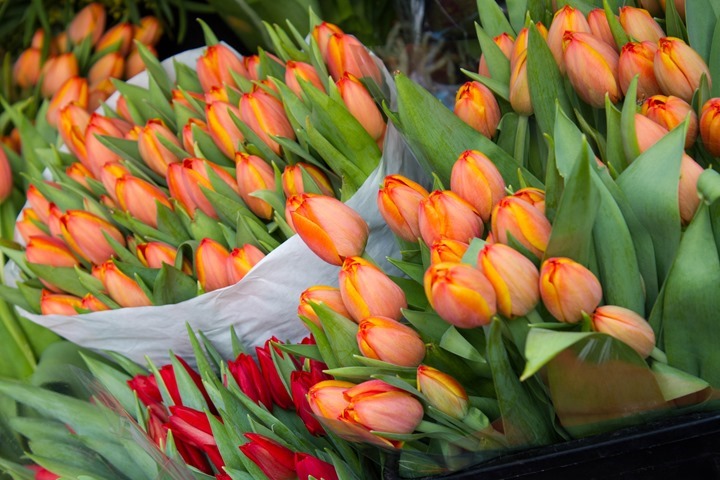 Bagged herbs are there as well.  Great for this time of year as you make more long-duration savory dishes that require herbs.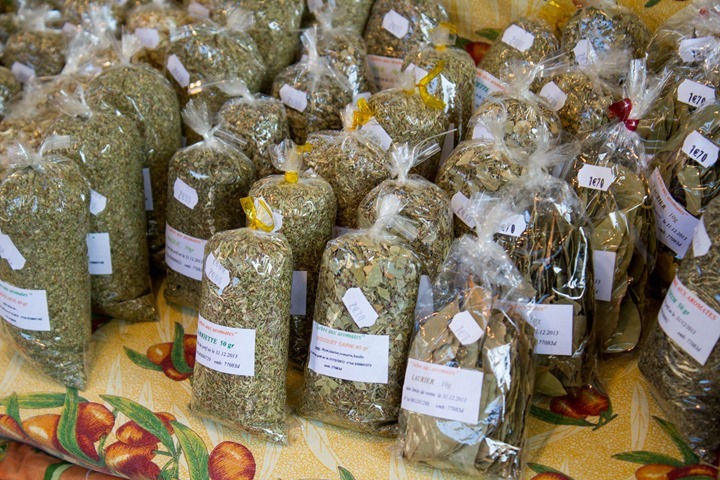 Today I swung by the fresh pasta woman.  She's got an awesome selection of raviolis, and a bit of non-filled pastas as well.  And while I can make both from scratch myself, I sometimes pick up the fresh ravioli from her since it takes far less time than doing it myself.  For those not familiar with the metric system, 1 Kilogram is 2.2 Pounds – which is a lot of pasta.  I picked up half a kilo for dinner tonight for two of us.
In addition to items you'll cook with, there's plenty of 'on-demand' action.  In this stall, they're cooking up some middle-eastern dishes (Lebanese I believe).  It sorta came out like a pizza.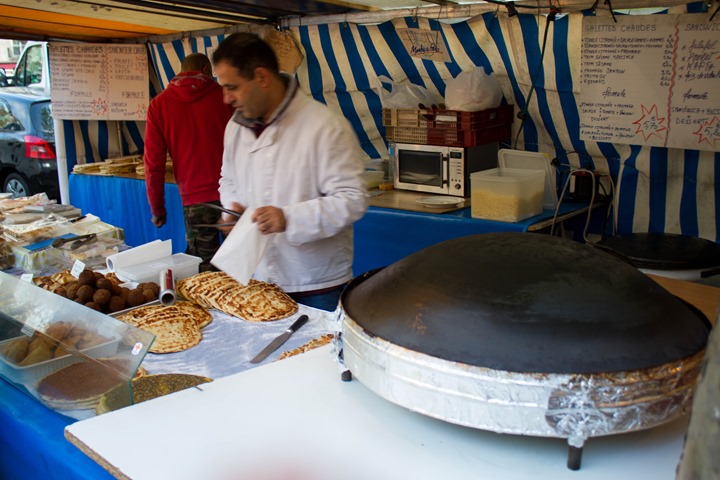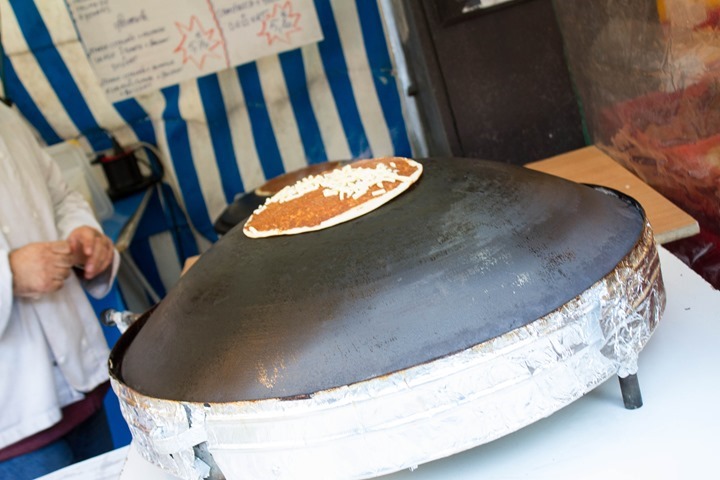 While sometimes I go to the market with a plan and pick up specific items – I'm often inspired with what I find based on the day, and make a last second decision based on that.  I picked up the below items and plan to make a seasonal recipe tomorrow from them.  Any guesses?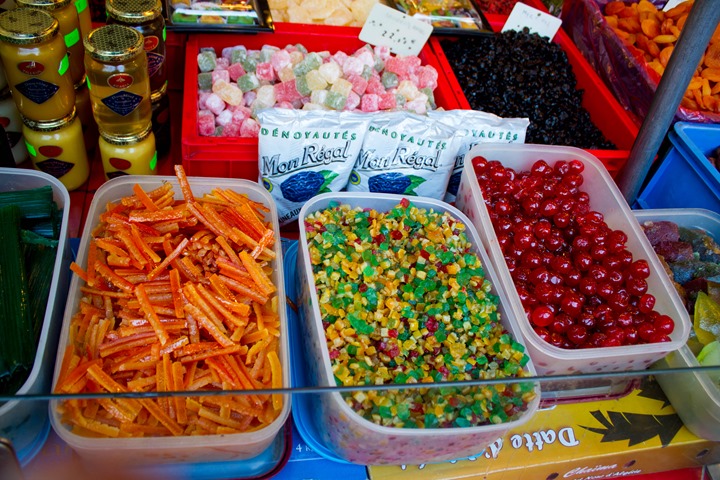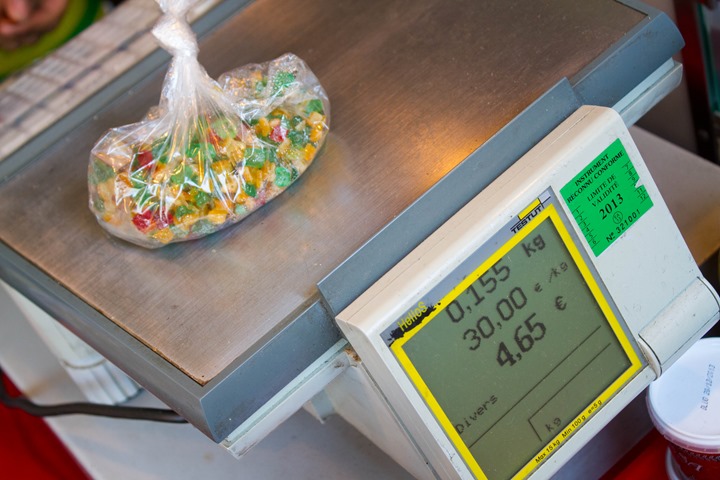 The same vendor also had a very solid selection of both olives as well as nuts.  I was going to pickup some pine nuts and make a fresh pesto sauce, but the basil today from the produce guys wasn't looking so hot.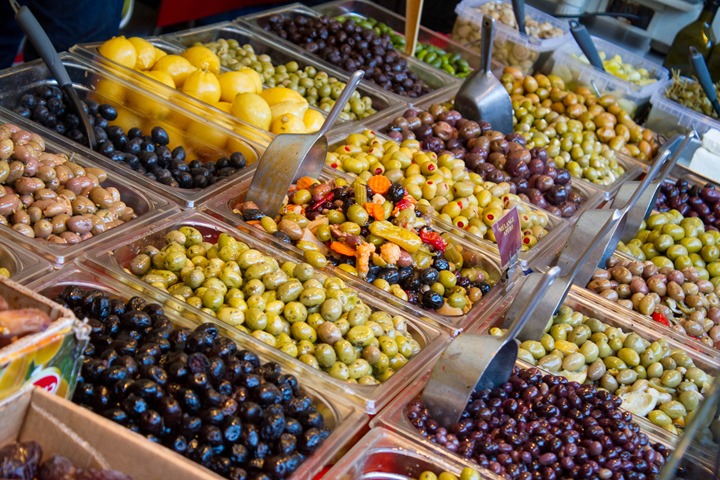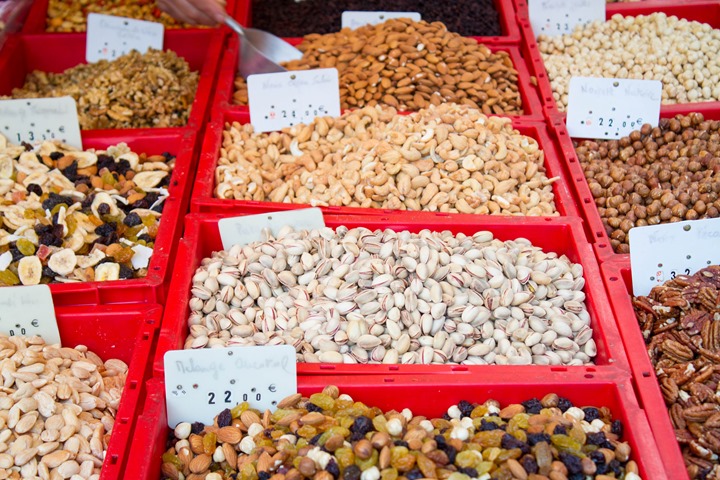 As I mentioned up above, there's a lineup of stores along the back that are there permanently.  In this row they each specialize in a different area: Fish, Produce, Cheese, Meats, Poultry, Bread, and Wines.  It's really all you need in life.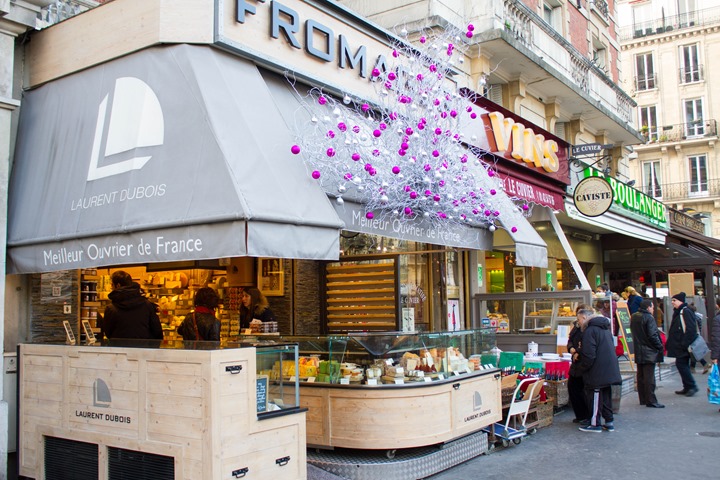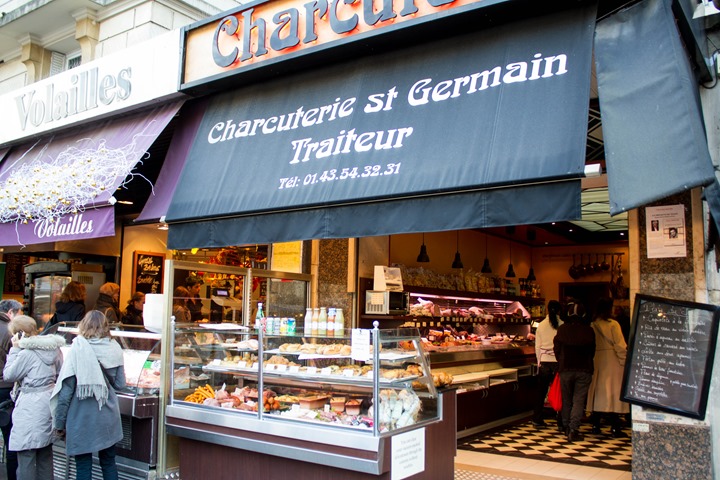 It's here that I made my last stop of the morning – to pickup some bread.  Now this particular bakery changed management hands after they closed for the month of August.  When they opened they looked almost exactly the same as before, though, they became 'Bio' (organic).  In doing so, we both thought found their bread quality dropped a fair bit.  Not our favorite anymore.  Kinda sad.  Instead we now normally buy our breads from Kaiser, about 100 yards up the street.  But this morning it was cold and I was feeling lazy.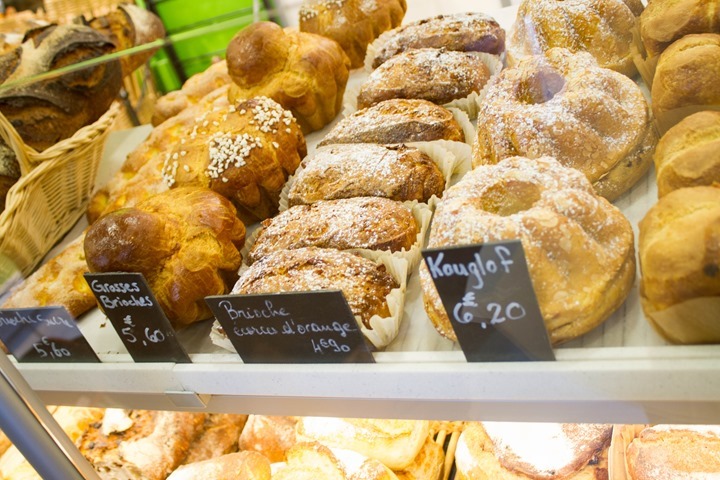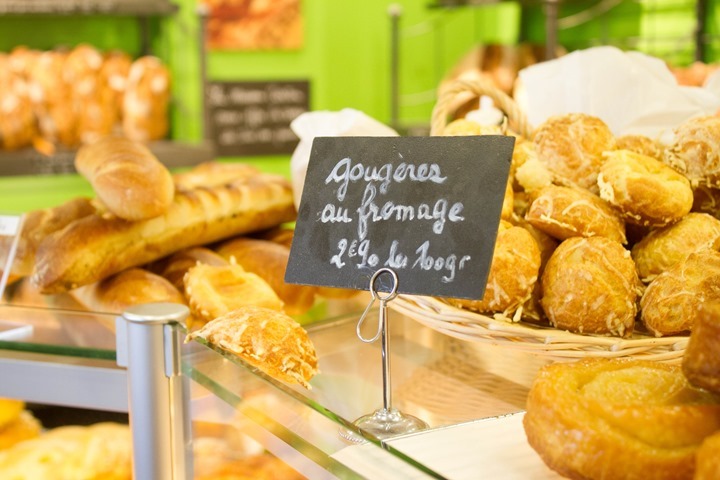 With that, my shopping is complete.  Of course, everyone brings their own little fabric shopping bags – and we're no different!
Time to head home and enjoy all the goods!  Well, those goods that I didn't eat along the way I suppose.  Which, upon putting this post together I realized is about half of them.  C'est la vie!