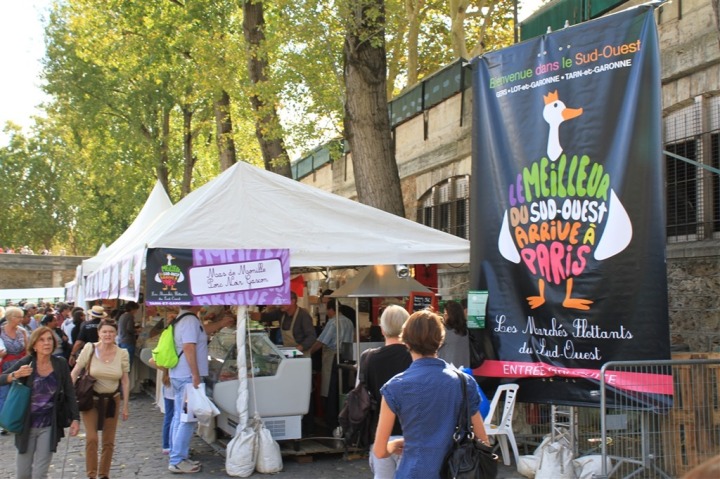 A couple weeks ago around 10AM on a Friday morning a brass band started playing somewhere across the street.  Since moving to Paris, we've long gotten used to various impromptu musical performances.  Full scale marching bands, solo guitarists, religious processions, you name it – we've seen it go by.
Except this time, it didn't go marching down the street.  Instead, it stayed there.  For three days.
It was the arrival of a market (Le Meilleur du Sud-Ouest – simply translated as 'The best of the Southwest') that sets up shop on the bank of the Seine, up from the south of France with all sorts of local artisan creations.  Including, apparently, the band.
We had seen the signs the night before along the street.  It was late though, I was coming back on a flight from somewhere, and I thought it looked more like a chicken.  Sorta like a chicken and an egg merged into one.  Thus, at the time once the music started, it was the dancing chicken market in our minds.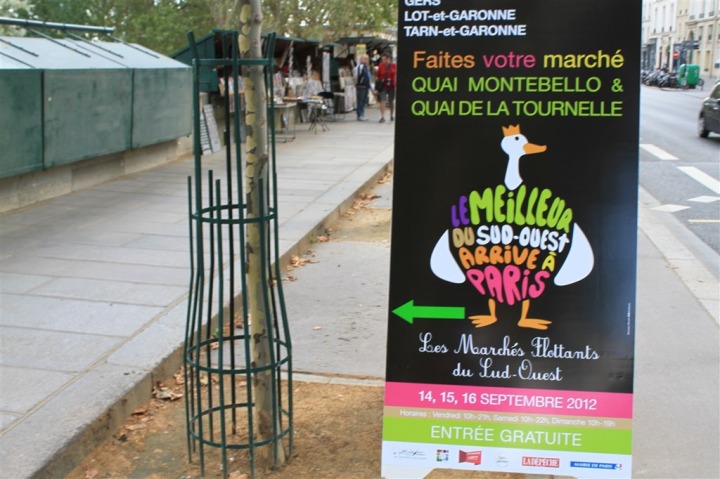 Why dancing?  I don't know.  Because The Girl broke out in a dance near constantly to the song they played all weekend long.  It looked like the below (still in chicken form).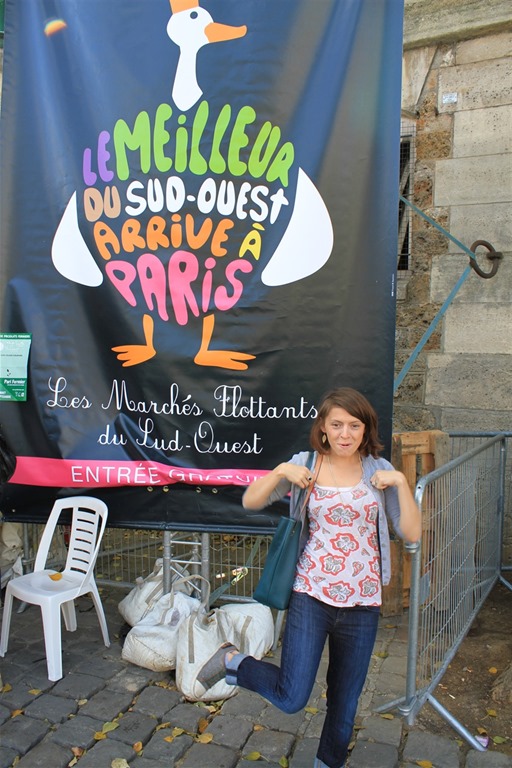 Except, it turns out, it wasn't a chicken at all.  In fact, it was a goose.  Which, I suppose when you look at it makes a lot more sense.
The region is well known for many goose creations as well, like goose pate.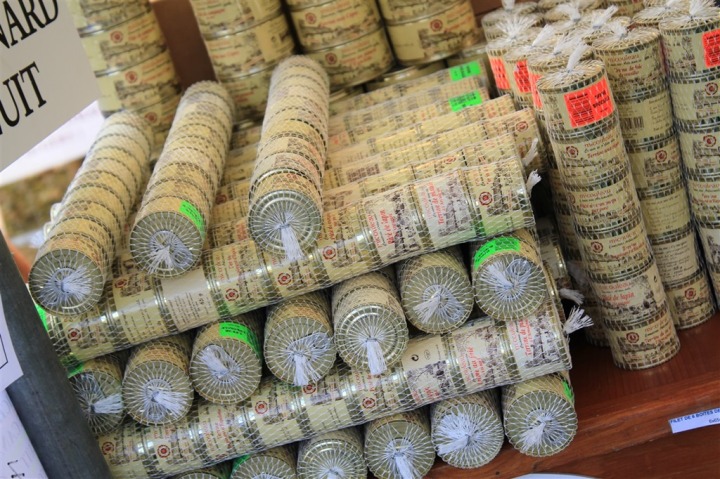 The market was pretty bustling no matter the time of day, here's what it looks like from above: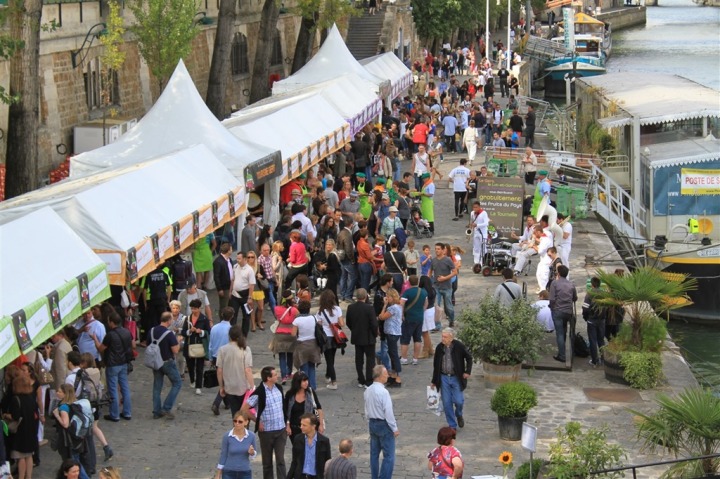 We decided to go check it out, so we did the only thing logical: Followed a bunch of guys that appeared to know where they were going:
Once down along the waterfront, it was like Costco on a Saturday afternoon: Free sample central!
Of course, best to start with the colorful guys we followed down: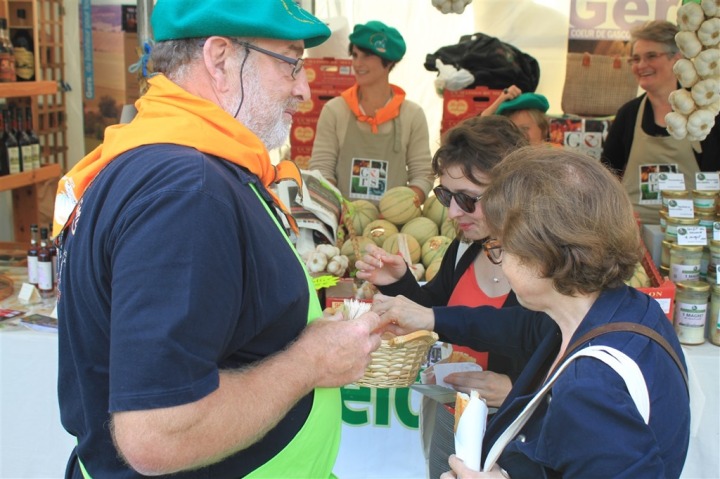 From there, we checked out all the goods.  They ranged gamut including meats, cheeses, chocolates, specialty oils, breads, wines, sandwiches and tons of other goodness.
Here's a quick photo splurge of the awesomeness:
Along the way, we found the source of our band.  Yup, these guys kept our apartment filled with music from 10AM till 10PM daily.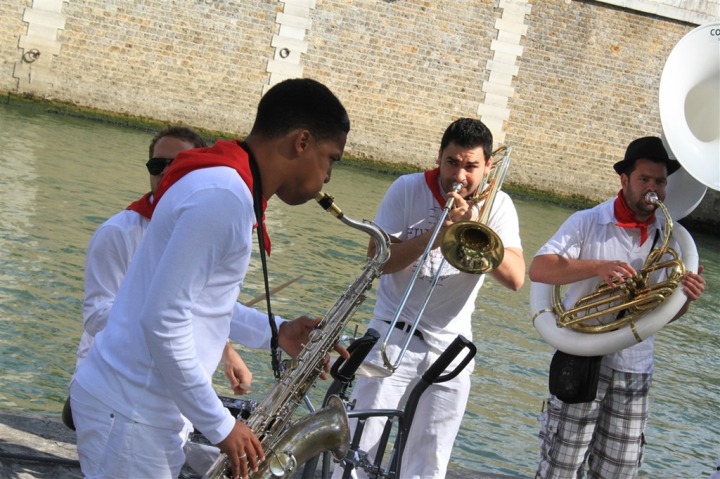 Ok, back to Chocolate.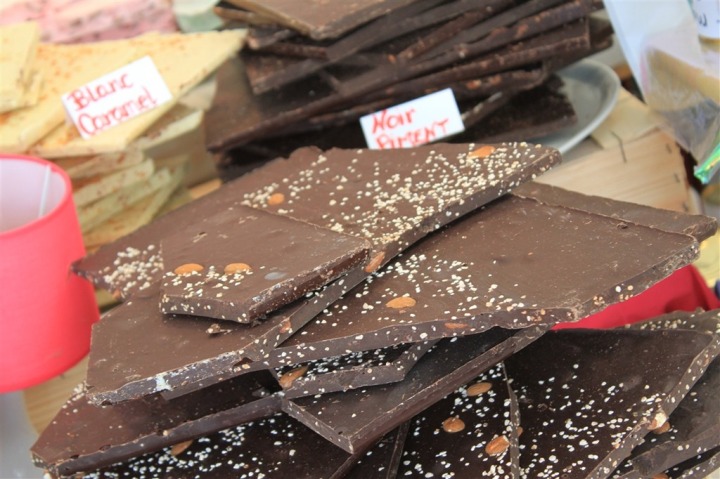 And cheese.  Oh glorious cheese.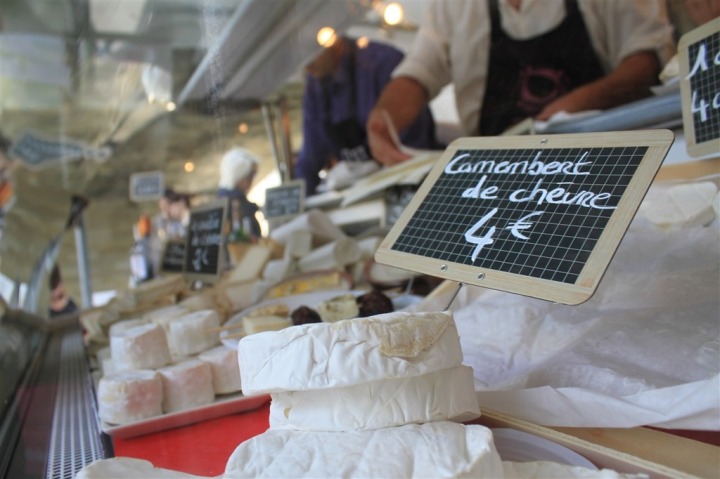 So, did I mention the chocolate?  Home made no less.  We figured home made means we should take it home.
We did, and that's the last we saw of it.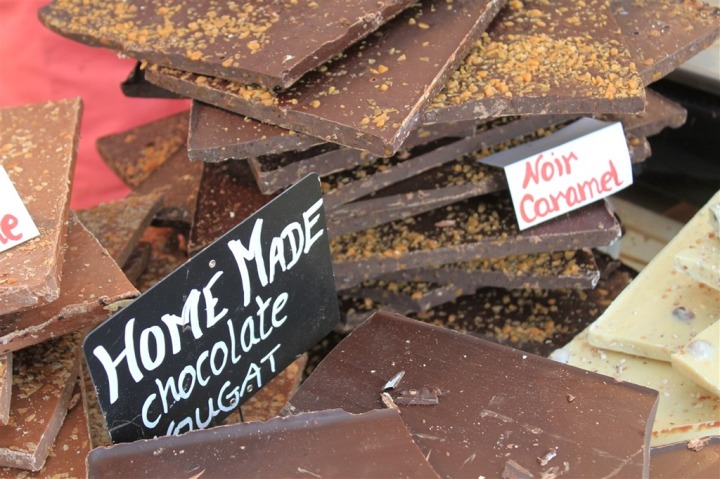 In addition to the vendor samples, you could line-up for a free take-home bag of samples.  The line looks long, but only took about 7-8 minutes.  Quick stuff.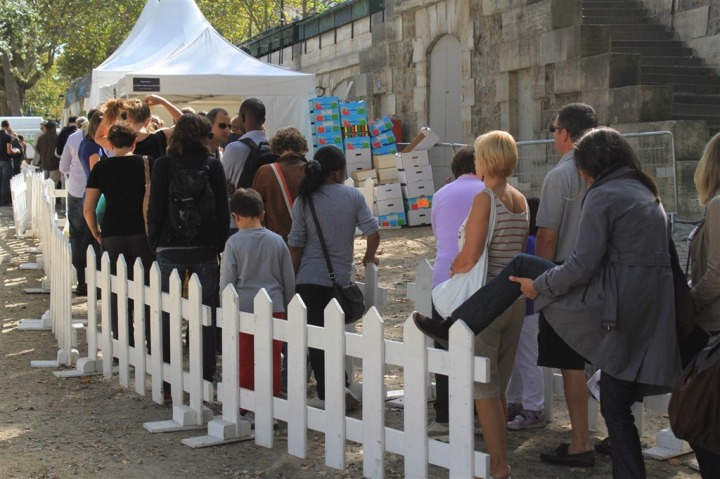 As we got the front, it was like packet pickup at a race.  You first got to the grape man, then the garlic woman, and then the apple ladies.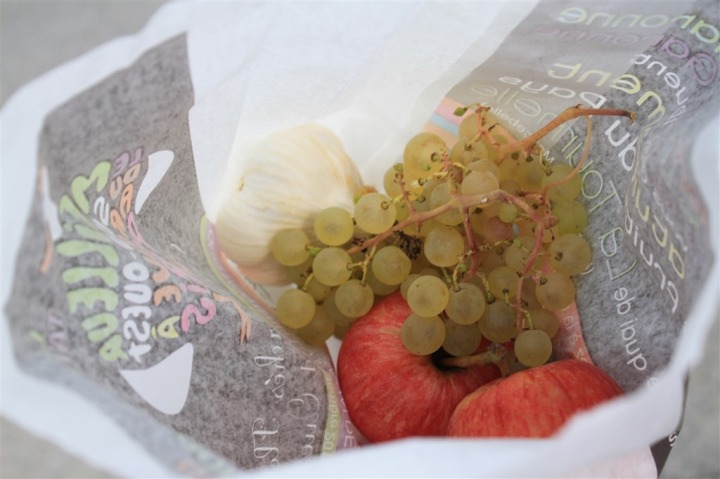 The grapes were unreal sweet.  Loved these little ones.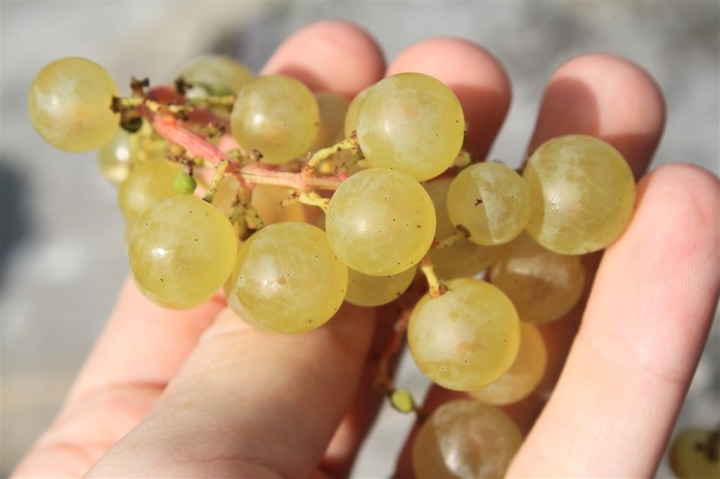 I can't remember, did I mention the chocolate?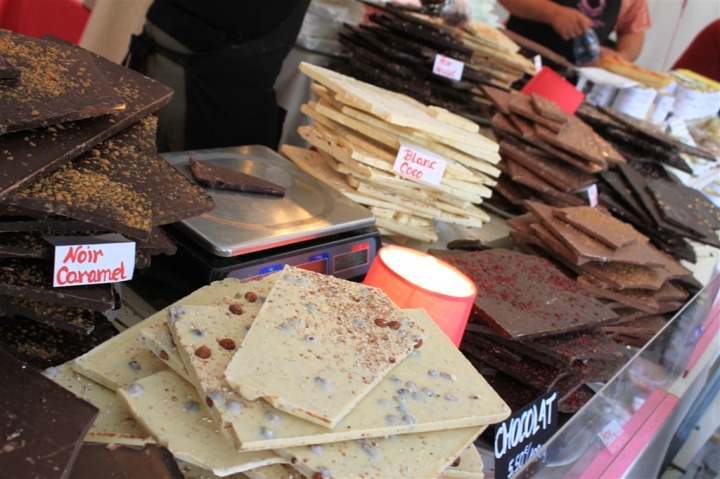 We'd swing by a few times later on at night, and the party was just getting wound up.  Behind them people were picnicking as well (as they do almost every night on the cobbles along the river).
Which, brings us to our dinner that night.  You may remember our u-pick farm visit (we're going again tomorrow, woohoo!).  During which, we picked up zucchini blossoms and tons of other goodness.  I mentioned we were well on the way towards making lots of goodness.
Well, here's the story of the blossoms: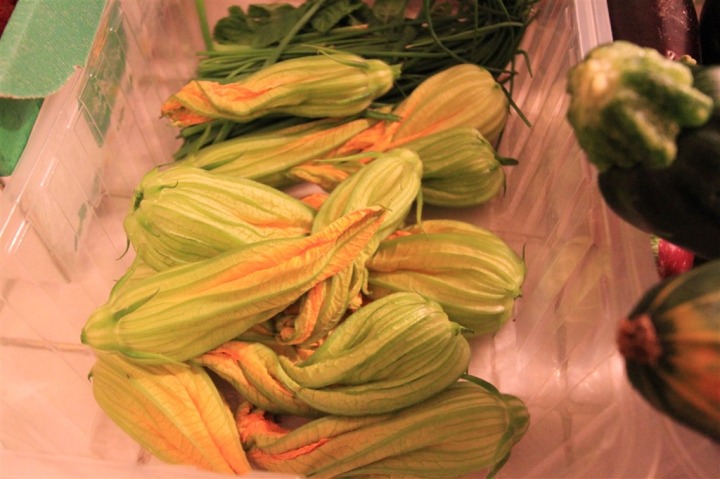 I took them out and got them all lined up and ready to go.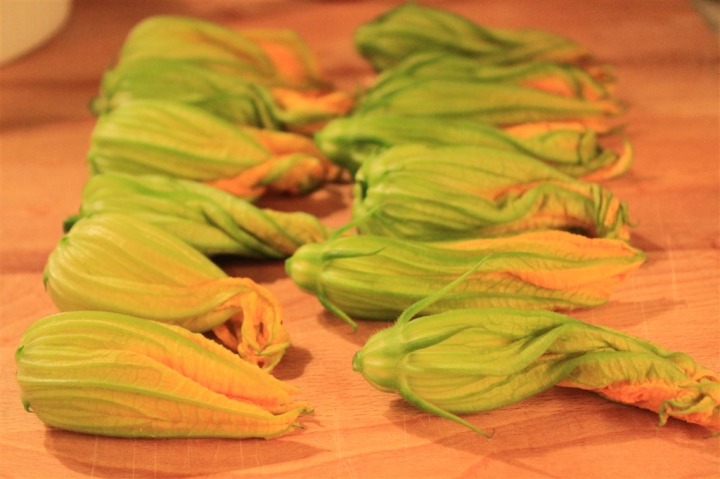 I made a quick and simple filling using some ideas my Aunt sent over (she cooks a lot of awesomeness).  It ended up being a mix of a few types of goat cheese from the market behind us, some chives we got out at the farm, a bit of salt, some pepper and a touch of lemon.  Sorta just made it up.  From there, a quick slice on the side to get them stuffed them up.
With the blossoms set, I went ahead and put three bowls together with a flour mixture, an egg mixture, and some bread crumbs.
Oh, and wine for drinking of course (it's France after all!).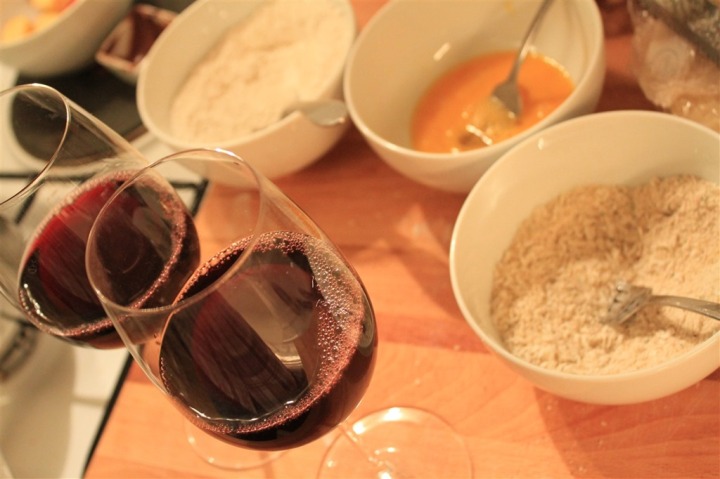 Dip. Dunk. Repeat.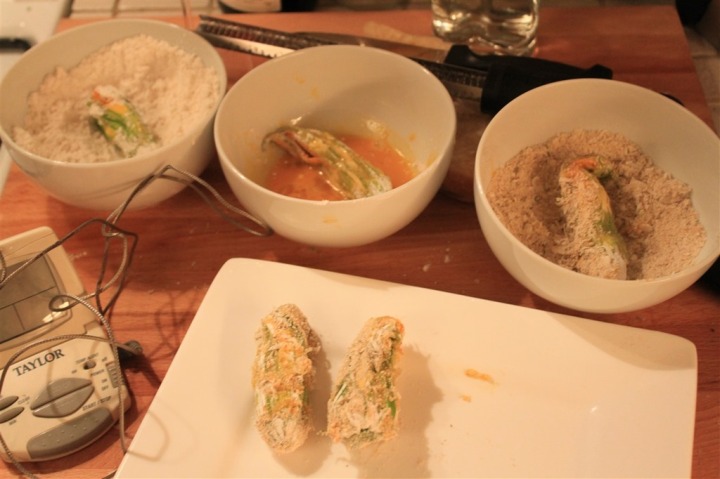 Once I got things ready, into the pool they went!
In this case, the pool was a small pot of oil to fry them.  A very small pot.  Like a plastic kids swimming pool.
A minute or two later, they were set and ready – golden crispy and awesome.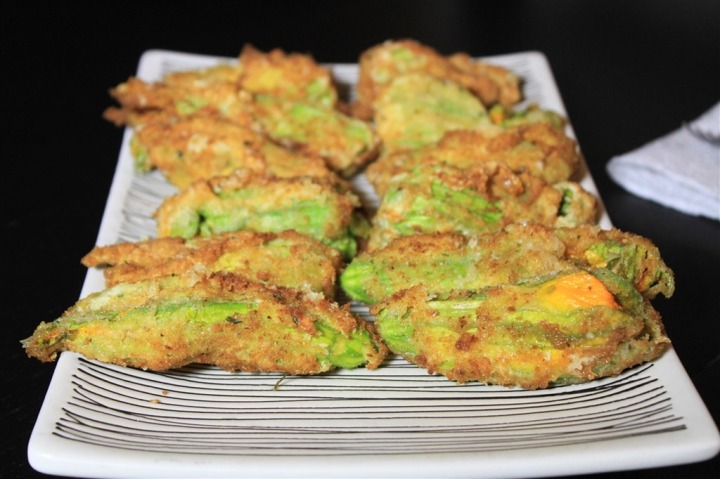 While I was doing that The Girl made up a leek risotto with pancetta.  It was awesome, as it always is.  Oh, and we used some of the garlic from the Dancing Goose Market in there.  Circle of life thing.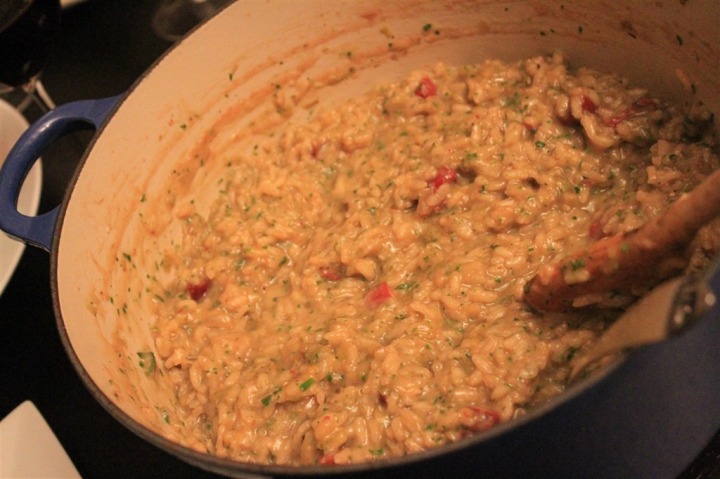 And thus – our dinner.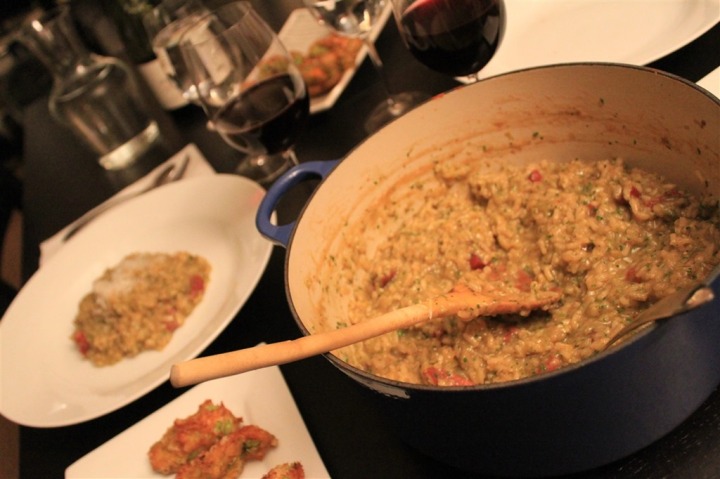 With that, onto the next adventure!
As always, thanks for reading!