When we first got to Paris back in June, many folks made reference to shops closing during August to allow for vacations.  Having been to Europe dozens of times before, I was certainly aware of the practice – which enables shop owners to fully close their businesses (of all types) and escape the city for 2-4 weeks.  The French (and some other European countries as well) greatly value taking time off – so much so that they'll ignore the income for upwards of four weeks or more to benefit from the vacation instead.
But as a visitor to the city, it's likely hard to appreciate just how many businesses/shops close.  This is primarily because you don't depend on them as a visitor to the city.  You likely don't have daily routines that are otherwise tied to a specific store being open.  It may interrupt your dinner plans at a favorite restaurant during your trip, but likely not day to day activities.
About two weeks ago, the closures started in full force.  Of course, many places of business here close at sprinkled times across the summer for a few weeks – but this was when the tidal wave of stores hit.
For us, that tidal came by way of our source of baguettes.  And cheese.  And meat.  But mostly, the bread.
You know you're in trouble as you approach a given store when you see from a distance a standard 8.5×11" sheet of paper with (typically) a hand-written note taped to the window.
The notes specify their date of return, which is when they will be open again.  Most places seem to return the last week of August, or the first week of September – usually with a total of 2-4 weeks off (aout = August, juillet = July, also note that you don't capitalize the month names in French):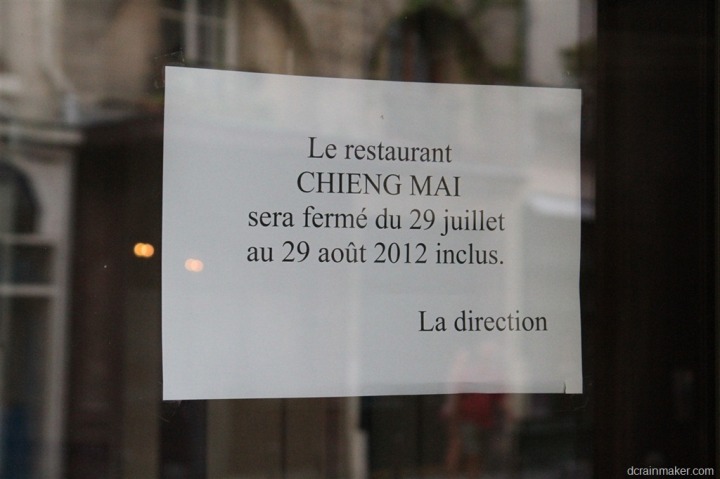 This past week was definitely the peak though, due to the French national holiday of Assumption Day occurring back on Wednesday (more on that in the next day or two – it was incredible watching from our window).  Thus many business that haven't otherwise been closed took that as a queue to take the full week off as well: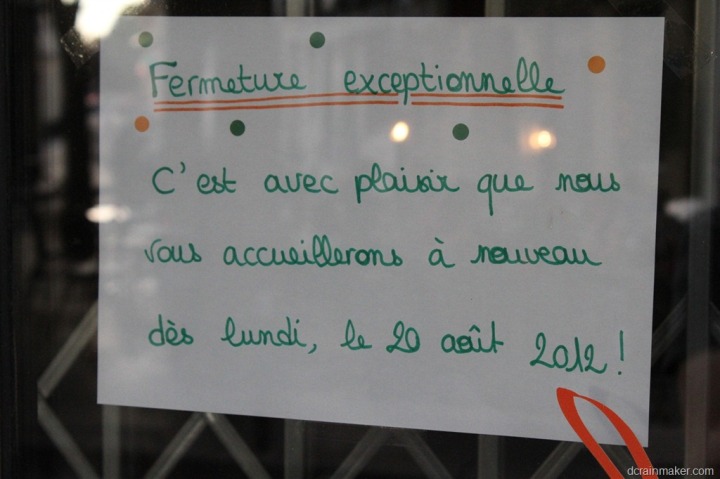 As for our baguettes, we've had to turn to the backup baguette place instead.  Distance wise it's roughly the same – only about a 100 yards away from our place, but the quality isn't quite as good.  Plus, our main place is located at an outdoor market that's normally teaming with open shops (much less busy now).  Most of the static storefronts that line up behind the tents are now closed up until later this month: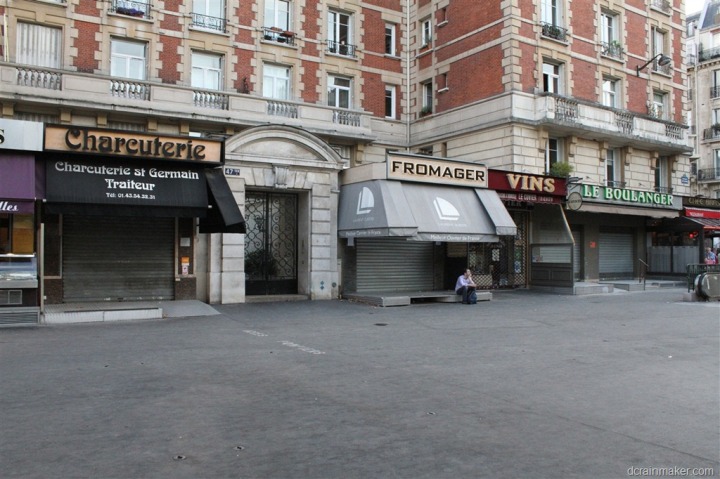 Above, you can see (left to right) the delicatessen shop (Charcuterie, sorta like the store-made things you'd find the in fresh counters at Whole Foods), the cheese shop (Fromager), the wine shop (Vins), and the bakery (Le Boulanger).  The fish shop (Poissonnerie) along with the Boucherie (Butcher) are to the left, also closed.
The cheese and wine guys did stay open until this past weekend, but have taken off the next week or so.  Both of the guys that work in both of those shops are awesome – so we'll forgive them.
On the bright side – we are trying out places that we otherwise might not have tried.  For example tonight I got my baguette at a different bakery than even the backup bakery.  Albeit simply because it just opened up after being closed since back in June. 😉
Next year we'll learn to just take off the time ourselves (we're quick learners).  Especially with the weather hitting 100*F today (I'm not going to convert that to Celsius – since it doesn't matter – it was darn hot…and we don't have A/C.  Plus, it doesn't sound as painful in Celsius as it does in Fahrenheit.).
Given the projected 101*F heat tomorrow, we're spending the day at the beach. Well, the made-up sandy beach here in Paris anyway.  Have a great remainder of your weekend everyone!