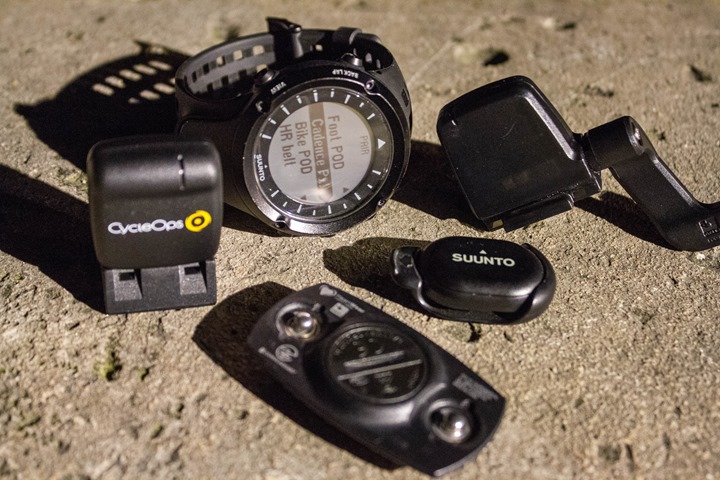 Earlier today Suunto released their 2.0 firmware for their Ambit watch, which has previously been targeted primarily at the hiking and ultra running crowd.  Though this update will move it a long way towards bringing in other segments as well, primarily the non-ultra running crowd.  This November update was announced as far back as this past spring, and once again shows that Suunto is able to not only announce updates and new features in advance, but also keep to a schedule in doing so – hitting their goal with one day to spare.  In pre-announcing these releases, I'm 100% certain that this has likely kept a significant number of folks from purchasing the competitive Garmin Fenix unit (I see/hear it daily in comments across many posts).
The update introduces new functionality areas to not only the watch, but also the Movescount site.  The official release notes lists the following functionality ads:
Ambit 2.0 related features and improvements:
– ANT+ support
– Foot POD support
– Interval timer
– Suunto Apps support
– Tighter speed fusion filter giving more stable running pace
– Exercise summary to show the number of manual laps (in previous version the number of laps included manual, auto and pause laps combined)
– Pausing no longer interferes with lap count in the Ambit
– Improvement of log memory capacity when using GPS

Ambit 2.0 related Movescount improvements & bug fixes:
– Faster updating of satellite orbit data during Moveslink synchronization
– Individual selection of all PODs in custom exercise modes in Movescount
– Fixed minimum/maximum value bug in Movescount
– Lap notes to differentiate autolaps and pause laps in Movescount
– Ambit release notes available from GEAR page in Movescount
– Sorting option added for POIs & routes in Movescount
– Fixed a bug of Movescount not using avg cadence calculated by the Ambit
Despite the laundry list of new functionality, I'm going to focus on two core areas in this post:
1) ANT+ support
2) Suunto Apps (and the ability to make your own)
These are the areas which I think are most significant, as well as most requested and most relevant.  Everything else falls into the 'nice to have' category, but generally weren't deal breakers.  It should be noted that the 2.0 update is a free update that's available today.  You can grab it by opening up the Moveslink agent installed on your computer and following the text in the updater.  It took me only a few minutes to update.
ANT+ Accessory Support
First, the ANT+ support.  In adding ANT+ support they've left behind the previous Suunto ANT.  This was a proprietary variant of ANT that required you purchase separate Suunto branded accessories that only worked with Suunto devices.  Now the Ambit works with any ANT+ device within the device classes I'll talk about in a second.  Of course they'll still pair with your older Suunto-only accessories as well.
Suunto has decided to support five classes of ANT+ devices for the 2.0 release.  The supported device profiles are:
1) ANT+ Heart Rate Sensor
2) ANT+ Speed-only Sensor
3) ANT+ Cadence-only Sensor
4) ANT+ Speed/Cadence Combination sensor
5) ANT+ Footpod
For those unfamiliar with the speed & cadence cycling sensors, or the footpod sensor – see those particular posts for a 'Everything you ever wanted to know' post on each topic.
They are not however in release 2.0 supporting the following ANT+ device profiles:
1) ANT+ Power Meters
2) ANT+ Temperature Sensors (such as the Tempe)
3) ANT+ Weigh Scales
It's unclear whether or not they plan to support those sensors in the future, though they have been very specific in wording around "Release 2.0" and these device profiles, implying that additional releases may support these sensors.
These sensors are paired in much the same way as you previously paired the Suunto POD sensors.  You head into the pairing menu within the settings area by holding down the 'NEXT' button for a couple seconds: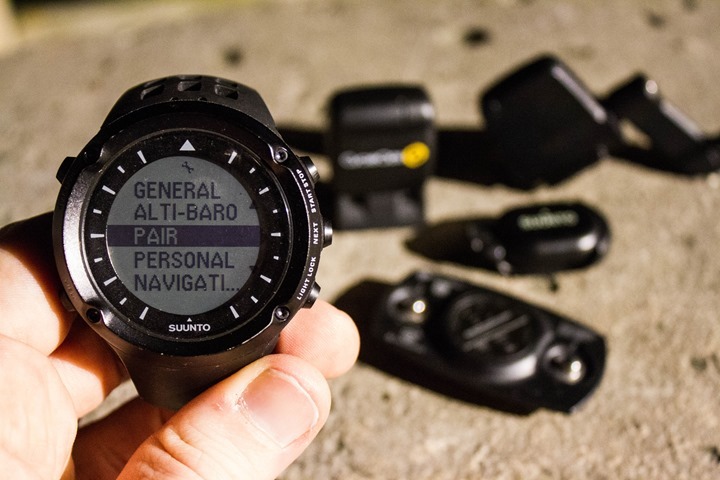 Then you figure out which type of device you're planning to pair, and you select it from the list: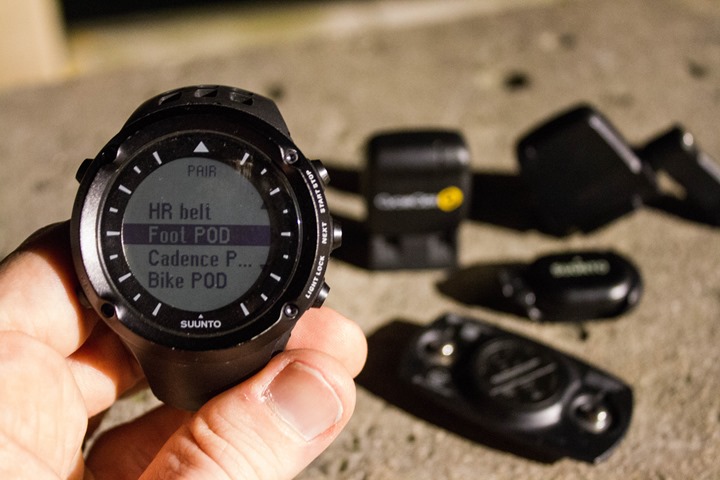 Taking for example the footpod, first it'll ask you to active your footpod.  Essentially, just shake the footpod to wake it up: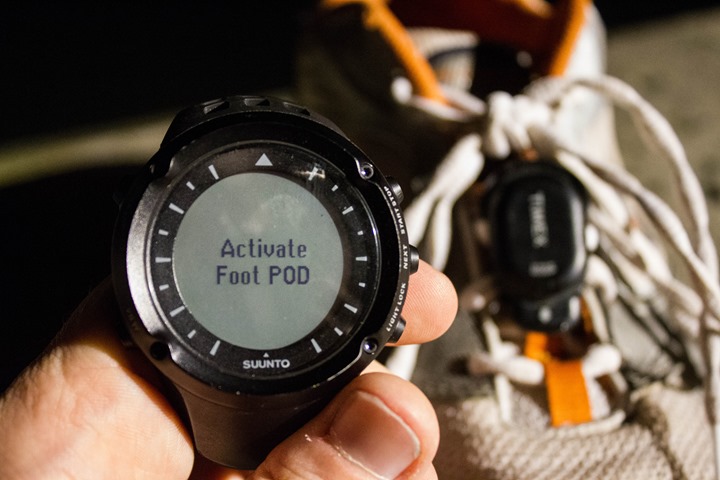 Then, it'll start searching a few seconds later: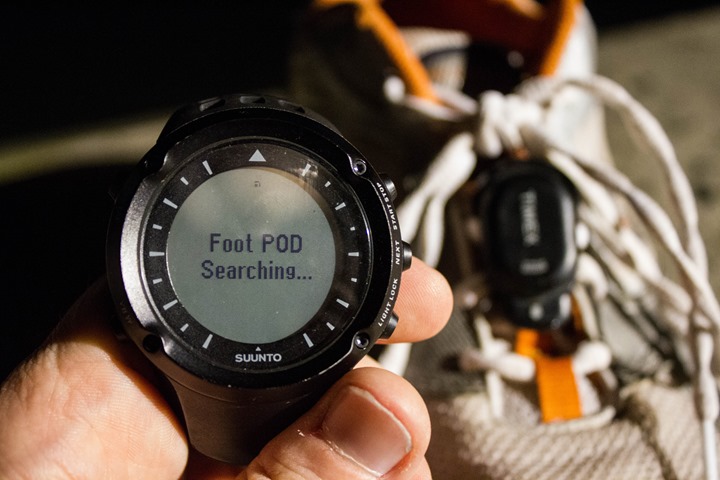 A second or two after that, it'll successfully find the footpod and notify you.  I was able to successfully pair both a generic ANT+ Timex footpod, as well as a Suunto footpod – no issues with either.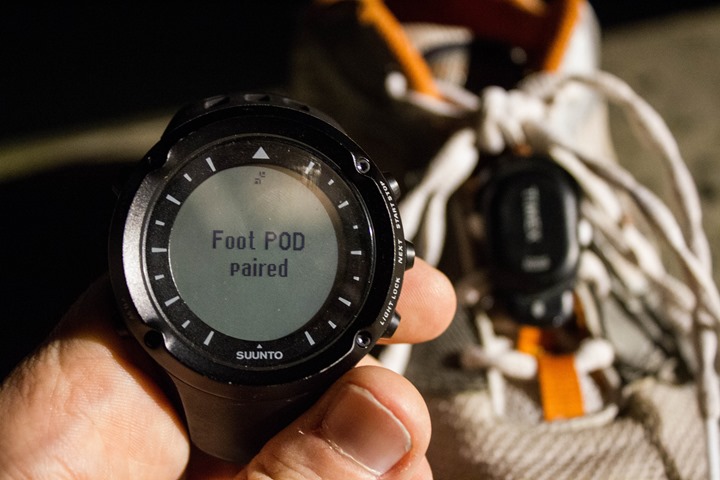 The procedure is essentially the same for the heart rate strap as well: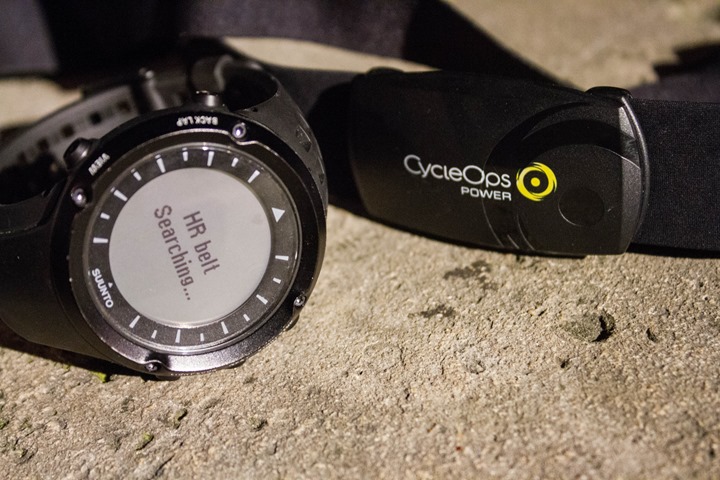 If you're pairing a bike sensor of any sort, you've only got one bike sensor choice.  It'll automatically iterate through the different types of bike sensors – i.e. speed-only, cadence-only, and speed/cadence combo sensors.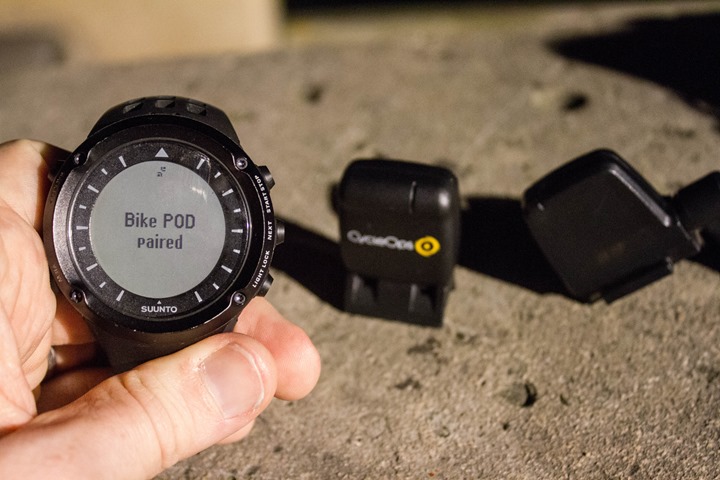 Of course, those familiar with the Ambit know that up until now – it didn't even support the Suunto footpods, so this is big news!  Note however that there isn't any manual calibration option for the footpod, which is a bit of a shame.  In order to manually calibrate it, you'll need to run with it first, then post-run you can dive into a given lap and adjust the lap distance accordingly, which will in turn prompt to calibrate the unit.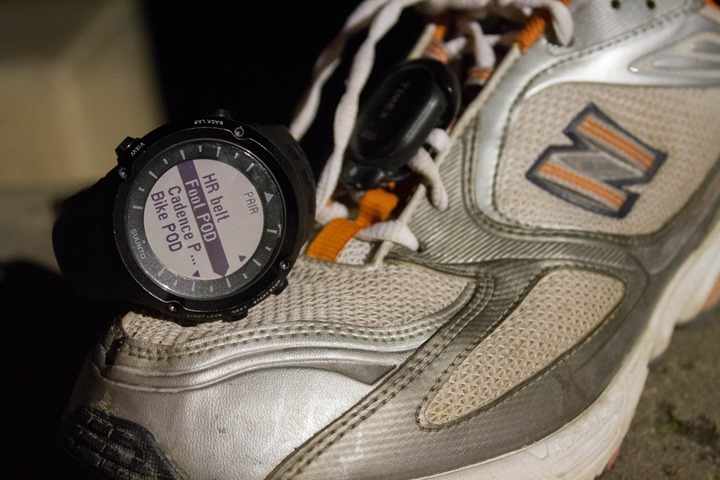 Note that it does not display the ANT+ ID's at any point, nor give any warnings if there are multiple ANT+ devices in the area.  It just picks one and goes with it.
Data collection is managed in the same fashion as before as well, and in many ways, once you've paired the sensor you won't really notice anything different on the unit itself, nor in the data collection or display.  All of that largely remains the same.  In essence, cadence is cadence, it's just simply coming from a different unit.
It's unclear at this time whether or not Suunto will start producing Suunto branded ANT+ sensors, or if they'll continue to produce the Suunto-only variant.  Obviously, if you're looking at any sensors, I'd strongly recommend you buy anything other than the Suunto branded sensors at this time, since that locks you into the Suunto devices, rather than opening you up to the massive ANT+ ecosystem (devices, apps, etc…).
The real question becomes when they'll support the power meter sensor type.  In doing so, they'd be the first wrist-watch form factor to support an ANT+ power meter, especially with a barometric altimeter, would be incredible (Note to clarify that I'm referring to a day to day watch form factor, the FR310XT/910XT aren't day to day watches).  Combining that with the app functionality below, and you've instantly got an incredibly powerful and highly customizable power meter head unit.  So much so that I suspect it would immediately start to pull away market share from products like the FR310XT, FR910XT, CycleOps Joule GPS, Magellan Switch and to a lesser extent the Timex Global Trainer (the TGT and Ambit price categories don't really mesh too well).
Finally, Tempe support.  Tempe is Garmin's new $30 ANT+ external temperature pod that works with the Fenix.  The goal of the device is to remove ones body heat from the outside temperature equation – which both the Ambit and Fenix are impacted by in temperature measurements.  And while the Tempe is a Garmin device, it's also fundamentally an ANT+ device utilizing an established and open ANT+ device profile. Meaning that Suunto could add support for it.  Some have argued that by doing so they'd be effectively giving revenue to Garmin.  And while that's true, that's highly shortsighted. By doing so, they're giving $30 of revenue to Garmin (well, the consumer, not them), and taking $500 for themselves (Suunto).  Seems like an easy and obvious win for Suunto to me.
Suunto Apps
Perhaps the most intriguing addition to the watch is Suunto Apps, which enables you to create apps that you can run on your Suunto Ambit.  At a fundamental level, this is huge – and has the potential to be industry shifting.  No other traditional sports watch maker has allowed you to create and run your own apps on yours device.  There are some sport-friendly watches (such as Metawatch and Pebble) coming into the market that will enable similar scenarios, and there has been some work done with the Motoactv in a jail broken scenario – but nothing in any of those cases has yet approached critical mass, or something that my Mom would download and/or use if she had such a device.  It's just too techie today.  But the Ambit changes that – it makes it easy and mainstream.
Now, I say 'potential' above, because at present, the ability to create apps is a bit limited.  So let's go ahead and walk through how the platform works.
First up, you'll login to the Movescount site and navigate to the Tools and then App Designer area:
It's here that you'll start to create your app.  You'll give it a name, select an activity type (such as running, skiing, etc..), and then set whether or not it's a public app.  This allows you to share the apps if you'd like, or you can keep them private.  You can also select a photo to depict the purpose of the app.
Finally, you'll set a category (used for categorization of apps in their app store, not to drive any specific functionality), as well as set a description.

With those core areas set, it's time to being some development.  Except, unlike traditional app development, this requires no coding or late nights with Mountain Dew and pizza.  Rather, just creativity and a goal.
You'll start off with setting a variable/value to work from.  You've got quite a few options.  These are effectively any metric the watch offers – such as pace, time, temperature, etc… You can see some of these displayed below, and there's tabs with plenty others: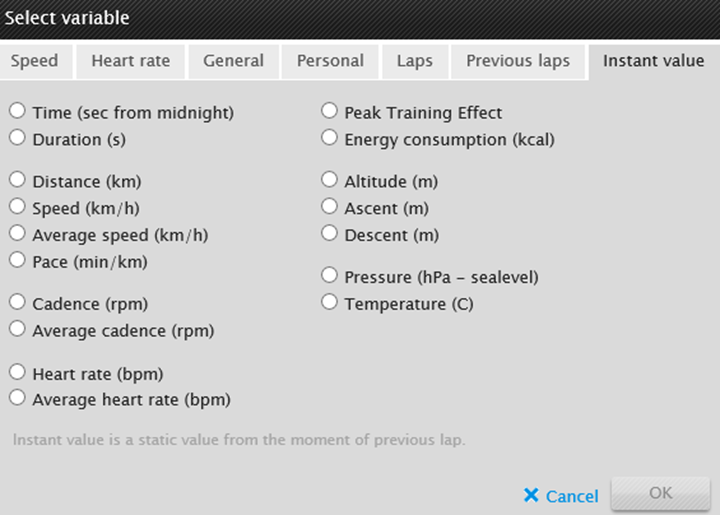 Then it's time to take that variable and do something with it.  This effort primarily comes down to creating simple mathematical equations.  You can see the addition/subtraction/multiplication/division signs off to the right.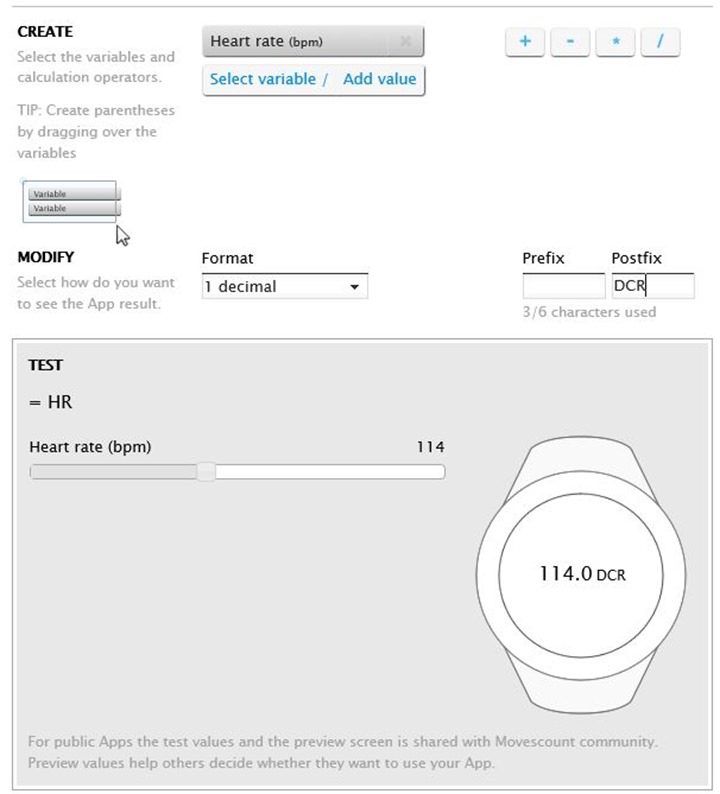 As you're doing so, you're creating a display for the watch.  On the bottom of the screen you'll see what is in effect a real-time test unit.  You can continue to add additional variables, and for the variables/values, you can also set prefixes and suffixes.  For example, in the above I've gone ahead and relabeled BPM (beats per minute) to DCR's (me).  The power here comes in creating these customized units.  For example, you'll see one sample app that calculates allowable chocolate consumption based on activity duration (yes, I said, chocolate, like the chocolate bar).  In doing so, it provides that chocolate allowance to you in grams.  It uses the grams custom label to do so.
Once you're done creating your custom value, you can save it and either add it to your own library, or publish it.  All apps in the library display the exact equations being offered – so you can easily copy the app design and tweak it.  No apps cost anything, they're all free.
After you've got the apps on your watch and in your library, you can go ahead and add those functions to normal data displays.  To illustrate this, I took the Alpine Skiing training profile I had on my unit, and customized it to add an app called "Downhill", which determines how many ski runs I completed that day: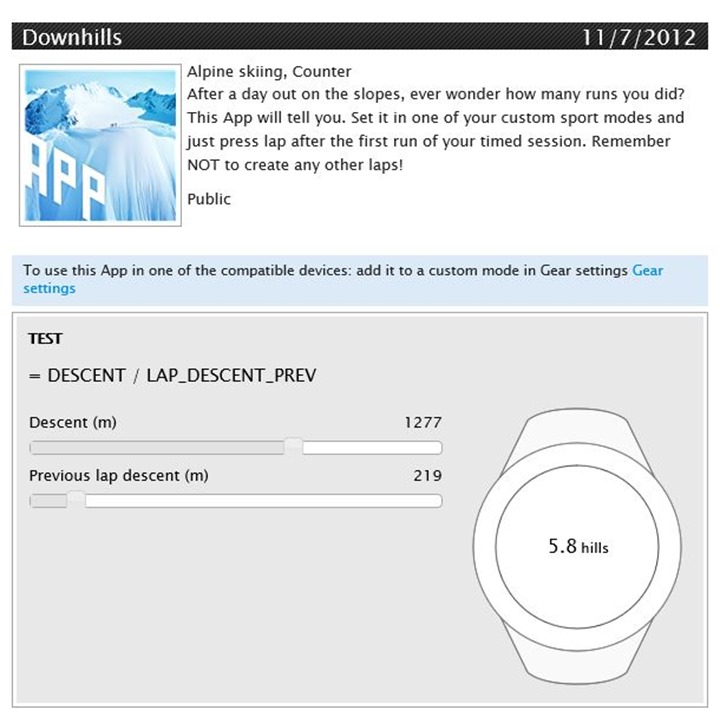 From there, in my Alpine Skiing profile, I simply selected one of the display fields and then selected the App name, which allowed me to add it to that profile.  Very easy.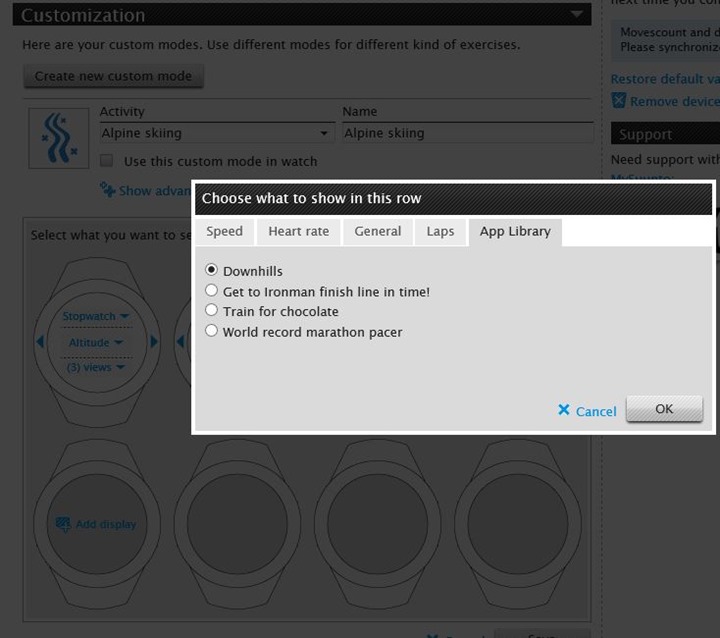 If you go into the App Zone today, it's been seeded with apps by both Suunto as well as those from the community, as of this morning there were 6 pages of apps, with about 6-8 apps per page.  I expect this to explode in growth of the next few weeks and months.  It allows you to sort the apps as well, by Most Used, Most Like, and Latest.  Search is on the right side, including category and activity support.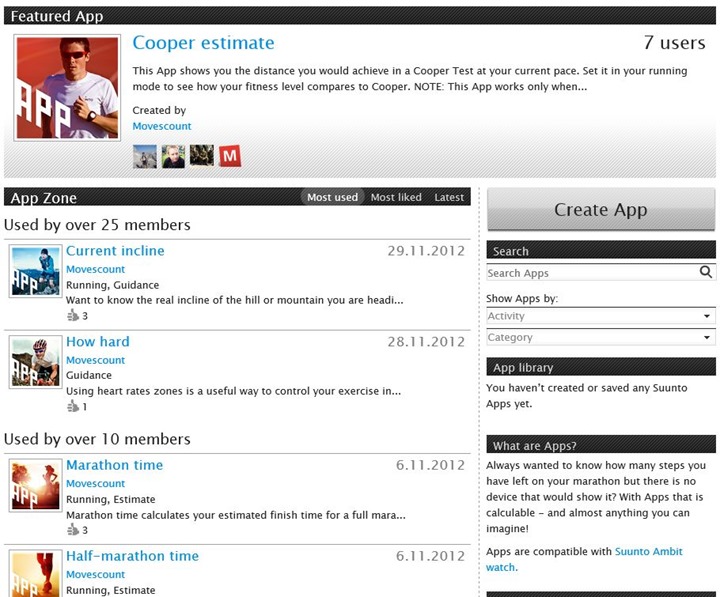 For fun, I picked out a few of the following to show you real quick.  First up is an app that determines how many ski runs you've taken.  It does this by simply taking your total descent that day, by the descent of your first run (which you mark using lap).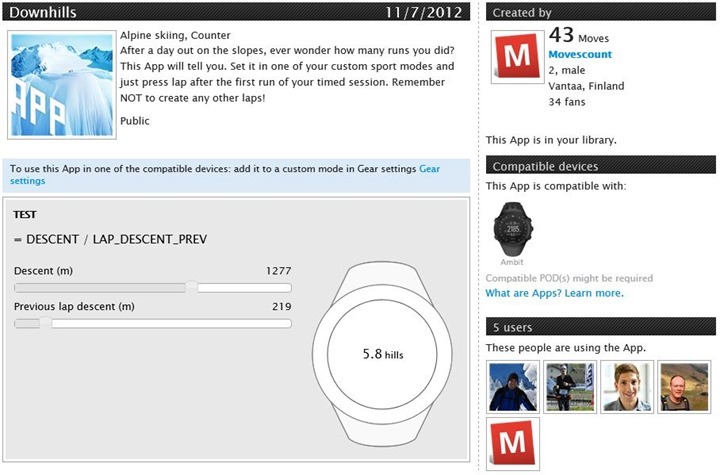 Next we have my favorite – the Train for Chocolate app.  This determines how many grams of chocolate you can eat, using calories as the baseline.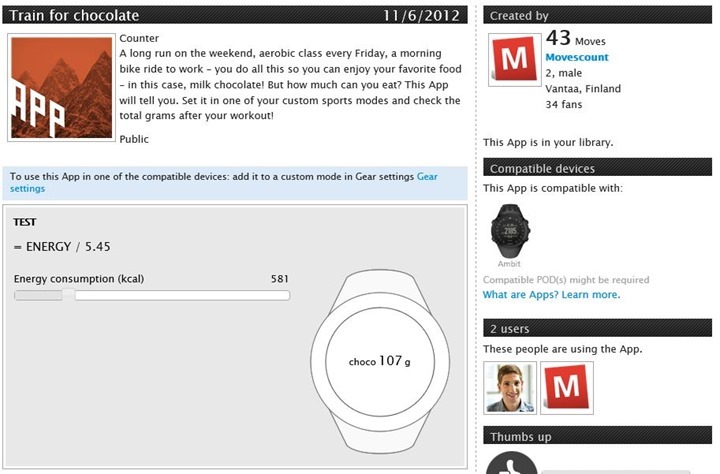 The next is a really good example of a simple app that extends the functionality of the watch into areas that should likely be in there natively.  With this though, it doesn't really cost Suunto anything and it's easy to add.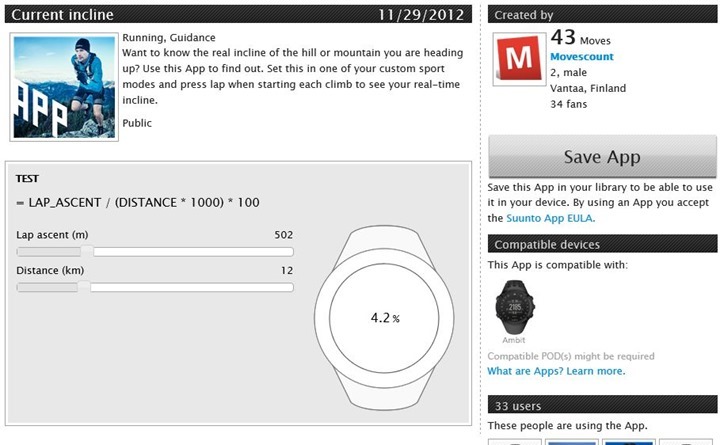 This is another example of functionality that's commonly in most watches (% of Max HR), and adds it in easily via an app.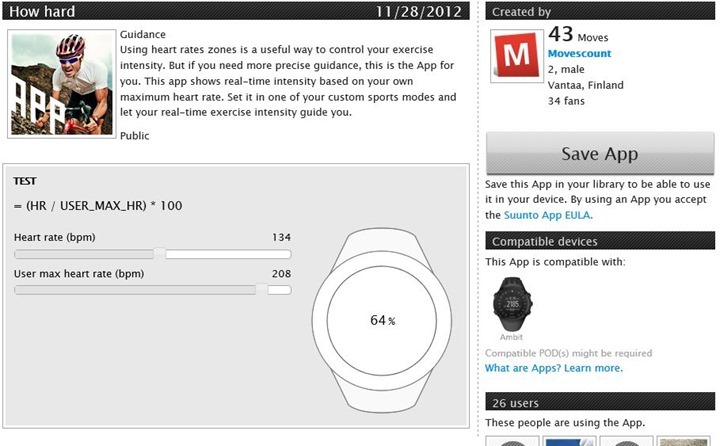 The below app is interesting, but could be tweaked to provide for a more useful experience.  This app gives you a virtual pacer approach – but against a elite marathoner (world record holder).  But, they could easily create an app to show your pacing against common marathon goals like 4:00 hours, 3:30, etc… Again, you're seeing apps fill in the place for features that are common place on other watches.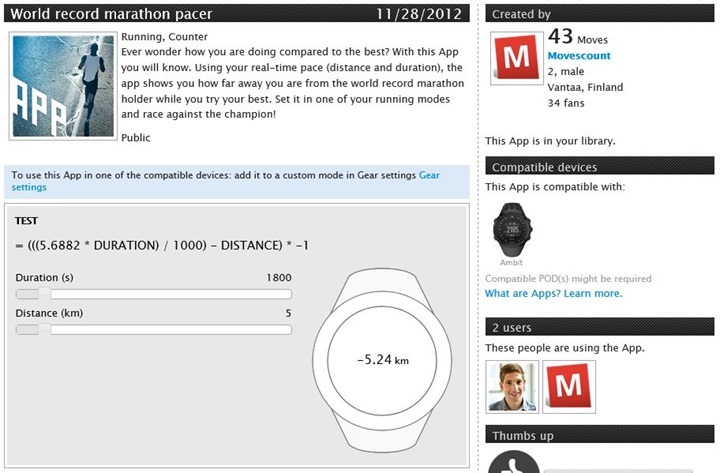 Lastly, a Ironman Finisher countdown clock.  This app tells you your current ETA for finishing the run segment, based on current pacing.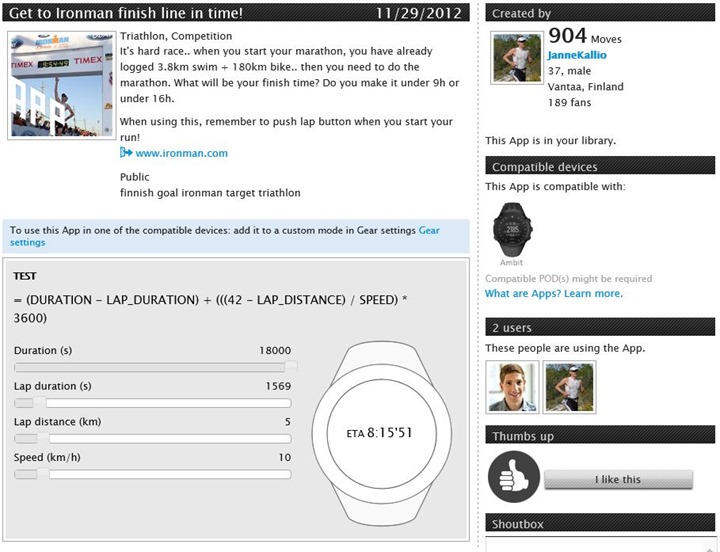 As you can see, there's quite a variation – some simple, and some more complex.  Some fun, and some with specific training purpose.
The app concept is definitely cool.  It's innovative, and completely a game changer in this marketplace.  I spoke about apps on sports devices two years ago at the ANT+ Symposium, and it's awesome to see it finally come to fruition.  Ultimately, Suunto recognizes that in order for them to stay competitive with cell phones, they need to open up their devices to allow folks to expand upon them.  Mobile will only continue to increase technologically and from a ruggedness and sensor standpoint, and thus functions like these keep standalone watches in the game.
That all said, as cool is this is, I feel that in order for them to really break away from the market they're going to have to allow folks to actually write real applications.  Not just drag and drag variables.  But allow developers a framework with an SDK to create truly innovative apps on the unit with real code.  Since the unit includes a 3D accelerometer, as well as a compass, barometric altimeter, and GPS – the sky is really the limit.  A 3D accelerometer would potentially allow someone to create a swim/pool distance tracking app.  Or to track the movements of any other sport – similar to that of the Motoactv with sports like Golf and Yoga.
That's where the power starts to really manifest itself.  If they do that (and find a way to lower the Ambit price point $100) – I think they'll quickly sweep the market.  You'll likely see a similar explosion of apps for the Ambit as you did for the phone platform.  The ability for companies like Strava, RunKeeper TrainingPeaks and others to run their apps directly on the watch is huge.
Which isn't to take away from what Suunto released today, but rather to show the potential here in what they've begun.
Summary
No doubt, this release is significant for Suunto.  It not only furthers to heat up the competitive battle with the Garmin Fenix, but it also clearly says "Your move, Garmin."  If you look at the comparison table and where things stand now, both watches are closer than ever.  I've included the table below, though since it's updated in real-time from the new product comparison tool, you may have to click to see it on the site (if you're viewing via RSS feed).
Function/Feature

Suunto Ambit
Polar Grit X Pro
Suunto 9 Peak
Garmin Forerunner 55
Garmin Forerunner 945 LTE
Copyright DC Rainmaker - Updated December 5th, 2021 @ 3:52 pm New Window
Price
$400.00/Discontinued
$499/$599
$569
$199
$649
Product Announcement Date
Jan 18, 2012
Oct 6th, 2021
May 25th, 2021
June 2nd, 2021
June 2nd, 2021
Actual Availability/Shipping Date
Apr 2012
Oct 2021
June 19th, 2021
June 2nd, 2021
June 2nd, 2021
GPS Recording Functionality
Yes
Yes
Yes
Yes
Yes (with Galileo too)
Data Transfer
USB
USB, BLUETOOTH SMART
USB & Bluetooth Smart
USB, Bluetooth Smart
USB/Bluetooth Smart/WiFi
Waterproofing
Yes - 100m
Yes - 100m
Yes - 100m
50 meters
Yes - 50m
Battery Life (GPS)
50 hours
Up to 100 hours
Up to 170 Hours
20 hours
35hrs GPS, 7hrs GPS+LTE+MUSIC
Recording Interval
Variable
1s
Variable
1s/Smart
1S or Smart
Dual-Frequency GNSS
No
No
Alerts
Sound/Visual
Vibrate/Sound/Visual
Sound/Visual/Vibrate
Sound/Visual/Vibrate
Vibrate/Sound/Visual
Backlight Greatness
Great
Great
Great
Great
Great
Ability to download custom apps to unit/device
Yes
No
No
Yes (all Connect IQ Apps)
YEs
Acts as daily activity monitor (steps, etc...)
No
Yes
Yes
Yes
Yes

Music

Suunto Ambit
Polar Grit X Pro
Suunto 9 Peak
Garmin Forerunner 55
Garmin Forerunner 945 LTE
Can control phone music
Yes
No
Yes
Yes
Has music storage and playback
No
No
No
Yes
Streaming Services
No
No
No
Spotify, Amazon Music, Deezer, iHeartRadio

Payments

Suunto Ambit
Polar Grit X Pro
Suunto 9 Peak
Garmin Forerunner 55
Garmin Forerunner 945 LTE
Contactless-NFC Payments
No
No
No
Yes

Connectivity

Suunto Ambit
Polar Grit X Pro
Suunto 9 Peak
Garmin Forerunner 55
Garmin Forerunner 945 LTE
Bluetooth Smart to Phone Uploading
No
Yes
Yes
Yes
Yes
Phone Notifications to unit (i.e. texts/calls/etc...)
No
Yes
Yes
Yes
Yes
Live Tracking (streaming location to website)
No
No
No
Yes
Yes
Group tracking
No
No
No
Yes
Emergency/SOS Message Notification (from watch to contacts)
No
No
No
Yes (via phone)
Yes (requires subscription)
Built-in cellular chip (no phone required)
No
No
No
No
Yes (requires subscription)

Cycling

Suunto Ambit
Polar Grit X Pro
Suunto 9 Peak
Garmin Forerunner 55
Garmin Forerunner 945 LTE
Designed for cycling
Yes
Yes
Yes
Yes
Yes
Power Meter Capable
No
Yes
Yes
No
Yes
Power Meter Configuration/Calibration Options
N/A
Yes
Yes
N/A
Yes
Power Meter TSS/NP/IF
N/A
No
Yes
N/A
Yes
Speed/Cadence Sensor Capable
Yes
Yes
Yes
Yes
Yes
Strava segments live on device
Yes
No
No
Yes
Crash detection
No
No
Yes
Yes

Running

Suunto Ambit
Polar Grit X Pro
Suunto 9 Peak
Garmin Forerunner 55
Garmin Forerunner 945 LTE
Designed for running
Yes
Yes
Yes
Yes
Yes
Footpod Capable (For treadmills)
Yes
Yes
Yes
YES (ALSO HAS INTERNAL ACCELEROMETER)
Yes
Running Dynamics (vertical oscillation, ground contact time, etc...)
No
No
No
No
WITH RD POD, HRM-TRI OR HRM-RUN (NOT VIA OPTICAL HR)
Running Power
Yes (built-in)
With extra sensor
No
With extra sensor
VO2Max Estimation
Yes
Yes
Yes
Yes
YEs
Race Predictor
No
No
No
Yes
Yes
Recovery Advisor
No
No
Yes
Yes
Yes
Run/Walk Mode
No
No
No
Yes
Yes
Track Recognition Mode
No
No
Yes
Yes

Swimming

Suunto Ambit
Polar Grit X Pro
Suunto 9 Peak
Garmin Forerunner 55
Garmin Forerunner 945 LTE
Designed for swimming
No
Yes
Yes
Yes
Yes
Openwater swimming mode
N/A
Yes
Yes
N/A
YEs
Lap/Indoor Distance Tracking
N/A
Yes
Yes
Yes
Yes
Record HR underwater
No
Yes
Yes
Yes
Yes
Openwater Metrics (Stroke/etc.)
N/A
Yes
Yes
N/A
Yes
Indoor Metrics (Stroke/etc.)
N/A
Yes
Yes
Yes
YEs
Indoor Drill Mode
N/A
No
No
Yes
Indoor auto-pause feature
N/A
Yes
No
No (it'll show rest time afterwards though)
Change pool size
N/A
Yes
Yes
Yes
YEs
Indoor Min/Max Pool Lengths
N/A
20M/Y to 250 m/y
15m/y to 1,200m/y
14M/15Y TO 150Y/M
Ability to customize data fields
N/A
Yes
yes
Yes
Yes
Can change yards to meters
N/A
Yes
Yes
Yes
Yes
Captures per length data - indoors
N/A
Yes
Yes
Yes
Yes
Indoor Alerts
N/A
N/A
No
Yes

Triathlon

Suunto Ambit
Polar Grit X Pro
Suunto 9 Peak
Garmin Forerunner 55
Garmin Forerunner 945 LTE
Designed for triathlon
No
Yes
Yes
No
Yes
Multisport mode
N/A
Yes
Yes
No
Yes

Workouts

Suunto Ambit
Polar Grit X Pro
Suunto 9 Peak
Garmin Forerunner 55
Garmin Forerunner 945 LTE
Create/Follow custom workouts
No
Yes
No
Yes
Yes
On-unit interval Feature
No
Yes
Yes
Yes
YEs
Training Calendar Functionality
No
Yes
Yes
Yes
Yes

Functions

Suunto Ambit
Polar Grit X Pro
Suunto 9 Peak
Garmin Forerunner 55
Garmin Forerunner 945 LTE
Auto Start/Stop
No
No
Yes
Yes
Virtual Partner Feature
No
No (but can give out of zone alerts)
No
Virtual Pacer
YEs
Virtual Racer Feature
No
No
No
No
Yes
Records PR's - Personal Records (diff than history)
No
No
No
Yes
Yes
Day to day watch ability
Yes
Yes
Yes
Yes
Yes
Hunting/Fishing/Ocean Data
Some
No
No
No
Yes
Tidal Tables (Tide Information)
No
No
No
No
No
Jumpmaster mode (Parachuting)
No
No
No
No
Yes
Geocaching
No
No
No
No
Via GPS coordinates
Weather Display (live data)
No
Yes
No
Yes
Yes

Navigate

Suunto Ambit
Polar Grit X Pro
Suunto 9 Peak
Garmin Forerunner 55
Garmin Forerunner 945 LTE
Follow GPS Track (Courses/Waypoints)
Yes
Yes
Yes
No
Yes
Markers/Waypoint Direction
No
No
Yes
No
Yes
Routable/Visual Maps (like car GPS)
No
No
No
No
Yes
Back to start
Yes (point to point only)
Yes
Yes
No
Yes
Impromptu Round Trip Route Creation
No
No
No
No
Yes
Download courses/routes from phone to unit
No
Yes
Yes
No
Yes

Sensors

Suunto Ambit
Polar Grit X Pro
Suunto 9 Peak
Garmin Forerunner 55
Garmin Forerunner 945 LTE
Altimeter Type
Barometric
Barometric
Barometric
No
Barometric
Compass Type
Magnetic
Magnetic
Magnetic
None
Magnetic
Optical Heart Rate Sensor internally
Yes
Yes
Yes
Yes
SpO2 (aka Pulse Oximetry)
No
Yes
No
Yes
ECG Functionality
No
No
No
No
Heart Rate Strap Compatible
Yes
Yes
Yes
Yes
Yes
ANT+ Heart Rate Strap Capable
Yes
No
No
Yes
Yes
ANT+ Speed/Cadence Capable
Yes
No
No
Yes
Yes
ANT+ Footpod Capable
Yes
No
No
Yes
Yes
ANT+ Power Meter Capable
No
No
No
No
Yes
ANT+ Weight Scale Capable
No
No
No
No
No
ANT+ Fitness Equipment (Gym)
No
No
No
No
No
ANT+ Lighting Control
No
No
No
Yes
ANT+ Bike Radar Integration
No
No
No
Yes
ANT+ Trainer Control (FE-C)
No
No
No
Yes
ANT+ Remote Control
No
No
No
No
No (can control VIRB though)
ANT+ eBike Compatibility
No
No
No
No
No
ANT+ Muscle Oxygen (i.e. Moxy/BSX)
No
No
No
Yes
ANT+ Gear Shifting (i.e. SRAM ETAP)
No
No
No
Yes
Shimano Di2 Shifting
No
No
No
No
Yes
Bluetooth Smart HR Strap Capable
No
Yes
Yes
No
Yes
Bluetooth Smart Speed/Cadence Capable
No
Yes
YEs
No
Yes
Bluetooth Smart Footpod Capable
No
Yes
Yes
No
Yes
Bluetooth Smart Power Meter Capable
No
Yes
Yes
No
YEs
Temp Recording (internal sensor)
Yes
Yes
Yes
No
Yes
Temp Recording (external sensor)
No
No
No
No
Yes

Software

Suunto Ambit
Polar Grit X Pro
Suunto 9 Peak
Garmin Forerunner 55
Garmin Forerunner 945 LTE
PC Application
Moveslink Agent
Polar Flowsync - Windows/Mac
PC/Mac
Garmin Express (PC/Mac)
Garmin Express
Web Application
Movescount
Polar Flow
Suunto Movescount
Garmin Connect
Garmin Connect
Phone App
Suunto Movescount
iOS/Android
iOS /Android
iOS/Android
iOS/Android/Windows Phone
Ability to Export Settings
Yes (online)
No
No
No
No

Purchase

Suunto Ambit
Polar Grit X Pro
Suunto 9 Peak
Garmin Forerunner 55
Garmin Forerunner 945 LTE
Amazon
Link
Link
Link
Link
Link
Backcountry.com
Link
Link
Link
REI
Link
Link
Link
Wiggle
Link

DCRainmaker

Suunto Ambit
Polar Grit X Pro
Suunto 9 Peak
Garmin Forerunner 55
Garmin Forerunner 945 LTE
Review Link
Link
Link
Link
Link
Link
Overall, I still believe that both units continue to be overpriced – just slightly less so now.  I'd still like to see the ability to create workouts ported to the Ambit, as well as an interval mode (the update ads a very basic repeating interval timer, but it's really not a true interval mode like most other units have).  Note that neither watch has that today.  And with the Ambit, for the extra $100 more than the Fenix, it needs to start to take advantage of some of the raw underlying features of the watch (such as the 3D Accelerometer), which is only used today in the FusedSpeed (which did get a stability update as part of the 2.0 release).
That all said – I'm excited about the changes that they released.  And I'm even more excited to see what comes next from both Suunto, as well as any competitive response from others.  This only serves to benefit the consumer – and that's awesome for all of us.