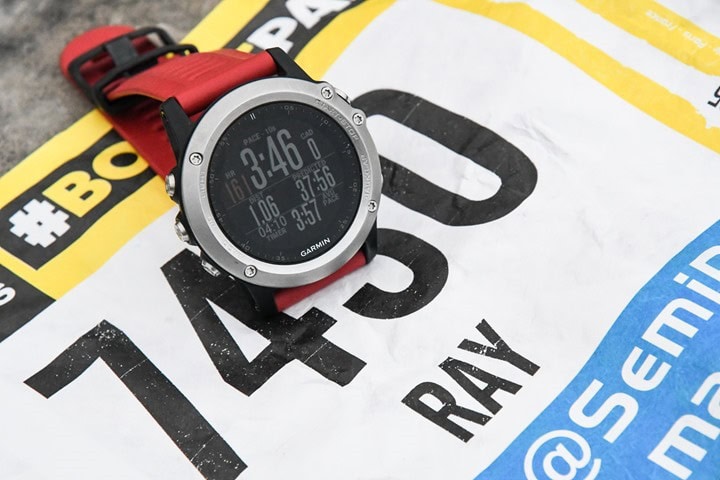 One of the primary benefits of apps on any platform is to extend the functionality of a device to do something that the manufacturer didn't otherwise include.  That's true of phones, computers, and now even watches.  Be it Connect IQ for Garmin devices, the App Store for Apple Devices, or the Windows Store for Windows devices – all allow 3rd parties to fill a need.
When Suunto first introduced watch based apps four years ago this month, one of the initial examples that I tried was an app that would give you estimated power numbers based on trainer speed (for certain trainers).  This type of functionality wasn't super complex but rather simply out of scope of what Suunto would do themselves.  Whereas for a 3rd party developer this was straightforward and filled a niche.
What it does:
Which is a roundabout way of talking about a nifty little app that I tried out last weekend that's used for pacing a race, on Garmin Connect IQ.  As you might remember, I once wrote an entire article on how to use GPS watches to pace races.  While it might seem straightforward, in reality there are a lot of nuances that truly do matter when you're chasing that elusive PR.  A few seconds here or there add up after 26 miles.
That's where the 'Race Screen' app comes in (technically it's a data field).  It's free and available on Garmin Connect IQ for virtually every Garmin device that supports Connect IQ.  It's just a single hobbyist developer to who created his app in his spare time, and also happened to come to the DCR Open House two weekends ago.  That was good timing, as I'd be running the Santa Clause 10K race the next day.
The app aims to remove doubt when it comes to the pacing information displayed on your Garmin. There are many reasons why this information may not be 100.00% accurate during a race, which include:
A) You're likely running a longer route, weaving around people
B) You're likely not running the most perfect route (as measured for certification)
C) GPS loss of signal (i.e. tunnels, tall buildings), could impact distance
D) You stopped to get ice cream and that's impacting your distance
Of course it's hard to pace by watch if you have these variables in terms of distance.  Is the finish 5.00K away?  Or is it 5.33K away?  That's a big difference when it comes to making a specific PR.
So the Race Pace app takes the guess-work out of things.  It allows you to re-align to the posted race signage on the course.  Meaning, if you see a 5K marker, you can actually tell the watch you just passed that marker.  That then updates the distance and pacing information, as well as estimated finish times.  Simple as that.
How it works: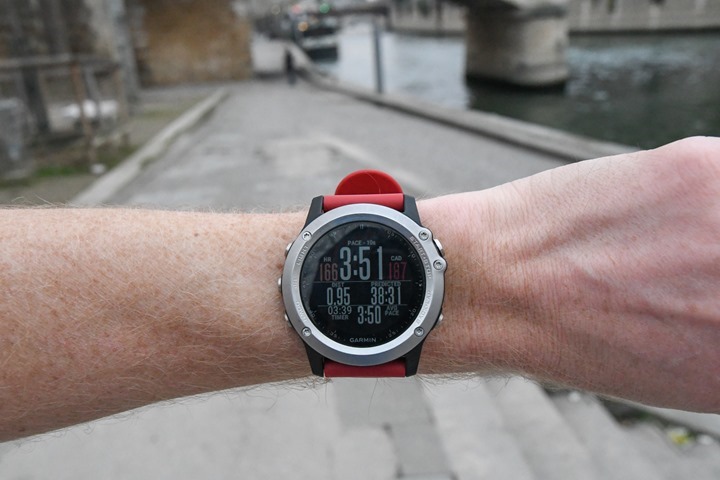 If this sounds confusing, it isn't so in execution.  It's silly simple.  Here's the two steps you need to know:
1) Run race.
2) When passing distance banner, hit lap button.
That's it.
The app will automatically re-align to the nearest mile/kilometer marker.  So if you're running along and you pass the 2KM marker when your watch says you're at 2.02KM, it'll reset the distance to 2KM.  Similarly, if you're running past the 3KM marker and your watch says it's at 2.95KM, it'll update to 3KM.
Get busy and miss a mile marker?  No problem, it'll just catch-up the next marker you see.  It won't 'set you back' just because you forgot to mark a lap.  It'll just operate normally.
So here's how it works during a race (with actual photos from my race, using a Garmin Fenix3 and GoPro Hero5 Black).  Oh – and since they're from an actual race and wearing an actual Santa Costume, the quality is…less than ideal.  Sorry not sorry.
The first lap that I remembered to press the lap button was the 2KM marker.  The first two kilometers were a @#$#-show due to running around thousands of slower Santa's, thus, I ran a bit extra – .03KM as you can see below.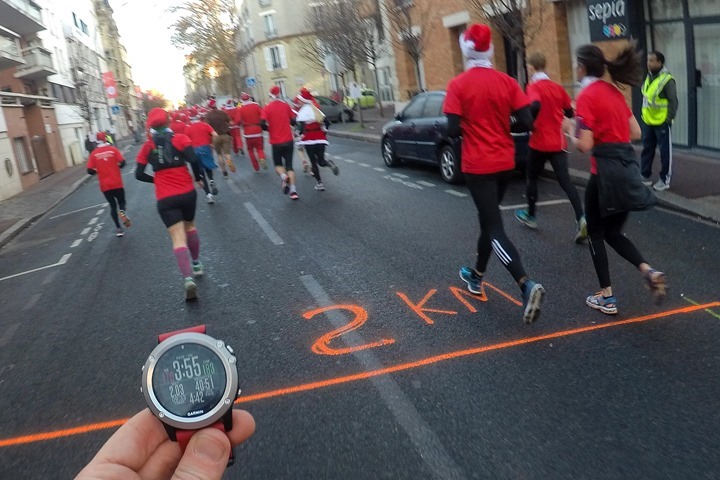 So as soon as I press the regular lap button, the app will re-align that 2.03 (or perhaps 2.04KM) back to 2.00KM.
I was able to demonstrate this most easily at the 6KM marker.  When I came up on that, it was at 6.03KM, a bit long.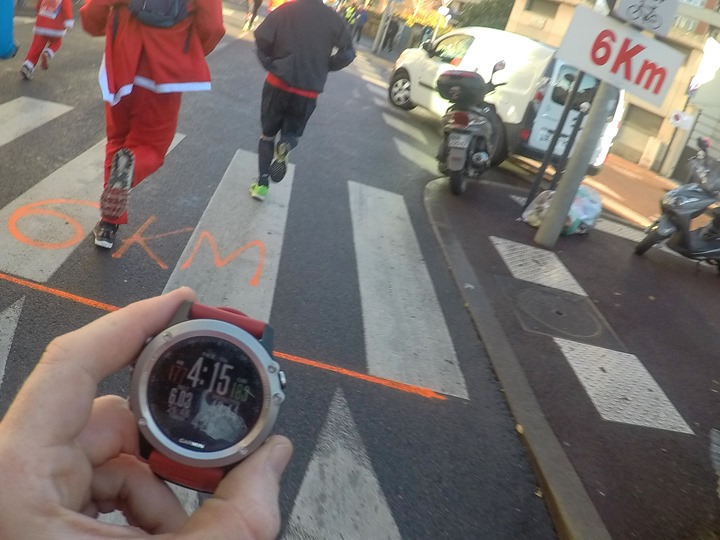 So I then pressed the lap button, and it showed my some lap summary information like normal for a few seconds.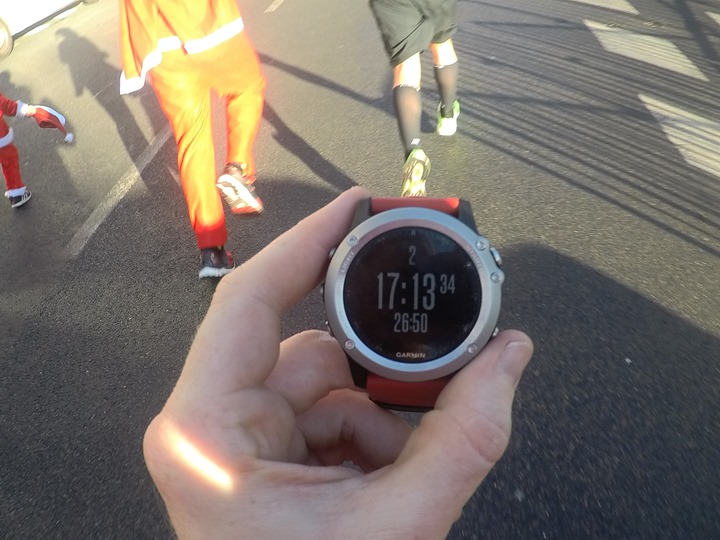 So now 10 seconds (exactly) later, after the lap banner cleared and after I got a good shot – the figure shows 6.03.  Thus indicating that it had reset to 6.00 and then in those seconds I ran the additional .03 miles again.  Pretty cool, huh?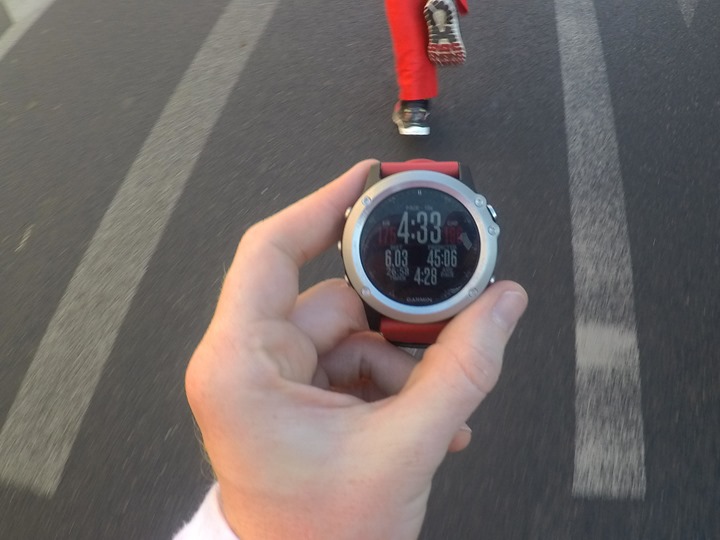 And what if it's spot-on?  Well, that was the case at the 5KM marker – so you can either press the button or not.  Doesn't matter.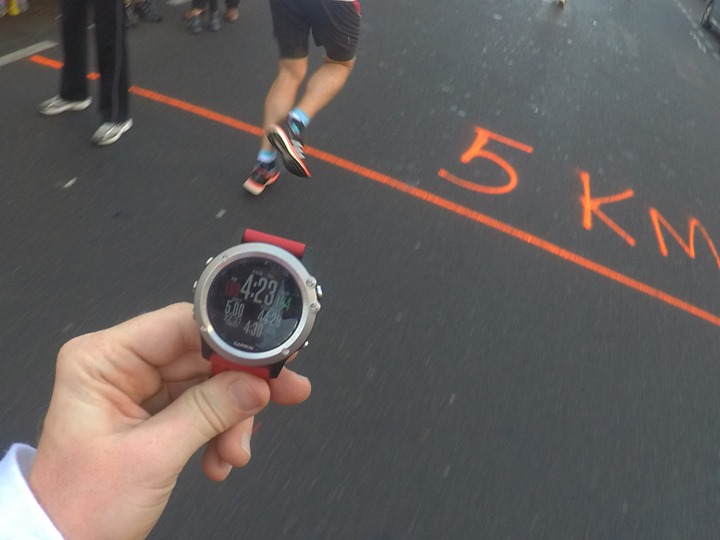 You may have noticed that the app has different data fields on it – here's a clearer picture: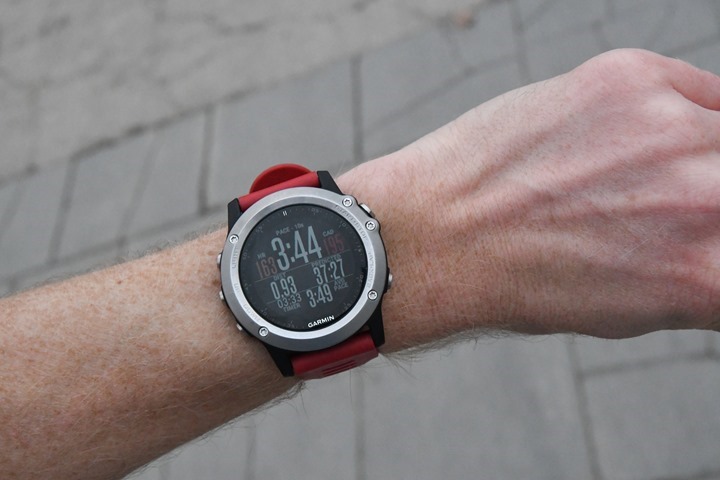 The data fields it has are:
Top Row: Heart Rate, Current 10-Second Average Pace, Cadence
Middle Row: Distance (corrected), Predicted Finish Time
Bottom Row: Overall Time, Overall Average Pace
Those are basically all the things that I race by, in one handy page.
So where did it get the Predicted Finish time from?  Well, that comes from the Connect IQ app properties.  In my case, I set it for the 10K distance.  Of course, you'd want to configure it for whatever your race distance is: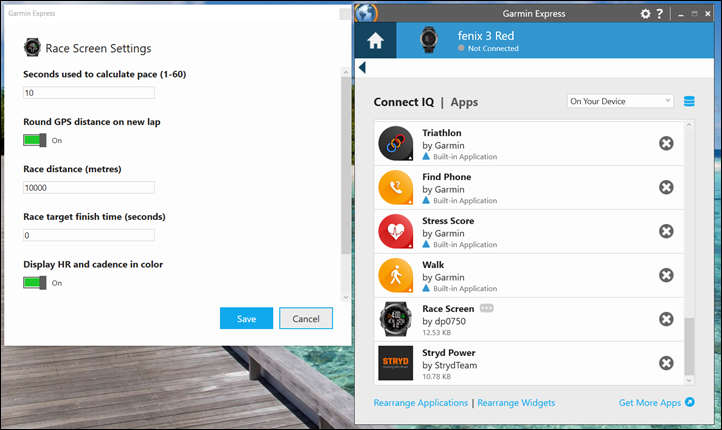 You'll also note that there's a smoothing option for GPS speed, as well as a race target time you can set.  Speaking of settings, once you've added the Data Field to your watch, you'll need to remember to go into the data pages and select it under 'Connect IQ', as one of your pages.  The easiest way is to add a new data page, and select only a single data field for that page, since it takes up the full page.
Now there are a few minor caveats.  First is that this won't change the actual distance in the file uploaded to your Garmin device.  That'll still be whatever GPS measured it as.  And second, it won't impact the data shown in other display pages/fields.  That's because everything is happening within that one data field.
But in some ways, that's OK.  In most cases you likely did run longer than the official race distance, due to crowding and course lines.  So your GPS file would represent that.  What the Race Screen app attempts to do is to compensate for those areas so that mid-race you aren't pacing to an artificial value.
Wrap Up:
I love writing about cool things, especially from small developers.  And actually, especially cool free things.  This is a perfect example of that.  It does exactly what you want a race pacing app to do.  And in many ways, it's kinda mind-boggling that neither Garmin nor anyone else has had this functionality built-in to begin with.  Without question it's the most logical way of solving the race pacing issue.
The ability to get not just the corrected distance, but all the key metrics folks want (HR, cadence, time), is pretty sweet.  However, what's actually more sweet is the ability to configure an average pace smoothing metric.  This is another area that myself and others have been asking about for years, as it would solve the whole GPS variability issue.  In fact, Timex used to have this option long ago on some of their older GPS watches.  But nobody else ever adopted it.  Shame.
Finally again, here's the link for the app (which is free).  As of this writing, it's compatible with the Forerunner 230/235/630/735, Fenix 3/F3HR/Chronos.  But if you find this post some time later, then check the 'Compatible Devices' option on that link to see what's new.