In a bit of a strange twist, the team behind Garmin Connect (the site where you upload all your activities to) has been tossed out on the streets of San Fran.  Garmin has decided to close their San Francisco office, which includes the Garmin Connect team.  They were offered relocation to Olathe, KS – which is the home of Garmin – but they politely declined that invitation, and then as a team – they put themselves up for sale:

Now – I can't exactly blame the team for not wanting to move from the bustling high tech city of San Francisco to the less than bustling Kansas (I'm sure Olathe is a nice place, but let's just be realistic here about how desirable that move probably is).
But – here's my first reaction: What are you thinking Garmin?  (Actually, my first reaction was WTF?!?).
Well – let's break this down a bit.  First off – this is the team that originally brought us MotionBased.com.  You may remember that back from a few years ago.  They were a site that you'd upload all your activities to (Swim, Bike, Run, Space Walk, anything…) – and then it was searchable and easily accessible.  Garmin bought them out a bit later and put the team to work creating the new Garmin Connect.  This had the majority of the functionality from MB, but was scaled to handle the numbers of users Garmin was looking at.  It also offered seamless integration with Garmin's set of products.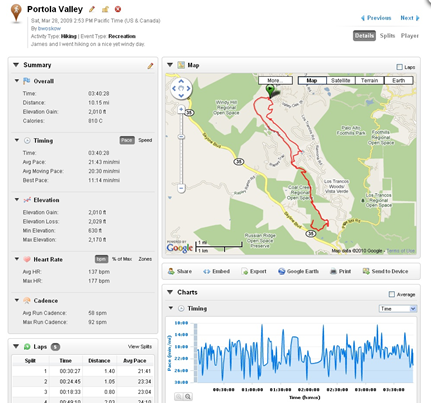 And while there were some stumbling blocks (and still are some) – by and large it's pretty solid (free) product – and promising.  And more importantly – there's really nothing else at that size out there on the market.  The next closest thing is Training Peaks (which offers more advanced features, but doesn't service nearly as many users).  In effect, they are the iTunes of sport activity tracking.  Sure there are lots of players – some who do it better – but none on that scale.
To put in perspective how much data these guys deal with – check this out from their page: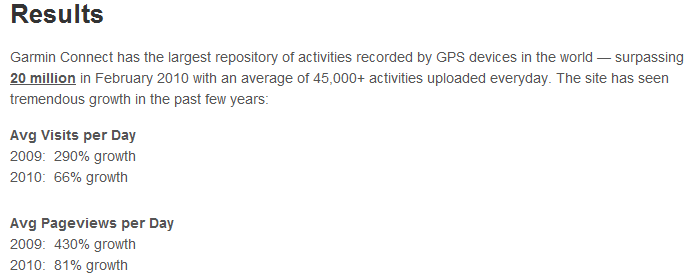 Now – here's where we get to the WTF part.
As in WTF was Garmin thinking?  If you browse the team's bio page you'll see they're fairly substantial.  In fact, I can't imagine there's many folks left on the team that don't reside in San Fran.  Meaning, Garmin's now likely just lost the entire Garmin Connect development team – or at least a substantial portion of it.
Many in the greater GPS industry have noted that Garmin is already in a tough position right now.  Phones with web enabled apps are starting to take over much of the role that normal car based GPS units once owned – such as the Nuvi or the Tom-Tom.  That trend has started to even show in Garmin's earnings and forecasts.  Garmin has tried to counter this trend by focusing on applications (such as iPhone apps) that users can purchase and download to their device – thus in effect still keeping Garmin in the revenue loop.  So while you and I love the new triathlon (310XT) and cycling (Edge 500) offerings from them, the automotive world is a tough place for them.
…looking back at towards sports world…
Now that they've gone out and axed the team that built one thing that really differentiated them from the competition.  You have Timex coming out with a new GPS based watch this year that's being eyed by many, and Polar out there throwing all sorts of darts at the dartboard hoping one sticks.  You also have Suunto getting into the game with ANT+ compatible devices as well.  Finally, non-traditional vendors just this week unveiled devices at IHRSA this week for the iPhone – including DigiFit and PedalBrain.  Not to mention players like Nike.  Despite interoperating with ANT+, most of these are all competitors to Garmin devices.  All of these devices aim to negate the need to have a Garmin Forerunner 310XT or Edge 500 while running or cycling.  And they all aim to upload to a cloud-based service like Garmin Connect.
In a world where telecommuting is considered normal within the IT world – I fail to understand why they didn't just simply have the team telecommute – or rent out cheaper offices across the bay in/around Oakland if downtown SF office costs were the driving force behind the relocation.  Further, the move is strategically kinda dumb.  In effect Garmin has put up for sale a fully team ready to be 'acquired' by the competition.  Except they aren't for sale by Garmin – Garmin doesn't get anything.  It's a merger and acquisition scenario gone wrong.
I used to work in mergers and acquisitions for about five years actually.  And now I work in software.  Funny how that's applicable here.  In a typical M&A type scenario you look to either acquire the goods (as they did with MotionBased.com) or as often the case in technology – look to also acquire the team to speed development efforts (which they also did here).  But having the team work for 2-3 years to build a blockbuster product, and then axe the team at the peak…is not part of that playbook.  Having that team advertise themselves on the Internets as being stood up at the prom, is also not part of that playbook.  That makes the acquiring company look bad, and since acquisitions are often a game of PR battles – that constitutes a fail buzzer.
(Side note: Think about this for a second – you have to have a solid set of cahones to somehow start the conversation within the GC team to jump ship as a whole – and then put up a well done website.  It's one thing to be sitting at the local bar that night as a team after you get the word to relocate – it's a whole different matter to actually follow through with deciding against it – as a unified team.  That takes balls, a lot of them.)
Of course, the bigger question here is what will this do to the future of Garmin Connect? Will development slow down (invariably it would have to – Garmin was probably  assuming they'd jyust pack up and move to Kansas) – or will it stall completely?  What impact will it have on service and upgrades?  More bugs are also likely as new development folks would have to be spun up on the code, thus not only reducing stability, but also slowing development further in a painful cycle.
No matter how this goes down, me thinks that some folks across the sports technology industry are doing a double-take and seeing how they can take advantage of this.  Unfortunately – I'm relatively sure nothing good will come of this for us athletes.
[Update: The Garmin PR folks got me answers to my questions to them.  The San Fran office closes May 8th, 2010, though a few employees will still telecommute after that point.  The main driver in the move was to bring the "development close to product development for better system design and experience".  I asked how this would affect development of Garmin Connect going forward – "Team staffed in Olathe will carry on vision and development of site in closer conjunction with product development team. We'll staff it to meet the needs of the Garmin Connect community."]
(Note: I asked for comment from both Garmin PR and the Garmin Connect Team, but hadn't received the Garmin Connect Team comments as of this posting – I'll update when I receive them.  Also note that if you want to re-Tweet this post, the automagic tweet buttons are available on the main page.  Have a good weekend all!)