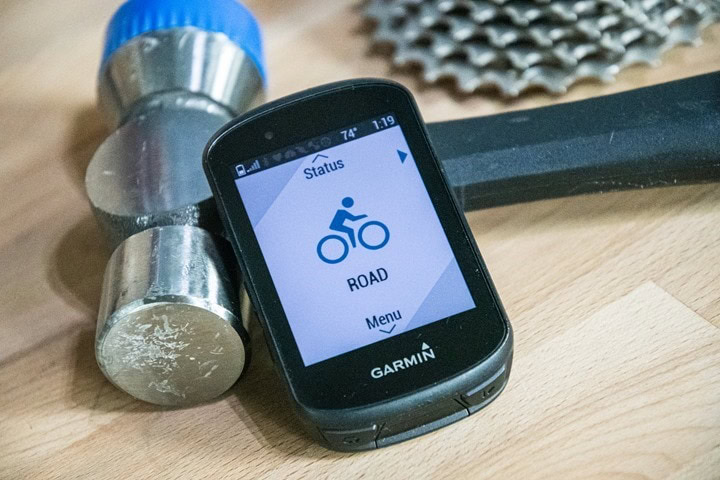 To the casual observer, one might assume Garmin's biggest competitors are Apple, Fitbit, and in certain cycling circles – Wahoo. But in reality, I'd disagree. Garmin's biggest competitor is themselves. Or more specifically, their lack of focus on solving bugs that ultimately drive consumers to their competitors. In effect, my bet is the vast majority of time a person chooses a non-Garmin product over a Garmin one is not because Garmin lost the features or price battle. It's because that person has been bit one too many times by buggy Garmin products.
And sure – that intro paragraph might seem unfair, after all I do record the vast majority of my own workouts on Garmin products without issue. But the reality is that the 'Garmin bugginess' is also true, and everyone knows it. The sole reason Wahoo has slowly gained market share in cycling GPS computers isn't because they have a technologically more feature laden or better priced product (they don't). It's because they have a product that seemingly has less bugs (and also as everyone points out, because you can configure your data pages via phone app).
The reason someone chooses a Suunto watch over a Garmin Fenix series watch isn't because Suunto has more outdoors features or even better accuracy these days (they don't). It's because Suunto spends the time to ensure the vast majority of bugs are never seen by customers. Be it hardware or software related issues, the products are just more dependable.
Which isn't to say these other companies are perfect. Far from it. But this isn't a post about whataboutism. It's not about some random bug that Apple, Wahoo, or Polar hasn't yet fixed. Or Suunto's site. It's about the a cultural problem Garmin seems to have around software stability and bugs, that appears to be 'features first, stability later'.
Understanding the Scale: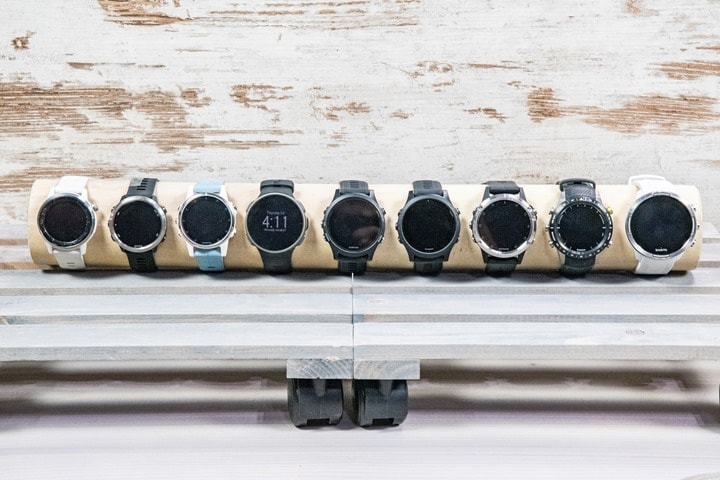 Before we talk bugs though, we do need to talk scale to put things into perspective. Any conversation that skips this isn't really truthful.  Said differently, when I evaluate the steady stream of issues that land at my virtual doorstep via comments, e-mails, tweets, and carrier pigeons, I try and question a few things (no matter the brand):
A) Was someone just confused?
B) Was this already fixed in a firmware update?
C) If this is a legit issue, then is it widespread, or a very limited edge case?
Whether or not people want to hear it, the vast majority of items do tend to fall into buckets A & B above. That doesn't mean the company (Garmin or otherwise) is not at fault. Perhaps the product user interface was poorly designed, or perhaps the experience was otherwise ripe for failure. But if ultimately the user (even on a technicality) did something 'wrong', then that roughly falls into those first two buckets.
It's that last bucket (C) I'm more focused on. There, methodology goes like so:
A) When was the last time I saw/heard of this issue?
B) What's the rough frequency of how often I hear of this issue?
C) Is this a super rare combination of factors/environments, or something that should always just work?
D) What's the rough ratio of units shipped to problematic units
The first three are pretty easy. I'm trying to figure out if this is a one-off, which may never be seen again, or is this something that's happening super frequently to a lot of people.
The last question though, the ratio, is trickier. But essentially I'm mentally doing a numbers game. For example, I know that while I might see 5-8 cases of a given problem on a Garmin Edge 520 compared to 1-2 instances of a problem on an Wahoo BOLT, I know that unit sales wise, in that scenario the Garmin actually trends better. That's because if we look at the numbers, Garmin absolutely dominates the marketplace in wearables for sporting events (obviously, Apple dominates overall sales, but we're setting that aside from this sport/fitness focused site).
For example, here's two major running races recently on two different continents showing Garmin wearables market share:

This is especially true the further up the endurance ladder you get. In a 5KM event you'll see higher Apple Watch market share than in a 10KM event, and even less Apple Watches from a marathon. Garmin typically has 10:1 adoption rates compared to Apple in 10KM and above events. And compared to Suunto? It ranges between 25:1 upwards to 50:1. Polar often half of that again.
From a competitive side, no matter which continent I look at the numbers from – the other brands aren't even close. Again, we're just talking people using these for sport. Obviously, if we look at total Apple Watch global sales numbers, they easily beat Garmin. But the vast majority of those watches are going on people's wrists who aren't running a mile.
On the cycling side, things are shifting however. In some cases pretty drastically in the last year. Previously Garmin dominated at about 90% of GPS head units on people's bikes. But in certain events this past fall and spring, Wahoo is coming in at between 15-30%. Way higher than events a year ago. A bit of that tends to be semi-environmental and race-specific. Meaning, in other regions we see them at about 10%, especially when you move towards non grand fondo events (just picking various smaller races or stretches along the side of the road).
So what's the point?
Well, simply put: With more units in the wild you're going to see more issues. I'm going to see on average 20x more comments about a Garmin issue than a Suunto or Polar issue. And on average about 4x-10x more comments on a Garmin cycling issue than a Wahoo cycling issue.
Same goes for forums. Garmin actually has their own forums (kudos), where people can post troubleshooting issues. And just like Apple's forums, they're packed with troubles. But that's just like going to a hospital, that's where you go to find sick people (and hopefully ways to get better). I've never understood the logic of saying 'Their Garmin forums are packed with people with problems'.  Of course they are: That's the point of them. Problems happen, the point is to resolve those problems. Something that Suunto, Polar, and even Wahoo all lack (Wahoo technically does monitor a Google Group you'll never find though). Yet similarly, nobody says 'The Apple forums are packed with people with problems.'
So, with that bit of data-backed caveating, let's get to the meat of the issue.
Perennial Problems: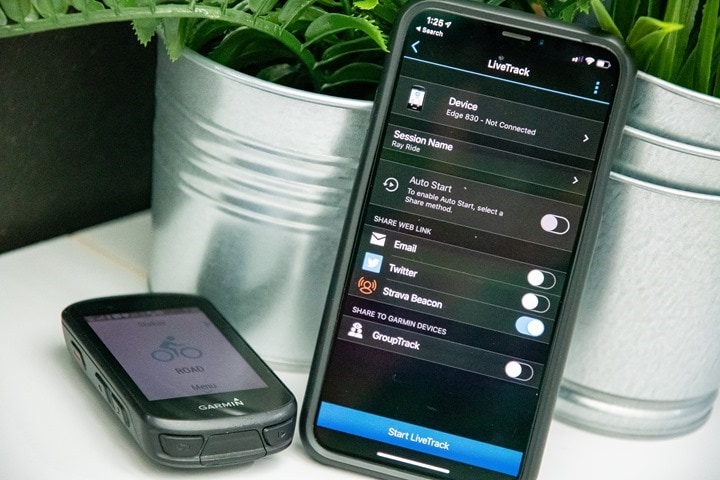 Garmin LiveTrack.
See, you just giggled a bit.
Not because LiveTrack is funny, but because you know – just like I and everyone else – that Garmin LiveTrack is horrifically unreliable. It's actually almost impressive how unreliable it is. I certainly don't bother to use it. I know better. Almost every time I do use it, my wife gets more upset than if I hadn't used it. She wants to follow me, not assume I got hit by a car every time the connection drops permanently.
And it's been this way for years, and yet has somehow gotten worse in recent years. And it's easy to pick on LiveTrack. But I can do this all day with other bits.
Garmin Edge Bluetooth to phone connectivity.
See, you just giggled again.
Because you know that's a pain in the butt. You know that getting it paired can often be cumbersome, and when things go wrong, there's more steps to the dance than the Macarena. And sure, there's lots of reasons for some. Some technical, some just 'because it's the way it's been'. None matter to most people though – it's just architecturally broken.
But let's go back to LiveTrack for a second. One only has to look at my Facebook post or my recent Garmin Live Event Sharing post to see that the vast majority of comments are on people's semi-unrelated LiveTrack failures.
And I get it, as a technically minded person, I really do: LiveTrack is actually more complex than people realize.
You've got basically two levels of things that go can wrong: Edge connectivity to your phone (interference/dropouts such as being in your back pocket), and phone to cellular tower connectivity. At present, if the Edge to phone aspect breaks, the whole thing crumbles, usually permanently. Whereas it really shouldn't. There's no reason the phone can't take over GPS position responsibilities until connectivity can be re-established to the Edge. Companies like Fitbit do a variation of this within their 'Connected GPS' functionality for certain devices. I asked Garmin why it doesn't simply use the phone's position instead, and here's what they said:
"The phone does not perform any 'backup" GPS position transmission if the Edge device connectivity fails.  From our experience, this is typically not the cause of dropped points.  Cellular network availability is believed to be the main cause of dropped LiveTrack points."
I don't have the underlying data that can refute that directly. However, I have never-ending data points from people. Even one comment barely 12 hours old posted to the Edge 830 review.
"Hi everyone. I have purchased successive Garmin edges…the latest being the 830. What is going on with the LiveTracking feature? Garmin heavily promotes it but Live Track has not been working for over a year!! I've downloaded, deleted the app numerous times, paired, unpaired the phone hundreds of times. NOTHING!!!!! It won't even send out the Strava Beacon…let alone Auto Start The message I keep getting is "Cannot send invites at this time. Try again later." This should be the EASIEST function for Garmin to get right being in the GPS business and all. Can someone finally get to the bottom of this. New 830, new IPhone….same old problem. Second, the sync function works only half the time….why does the Edge 830 have two different Bluetooth connections?"
Of course, I have no idea if this comment is fake. Or if the user is somehow at fault. I suspect neither though. Given our (The Royal Our) collective experience with LiveTrack, I suspect it's an accurate and real issue. As it always has been. And in this case, they wouldn't show up on Garmin's 'cellular connectivity is the issue' bucket, because frankly they can't even get to that point.
Now ironically, I've actually had pretty good luck lately with it, even while testing the new Live Event Sharing. And in talking with Garmin they aren't seeing any meaningful numbers of failures – outside of period a few weeks ago where they had backend server issues. The challenge is reconciling that with the torrent of people saying a variant of: 'It's hopeless'. Heck, even trying to take the photo above (this morning) would crash my Garmin Connect app each time I opened Live Track. I'm serious.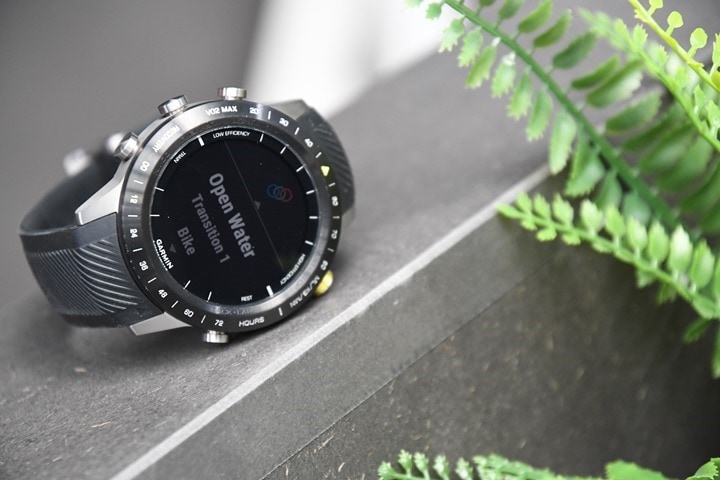 But let's shift to something else near and dear to my heart: Openwater swim tracking.
This past weekend I did a triathlon (race). Nothing complex, just a simple sprint triathlon where it had to track my openwater swim for a mere 750 meters. I was wrapping up my testing of the Garmin MARQ Athlete watch, which is Garmin's top of the line $1,500 GPS multisport watch.
Yet the watch lasted a mere 34 yards in the water before it forgot how to track my swim. The next time it started tracking GPS was when I exited the water.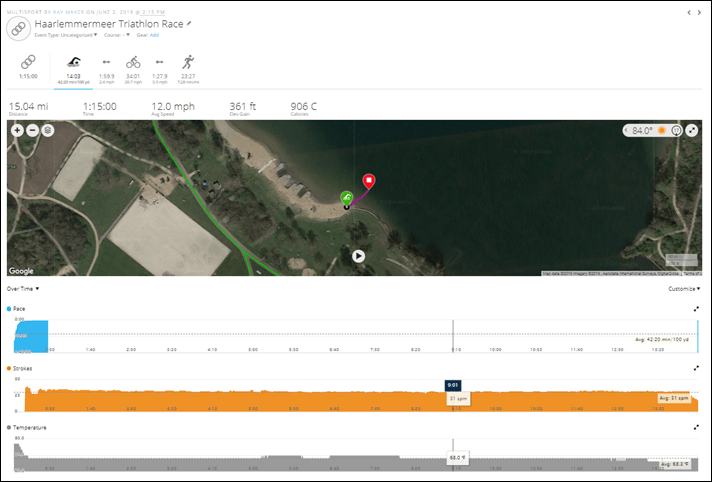 Now in the world of endurance sports, openwater swim tracking is among the hardest things to do. Half of the time your watch is under the water without signal, the other half it has about 1 second to gain signal and determine a location before being plunged back in the water. So yes, it's hard. But it's also something Garmin and others have been doing for almost 10 years. Yet somehow in the last year or so, Garmin has gotten really bad at it. An issue their competitors mostly haven't had. In fact, Apple has laid down some of the most astonishing openwater swim GPS tracks I've ever seen (yet, they somehow can't track a casual neighborhood run properly, sigh).
But my issue here isn't my lost 750m sprint swim. It's that I called out this issue a year ago in my Fenix 5 Plus review. Then again in an openwater swim video comparison video in July 2018. Again in the fall of 2018 in another openwater swim compilation piece. And more times privately and publicly since then. Yet it's still not fixed.  And now it gets worse, this same issue is impacting the Garmin Forerunner 945 too – where some users are reporting 4 out of 5 swims are producing data that stops tracking after a few dozen meters.
Let's be frank: The entire point of a multisport watch is triathlon (multisport is the politically correct term to not offend duathletes, but really it's a triathlon). And yet it fails less than 60 seconds into the main event.
In discussing this issue with Garmin this past week they believe they have a fix in that may resolve the issue. Here's what Joe Schrick, Vice President over Fitness said this Saturday when I asked what that timing looked like for both the new slate of products as well as existing ones suffering under this:
"We are working on releasing a public beta for the GPS software sometime next week for 945 and MARQ.  Pending positive feedback from beta testers and additional internal testing, we are targeting a formal release at the end of June.  We are also targeting a formal release for GPS software for F5+ and 935 at the end of June."
However, last summer they said they had fixes in for it too. I refuse to believe people actually tested this functionality prior to this past week. If they had tested it, even just swam a handful of times, they'd have seen the issues that so many others see. In noting though, Garmin says they do work with a large number of people to trial units:
"Our test pool is significant in size and consists of internal and external testers all over the world in both hemispheres (to smooth out seasonal variations).  We obviously have more runners and cyclists in the test group compared to swimmers, but we are continuing to add swimmers to help provide better real-world test coverage.  We are continuously refining our testing procedures to provide the most comprehensive test coverage possible before public release."
And while I don't doubt any of that (and I know it to be true), it's clear that population either isn't large enough, or isn't given enough direct guidance on what to test specifically. It may be that population is told to just use the device like normal. Whereas when I worked at one of the largest software companies in the world, for test devices or software that I 'brought home' to test, we were given weekly focus areas within the device to push hard on. And almost always with incentives for the people that filed the most bugs in that section.
My Proposal: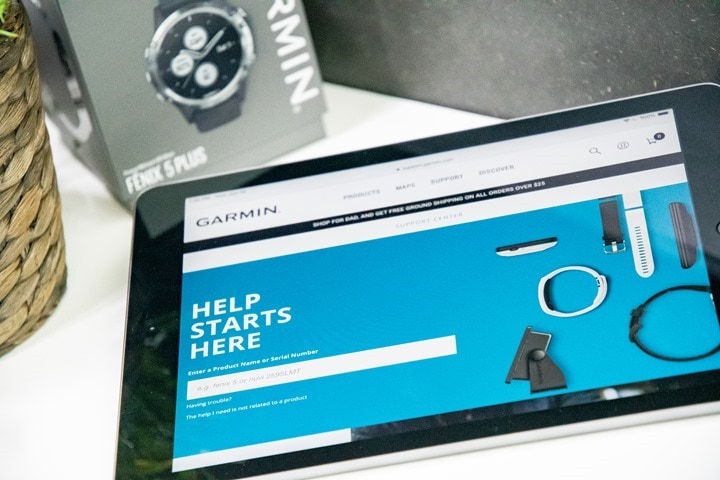 My proposal is simple, at least on paper. In fact, it mirrors one of the most famous tech company driven initiatives to date: Bill Gates' 'Trustworthy Computing' letter of 2002, sent to all employees. It was at that point that Microsoft made a significant mindset shift around security bugs/issues. Not everything was a bug per se, but rather, just a lack of focus on security. Whether or not you like Microsoft is besides the point, anyone in the IT industry will tell you the long term impact of this initiative was huge on/for the company. You can read the famed letter here.
But in particular, there are two small paragraphs that I think should resonate the most for Garmin:
"In the past, we've made our software and services more compelling for users by adding new features and functionality, and by making our platform richly extensible. We've done a terrific job at that, but all those great features won't matter unless customers trust our software.

So now, when we face a choice between adding features and resolving security issues, we need to choose security. Our products should emphasize security right out of the box, and we must constantly refine and improve that security as threats evolve." – Bill Gates, Jan 15th, 2002
In many ways, Garmin could replace the word 'security' with 'stability' (or bugs), and then press send.
But it goes beyond sending a pretty letter. I think Garmin needs three things to occur:
1) A CEO driven leadership letter that organizationally prioritizes stability over new features
2) A customer-facing bug reporting site that allows people to quickly and easily send Garmin issues
3) A team within Garmin that's specifically (and solely) tasked with proactively finding bug/issue trends and getting them resolved
Since I've already talked about the letter, let's talk next about the bug reporting site.
Today when a customer has an issue, they're required to open a support ticket. In some countries/regions that's as easy as an online chat session, whereas in others it requires a phone call or e-mail be opened, and in yet further countries the support is mostly just a digital shrug. One reader last Wednesday reported a pile of issues to their local country support desk and wasn't assisted on any bugs or given a replacement unit due to lack of stock in that country. While other country support desks (such as the US and UK) are really good about handling customers.
Either way, the current support system doesn't really focus on known bugs. Mostly because the vast majority of customers actually don't encounter bugs, they encounter general issues. So funneling them through bug triage wouldn't help if they just had a normal support problem. But ultimately, that current support system doesn't appear to adequately compile the frequency of bugs seen by customers – often instead just applying a short-term band-aid to get the customer going again. I know from talking with these support groups that they do consolidate the most frequent issues back to engineering teams, but it's clear that's hardly global and even in those well-established support centers, many times the goal seems to be to close the customer case, rather than to close the underlying bug.
If Garmin had a simple customer facing webform that allowed people to describe their bug and include relevant files/etc, I suspect that might make it clear to engineering teams where the bugs actually are, versus depending on support desks that people either don't want to call or get lackluster results from.
Next, and perhaps most importantly is a team that has ship-blocking authority within Garmin. Meaning, right now the decision for whether or not a product (or firmware version) ships is within the product team itself. And in most software development realms, that's a logical place for it. But Garmin has consistently proven – product after product, year after year – that those software development teams are incapable of judging that bug bar. Now don't get me wrong: Bug-free software at the complexity level of devices Garmin is making is a virtual impossibility. No different than Apple or Samsung, Microsoft or Facebook. But, the goal threshold needs to be moved up. Right now that acceptance gate is either too low, or too short in duration to be catching the issues people are seeing.
That team needs autonomy from product group organizational charts to act as a bit of a backstop for customers, and also support. They should be leveraging support division expertise, forum posts (in Gamin's own forums), and the sifting the internet at large to ferret out issues and hold the product development groups accountable to fix those issues in the next firmware version before more features are added or new products are released.
And I know that this sounds easy on paper and is hard to execute in practice. But it's also not. It simply starts with organizational direction from the top of the company. Once that ball starts rolling, a cultural shift can occur. It won't be overnight, nor will it be painless. But it can happen. It took Microsoft years for that organization shift to occur around security (albeit in a vastly larger and more complex company), but the fundamental building blocks are not terribly different than what is outlined above.
Going Forward: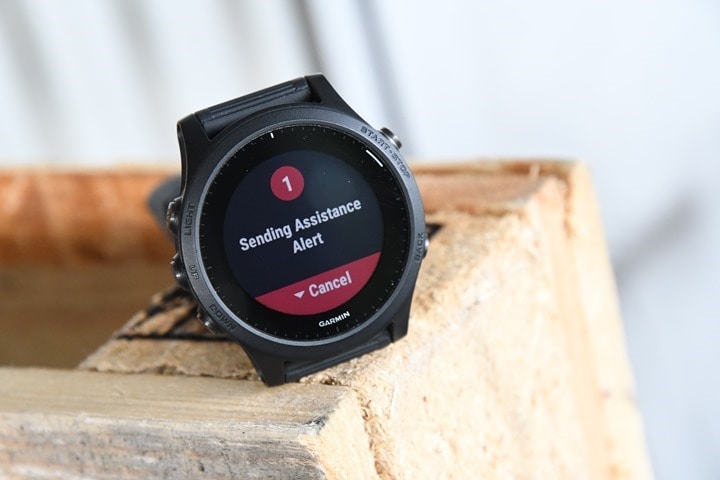 It'd be easy for Garmin to dismiss this post as just a knee jerk reaction to a bad week or two of issues. After all, their Fitness and Outdoor divisions financially speaking are doing better than ever. The company is selling more units than ever before. But it's also true they're losing sales of more units than ever before to their competitors. Be it the obvious ones like Apple (which has arguably carved out new market areas), but also to Wahoo in the cycling realm.
It'd also be easy for Garmin executives to dismiss this post as an attempt to get clicks or views. But realistically, the views from a piece like this are inconsequential for this site in the scheme of a month's worth of posts. Just like they could argue that James' tweet (a very well respected cycling reviewer and journalist) would naturally become an echo-chamber of 518+ replies. But we'd all know that's not true. We'd all know that what those 518 replies represent is paying customers' frustrations with products they'd otherwise love. After all, Garmin's social media team actually tried to respond to two people in that storm, before they realized they were driving their vehicle the wrong way during a hurricane evacuation.
Just like my tweet a week ago with swimming frustrations would be easy Twitter fodder, but it shows that some 59,000 people saw it, and more importantly: 13,374 people were interested in it enough to actually look at the images.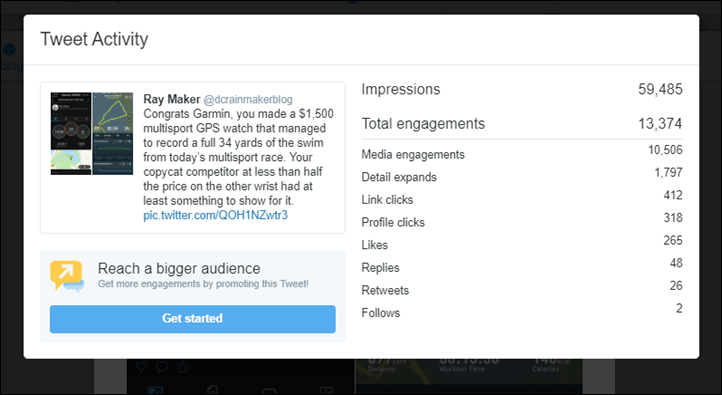 Finally, some might ask whether I'd continue to recommend (or use) specific Garmin products. And the reality is that every product is different – and more importantly, so are the alternatives. The reality is that for my specific requirements, Garmin generally ticks all the boxes better than most other products. Further, it can be challenging to fit in a larger organizational/cultural arc (like software instability) into a given product review unless that specific product was impacted by it. Or unless I actually saw that specific issue during my review time-frame (such as the case with the upcoming MARQ review).
What I hope Garmin takes away from this is that consumers want the company to do better. They aren't asking for them to reduce their ever-growing prices, or give things away for free. They aren't asking for more features or swankier watchstrap materials. They are just asking for the things they want to buy or have bought to work consistently from Day 1.
It seems like a simple request.
With that, thanks for reading.